New Zealand cuisine is often difficult to define. A melting pot of flavours and cultures, there are thousands of places to eat in Auckland. While most focus on traditional dining or a specific ethnicity, my favourites tend to be the more unique restaurants in Auckland.
While the typical Kiwi dinner is meat and two vegetables, dining out is more adventurous. Here, you will find the quirkiest, coolest, and best restaurants in Auckland, updated for 2023.
Now that we are focusing our travel locally, we have plenty of opportunities to discover the best new restaurants in Auckland this year.
To simplify your selection, we have included addresses and phone numbers and identified which also feature gluten-free dining.
Can we start by tempting you with a video of our favourite meals:
Unique restaurants in Auckland: CBD (central business district)
Federal Delicatessen
86 Federal Street, Auckland CBD
021 905 345

New Zealand's version of an old-school New York City Jewish deli, with a Canadian Deli twist (as evident by the poutine on the menu). It's a great choice for lunch or dinner with classic meals, sandwiches, soups, milkshakes, and desserts.
The portions are large, the food outstanding, and it's the only place in Auckland CBD that we know of with coffee refills. If you visit for Sunday brunch and can tear yourself away from a traditional deli favourite, my recommendation is the halloumi salad.
If you have dietary restrictions, notify the hostess when you are seated and they will give you a special menu that identifies which items are coeliac safe, and which are gluten-free but may contain traces.
Masu
90 Federal Street, Auckland CBD
09 363 6278

An elegant Japanese restaurant in Auckland with meals made for sharing. There are a few sushi items on the menu and even a sushi bar that you can sit at, but my recommendation is to try a little bit of everything. With meals made for sharing, this is easy. One of the most unique things at Masu is the ability for customers to create their own shoju.
Masu caters to a coeliac diet and even has a separate gluten-free menu. Although the food is shared, we found that the wait staff clearly identifies which plates contained gluten.
Mezze Bar
9 Durham Street East, Auckland CBD
09 307 2029

A new favourite for our family, Mezze bar is espresso, tapas, and wine in a casual setting. Mediterranean food served in shared plates, the authentic flavours take us overseas in our minds. Generous portions and so many wonderful options, it's often difficult to choose. Separate gluten-free or vegetarian/vegan menus are available.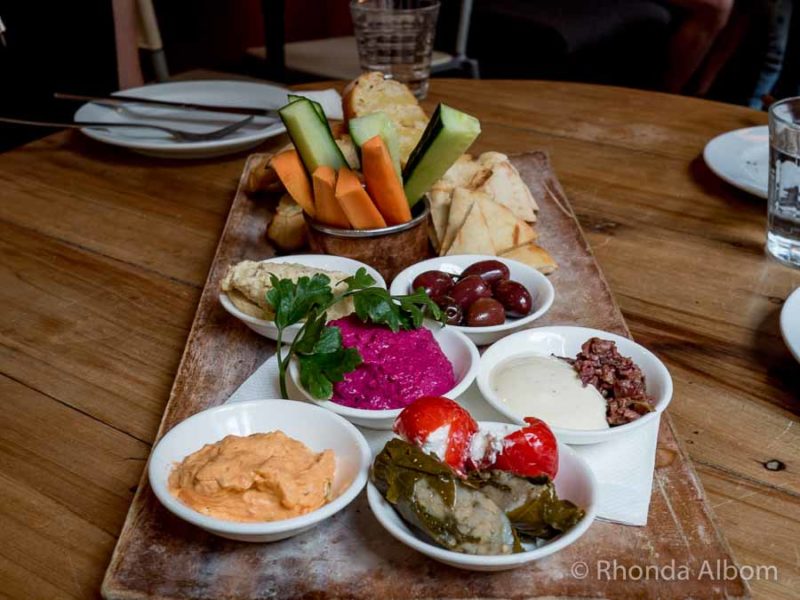 Mexican Cafe
67 Victoria Street West, Auckland CBD
09 373 2311

Home to what we believe is the best American style Mexican food in Auckland. This is the place to get your burrito or chimichanga fix. If you like Latin music and dancing, head here on a Friday night (beginning at 10.30 pm) when they convert to a salsa dance club.
Auckland harbour dinner cruise
Auckland Viaduct Harbour

If you ask me, there is nothing better than dinner and sailing on the Waitematā Harbour. The Explore group makes this possible with a 2.5-hour Auckland harbour dinner cruise. Welcome drinks, canapés, and your choice (in advance) of a main including gluten-free, dairy-free, and vegetarian options. Remember to bring a jacket, flat shoes, and to dress for the weather conditions. Bookings are essential and often available at a discount*.
*This is an affiliate partnership. We receive a small compensation when you make a purchase using this link; however, depending on the day chosen, it can save you up to 70%.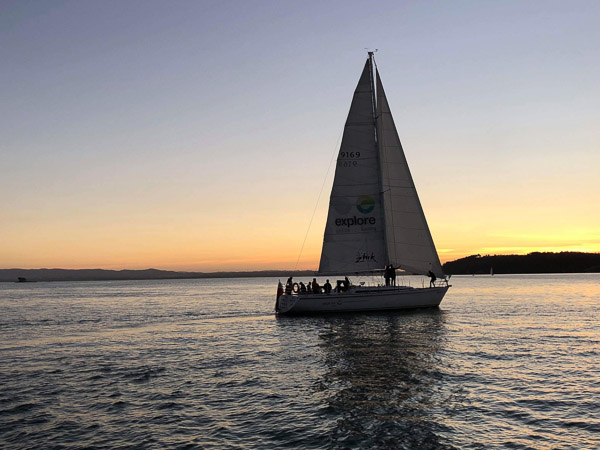 Giapo
12 Gore Street, Auckland CBD
021 412 402

Possibly the world's best handmade ice cream creations. Giapo is my favourite culinary destination in Auckland, and if you are looking for something sweet, Giapo is the answer for where to eat in Auckland.
To many people's surprise, everything at Giapo is gluten-free, and there are also dairy-free and vegan options available. The staff is super attentive to allergies and can cater to just about anybody.
Sugar Club or Orbit
72 Victoria Street West, Sky Tower, Auckland CBD
Sugar Club: 09 363 6365
Orbit: 09 363 6000

Located on level 53, near the top of the Auckland Sky Tower, the Sugar Club offers an impressive, high-end dinner. One floor below, Orbit is New Zealand's only rotating restaurant, allowing diners an opportunity to enjoy panoramic views of Auckland while they dine.
Both restaurants have gluten-free and vegan options available.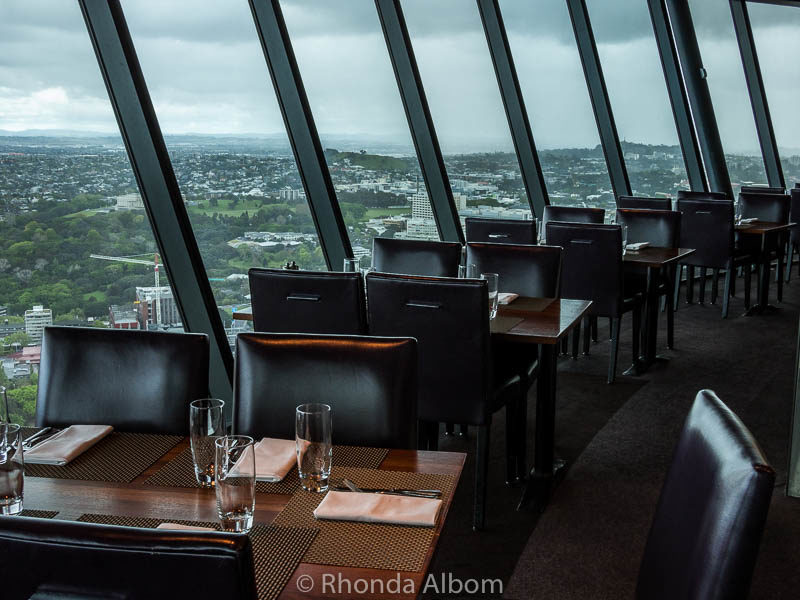 Caluzzi Bar and Cabaret
461 Karangahape Road, Auckland CBD
09 357 0778

Dinner and a flamboyant drag queen cabaret show is a complete night out that will keep you entertained and laughing for hours. Caluzzi is the most colourful of the things to do in Auckland at night.
While Caluzzi can cater to gluten-free, dairy-free, vegan, or other dietary requirements, they request that you inform them when you make your booking.
Cool restaurants in Auckland: Britomart
Cafe Hanoi
27 Galway Street, Britomart
09 302 3478

They call it street-inspired Vietnamese dishes. We just call it fantastic. One of our favourite places to eat in Auckland, the majority of Cafe Hanoi's menu can be made coeliac safe. The menu is filled with gluten-free, nut-free, dairy-free, and vegan options intermixed with a bit of everything Vietnamese.
A restaurant with dishes made for sharing, come prepared to enjoy a feast.
Mexico

An atmospheric spicy treat with finger food made for sharing. If you are a fan of fresh ingredients, authentic flavours, creative meals, or street art style art, then this is the place for you. And, if you are wondering what I mean by street art, just pop into any of their locations and take one look at the impressive artwork and decor.
The menu changes every three months, based on seasonal ingredients, so it always feels like somewhere new. Note that many of the menu items are marketed as tapas, or "made for sharing", but unlike many of the places we have visited lately, we found many of Mexico's dishes are often difficult to share.
Other Mexico locations:
Ponsonby: 64 Ponsonby Road, Ponsonby
Britomart: 23 Britomart Place, Auckland CBD (temporarily closed)
Ellerslie: Corner Ladies Mile &, Main Highway, Ellerslie
Sylvia Park: shop 67/286 Mount Wellington Highway, Mount Wellington
Silverdale: 61 Silverdale Street, Silverdale

Vegan and gluten-free options are identified on the menu.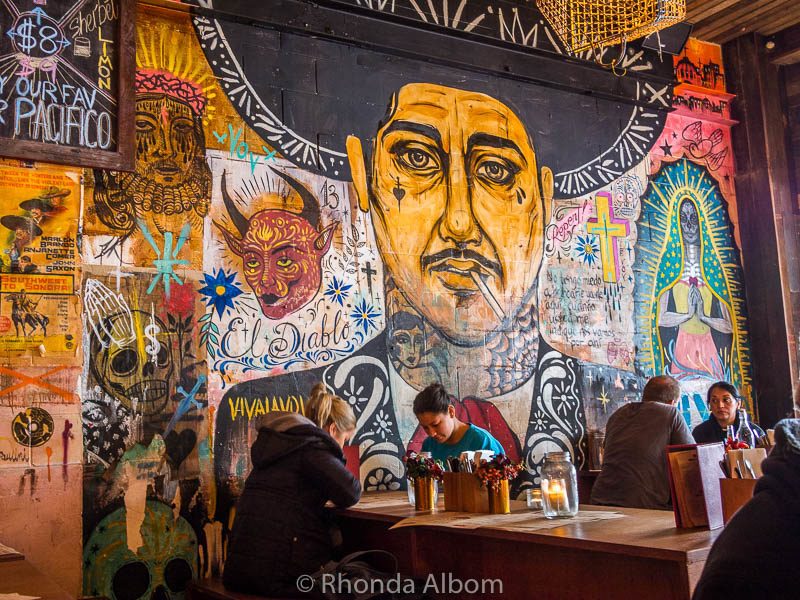 Unique restaurants in Auckland neighbourhoods and surrounding area
Sometimes it's well worth the effort to leave the city centre for a unique dining experience.
7 Summits
91 Small Road, Silverdale inside Snowplanet
09 427 0166
One of the most unusual features of 7 Summits is the massive indoor ski field seen through huge windows covering the entire back wall. While the restaurant's main menu is casual to meet the needs of hungry athletes, it's three additional features that make it so special: a cheese fondue, La Petite Chef, and a traditional chalet.
Our team couldn't resist indulging in the fondue. The rich and creamy melted cheese paired perfectly with the artisan bread, crisp vegetables, and savoury meats for dipping.
Then there is La Petitie Chef, which is possibly the most unique dining option in Auckland, and definitely a highlight. Combining technology and culinary artistry, this immersive dining concept brings a tiny animated chef to life on your plate. From preparing dishes to interacting with diners, this charming virtual chef adds a whimsical element of surprise and delight. Difficult to describe, it needs to be experienced.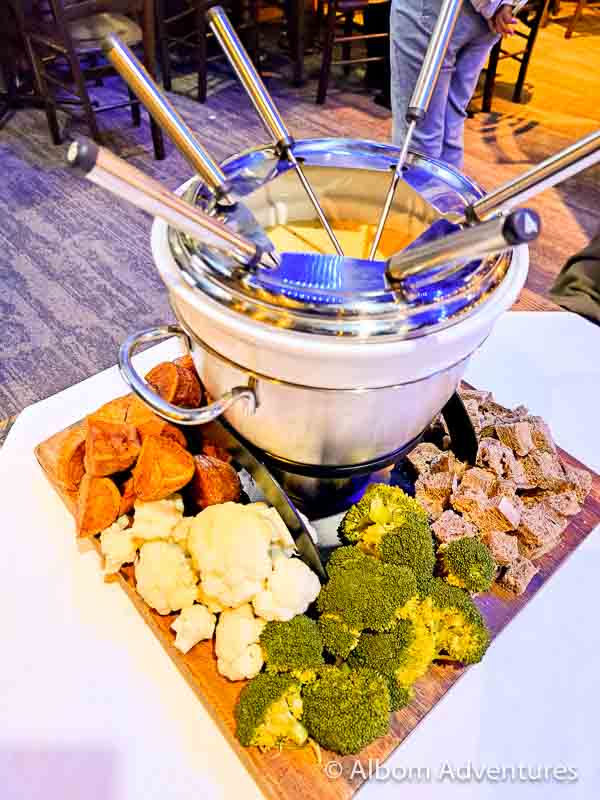 El Sizzling Chorizo
136/138 Ponsonby Road, Ponsonby Central, Ponsonby
09 378 0119

An Argentinian barbecue with flavours so authentic a South American friend refers to it as "heaven". Called asado, the style of slow-cooked barbecue produces meat so tender and delicious, it is no surprise that El Sizzling Chorizo is often crowded.
Located inside Ponsonby Central, it sits alongside 14 restaurants in this small up-market mall. Undercover, it offers a variety of international options alongside a few specialty retail shops. Therefore, it's a perfect destination for any weather, and one that does gluten-free well.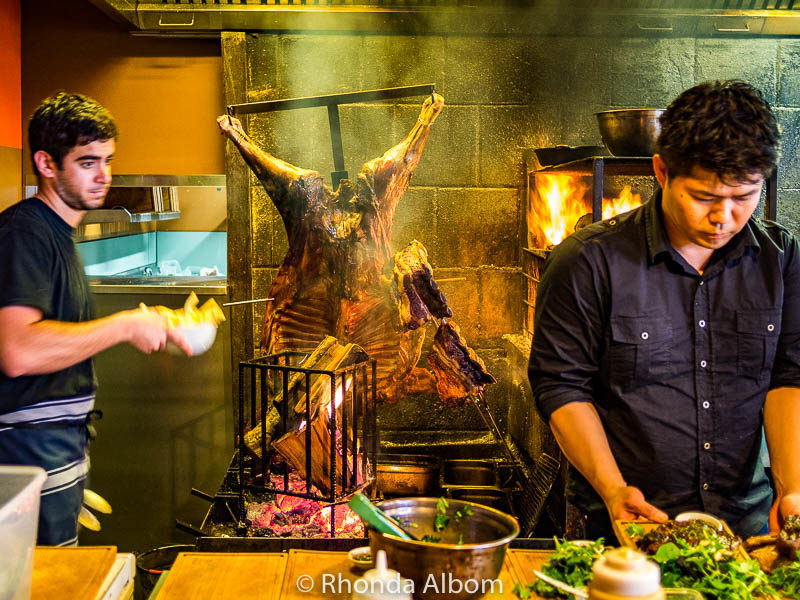 Blue Breeze Inn
146 Ponsonby Road, Ponsonby Central, Ponsonby
09 360 0303

Modern Pacific Thai food with surprisingly large portions made for sharing. The mix of delicate flavours and spices have resulted in Blue Breeze Inn moving up my list as one of my favourite Auckland restaurants. The menu identifies spicy, hot spicy, gluten-free, and longer prep time.

Located at a corner of Ponsonby Central, it has an exterior entrance.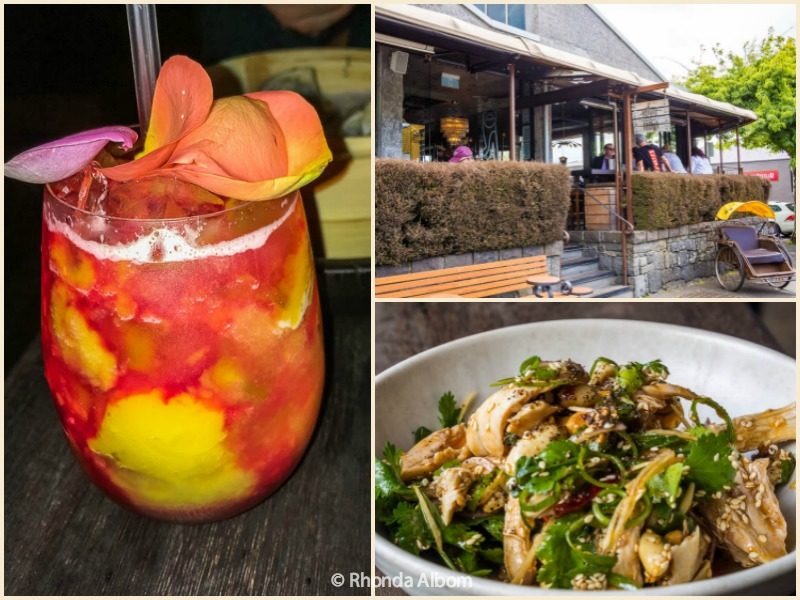 Frasers
434 Mount Eden Rd, Mount Eden
09 600 2685

This local Mount Eden eatery is super popular for breakfast and lunch. Personally, it's the salads that keep me coming back, but there are plenty of options ranging from small shared plates to beautifully prepared fish, meats, and pasta.
Just remember to save room for dessert, which includes some NZ classics and even a vegan cashew and vanilla "cheesecake."
They are open for breakfast and lunch daily.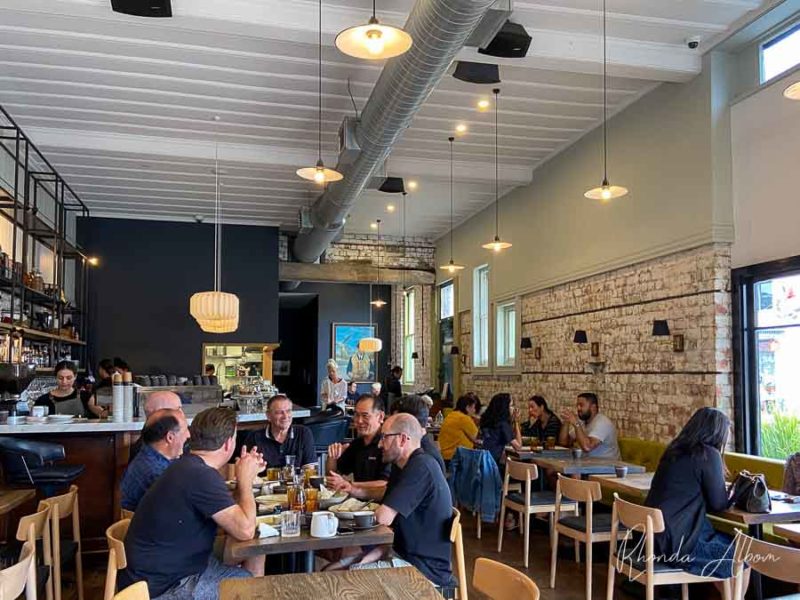 Olaf's Artisan Bakery Cafe
1 Stokes Road, Mount Eden
09 638 7593


The winner of the Best Cafe in Mount Eden since it opened in 2011, there is no question that Olaf's is great. Featuring artisan European bread made from scratch, they also have a full menu ranging from eggs to sandwiches, salads to pasta.
Their bread is not only available with meals but also in takeaway loaves, as well as being supplied to several other local restaurants.
Personally, I like their eclectic selection of salads, and on my last visit, I had a sampler with three different varieties, along with a glass of their homemade ice tea.
They offer a selection of vegetarian items along with a dedicated coeliac safe area of the kitchen for preparing many of their menu selections.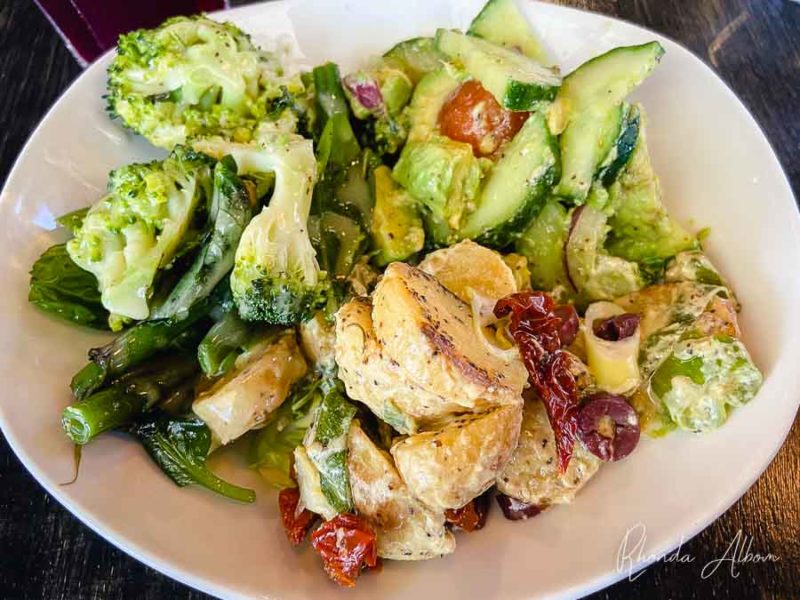 Tasca
25 Nuffield Street, Newmarket
09 522 4443

Taking me to the back-street tapas bars we enjoyed during our long term home exchange in Costa Brava, Tasca is a winner. Offering a mix of tapas for sharing or individual meals, the Spanish theme runs throughout.
I recommend saving room for dessert, as they have alfajores, a personal favourite since our visit to Argentina. Filled with dulce de leche, a caramel filling, they are fabulous. However, it's just one of many scrumptious dessert options.
With separate vegetarian, vegan, and gluten-free menus, they offer something for everyone.
Tasca now has three locations in Auckland, Newmarket plus:
Mount Eden: 338 Dominion Road
Orewa: 316 Hibiscus Coast Highway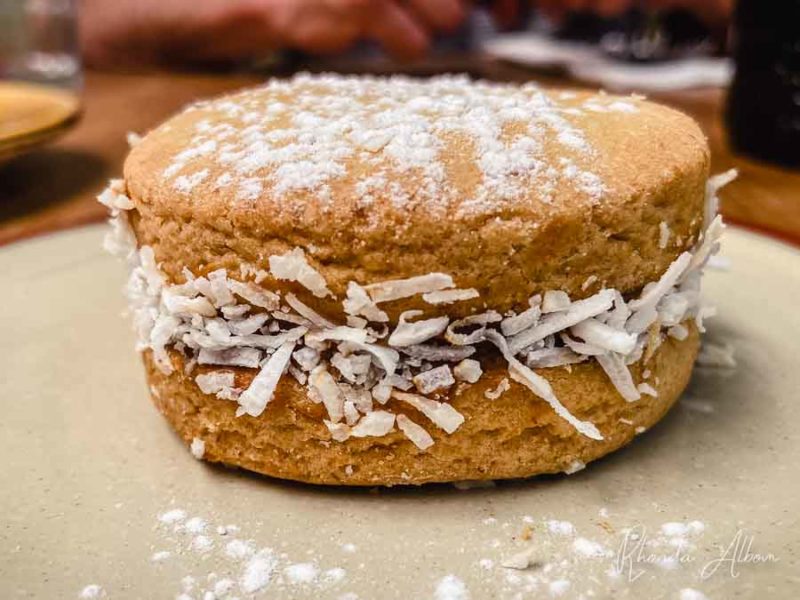 Sal's Pizza
12 Jellicoe Street, Wynyard Quarter
09 368 7257

If you are looking for an American style pizza, no one in New Zealand does it better than Sal's. This is New York-style pizza outside of the US at its best. Even the large pizza size reminds us more of American pizza than what we typically find in New Zealand. They now have several locations throughout the city in CBD, K-Road, Mission Bay, Mount Eden, Mount Wellington, New Lynn, Parnell, Remuera, Royal Oak, and Wynyard Quarter. Plus several over the bridge in Birkenhead, Browns Bay, Silverdale, and Takapuna.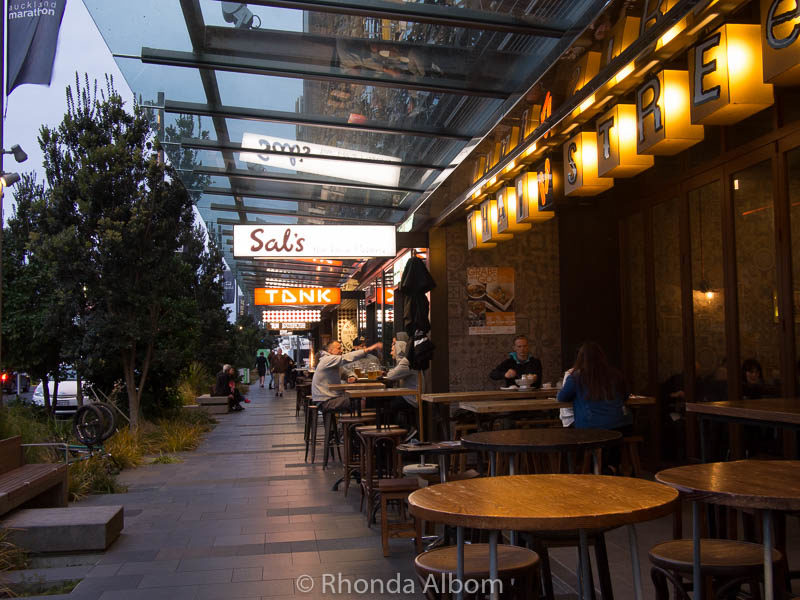 Baduzzi
10-26 Jellicoe Street, North Wharf, Wynyard Quarter
09 309 9339

Italian perfection. With meals made for sharing, you can enjoy traditional flavours as well as new ones. Be sure to try one of their meatball dishes (Baduzzi means meatball in Italian), and they can help you pair it with the right wine if that is your desire. And, save room for dessert; the non-traditional tiramisu (seen in the image) is a real treat.

There are lots of vegetarian options on the main menu, plus, there is a gluten-free menu that we have not yet tried.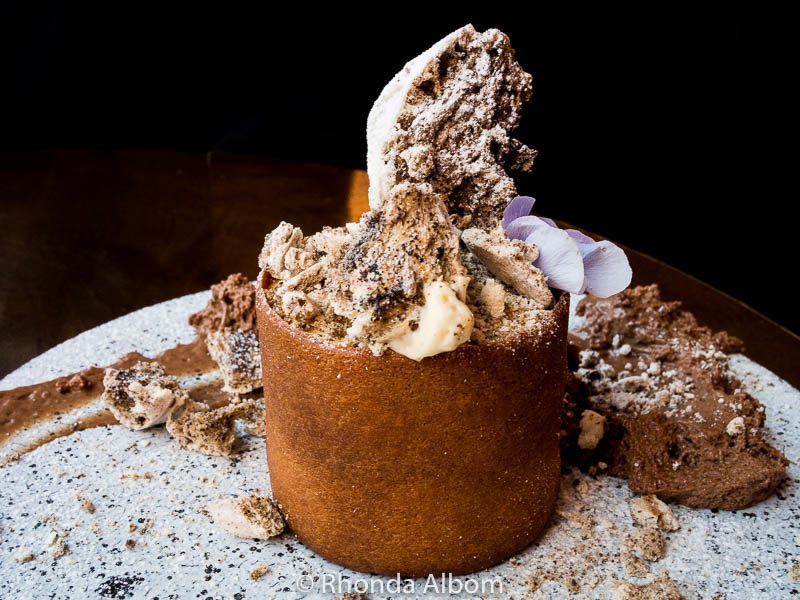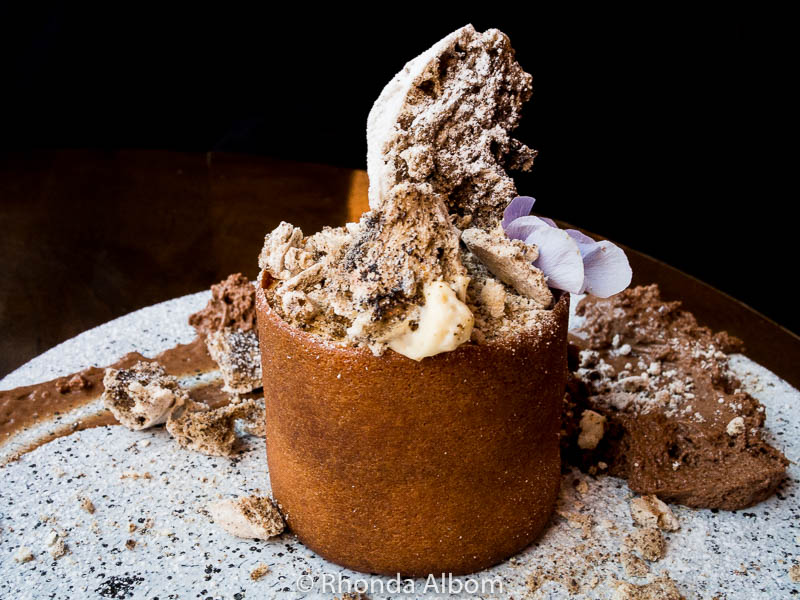 Casita Miro
3 Brown Road, Onetangi, Waiheke Island, Auckland
09 372 7854

Another Spanish and Mediterranian inspired Auckland restaurant, Casita Miro is on beautiful Waiheke Island. The combination of shared tapas plates, flowing wine, and Spanish influence keeps the entire experience both tasty and fun.
With much of their base ingredients produced locally, you know it's fresh. And, the menu identifies vegetarian, vegan, gluten-free, and dairy free items, along with those that contain nuts.
Casita Miro is on the Miro vineyard. It's one of several amazing options for a day of wine tasting on Waiheke. The incredible views and well-paired wine is part of the attention to every detail seen clearly in the Gaudi and Dali influenced mosaics alongside the steps to the tasting area.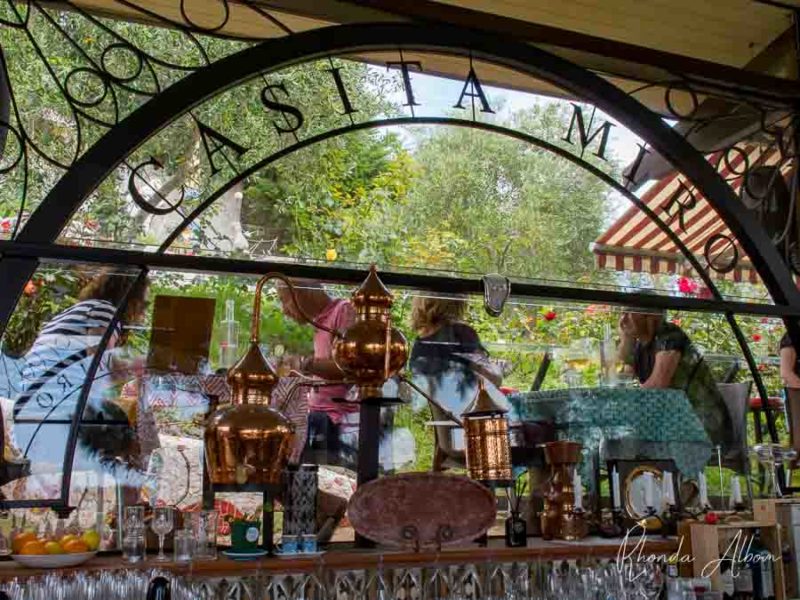 How to get dining deals in Auckland
Before you go, check bookme for discounts on heaps of cool Auckland restaurants. This page of dining deals will have something for everyone.
Gluten-free restaurants in Auckland
With one member of our family having coeliac disease and myself who is strictly gluten and dairy-free, knowing where we can eat safely is essential. It seems that many restaurants in Auckland offer at least one gluten-free option on their menu; several actually feature coeliac-safe dining.
Practical information for dining in Auckland
In New Zealand, as in many other parts of the world, the meal is the evening's activity. People linger, enjoying the time with friends and the food without feeling rushed.
Auckland's trendy restaurants will often reserve tables for those who have booked in advance and will turn away customers rather than start a waiting list even when there appear to be empty tables.
It's not uncommon to be given an opportunity to order drinks even before getting the food menu.
An entrée is an appetizer; the main is your meal.
When you are ready to leave the restaurant, you will need to ask for a bill. It will not be brought to the table otherwise.
Tipping in restaurants, (or in hotels, spas, and taxicabs) is not customary in New Zealand. Waitstaff are paid a living wage. Some restaurants add a "tip" line on the bill. Locals ignore it.
A "cafe" generally serves breakfast and lunch and closes by 4 pm in Auckland (2 pm in much of the rest of the country).
Save on your NZ trip with these resources
These are our go-to companies when we travel. We believe this list to be the best in each category. You can't go wrong using them on your trip too.
Check out our travel resources page for more companies that we use when you travel.
Save for later
If you enjoyed this article, please share it on social media and save it for later on Pinterest until you are hungry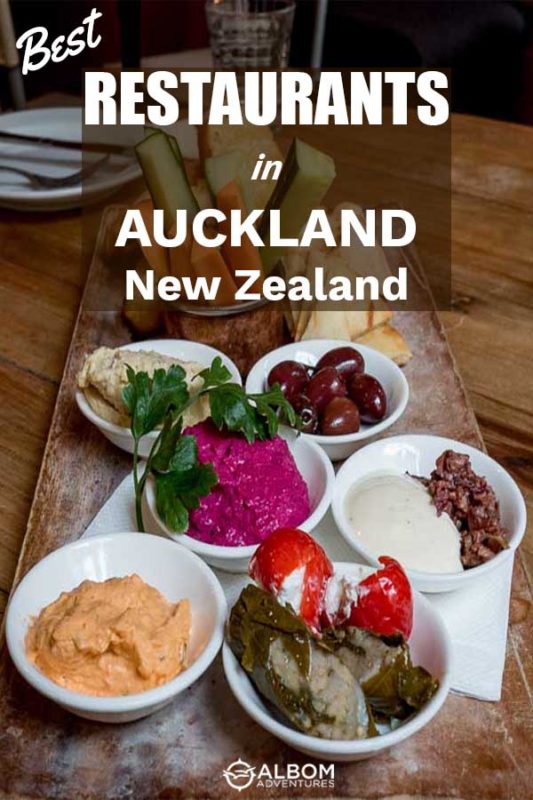 Are you still wondering where to eat in Auckland? Where will you try next?
Disclaimer: To write a proper review, we need to experience the event. Therefore, we frequently have complimentary entrances, meals, or sample items. However, the opinions expressed here are strictly our own.