So close to Auckland, yet a world away. Waiheke Island is a local's getaway; a 92 square km subtropical paradise in New Zealand that has earned worldwide recognition. A day trip to Waiheke Island offers options from award-winning wineries complemented by world-class culinary delights, to a casual day on any of the unspoilt beaches. Whatever we choose, we always find plenty of things to do in Waiheke Island.
Photographers are drawn by the expansive views featuring vineyards on lush green hills gently rolling down to pristine beaches. So impressive is this tiny island that in 2016 it found itself listed amongst the world's top ten travel regions (Lonely Planet), and the world's top 20 islands (Conde Nast Traveller).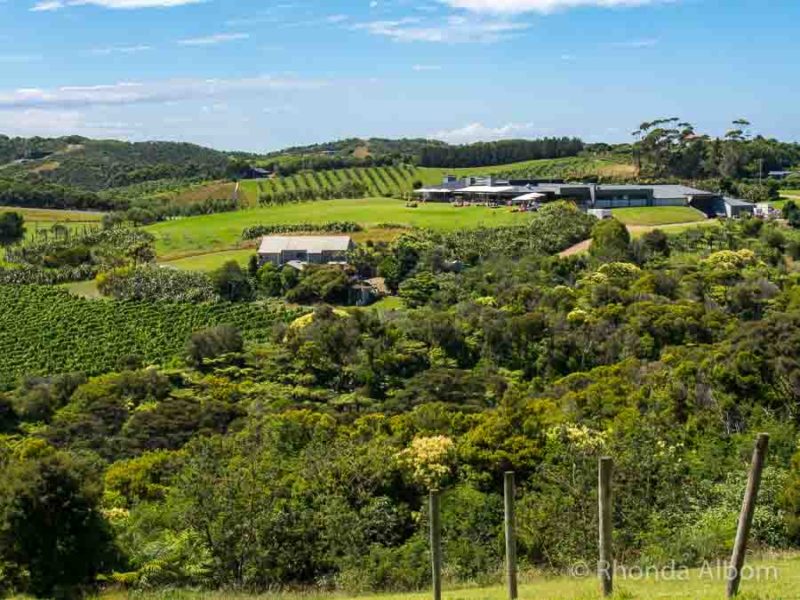 Waiheke Island offers artwork, beaches, and adventure. It's a paradise that is only 40 minutes from Auckland via ferry. Read on and you might be surprised by some of the many things to do in Waiheke.
And while we love a day trip to Waiheke Island, I have to admit we often stay longer.
Some links on this page can save you up to 70%. We earn from qualifying purchases through partnerships or affiliate programmes.
New Zealand highlights featured on Albom Adventures
Things to do in Waiheke
While we often combine a bit of everything when we head out on a day trip to Waiheke Island, for easy reference we have divided our list of things to do in Waiheke into five categories as follows:
Wine and dine
Sporting adventure
Relaxing beach time
Historical discovery
Hanging around town
Wine and dine your way through a day trip to Waiheke Island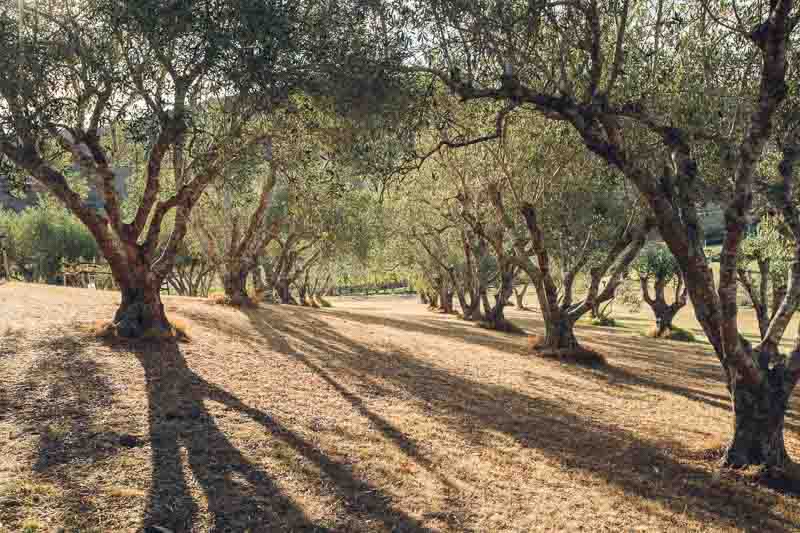 Wine Tasting: Wine tastings and tours are one of the top reasons people take a day trip to Waiheke Island. After all, the region is well known for producing some of the country's best wines. With about 30 wineries and vineyards to choose from, you are sure to find a new favourite wine. We recommend choosing a mix of both well-known and lesser-known labels.
If you want the advantage of a designated driver and someone to guide you at the wineries, check out one of these top-rated tours:
Feast with a meal: While there are plenty of restaurants in Waiheke, our favourite is Casita Miro. Located on the Miro Estate, it features some of the best Spanish food we have had since our long term home exchange had us living in Costa Brava.
Sample some olive oil: It's not just grapes that grow well here. In fact, Waiheke Island also grows and produces world-renowned olive oil. You can visit and sample at several olive oil mills.
Have an adventurous day trip to Waiheke Island
Zipline over the vineyards: EcoZip Waiheke will pump your adrenaline as you fly over vineyards on a zipline, enjoying both the thrill of speed and the impressive 360° views. Best of all, the dual ziplines allow sharing the fun alongside a friend. Click here to check for discount price
Test your skills in clay shooting or archery: If you are looking for something a bit different, check out Wild on Waiheke. Here, you can shoot archery amongst the vines, or try your hand at laser clay-bird shooting. Plus, there are several free-to-use games like giant chess, noughts & crosses, petanque, and a trampoline. It's also home to Waiheke Island Brewery, the Wild Estate Vineyard, and a restaurant.
Get on the water: With crystal clear waters, Waiheke Island is the perfect place to try out stand-up paddleboarding or to give kayaking a go. There are equipment rental spots on various beaches.
Ride a Segway: Here's your chance to ride off into the sunset on a Segway. A two-hour adventure through lush native bush and coastal views ends with a sunset over Cable Bay and Mudbrick vineyards.
Click here for price and reviews
Horse riding Waiheke: If you want to enjoy vast island views from the vantage point of horse back, check out this option.
What better than a day trip to the beach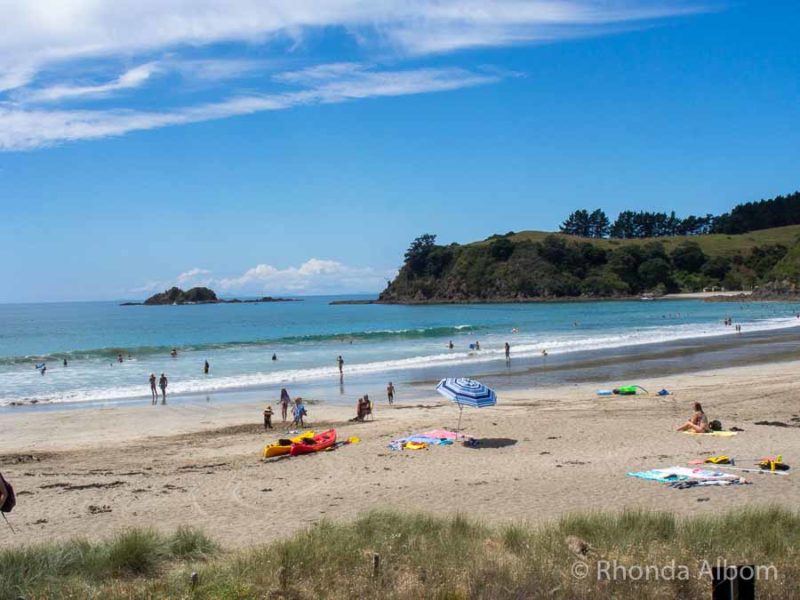 Pristine and unspoilt, there are many beaches surrounding this subtropical paradise. Best of all, the many inlets usually make finding a protected beach a possibility, even on a windy day.
Depending on our goal (relaxing, romantic, kids, water sports, or fishing), we have a few favourite beaches, although we have never made a bad choice.
If you only have time for one beach, and you want a mix of it all, head to the calm blue waters and white sand of Oneroa Beach. A well-protected anchorage from the prevailing winds, it's popular with visitors arriving via private boat, those arriving via ferry, and locals.
Discover some of the history
Explore Stony Batter Historic Reserve: History buffs are fascinated by the remains of a World War II Counter Bombardment Heavy Coast Defence Battery at Man O'War Bay. We visited Stony Batter years ago when the public was still permitted to enter the series of underground tunnels and concrete chambers and view the three gun emplacements.
Read more on the history here.
NOTE: The tunnels are currently closed for safety reasons, but will reopen in the future. However, if getting into old military tunnels is a top priority, on your return trip, hop off of the passenger ferry at Devonport and make your way to North Head.
Save time for a walk around Oneroa Village on your day trip to Waiheke Island
Before heading back to the ferry, we stop in Oneroa Village. An artesian village, we like to pop into a few of the specialty stores, and usually end up bringing home something new that has been created by one of the talented locals.
When we have a car, and when we are staying multiple days on the island, we also make our way to Ostend or Surfdale for more local shopping. And, if it's Saturday morning, we head to the Ostend Market.
Oneroa village is filled with interesting artwork and sculpture, and we seem to find new pieces on each visit. Our final stop, if we haven't already been, is Island Gelato, located in a converted container.
Getting to Waiheke Island
Unless you have a helicopter, you will need to take some type of boat to get to Waiheke Island. The three main options are:
Passenger ferry to Waiheke: Easy walk on and walk off, the 40-minute Auckland to Waiheke ferry is the most popular way to get to the island. Passengers can also board the ferry in Devonport. Click here to see the timetables.
Car ferry to Waiheke Island: If you want to self-drive on the island, you can either hire a car or bring your own on the car ferry. We have done both. Catch the vehicle ferry from either Wynyard Quarter or Half Moon Bay. There are often discounts available depending on the day and time of your sailing. Check for discount options for the car ferry from Half Moon Bay or the car ferry from Wynard Quarter.
Private boat to Waiheke: With protected inlets all around the island, it's very popular with recreational yachts. When it's windy, we simply sail around to a different anchorage.
Getting around Waiheke Island
Located in the Hauraki Gulf, Waiheke Island is an approximately 40-minute ferry ride from Auckland CBD.
Narrow and windy roads often find tourist driving slower than the locals. This can be a be an inconvenience for everyone, as the slower traffic annoys locals while the fast traffic is nerve-wracking to visitors. That said, it wasn't bad enough to scare us away and we have both hired a car and brought our own on different visits. We have also taken anchorage, thus being on foot in different parts of the island.
Remember: Always give way to sheep crossing the road
Regardless of how you get to the island, here are the key options for getting around Waiheke:
Self-drive: either arrive via the vehicle ferry with your own car, or hire one once you arrive.
Scooter: If this is your thing, check this link for discount scooter rentals on certain days.
e-bike: So you know what you are getting into here, think windy and narrow roads often shared with vehicles. Or head off-road with a mountain bike.
Taxi: There are usually several taxis waiting at Matiatia Bay, where the passenger ferry arrives.
Public bus: The public bus will take you around the island, and there is a daily fare cap of $20 if you have an AT Hop Card.
Hop-on Hop-off bus: If you're visiting on the weekend (Friday to Sunday) you can customize your day with any of the 18 stops on this hop-on-hop-off bus. It includes key vineyards and beaches.
Click here for bus tickets or click here for a combined ticket that includes both the passenger ferry and the bus.
Take a tour: See above.
If wine tasting is your primary goal, we recommend either a designated driver for the day, the public bus, the hop-on-hop-off bus, taxis, or taking one of the many wine tasting tours available on the island.
Where to stay – accommodation Waiheke
While we generally enjoy a day trip to Waiheke Island, it's also a great weekend getaway. When selecting the island for a romantic retreat, here are a few ideas:
Planning tips for Auckland
Some links on this page can save you up to 70%. We earn from qualifying purchases through partnerships or affiliate programmes.
First-time visitors start here: New Zealand travel guide or with our favourite New Zealand road trips.

Rental Vehicles: For cars, we always use RentalCars.com, a rental car search engine with no hidden costs. For campervans (and larger cars), note that Spaceships Rentals NZ offers free one-way drop-off between Auckland and Christchurch.
**Albom Adventures readers can check for discounts off Spaceships campervans.**

Accommodations: We typically stay in 4-star accommodations. We live in Auckland and recommend either Hotel DeBrett or Cordis (if you're on a tight budget, check out the backpacker options on Tripadvisor)

Activity Discounts: We use Bookme.co.nz to find discounts on entry tickets and tours in New Zealand.

Travel Insurance: We purchase insurance that covers medical and travel emergencies when we head overseas. We start with Travel Insurance Master, an aggregator that gives us a free and easy-to-read comparison of the inclusions of each policy.

What to bring: Get a free copy of our New Zealand packing list when you sign up for our mailing list.

**Find more money-saving resources on our Travel Resources page.
Save for later
If you enjoyed this article, please share it on social media and save it for later on Pinterest.
How will you enjoy a day trip to Waiheke Island?