White sand, crystal clear waters, and a warm dry microclimate attract visitors and locals to the Waiheke Island beaches. Located just a 40-minute ferry ride from Auckland, Waiheke beaches are the perfect escape from city life. Both Lonely Planet and Conde Naste have recognised this island paradise.
While the vast majority of popular Waiheke beaches are on the island's west end, there are interesting options all the way around the island. The many inlets create protected spaces regardless of the winds. From family-friendly, safe waters to surfing beaches, there is something for everyone.
Kayaking, standup paddleboards, family barbeques, fishing, surfing, or just soaking in the rays, check out our list of the best Waiheke beaches.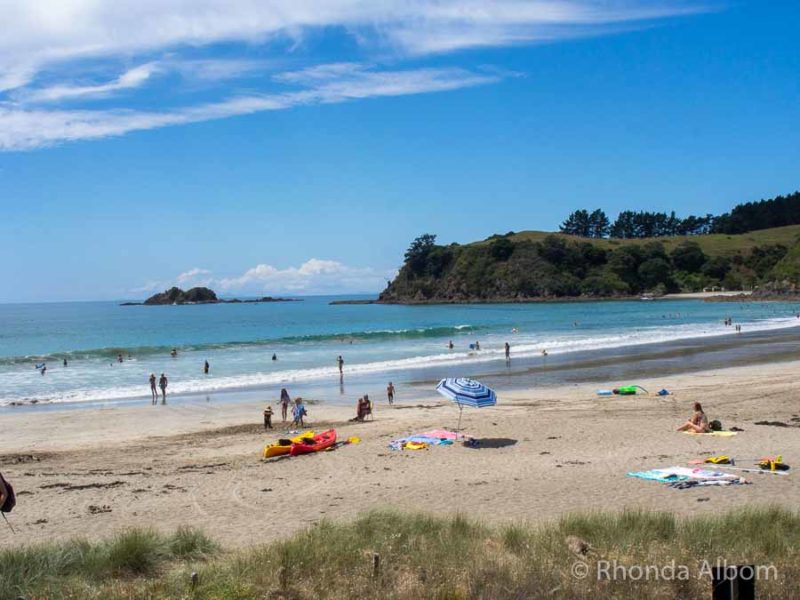 Our favourite Waiheke Island beaches
Each of the Waiheke Island beaches has its own characteristics. These are our favourite Waiheke beaches, listed here in no particular order:
Onetangi Beach
Palm Beach
Little Palm Beach
Sandy Bay
Oneroa
Little Oneroa
Man O'War Bay
Owhiti Beach
Rocky Bay
Matiatia Wharf
Where are the best Waiheke Island beaches?
Why we love these Waiheke Island beaches
Oneroa and Little Oneroa Beach
Oneroa Beach is one of the most frequently visited of the Waiheke beaches. Sunny and north-facing, it is also a well-protected inlet from the prevailing southwesterly winds. As a result, it provides safe anchorage for yachties, as well as being a family-friendly destination.
Pohutakawa trees stand tall alongside the white sandy beach, offering plenty of shade for those who seek it. The gentle waves attract families, kayakers, and standup paddle-boarders. Barbeques, picnic benches, and a playground contribute to the fun.
Similar calm waters are found at Little Oneroa at the east end of the beach just beyond a small rocky headland. It is accessible at low tide.
Contributing to their popularity is the close proximity to Oneroa Village, making it walking distance to many of the island's accommodations.
Onetangi Beach
Onetangi Beach boasts nearly 2km of white sand, making it the longest beach on Waiheke Island. With calm waters in the prevailing winds, it becomes a great surf beach in a northerly. It claims the island's whitest sand and largest Pohutukawa trees.
We took this photo a bit early in the day, so you will have to believe me when I say it is quite popular amongst the Waiheke Island beaches. North-facing and sunny, it's our favourite beach for long walks or swimming.
The annual Onetangi Beach races take place each February and involve horses, boats, kid's karts, tractors, and even a fashion component. It is an iconic event that has been taking place for nearly 100 years.
Palm Beach and Little Palm (nudie) Beach
Soft white sand and gentle waves make Palm Beach another family-friendly choice that is often referred to as one of the safest for kids. A great place to hang out with friends, there are also barbeque facilities and a toilet block here.
Just west, separated only by a rocky outcrop, is the beach officially called Little Palm Beach. However, locals refer to it as "Nudie Beach." I think the name says it all, although the local I spoke with felt the need to elaborate, "You don't have to be naked, but you can be."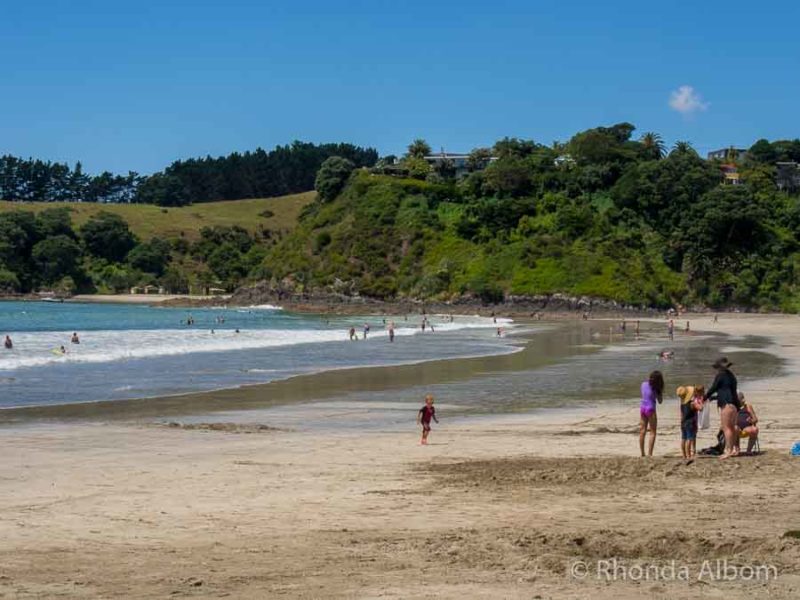 Sandy Bay
Sandy Bay is smaller and not as well-known by tourists, although boaties find it a great place to drop anchor and come ashore. Also north facing, well-protected, and with gentle waves. Orcas have been seen in this bay.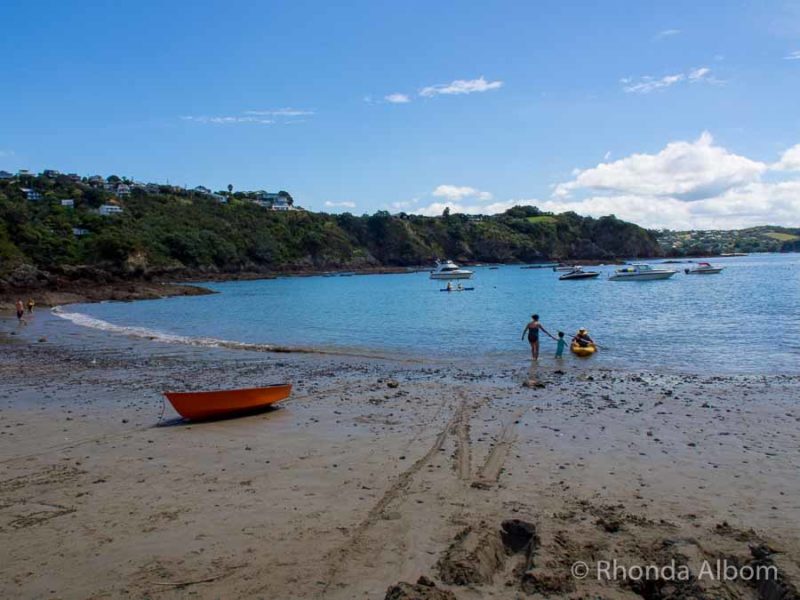 Man O'War Bay
Located at the bottom or east end of the island, we have only visited here once as part of our visit to Stony Batter Historic Reserve. Unfortunately for us, we arrived at low tide, and swimming at this tidal bay is only possible at high tide. As a result, we spent our time on the Department of Conservation walking tracks.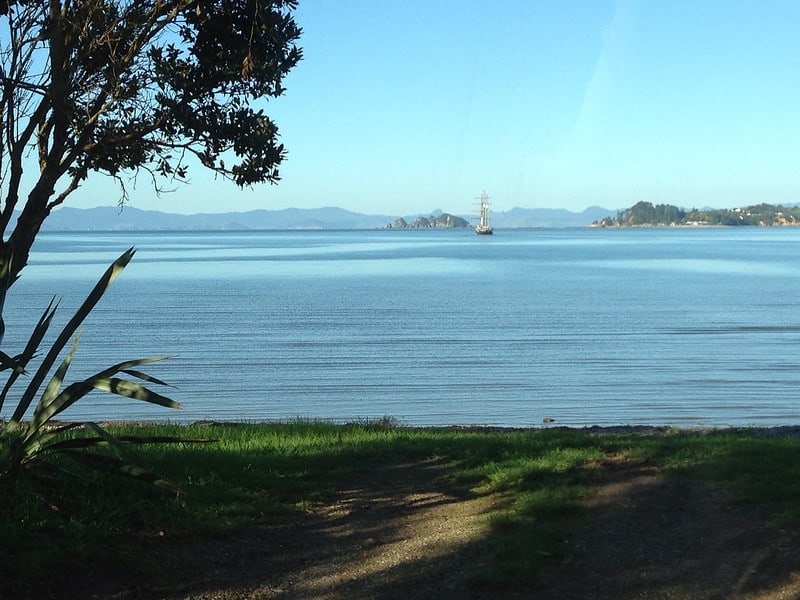 Owhiti Beach
As we wanted a bit of a swim, we stopped off at Owhiti Beach after hiking in Man O'War Bay.
Rocky Bay
Rocky Bay is just off of the campground at Whakanewha Regional Park. We have stayed here both in tents and on our yacht (in northerly winds). Located on the south side of the island, it often encounters the prevailing winds. However, the campground itself is well protected by the trees.
Matiatia Bay
Not a place for swimming, Matiatia is where the passenger ferry comes into Waiheke island. It's also a popular day anchorage and permanent mooring location. On occasion, stingrays or dolphins have been spotted here.
More Waiheke beaches
While we love exploring new venues, we also tend to return to our favourite spots. Therefore, we haven't personally visited all the beaches on Waiheke Island. Here are a few still on our to-do list:
Blackpool Beach: This south-facing tidal beach is reported to be popular for kayaking, SUP, and windsurfing.
Surfdale Beach: Just around a small peninsula from Blackpool beach, Surfdale beach is also south-facing and tidal. It's a popular dog-walking beach that also attracts kitesurfers.
Enclosure Bay: A well-sheltered tidal beach, it has the warmest waters of the Waiheke beaches. It's great for swimming at high tide or exploring rock pools at low tide. Fishing off the rocks, kayaking, and snorkelling are popular here. Note that the beach is mostly broken shells, rather than sand.
Cactus Bay: A favourite romantic spot for a picnic, the beach is accessible only via the water.
Getting to Waiheke Island beaches
The first thing to do is to get to Waiheke Island. While we have sailed here on a number of occasions, most people don't have this as an option.
The easiest way to get to Waiheke Island is via the ferry from Auckland. We have used the ferry on several occasions, and it is easy and worry-free. Book your round-trip ferry pass to Waiheke Island here.
Another option is a combination ferry pass with the Waiheke Island hop-on hop-off Explorer bus. The bus will take you to several of the beaches as well as wineries and other points of interest. Check for discounts on a combination ferry pass and Waiheke Island Hop-on Hop-off Explorer bus pass
If you don't want to be limited by the bus schedule or destinations, you can hire an electric bike for the day. This will give you the flexibility to go off the beaten path. Check for discounted E-bike hire on Waiheke Island
Final thoughts on the Waiheke Island beaches
A great day out, or a weekend getaway, Waiheke beaches are relaxing and fun. The island is also well known as a wine-growing region and is home to many award-winning wineries. There are also plenty of other things to do on Waiheke aside from sampling wines or hanging at the beach.
Save on your NZ trip with these resources
These are our go-to companies when we travel. We believe this list to be the best in each category. You can't go wrong using them on your trip too.
Flights: we use Expedia for the best and cheapest flight options.
Accommodations: we use Booking.com (hotels), Bookabach (self-contained in NZ) or Hostelworld (budget).
Cars (gas or electric): we use RentalCars to search for deals and dealer ratings.
Motorcycles: we have heard good things about BikesBooking.
Campervans or Motorhomes: we use Campstar where Albom Adventures readers get a 3% discount.
Activity discounts: we check Bookme.com for discounts of up to 70% on activities.
Private guides: we love the private guides at Tours by Locals.
Travel Insurance: while not required, we always opt for travel insurance and start at InsureMyTrip to compare coverage plans.
Check out our travel resources page for more companies that we use when you travel.
Save for later
If you enjoyed this article, please share it on social media and save it for later on Pinterest.
Which is your favourite of the Waiheke Island beaches?
Other places to see on and near Waiheke Island: