Auckland whale watching is one of the most exciting ways to get out on the water in New Zealand's largest city. In addition to whale sightings, we enjoyed pods of playful dolphins. Plus, seabirds frequently circled overhead or dove into the water.
Here, we share the magic of our day out on the purpose-built Dolphin Encounter, a catamaran ideally suited for an Auckland whale watching afternoon.
The onboard crew from Auckland Whale and Dolphin Safari (AWADS) kept the day running smoothly, making sure there was plenty of time for sightings and capturing wildlife photos.
It's been a while since our last trip out, and back then, it was mostly tourists onboard, suggesting to me that locals are missing out on a treat.
If you are new to Auckland, planning a visit, or just haven't been out on an AWADS adventure, now is the time. If you're not sure, read on. Imagine yourself on the boat with us, taking photos and experiencing the fun.
More of Auckland trending on Albom Adventures
Auckland whale watching in the Hauraki Gulf
The process is simple when we sail with experts.
Looking for birds, not whales, is the trick.
Initially, the experts on board look for hundreds of birds diving into the water. In the summer, the birds are often Australian gannets, although the Hauraki Gulf is home to 26 species of seabird.
Amongst the birdlife, we also spotted several little blue penguins paddling on the water.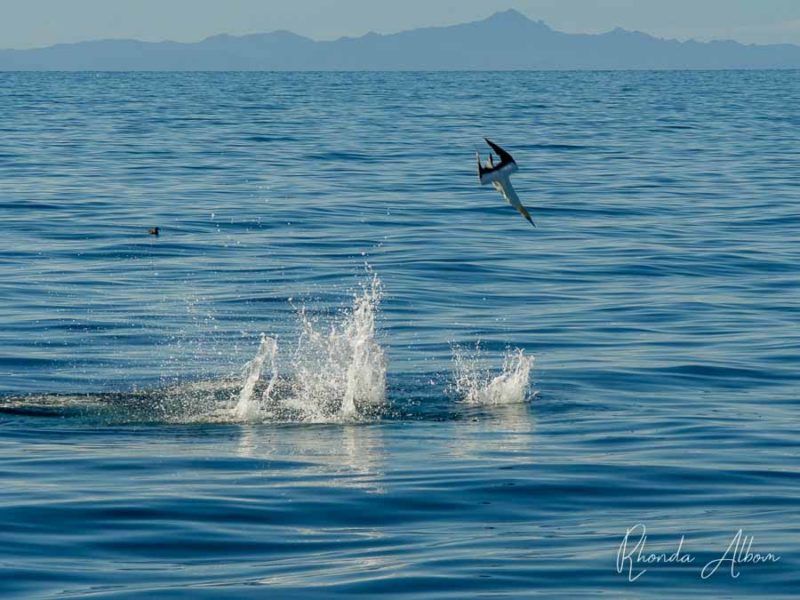 The bird's feeding frenzy will often attract nearby dolphins, usually either common or bottlenose dolphins.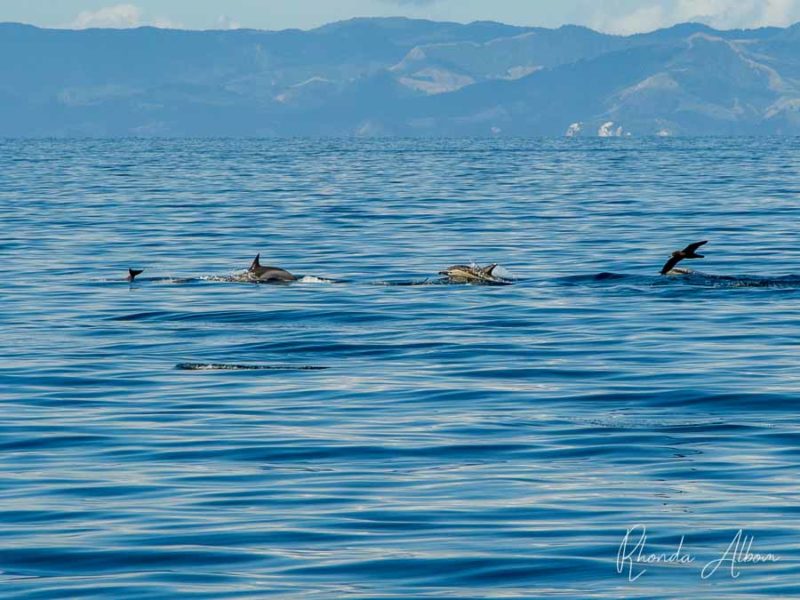 After the dolphins, the whales are often close behind.
We saw four nationally endangered Bryde's Whales on the day we were out.
Other whales sometimes spotted in the Hauraki Gulf include orca (technically a dolphin), blue, minke, southern right, sperm, sei, and pygmy whales. Also, humpback whale sightings occur during their migratory period.
Onboard the Dolphin Encounter
One of the coolest things about the AWADs adventure is that not only is it a sightseeing experience for people like me, but it's also a research vessel. As a result, its rules are different. The Dolphin Encounter can get closer to marine mammals than other recreational or commercial vessels. Of course, they still have to be careful not to get in their path.
There were several marine biologists on board with us. They were happy to share their great wealth of knowledge and answer questions.
The Dolphin Encounter has two decks, both with inside and outside areas. People move about often. On our cruise, there were 60 passengers (maximum is 100), and importantly, our boat never felt crowded.
There is plenty of space on board, and being a catamaran, there are two bows, therefore twice as many spots to stand up at the front (note: you will most likely get wet if you stand here while the boat is moving fast).
The front of the boat is the only area without proper seats, but a fun place to watch the action.
More than just whale watching – Auckland wildlife and landmarks
Sailing in Auckland always provides plenty of views, whether or not we are searching for marine mammals.
Auckland has an interesting skyline. Most notable are key landmarks like its tallest points both in nature (Mt Eden) and manmade (Sky Tower).
Then there are several marinas, including Westhaven, the largest yacht marina in the southern hemisphere.
A few of the key landmarks across the bay include Mt Victoria and North Head in Devonport, Tiritiri Matangi (open bird sanctuary island) at the end of Whangaparaoa Peninsula, and Rangitoto Island.
Also, there are a variety of islands in the Hauraki Gulf.
And, of course, wildlife. In addition to marine mammals, New Zealand fur seals, sharks (we have personally seen both a bronze whaler and a hammerhead), manta rays, and turtles.
I love watching the dolphins play
While the whale sightings are really special, I also love watching dolphins at play. There are typically even more dolphins spotted in winter months.
Tips to make your Auckland whale watching experience even better
AWADS guarantees a sighting. Dolphins are seen on over 90% of trips and whales on over 70%. If they don't think it was "good enough," you get a voucher for a free trip. This is ideal for locals as there's always another day.
If you are prone to seasickness, remember to bring or take whichever medicines you use. On the day we went, the weather was perfect; however, our first attempt out was turned back due to an unexpected change in the weather.
Listen to the commentary – it's informative, interesting, and funny.
We planned our day when there were no cruise ships in port, assuming there would be fewer passengers.
Consider wearing layers and include an all-weather/rain jacket and either a sunhat or beanie, depending on the weather. Also, don't forget your sunscreen, sunglasses, camera, binoculars, and your lunch (or you can buy food on board, but they may not be able to cater to special diets).
Whale watching is how I like to get my blood pumping, and therefore I include it among the best adventure activities in Auckland.
Auckland whale watching photos from other days
As these animals are wild, every day is different. Therefore, I was provided with some of the AWADS favourite shots to share here.
Where is AWADS?
Dolphin Encounter, the AWADS boat, is docked just across from the entrance to New Zealand's Maritime Museum. While you can book up to twenty minutes before departure, it's easiest to book online.
Other places to whale watch in New Zealand
Auckland isn't the only spot in New Zealand for whale watching. Kaikoura and Akaroa on the South Island are both well-known for marine mammal sightings. If you're headed that way, check out these options, all listed here with links offering discounts depending on the date you choose:
Whale Watch Kaikoura: Also a catamaran sail, they typically spot Giant Sperm Whales, New Zealand fur seals and dusky dolphins. Check for Whale Watching Kaikoura discounts here.
Flyover Kaikoura – Whale Watching – Seen from the air rather than a boat, on this 40-minute adventure you will see sperm whales, other marine life, and the stunning Kaikoura mountains and coast. Check for Flyover Kaikoura discounts here.
Akaroa's Coast Up Close Scenic Wildlife Tours: While whales are rarely spotted here, they often do spot Hector's dolphins, New Zealand fur seals, little blue penguins, and of course, the beautiful Akaroa and Banks Peninsula. Check Akaroa's Wildlife tour for discounts here.
Save on your NZ trip with these resources
These are our go-to companies when we travel. We believe this list to be the best in each category. You can't go wrong using them on your trip too.
Check out our travel resources page for more companies that we use when you travel.
Save for later
Please share on social media including Pinterest:
Have you been whale watching in Auckland?
Disclaimer: We were guests of Auckland Whale and Dolphin Safari boat. To aid in the writing of this page, we were also provided with several of the images above, and we have been granted permission to use their photos on this page. However, the opinions stated here are strictly our own.