Muriwai Beach is wild waves crashing against a seemingly endless black sand beach. This scene competes for our attention with thousands of Australian gannets that fly nearly 2,800 km to court, nest, and breed here. A must-see on Auckland's rugged windswept west coast, Muriwai Beach is captivating.
Visitors represent a mixed bag, drawing families to the patrolled swimming area, surfers to the big waves, fishermen to the rocks, and tourists (and locals) to the Muriwai gannet colony viewing area.
Less than a 45-minute drive from Auckland's city centre, Muriwai is a world apart. Muriwai Beach has spectacular sunsets, incredible marine and birdlife, and hiking trails. Nearby, there are vineyards, cafes, a golf course, and a surfing school. While it can be a quick one-hour visit, we prefer an all-day adventure.
Muriwai gannet colony
There is nothing quite like standing on the viewing platform and looking out over thousands of birds and their chicks. Some are nesting, others preening, eating, or in flight.
Each year, about 1,200 breeding pairs of Australian gannets (Māori name: takapu) make the long flight across the Tasman Sea from Australia to breed at Otakamiro Point at Muriwai. They are large tropical seabirds with black and white plumage and a golden head.
With a wingspan of 1.8 metres, the gannets seem to glide effortlessly through the sky.
More from Muriwai Beach …
*The gannet colony and chick footage start at the 20-second mark of the video just below.
Visitors can stroll along the short (under 1 km) Takapu Refuge Walk from car parks on either end to see the birds. Depending on wind direction, we typically smell the birds before we see them from the viewing platform. They stink, far worse than we expected.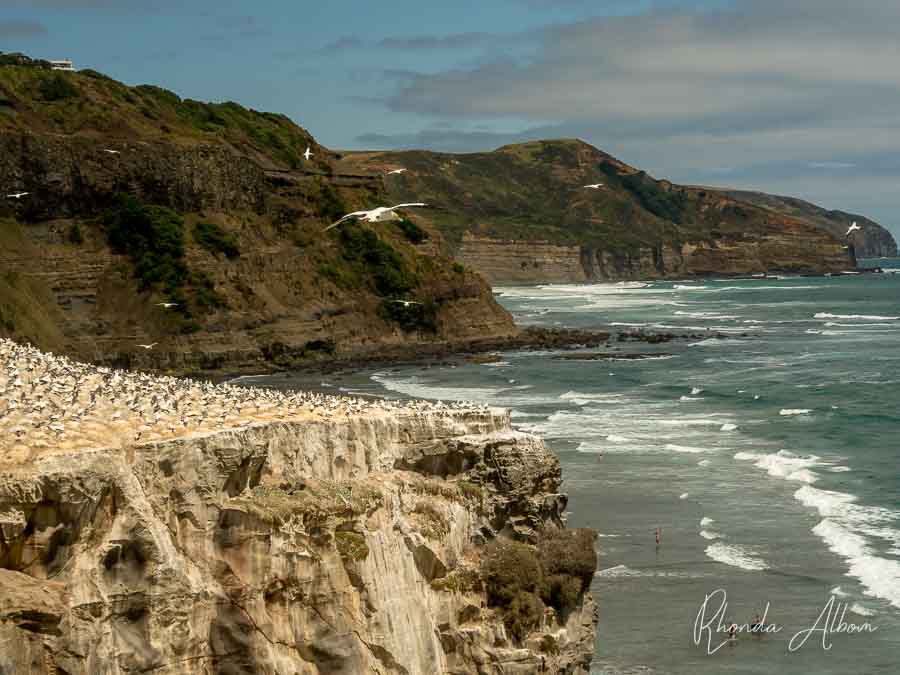 In March, the gannets return to Australia. Many of the chicks don't survive the long flight, but those that do will return in three years and continue the cycle.
Important: The gannets are typically only in New Zealand from August to March.
Muriwai is one of three New Zealand mainland breeding colonies for takapu. Each of the other two, Cape Kidnappers in Hawkes Bay on the North Island and Farewell Spit in the Tasman district on the South Island, attract larger colonies than Muriwai.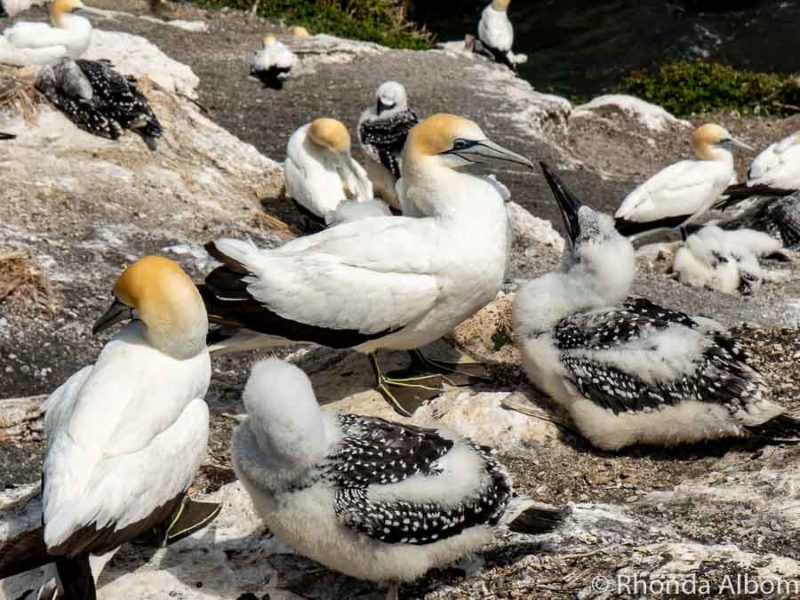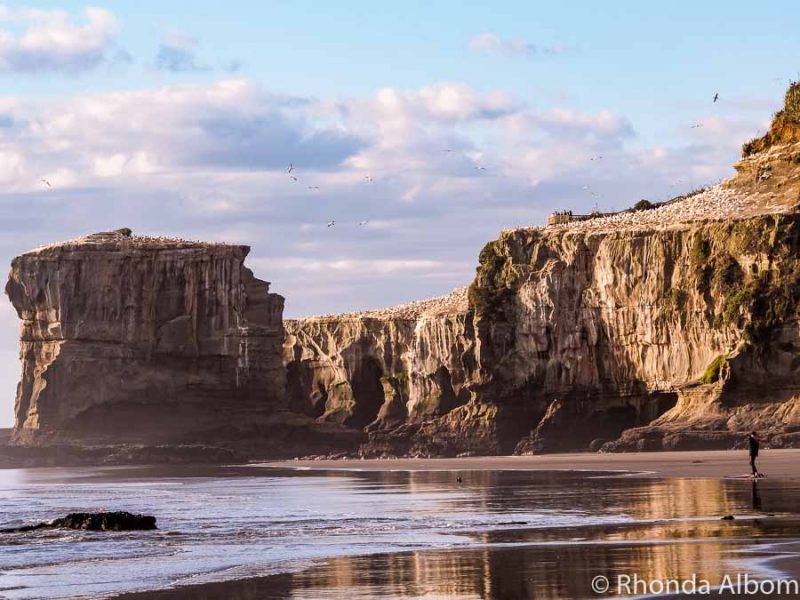 Muriwai Beach: black sand, surfing, and swimming
The black sand characteristic of west Auckland beaches draws visitors to Muriwai all year long. It is dense with iron in the form of magnetite (Fe₃O₄), which makes it magnetic.
That, along with the big waves, makes Muriwai surf an attractive beach for adventure seekers. The safe swimming area is patrolled by lifeguards and identified by the yellow and red surf lifesaving flags, whose position is dictated by currents and riptides.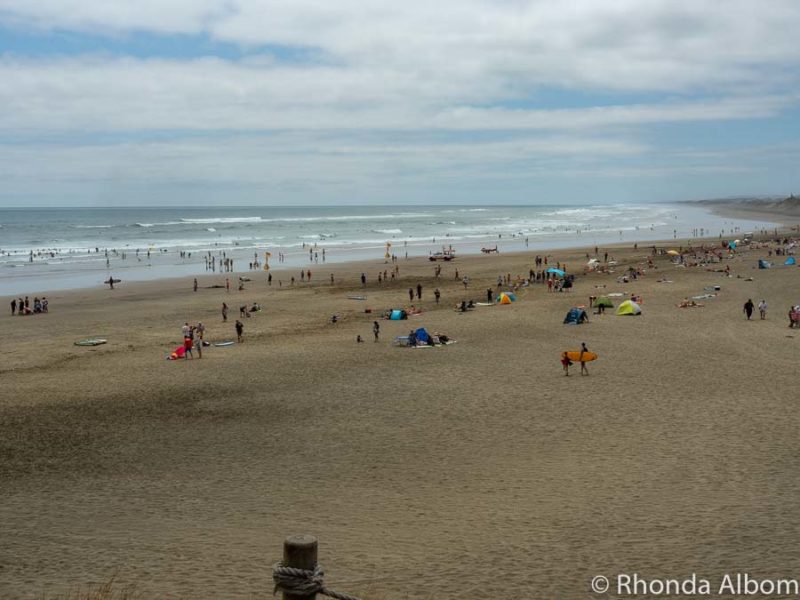 Muriwai surf lessons
If you have ever thought about learning to surf, Muiwai is a good place to start, but much safer with an instructor. With a solid reputation and outstanding reviews, we feel comfortable recommending a 2-hour group lesson with Muriwai Surf School. Importantly, a dedicated instructor is with participants in the water at all times.
Lifeguards, qualified coaches, and skilled surfers cover basic techniques, including board control, standing, and catching waves in addition to ocean awareness and safety. Use of a board and a wetsuit is included in the price of the lesson. Check for deals here.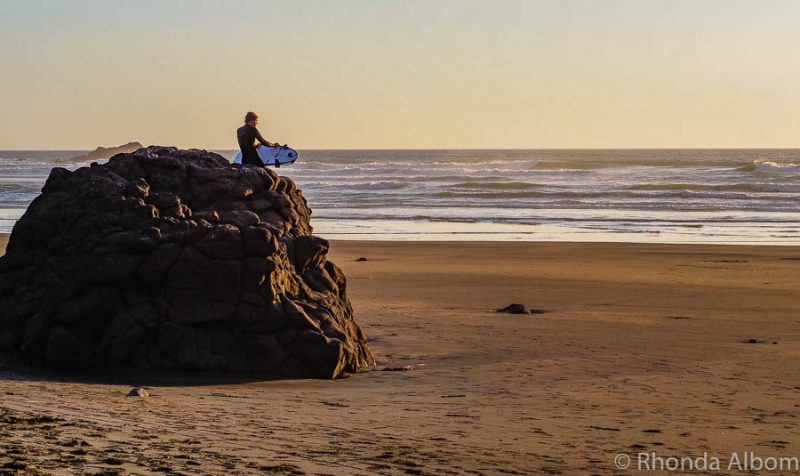 Things to do at low tide at Muriwai Beach
If you can, visit Muriwai at low tide, as there are some cool things that can only be done when the Muriwai tide is out. Either way, carefully check the tides, and stay off of the rocks and out of the caves on incoming and high tides.
Muriwai Beach cave
Access to the Muriwai Beach cave is only at low tide. In fact, the cave becomes dangerous at high tide as it fills with seawater.
Starfish exposed on the king low tide
On the south side of Otakamiro Point is Maori Bay, a beach that only appears at low tide. On the low end of the king tides (also called spring tides), areas of the beach are exposed that allow us to see fascinating marine life in the tide pools that are normally hidden under the sea. I find the multi-armed seastars the most fascinating.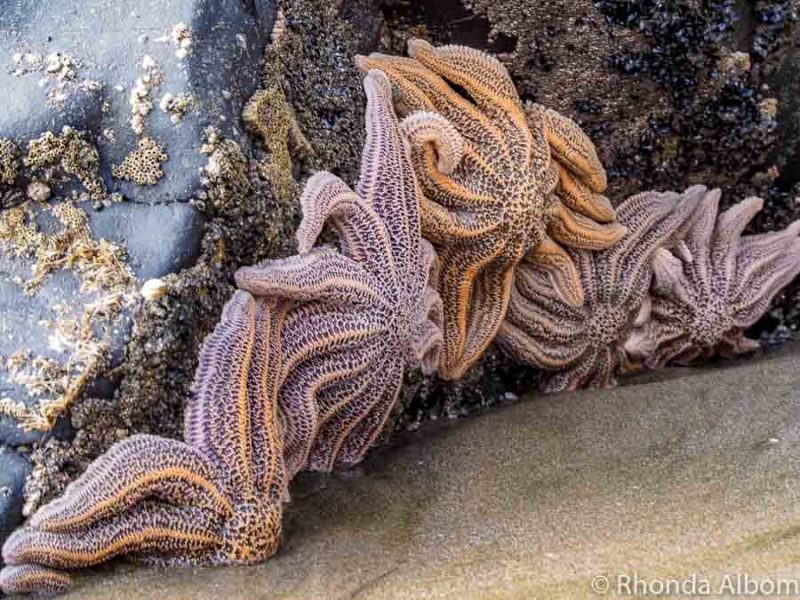 Muriwai Beach fishing
As we plan our visits for the lower tides, we generally see fishermen on the rocks, despite the warning signs. We have seen occasional waves splash over the rocks, but these New Zealand fishermen didn't seem too phased by it.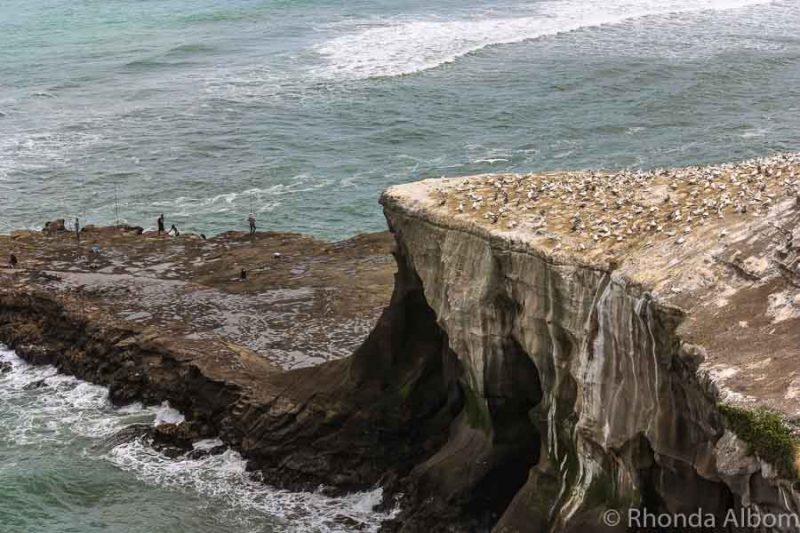 Sunset on Muriwai Beach
A west coast beach, Muriwai offers intense sunsets. If you come for the sunset, be sure to park in the main beach carpark. This is because the parking area at the end of Waitea Road closes after dark.
It's easy to see why this is one of the many beautiful locations in Auckland.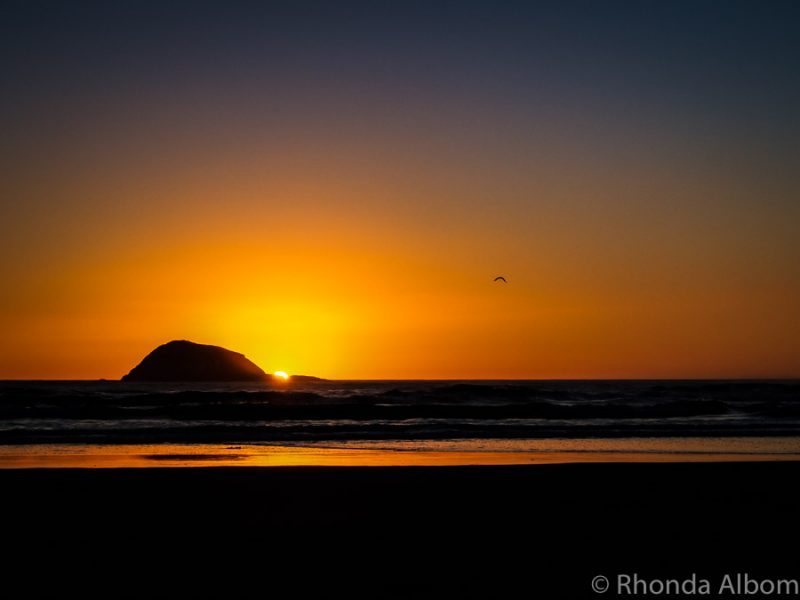 Getting to Muriwai Beach
Unfortunately, there are no public transportation options from Auckland to Muriwai. The two best options are a private vehicle or a tour.
Visiting the Muriwai gannet colony and beach by car
The drive takes less than 45 minutes from Auckland city centre. From State Highway 16, take Muriwai Road for about 10 km before splitting onto Motutara Road. If you stay on Motutara, it will end in the beach's large carpark, which has public changing rooms, toilets, and access to one end of the Takapu Refuge Walk trail.
To get to the other parking area, split off of Motutara Road to the left at Waitea Road. Then, turn to the right on the small road labelled only 'Gannet Colony.' At the end of this road is a carpark and the other end of the walking trail offering a slightly shorter walk to the viewing platform.
If you don't have your own vehicle, renting one in Auckland is easy. We have been using RentalCars.com successfully around the world and in New Zealand. Like a rental car search engine, they compare local companies and often offer lower prices than going direct. For us, it's the customer service that keeps us coming back.
Visiting the gannet colony with a tour
Without your own vehicle, the best way to visit Muriwai is with a tour. There are two that pique our interest, both with great ratings and reviews.
A wine lovers tour: This 5 ½ hour adventure takes a small group of visitors from Auckland to three wineries, where you can enjoy some of New Zealand's finest wines. It also includes a visit to either Muriwai or Piha Beach. Best of all, it advertises a guaranteed departure, so no worry about low numbers of sign-ups. See details and check for discount prices
Private tour: (not currently available) If the wine doesn't appeal, or you have a larger group, check out this private tour priced for a group (rather than a per-person price like the wine tour). This full-day option will take you where you want to go on the west coast, exploring destinations like the gannet colony and black sands at Muriwai, as well as locations of natural beauty, adventure, or wineries. Check price and reviews of this Private Tour from Auckland
Horse Riding: (not currently available) A third option we want to include is new to GetYourGuide, and therefore without reviews. However, it may appeal to horse lovers as it includes a one hour ride along Muriwai Beach. Check price and availability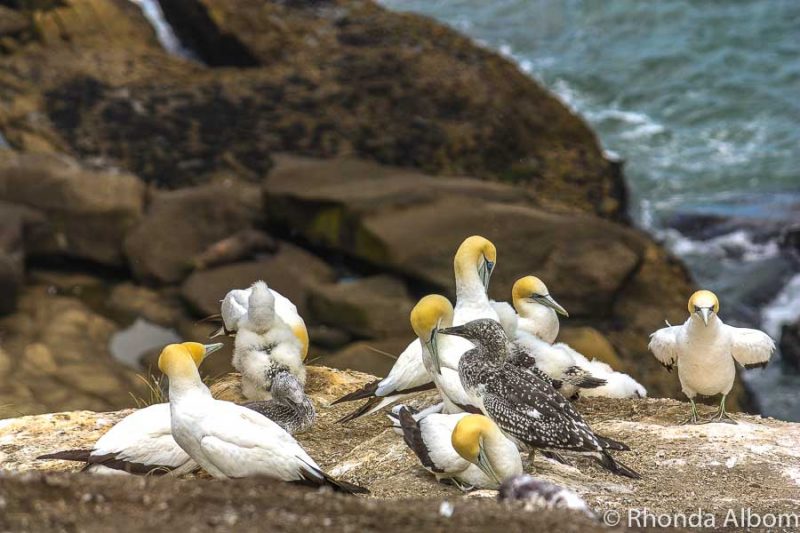 Final thoughts on visiting Muirwai Beach
If you are going into the water, swim between the flags. (This is important enough to mention twice).
Weather in Auckland is changeable. Dress in layers and bring a wind/rain jacket in your beach bag.
Remember, the sea is unpredictable with currents and riptides. Never swim alone, and always supervise your children.
The gannets at the Takapu Refuge are wild birds that have been protected since 1979 by the Auckland Regional Council with the help of the Royal Forest and Bird Protection Society.
Muriwai is one of several interesting places to visit along Auckland's west coast and should be included on any list of things to do in Auckland, especially if you are looking for something more unique to do in Auckland.
Save on your NZ trip with these resources
These are our go-to companies when we travel. We believe this list to be the best in each category. You can't go wrong using them on your trip too.
Check out our travel resources page for more companies that we use when you travel.
Save for later
If you enjoyed this article, please share it on social media and save it for later on Pinterest.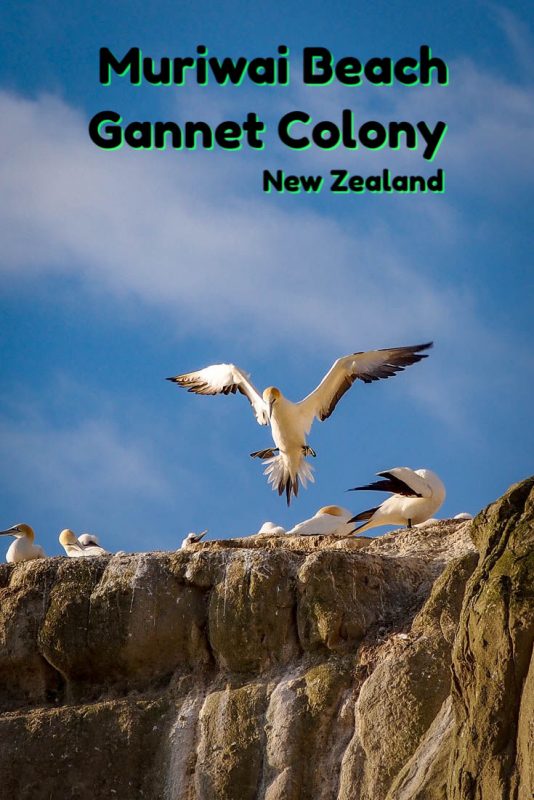 What will you do at Muriwai Beach?