With stunning views around every corner, Auckland has a plethora of options for those looking to explore the great outdoors on foot. In fact, short hikes are one of our favourite past times, and there are more than enough must-do Auckland walks to keep us happy.
Whether you're seeking a short stroll through parks and gardens, or a more challenging hike with panoramic views, Auckland has got you covered.
From the city's scenic coastlines to its volcanic cones, we share our favourite 18 short Auckland walks. They take us through breathtaking New Zealand landscapes.
Whether you're a seasoned hiker or just looking for a leisurely stroll, there are walks and hikes to suit every fitness level and interest.
We are excited to showcase our top picks for the best walks in Auckland.
Best walks in Auckland
Mount Eden Summit
Auckland Domain
Westhaven Promenade
Cornwall Park and One Tree Hill
Milford to Takapuna
North Head Historic Reserve
Long Bay Regional Park
Chelsea Estate Heritage Park
Lucas Creek Falls
Orewa Estuary Walkway
Tiritiri Track in Shakespear Regional Park
Alice Eaves Scenic Reserve
Wenderholm Perimeter Track
Waitakere Ranges
Te Henga Walkway
Ōmana Regional Park
Hunua Ranges
Farm Loop Walk in Duder Regional Park
Where to find the best Auckland Walks
Click the expand / collapse icon in the upper left corner of the map for the details.
Before we get into the details, be inspired…
Central Auckland walks
There is a seemingly endless number of walks and hikes in the city, and I have yet to do them all. But choosing my favourites was easy, as each of these walks offers something unique and special.
Whether you are just strolling through downtown Auckland CBD along Queen Street or heading to one of the city's impressive regional parks if you like walking, we hope you enjoy our picks.
Mount Eden summit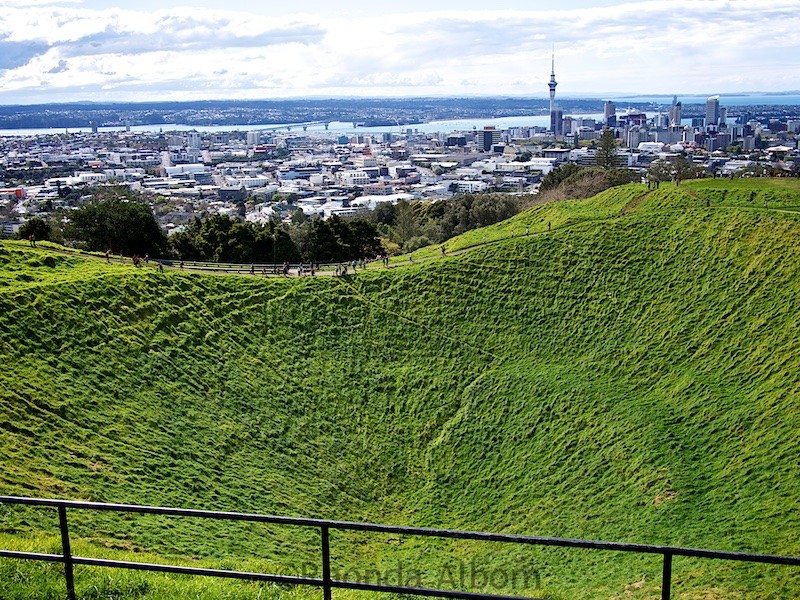 Starting with my favourite walk, and the one I bring nearly all our visitors to see. Mt Eden is just 5 km from the city centre. Its summit is Auckland's highest natural point, on par with the height of the Sky Tower viewing platform (only Mt Eden is free to climb).
The walk to the summit is a moderate 30-minute climb, either on the road (which is now pedestrian-only) or along the forested track. Either way, the panoramic views of the city skyline and harbour are well worth the effort.
But to me, the 50-metre crater at the top of this extinct volcano is what makes it so special. From the summit, we enjoy 360-degree views and walk the crater perimeter along the newly installed boardwalk.
Auckland Domain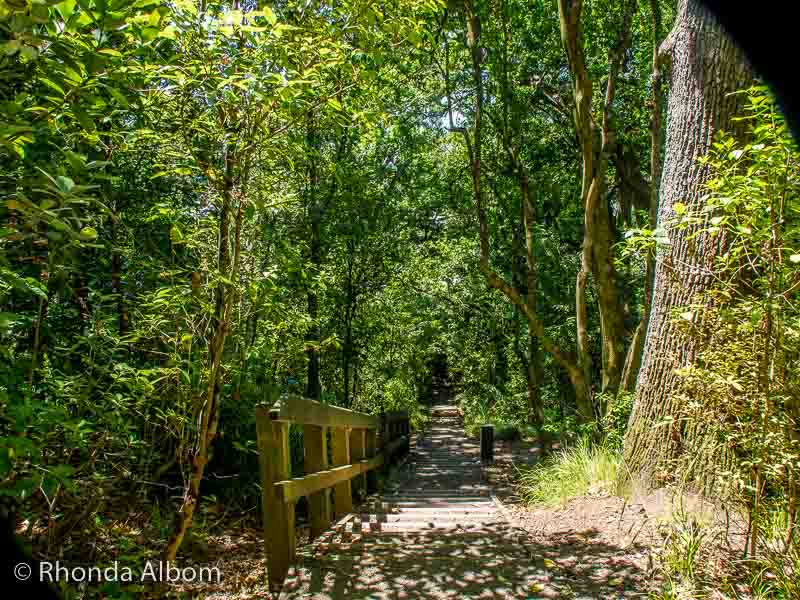 The 75-hectare domain is the city's oldest park. Located in the heart of Auckland City, it's built around the cone of the extinct Pukekawa volcano. There is a range of easy walks through native bush and around historic monuments, and we tend to choose randomly when we visit.
Also located in the park are the Wintergardens and the Auckland War Memorial Museum.
Westhaven promenade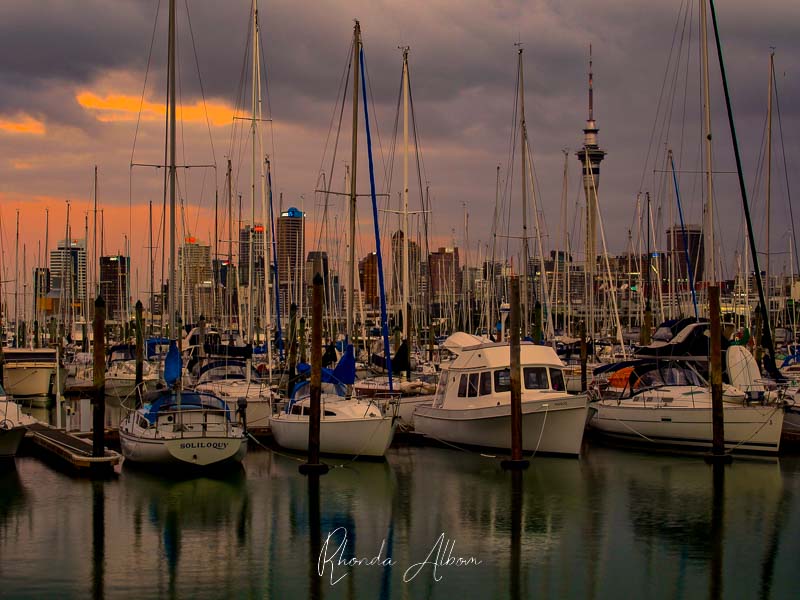 Flat and easy, this walk brings us from the Viaduct Harbour to Westhaven marina along the waterfront. More of a local's choice than a tourist destination, it's a popular spot for walkers, joggers, and cyclists. There are plenty of cafes and bars to stop at along the way.
Unlike most of the other walks, this one isn't out in nature, but it is out in the sunshine (depending, of course, on the weather). I have only walked it in its entirety once, to get from the ferry terminal to the Red Boats at Westhaven marina. Normally, we just walk as far as one of the gelato places or interesting restaurants in Wynard Quarter.
Cornwall Park and One Tree Hill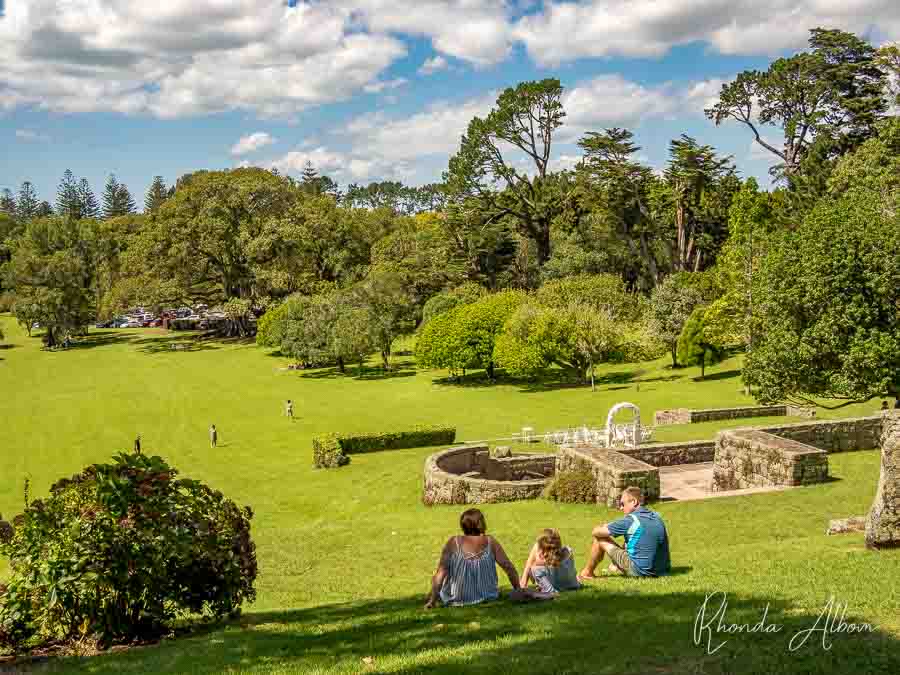 Another top choice is Cornwall Park and One Tree Hill, technically two separate parks maintained by two separate entities, but visitors will more likely think of them as one location. Cornwall Park is 425 acres offering a range of easy walks, tall trees, native birds, wide-open spaces, and historic monuments.
I am sure I am not the only local who thinks it's one of the city's best parks for picnics or flat, easy strolls. Walk through a gate that you will barely notice as it's always been open when we have visited, and you are in One Tree Hill Domain, heading to another volcanic cone. A moderate 45-minute walk brings you to the summit, which offers stunning views of Auckland City.
Like Mt Eden, we can walk on the road but usually choose to hike along the trail just beyond the gate.
Along the way, we pass a former Māori Pa (fortified village), and there is a historic monument at the top. As for the "one tree", it was chopped down by protestors years ago.
The park is also home to Stardome Observatory.
North Shore Auckland walks
Auckland's North Shore has several beautiful coastal walks for those seeking a healthy dose of fresh air. We enjoy the breathtaking scenery of the Hauraki Gulf, Rangitoto Island, and beyond in each segment.
For those seeking a dip in the ocean, the beaches along the North Shore are some of the best in Auckland, with sandy shores and clear blue water that is typically calmer than the west coast.
Takapuna to Milford walk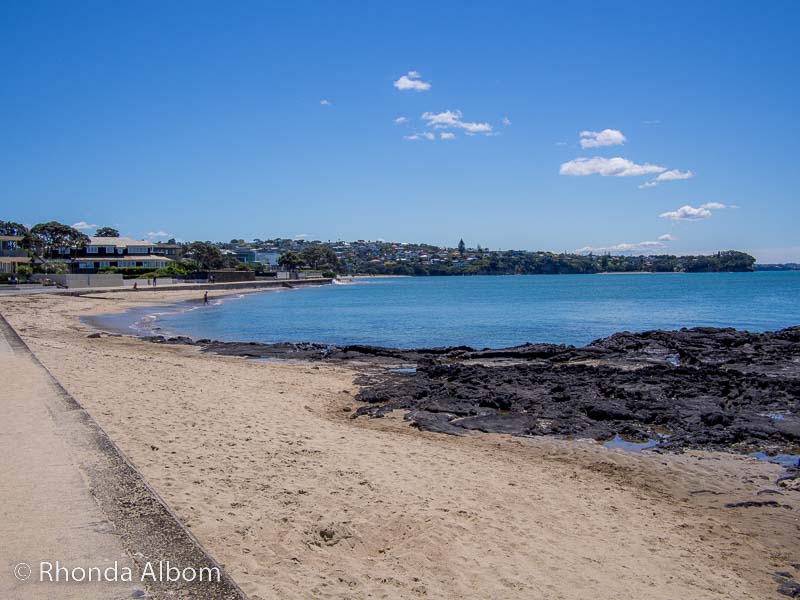 This easy 2-hour walk along the coastline offers uninterrupted views of Rangitoto Island and Waitemata Harbour. Takapuna to Milford is my favourite section of the North Shore coastal walks. The walk can be done in either direction and since we drive to our starting location, we generally walk both.
You have additional options if taking the ferry from the CBD to Devonport to get started. Walking from Devonport to Takapuna is a mix of heritage homes, colonial-era military fortifications, and coastal views. Many consider this walk to be their main event.
The other option from the ferry terminal is the 20-minute flat coastal walk out to North Head, then an additional 30 minutes to reach the summit for panoramic views of the Hauraki Gulf and Auckland City and to explore old historic military tunnels and fortifications. You will want to bring a torch (flashlight).
Long Bay Regional Park
This park offers a range of walks along the coastline and through native bush. The easy 45-minute walk to the top of the cliff offers stunning views of Long Bay and the Hauraki Gulf. From here, we like to head down to Grannys Bay.
When we time it right, arriving within a couple of hours of the low tide, we walk back along the coast to the South (sea is to our left). However, if we walk north on the beach, there are several small inlets, and we sometimes avert our eyes as we pass the "naturalist" enjoying the sun.
Note that on our visit on March 20, 2023, the trail beyond Grannys Bay remains closed from Cyclone Gabrielle damage.
Chelsea Estate Heritage Park
Located in Birkenhead, we only recently discovered Chelsea Estate Heritage Park and its easy walk through historic gardens and a native forest. It borders the Chelsea Sugar Refinery.
The spectacular views back to Auckland feel somewhat unique.
Lucas Creek Falls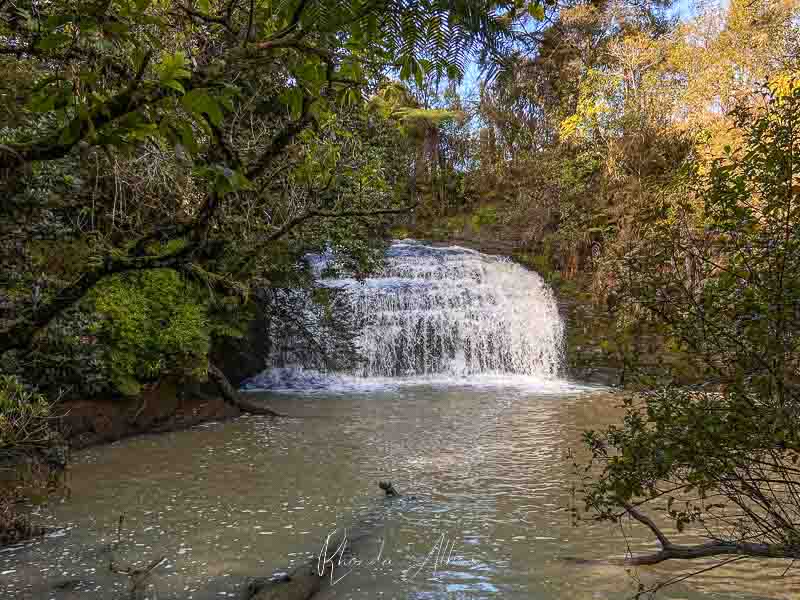 This one we stumbled upon by accident, and to be honest, were quite surprised to see such a picturesque waterfall in the heart of the more densely populated suburb. Unofficially named Lucas Creek Falls, it is a hidden gem in the heart of Albany.
This short walk is an easy 20-minutes through Gills Scenic Reserve that took us through native bush and along a stream to the waterfall. The track is suitable for all fitness levels.
We have heard it's even more spectacular after heavy rains.
Auckland walks Hibiscus Coast and beyond
Heading north, the area just beyond the North Shore is the Hibiscus Coast which runs Whangaparaoa Peninsula to Hatsfields Beach.
Orewa (Te Ara Tahuna) Estuary Walkway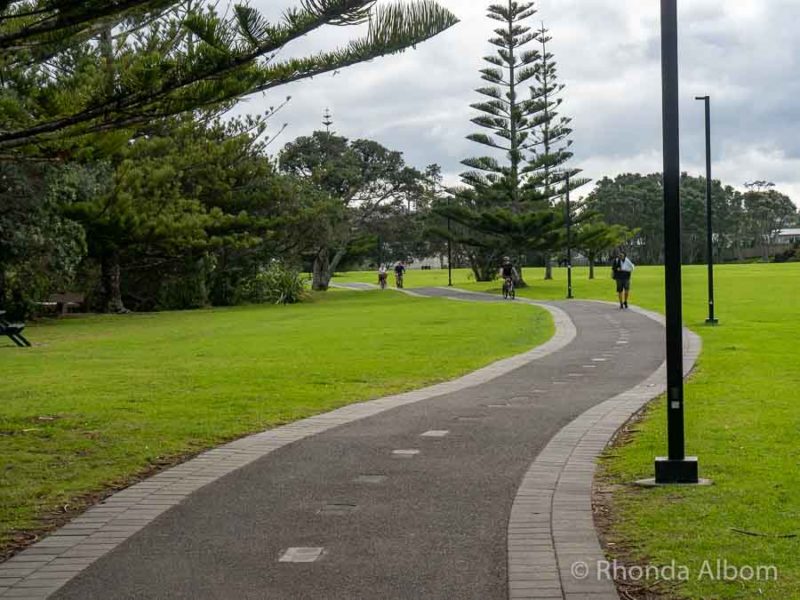 Orewa is a charming coastal community with a patrolled 2.6-kilometre-long beach. Across from the beach starts the Estauary Walkway, a flat, easy 7.6 km walk that takes us along the Orewa Estuary, offering views of the surrounding wetlands and countryside. It generally takes us about 90 minutes to complete.
The wetlands make it popular for birdwatching.
Note that this is a shared trail with both bicycles and pedestrians, and everyone is requested to keep to their left. Be kind as you pass, and remember that on this path (according to the signage), it is feet before wheels, and slower users have priority.
Shakespear Park
Shakespear Regional Park is our number one place for our Auckland walks and hikes for two reasons. First, it's lovely, and secondly, we live extremely close.
There are plenty of options, but our favourites include the 3.9-kilometre Heritage trail (yellow markers), which leads us to a small waterfall, through wooded areas, and up to a lookout tower offering 360º views. The walk takes us about an hour.
The other is the Tiritiri Track (red markers), a moderate 4.8-kilometre walk that takes us about 90 minutes to walk through native bush and along the coastline. The track offers stunning views of the Hauraki Gulf and is a popular spot for birdwatching.
Alice Eaves Scenic Reserve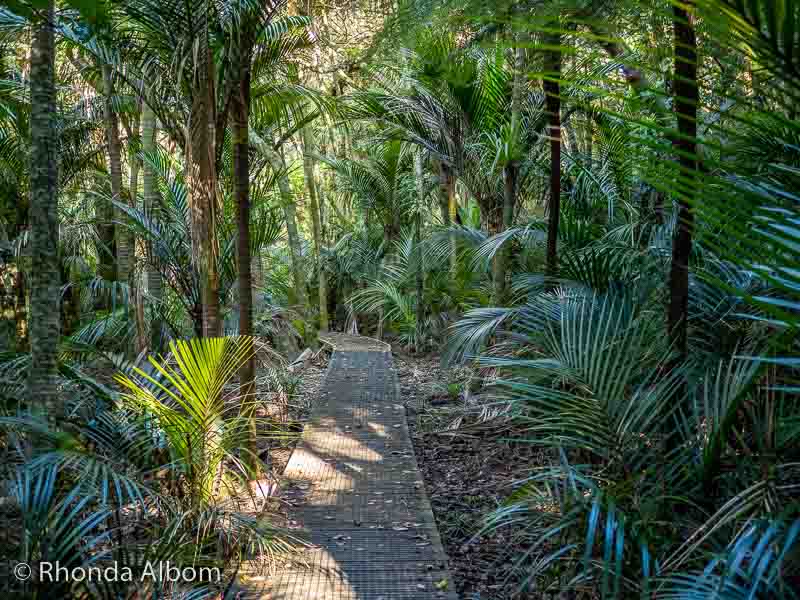 Located at the northern end of Orewa is a delightful bush walk that had been closed for some time. It sits between Old North and Hillcrest Roads, with limited parking spots available at either entrance.
The loop track is 3.2 km and took us less than an hour to complete. We started from Old North Road and walked the first portion up to Hillcrest Road. Although there were lots of stairs, the path was a mix of new and well-maintained boardwalks.
Once at the top, we completed the loop and then returned to the early part of the path. A few interesting features to notice along the way include the 800-year-old Old Hallow Kauri and the charming Walnut Cottage Cafe, which we get a glimpse of through the bush. I mention it, as it's where we normally go after our walk for a lovely breakfast and coffee.
Wenderholm Perimeter Track
Wenderholm Regional Park is another lovely option, and here we most often do some of the shorter tracks, but when we are feeling ambitious, we like to walk the Perimeter Track (red markers).
The Perimeter walk takes around 90 minutes and is best suited to confident walkers, as there are several steeper areas. It's a 4.6 km track that takes us around Maungatauhoro, a sacred place (wāhi tapu) to the Māori people.
It's the mix of history and views that I love most about this walk. Early on, we pass a carving (pou whenua) representing the physical and spiritual connection of people and land. Next, we pass the historic Couldrey house before beginning our ascent.
At the top, we are rewarded with stunning coastal views. There is even a huge fallen log staked in place to act as a bench to sit on and soak it all in.
Note that on our visit on March 24, 2023, portions of the trail remain closed from Cyclone Gabrielle damage, but you can still reach the top if you start just beyond the Couldrey house.
West Auckland walks
The wild west coast is a great destination for nature enthusiasts and hikers. The region offers stunning walks through lush subtropical rainforests that lead to breathtaking waterfalls and plenty of surf beaches.
Waitakere Ranges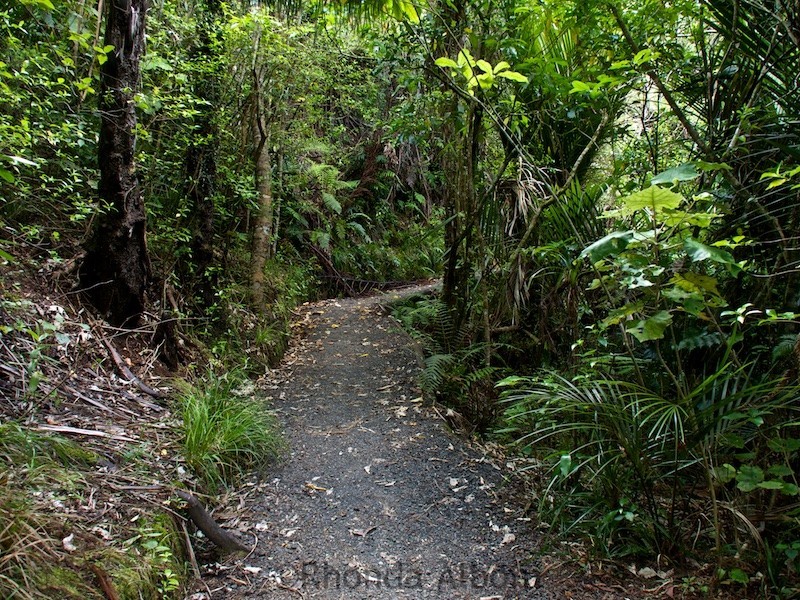 Several of the best Auckland walks are found in the Waitakere Ranges. Here, there is something for all fitness levels, from short strolls to challenging multi-day hikes.
As fans of waterfalls, two of our favourites Auckland walks lead to either KiteKite Falls or Karekare Falls. The Kitekite Falls Track takes about an hour, leading us through native bush, leading to a stunning 40m waterfall.
The walk to Karekare Falls is even shorter, but the rewards are equally impressive.
Of course, if you are looking for a huge walk requiring quite a bit of prep work, the four-day Te ara Tūhura / Hillary Trail starts just behind the Arataki Visitor Centre.
If you don't have your own transportation, this top-rated tour looks like a great option. It stops at the Arataki Visitor Centre and includes both a beach and bush walk in the Waitakeres. Reserve your tour here.
Note that sections of the Waitakere Ranges Regional Park are closed to prevent the spread of kauri dieback disease.
Te Henga Walkway
Currently Closed
Also known as the Bethells Beach Walkway, this 10 km coastal track stretches from Muriwai Beach in the south to Bethells Beach in the north, along the rugged west coast of Auckland. The track offers stunning views of the Tasman Sea and takes about 3.5 hours one way.
Along the way, pass through sand dunes, wetlands, rocky outcrops, and coastal cliffs, making it a challenging but rewarding hike for experienced hikers. A shorter option is to walk the just over 2km section from Bethells Road to O'Neill Bay. We like to return along Bethells Beach, reducing the return time to about 90 minutes.
As the trail was closed when we published this, be sure to check DOC's website for the current status before you set off.
Walks south of Auckland
Living north of the city, we don't do the South Auckland walks nearly as often as we would like. However, when we do go south, we take advantage of the many breathtaking views and natural wonders through various walking trails in the region.
Hunua Ranges
Another favourite spot offering several Auckland walks, the Hunua Ranges cover over 400 square kilometres of lush green forest. A highlight for many is the Hunua Falls and, although discouraged, the swimming hole at the base.
There's a short walk from the nearby carpark, or take the 15-minute Hunua Falls Path loop from the Wairoa River through the native forest to a waterfall lookout.
If we are feeling way more energetic, we will take the 8.3 km Cossey-Massey Loop Track. It takes 3 hours, but we are rewarded with sensational views of the Ranges. With rocky outcrops and a few steep sections, it's recommended for experienced hikers.
Note that, like the Waitakere Ranges, sections of the Hunua Ranges Regional Park are closed to prevent the spread of kauri dieback disease.
Ōmana Regional Park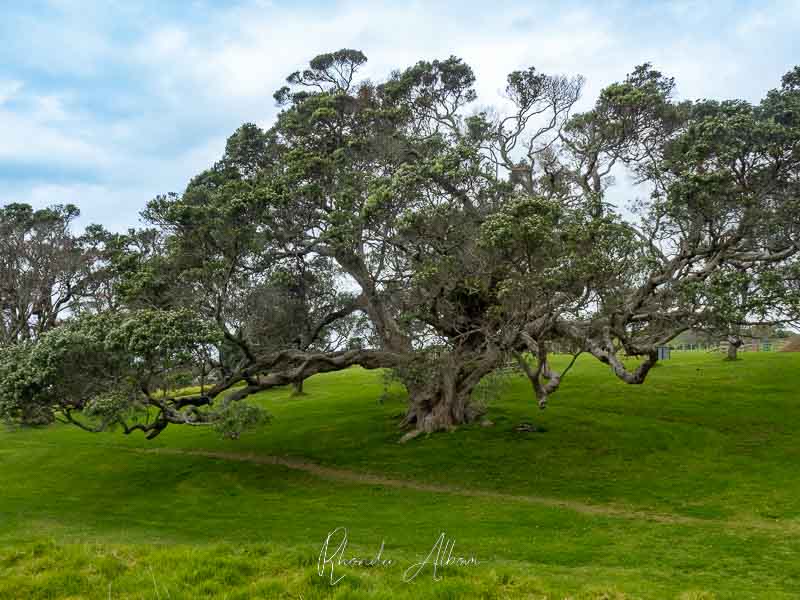 Located on the Pohutukawa Coast, Ōmana Regional Park offers a range of walks through native bush and along the coastline.
We most recently walked along boardwalks and dirt trails of the Beachlands Maraetai Walkway in Ōmana Regional Park. It was an easy walk through a mix of dirt trails, bush walks, and lovely coastal views.
There is also an easy 2-hour walk to the lookout that offers stunning views of the park and the Hauraki Gulf.
Duder Regional Park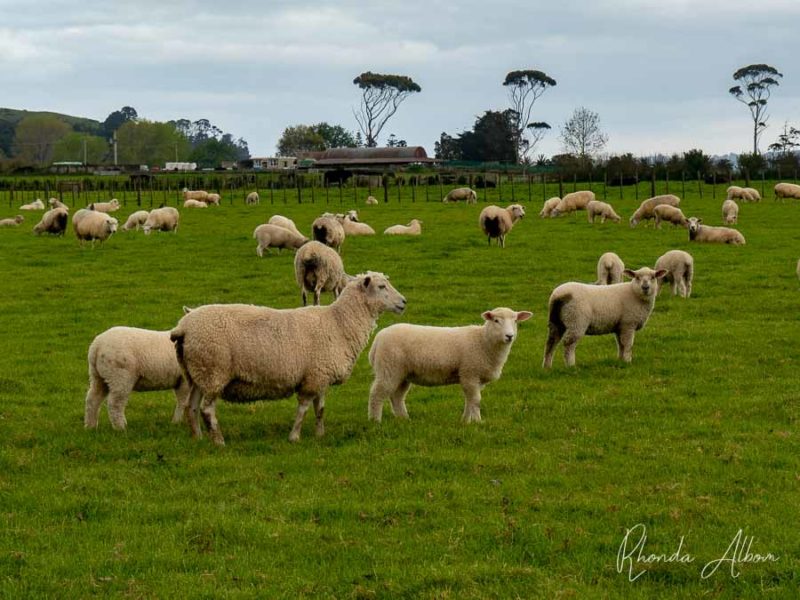 We are fairly sure that if we lived south of the city, Duder Regional Park would be home to our favourite Auckland walks. Like Shakespear, it's the perfect mix of coastline, beaches, farmland, and historic sites.
The easy 1-hour Farm Loop Walking track is probably the park's most popular. Aside from impressive views, it offers a side track option to an old Māori pa.
We last visited in the springtime and were enchanted by the lambs.
Save on your NZ trip with these resources
These are our go-to companies when we travel. We believe this list to be the best in each category. You can't go wrong using them on your trip too.
Flights: we use Expedia for the best and cheapest flight options.
Accommodations: we use Booking.com (hotels), Bookabach (self-contained in NZ) or Hostelworld (budget).
Cars (gas or electric): we use RentalCars to search for deals and dealer ratings.
Motorcycles: we have heard good things about BikesBooking.
Campervans or Motorhomes: we use Campstar where Albom Adventures readers get a 3% discount.
Activity discounts: we check Bookme.com for discounts of up to 70% on activities.
Private guides: we love the private guides at Tours by Locals.
Travel Insurance: while not required, we always opt for travel insurance and start at InsureMyTrip to compare coverage plans.
Check out our travel resources page for more companies that we use when you travel.
Save for later
If you enjoyed this article, please share it on social media and save it for later on Pinterest.
Which are your favourite Auckland walks?