Our Riverhead cruise brought a relaxing Auckland Afternoon adventure, stepping off the beaten path and discovering something new in my own backyard. By venturing to places I had never been before, the day had the excitement of travel, without the expense of going very far from home.
Our afternoon was about the journey, as much as the destination. From Auckland's Westhaven marina we followed the trade route of early European settlers to the historic Riverhead Tavern. With plenty of time to explore, we enjoyed lunch and spent time at New Zealand's oldest riverside tavern.
Whether you are tired of the fast pace of the city, looking for something different to do, or wondering about what you will find on some of the lesser travelled Auckland waterways, we recommend checking out this Riverhead cruise.
Honestly, it's a perfect day out for families, older people, or anyone just looking for a relaxing day. The main restriction is the staircase to climb from the dock in Riverhead.
And, depending on when you choose to go, you may even be able to get a discount.
Note: Always check the official rules regarding New Zealand's traffic light' levels. Many options are at reduced capacity, therefore, booking ahead is more important than ever, as is reading cancellation policies.
First, be inspired by Auckland …
A Riverhead cruise onboard the Red Boats
Some links on this page can save you up to 70%. We earn from qualifying purchases through partnerships or affiliate programmes.
We began our adventure in Auckland (at Westhaven Marina) by boarding the Red Boats for a 90-minute leisurely cruise on a river system I had yet to explore. Cruising on the calm waters of the upper Waitemata Harbour, we began to relax and take in the lush scenery.
A boat ride so smooth and calm, I think most people could read onboard. But why would you want to?
The skipper's commentary offered just the right amount of information, but it was the scenery that made it so special, even while it was a bit overcast.
As we cruised down the upper Waitemata Harbour, we followed the path of early traders. A few of the highlights we passed:
Passing under the Auckland harbour bridge
Chelsea Sugar Refinery
Kauri Point
Riverlea
Brighams Creek
Harkins Point
Herald Island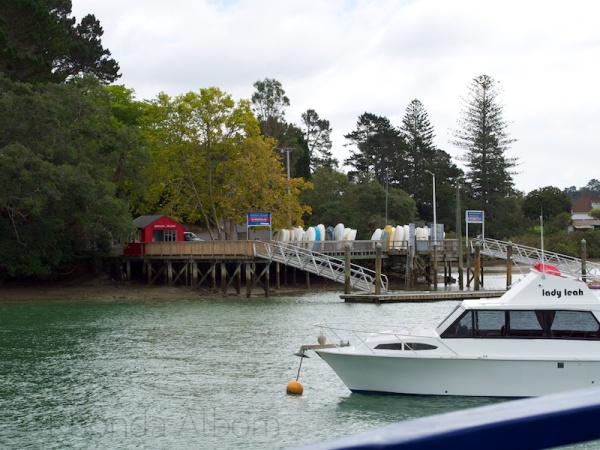 The boat itself is spacious and comfortable, with two main options. There is an open-air upper deck with plenty of seating where I enjoyed the view once we entered the river, as the day's weather was a bit temperamental. However, I began my journey on the boat's lower level watching the world through huge windows.
The Riverhead – Tavern, Restaurant, boathouse, and park
After a thoroughly enjoyable 90-minute sail, we arrived at The Riverhead. Here we enjoyed lunch and spent time at New Zealand's oldest riverside tavern, holding the country's second-oldest liquor license (the oldest is in Russell).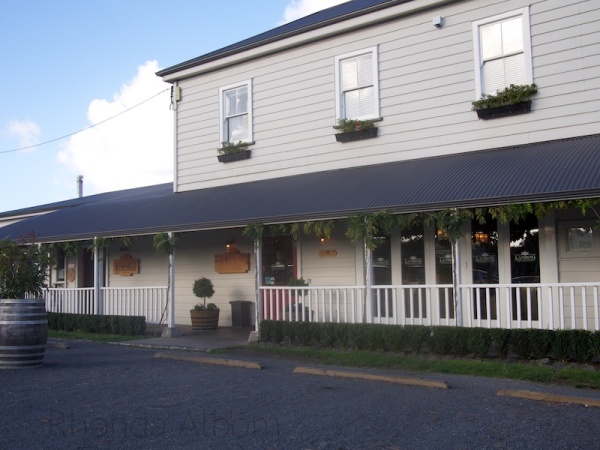 We started our 2.5 hours of exploration time with a delicious lunch on the airy outdoor deck at the Landing Restaurant complemented by local wine matched from their handpicked cellar.
Then we took time to explore the grounds, from the staircase leading up from the dock to the 100-year-old oak trees on the property. We also discovered a woodfired pizza oven, and plenty of peaceful spots to relax with a book, have a picnic or listen to live music when it plays on Sunday afternoons.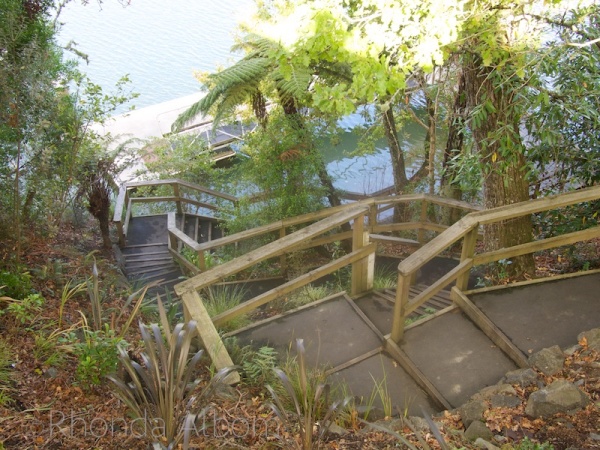 Finally, we entered their classic Kiwi neighbourhood bar, the Portage. The perfect place to hang with your mates, play pool, enjoy a beer, or simply discover Riverhead's history through old stories hang on the walls. And, don't miss the metal motorcycle sculpture hanging over the bar created by local sculptor Garry Dunn, all made from bits and pieces he found around the property.
What You Need to Know about the Riverhead cruise adventure
Before you book, be sure to check Bookme for discounts which are available on various days.
The boat only sails on high tide, so the schedule changes daily.
The visit at Riverhead Tavern is 2.5 hours, plenty of time to eat and visit the Portage Bar.
With the cruise there and back, the total time is 5.5 hours.
You can board at Westhaven marina, or get picked up at Birkenhead 10-15 minutes later.
There is a fully licensed bar onboard the boat.
This is a great way to spend an afternoon. It is one of the more novel dining experiences in Auckland.
Best deals and discounts for Auckland
We earn from qualifying purchases through partnerships or affiliate programmes.
Find more money-saving resources and T&Cs on some of the above, check our Travel Resources page.
Looking for help planning a New Zealand adventure? We invite you to join Explore New Zealand Facebook Group to ask questions or share photos, stories, or anything about New Zealand.
When will you try a Riverhead cruise?
Disclaimer: We were guests of both Red Boats and Riverhead Tavern as we are frequently provided with complimentary entrances, tour, or sample items to aid in the writing of Albom Adventures. However, the opinions expressed here are strictly our own.