Auckland is New Zealand's largest city and the port of entry for nearly all visitors. It's a mecca of things to do, but there are also plenty of fascinating places outside of the city worth a visit. While the places listed here really deserve at least an overnight trip, sometimes day trips from Auckland are the only option. Here, we show you what it's possible to do in a day.
Popular day trips from Auckland range from glowworms to geysers, from beaches to caves, and from Māori culture to hobbit holes. If you're wondering what to do outside the city, check out these incredible one-day trips from Auckland.
This site contains affiliate links to products and/or services. We may receive a commission for purchases made through these links at no additional cost to you.
Day trips from Auckland – Where can I go?
Day trips from Auckland New Zealand range from adventurous to relaxing. They often involve nature, animals, or man/hobbit-made structures. Or, they can be a combination. Start here, with a brief overview of the top five most popular places to visit near Auckland.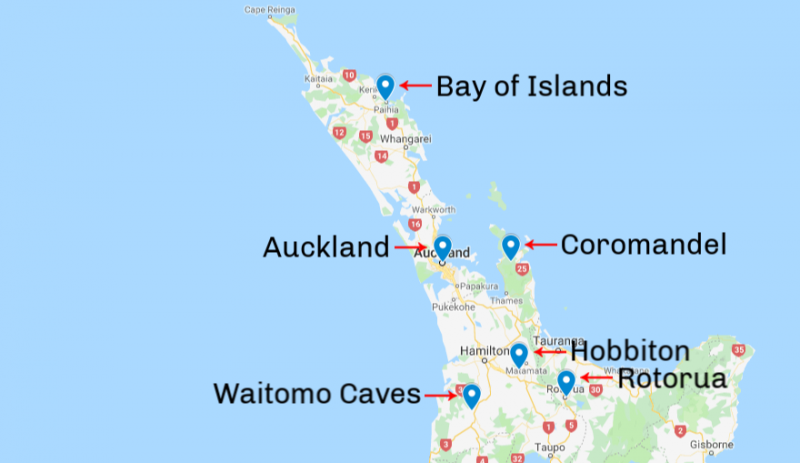 New Zealand highlights on Albom Adventures
Hobbiton Movie Set
Hobbiton Movie Set is 176 km from Auckland, a bit over two hours each way.
A middle earth destination that needs no introduction to Lord of the Rings fans. Hobbiton visits are only available via guided tour. Each two-hour tour of the 12-acre Hobbiton Movie set takes visitors to Hobbit Holes, the Old Mill, and the Double Arched Bridge. You will discover details about the movie set and how it was created. The tour concludes with a complimentary drink at The Green Dragon Inn. Hobbiton is as touristy as one would expect, yet movie fans love it.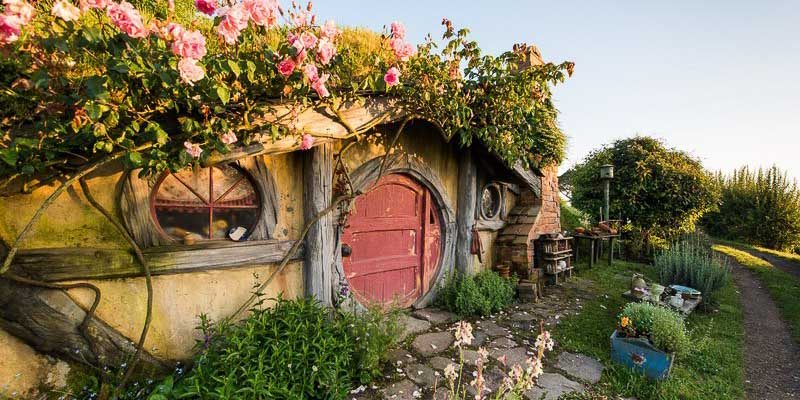 Rotorua
Rotorua is 228 km from Auckland, nearly three hours each way.
A geothermal wonderland and centre for Māori culture, Rotorua is also known for its extreme adventure options. One of my favourite places to take visitors, Rotorua is like few other places on the planet. If you have the time, spend at least a night here. If not, a visit to Te Puia will give you the highlights, including Pohutu Geyser, the largest active geyser in the southern hemisphere, erupting once or twice each hour. Te Puia also has bubbling mud pools, hot springs, silica formations, Kiwi birds, and the national schools of wood carving, weaving, stone, and bone carving.
Waitomo Glowworm Caves
Waitomo Caves are 197 km from Auckland, a two and a half hour one-way drive.
Entry into the Waitomo Glowworm Caves is via a 45-minute guided tour. Starting on foot, admire stalagmites and stalactites before boarding a small boat and drifting through the glowworm grotto in near silence. The caves are lit by thousands of phosphorescent lights from a species of glowworm found only in New Zealand (Arachnocampa luminosa).
Coromandel Peninsula
Coromandel is 173 km from Auckland, with a one-way drive time of two hours twenty minutes.
Bushwalks, forest hikes, natural hot springs, beaches, and a rugged coastline are what attracts visitors to the Coromandel Peninsula. One of the more popular activities is to dig your own 'spa' at the natural hot springs of Hot Water Beach (at low tide).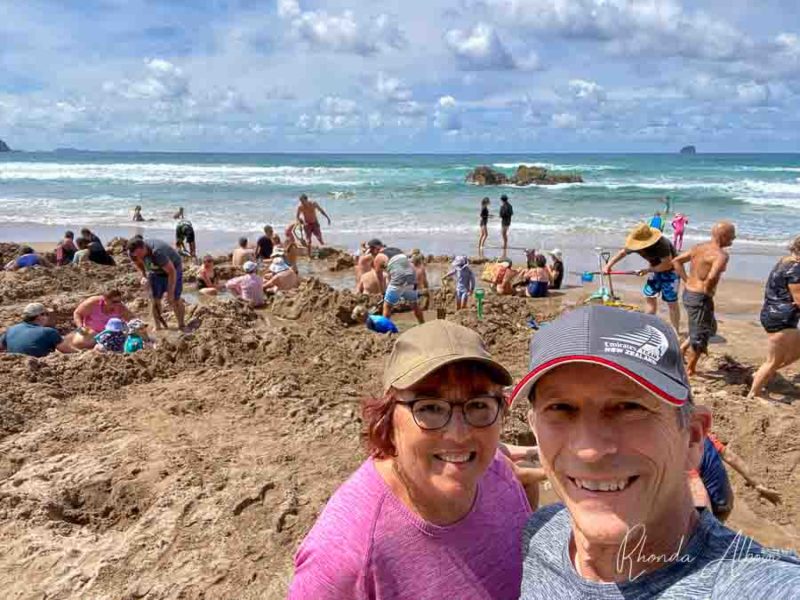 Bay of Islands
Bay of Islands is 232 km north of Auckland, with an over three hour one-way drive time.
Historically important, the Bay of Islands is home to both the Waitangi Treaty Grounds and the town of Russell, which is New Zealand's first colonial capital. The Waitangi Treaty Grounds is the founding site of modern New Zealand. It is here that the first accord between the British and the 43 Maori chiefs was signed. In addition, it is the 140 islands and beaches that keep locals visiting here when we find time to relax.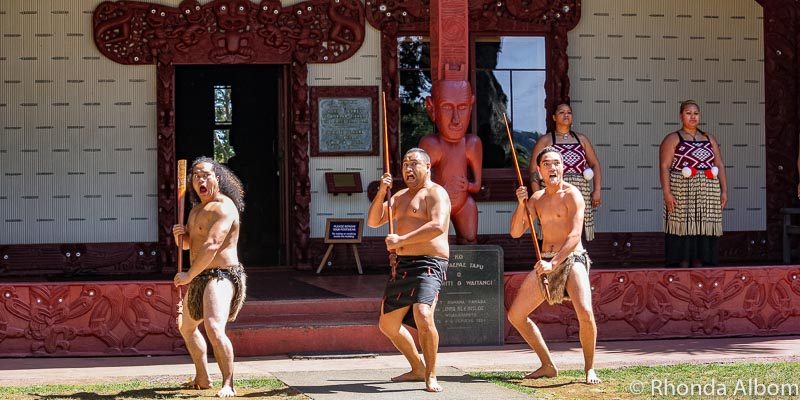 Should I rent a car or take a tour?
Driving in New Zealand – advantages and disadvantages
The main advantage of driving is the ability to change your plan when something piques your interest. The downsides are the cost and time involved in getting the car, the possibility of getting lost, staying focused on long driving days, and finding a car park. A few things to consider before renting a car in New Zealand:
In New Zealand, vehicles drive on the left side of the road and the steering wheel is on the right. The transition is easy for most people, although driving requires a higher level of concentration. Check the NZTA for driving tips for overseas visitors.
New Zealand motorways are generally in excellent condition. However, some rural roads are unpaved. Speed limits tend to be slower than in other developed countries. Also, be aware that Kiwis drive somewhat aggressively, and as a population, tend to drive too close as the following vehicle.
Renting a car is easy. The major international companies are in New Zealand, and the cars are in good condition. We have been using RentalCars.com successfully around the world. As an aggregator, they present options from many brands, often at a lower price than going directly. Plus, RentalCars includes its own customer service and insurance options. Click here to check the prices from RentalCars.com
Taking day tours from Auckland – advantages and disadvantages
The primary advantage of a tour over self-driving is that someone else does the planning and the driving, a fact especially appreciated in Auckland traffic. Also, there is the added knowledge that comes from shared stories, legends, and history retold by the guide. The downsides are that you are on someone else's timeline, no opportunity to add extra time at a favourite spot, and you may have to wait or miss something if other guests are inconsiderate. A few things to consider before signing up for a tour:
Bus tours are usually the most economical option. The advantages depend on the tour and often include commentary, large windows, wifi, and toilets onboard. They are often a good choice for scenic tours or places like Hobbiton that require bus entry. The downside is less personal attention.
Small group tours cost a bit more but have a personal flair. Also on walking, hiking, or other active tours, it is easier for a small group to stay together and to hear the guide.
Private tours are fully customizable. They cost more but generally allow you to see more overall. You move at your pace, and there is no waiting on strangers.
Active tours: In addition to group size, you need to think about the activity level of a tour. Does it include adventure that excites or terrifies you?
Scenic tours: At the other end of the spectrum, scenic tours will allow you to enjoy the spectacular landscapes that New Zealand offers with very little effort.
Our favourite day trips from Auckland
This article contains affiliate links. We receive a small compensation at no extra cost to you when you make a purchase using these links.
New Zealand will forever be associated with the Lord of the Rings, and a Hobbiton tour from Auckland is a popular option. As the Hobbiton tour is only two hours, we prefer to visit it along with another destination. Click here if you want a tour that only visits Hobbiton before returning to Auckland.
Auckland to Hobbiton, Rotorua, & Waitomo caves in a day
This is the perfect tour for people with limited time and a budget allowing for multiple sites. You will experience the magic of the North Island while travelling in small groups in a Mercedes van with comfortable leather seats. Be ready for an early start and a long day on this tour that is listed amongst TripAdvisor's most popular day tours in New Zealand.
The first stop is the Hobbiton movie set. There are no short cuts here, you get the full tour. Next, travel to Rotorua. Here, you will be treated to a traditional Maori hangi lunch buffet in Te Puia's restaurant overlooking Pohutu geyser, as well as limited time to explore Te Puia. Note: in order to get to all three major sites, less than 90 minutes are allocated for both lunch and exploration at Te Puia.
Back on the bus, the final stop takes us into the Waitomo glowworm caves both on foot and in the boat. Afterwards, you will be glad someone else is doing the driving back to Auckland.
Hobbiton & Rotorua tours from Auckland
This is the tour for people who are excited by the above tour but desire more time in Rotorua. Run by the same company, it starts out identically, with hotel pick up, a guided tour of Hobbiton, and then hangi lunch at Te Puia in Rotorua. Here is where the tours differ. You will have more time at Te Puia to explore all it has to offer. It may be your only chance to see bubbling mud pools or kiwi birds, as well as the other unique features of Te Puia. Then, you will visit Rotorua's lakefront and beautiful government gardens.
A nice feature of this tour is the option to either return to Auckland or to stay in Rotorua.
This 10-13 hour tour includes:
Transportation with pick up and drop off at your central Auckland hotel (or choose the option to stay in Rotorua)
Entry and guided tour at Hobbiton Movie Set
Entry and lunch at Te Puia
Guided tour of the waterfront and Government Gardens in Rotorua
Small groups
Hobbiton & Waitomo caves tour from Auckland
This one is ideal for people who prefer fully escorted tours and want a slightly shorter day. It travels first to the Hobbiton Movie Set, then enjoy lunch at The Shire's Rest Café (a Kiwi-style cafe), before driving to the Glowworm caves in Waitomo. Both destinations are seen with guided tours. Please note the travel times above. You will spend nearly 2/3 of this trip in transit.
Auckland to Rotorua day trip
If you are more into nature than movies, this may be the tour for you. Offering several options, it's the most customizable tour on this page. It starts with Te Puia's Māori Arts and Crafts Institute and geothermal sites, followed by a guided city tour.
The next two hours offer three options (reflected in the price). You can have free time, a 2-hour private soak at the Polynesian Spa, or a visit to Wai-O-Tapu Thermal Wonderland. Finally, you can choose to return with your guide or end your tour and stay in Rotorua.
Coromandel day trip from Auckland
A tour for active nature lovers, it includes hiking, swimming, and the opportunity to sit in your own 'spa' at Hot Water Beach. The tour includes a short steep climb to the summit of Mount Paku for amazing views. It also includes a bit over an hour round trip hike along the coastal track into the stunning Cathedral Cove (a film location used in The Chronicles of Narnia: Prince Caspian) where you can swim, or just soak in the stunning scenery.
Bay of Islands day tour from Auckland
It is my opinion that you need at least two days to visit the Bay of Islands from Auckland, as otherwise, you will spend more time travelling than seeing the sites. However, if all you have time for is a one day trip from Auckland, and you really want to see the Bay of Islands, we recommend this tour.
In 12 hours, it takes you from your hotel in Auckland on a guided tour of the Waitangi Treaty House and the war canoes (wakas). Then, hop on a ferry from Paihia and cross to Russell, the first colonial capital and a town once monikered "the hell hole of the Pacific." In Russell, you will be given a coach tour of Pompallier Mission, Christ Church, and Flagstaff Hill, as well as a bit of free time before returning to Auckland.
This 13-hour tour includes:
Coach transportation (with free wifi), including pick up and drop off from selected central Auckland accommodations
Entry to the Waitangi Treaty Grounds and the Treaty House
Ferry between Paihia and Russell
Lunch option
Local guide
Tips and practical information on taking day trips from Auckland
Regardless of which tours you select, keep the following in mind:
The weather is changeable and often unpredictable. It's always a good idea in Auckland and the surrounding areas to dress in layers and bring a light rain jacket.
If you are travelling in summer, bring sunscreen. The hole in the ozone layer over Antarctica thins the atmosphere over New Zealand, making the sun that much more dangerous.
Carry water and a small snack. Even if your tour includes meals, they may not happen when you are hungry.
Bring a camera.
If you have more time, head north to the top of the island, or head south from Auckland to the nations capital city.
Staying in the city
I love Auckland so much, I decided to live here. There is a seemingly endless list of things to do in Auckland without ever leaving town. Personally, I head to the wild west coast or out to one of the local islands when I have a free day in Auckland. If you are looking to stay with 2 hours travel distance, check out this list of a dozen day trips.
If you are looking for that one of a kind Auckland adventure, check out this list.
Booking tips for New Zealand travel planning
Some links on this page can save you up to 70%. We earn from qualifying purchases through partnerships or affiliate programmes.
First-time visitors start here: New Zealand travel guide or with our favourite New Zealand road trips.

Flights: We use Skyscanner to find all the available flight options at the best prices.

Rental Vehicles: For cars, we always use RentalCars.com, a rental car search engine with no hidden costs. For campervans (and larger cars), note that Spaceships Rentals NZ offers free one-way drop-off between Auckland and Christchurch.
**Albom Adventures readers can check for discounts off Spaceships campervans.**

Accommodations: We use Tripadvisor to find ratings and reserve accommodations in most NZ cities.

Activity Discounts: We use Bookme.co.nz to find discounts on entry tickets and tours in New Zealand.

Travel Insurance: We purchase insurance that covers medical and travel emergencies when we head overseas. We start with Travel Insurance Master, an aggregator that gives us a free and easy-to-read comparison of the inclusions of each policy.

Packing Tips: Get a free copy of our New Zealand packing list when you sign up for our mailing list.

**Find more money-saving resources on our Travel Resources page.
Save for later
If you enjoyed this article, please share it on social media and save it for later on Pinterest.
Which of these day trips from Auckland do you think you will try?