From the first moment at Blue Spring Putaruru, I stared at water so intensely blue I had to wonder if nature had added a photo filter. Considered the clearest waters on the North Island, the depth of colour didn't end there. Vivid greens and turquoise surround the spring, which is one of my favourite spots in New Zealand.
It's an easy trek along Te Waihou Walkway to get to Blue Spring, with a reward far exceeding what I can describe here. It may be the most beautiful spot on the North Island, and that's saying a lot.
If you park at the Leslie Road end, you could make it a quick visit. Or start on the other end and make a half-day of it. Either way, bring a camera and be prepared to spend time in awe of nature's vivid canvas that spreads out before you.
It's enchanting in a way that needs to be experienced in person. Regardless of the number of photos I had seen, I wasn't prepared for the true beauty that was suddenly laid out at my feet.
It's more than just a lovely place to go, 70% of New Zealand's bottled water is from Blue Spring Putaruru. Above all, the area needs our protection.
Walk with us (virtually) …
About the water at Blue Spring Putaruru
Best explained at the entrance: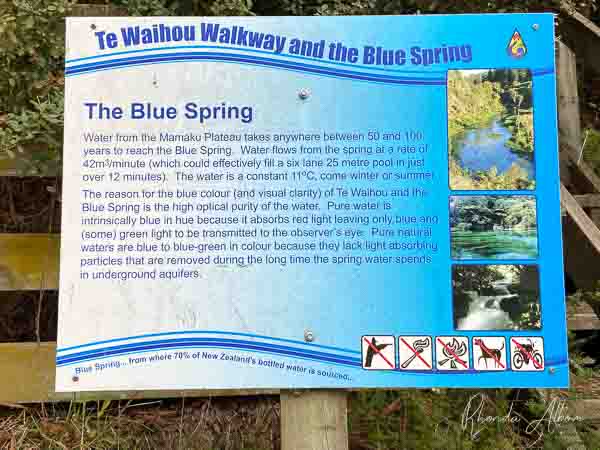 The sign reads:
Water from the Mamaku Plateau takes anywhere between 50 and 100 years to reach the Blue Spring. Water flows from the spring at a rate of 42m3/minute (which could effectively fill a six-lane 25-metre pool in just over 12 minutes). The water is a constant 11ºC (52ºF), come winter or summer.

The reason for the blue colour (and visual clarity) of Te Waihou and the Blue Spring is the high optical purity of the water. Pure water is intrinsically blue in hue because it absorbs red light leaving only blue and (some) green light to be transmitted to the observer's eye. Pure natural waters are blue to blue-green in colour because they lack light absorbing constituents and particles that are removed during the long time the spring water spends in underground aquifers.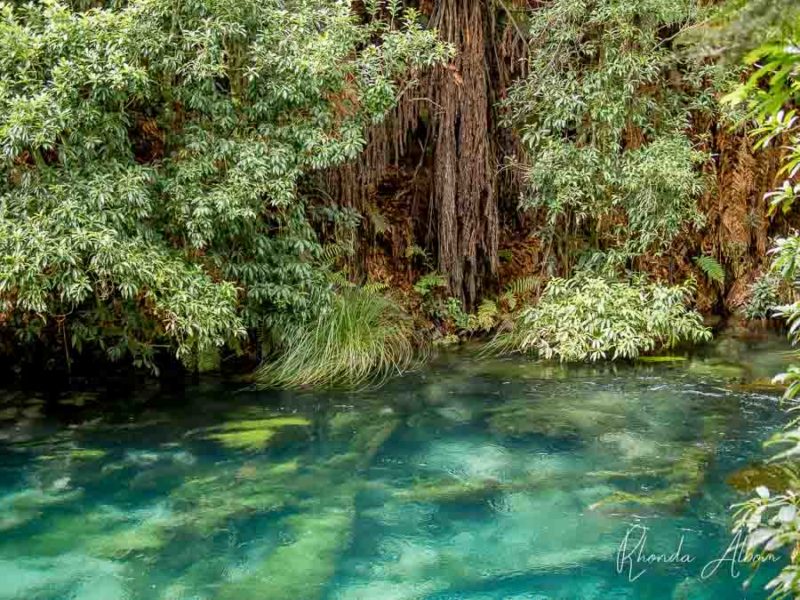 Te Waihou Walkway
More than just enjoying the stunning Blue Spring, Te Waihou Walkway provides a relaxing stroll through nature. Importantly, Blue Spring can be accessed from either end, and there is a small car park at both Whites Road and Leslie Road. The 4.7-kilometre Te Waihou Walkway connects the two entrances.
Enthusiasts will want to see it all, so be sure to allocate about three hours for your visit. On average, it takes about 1.5 hours to stroll from one end of the walkway to the other. You'll need to return to your car.
For the most part, it's a gentle walk. Although, there are a few steeper parts, gravel sections, and walks through farmland. However, it is considered to be an easy gradient, suitable for most fitness levels, and family-friendly.
Blue Spring Putaruru viewing area
Regardless of which end you start at, the highlight is the Blue Spring viewing area (photo on left). Once here, be sure to turn around and notice the stairs practically hidden in the bush. These lead to an upper viewing platform that offers a more expansive view (photo on right).
A shorter walking option
Note: Access to Blue Spring / Te Waihou Walkway from the Leslie Road end is temporarily closed due to a landslip and rockfall. Access from the Whites Road end is still open. It entails a 9km walk to the Blue Spring and return. Check the official site here for updates.
If you prefer a shorter walk, start at the Leslie Road entrance. This is where we started on our last two visits. The walk from the Leslie Road carpark to the viewing area for the Blue Spring is only about 800 metres, or 15 minutes, maybe less.
And while this will feel complete, we recommend continuing for about another 15 minutes along Te Waihou until you reach the waterwheel.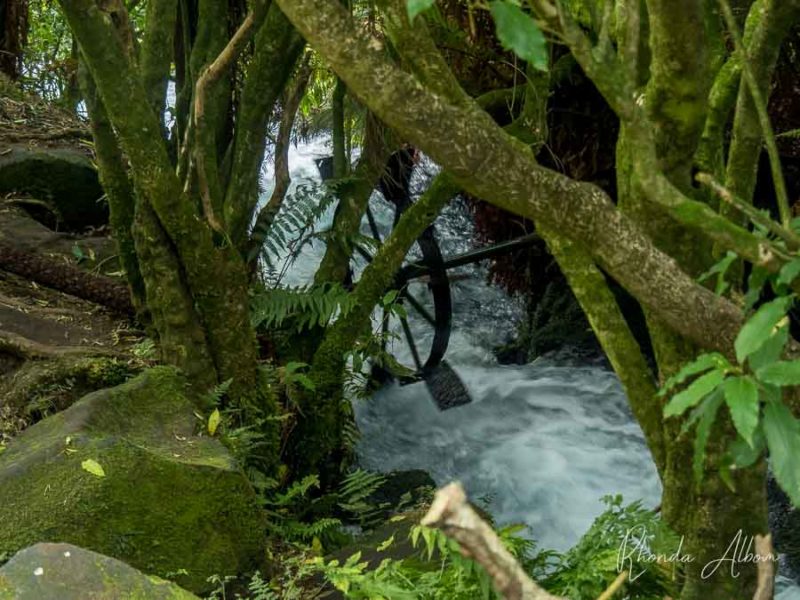 If you can go another seven or so minutes beyond this, the river opens up, and the waterway is much the same beyond this point, although the landscape is more varied with some stile crossings and paddocks with livestock.
Te Waihou Walkway officially opened in April 2000. The name Te Waihou translates to "the new water" and is the name of both the river and the walkway.
"Please join us as kaitiaki (guardians) to do what you can to ensure the beauty and clarity of the Blue Spring is protected for this and future generations."

Quoted from Te Waihou Brochure produced for South Waikato District Council, updated Jan 2020.
A few guidelines for visiting the Putaruru Blue Spring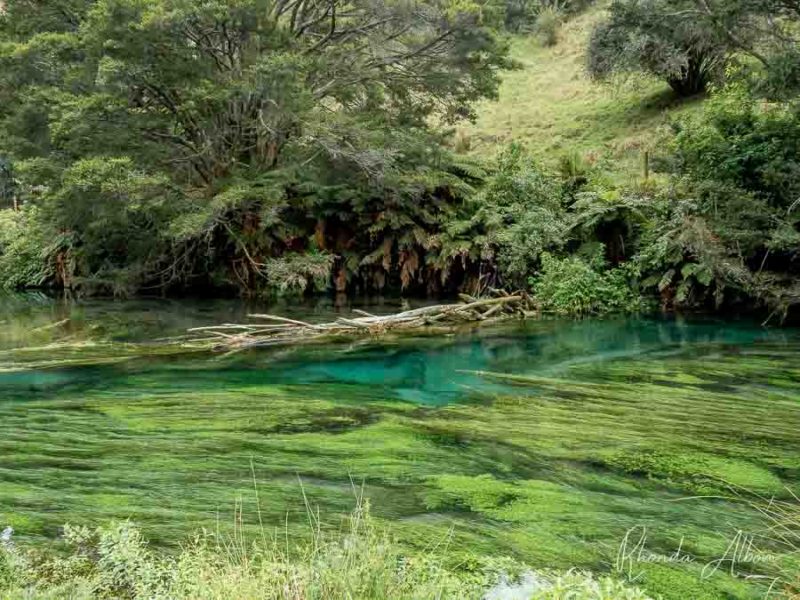 Please keep to the marked track, and note that some of the surrounding fences might be electrified. (Learn how to safely test the fence).
Leave everything as you found it. This includes taking all rubbish out with you and closing gates if you open them to pass through.
Respect the environment and do not remove any vegetation.
Some trails meander through paddocks with livestock. While it is okay to pass through, please do not disturb the animals.
There is no swimming, kayaking, or boating in the Blue Spring or its surrounding environment. (You can swim near the Whites Road entrance.)
Take all rubbish out with you.
Dogs, motorbikes, guns, lighting fires, naked flames, and pedal bikes are not permitted on Te Waihou Walkway.
Fishing requires a licence from the district i-SITEs (Tīrau or Tokoroa) or from the Putaruru Information Centre.
Please help the South Waikato District Council, Raukawa – the iwi of this region, and the local community to keep the Blue Spring beautiful.
Report issues: ring 07 885 0340, or use this contact form.
Where is Blue Spring Putaruru?
Blue Spring is located in Putaruru, a small town in the South Waikato District, somewhat centrally located on New Zealand's North Island. It's about a 40-minute drive from Rotorua, an hour from Hamilton, and 2 hours from Auckland.
Both the Whites Road and Leslie Road carparks are off State Highway 28, which can be accessed by either State Highway 1 or 5. Whites Road is larger and easy to find, but a longer walk to the spring.
Leslie Road carpark is about 3.7 km from the intersection of SH28 and Leslie Rd.
Don't have a car? Join a small group or private tour
If you want a relaxing day, seeing more than just the Blue Spring, check out one of these highly-rated tours. The first heads out from Hamilton, the second from Auckland
Nature and Nosh Explore & Taste Experience Waikato
From Hamilton

What I love about this small-group tour (maximum 10) is that appeals to both nature lovers and foodies, and it's active, thus requiring a decent level of fitness; so perfect for someone like me!
This all-day tour begins with a hike to the top of the North Island's tallest waterfall. Next, the short walk to Blue Spring along the banks of the Te Waihou stream. Once arrived, enjoy a gourmet picnic lunch.
After lunch, a bit of classic Waikato with a visit (including samples) to both a local cheesemaker and to Vilagrads, a family-owned winery. Reserve your Nature and Nosh Explore & Taste Experience here
Redwood Forest, Blue Springs & Huka Falls Day Tour
from Auckland

If you are starting out in Auckland, this all-day private tour will take your group for a walk in the redwoods at Whakarewarewa Forest (film location of Jurassic World 2), then to the Blue Spring, and finally to the Huka
Falls Track.
Note that this tour spends most of its time in transit, but if these are the sites you want to see and time is limited, it's the way to go. Reserve your redwoods, springs and falls tour here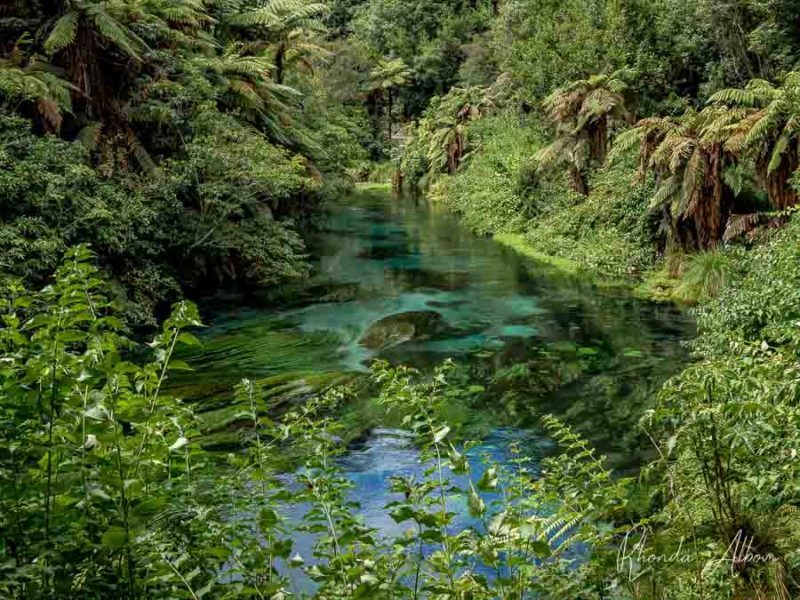 Save on your NZ trip with these resources
These are our go-to companies when we travel. We believe this list to be the best in each category. You can't go wrong using them on your trip too.
Flights: we use Expedia for the best and cheapest flight options.
Accommodations: we use Booking.com (hotels), Bookabach (self-contained in NZ) or Hostelworld (budget).
Cars (gas or electric): we use RentalCars to search for deals and dealer ratings.
Motorcycles: we have heard good things about BikesBooking.
Campervans or Motorhomes: we use Campstar where Albom Adventures readers get a 3% discount.
Activity discounts: we check Bookme.com for discounts of up to 70% on activities.
Private guides: we love the private guides at Tours by Locals.
Travel Insurance: while not required, we always opt for travel insurance and start at InsureMyTrip to compare coverage plans.
Check out our travel resources page for more companies that we use when you travel.
Save for later
If you enjoyed this article, please share it on social media and save it for later on Pinterest.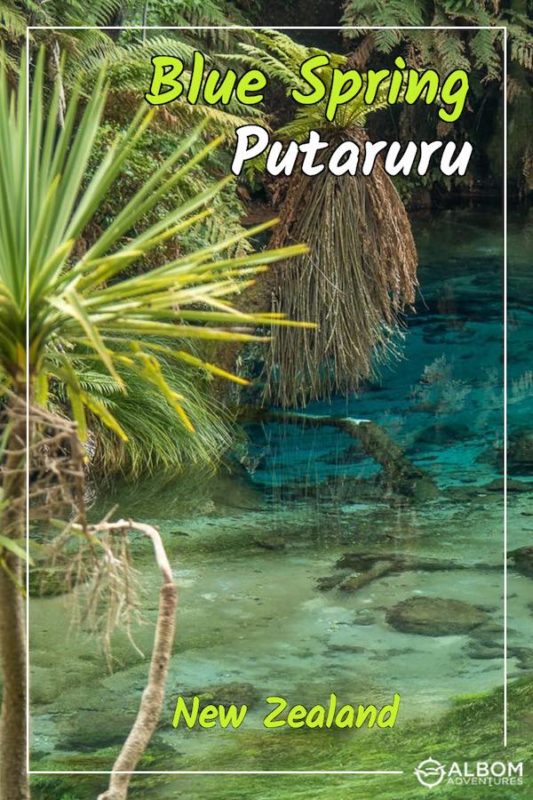 Have you been to Blue Spring Putaruru?
You might also like: