Did you know there is a Cambridge in New Zealand? Just its namesake brings up images of the quaint old English town we discovered in central Waikato. Cambridge allowed us to once again step off of the tourist path and explore rural New Zealand. It's an ideal getaway overflowing with small-town charm. Yet, there are plenty of things to do in Cambridge, NZ and the nearby surrounding area.
For us, it was a peaceful getaway. A romantic escape offering gentle walks on tree-lined streets, arts and crafts, great coffee, friendly locals, and one delicious meal after the next. Others visit Cambridge for sports, most notably rowing, cycling, or equestrian activities. But there is no shortage of active options.
It's a picturesque town that has it all.
Centrally located, it's a perfect base for exploring crystal clear waters, internationally acclaimed gardens, huge corrugated iron displays, and tranquil walkways – all within an hour's drive.
Key things to do in Cambridge NZ
Ride track or trail; either way, hop on a bicycle. After all, Cambridge is the self-proclaimed most cycling-friendly town in New Zealand.
Get to nearby Lake Karapiro and out on the water – either rowing, kayaking, stand-up paddleboarding, or take an energetic jetboat down the river.
Don't pass up retail therapy. Either hit the market if you are there on the right day or check out any of the boutique craft shops and art galleries.
Get outdoors. Stroll around Lake Te Koo Utu or along the river, walk the heritage trail, or take a nearby hike.
Explore the surrounding area, including nearby Blue Spring, Rotorua, Matamata, or Hamilton.
Cambridge is home to impressive sporting success
Cambridge New Zealand is home to many champions, dominated by a few key sports, namely rowing, cycling, and equestrian.
Prominently displayed on one of the interior walls of the local iSite (visitor's centre) are plaques highlighting an impressive number of cycling, rowing, and equestrian Olympic medalists, as well as several Melbourne Cup champion racehorses, all associated with Cambridge.
Head out on the street and check out Duke Street's 'sporting walk of fame' featuring 25 plaques, each honouring local athletes. Victoria street displays 18 stunning mosaics, each featuring prominent local horses, 13 of which have won the prestigious Melbourne Cup.
Before we visited, I thought I knew very little of this town. It was one of many peaceful towns we passed through as we drove from Auckland to Wellington, to Tauranga or to Rotorua. Read on, and you may make the same discovery we did, as we have seen Cambridge in sporting news for years.
Best things to do in Cambridge NZ
Te Koo Utu park and lake
Location: Bound by Victoria Street, Albert Street, and Thornton Road Cambridge
Entry: free
A peaceful escape, the 1.1 km track around Lake Te Koo Utu offers a brief nature retreat. Located just a few blocks from the Town Hall, in the heart of town, beautiful Lake Te Koo Utu was formed from a natural dam created by debris from Lake Taupo's last major eruption in 200AD.
Not a place to swim, and although carp and catfish have been released here, the fishermen we met suggested it's also not a recommended spot to catch dinner. But, it is a lovely walk, either at ground level or from above.
The domain gates read Te Koo Utu Park, and they stand at the entrance to the Cambridge Domain. In addition to the lake, the domain is home to sport clubs (tennis and bowling), a conservatory, art society club rooms, a begonia house, a rose garden, a bandstand, and a children's playground.
From the main gate, there are two ways down to lake level, either steps or a somewhat steeper gravel path. If neither appeals, there is a car park at lake level on Albert Street.
Trash 'N' Treasure Market
Location: City Centre on Alpha, Duke, Empire, and Victoria Streets
Entry: free
**Only on the second Sunday of the month 8am – 1pm
Markets are a goldmine that highlights the expression 'one man's trash is another's treasure.'
For us, this one was about treasure, namely in the form of a new hat. For others, it was second-hand books, handmade soaps, collectibles, and new items.
My favourite was adorable hand-knitted baby sweaters that were so affordable I had to ask the creator how she made any money. She simply smiled and said, "I don't knit for money, I do it for love and the joy of seeing someone in my sweaters."
Pretty much, whatever you want, you can find at this once-a-month market hosted by Lion's club. And if you can't find it in the market, you are sure to find in one of the many eclectic shops that line the main road and whose footpath is the market's home.
Grassroots Trust Velodrome
Location: 15 Hanlin Road, SH1, Cambridge
Entry: Free for general spectators, fee for various events and activities.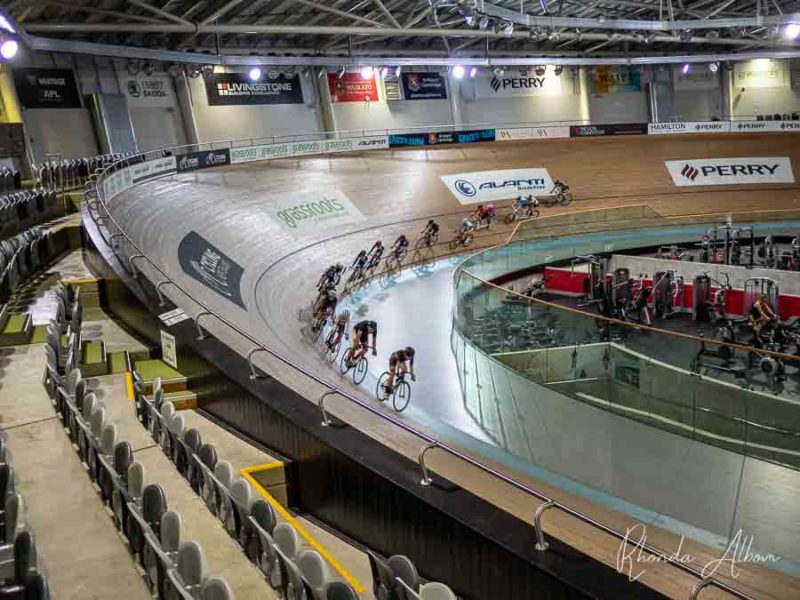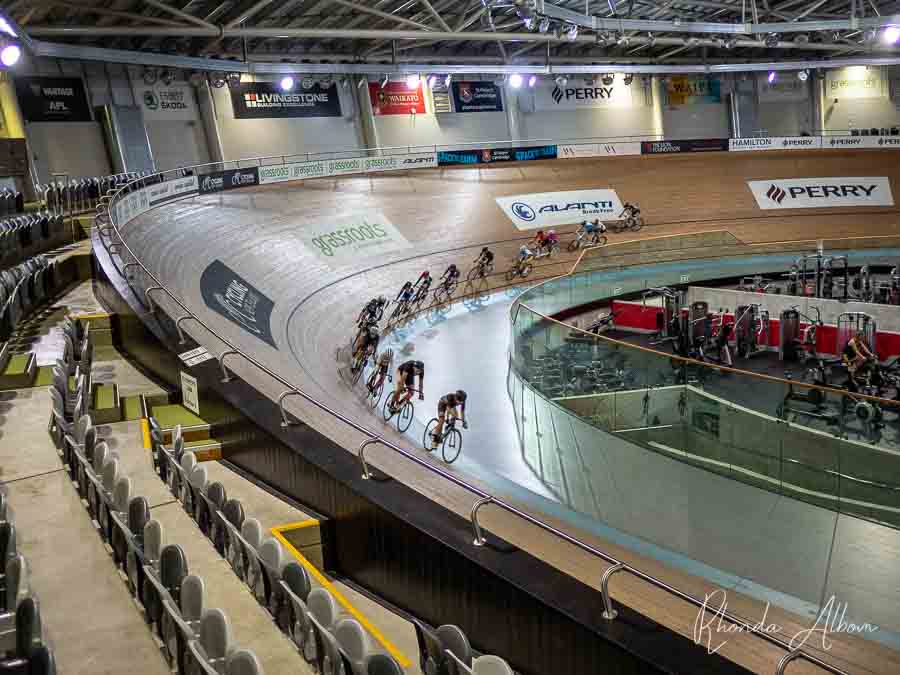 A major competitive arena, the 250m wooden indoor cycling velodrome is quite impressive. I have seen competitive cycling on TV many times but watching the bicycles circle the track live is much more exciting. We got lucky, arriving in the spectators' area at the second of 24 laps from a team training on the track.
If mountain biking is your thing, don't miss the free outdoor Gallagher Mountain Bike Skill Track located beyond the back of the velodrome's car park.
Check out some of the heritage buildings in Cambridge NZ
From left to right:
Town Hall – Built in 1909, the old Town Hall building now houses the i-site, amongst other uses. Historically, it has been a picture theatre, a dance hall, and a hospital during the 1918 influenza epidemic.
Fire Station – This replica fire station was actually constructed in 2002 and uses the fire siren that was installed in the initial building in 1922. The volunteer fire brigade was formed in Cambridge in 1904.
Cambridge Primary School – Although the school was initially established in 1869, the four gables in the photo were built in 1879, 1881, 1886, and 1904.
St Andrew's Anglican Church – This gothic-style masterpiece is one of my favourite buildings in Cambridge. While it was built in 1881, it replaces a smaller church (1873) which can still be seen in the Parish Centre and is the oldest surviving public building in Cambridge.
Don't miss these nearby things to do
Cambridge NZ is actually centrally located and a great place to stay to explore both Waikato and Rotorua regions.
Karapiro Lake
Location: 20 minutes southeast of Cambridge
Entry: Free
Calm, deep blue waters would be enough of a draw, but the key feature here is the (barely visible in the photo) rowing lanes. This is the training and competition location of many world champion rowers.
Aside from participating in or watching rowing practice and competitions, it's also a popular place for kayaking and standup paddle boarding.
Another cool option is to take an evening glow worm kayak trip on the lake to an ancient canyon along Pokaiwhenue Stream. Here, you will be mesmerised as thousands of glow worms light up dark. We did a similar night kayak glow worm adventure in Tauranga, and it was amazing.
Check for discounts on the evening you want to go.
Karapiro hydro dam
Location: 20 minutes southeast of Cambridge
Entry: Free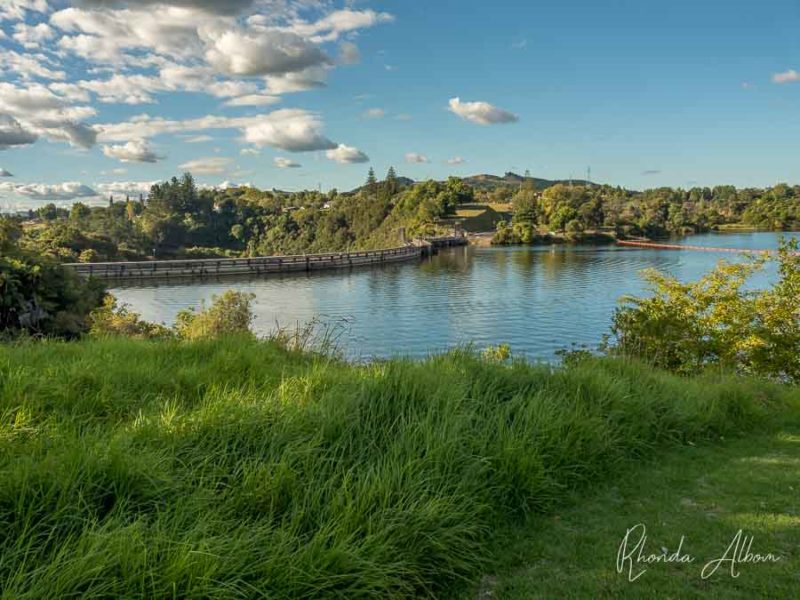 From Cambridge, we had to cross over the dam to get to the lake's car park. As we stayed in Karapiro (see below), we had the option to either walk or drive over the dam. We did both. Walking is a unique experience as it allows you to get a good look at the power station, but it is a bit nerve-wracking when the occasional car passes.
The hydro stations are where Mighty River gets its power.
Te Waihou Walkway and Blue Spring
Location: 372 Leslie Road (Carpark) – 35 minutes southeast of Cambridge
Entry: free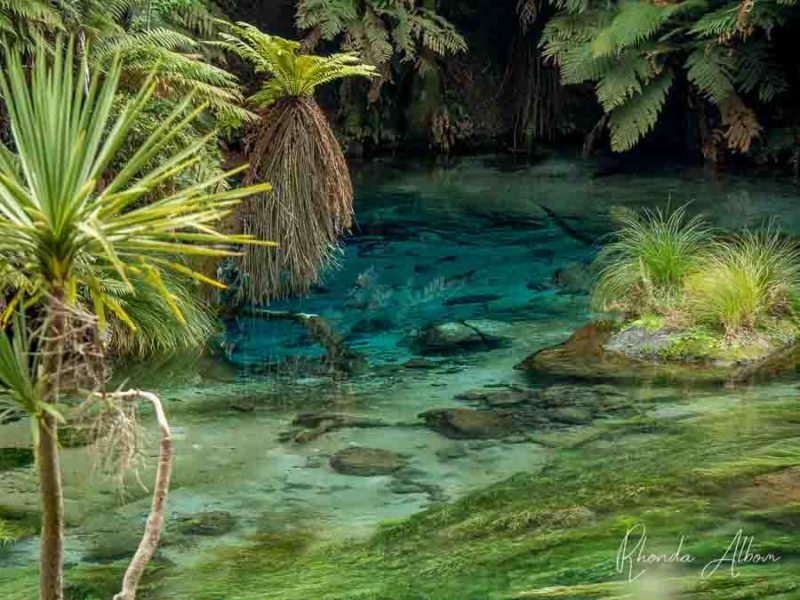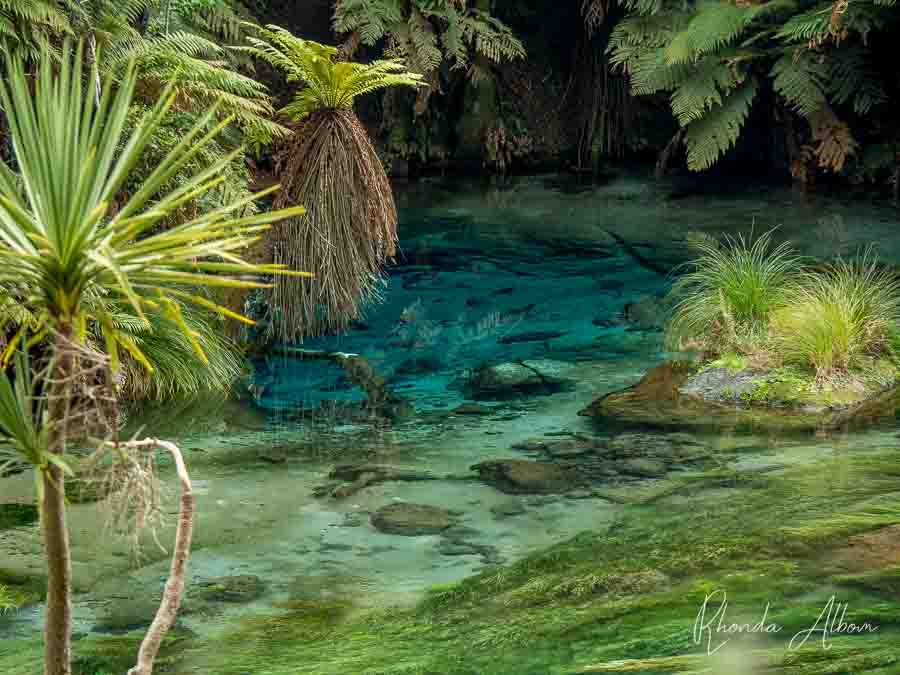 Blue Spring is possibly the most beautiful spot on the North Island. Home to the clearest water on the island, Blue Spring provides 70% of New Zealand's bottled water.
The walk along Te Waihou can be taken from either end, but we recommend the car park at Leslie Road and walking beyond the Spring to at least the waterwheel. Walking here is peaceful and serene. There is no swimming or other disruptions to the water, and the result is stunning scenery. Check out all my Blue Spring images here.
Note: Access to Blue Spring / Te Waihou Walkway from the Leslie Road end is temporarily closed due to a landslip and rockfall. Access from the Whites Road end is still open. It entails a 9km walk to the Blue Spring and return. Check the official site here for updates.
Tirau
Location: 25 minutes southeast of Cambridge
Entry: free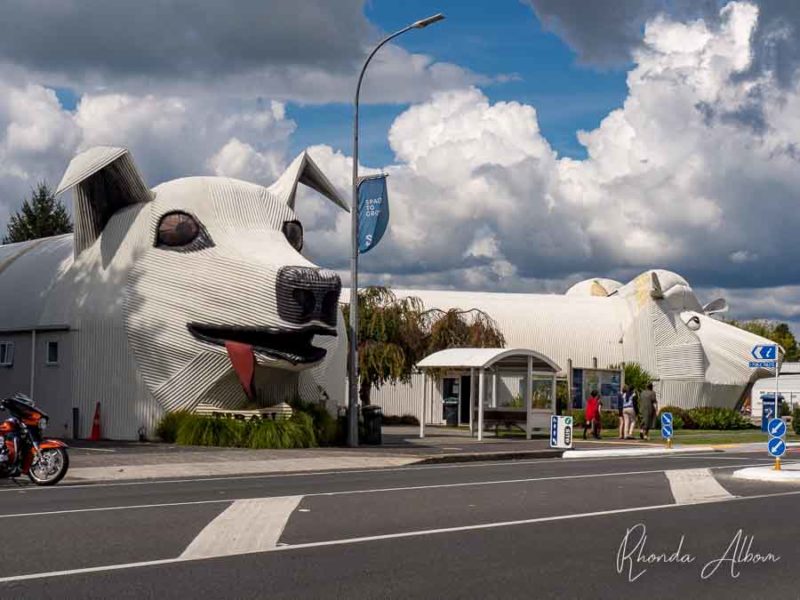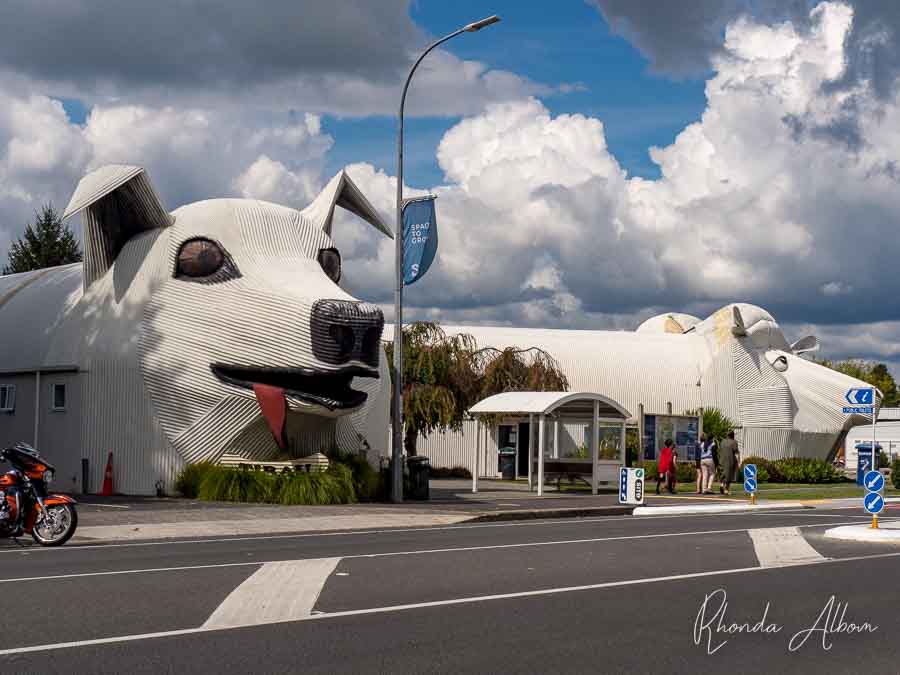 Tirau represents a creative solution to revitalizing a town. Back in the late 1980s, a local resident designed and sculpted huge corrugated iron art. Tirau is a great place to stop, have a meal, stretch your legs, visit craft shops, and admire the interesting corrugated creations.
Be sure to bring your camera.
Arapuni Suspension Bridge and dam
Location: 57 Arapuni Road, Arapuni – 30 minutes southeast of Cambridge
Entry: free

Listed as a place of historical significance or value by Heritage New Zealand (Pouhere Taonga), the Arapuni suspension bridge spans the Arapuni Gorge.
The easy walk across the bridge offers stunning views of the gorge and the hydroelectric power station. The dam itself is located about a mile upstream.
The bridge is 152 metres long and stands 54 metres above the river. My image isn't crooked; the west end of the bridge is actually 8 metres higher than the east end.
Hobbiton
Location: Matamata – 30 minutes northeast of Cambridge
Entry: Guided tour required for entry. Get tickets here.
Certainly one of New Zealand's most famous tourist attractions, both visitors and locals get enchanted by Hobbiton.
Surrounded by the lush green pastures and hobbit holes of the shire, Hobbit and The Lord of the Rings fan rarely skip this adventure into Middle Earth. Here, you will find the last remaining set from filming the movies. And, while you are there, your guide will share stories and behind-the-scenes secrets.
Note that Hobbiton is only available as a guided tour. Reserve your Hobbiton tour here
Read next: New Zealand Lord of the Rings Filming Locations You Can Visit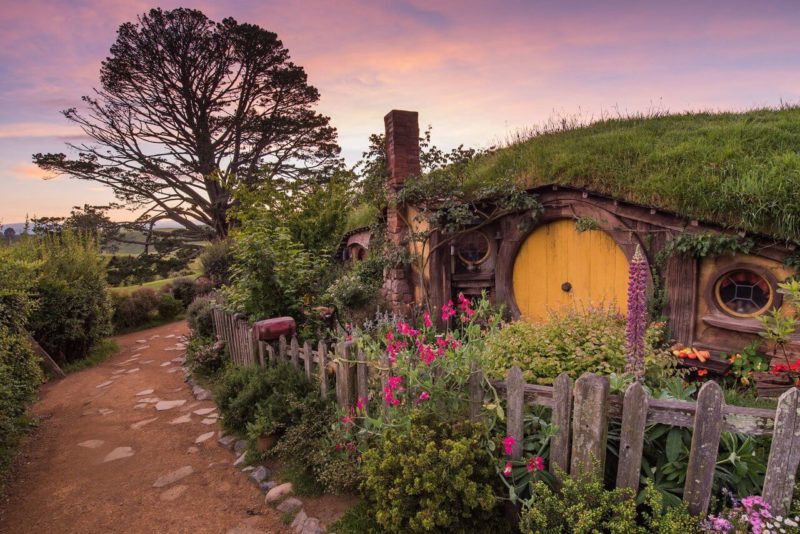 Hamilton Gardens
Location: Hungerford Crescent, Hamilton East. Hamilton is 25 minutes northwest of Cambridge.
Entry: Free
Not your typical gardens, the Hamilton Gardens are a collection of 21 themed gardens. They range from Surrealist to Egyptian, from a Japanese garden of contemplation to a working Māori kumera garden. Each time we visit we discover something new.
We found Hamilton Gardens easy to visit on our own, made even easier with a nominally priced guidebook we got from the gift shop.
It's not surprising that the internationally acclaimed Hamilton Gardens are the region's most visited attraction.
Waikato Museum
Location: 1 Grantham Street, Hamilton. Hamilton is 25 minutes northwest of Cambridge.
Entry: Donations welcome (charges apply for some exhibits)
This regional museum houses an impressive collection of Māori artefacts showcasing a superbly carved waka (war canoe). Many of the other exhibitions across its 13 galleries frequently change, drawing from the museum's own collection as well as hosting international expositions.
An interesting New Zealand museum; it's worth a visit. There is always something new to see.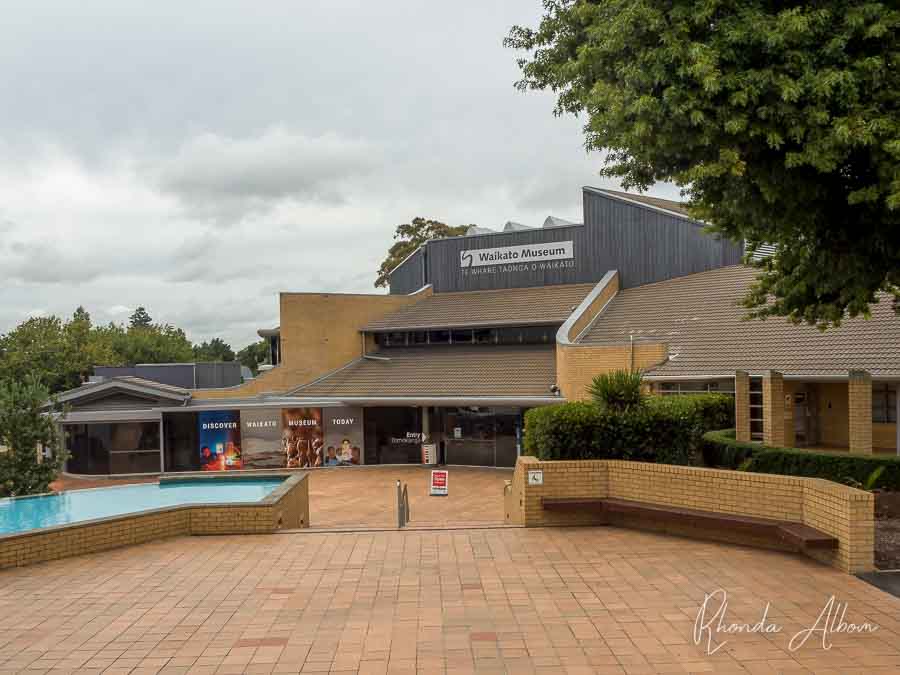 Still more things to do in Cambridge NZ and the surrounding area
Here are a few of the interesting options that we didn't get to on our visit.
Cambridge Museum
24 Victoria Street, Cambridge
Entry: Free
A rural museum featuring an ever-changing collection of photographs and local memorabilia.
Camjet jet boat tours
Meets at the boat ramp on Dominion Avenue, Cambridge
Fees apply: Get advance tickets here
For those who like to get the adrenaline pumping, this 45-minute extreme jet boat adventure down the Waikato river may be just what you're after. Fast and furious, the boat reaches speeds of 80 km/h, makes 360º spins, and even stops to point out historic sites.
Sculpture Park and Waitakauru Arboretum
207 Scotsman Valley Road, Tauwhare, Hamilton. Hamilton is 25 minutes northwest of Cambridge.
Entry: Fees apply for self-guided walks or tours
More than 100 sculptures line this 2km trail.
Sanctuary Mountain Maungatautari
Location: Tari Road, about 38km south of Cambridge
Walking trails lead through this predator-proof ancient forest and open bird sanctuary. Also on site are some of New Zealand's rarest natives, including takahe and tuatara. There are optional tours that will help you to spot the birds or venture out on your own. We only opted not to do this as we hike weekly in Shakespear Park, also a protected bird sanctuary. Plus, we have visited Zealandia in Wellington and Orokonui Ecosanctuary just outside Dunedin.
Where to stay – accommodation in Cambridge NZ
While there are several options in Cambridge itself, we had a car and were seeking a quiet romantic getaway, so we opted for a small BnB just outside of town and within walking distance to Lake Karapiro.
Karapiro Willows is a purpose-built family home with a wing containing three lovely rooms with ensuites for guests. Having everything we needed, including a comfortable bed, an outdoor seating area, and off-street parking, we were set overnight. In the morning we joined the family for breakfast in an incredibly serene setting.
If you have your own vehicle, we recommend checking the availability at Karapiro Willows Luxury B&B
If you don't have a car or prefer to be within walking distance from Cambridge town, check out one of these Trip Advisor recommendations.
Where to eat in Cambridge New Zealand
There is no shortage of delicious places to eat in Cambridge, with options ranging from cafe style to full service. We focus on restaurants that can handle my gluten-free dietary restrictions. Our list of recommendations includes:
Onyx
70 Alpha Street
Living up to their goal of providing fantastic food and exceptional service, we had both lunch and dinner at Onyx. The lunch menu includes several traditional brunch items along with a variety of options. Both menus clearly identify gluten-free options. Onyx is open every day.
Stables on Alpha
72 Alpha Street
Family-friendly, fun, casual, and delicious – exactly what we look for in a restaurant. The varied menu includes everything from fish and chips to a rib-eye steak, nearly all of which can be made gluten-free. They also offer pizza, pasta, and salads. Note: Stables on Alpha is closed on Mondays.
Sila Thai
87 Victoria Street
Thai food so good, we ate here twice. Need I say more?
Punnet Eatery
337 Newell Road, Tamahere
If it's morning or midday, this is our go-to place for gluten-free breakfast or lunch. Plenty of delicious options, and great coffee too.
St Kilda Café & Bistro
19 Kaniera Terrace
Not on the main road, but worth the small effort to get here. Great food in lovely surroundings.
Save on your NZ trip with these resources
These are our go-to companies when we travel. We believe this list to be the best in each category. You can't go wrong using them on your trip too.
Flights: we use Expedia for the best and cheapest flight options.
Accommodations: we use Booking.com (hotels), Bookabach (self-contained in NZ) or Hostelworld (budget).
Cars (gas or electric): we use RentalCars to search for deals and dealer ratings.
Motorcycles: we have heard good things about BikesBooking.
Campervans or Motorhomes: we use Campstar where Albom Adventures readers get a 3% discount.
Activity discounts: we check Bookme.com for discounts of up to 70% on activities.
Private guides: we love the private guides at Tours by Locals.
Travel Insurance: while not required, we always opt for travel insurance and start at InsureMyTrip to compare coverage plans.
Check out our travel resources page for more companies that we use when you travel.
Save for later
If you enjoyed this article, please share it on social media and save it for later on Pinterest.
Which of these things to do in Cambridge NZ will you try?
You might also enjoy: