If you are heading to New Zealand, a glow worm tour is probably on your must-do list. We chose to do a night kayaking glow worm tour in Tauranga, Bay of Plenty. As we floated outdoors in silence, surrounded by tall canyon walls covered in sparkling glow worms, we knew we had made a good choice.
More than just the wonderment of the moment, the entire experience was magical. From watching the sunset over Lake McLaren to listening to our guide, we believe the Waimarino kayak tour is the ideal way to see glow worms. Tauranga is a perfect backdrop.
What is a glow worm?
Technically, glow worms are not worms but are the larvae of the fungus gnat, a non-biting insect similar to mosquitoes. Some species are carnivorous and use their glowing lights to attract small flying insects into a web of sticky threads. The native New Zealand species is the Arachnocampa luminosa.
They are commonly found in limestone caves and on other damp surfaces with overhangs. If you ask New Zealand children, they will often giggle when they tell you that it is their 'bottoms' that light up.
Who should go on the Waimarino Kayak tour
There are not many sights in this world as magical as the narrow, high-sided canyon brought to life by thousands of New Zealand glow worms. They enchant New Zealand visitors and locals alike. This is a unique opportunity to combine both glow worm viewing and night kayaking.
While the kayaking is gentle, there is a certain level of fitness required for this tour. In total, the evening activities are about 3.5 hours, but the kayaking portion is about 1 – 1.5 hours including the still time admiring the canyon.
Importantly, no previous kayaking experience is required.
The guide stays with the group at all times, and in the one slightly more difficult section, the kayaks are joined together (handheld), and the guide is in the lead doing the lion's share of the work. The only actual restriction is a minimum age of 8.
We loved and recommend this tour for anyone with enough fitness to gently kayak (as part of a two-person boat) for about an hour. It's a once-in-a-lifetime experience. And, you can often get discounts when you reserve your ticket here.
If you're still unsure, read on for more details of our experience.
What to expect on a night kayaking glow worm tour
Before the sun sets
From the first moment, everything was relaxed yet professional. Our small group was transported from the meeting location to McLaren Park. Here, our first stop was a viewing point for McLaren Falls, often raging but barely flowing when we arrived.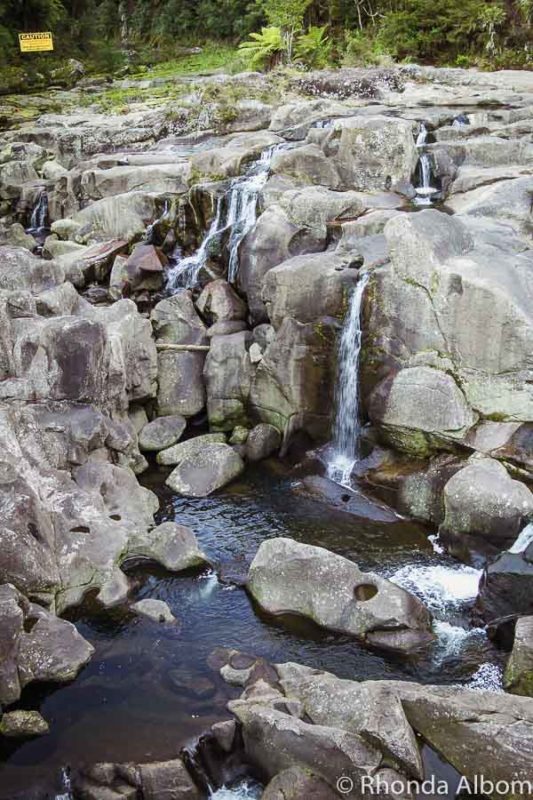 Next, we headed to the lake and the launch site. Setting the mood for a bit of whimsical fun, our guide put out a spread of mulled wine, juice, cheese, venison sausage, and more.
As we enjoyed the remaining daylight, followed by dusk's warm glow settling over Lake McClaren in the background, our guide set up the kayaks.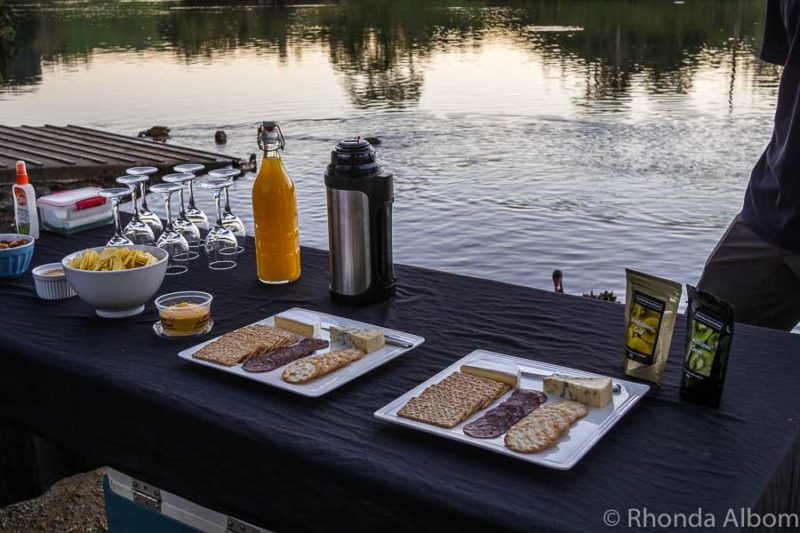 Before we head out, there was a safety briefing followed by an offer of a few more layers of clothing. I opted for a fleece top, water/windproof jacket, and of course, the mandatory buoyancy jacket and kayak skirt.
As the sun sets . . .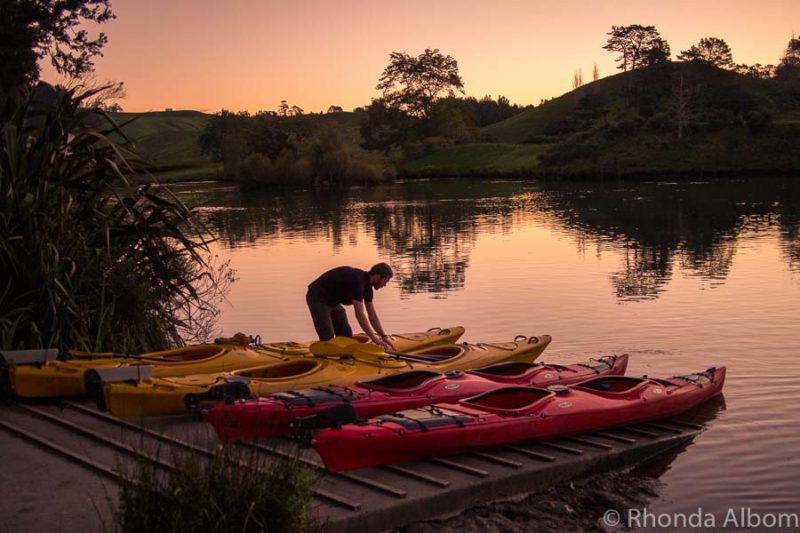 Darkness descended quickly after the sunset. We climbed into double sea kayaks and gently slid into the water. Our guide paddled out to the narrow, high-walled canyon alongside our small group.
There were two people in each kayak. I was in the front, and Jeff was our kayak's navigator in the back. To more easily pass a hydroelectric station, all four kayaks rafted together (held on to each other's boats, so we moved through the water like a raft). For that small section, our guide did the majority of the paddling.
Bathed by the moonlight, the guided night kayak tour is surprisingly peaceful. After about 30 minutes, we reached the canyon wall. Rafted together, we turned off our torches (flashlights), and the magic of the glow worm canyon enveloped us.
As capturing this on camera is better done from shore with a tripod, I am sharing photos supplied byWaimarino Kayak Tours for use here.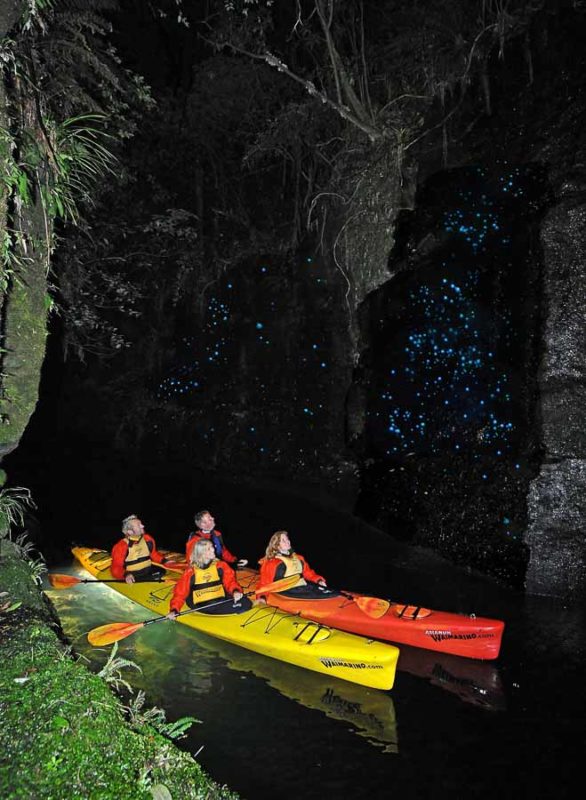 Practical information on Waimarino Kayak Tours
Best time for your Waimarino glow worm tour
While I doubt there is a bad time, there are times that might be better than others. If I have the luxury of choosing a week, I would use the moon cycle to dictate my choice. I believe the ideal time for this Tauranga glow worm tour is when it is neither a new moon nor a full moon. You can check the moon cycle here.
On a new moon, there will be limited light while night-kayaking to the canyon, but the darkness will allow the most magnificent, brightly shining glow worm experience. In contrast, on a full moon, it will be easy to see whilst kayaking into the canyon, but the ambient light from the moon will block out some of the smaller glow worms.
As for the start time, it is dictated by sundown. The idea is to launch the kayaks at dusk. Therefore, start times range from as early as 4 pm in late May and June to as late as 7.45 pm in January. You can see the complete list of start times and reserve your kayak tour here
What you need to bring
For the most part, everything we needed was provided for us, from the snacks to the warm weather and safety gear. We were glad we dressed a bit warmer than we would normally for the given weather. You'll want to dress warm and comfortable with casual footwear.
Don't forget to bring a camera to get your sunset photos. Taking photos during the tour is more difficult as you need two hands for your paddle, and once at the canyon, the kayaks are rafted together via handholding.
Plus, photographing glow worms in the dark whilst on a rocking kayak is virtually impossible.
What's included:
The tour starts and ends at the Waimarino Adventure Park at 36 Taniwha Place in Bethlehem, a suburb of Tauranga. Included in the price:
Transportation to and from the launch site on Lake MacLaren.
Refreshments include a cheese board, NZ wine, and juice in summer or salami, dried kiwi fruit, and mulled wine in winter.
Insect repellent.
Double sea kayaks, spray skirts, and paddles.
Buoyancy aids.
Fleece and/or paddle jackets.
If you are ready now, you can reserve yourWaimarino Kayak Tour here.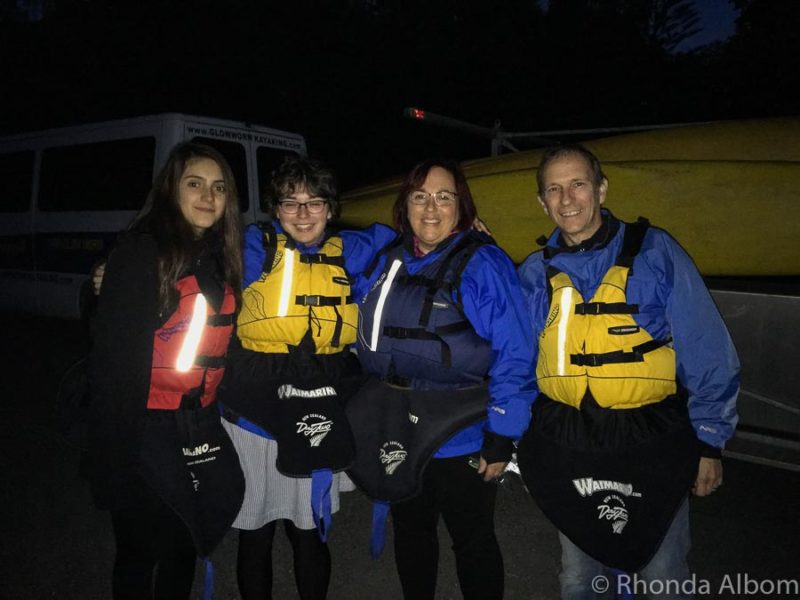 Our conclusion (Would I do it again?)
Yes! I loved our Waimarino Glow Worm tour! It is one of the best things to do in Tauranga and the entire Bay of Plenty.
Save for later
If you enjoyed this article, please share it on social media and save it for later on Pinterest.
Have you been on a kayak glow worm tour in Tauranga?
Read Next: Enjoy an Auckland to Tauranga drive with these 16 stops
Disclaimer: We were guests of Waimarino Kayak tours. However, the opinions expressed here are strictly our own.