Darkness descended quickly after the sunset. We climbed into sea kayaks and gently slid into the water. A night kayaking glow worm tour wasn't what I had in mind when I initially thought about Tauranga nightlife. Yet, gazing upon the Lake McClaren glow worms turned out to be a highlight of our time in New Zealand's Bay of Plenty.
Bathed by the moonlight, the guided night kayak tours are surprisingly peaceful. It didn't take long before we reached the canyon wall. Rafted together, we turned off our torches (flashlights) and the magic of the glow worm canyon enveloped us.
⇒ Check pricing and availability on your glow worm kayak tour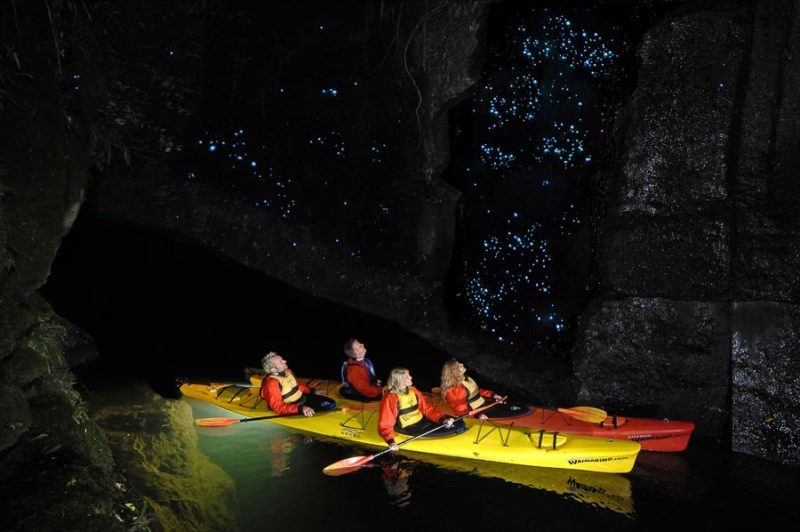 A prelude to the glow worm tour
Our adventure started before sunset. The meeting point for the kayak tour is the Waimarino Adventure Park, a water park that looks like a great place to go in the summer. On the chilly autumn evening when we set out for our glow worm kayak tour, the park was closed. A 20-minute van ride brought us to McLaren Park where we took a few minutes to enjoy McLaren Falls before heading down to the lake.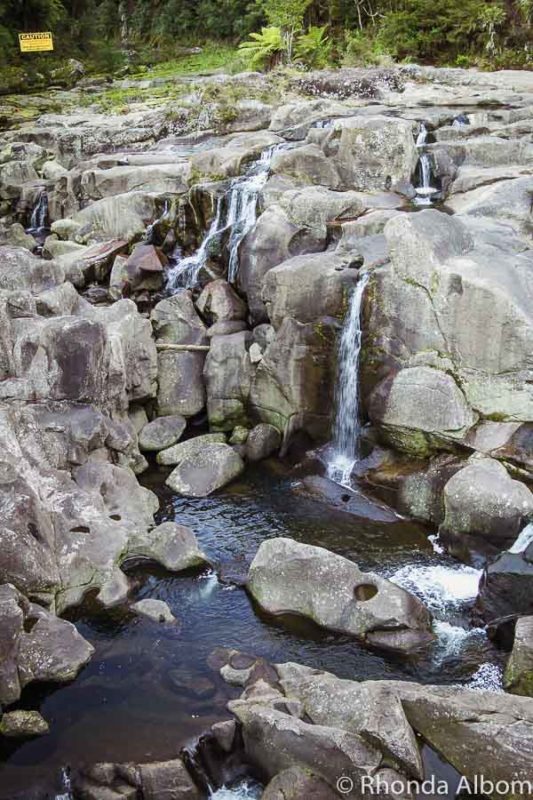 Before preparing the kayaks, our guide set the mood for a bit of whimsical fun with a delightful spread of local wine, cheese, and snacks. It was an ideal way to enjoy the remainder of the evening as the warm glow of the dusk settled over Lake McClaren. We even had time to enjoy the local birdlife.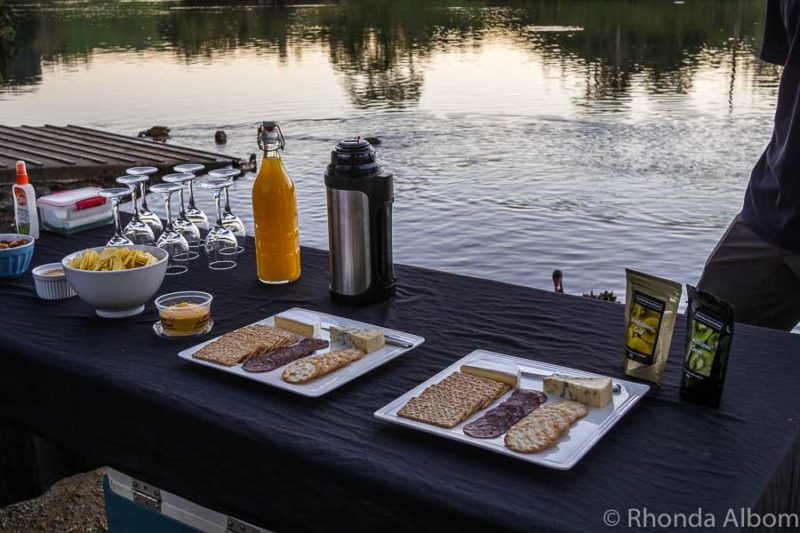 We made the false assumption that if insect repellent was on the table, we needed to use it. However, I didn't see any mosquitoes throughout our entire glowworm kayak tour. I wonder if we hadn't used it the mozzies would have been a problem, or perhaps it is more of a summer issue.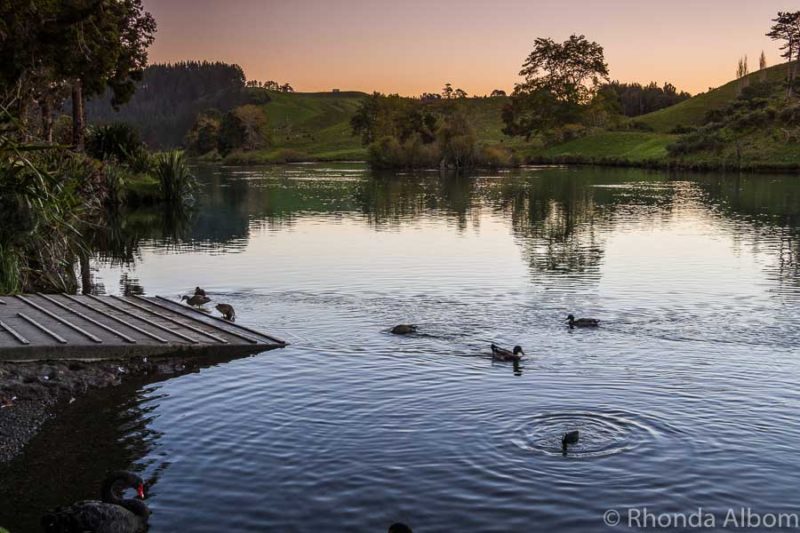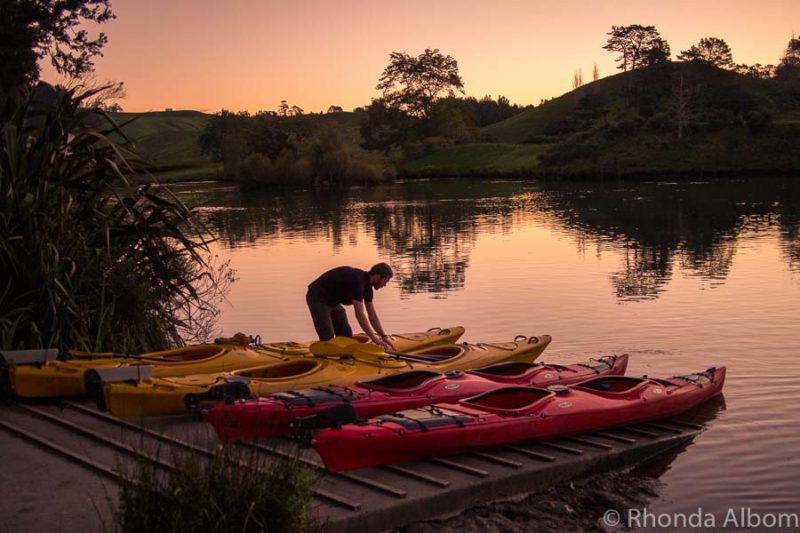 Before we head out, there was a safety briefing followed by an offer of a few more layers. I opted for a fleece top, water/windproof jacket, and of course, the mandatory life jacket and kayak skirt.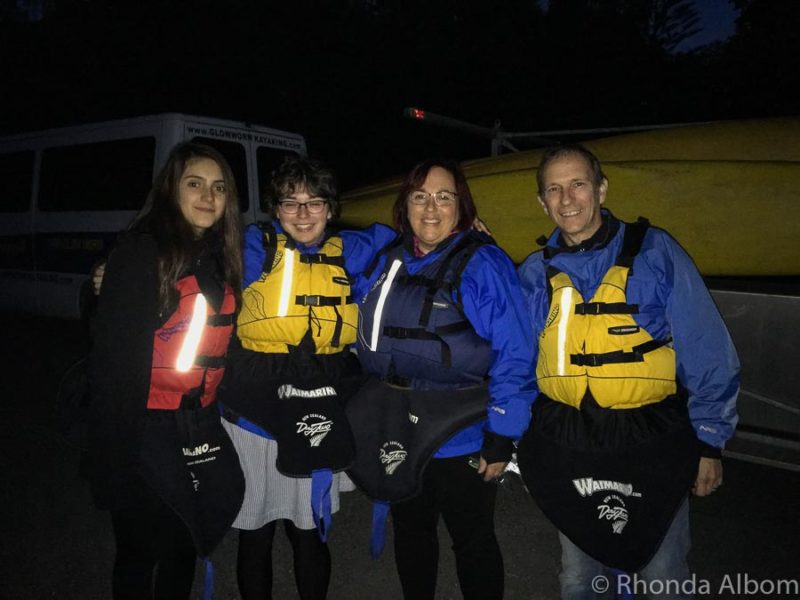 This glowworm kayak tour is the best of the things to do in Tauranga at night
Finally, we were off. Kayaking on an autumn night is something new and different for me. Yet, it only took a moment for all of my apprehension to vanish and the thrill of this glow worm tour to take over.
As for capturing the magic, there is no question that I love my mirrorless Olympus OMD em5 Mark II camera. However, despite being water resistant, I was reluctant to take it on the glow worm tour, as it requires two hands to shoot, and I would need one hand for holding the paddle or rafting.
And that did turn out to be the case. There were two people in each kayak. I was in the front, and hubby was our navigator in the back. To more easily pass the hydroelectric station, all four kayaks rafted together (held on to each other's boats, so we moved through the water as a raft), and our guide did the majority of the paddling.
Next, we glided through the beautiful lake, gently lit only by the moon and our small red lights. About 30-minutes after we set off, our waterway had narrowed, and we found ourselves between two tall canyon walls. Again we rafted together, this time to prevent the boats from drifting off. Turning off the lights, there was nothing left to do but stare in wonderment at natures brilliance. The glow worm canyon came alive with 1000's of tiny lights.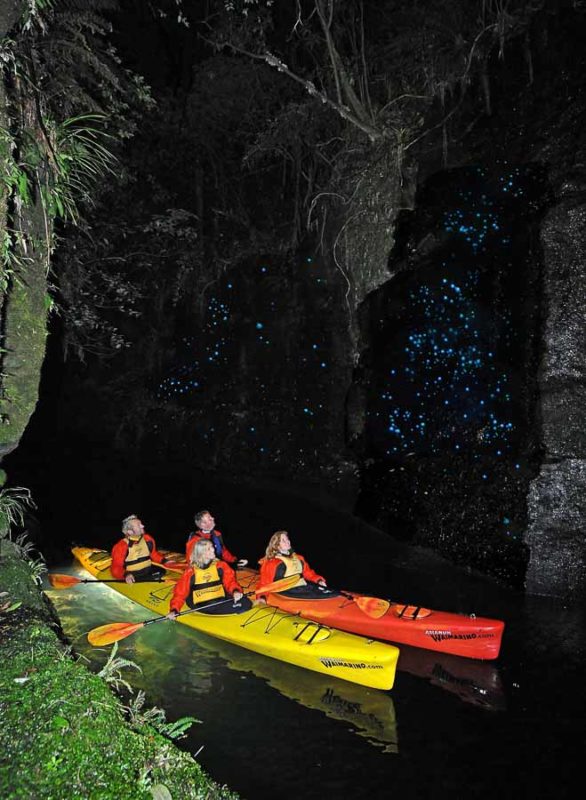 Best camera for glow worms or any adventure
Meet the Olympus Tough TG-5
Today, I discovered the perfect camera for any kayaking or other adventure. Also, by Olympus, have you seen the new Tough TG-5? It is the top of my camera supplies wish list. Tough, as the name says, this camera is waterproof, shockproof, freezeproof, crushproof, dustproof, and it offers a high-resolution RAW capture option. If its still image capabilities are not enough, it has HD 4k video. This is the perfect camera for any kayak or glowworm tour. ⇒ If you live in the USA or Canada, you can click here to buy the Tough TG-5 directly from Olympus.
Technically, glow worms are not worms but are the larvae of the fungus gnat. Some species are carnivorous and use their glowing lights to attract small flying insects into a web of sticky threads. Most New Zealand children will giggle when they tell you that it is their 'bottoms' that light up.
Practical information on Waimarino kayak tours
⇒ Check pricing and availability on your glow worm kayak tour
Waimarino Kayak tours take place nightly from Bethlehem, a suburb of Tauranga in the Bay of Plenty New Zealand.
The meeting spot is Waimarino Adventure Park at 36 Taniwha Place.
A moderate level of fitness is required.
The evening activities are about 3.5 hours, but the kayaking portion is about 1 – 1.5 hours.
Departure times change monthly, based on sunset time. See the starting times on their official website.
Read Next: Enjoy an Auckland to Wellington Drive with These Stops
Conclusion:
When it comes to thing to do in Tauranga at night, the Waimarino kayak tours into the glow worm canyon tops my list.
What is your favourite Tauranga nightlife spot? Have you been on a glow worm tour?
Disclaimer: We were guests of Waimarino Kayak tours. However, the opinions expressed here are strictly our own.