New Zealand hot springs are some of the most beautiful and relaxing natural wonders that this country has to offer.
Jeff and I are fortunate to live in a country that's home to so many incredible natural hot springs, and we seek them out whenever we travel around the country.
There's something truly special about soaking in the waters of a natural hot spring. Whether it's the beauty of the surrounding landscape or the therapeutic benefits of the warm water, we always come away feeling refreshed and rejuvenated.
From the North Island to the South Island, there are hot springs to be found in every corner of New Zealand, each with its own unique character and charm.
Below we explore some of the best New Zealand hot springs that we've had the pleasure of visiting.
Whether you're a seasoned hot springs enthusiast or you're simply looking for a unique and relaxing experience on your next trip to New Zealand, we're confident that you'll find something to love in this list.
Our favourite New Zealand hot springs
Rotorua hot springs: Polynesian Spa, Kerosene Creek, Hells Gate, Waikite Thermal Pools
Coromandel hot springs: Hot Water Beach, The Lost Spring
More North Island hot springs: Morere Hot Springs, Parakai Springs, Mount Hot Pools, Kawhia Springs
South Island hot springs: Hanmer Springs, Tekapo Springs, Onsen Hot Pools, and Omarama Hot Tubs
Map of our favourite New Zealand hot springs
Click the expand / collapse icon in the upper left corner of the map for the details and enjoy the best hot springs in New Zealand!
Rotorua hot springs
One of the many reasons Jeff and I love visiting Rotorua is the abundance of natural hot springs in the area. Rotorua is located in the Taupo Volcanic Zone, which is an active geothermal region of New Zealand's North Island.
This geothermal activity results in the frequent emergence of hot springs throughout the region. The water in the hot springs comes from deep underground, where it is heated by magma and geothermal activity. The hot water then rises to the surface, creating the natural hot springs that are so abundant in Rotorua.
While we haven't been to the newest luxury spa in the area, we imagine it will earn its place here. WaiAriki Hot Springs and Spa opened in June 2023. It boasts mineral pools, saunas, mud spas, and plunge pools.
Polynesian Spa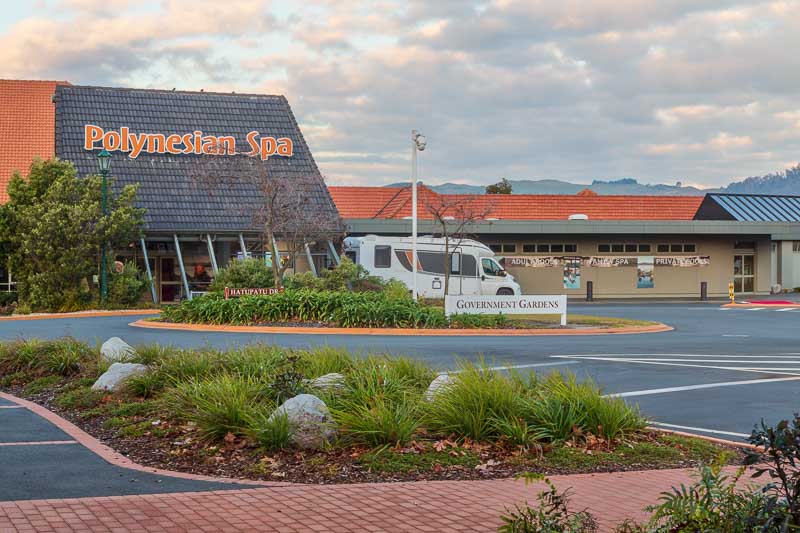 Located in Rotorua, Polynesian Spa is a luxurious hot springs experience that's perfect for couples, solo travellers, and even families looking for a bit of pampering. The complex includes several hot pools, ranging from hot to cool, as well as several private pools.
This award-winning Polynesian Spa is possibly the most famous in Rotorua. It often finds itself listed among the world's top 10 spas. It's also been nominated for New Zealand's Best Spa Resort at the World Spa Awards for 2022.
It sources its water from two natural springs, and there are 28 hot mineral pools, including both acidic and alkaline pools. Plus, there are plenty of spa options.
We spent time here years ago when the girls were younger, and Jeff's mum was visiting. With something for everyone, we all loved it.
Reserve your often discounted entry to Polynesian Spa's Deluxe Lake Spa here or the (adult and young adult only) Pavilion Pools here.
Kerosene Creek (a free-to-use New Zealand hot springs)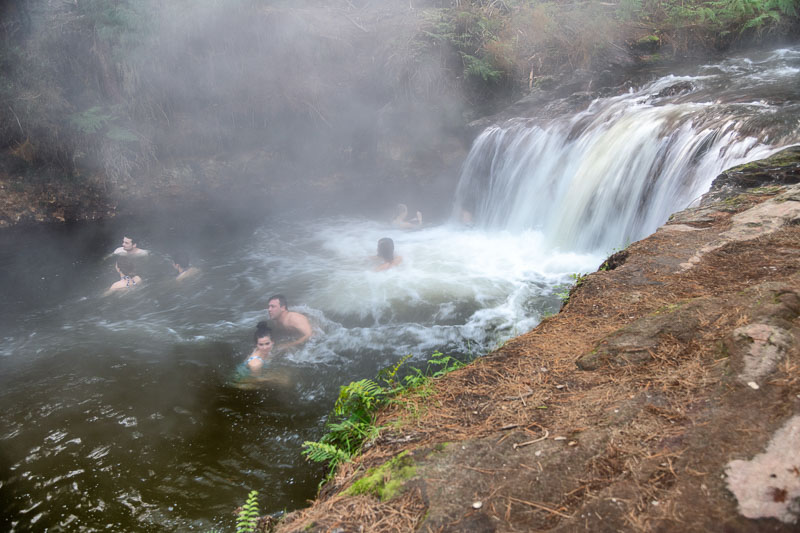 Nestled in a picturesque forest setting, Jeff and I love to soak in the warm waters of Kerosene Creek. We find it a relaxing stop between Rotorua and Taupo. Best of all, this natural wonder is one of the best free things to do in Rotorua; we just need to bring togs and a towel.
It's a natural hot spring waterfall that flows through Rotorua's bush, and upstream, there are also several jacuzzi-like pools.
Waikite Thermal Pools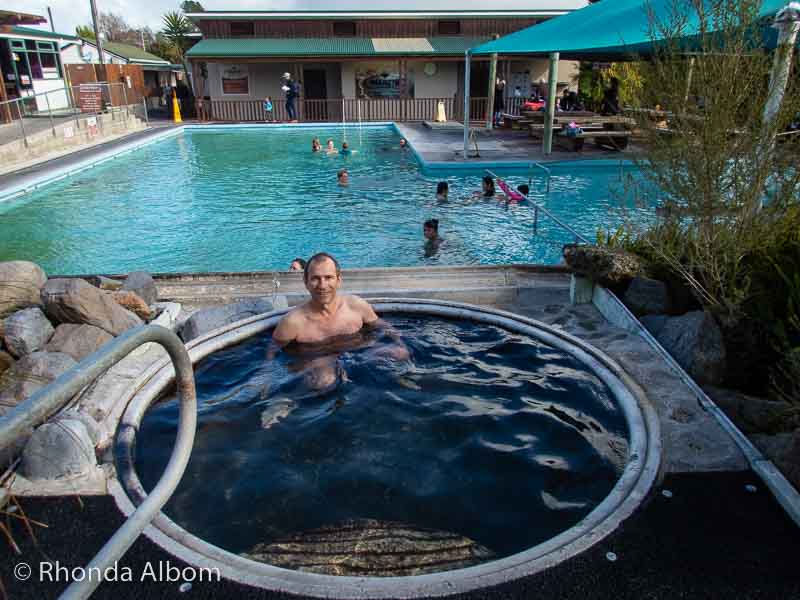 A local's favourite, the Waikite Valley Thermal Pools complex includes six public pools ranging in temperature from 32c – 40c (90f – 104f) and private pools. While we soaked in the warm healing waters of each of them, my personal favourite was an infinity pool that overlooks the steaming valley.
Regardless of which pool, the soak was relaxing, the steam-filled view dreamlike, and the mineral water left my skin soft and smooth.
There's a fascinating and colourful eco-trail starting near the entrance that took us under 10 minutes to walk to a spring with the largest discharge of boiling water in the country (discharging at a rate of between 40 – 50 litres per second at a temperature of 98°c). Get an entry ticket to Waikite Thermal Pools here.
Hell's Gate
Something a bit fun and different, Hell's Gate is famous for its mud spa. While the end result is soft skin and a great story to tell, in reality, it's not too good for the camera.
The complex includes several hot pools, as well as mud baths and sulphur pools. Visitors can also take a guided tour of the area, which includes geothermal activity and Maori cultural experiences.
You'll leave feeling fresh and rejuvenated. Check prices for park entry with mud bath and spa or mud bath and spa only
More North Island hot springs
Rotorua doesn't have it all. There are plenty more North Island hot springs. Here are a few of our favourites around the island.
Morere Hot Springs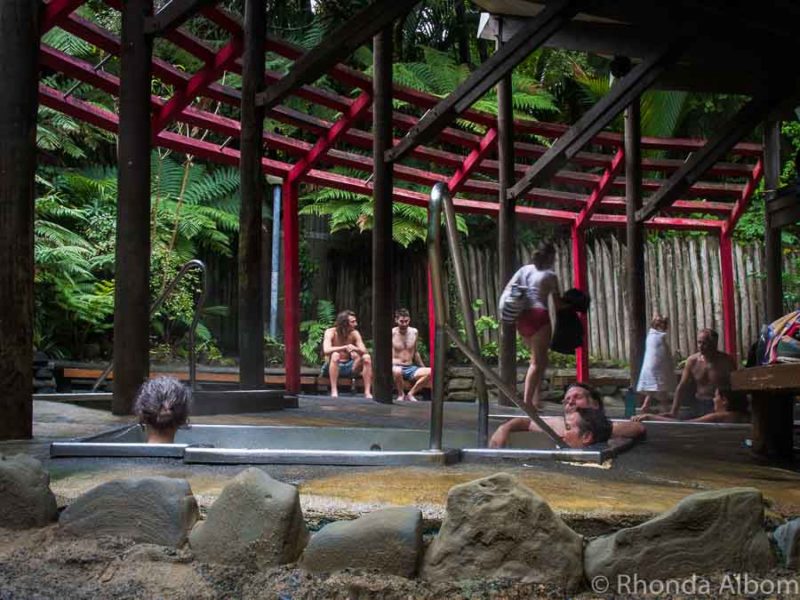 Located in Hawkes Bay on the East Coast of the North Island, Morere Hot Springs is a unique hot springs experience that's surrounded by 364 hectares of nikau palms and other native bush. The pools are fed by natural geothermal springs, and like nearly all of the natural mineral spas, the water is said to have therapeutic properties.
There are several pools to choose from, ranging from hot to cool, and we also enjoyed a short bush walk around the area.
Parakai Springs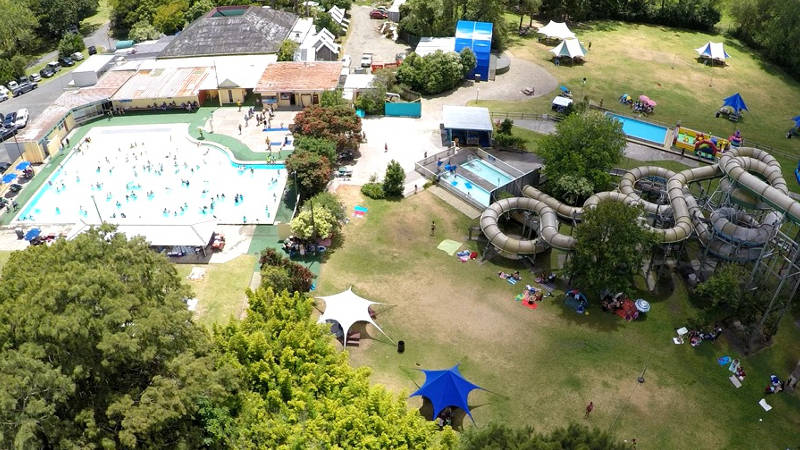 This is where Auckland goes for some family-friendly hot springs fun. Honestly, we haven't been for years, and it's time to go again.
Rather than another photo of us soaking in a tub, I thought this overview does a better job of showing the fun, especially the big water slide. The water is heated naturally by geothermal activity, and there are also several spa pools to choose from. Reserve your often discounted entry to Parakai Springs here.
Hot Water Beach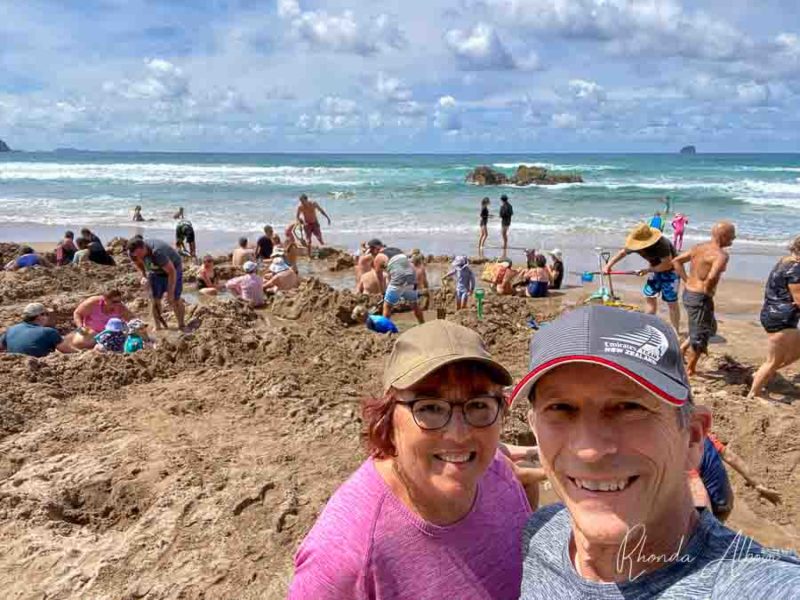 Located on the Coromandel Peninsula, Hot Water Beach is a unique, must-visit New Zealand hot springs experience that's created by a natural geothermal spring that runs under the sand.
We arrived, spade in hand, unsure exactly what to find. But the mostly empty beach with a crowd in one area made it obvious. We headed there and dug our own hot pool in the sand, climbed in, and enjoy the natural hot water that's created by the spring. The only thing we didn't have was a bucket for ocean water cooling off.
Importantly, swim where it's allowed and with caution, as there are rip currents. On the day we were there, we watched an adult get rescued by surf lifesaving.
Should you be one of the first to arrive; note that the hot spots are inland from the huge boulders in the water
This natural wonder is one of the many unique things to do in NZ. Be sure to check the tides before you go and arrive within 2 hours on either side of the low tide.
The Lost Spring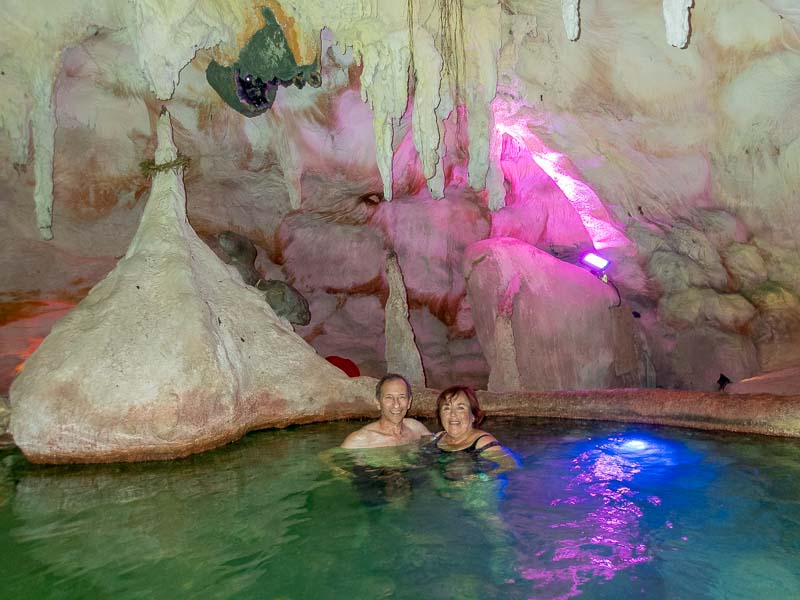 Also tucked away in the Coromandel Peninsula, The Lost Spring is a hidden gem that's worth seeking out. The complex includes a range of hot pools, including a cave pool that's surrounded by stalactites and stalagmites.
The water is rich in silica, which is said to be good for the skin. There's also a day spa, restaurant, and bar on site. We loved it so much that we wrote about it here: Whitianga Hot Pools – Why we love the mineral-rich water at Lost Spring
Kawhia Hot Water Beach (Te Puia Hot Spring)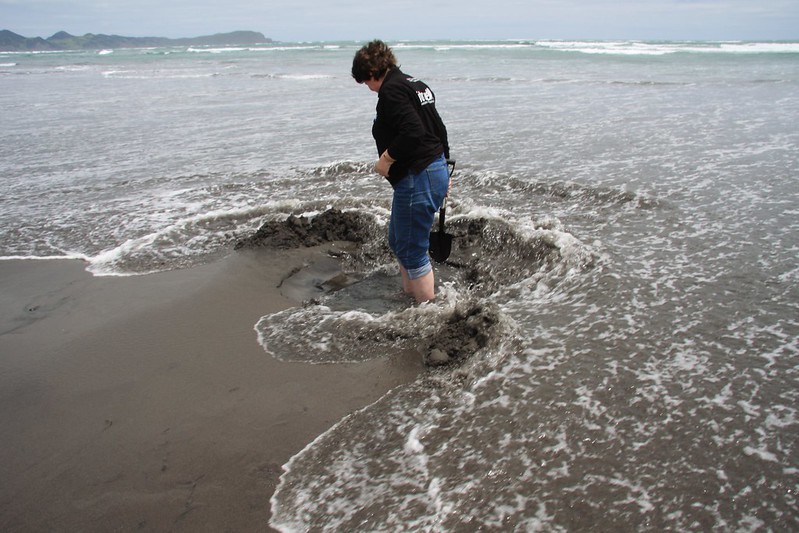 Like a mini version of Hot Water Beach, you will want to bring a shovel to dig your own private hot pool in the sand at Kawhia Hot Water Beach. It's located on the west coast, south of Raglan.
The water is heated by geothermal activity and is rich in minerals, making it a popular spot for people looking to benefit from the therapeutic properties of the water. The beach itself is also worth exploring, with its unique black sand and stunning views.
Mount Hot Pools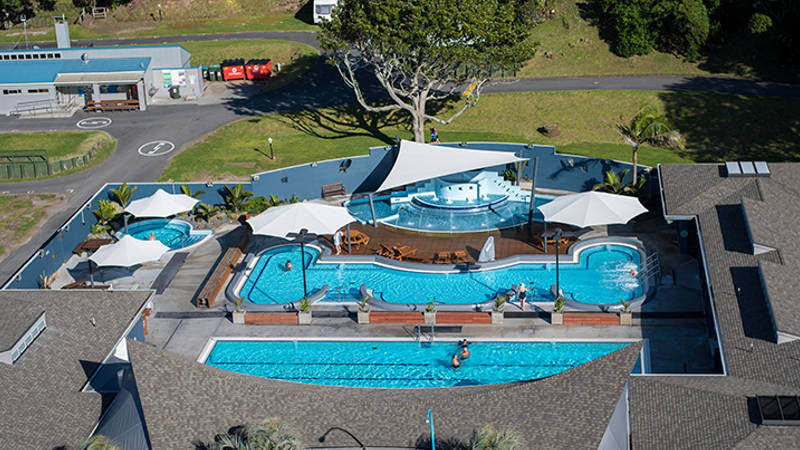 We only had a few days at Mount Maunganui, so we didn't spend too much time here. Locals love it, as it's family-friendly, with several public and private pools, as well as a children's pool. Reserve your often discounted entry to Mount Hot Pools here.
South Island hot springs
The South Island of New Zealand is home to some of the most breathtaking landscapes in the world, including several geothermal hot springs that are worth a visit. In this section, we'll explore some of the top South Island hot springs that you won't want to miss.
Hanmer Springs thermal pools and spa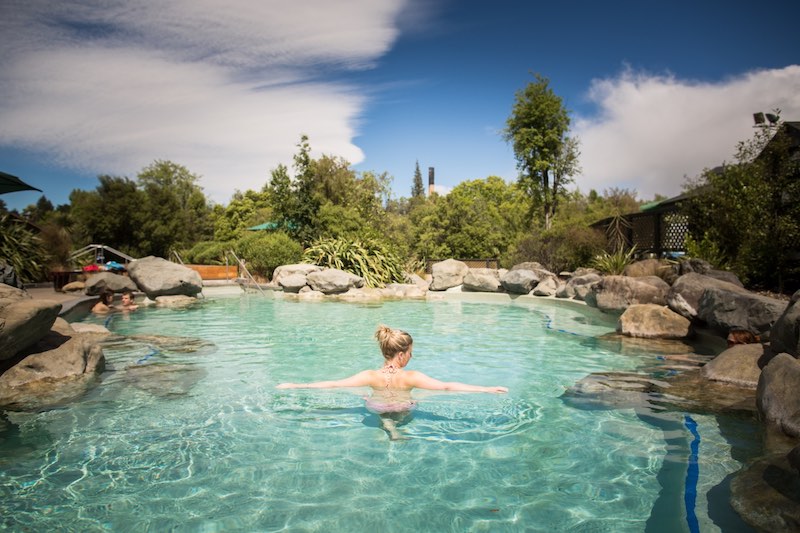 Located on the South Island, Hanmer Springs is a popular hot springs destination that's perfect for families or groups of friends. The complex includes several pools, including a lazy river, a hydroslide, and several hot pools.
Hanmer Springs has won several awards, including a 2020 World Luxury Spa Award for hot springs.
Relax at the hot pools in Hanmer Springs, and best of all, you can often get a discount entry here.
Tekapo Springs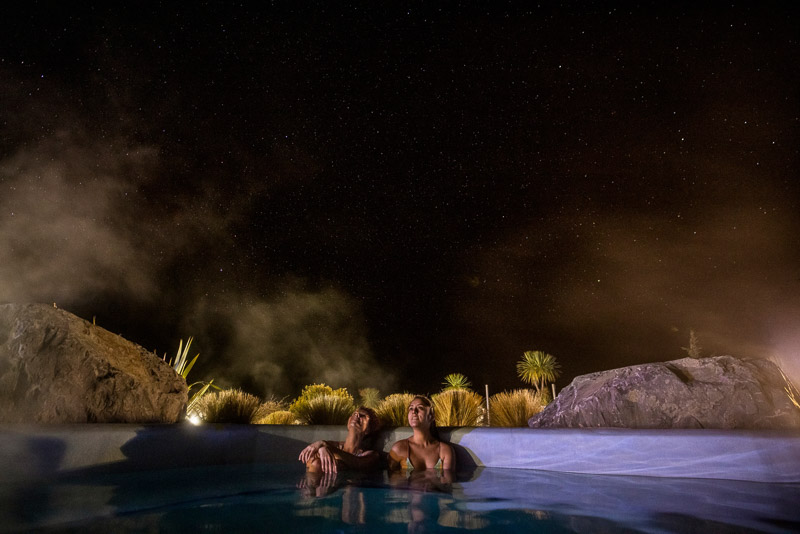 Surrounded by stunning mountain views, Tekapo Springs is in the Mackenzie Basin in the picturesque town of Lake Tekapo.
Located in the heart of the international dark sky reserve, it is an excellent spot for stargazing. So, after a long day of hiking, skiing, or sightseeing, there is no better way to unwind than by soaking in one of their five outdoor hot pools under the stars.
With varying temperatures ranging from 28°C to 38.5°C, everyone can find the perfect spot to relax and enjoy the breathtaking views.
In addition to the hot pools, Tekapo Springs also offers a cooler freshwater pool, multiple hydroslides, and an ice skating rink during the winter months. There is also a day spa on-site that offers a range of massages, facials, and body treatments.
And, if you're feeling adventurous, they have a tube park where you can race down the hill on an inflatable tube. Check for discounts on an all-day pass for the hot pools.
Onsen Hot Pools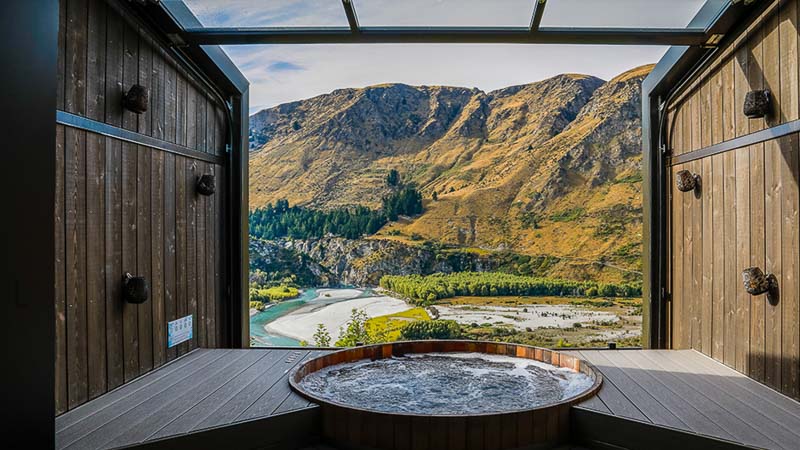 A relaxing and rejuvenating soak in the luxurious Onsen hot pools with spectacular outdoor views overlooking the Shotover River Canyon is a must-do for every Instagrammer visiting Queenstown.
It's really fun during winter in Queenstown, as the cooler outdoor temperatures complement the experience. Soak in a private cedar hot tub that is filled with natural spring water, which comes from a geothermal bore on site.
It's perfect for couples or solo travellers looking for a bit of pampering, but note that the Onsen pools generally need to be booked well in advance. Reserve your Onsen hot pool here.
Omarama Hot Tubs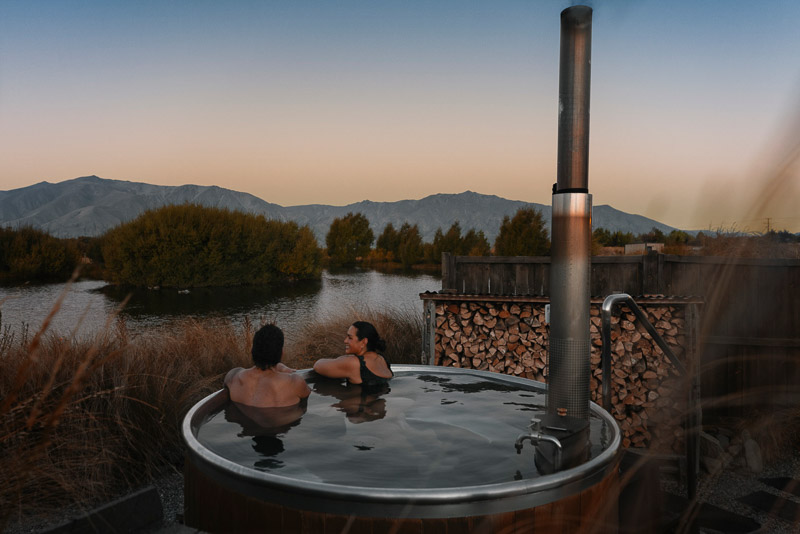 Another unique option, Omarama Hot Tubs are perfect for couples or solo travellers looking for a bit of relaxation. The complex includes several private hot tubs, which are heated by natural geothermal activity. The tubs are set in a stunning mountain backdrop, and visitors can also enjoy a range of spa treatments.
And while you are here, there are two other must-see things: First, it is considered the gliding capital of the country. Secondly, it is home to the Clay Cliffs.
Tips for visiting natural hot springs in New Zealand
Check the water temperature: Before entering a natural hot spring, be sure to test the water temperature. Natural hot springs can be extremely hot, so exercise caution.
Be aware of the surroundings: Natural hot springs are located in natural settings, so be sure to watch your step and be aware of any hazards, such as uneven terrain or slippery rocks.
Never put your head under the water: In natural hot springs, there can be harmful bacteria that can cause serious infections if ingested. Be sure to keep your mouth closed while soaking.
Follow safety guidelines: Natural hot springs can be unpredictable, so be sure to follow any safety guidelines posted. Don't dive or jump into the water, and avoid consuming alcohol or drugs while in the hot springs.
Bring appropriate clothing: Most natural hot springs require you to wear swimwear, but it's also a good idea to bring a towel, jandals (flip-flops), and a light jacket for after you get out of the water.
Final thoughts on hot springs in New Zealand
No matter what type of hot springs experience you're looking for, New Zealand has something to offer. From luxurious spa experiences to rugged backcountry adventures, there's a hot springs destination to suit every taste and budget. So pack your swimsuit and towel, and get ready to soak in the natural beauty of New Zealand's hot springs.
Save on your NZ trip with these resources
These are our go-to companies when we travel. We believe this list to be the best in each category. You can't go wrong using them on your trip too.
Check out our travel resources page for more companies that we use when you travel.
Save for later
If you enjoyed this article, please share it on social media and save it for later on Pinterest.
Which are your favourite New Zealand hot springs?
Photo Credits:
All photos on this page are either shot by our team and watermarked as such or stock images from Depositphotos.