A masterpiece of nature, there is much more to our little country than one might expect. Far from everywhere, it's not really surprising to find so many unique things to do in New Zealand. It's truly a one-of-a-kind destination.
We have lived here for 20 years, and never get bored. Whether we want to explore bustling cities, stunning landscapes, or something completely different, there are a variety of unique things to do in New Zealand that keep us busy and will surely leave you with lasting memories.
Natural wonders abound, from mysterious spherical boulders on the South Island to the thermal hot springs on the North Island. Explore our southern hemisphere paradise and take note of many things you won't find anywhere else.
We tried to write only 10 of our favourite one-of-a-kind experiences, but there are just too many unique things to do in New Zealand to stop there.
Unique things to do in New Zealand
This page features diverse, unique and unusual things to do in NZ. The details are below, but they can be summed up as:
A one-day great walk through Tongariro National Park
Real middle earth
World records for the youngest geothermal system, the longest place name, and the steepest street
Caves and cliffs with glowworms

Black sand and white sand beaches

Natural hot springs, volcanos, and other geothermal activity
A bra fence
Mysterious giant spherical boulders
Where can I find all these unique things to do in NZ?
Click the expand / collapse icon in the upper left corner of the map for the details.
Before we get into the details, be inspired…
Unique things to do in New Zealand: North Island
Stroll through the world's youngest geothermal system at Waimangu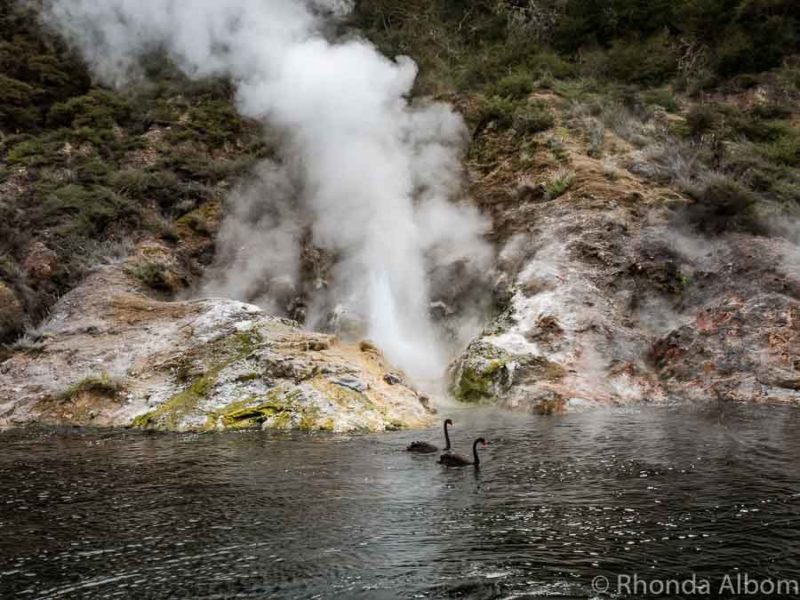 The eruption of Mt Tarawera in 1886 created the Waimangu Volcanic Valley in just a few hours. As a result, nature created a clean slate to rebuild. It also expanded Lake Rotomahana and buried the famous Pink and White Terraces.
A walking trail led us from the entrance through the fascinating landscape and eventually to the lake. Along the way, we enjoyed vibrantly coloured acid lakes, steaming hot pools, newly forming silica terraces and ancient ferns whose spores had been spread by the eruption. (there is a shuttle option)
Then we took the boat over Lake Rotomahana, and our captain pointed out a two-week-old fumarole (like a mini geyser) at the shoreline. Reserve your often discounted Waimangu experience here.
Hike the one-day Tongariro Crossing
Boasting dramatic 360º views of Mount Ngauruhoe, Mount Tongariro, and the Emerald Lakes, the Tongariro Crossing is one of the country's oldest and most popular tramping routes. Requiring a moderate level of fitness, this 19.4 km alpine trek is the only one-day walk among New Zealand's 10 Great Walks, making it one of the unique things to do in New Zealand.
Located near the centre of the North Island, Tongariro National Park features a raw natural beauty highlighted by its unique volcanic landscape. This, plus its history dating back to the late 1800s, makes it an experience unlike any other.
Experience middle earth at Hobbiton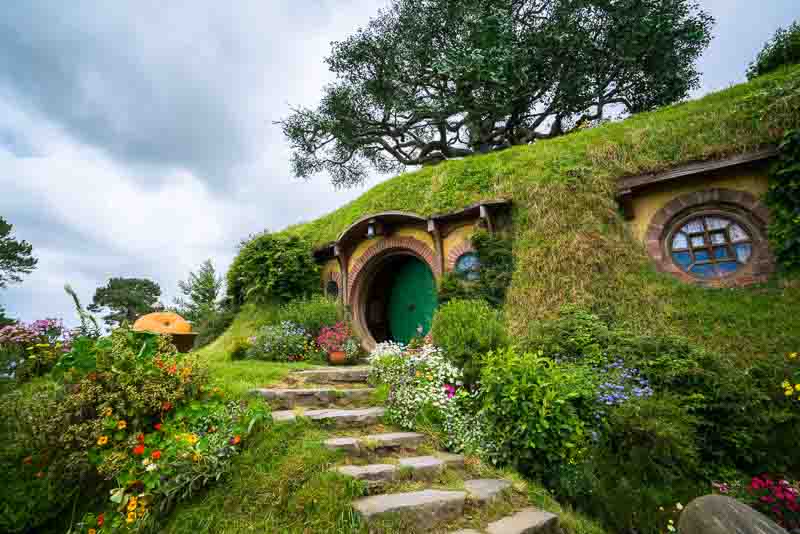 The Hobbiton Movie Set is an enchanting, immersive experience bringing us into the world of Middle-earth. Located in Matamata, it's a fun opportunity to explore the realm.
It's the only Lord of the Rings film location in NZ that still has the movie sets intact. All other sets have been removed, returning the landscape to its natural beauty.
The film set itself includes gardens and Hobbit huts in a tranquil and serene wooded area. Importantly, entrance is by tour only. Reserve your Hobbiton tour here.
Experience Orakei Korako geothermal park and cave
Oddly, we discovered one of the North Island's hidden gems while at a wakeboard camp. Orakei Korako is a realm of fiery geysers, steaming hot springs, boiling mud pools, and some of the world's largest silica terraces. Everywhere we looked seemed full of wonder.
While exploring the Hidden Valley, we stood on the viewing platform looking into the thermal Ruatapu Cave. Visibility extends more than 36m down into volcanic tuff to the 'Waiwhakaata' or 'Pool of Mirrors' hot pool at the bottom. Reserve your often discounted general admission Orakei Korako entrance ticket here.
Note that Wai-O-Tapu is the more popular geothermal park (see photo at top of page), and we recommend a visit there if you only have time for one geothermal landscape. We chose to include Orakei Korako on this list as it is more of a hidden gem.
Surf at Piha's black sand beach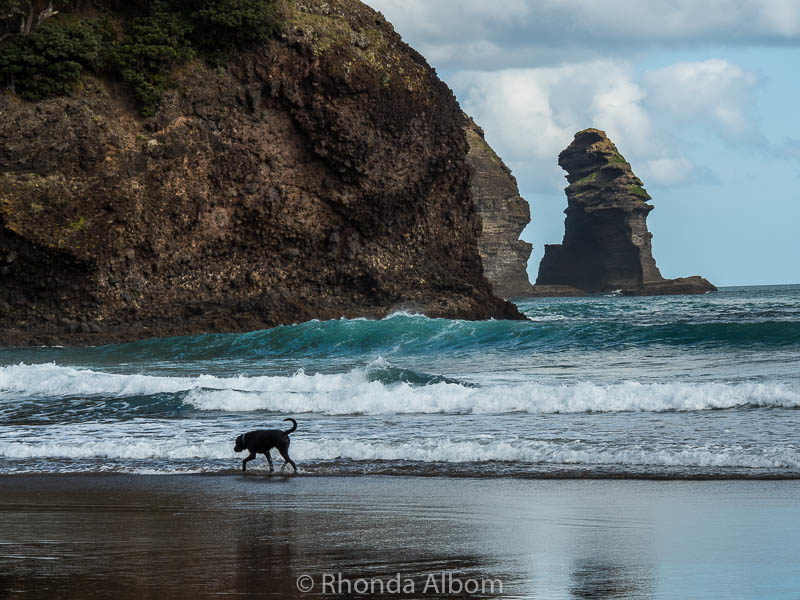 Piha Beach is one of the most stunning beaches in New Zealand. This beautiful black sand beach offers an amazing experience for surfers, a chance to relax or walk, and an opportunity to climb the iconic Lion Rock.
The long, sandy beach stretches along the West Coast of Auckland, surrounded by rugged cliffs and lush native forest. While the waves here are great for surfing, if you are swimming, be sure to stay within the lifeguard-patrolled areas.
Personally, one of my favourite things to do here is to stroll at the water's edge, with the gentle wave washing over my feet.
Experience pure white sand at Rarawa Beach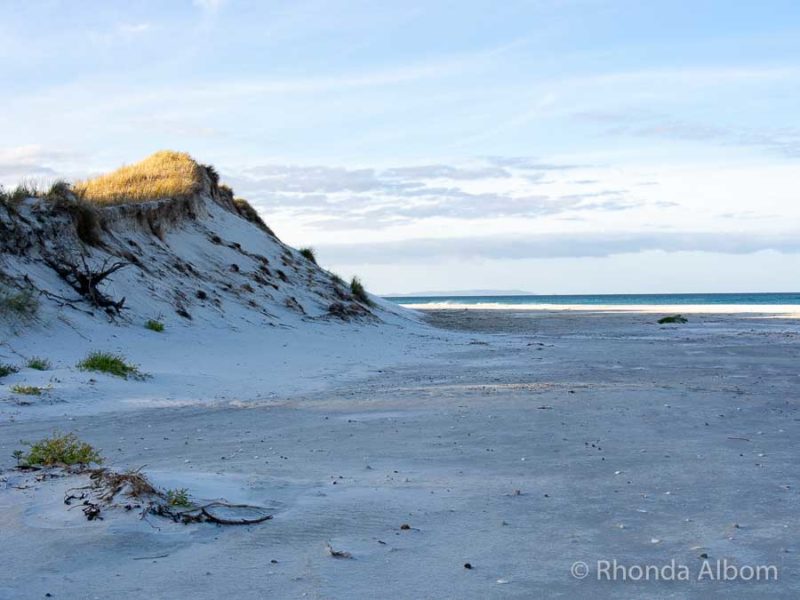 In sharp contrast to the black sand on the wild west coast, Rarawa Beach on the east side of the Aupouri Peninsula leading up to the top of the island has bright white sand.
The sand here is made up of very fine particles of silica, giving it a unique texture and feel. As we walked across the beach, the sand under our feet seemed to squeak, and we often left no footprints, creating a surreal experience.
The sun's rays glimmering off the white silica enhanced the mystery. It's a stop we recommend when driving north to Cape Reinga.
Walk around the summit of the Mt Eden volcano crater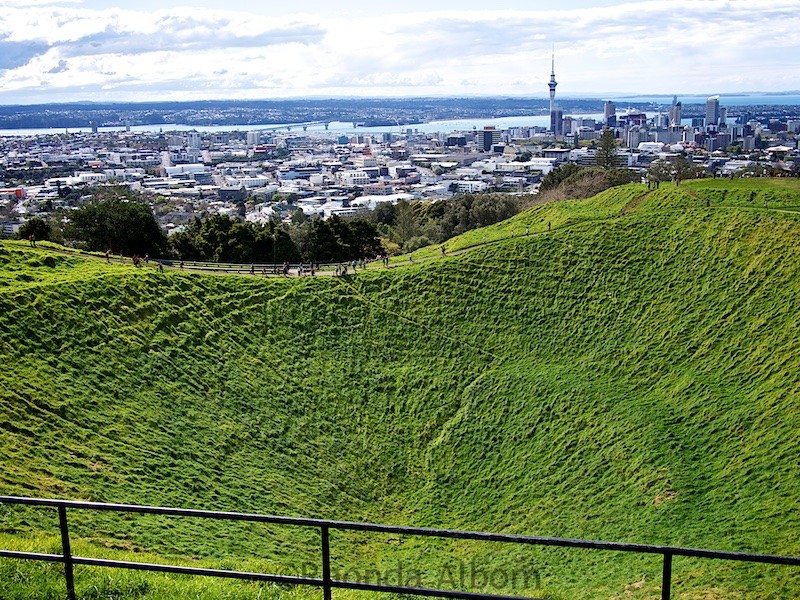 We often walk up to the top of the extinct Mt Eden volcano. The easy uphill stroll is along paved roads that once allowed cars. Or, there is an easy hiking trail for nature lovers.
What makes it so unique is the 50-metre (160 feet) deep grass-covered crater at the top. Encircling it is easy, as there is a new crater rim boardwalk trail whose final section opened in March 2023.
It's also the views from the top that we love. Standing at the highest natural point in Auckland, we overlook the city and Waitameta Harbour. At 196m, it is both Auckland's highest natural point and a very similar height to the viewing platform on the Sky Tower.
Dig your own hot pool at Hot Water Beach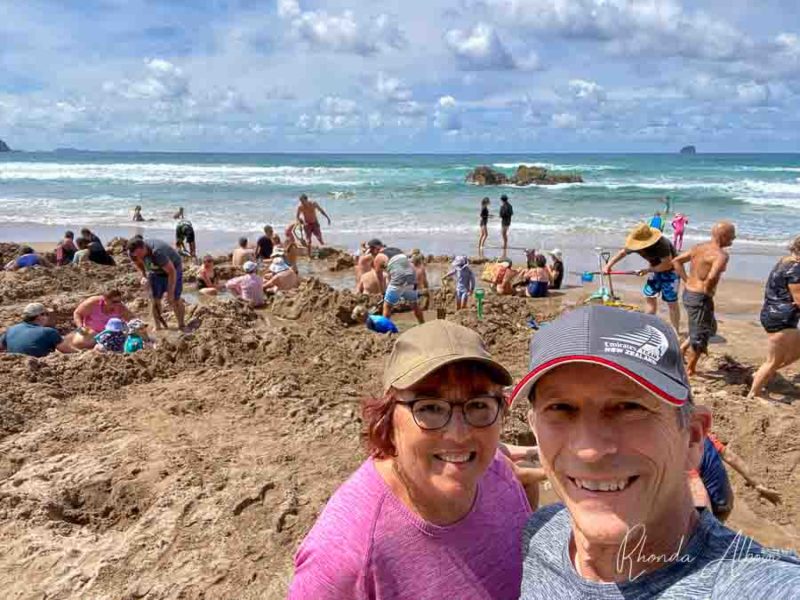 Geothermal springs flow beneath the sand at Hot Water Beach on the Coromandel Peninsula, creating natural hot springs. Like most visitors, we brought our own shovel and dug our own mini hot pool in the sand.
The water temperature varies depending on how close to the source you dig, but it usually ranges from 30-40 degrees Celsius. We were warned to test it first as if you are too close to the source, it can be as hot as 64ºC (147ºF).
Two things to note: the beach is best experienced at low tide, where the warm water is most accessible. Also, there are strong currents in the area. We watched Lifeguards complete one successful rescue in the under two hours that we were there.
Be enchanted by glowworm caves and canyons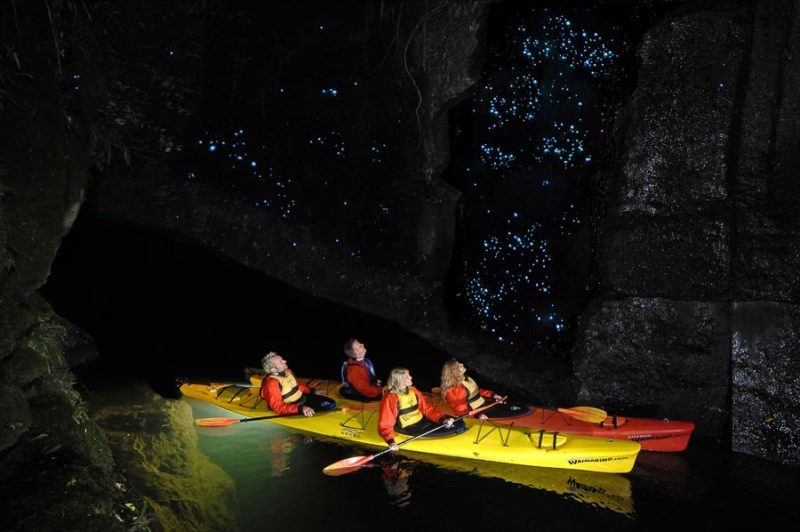 Being surrounded by glowworms is like thousands of tiny stars that seem to twinkle from the darkness. While the arachnocampa luminosa, more commonly called glowworm, is unique to New Zealand, they are not limited to only one spot in the country.
In fact, we have seen them in five spots so far. The larger two, Waitomo Caves and Tauranga require tours to visit, as they offer massive numbers of these luminous creatures. The other three, Waipu Caves, Shakespear Park waterfall gully, and somewhere in Hokitika, were free hikes we did on our own.
The Waitomo Caves is probably the most famous spot in New Zealand to see glow worms. Here we got close enough to marvel at their intricate details, like the delicate webs of silk they weave and their tiny glowing bodies. Reserve your Waitoma guided tour by boat here.
However, our personal favourite was the kayaking adventure on Lake McClaren in Tauranga. Here we paddled past the power station to a twinkling high-walled canyon. Reserve your often discounted kayak adventure here.
Try to pronounce the longest place name
Named Taumatawhakatangihangakōauauotamateapōkaiwhenuakitānatahu, the hilltop behind the sign has the world's longest place name.
It translates to 'The hilltop where Tamatea with big knees, conqueror of mountains, eater of land, traveller over land and sea, played his koauau to his beloved.' Or, in more simple terms, Tamatea, a Māori chief, played his flute while he mourned the death of his brother.
Here's some help if you want to try and pronounce it:
Unique things to do in South Island New Zealand
See the Cardrona bra fence
Yes, you read that right: our beautiful country has a bra fence. Located just off the Crown Range Road near the Cardrona Distillery and Hotel, not too far from where we lived on the South Island. It is one of many unique things to see in New Zealand.
It got started in the late 1990s with a single bra hanging from a fence. Soon it grew into a bit of a joke among local pranksters who began adding their bras. What began as an offhand joke has grown into something much more substantial; now, there is even a donation box present, and it raises money for breast cancer research.
Try your hand at bone or pounamu carving
Bonz and Stones in Hokitika gave us everything we needed to craft our own keepsake from bone or pounamu (also called greenstone or NZ jade). Most important was the instruction and guidance.
Tailored to us, this turned out to be family fun, as even our 10-year-old was able to walk away with Maori-style carved pendant that she made herself. We learned a lot and had fun making them.
Get your Instagram fix at #ThatWanakaTree
The Wanaka Tree is a lone willow on the edge of Lake Wanaka, surrounded by stunning views of snow-capped mountains and turquoise waters. If you're looking for the iconic Instagram shot, and willing to queue up to get it, then #ThatWanakaTree is it.
Honestly, I am not sure when it earned its Instagram fame. We lived in Wanaka about 10 years ago; it was just a lovely tree back then. But lovely it is, and it's even more impressive if you grab your shot at sunrise or sunset.
Walk up the world's steepest street in Dunedin
Baldwin Street in Dunedin is renowned for being the world's steepest street. Although this distinction is periodically challenged, it currently holds the Guinness world record.
It's located in a residential neighbourhood, and the challenge to walk up is the draw card. At its centerline, the gradient is 34.8%, making walking up more difficult than I expected. And, to add insult to my struggle, a jogger ran by.
While I have been here a few times, my photos don't seem to capture the steepness.
Discover the legends of Moeraki Boulders
There is something so mysterious about these 50 huge spherical boulders on Koekohe Beach that I stop to see them every time we are near. While more are revealed only at low tide, there are always some to see.
Science tells us that they were formed by erosion over millions of years, yet it is the superstition and the Maori legends that I find far more interesting. Read more about the legends here.
Unique things to do in New Zealand: Stewart Island
See active kiwi birds during the daytime
Visiting Stewart Island is a great way to observe the natural beauty of New Zealand and its unique wildlife. Catching a glimpse of a normally nocturnal kiwi bird scavenging about during the daytime is not uncommon and makes the island visit even more special. If you are headed to Stewart Island, check out this Kiwi encounter.
A few more unique things to do in New Zealand
Bungy jump where it all began in Queenstown.
Visit Wellington, the world's southernmost capital city.
Enjoy the views or do a controlled jump off the Sky Tower, the tallest free-standing structure in the southern hemisphere.
Help out with the sailing on a former America's Cup yacht.
Go with a guide up on Mount Hikurangi and be the first person in the world to see a new day.
Go on a wildlife adventure and perhaps see the world's rarest penguin (yellow-eyed penguin), the world's only alpine parrot (kea), the world's smallest dolphins (Hector's dolphins) or the world's heaviest insect (Wētāpunga, the giant weta).
See the world's clearest water at Blue Lake in Nelson.
Don't miss these additional interesting facts and records for NZ.
A truly immersive experience, the sky is the limit when it comes to what you can do during your visit to New Zealand. You won't be disappointed if you are looking for unusual places or unique things to do in New Zealand.
Save on your NZ trip with these resources
These are our go-to companies when we travel. We believe this list to be the best in each category. You can't go wrong using them on your trip too.
Check out our travel resources page for more companies that we use when you travel.
*World Nomads provides travel insurance for travellers in over 100 countries. As an affiliate, we receive a fee when you get a quote from World Nomads using this link. We do not represent World Nomads. This is information only and not a recommendation to buy travel insurance.
Save for later
If you enjoyed this article on the unique things to do in New Zealand, please share it on social media and save it for later on Pinterest.
What's your favourite of the unique things to do in New Zealand?
Photo Credits:
All photos on this page are either shot by our team and watermarked as such or stock images from Depositphotos.