Wai-O-Tapu instantly captivated me. The name means sacred waters, yet legends and science explain it all. Surreal, rising steam enhances nature's dreamlike palette of colours.
Check out the photos below, and you will know that Wai-O-Tapu Thermal Wonderland is a must-see if you are visiting the geothermal Rotorua region of New Zealand.
Volcanic activity in the area dates back about 160,000 years. Visitors safely walk on boardwalks and paths through the Wai-O-Tapu Wonderland, passing collapsed craters, boiling pools of mud or water, colourful mineral deposits, a forest, and steaming fumaroles.
First, let New Zealand inspire you …
Let's explore Wai-O-Tapu
Try to visualize yourself taking a self-guided tour and looking out over the water and seeing sites like the Champagne Pool and the craters.
The advantage of doing it on this page is only that you avoid the distinctive smell of sulphur. If you haven't experienced it, imagine rotten eggs.
On our last visit, we opted for a self-guided tour. There are three walking trail options, each taking you farther into the park. Walk 1 is wheelchair accessible and allows you to see nearly everything photographed on this page. Options include:
The main trail (Walk 1) is 1.5 km (.9 miles) and takes about 30 minutes to complete.
Adding Walk 2 increases the distance to 2 km (1.2 miles) and the total time to 40 minutes.
The entire park (Walks 1, 2, & 3) is a 3 km (1.8 miles) walk that takes approximately 75 minutes. Therefore, arriving when the park opens allows enough time to complete the full trail and see Lady Knox Geyser (more information on this is below).
Champagne Pool
The largest spring in the geothermal Rotorua region, the Champagne Pool is undoubtedly the most photographed spot at Wai-O-Tapu Thermal Wonderland.
It's 700 years old and formed by a hydrothermal eruption. Measuring 65 metres in diameter and 62 metres deep, it has a surface temperature of 74°C (165°F). Gold, silver, mercury, sulphur, arsenic, thallium, and antimony are among the minerals contained in the Champagne Pool.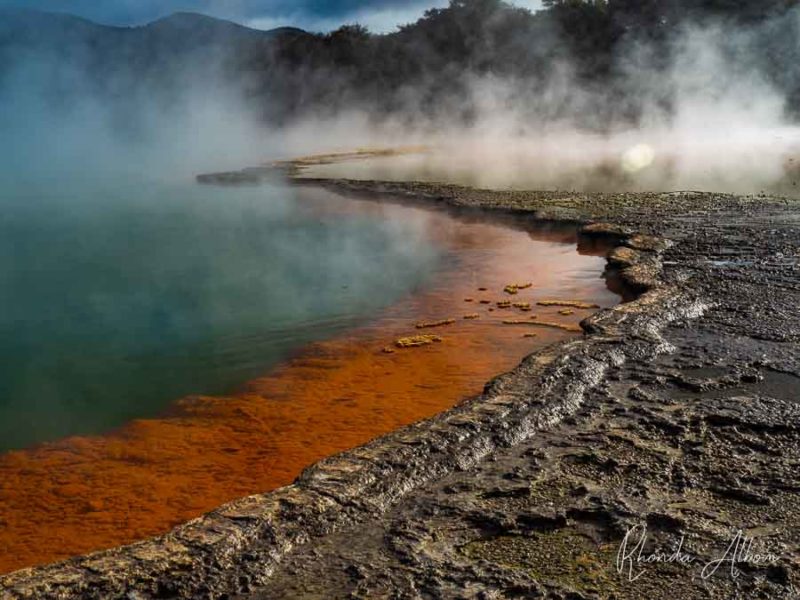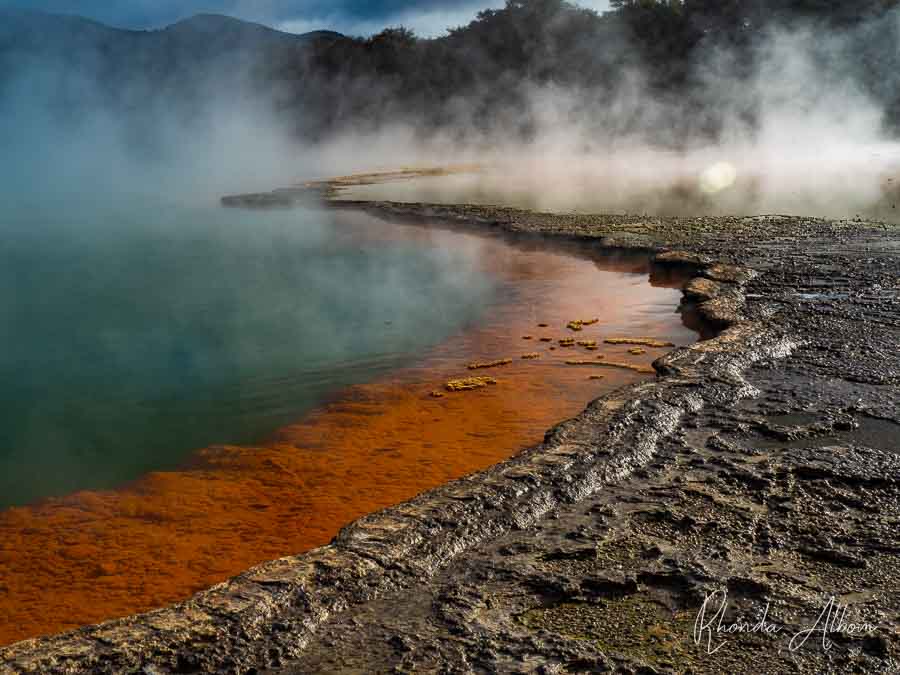 The Artist Palette at Wai-O-Tapu Thermal Wonderland
The vivid colours at Wai-O-Tapu are all naturally created by a mix of various mineral deposits. Some of the key colours and their corresponding minerals include:
Green → Colloidal sulphur and ferrous salts
Orange → Antimony
Purple → Manganese oxide
White → Silica
Yellow-primrose → Sulphur
Red-brown → Iron oxide
Black → Sulphur and carbon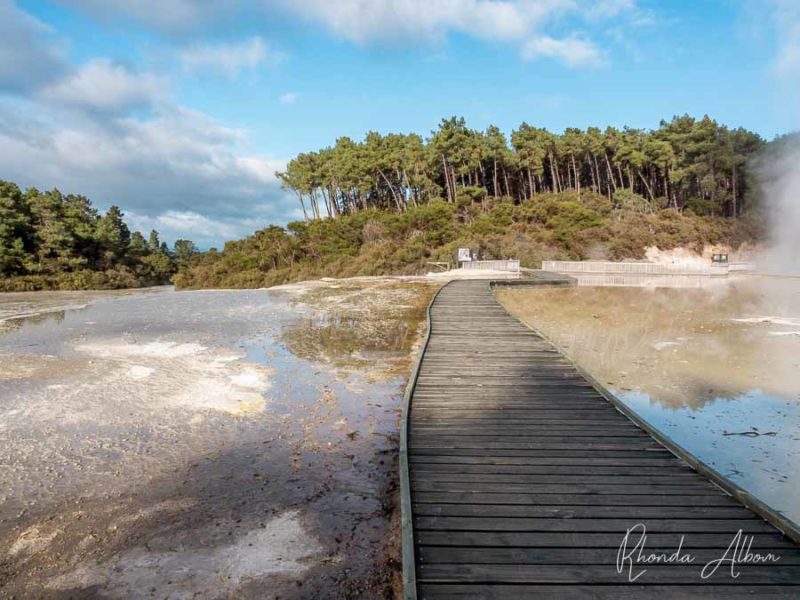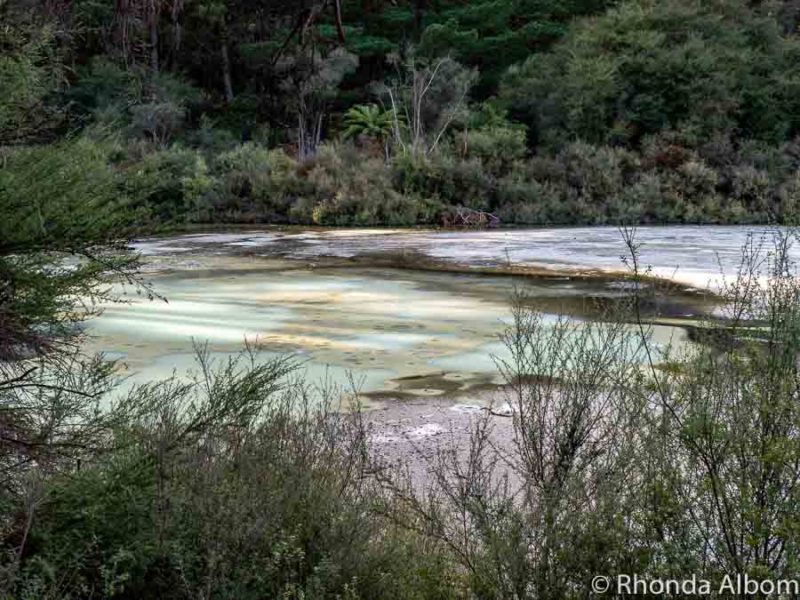 *This image was shot on an Olympus TG-5 (the predecessor to the Olympus TG-6), a tough, compact camera that is waterproof, shockproof, freezeproof, and fits in my pocket. I was testing it out on our visit to Rotorua and found it to be a wonderful travel companion.
Unless otherwise noted, all other images on the page were shot with my Olympus OMD EM5 – still my favourite camera for manual creativity.)
Inferno Crater
Next, our self-guided tour brought us to the Inferno Crater. At the angry bottom of the crater is rapidly boiling mud.
The self-guided tour is easy to follow as the sites are labelled and numbered (small red sign next to the name) to correspond with the self-guided map.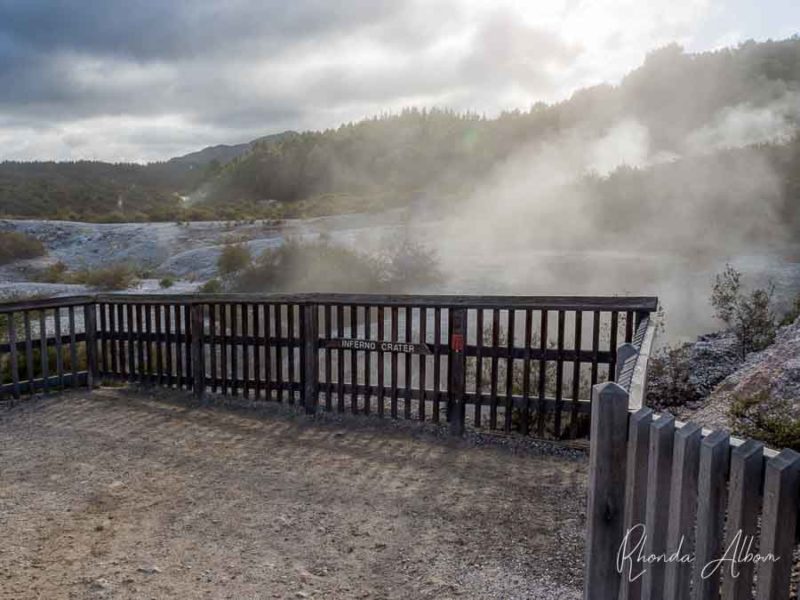 Devil's Bath
Another of the surreal views, the Devil's Bath colours are created as the excess water of the Champagne Pool mixes with sulphur and ferrous salts.
While it was a fluorescent green colour when we saw it, it changes throughout the day and is affected by cloud cover and reflected light.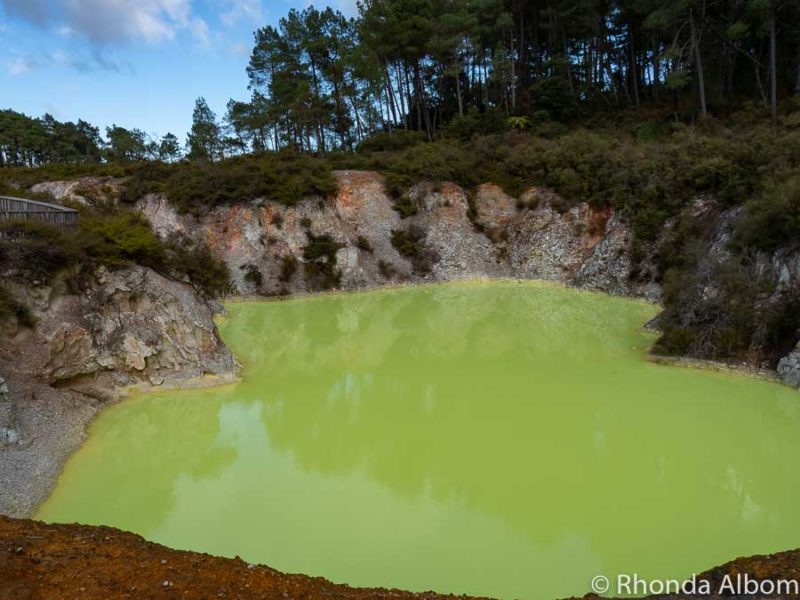 More craters at Wai-O-Tapu Thermal Wonderland
Most of these craters have formed as extremely hot water created acidic steam that dissolved the ground above as it rose. The smells are not always pleasant, but the views make up for it.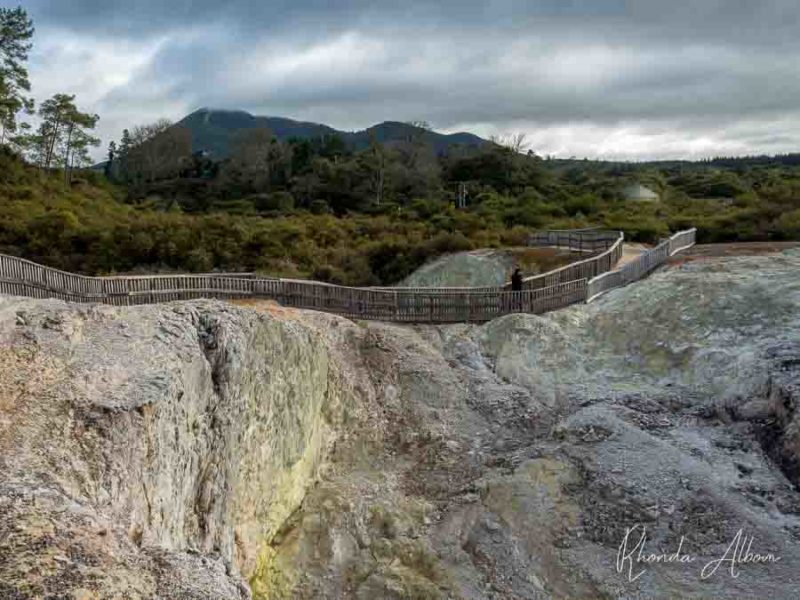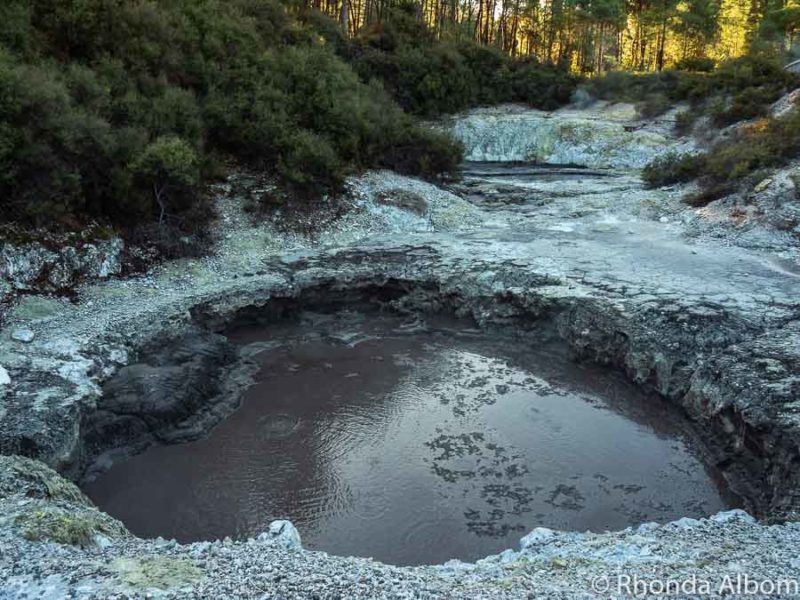 Wai-O-Tapu isn't only geothermal
The Wai-O-Tapu stream is part of nature's drainage system and eventually flows to the Waikato River and ultimately out into the Tasman Sea.
Parts of the trail were through the trees.
Regardless, it is one of the more unique things to do in New Zealand.
Lady Knox geyser
Important Note for planning:
It is a short drive between Lady Knox Geyser and Wai-O-Tapu's Visitor Centre, and each has its own carpark. You will want to allow enough time to park your car and get seated before 10.15 am when the geyser erupts daily.
One of only 10 remaining active geysers in New Zealand, Lady Knox Geyser fascinates visitors every morning at about 10.15 am.
If you wondering (like I was) how nature can be so precise, it's simple. It has assistance.
First, a short presentation including safety information and the amusing story of the first eruption in the 1800s. It involved laundry and butt-naked prisoners running for cover.
Simulating the laundry event, the presenter adds a biodegradable soap to the geyser that breaks down the water barriers allowing the bubbling water to rise and shoot out the top.
Hitting heights of up to 20m, it's a sight not to miss.
The geyser is named for Lady Constance Knox, the daughter of the 15th governor of New Zealand, Uchter Knox.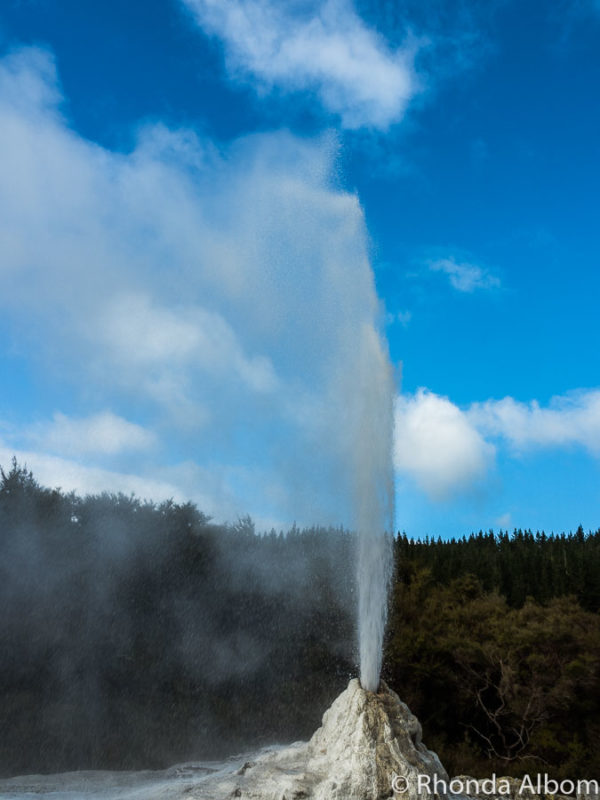 There is also a Wai-O-Tapu geyser on walk 3. Its eruption schedule is less predictable, erupting every 2 to 36 hours. It did not erupt while we were there.
Tips for visiting Lady Knox geyser
Note that while Lady Knox is part of the Wai-O-Tapu thermal park, it is in a separate location with a different car park.
We arrived at Wai-O-Tapu thermal park at 8:30 am when it opened and were at the geyser in time to park the car and get a seat before 10.15.
Depending on wind direction, if you sit in the front row when Lady Knox Geyser erupts, you may get wet.
Geothermal Rotorua Tours
If you prefer a tour to a self-guided exploration, here are a few we recommend, some also include other Rotorua geothermal areas:
What you need to know before visiting Wai-O-Tapu
Wai-O-Tapu Thermal Wonderland is at 201 Waiotapu Loop Road, Rotorua, 31 km.
It's a 30-minute drive from downtown Rotorua, located in the western Bay of Plenty.
The park opens every day at 8:30 am and closes at 4:30 pm. The most crowded time of day is just after Lady Knox geyser has erupted. Therefore, visiting before the eruption will encounter smaller crowds.
There is NO SMOKING allowed in the park, as some of the minerals are quite flammable.
While it seems obvious, I remind you not to touch the water or mud. Much of it is boiling, and it will burn you. If you don't believe me, or any of the warning signs, there is a first-aid office in the visitor's centre.
Save on your NZ trip with these resources
These are our go-to companies when we travel. We believe this list to be the best in each category. You can't go wrong using them on your trip too.
Check out our travel resources page for more companies that we use when you travel.
*World Nomads provides travel insurance for travellers in over 100 countries. As an affiliate, we receive a fee when you get a quote from World Nomads using this link. We do not represent World Nomads. This is information only and not a recommendation to buy travel insurance.
Save for later
If you enjoyed this article, please share it on social media and save it for later on Pinterest.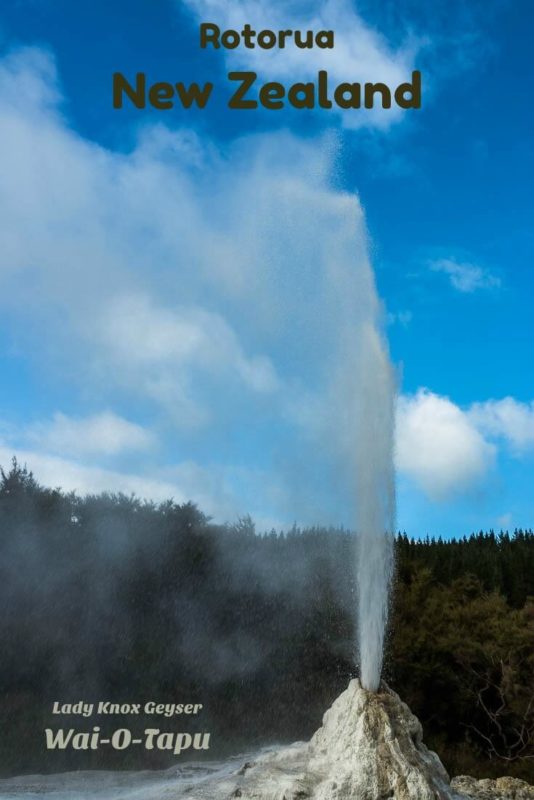 What is your favourite thing about Wai-O-Tapu?
More about Rotorua you might enjoy …
Disclaimer: We worked with Destination Rotorua, the local tourism board. We were provided with complimentary entrances, tours, and sample items to assist in the writing of this review. The opinions expressed here are strictly our own.