Rotorua is like nowhere else. Situated near the centre of New Zealand's North Island, it's a geothermal wonderland, a playground for adventure seekers, an opportunity for cultural understanding, and a place to relax and heal. Our recent visit shattered my misconception of Rotorua as an overpriced tourist town. What I found was a paradise that left me wanting more. Even the cloudy, rainy weather didn't deter us. If you are wondering what to do in Rotorua, then read on.
Active Things do in Rotorua for Adventure Junkies
Rotorua adventure activities range from downhill ball rolling to family-friendly experiences like the luge. We took the Skyline Gondola to the top of Mount Ngongotaha where we rode the luge and passed on a few other adventure extremes. (We opted for a more relaxed afternoon of wine tasting and culinary excellence.)
⇒ Save time with advance tickets for the Gondola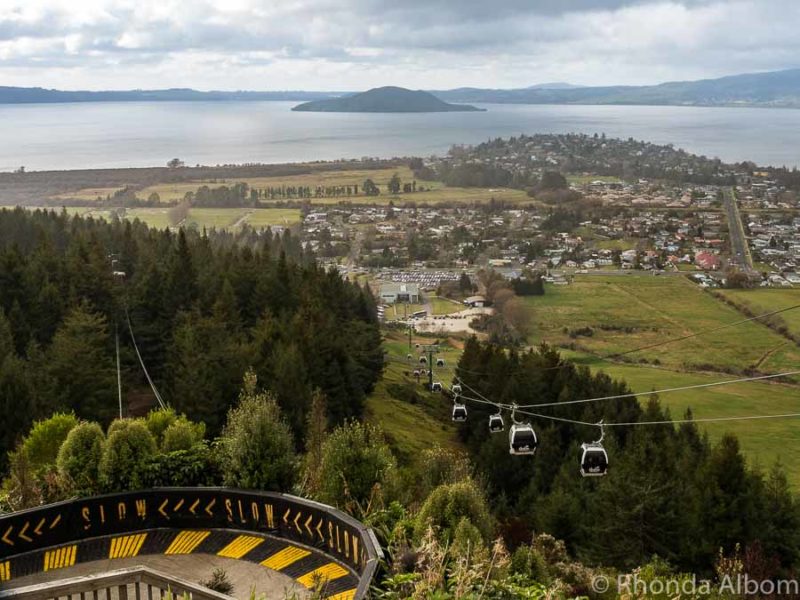 • Race downhill on the Skyline Luge
Speed and control make the Skyline luge the ideal family-friendly adventure activity. Designed in Rotorua (1985), it is the world's first gravity-fueled three-wheeled luge ride. Young or old, the luge is a thrill for anyone who can reach the handlebars (children under 110cm ride tandem with an adult). Control is easy, turning instinctual, and safety is paramount.
Helmets on, we took the scenic track for our first run although, Jeff preferred the faster intermediate option. Once at the bottom, a chairlift brought us up for another go.
⇒ Click here for combined gondola and luge tickets options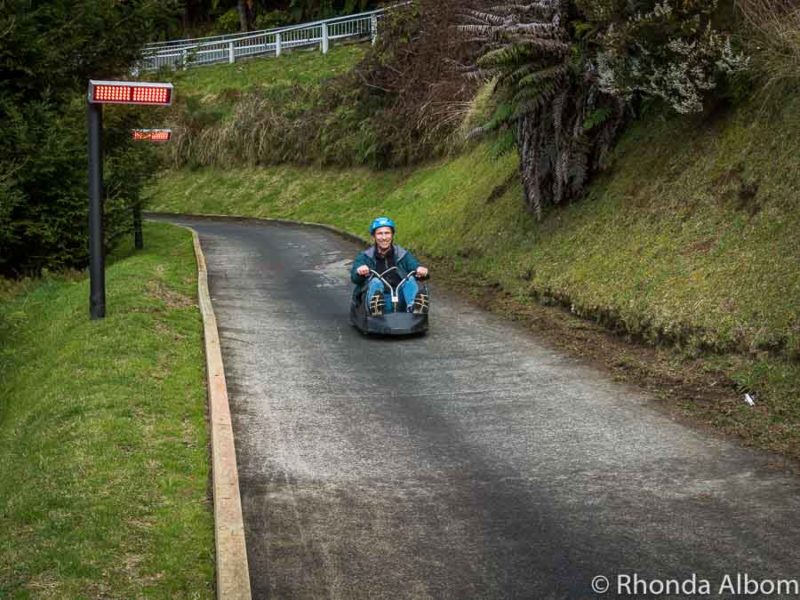 • Travel across the redwood treetops
A unique mix of nature and adventure, the Redwood Treewalk is an opportunity to view Rotorua's Redwood forest from 6 – 12m (20-39ft) above the ground. We chose the Redwood Nightlights, taking the 23 suspension bridges after dark, looking out over a forest colourfully lit by 30 lanterns and 40 colour spots. Unique, serene, and magical, I only wish I had walked both day and night, as I imagine the daytime walk feels completely different.
Everyone moves in the same direction through the 600-metre tree walk. Each viewing platform surrounds a 117+ years old Redwood tree, has interpretive signage and is a resting point between two bridges. The newest platform is optional and up a flight of stairs to 20m (65 ft) above ground level.
From their website, "As an eco-tourism business located in Rotorua's iconic Redwoods Forest, the treewalk has been entrusted by Manu Whenua and we unreservedly work as guardians of the land and forest we operate in."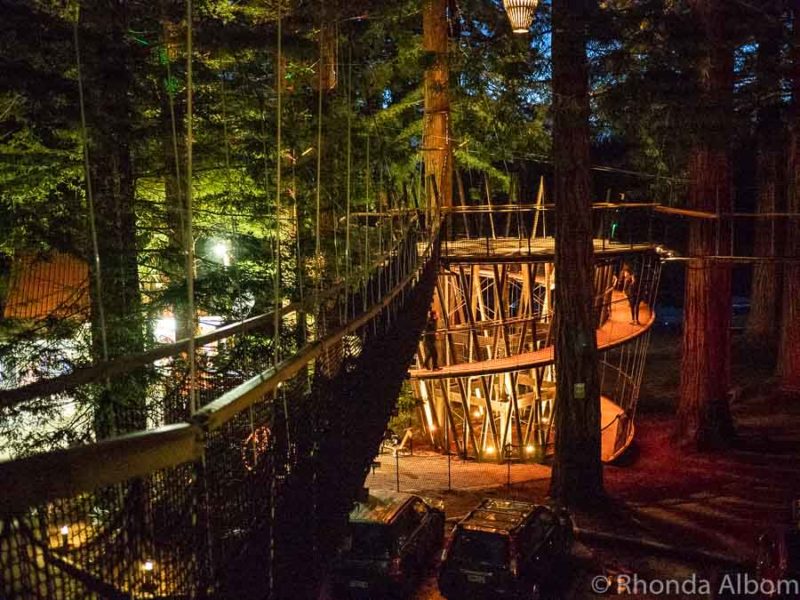 • Roll downhill at OGO Zorb Rotorua
The sensation is hard to define. OGO Zorb Rotorua calls it downhill ball rolling, but the name doesn't mention that you are inside the ball. Comfortably encased in a giant two-layer bubble sphere, a push at the top sets the Zorb rolling downhill. We opted to keep dry (DRYGO) which resulted in a slightly slower ride.
The other option, H2OGO, has participants sitting directly in the warm water. Either way, as the ball rolls, the rider remains at the bottom, sometimes almost unaware of the movement, other times sliding around as they roll. Everyone emerged with a smile, and those who chose 'wet' also enjoyed a hot tub.
OGO Zorb is home to the world's longest, steepest and fastest downhill ball rolling tracks.
⇒ Check prices for OGO Zorb Rotorua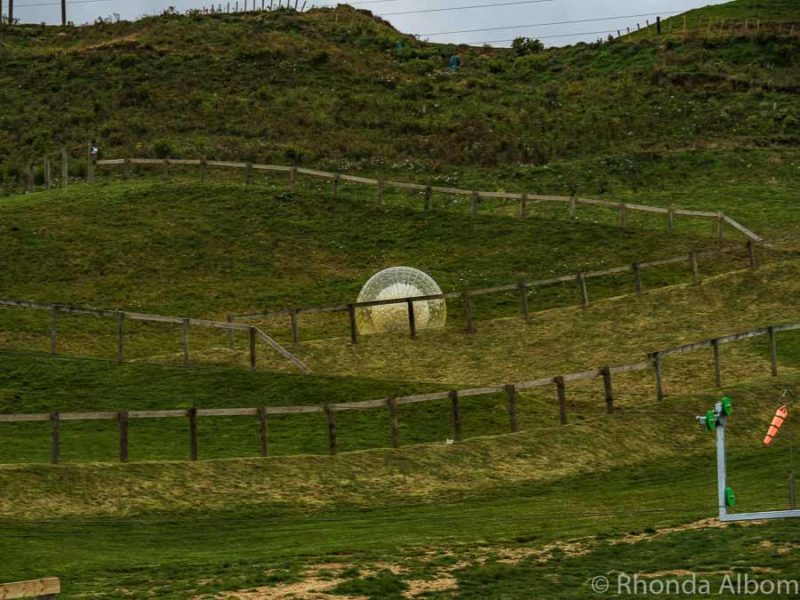 • Other adventurous and fun things to do in Rotorua
There is no way to do it all in a three-day visit to Rotorua. We are delighted with our choices, but there is plenty that we missed.
What to do in Rotorua: Geothermal
If I only had time to visit one place in Rotorua, I would be hard pressed to choose between Waimangu Volcanic Valley and Wai-O-Tapu Thermal Wonderland. One is new by geological time, the other very old.
IMPORTANT NOTE: Geothermal pools can, and frequently are, hot enough to badly burn. Do NOT dip your feet or hands in to test the temperature of the water. Temperatures can change over time, so take extra cautions in unmonitored areas.
• Appreciate the unspoilt beauty at Waimangu Volcanic Valley
If you are looking to absorb yourself in an untouched, young, and ever-changing landscape, this is it. With the eruption of Mt Tarawera in 1886 (New Zealand's largest recorded volcanic eruption) came the creation of the Waimangu Volcanic Valley (also called the Tarawera Rift). It created lakes, changed the landscape, covered the famous Pink and White Terraces, and left a clean slate for nature to rebuild.
Understanding history makes the experience stronger, so be sure to follow the guide that is provided when you enter. The main walking trail is about 4km and leads from the visitor centre to Lake Rotomahana. From here, we opted to take the boat and further explore from the water. If you don't want to walk all or any of the trail there is a shuttle bus to the lake that makes several stops along the way.
⇒ Click here to check prices: Waimangu Volcanic Valley Entry Ticket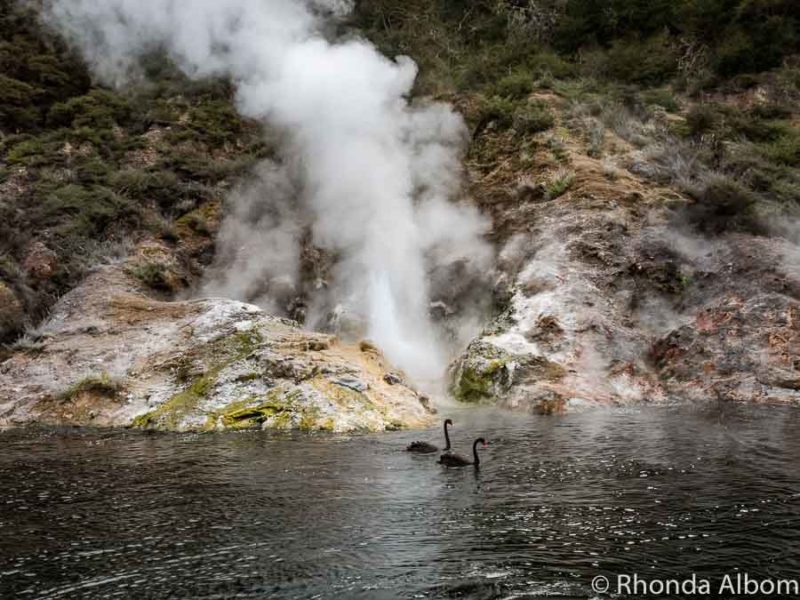 Read Next: Waimangu Volcanic Valley: World's Youngest Geothermal System
• Discover natural colours you didn't know existed at Wai-O-Tapu Thermal Wonderland
Formed from volcanic activity dating back 160,000 years, Wai-O-Tapu Volcanic Wonderland is a surreal, mystical place enhanced by rising steam and nature's dreamlike palette of colours. Visitors walk on boardwalks and paths through the Wai-O-Tapu Wonderland, passing collapsed craters, boiling pools of mud or water, colourful mineral deposits, a forest, and steaming fumaroles. The craters range in size with the largest measuring 50m (164 ft) in diameter and up to 20m (65 ft) deep. The pools and lakes are even larger.
⇒ Click here for prices and entry tickets for Wai-O-Tapu Thermal Wonderland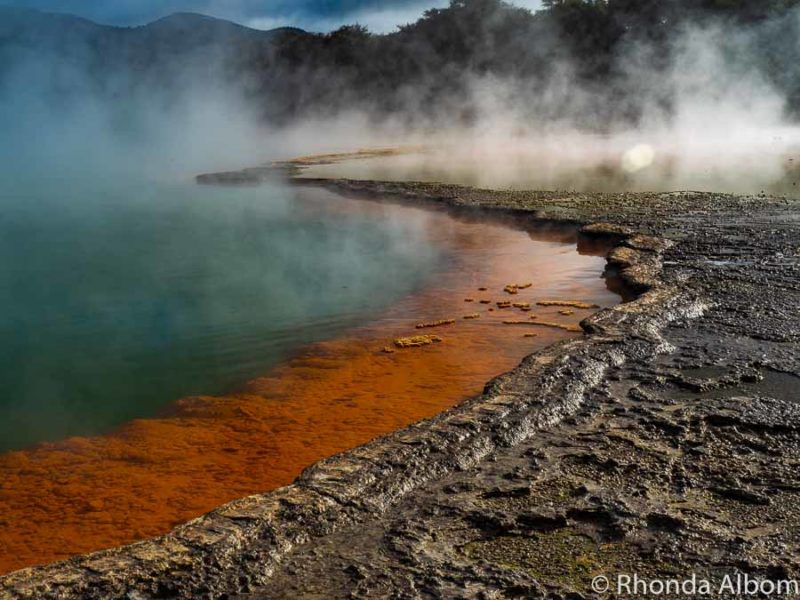 Read Next: Wai-O-Tapu: A Photo Review of Geothermal Rotorua New Zealand
• Set your watch to Lady Knox Geyser
Lady Knox is a natural geyser that gets a bit of help waking up every morning at 10.15. Its exciting history began in 1901 when prisoners were cleaning their laundry. Their soap reduced the water's surface tension, resulting in the geyser's eruption. Today, a bit of a similar soap is added every morning, the result being a geyser worth visiting.
Entrance is included with your ticket for Wai-O-Tapu, although it is about 3km away with its own carpark.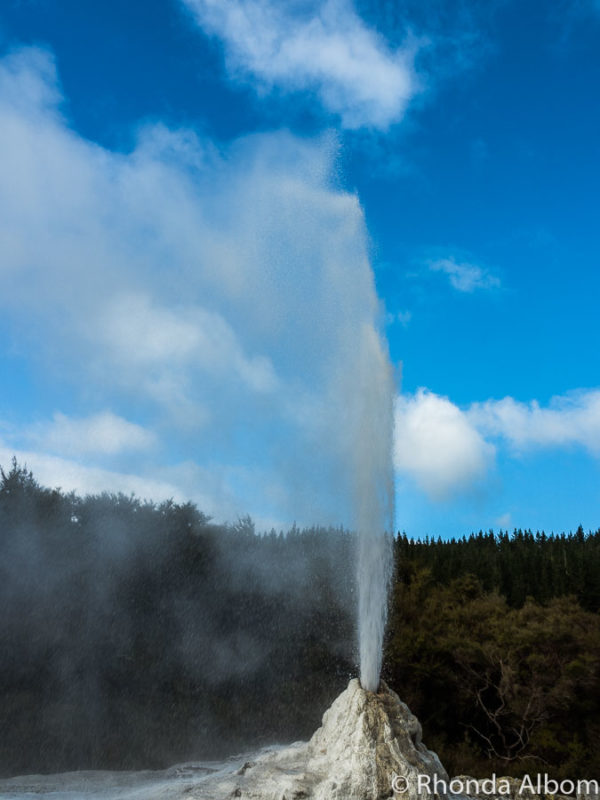 • See geothermal activity for free at Kuirau Park
Right in the centre of town, Kuirau Park is New Zealand's only geothermal public park. It's an opportunity to see steaming and bubbling geothermal activity for free.
Māori legend tells us that Lake Kuirau was once cool enough for bathing. It was named for Kuirau, a beautiful woman who swam here often. A Taniwha (water monster) also lived in the lake. One morning the taniwha snatched Kuirau. Legend never determined whether she died of fright or if the Taniwha took her back to his lair. The Gods were so angry that they made the Lake Boil to kill the Taniwha.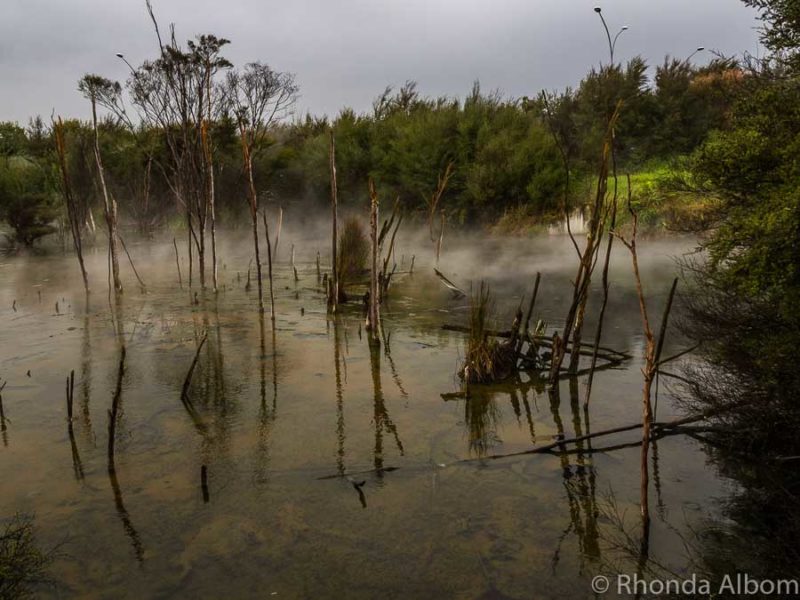 • Take one of these Geothermal Rotorua Tours
TOUR
STARTING CITY
INCLUDES
DURATION

Absolutely Rotorua

Rotorua

Wai-O-Tapu




Ohinemutu




Whakarewarewa Living Maori Village




Mitai Maori Experience

11 to 12 hours

Flexible Rotorua Tour

Rotorua

Waimangu




Options of: Wai-O-Tapu, Hobbiton, Whakarewarewa Living Maori Village

3.5 to 9 hrs

Auckland Day Trip to Rotorua

Auckland

Wai-O-Tapu




Hobbiton

1 day
Cultural Things to Do in Rotorua
Rotorua is deeply rooted in Māori history, culture, and legend. From angry gods boiling the earth to love stories, the area is vital to New Zealand history. Much of the sacred lands in the region is shared with visitors by the Ngāti Pikiao, Tūhourangi, and Ngāti Whakaue iwi (tribes).
• Take a journey of understanding at Mitai Maori Village
Our evening at Mitai Maori Village began with the unearthing of our traditional hangi dinner. Cooked in the earth, the kumara (Māori sweet potato), potatoes, chicken, and lamb were impressively tender and flavorful.
In addition to the meal, we walked through the village, learned about the sacred spring, watched traditionally dressed warriors paddle a waka (war canoe) downstream, and saw eels, trout, and glow worms. However, the evening's highlight is an exceptionally well done cultural performance, on par with the one at Waitangi Treaty Grounds (in the Bay of Islands). It is an introduction to the Māori people and their culture.
⇒ Click here for your Mitai Māori Village Evening Cultural Experience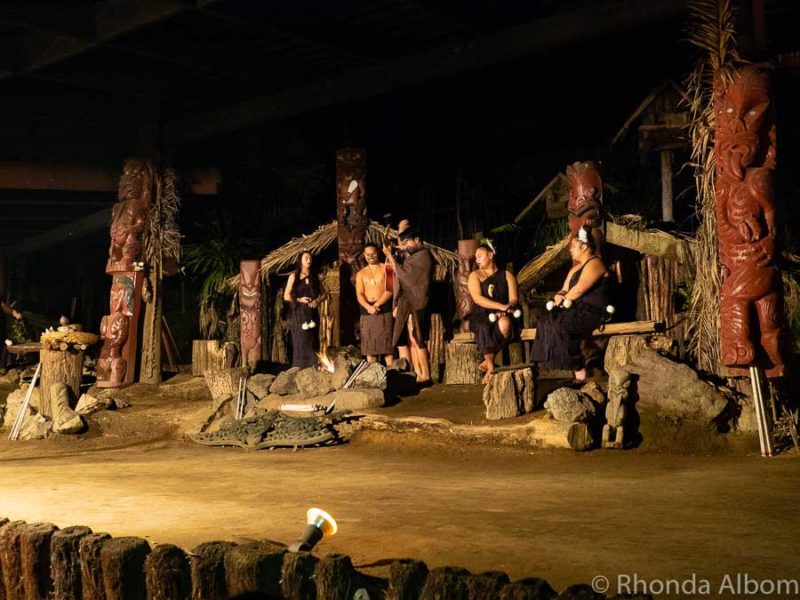 • Experience a living Māori village at Ohinemutu
Ohinemutu Māori Village is home to the Ngāti Whakaue tribe that initially arrived in New Zealand around 1350AD. It's a significant piece of Rotorua history. In the 1870s it was a frequent stop for visitors (including royalty) who soaked in the healing waters before heading to the Pink and White Terraces.
Principal structures include a church, carvings, outdoor bathing-shed, steam vents used for cooking, and a Marae (meeting house) with an exterior of incredibly intricate and beautiful carvings (not open to the public), and St Faith's Church. The Tudor-style exterior of the church is in contrast to the Māori influenced interior which includes an image of Jesus wearing a Māori cloak etched into one of the windows.
Visiting here is one of the free activities in Rotorua, although guided tours are available for a fee.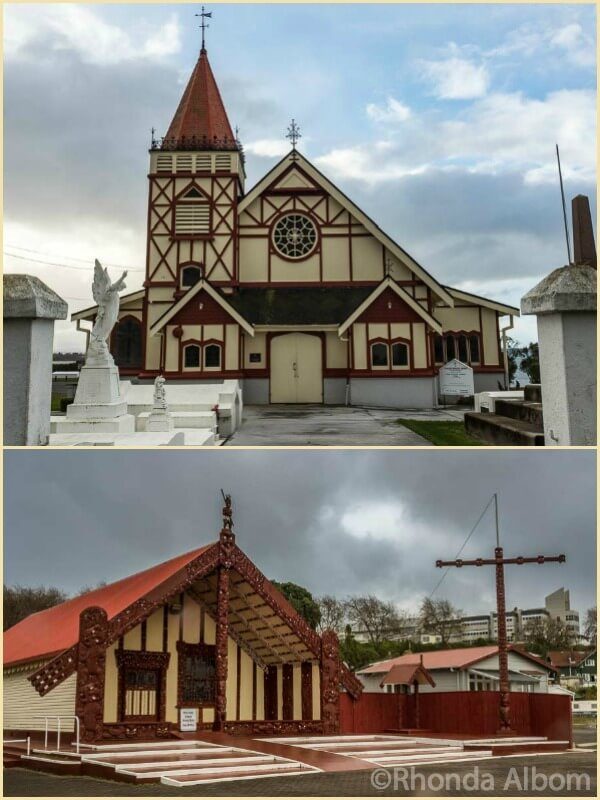 • Other Cultural Experiences in Rotorua
Experience a Working Farm at Agrodome Rotorua
Agriculture is New Zealand's number one industry, and sheep outnumber people by 7 to 1. Learning about our farm industry is a Rotorua must do for visitors who want to understand the country better. Agrodome gives visitors a chance to experience a real working farm with its famous farm show and farm tours. We did both. While aimed at tourists, it's informative and entertaining.
⇒ Click here to check prices on the Agrodome Sheep Show and Farm Tour
• Agrodome Farm Show
The Agrodome Farm Show introduced us to 19 breeds of sheep, working dogs, and a cow. We learned which sheep are predominantly used for wool (Merino), for carpet (Drysdale), for meat (Romney), and more. Headphones at each seat can be used to translate the speaker into one of 8 languages.
Despite holding over 500 people at capacity, audience involvement is encouraged and volunteers are invited up on the stage to bottle feed baby lambs (children) or to milk a cow (adults). After the show, anyone can go on stage for a closer look at the sheep. For an overdose of adorable, be sure to see the baby animals (and cuddle a baby lamb) in the nursery.
• Agrodome Farm Tour
We toured a portion of the 350-acre farm in an open carriage tram with plenty of stops to get out and feed sheep and alpaca or to sample honey and kiwifruit juice. Then we passed through olive, kiwifruit and feijoa orchards as well as seeing emu, ostrich, miniature ponies, donkeys, llamas, and the Clydesdale horses used in the The Lord of the Rings movies.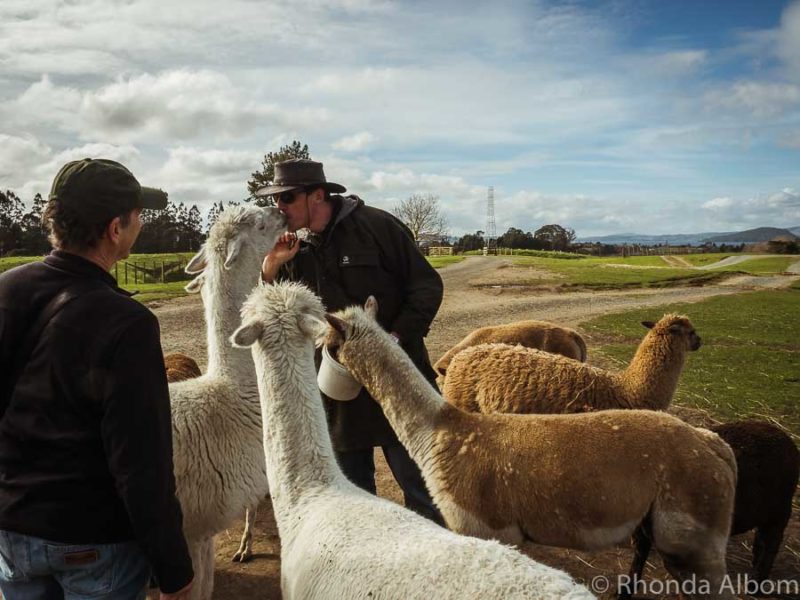 Relaxing at a Rotorua Spa or Wine Tasting
When you're ready to unwind, Rotorua has plenty of options.
• Unwind in the spa at Waikite Thermal Pools
We soaked away our cares in the warm healing waters at Waikite Thermal Pools. Our entry included six pools ranging in temperature from 32c – 40c (90f – 104f). My favourite was an infinity pool that overlooks the steaming valley. The soak was relaxing, the view surreal, and the mineral water left my skin soft and smooth. Private pools are available for an extra fee.
NOTE: It is always a good idea to keep your head above water in Rotorua thermal pools.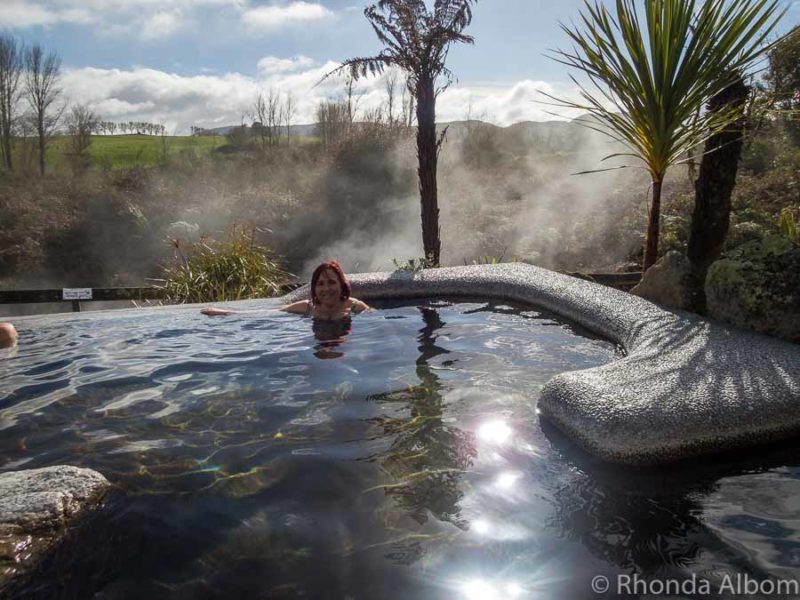 The Eco Trail at Waikite Valley is a fascinating and colourful under 10-minute walk leading to a hot spring that has the largest discharge of boiling water in New Zealand, discharging at a rate of between 40 – 50 litres per second at a temperature of 98°c.
• Wine tasting with Volcanic Hills Winery
It was the combination of endless views over Lake Rotorua and the chance to sample the wines that New Zealand is famous for producing that enticed us into Volcanic Hills Winery.
We started with a Sauvignon Blanc, a perfect pre-dinner wine with a hint of passion fruit and lime. Next, Pinot Gris, the party starter or 'seductress' as our wine host called it adding, "it's simple, easy, and you just want more." The queen of white wine, Chardonnay followed, perfect for serving with fish, chicken or pasta. Finally, two different Pinot Noirs, the ideal complement to a steak.
Optional food items can be ordered to compliment your wine tasting.
⇒ Click here to check prices on Skyline Gondola Rotorua and Volcanic Hills Wine Tasting
Where to Stay: Rotorua Accommodation
If you are like me, and a good night's sleep in a clean, uncluttered room with friendly staff top your list for accommodations, then you will love the Novotel in Rotorua. While this lovely lakeside hotel was selected for us, it ticked all our boxes. The unpretentious rooms held secrets like a feather top mattress, huge plush bath towels, fair trade amenities, and USB wall outlets. For us, the Novotel is the best place to stay in Rotorua.
⇒ Check availability at the Novotel Rotorua Lakeside Hotel
Of course, there are other places to stay in Rotorua. As one would expect in a key tourist destination, the options range from campsites to luxury Rotorua hotels.
⇒ Click here to see more Rotorua accommodation options
Best Places to Eat in Rotorua
If you are wondering where to eat in Rotorua, head to Eat Street. Here you will find just about any flavours you might desire from hamburgers to steak, ethnic foods, or drinks.
• Our Recommended Rotorua Restaurants:
CBK on Eat Street – Thick, creamy, and tasty, the Seafood Chowder at CBK on Eat Street is a satisfying meal. We've been told they also do a brilliant stone grill.
Lone Star – A Texas-themed restaurant, Lone Star's ribs please my American-born palate. It's located on Whakaue Street, just around the corner from Eat Street.
Picnic Cafe – A breakfast so good we returned, thus making it the only place we ate our morning meal in Rotorua. (It's next to Lone Star.)
StratosFare – Take the gondola up and enjoy one of the biggest and most elaborate buffets I have seen, with stunning views that will encourage you to linger. They are open for lunch and dinner, take bookings, and have a standard of dress that is casual, but smart.
⇒ Click here to save money with the combination of the gondola and a meal at Stratosfare
More near Rotorua
Rotorua is on New Zealand's North Island in the Bay of Plenty.
Rotorua is a geothermal wonderland on a fault line that runs from White Island to Tongariro National Park.
It's easy to get to Rotorua by car or bus (from major cities). Auckland to Rotorua drive time is a bit over 3 hours, while the time from Wellington to Rotorua is about 5.5 hours.
Read Next: Enjoy an Auckland to Wellington Drive with These Stops
Have you figured out what to do in Rotorua? Either way, please share this page on social media, including Pinterest: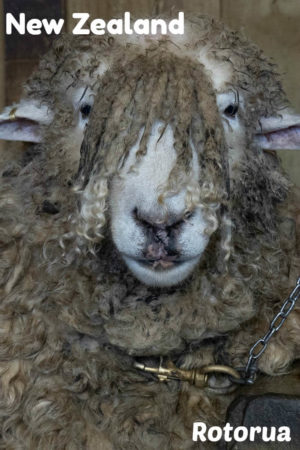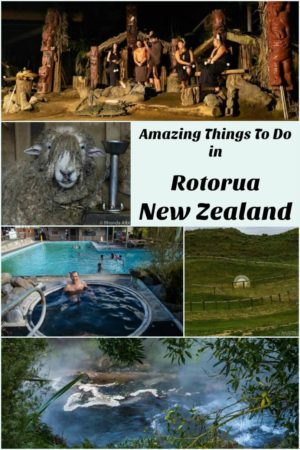 What will you do when you visit Rotorua?
Disclaimer: We worked with Destination Rotorua, the local tourism board. We were provided with complimentary entrances, tours and sample items to assist in the writing of this review. The opinions expressed here are strictly our own.