Wellington, the capital of New Zealand, is often overlooked by visitors as they head straight to the South Island, yet it is one of my favourite getaway cities. The range of Wellington activities makes it a perfect choice for either a romantic escape or a sightseeing visit with family and friends. It is a charming waterfront city, surrounded by lush green hills. The capital of New Zealand is also home to culture, history, and art. Located in Middle Earth, Wellington activities often include an element of Tolkien fantasy from Lord of the Rings.
One of my favourite thing about the capital is that unlike many of the tourist cities in New Zealand, there are plenty of free things to do in Wellington.
Wellington activities: Lord of the Rings
A Middle Earth welcome at the airport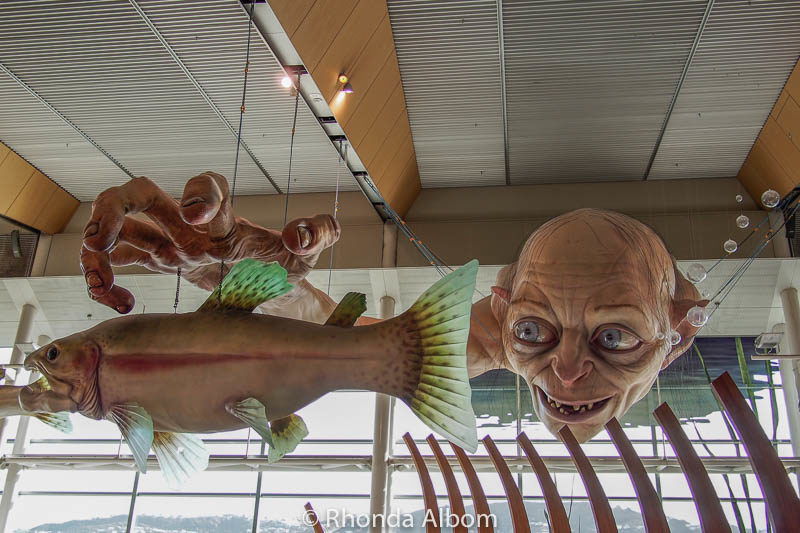 Weta Studios (on the Miramar Peninsula)
The Weta Workshop is the 5-times Oscar-winning special effects and props company known worldwide for their work with movies and TV shows including Lord of the Rings, Chronicles of Narnia, Avatar, and The Hobbit. The company designs and produces sets, costumes (including armour and weapons), creatures, and miniatures. Weta Workshop offers (paid) guided tours that give you an insight into the creative process. You will see some artists at work as well as props, costumes, and vehicles of various movies.
The tours fill up and advanced booking is a good idea. On the morning we were there, visitors who hadn't prebooked had to wait several hours for an available timeslot. Those who arrived later in the day would have missed out.
⇒ Click here to book your Weta Workshop tour
Weta Cave is their free-to-enter shop filled with film paraphernalia, souvenirs, gifts, and a miniature museum. It's a fun place to visit, even if you are not taking the tour.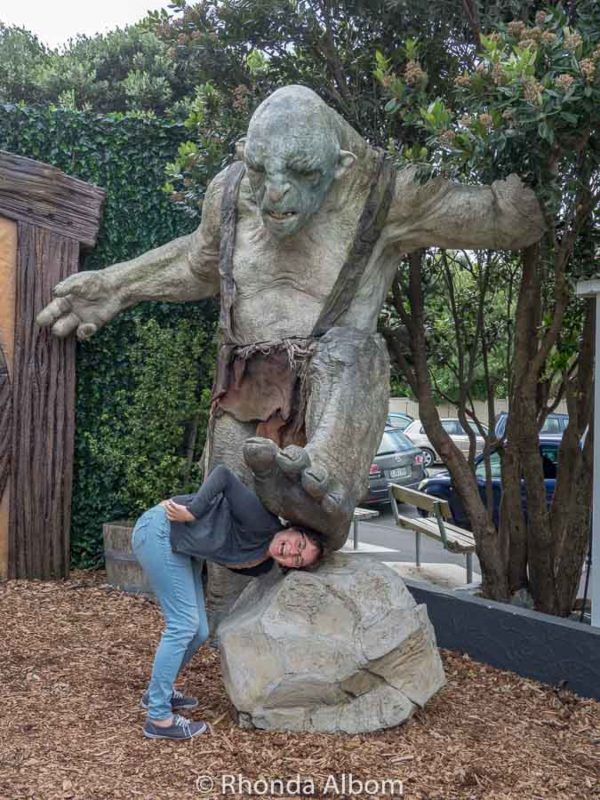 Take a full day Lord of the Rings tour
It's no surprise to fans that Lord of the Rings locations tours are amongst the most popular of the Wellington tours. If you really want to explore Middle Earth and see famous LOTR movie sites, then this is the tour for you. It's a full day that also includes a behind-the-scenes tour of Weta Workshop and a LOTR themed lunch. Read the glowing reviews if you are unsure.
⇒ Check pricing and availability of the Full Day Movie Tour
Wellington activities: nature and animals
Wellington Botanic Garden
The 26-hectare Botanic Garden was established in 1868 and features native bush, exotic forests, colourful flowers, and a variety of speciality gardens. I like to start at the top (cable car exit) and enjoy the winding downhill walk to the city that takes about 40 minutes. While there are many trails, the path with painted purple/pink flowers is a direct route to the city. If you pass through the Bolton Street Cemetery, notice the obelisk that marks the resting grounds for many of the city's pioneers.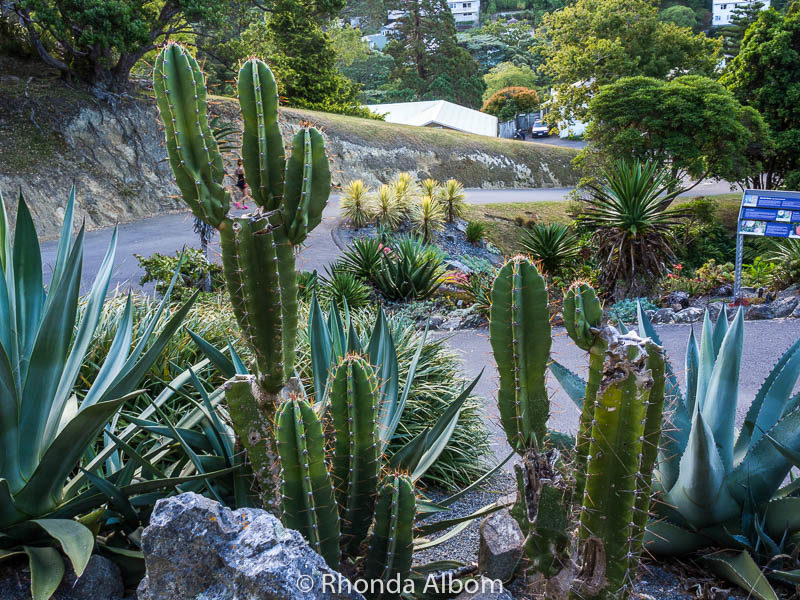 Read next: Colourful Photos from Wellington Botanic Garden
Zealandia
A nature lover's paradise, Zealandia is an unspoiled eco-reserve only 10 minutes from central Wellington. Birds and small reptiles dominate native wildlife. A free shuttle from either downtown or the Cable Car Museum makes Zealandia easily accessible for daytime visits. Zealandia's optional night tour offers the possibility of seeing many of New Zealand's endemic, nocturnal birds including the kiwi bird.
⇒ Purchase your Zealandia Day Pass
⇒ Purchase your Zealandia by Night Tour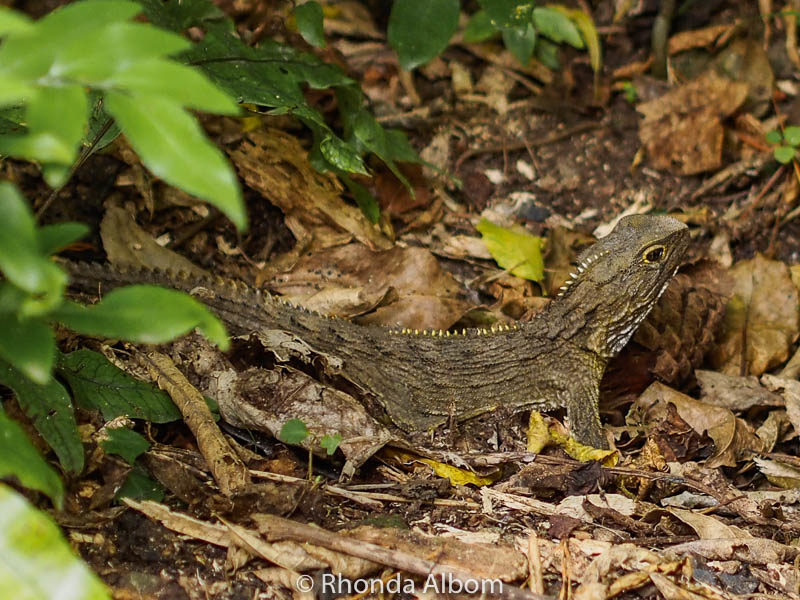 Read next: Zealandia Ecosanctuary by Night and Day – Wildlife Outside Wellington
The Wellington Zoo
The self-proclaimed "best little zoo in the world" is home to 500 animals including some unusual creatures like the kiwi bird, Malayan sun bear, caracal, and the Australian pelican. Scheduled keeper talks run throughout the day, many including up close and personal opportunities like hand-feeding a giraffe or an eel.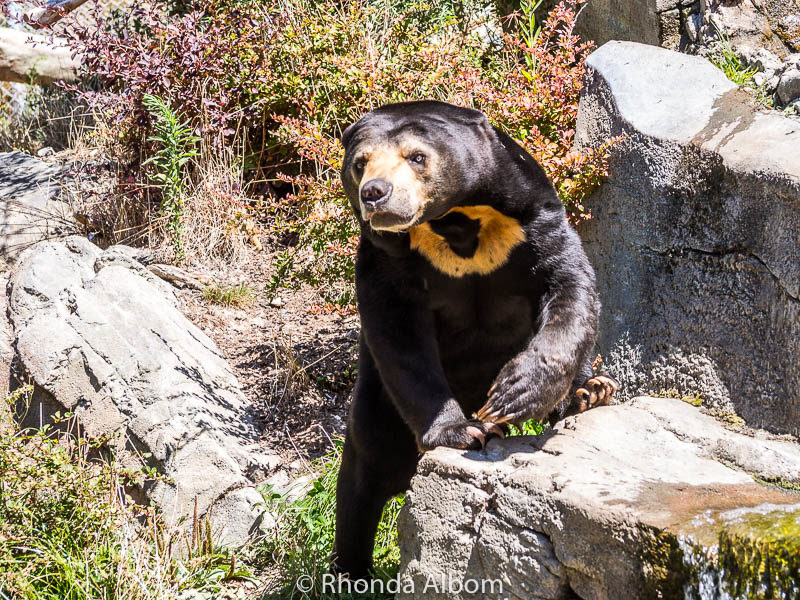 Read next: Unique Animals at the zoo in Wellington, including the Only Bear in New Zealand
Wellington tours
The highly-rated tour options listed here range from a 2-hour Wellington city tour to an all-day LOTR tour. We opted for a Wellington walking tour and loved it. If you prefer to go it on your own, pick up a self-guided walking map from the i-SITE Visitor Centre in Civic Square.
⇒ Download a free Wellington Walks Map
Or check out one of these Wellington sightseeing tours
TOUR
HIGHLIGHTS
DURATION

Central City Walking Tour

Inside tips from a local guide




Visit Courtenay Place and Cuba Street




See 'Lord of the Rings' sites




Finish at the city's parliament building

2 hrs

Lord of the Rings Locations Tour including Lunch

Behind-the-scenes tour of the Weta Workshop




Visit nine LOTR locations around Wellington




Lord of the Rings themed lunch

8 hrs

Electric Bike Tour

Guided small group tour




Pedal past waterfront and Miramar Peninsula




See beaches, landmarks, and residential areas




Battery boost to the Mt. Victoria lookout

3 to 5 hrs

Hop-on Hop-off Bus Tour

Informative commentary onboard




11 stops including major attractions

1.5 hrs

City Sightseeing Tour

Luxury mini-coach tour of city




Art, culture and natural beauty




Visit Thorndon, Mt. Victoria, and Te Papa




See St Paul's Cathedral and Parliament

Half or full day

Food Tour

Minivan food tastings and ingredients tour




Learn about the city's coffee culture




Visit butcher, cheese, and produce vendors




Lunch and ice cream

5 hrs
Wellington activities: museums
National Museum of New Zealand Te Papa Tongarewa
No visit to Wellington is complete without a visit to the National Museum, commonly referred to as "Te Papa". This free-to-enter museum has extensive collections in the areas of art, history, Pacific, Māori, and the natural environment. With several hands-on Discovery Centres for children, Te Papa is an excellent day out for everyone.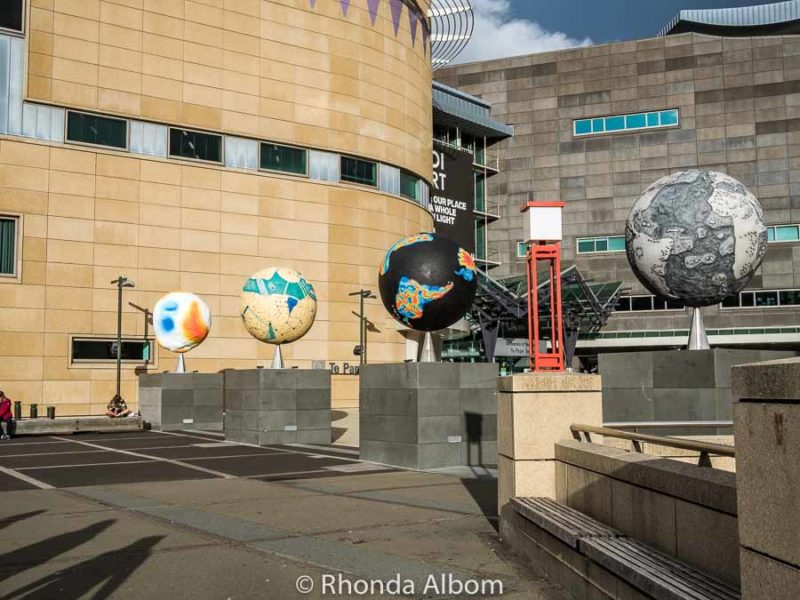 The Great War Exhibition – currently closed
History buffs will want to allocate time for a visit through the Great War Exhibition including the new Quinn's Post Trench exhibit. (We recommend the optional guided tour before going through the trench). Created by Sir Peter Jackson. Quinn's Post Trench marks the centenary of the Gallipoli Landings where 2,779 New Zealanders lost their lives. The museum's war exhibits (many of which are from Jackson's private collection) take visitors from pre-1914 to the 1919 signing of the Treaty of Versailles.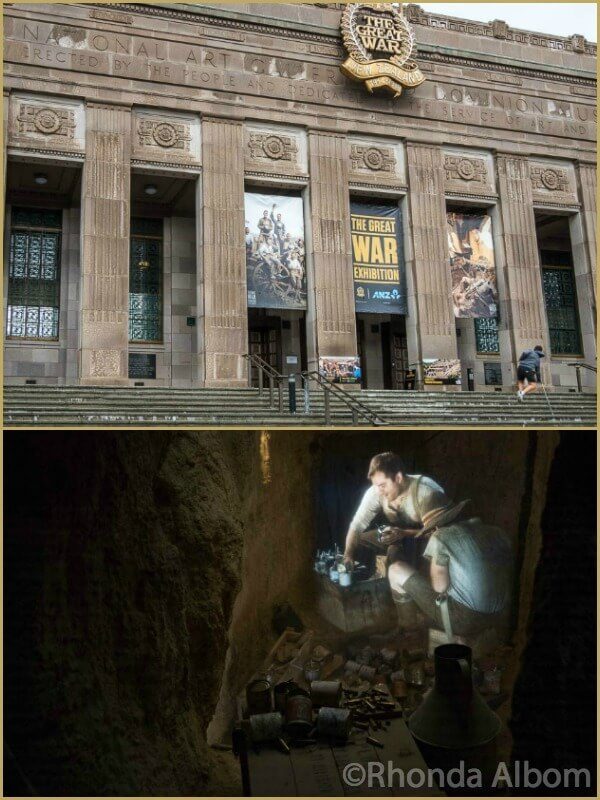 Read next: Quinn's Post Joins Two Powerful War Exhibits in Wellington NZ
Carter Observatory and Planetarium
A two-minute walk from the top of the cable car brings you to the Carter Observatory and Planetarium. It's a family-friendly destination. A child's area has a simulation space game, and there are age-appropriate planetarium shows on weekends and during school holidays.
We opted for a planetarium show featuring the sky over the Southern Hemisphere. Comfortable reclining seats allowed us to sit under a simulated night sky. (Tip: Best seats are towards the back). After the show, we headed New Zealand's largest refracting telescope surveying the skies since 1867. Weather permitting the roof opens (on Tuesday and Saturday) allowing visitors to see it in action. Sadly, when it was dark enough for our star viewing, a cloud cover enveloped the night sky and the dome stayed closed.
If you visit at night, remember the last cable car down leaves at 10 pm.
Cable Car Museum
A visit to the Cable Car Museum is one of many things to do in Wellington for free. Complete with old cable cars and equipment, the museum is worth a visit if you are not pressed for time. It is located at the Kelburn Terminal, the upper end of the line for the cable car.
Wellington landmarks
New Zealand Parliament
New Zealand's Parliament is located in Wellington. The central government building is aptly nicknamed "the Beehive." As you walk around this neighbourhood, notice the pedestrian traffic lights. The silhouette of Kate Sheppard in red or green tells us when it is safe to walk, rather than the traditional male figure. (Katherine Sheppard was significant to the women's suffrage movement, ultimately resulting in New Zealand becoming the first country in the world to give women the vote.)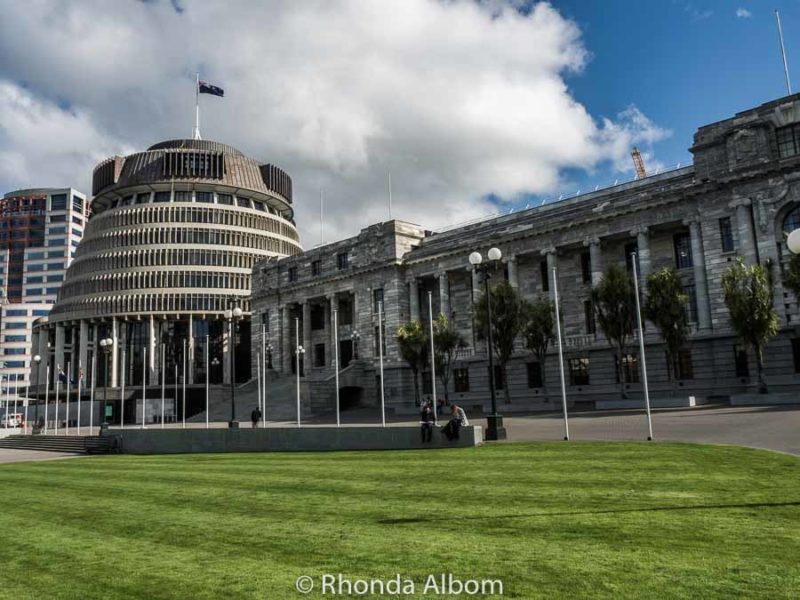 Take a Tour of Parliament
New Zealand gives visitors a chance to get a behind the scenes look inside its central government buildings and to discover some of New Zealand's colourful political history. The guided tour of Parliament is one of the best free things to do in Wellington. Parliament tours begin on the hour from 10 am to 4 pm and require booking 24-hours in advance. There is a dress code and adults are not allowed to wear short pants to Parliament. No photos are allowed during the tour.
⇒ Check their official website for tour options and booking details
Observe New Zealand Parliament in Session
If Parliament is in session, the chamber viewing galleries allow visitors to quietly observe the Members of Parliament in action. This is independent of the tour, and another free thing to do in Wellington. No cameras are allowed in the viewing galleries.
National Library of New Zealand
The recently refurbished National Library is now home to the original treaty of Waitangi document. It is in a secure climate and lighting controlled space and on display alongside several other historical documents.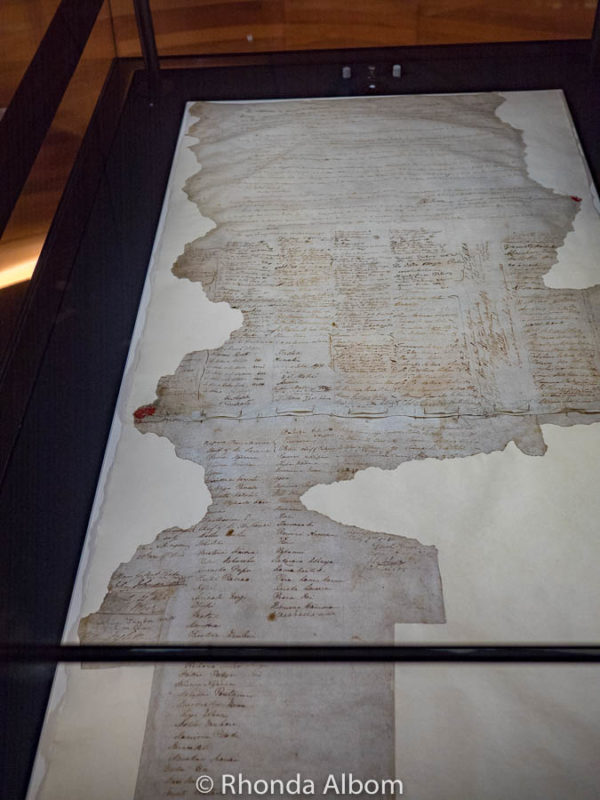 Archives New Zealand
If you enjoy old documents and national treasures, visit Archives New Zealand.
National War Memorial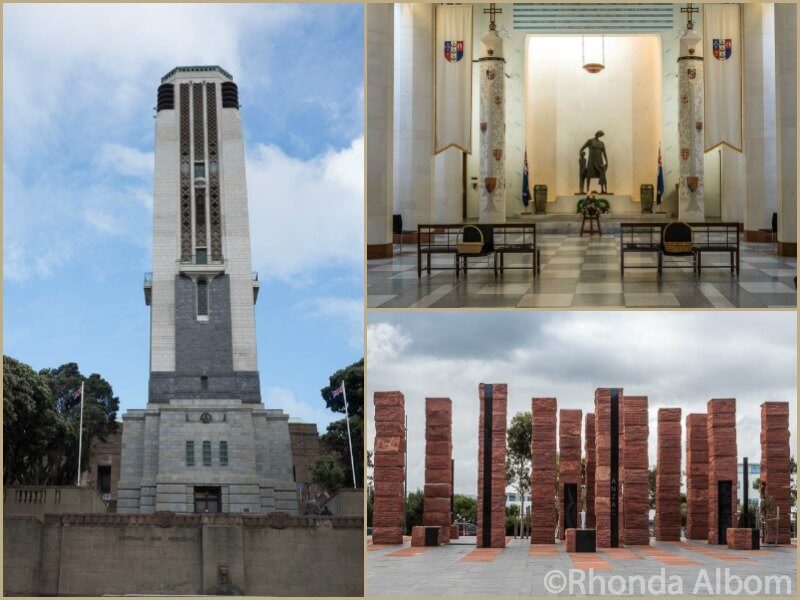 St. Paul's Cathedrals
Built entirely of native timber in 1866, this 19th-century gothic-revival masterpiece is well worth a visit. The wooden vaulted ceilings and stained glass windows offer a surprisingly European flare and seem almost out of place in such a young country.
Only a block away sits the new St Paul's. A modern cathedral built in the 1960s. It serves as the Anglican Diocese of Wellington.
Read next: Wellington's St Paul Cathedral: Gothic Revival vs Modern
Wellington activities:  living like a local
People watching from a local cafe
Start your day at one of the Cuba Street cafes and soak up the bohemian culture that amplifies the heart of this city. Whether it is an art gallery, boutique shop, second-hand store, off-beat café or top restaurant, Cuba Street has it all. In a city known for great food and perfect coffee, there are plenty of options. My other favourite spot is anywhere along the waterfront.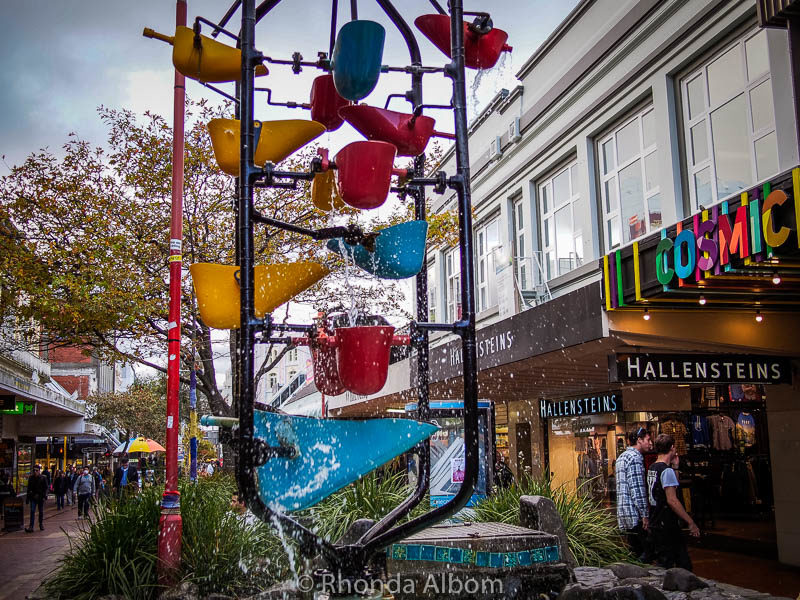 Read next: Our Favourite Wellington Restaurants
Walk, jog or cycle along the waterfront
For the more athletic, you can people-watch while on the move.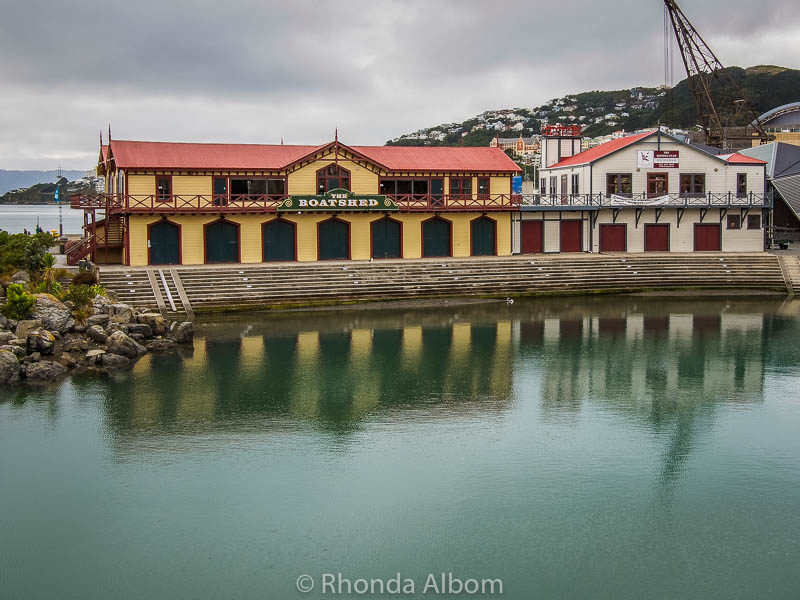 Riding the cable car
Students take it to Victoria University, locals ride to get up the hill, but the cable car is also one of the popular Wellington tourist attractions. This is New Zealand's only funicular railway, and it runs from the centre of town uphill for 612m. You will find the entrance and ticket booth on Cable Car Lane, a small alleyway coming off of Lambton Quay. Once the city's waterfront, today Lambton Quay is the heart of the shopping district.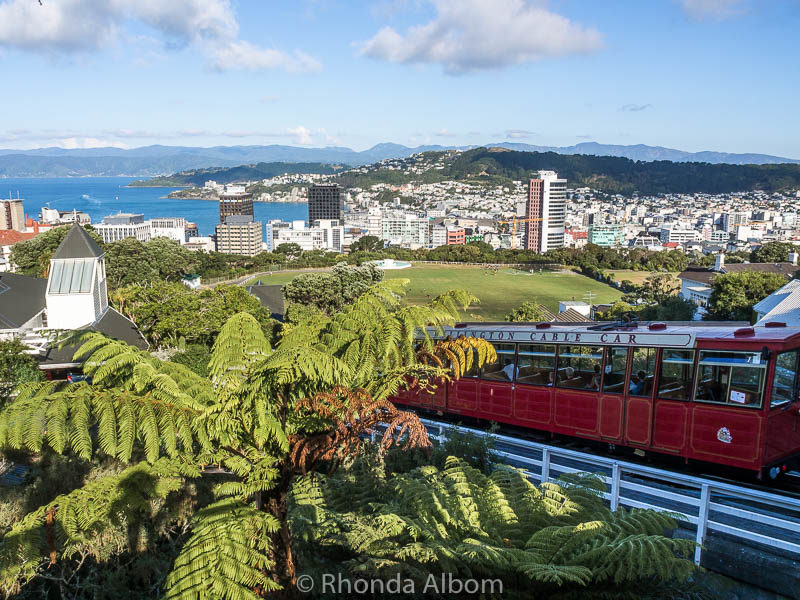 Hiking Mount Victoria
The hike to the top of Mount Victoria is popular with locals. It's an easy hike to the top, although all uphill. The other options are a public bus, Wellington Hop-on Hop-off Bus or drive to the lookout. Either way, you will be rewarded with spectacular views.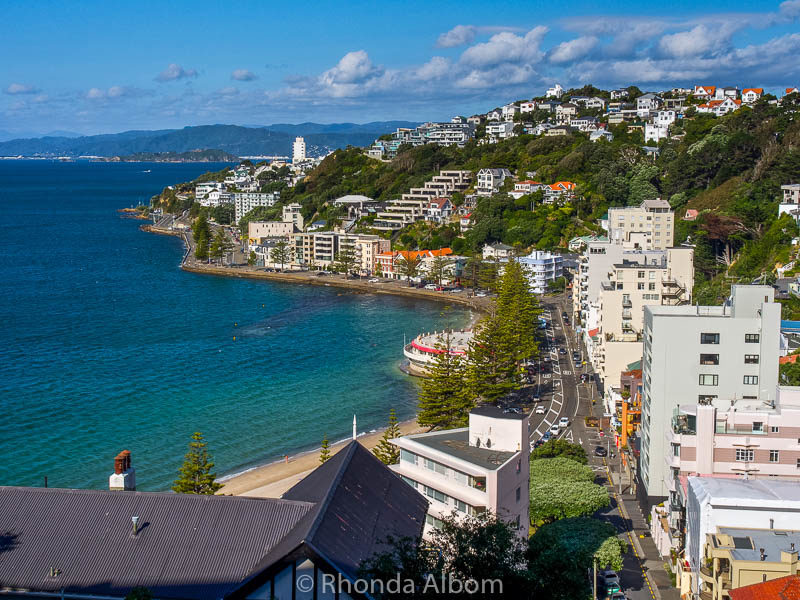 Read next: Hiking to Mount Victoria Lookout in Wellington
Jumping from the Taranaki Street jump platform
Just outside Te Papa (the national museum) is the Taranaki Street Jump Platform. It was purpose-built by the city for daredevils who want to plunge into the sea as the city was concerned about the safety of the number of people diving off the docks at random locations.  In typical New Zealand fashion, the solution accommodated everyone. This is best on warm days when you have both a towel and a change of clothing available.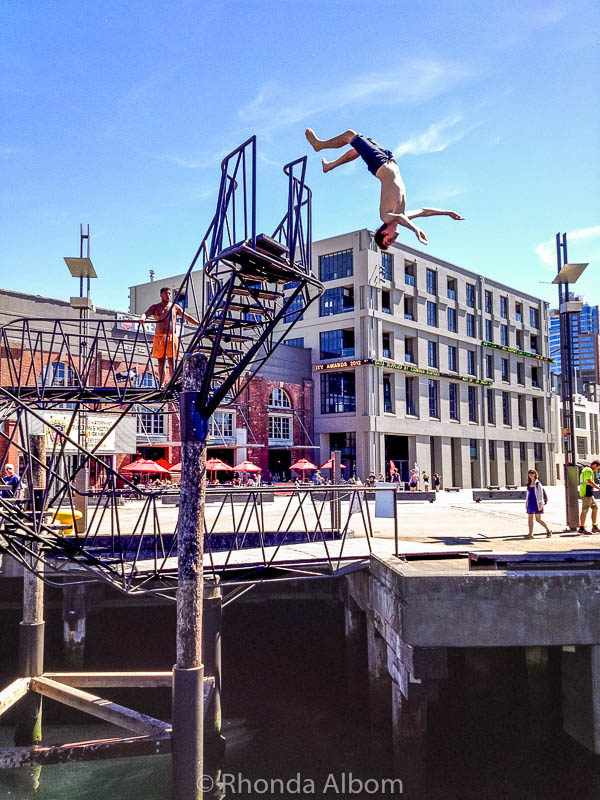 Unwind with a wine or craft beer
Locals know there are plenty of options for unwinding after a long day. A few unique options:
The Thistle Inn: New Zealand's oldest surviving tavern and restaurant operating from its original site. Be sure to look through the area of glass floor to view the original 1840 cellar.
Hashigo Zake: Where else can you drink in a former police station's cells?
The Backbencher Gastropub: This is where you might spot Members of Parliament, either eating or their likeness as large puppets hanging from the walls. It's a great place for a glass of wine, craft beer, or a meal.
The Garage Project: a popular Wellington microbrewery.
Wellington activities: fun things to do in Wellington at night
Carter Observatory and Planetarium
A nighttime visit to the observatory offers the possibility of viewing the night sky through New Zealand's largest refracting telescope. Carter Observatory is open until 11 pm on Tuesday, Friday and Saturday nights.
Friday or Saturday night markets
If you arrive on a weekend, enjoy an international banquet of flavours at the Friday Night Market. The aromatic spices along with the crowds will guide you to Left Bank, an alleyway just off of Cuba Street that is host to the market. The seemingly endless food choices intermix with entertainers and craft booths. The energy at the market is contagious. The one downside is the lack of tables, yet people don't seem to mind as they sit on benches, kerbside, or eat standing. The market is also open on Saturday nights, although it moves to Lower Cuba Street.
Night Tour at Zealandia
Zealandia is much different by night than it is by day. The optional night tour offers the possibility of seeing many of New Zealand's endemic, nocturnal creatures including the kiwi bird.
⇒ Purchase your Zealandia by Night Tour
Courtenay Place
After dinner, enjoy the nightlife on Courtenay Place, Wellington's entertainment and theatre district. The street ends at Kent Terrace. At this corner, you will find the Embassy Theatre, home to the world premiere of The Lord of the Rings.
Bars or Street Performers on Cuba Street
Several of the Cuba Street clubs offer live music, but I like it for people watching. On weekends and during summer, street performers keep the evening interesting.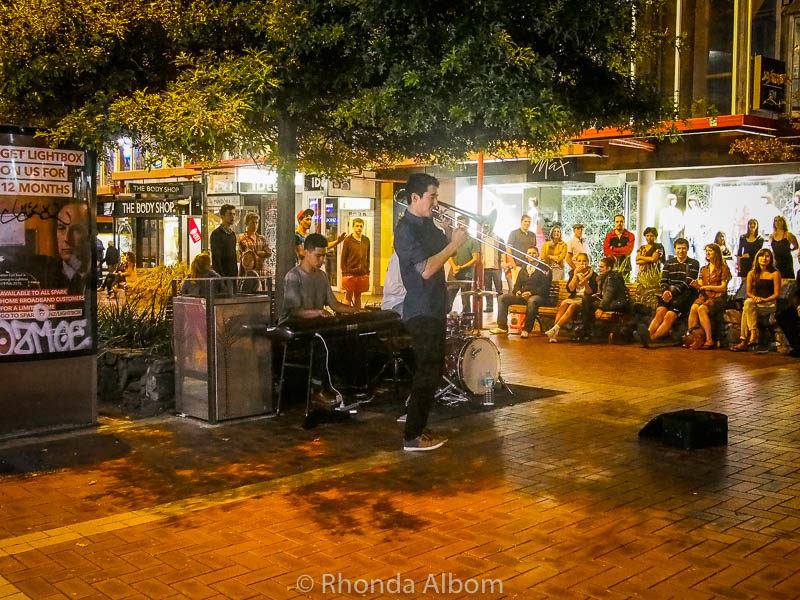 Wellington accommodations
As one would expect in the capital of New Zealand, the options of Wellington accommodations cover the full gambit from luxury to backpackers. The main tourist hotels are centred around the museum, the government buildings, or in the financial district.
On our most recent visit, we stayed at the Distinction Wellington. Located near the museums, our unit was a huge two bedroom apartment with a kitchen (we were travelling with teens). The super comfortable bed gave me a good start to each day. The units are all being refurbished, and ours, I assume was waiting for replacement carpet, otherwise, it is an ideal place to stay.
⇒ Click here to check availability at the Distinction Wellington Hotel
Three day Wellington itinerary: pulling it all together
Personally, I could spend weeks in Wellington, but as a tourist to the capital of New Zealand, three days is optimal. This is our favourite flexible 3-day Wellington itinerary, one that we have completed with visitors a few times.
First day: Cable Car to the top (purchase a one-way ticket) ⇒ Enjoy the view ⇒ Cable Car Museum OR Carter Observatory and Planetarium ⇒ Walk downhill through the Botanic Garden (if you're hungry, get lunch at the garden's cafe) ⇒ Parliament tour ⇒ National Library ⇒ Old St Paul's cathedral ⇒ Thistle Inn ⇒ Friday Night Market ⇒ Cuba Street nightlife
Second day: Breakfast at a waterfront cafe ⇒ city tour or self-guided waterfront walk ⇒ Zealandia OR Wellington Zoo OR The Great War Museum OR Weta Workshop tour ⇒ dinner ⇒Courtenay Place nightlife
Third day: Breakfast at a Cuba Street cafe ⇒ Te Papa ⇒ Taranaki Street Jump Platform ⇒ Mount Victoria
Practical information for visiting the Capital of New Zealand
Wellington sits at the southern end of New Zealand's North Island, making it the world's southernmost capital city.
Wellington is a city made for walking. Nevertheless, the capital of New Zealand has one of the most used public transportation systems in the country. Single ride or day pass bus tickets can be purchased from the driver.
Tipping is neither customary nor expected in New Zealand. However, exceptional service occasionally warrants a tip, but most locals don't tip in restaurants or hotels.
Te Whanganui-a-Tara is the Māori name for Wellington Harbour.
Check out this official Wellington events calendar.
Do you still want more? If so, read next: Wellington Photos: 20 Reasons It's My Favourite New Zealand Getaway
Save for later
If you enjoyed this article, please share it on social media and save it for later on Pinterest.
Which of these Wellington activities have the greatest appeal?
Disclaimer: We worked with WellingtonNZ, the local tourism board. Also, we were provided with many complimentary entrances, tours, sample items, or media rates to assist in the writing of this review. However, the opinions expressed here are strictly our own.