The recently opened Quinn's Post Trench Experience is Sir Peter Jackson's latest addition to World War I history in Wellington New Zealand. The experience at the Great War Exhibition is a one of a kind. "It takes Peter Jackson's creativity to pull this together," according to the museum's general manager.
Quinn's Post is one of now three World War I experiences available in Wellington, the other two being the Great War Exhibition itself, and Gallipoli, The Scale of our War at Te Papa Tongarewa, created by Weta Workshop (The Lord of the Rings) and Jackson.
Quinn's Post Trench Experience
Commissioned by the New Zealand government, Sir Peter Jackson and his team created a lasting and memorable recreation of life in the trenches of World War I. In 1915 at Quinn's Post the ANZACs found themselves too close to the Turks. Photos, stories, imagery have been used in the past to help people understand what it was like, but this experience by Jackson actually takes us into the trenches at Gallipoli.
I think every New Zealand and Australia student learns about the WWI battle in Gallipoli Turkey from a young age. This exhibit is different. Rather than learning, we experience. As we move through the trenches, the sounds, sights, and smells of the war surround us.
Holographic soldiers tell their stories in words taken from their diaries. Jackson shot enough footage for three full-length films. It's as if we were guided through Quinn's Post Trench by the ghosts of its soldiers.
We found ourselves mesmerised. Sometimes frozen in disbelief, only to be awakened by the sounds and smells of nearby explosions. Then a soldier would instruct us where to go, and we would move quickly to safety. It's not the real war, and we were never in any danger, but Quinn's Post is about as close as one can come to experience what it was like for the soldiers here. It's not an exhibit for everyone, but it should be.
It is something you must experience for yourself to fully appreciate. For now, I offer you these images:
Special Considerations when visiting Quinn's Post Trench
Quinn's Post Trench experience opened to the public on April 13, 2018, at the Great War Exhibition in Wellington New Zealand.
It takes place indoors using theatrical lighting, loud noises, and even smells help to recreate the actual experience.
A guide moves through the trench with visitors to gauge the speed.
The trench is experienced in small groups of not more than 12 people.
It is not recommended for children under the age of 8. Parental guidance is essential.
There are some steps and uneven ground and no handrails. Also, it is not wheelchair accessible.
The lowest ceiling height is 160cm (63 inches), and the narrowest tunnel is 70 cm wide.
I had worried that I might feel claustrophobic inside the exhibit, but I never did.
Camera's are not allowed in the exhibit. (I was given permission for the purpose of this article, but in retrospect, I will admit that trying to take photos really took away from the experience.)
The Rest of the Great War Exhibition
Quinn's Post Trench is located inside the Great War Exhibition, a creation by Sir Peter Jackson. This $10 million dollar project was created to mark the centenary of the Gallipoli Landings where 2,779 Kiwis lost their lives. The war exhibits housed here take you from pre-1914 to the 1919 signing of the Treaty of Versailles. Much of the war exhibits come from Sir Peter Jackson's private collection.
We found the best way to really understand and get a clear overview of the history was to take one of the guided tours. I recommend the tour before going through the trench. This is what we did, and it helped to give us the history leading up to Gallipoli, making Quinn's post an even more powerful experience.
Practical Information on visiting The Great War Exhibition and Quinn's Post Trench
The Great War Exhibition is located in Pukeahu National War Memorial Park.
There are several pricing options and combinations. Fees apply for entry to The Great War Exhibition, for a guided tour, and for a timed ticket that is required for entry to Quinn's Trench experience. For details, check their official website. Or, you can get tickets in advance through Viator:
⇒ Get entry for a guided tour of The Great War Exhibition or Book Now
The museum is open daily 9 am to 6 pm.
Limited paid parking is available at the museum, or you can walk from downtown. Visitors who want to see more of the city might enjoy the 90-minute tour on the Hop-on Hop-off bus. It also stops at the Great War Exhibition, as well as other great Wellington sites like Zealandia, Wellington Zoo and the Botanic Gardens.
⇒ Check prices and get your Hop-on Hop-off bus pass or Buy Now
National War Memorials
Gallipoli, The Scale of our War at Te Papa Tongarewa
Gallipoli, The Scale of our War is on display at Te Papa Tongarewa, the National Museum of New Zealand. Marking the centenary of the first World War, it was developed by Te Papa working closely with Weta Workshop. It tells New Zealand's wartime story through the eyes of eight of its citizens. Its large size amplifies the power of the exhibit. The models are 2.4 times human size. Created by Weta, they are so lifelike it leaves you speechless.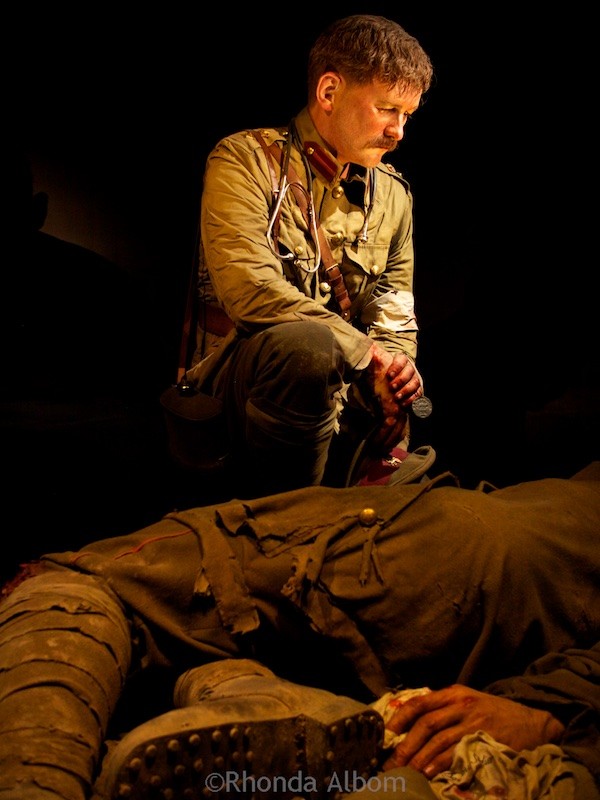 Practical Information on visiting Te Papa Tongarewa
Te Papa Tongarewa, the National Museum of New Zealand sits on the waterfront at 55 Cable Street. Locals call it "Te Papa".
It is a lovely walk from downtown, or if you are a visitor and trying to see a lot, the Wellington Hop-on Hop-off bus may be your best option. Te Papa is one of the 11 stops from the bus.
⇒ Check prices and get your Hop-on Hop-off bus pass or Buy Now
Open daily from 10 am to 6 pm, Te Papa is always free to enter (and has free wifi).
Te Papa opened in 1998 after the merging of the National Museum and the National Art Gallery.
While some special exhibits have fees, there is no entrance fee for Gallipoli, The Scale of our War.
It takes about an hour to go through the Gallipoli exhibit, longer if you read it all.
The Gallipoli exhibit closes in 2019.
Please share this on social media including Pinterest: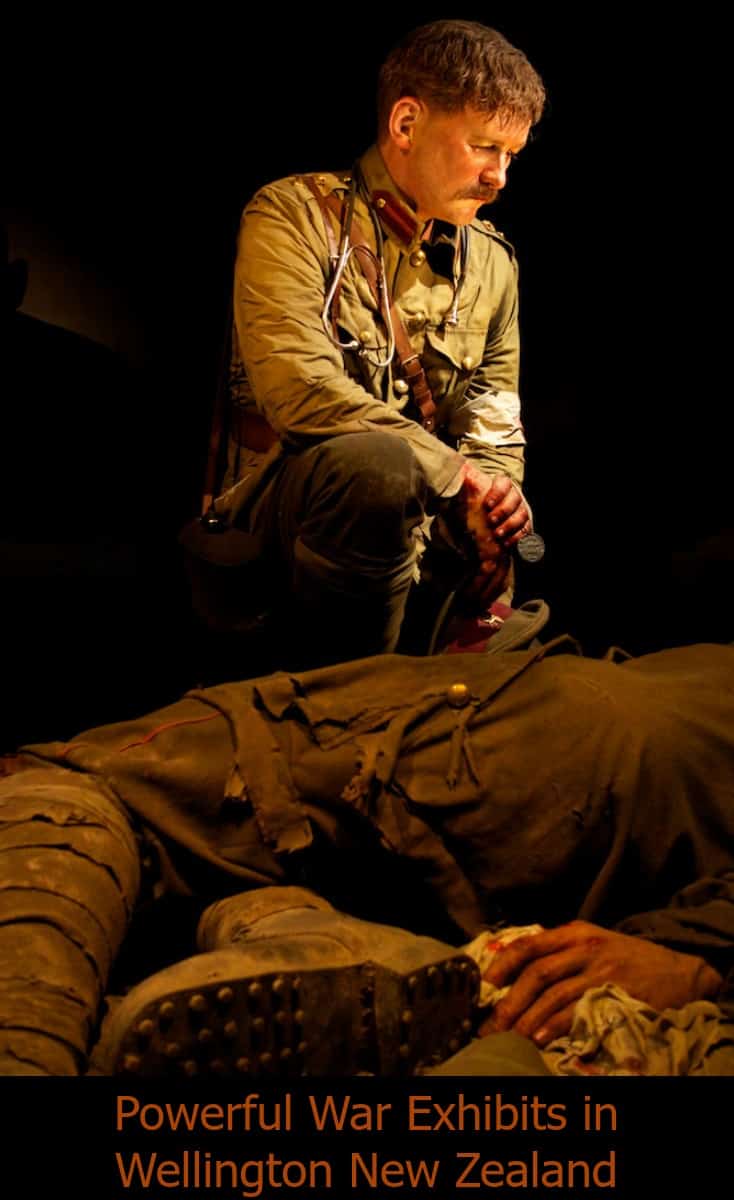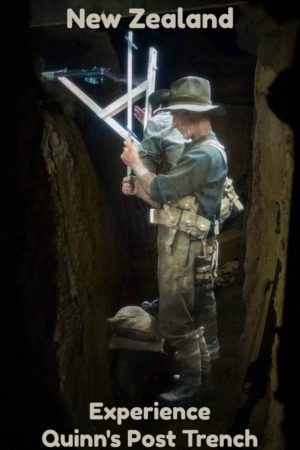 Have you seen either of these exhibits yet? Will you experience Quinn's Post Trench on your next visit to Wellington?