Wellington New Zealand is one of my favourite cities. Compact and walkable, it seamlessly blends a relaxed and energetic atmosphere. It welcomes visitors by offering heaps of free things to do in Wellington. These range from fascinating museums to historical tours and outdoor adventures.
A coastal city full of activity, there is never a shortage of things to discover. Wellington is an affordable town to visit, and it's easy to make a budget that includes loads of free things to do in Wellington.
Take a look below, and I am sure you will find both something interesting to you as well as something new to discover.
We have grouped the things to do in Wellington for free as follows:
Stunning views
Museums and art galleries
Walks, hikes, and outdoor fun
Lord of the Rings (LOTR)
Landmarks, government, and history
Churches and cathedral
Live like a local
Things to do at night
Free things to do in Wellington: stunning views
There's no better way to get acquainted with a city than to stand on top of one of its hills and look down upon its landscape.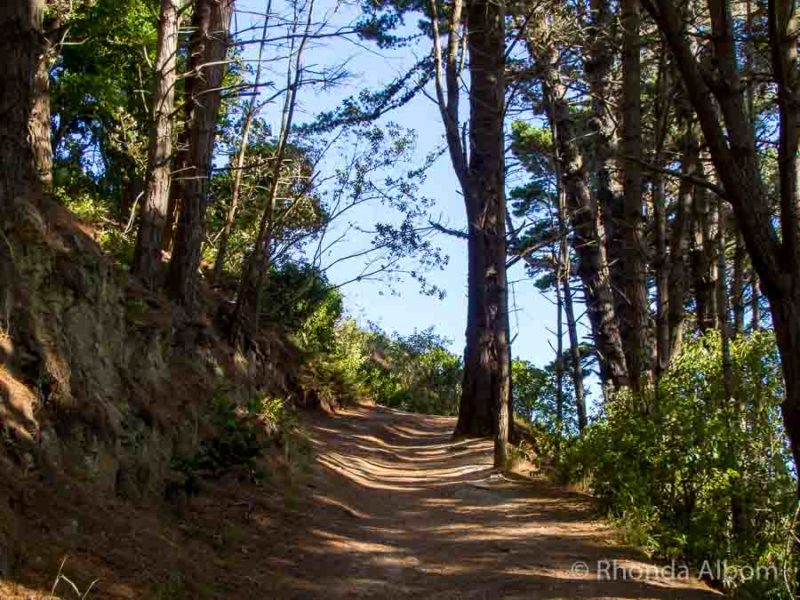 1. Mount Victoria Lookout
Lookout Road, Hataitai
The hike to the Mount Victoria lookout is intermixed with sweeping views and forested trails. While driving is an option, we enjoy the walk. Either way, visitors are rewarded with panoramic views of Wellington's harbours, hills, and city. As a bonus for Lord of the Rings (LOTR) fans, you might recognise the spot in the forested area where Frodo shouted, "Get off the road."
2. Kelburn Hill Lookout
Wellington Cable Car (Kelburn lookout)
One of my favourite viewpoints overlooking the city is from Kelburn Hill at the top of the cable car line. While one can drive or walk to the top from the base of the cable car, we generally walk up through the Botanic Gardens or purchase a cable car ticket.
3. Brooklyn Wind Turbine route
6012, Owhiro Bay Parade
This is a 6km walking path passing a huge wind turbine and offering a different, albeit fabulous, view of the city. The Brooklyn Gun Emplacements can be found just off of the trail.
Free things to do in Wellington: museums
New Zealand's capital city is not only home to Te Papa, the world-renowned national museum, but it also has several fascinating specialty museums. Best of all, like so much of this great city, many of the museums are amongst the free activities in Wellington.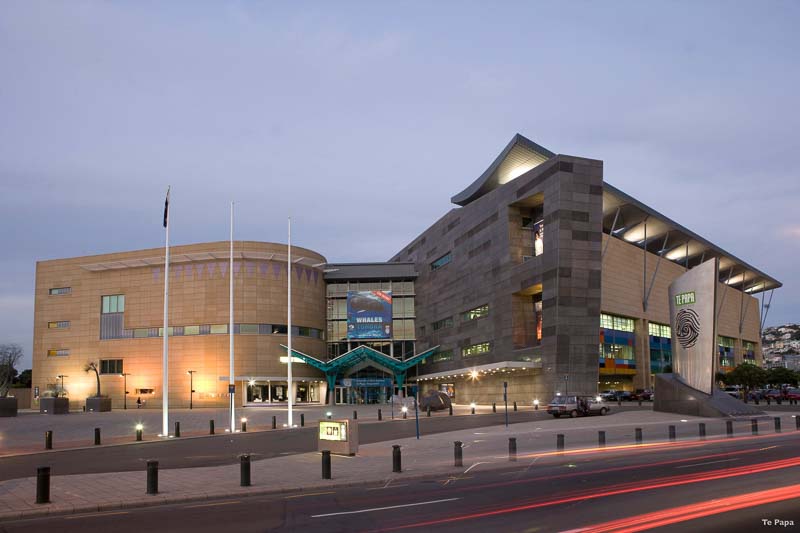 4. Te Papa, the National Museum of New Zealand
55 Cable Street, Te Aro
Officially Te Papa Tongarewa, New Zealand's national museum, is the highlight of any Wellington visit. Here, you will discover NZ through extensive art, history, the Pacific, Māori, and natural environment collections. It also features hands-on discovery centres for children.
5. Wellington City Gallery
Te Ngākau Civic Square, 101 Wakefield St
Don't miss this world-class contemporary art gallery with its ever-changing programme of exhibits and frequent events.
6. New Zealand Portrait Gallery
Shed 11, Queens Wharf, Wellington Waterfront
Discover New Zealanders through portraits in a variety of mediums, including paintings and photography.
7. Cable Car Museum
1A Upland Road, at the Kelburn Terminal
A small museum at the upper end of the cable car line greets you with an old cable car. Be sure to head to the lower level for a unique behind-the-scenes perspective.
8. Wellington Museum
3 Jervois Quay, Queens Wharf
Discover more about the region, and make your way to 'The Attic' for some time travel and to learn about this architecturally significant NZ building.
9. Mokomuseum, The National Tattoo Museum
187 Vivian St
Discover tattoo history from the ancient indigenous art form of Ta Moko and modern designs, with a focus on New Zealand.
Walks, hikes, and other outdoor free things to do in Wellington
With over 200 hikes in the Wellington region, there is something for everyone.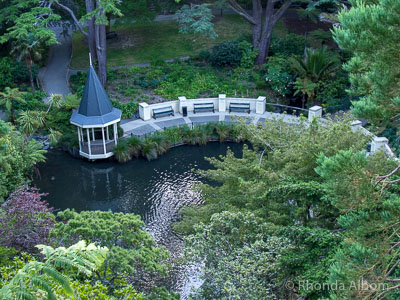 10. Wellington Botanic Garden
101 Glenmore Street, Kelburn
Wellington Botanic Garden is native bush, exotic forests, colourful flowers, and speciality gardens (don't miss the rose garden!). Personally, I prefer to ride the cable car up (paid) and then stroll the winding downhill walk back to the city.
11. Red Rocks Coastal Walk
Te Kopahou Visitor Centre, Owhiro Bay
This is a popular south coast walk and another spot that was used in LOTR filming. The rugged coastal walk runs from Owhiro Bay to the Red Rocks. Between April and October, you will probably see seals.
12. Otari Botanic Garden and Wilton's Bush Reserve
150 Wilton Road, Wilton, (5 km from Wellington CBD)
Also called the Otari-Wilson Bush, this is the only public botanic garden in New Zealand that exclusively holds native trees and plants. It is also home to some of Wellington's oldest trees.
13. Frank Kitt's Park
Jervois Quay, Wellington waterfront
A playground for kids and a hang-out for hipsters, this waterfront park is centrally located and a great place to just sit and relax. Or, if it's a Tuesday night, you might spot the fire jugglers.
For more free Wellington regional hikes, check out the Wellington Regional Trails website.
Lord of the Rings things to do in Wellington for free
If you are a Lord of the Rings fan, you probably already have a LOTR list of things to do. However, if you are looking for free things to do in Wellington city, you will be impressed as soon as you arrive. The domestic departures lounge is home to a giant eagle with Gandalf on his back, plus other examples in the airport. It, like other LOTR characters you will discover in the city, was created at the Weta Workshop.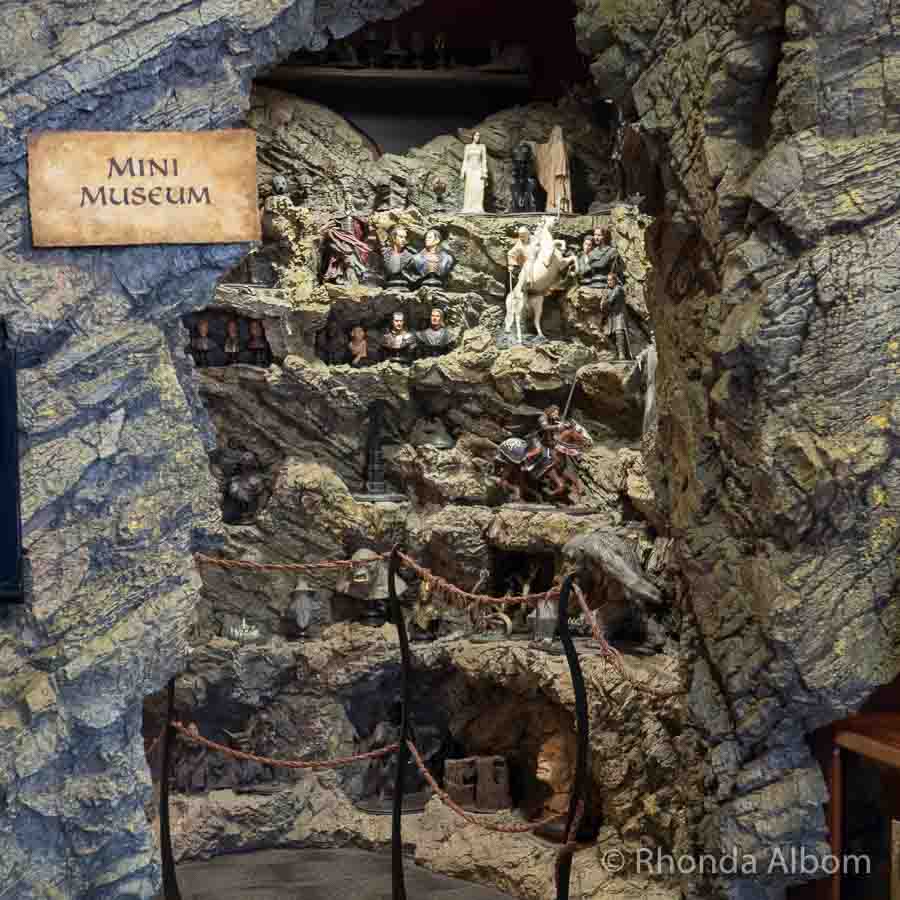 14. Weta Cave
1 Weka Street, Miramar
Weta Cave is a movie lover's paradise surrounding visitors with props, characters, and weapons from LOTR and other films. And that's not all: there is a mini-museum and short films offering an inside look at how things are brought to life. The cave is much more than just a gift shop for Weta Workshop, the Oscar-winning special effects and props company. A visit to Weta Cave is free (unless you purchase souvenirs). In contrast, Weta Workshop does offer popular (paid) tours. Reserve your tour here.
15. Embassy Theatre
10 Kent Terrace
If you're a hard-core LOTR fan, you will want a selfie at the Embassy Theatre, home to the world premiere of The Lord of the Rings.
Read next: New Zealand Lord of the Rings Filming Locations You Can Visit
Free things to do in Wellington: landmarks, government, and history
Of course, the capital of New Zealand is filled with landmarks, government buildings, and historical sites.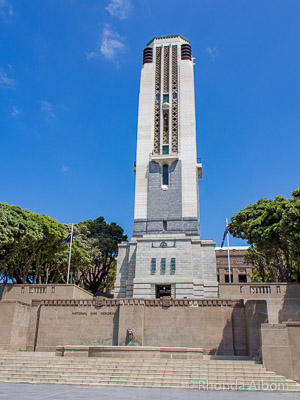 New Zealand Parliament
Visitor Centre on the ground floor of the Beehive
Of New Zealand's three parliament buildings, the most famous is aptly nicknamed "the Beehive." Parliament visits can include:
A Parliament Tour: While tours are free, they do require booking at least 24 hours in advance. Check the official website for tour options and booking details.
Observe a session: If Parliament is in session, the chamber viewing galleries allow visitors to quietly observe the Members of Parliament in action. This is independent of the tour and one of the more fascinating free things to do in Wellington.
Check out the nearby pedestrian traffic lights: Near the parliament buildings, several traffic lights feature the silhouette of Kate Sheppard rather than the traditional male figure telling us when it's safe to cross. (Kate Sheppard was significant to the NZ women's suffrage movement.)
19. National Library
70 Molesworth Street, Thorndon
The National Library now houses the original treaty of Waitangi document in a secure climate and lighting-controlled space. It is on display alongside several other historical documents.
20. National War Memorial
Taranaki Street, Pukeahu National War Memorial Park
The National War Memorial honours New Zealanders who served and/or perished in the South African War, First and Second World Wars, post-war conflicts, and peacekeeping operations.
21. Bolton Street Cemetery
Bolton Street
This is the city's original burial ground and dates back to 1840. Be sure to take notice of the obelisk that marks the resting grounds for many of the city's pioneers.
22. The buried Plimmers Ark
131-135 Lambton Quay
Head to the lowest level of the Old Public Trust Building. Under a section of glass floor are the remains of Plimmers Ark, a triple-masted sailing ship that was pushed ashore in 1855 during the big earthquake. It was discovered when retrofitting the building in 1997-99.
Churches and cathedrals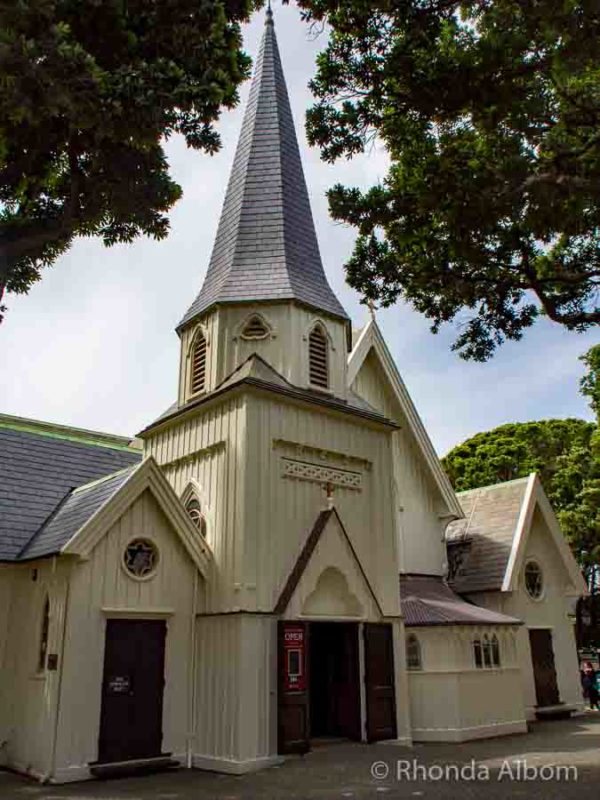 23. Old St Paul's Cathedral
34 Mulgrave Street, Pipitea
Built entirely of native timber in 1866, Old St. Paul's Cathedral is a gothic-revival masterpiece with high vaulted ceilings, wooden beams, and stained glass windows.
24. Wellington Cathedral of St. Paul
Corner of Hill and Molesworth Streets
This is the new St Paul's built during the 1960s. It is a modern cathedral serving as the Anglican Diocese of Wellington.
25. St Mary of the Angels Church
17 Boulcott Street
Another intricate historic church, St Mary's is a Category 1 Heritage building with fabulous stained glass windows and a timber roof.
Free things to do in Wellington: live like a local
In this case, we mean hanging out where the locals hang out and doing the day-to-day things locals do.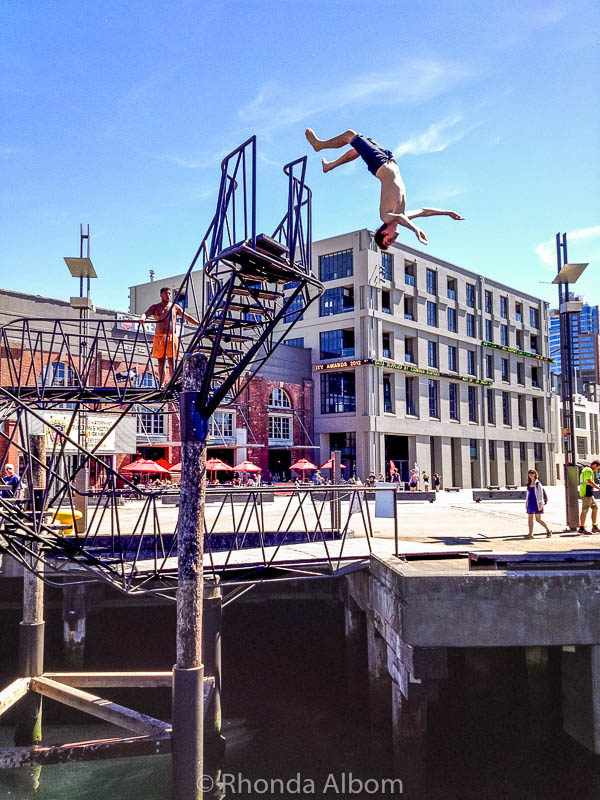 26. Walk, jog, or cycle along the waterfront
Join locals walking, jogging, or cycling along the waterfront, where the city has installed a wide footpath that runs about 3km from Oriental Bay to the Railway Station.
27. Jumping from the Taranaki Street jump platform
97 Jervois Quay
Daredevils love this 8-metre high platform along the waterfront purpose-built for safely leaping into the sea. Personally, I prefer to watch; however, my daughter and niece have taken the plunge.
28. Head to the beach
If you love finding a sandy beach within walking distance from the city centre, head to Oriental Bay and join hundreds of locals on a sunny day. Other beaches within Wellington City include Scorching Bay, Lyall Bay, Island Bay, and Princess Bay.
29. Sculpture Trail and Poetry Trail
An artistic town, Wellington is filled with statues, sculptures, and other artworks. One of my favourites is the large concrete slabs sharing poetry from Wellingtonians.
30. People watching
Coffee culture and an outdoor bohemian lifestyle are strong, and as a result, there are great people-watching opportunities. Whether we choose to get a coffee (paid), join in a dance, or sit on a bench, we enjoy watching passing smiles on Cuba Street or along the waterfront. If you are looking for coffee, check out our favourite Wellington restaurants.
Things to do in Wellington at night – for free
31. Friday or Saturday night markets (temporarily closed)
Cuba Street, Te Aro, Wellington
International flavours, trendy foods, entertainers, and craft booths will fill your belly and keep you inspired on the weekends. On Friday night, find the market on Left Bank (an alleyway off of Cuba Street), while on Saturday, it moves to Lower Cuba Street.
32. Courtenay Place and Cuba Street
After dinner, enjoy the nightlife on Courtenay Place, Wellington's entertainment and theatre district. A fascinating spot for people watching, on weekends and during summer, street performers keep the evening interesting. Similarly, buskers entertain on Cuba Street when the market isn't dominating the activities.
Still want more? There are plenty of other things to see and do in Wellington
Where is Wellington?
Wellington is the world's southernmost capital city. It's located at the south end of New Zealand's North Island.
Save for later
If you enjoyed this article, please share it on social media and save it for later on Pinterest.
Save on your NZ trip with these resources
These are our go-to companies when we travel. We believe this list to be the best in each category. You can't go wrong using them on your trip too.
Flights: we use Expedia for the best and cheapest flight options.
Accommodations: we use Booking.com (hotels), Bookabach (self-contained in NZ) or Hostelworld (budget).
Cars (gas or electric): we use RentalCars to search for deals and dealer ratings.
Motorcycles: we have heard good things about BikesBooking.
Campervans or Motorhomes: we use Campstar where Albom Adventures readers get a 3% discount.
Activity discounts: we check Bookme.com for discounts of up to 70% on activities.
Private guides: we love the private guides at Tours by Locals.
Travel Insurance: while not required, we always opt for travel insurance and start at InsureMyTrip to compare coverage plans.
Check out our travel resources page for more companies that we use when you travel.
Which of the amazing free things to do in Wellington will you do?
Disclaimer: We worked with WellingtonNZ, the local tourism board, on our last visit. However, the opinions expressed here are strictly our own.