Axe throwing in Auckland is fun, competitive, and a great sport to enjoy with your friends and colleagues. We had a blast giving it a try and went to an expert for more details. Below, Amy explains how it works and all you need to know to participate at their location in downtown Auckland.

And, our readers get 10% off their booking with the code: ALBOMAXE (see below for details).
Axe throwing in Auckland's CBD might seem like a fantasy but, in reality, it's an urban adventure you simply can't miss out on! Celebrating its third birthday this year, Sweet Axe Throwing Co started off in Wellington as New Zealand's first and only axe throwing venue.
Now, having expanded north, the company has a second location right in the heart of Auckland's CBD (110 Nelson Street). Unleash your inner Viking and get ready for an experience unlike any other.
So what is axe throwing exactly and why should you give it a try? We gave it a throw and here's everything you need to know.
Watch the Albom Adventures team try axe throwing …
This site contains affiliate links to products and/or services. We may receive a commission for purchases made through these links at no additional cost to you.
What is axe throwing?
Axe throwing is a modern sport with ancient roots commonly associated with Vikings and Nordic culture. Originally used in battle and for hunting, axe throwing is quickly growing in popularity internationally.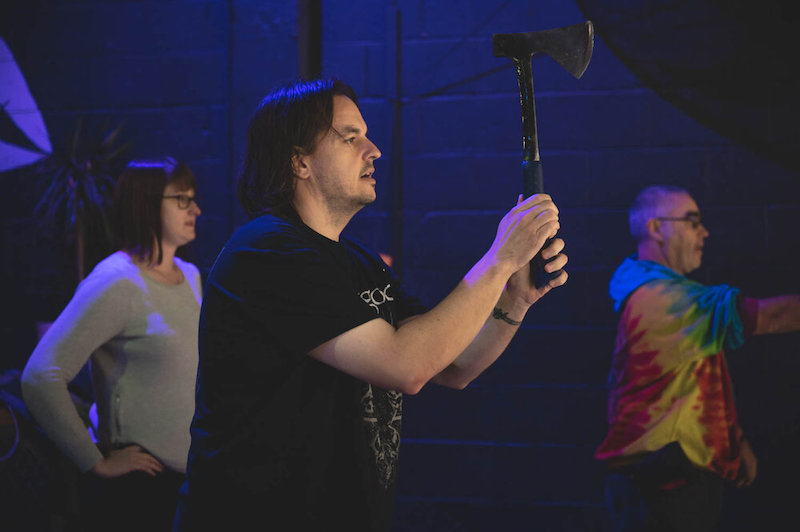 At its most basic level, axe throwing as a sport involves a game of 10 throws. The person at the end of the game with the highest score wins. A game of accuracy, axe throwing is even in the process of being considered an Olympic sport.
While some people take axe throwing in Auckland very seriously, for Sweet Axe Throwing Co, it's all about the fun, games, and community (and safety of course!). Bringing all kinds of people together under one roof, Sweet Axe Throwing Co is vying for axe throwing in Auckland to become one of the top team-building experiences for corporate groups and friendship/family circles alike.
Grab your crew of up to 7 people for a 1-hour Axe-perience or get the whole extended family involved. Sweet Axe Throwing Co can accommodate up to 40+ for a 90-120 minute Full Axeperience you won't want to miss!
Don't have a team to go with? Not a problem! They have what they call "Mixed Open Sessions" where you can book in (or sometimes walk in depending on availability) and join a small group of up to 6 people*
*Sessions available starting at Traffic Light Red. Vaccines passes must be provided as a condition of entry. Official policy can be seen here
Their sessions are geared towards newbies and the atmosphere is an inclusive one, complete with gender-neutral bathrooms!
What's an axe-perience like?
Walking into the open-air yet indoor venue, there are four lanes which consist of two targets each. Each group is given exclusive use of one, two, three, or all four lanes depending on the size of your party. You are greeted by a friendly staff member known as an "Axe-pert".
Axe-perts act as your axe throwing instructor, coach, referee, cheerleader, and provider of witty banter for your entire session. They are there to keep you safe and having a great time while throwing axes. After a safety briefing and being taught how to throw, your group starts a full-on axe throwing tournament.
Got some friendly feuds that need sorting? Perhaps there's a dispute over whose turn it is to take out the trash in your household? What better way to solve the issue and win bragging rights than winning in an axe-throwing Viking showdown! At the end of the tournament, there is a final round between the two highest-scoring people in your group to see who the ultimate winner really is.
Along the way, your Axe-pert keeps you entertained with games, knowledge, and tips on how to land the perfect bullseye. Every session ends with a photo op where participants are strongly encouraged to give their Viking roar to the camera.
Who can go axe throwing?
At Sweet Axe Throwing Co, they believe that anyone can learn to throw an axe! Because axe throwing is all about technique and timing rather than brute strength, there are no weight lifting requirements associated with the activity. Sweet Axe Throwing Co also provides a variety of sizes for their axes to help in case the standard sized axes are a bit too much.
Do note: This venue does allow participants of 12 years of age or older. For every three minors participating, there must be at least two participating adults in the group.
What do I need to know before I axe throw?
As mentioned before, Sweet Axe Throwing Co caters to newbies so no previous axe throwing experience is required. The venue does require closed-toe shoes and that every participant signs a waiver. The waiver, among other things, goes over their zero-tolerance policy for being under the influence of drugs and/or alcohol while throwing axes as well as anti-social behaviour.
Smack talk during sessions is allowed and deeply encouraged, however, they clearly want to make sure everyone feels safe in an environment with axes! They provide the axes for you so no need to go out and buy your own. They additionally suggest wearing clothing that is comfortable to move in.
How much does it cost?
For a one-hour private lane hire (which can accommodate up to 7 guests), it's $300. For larger groups, you pay $50 per person plus any add on goodies you might be enticed by. The venue sells snacks and non-alcoholic drinks as well as some axe-cellent merchandise, all of which can really add to your experience.
Save 10% on your booking
with this discount code: ALBOMAXE
when paying your deposit
or booking in for your session.
So why go for a throw?
Axe throwing Auckland is a unique experience that combines the primal adrenaline rush of extreme sports with the stress relief and endorphins kick often associated with yoga. You're able to leave your worries at the doorstep and focus solely on the target in front of you…literally!
Going with a group creates a fun environment to get to know your peers on a deeper level while adding the fun of friendly competition. As if that wasn't all good enough, YOU GET TO THROW AXES! What could be more axe-citing than that!?
Axe throwing in Auckland is a great activity whether you're coming in for a staycation, or simply looking for something to do on a day off. Check out their website here to see all of the details and to book into your amazing Axeperience.
It'll be Sweet Axe!
Planning tips for Auckland
Some links on this page can save you up to 70%. We earn from qualifying purchases through partnerships or affiliate programmes.
First-time visitors start here: New Zealand travel guide or with our favourite New Zealand road trips.

Rental Vehicles: For cars, we always use RentalCars.com, a rental car search engine with no hidden costs. For campervans (and larger cars), note that Spaceships Rentals NZ offers free one-way drop-off between Auckland and Christchurch.
**Albom Adventures readers can check for discounts off Spaceships campervans.**

Accommodations: We typically stay in 4-star accommodations. We live in Auckland and recommend either Hotel DeBrett or Cordis (if you're on a tight budget, check out the backpacker options on Tripadvisor)

Activity Discounts: We use Bookme.co.nz to find discounts on entry tickets and tours in New Zealand.

Travel Insurance: We purchase insurance that covers medical and travel emergencies when we head overseas. We start with Travel Insurance Master, an aggregator that gives us a free and easy-to-read comparison of the inclusions of each policy.

What to bring: Get a free copy of our New Zealand packing list when you sign up for our mailing list.

**Find more money-saving resources on our Travel Resources page.
Save for later
If you enjoyed this article, please share it on social media and save it for later on Pinterest.
How many people will you bring for your axe throwing Auckland adventure?
Photo Credits
Except where noted, photos of axe throwing Auckland on this page are provided by Amy Rosvally and copyright Mike Kingdon. . They are used here with written permission. All rights reserved.
About the author

Amy Rosvally is an American- born axe addict. Receiving top honours with her Master's Degree in Entertainment Business, she has spent her career travelling and working for top entertainment companies such as Walt Disney World Resorts, Universal Studios, Cirque Du Soleil, and Renaissance Entertainment Productions. She has found her home locally in Auckland and is currently slinging steel as the Business Development Manager for Sweet Axe Throwing Co. You can find her on linkedIn.