Did you know there is a group of people fire spinning in Auckland? We discovered them several years ago, and both our girls gave fire dancing a whirl. Albom Adventures is super excited to bring you this article about the group behind the activity, Auckland Fire and Flow. Big thanks to Michael Todd for sharing it with us.
Auckland Fire and Flow is a circus, dance, and community-focused group that meets twice a week. We have done so for over 22 years in Auckland.
What is fire spinning?
Fire dancing, also known as fire spinning, is a performance art where people can come together to dance with a circus prop that has fire wicks on it.
There is a multitude of props that can be practised with and then set on fire. These include staves, poi, hoop, and juggling clubs; as well as less commonly known props like rope dart, swords, whips, juggling contact ball, devil sticks, dragon staff, fans, and more. The list goes on…
(Editor's note: Check it out, Rhonda and Jeff both try fire spinning at 20 seconds into the video)
Benefits of fire dancing
Flow arts is a part of the wider circus community. It is a movement-based discipline that facilitates self-expression, builds confidence, and is a fantastic way to harmonise both the analytical and creative hemispheres of the brain.
Coordinating and balancing these brain hemispheres with flow arts is not only a stimulating yet fun way to wind down but it has also been shown to be a hugely beneficial therapeutic tool in a recent scientific paper by Dr Kate Riegle van West.
Benefits of poi fire dancing vs Tai Chi

Dr Riegle's study with The University of Auckland entitled "the effects of international Poi on physical, cognitive, and emotional health in healthy older adults" has found some fascinating results.

The paper explored "the effects of poi, compared with Tai Chi, on physical and cognitive function in healthy older adults. Immediately post-intervention, both groups improved balance, grip strength, and attention. Tai Chi also improved systolic blood pressure. These are exciting results, especially when thinking about maintaining quality of life as we age".

People involved with the study also said they found it to be relaxing, challenging, fun, and joyful.

More information about Dr Kate Riegle van West's study, as well as a vast array of learning resources, can be found here on her website.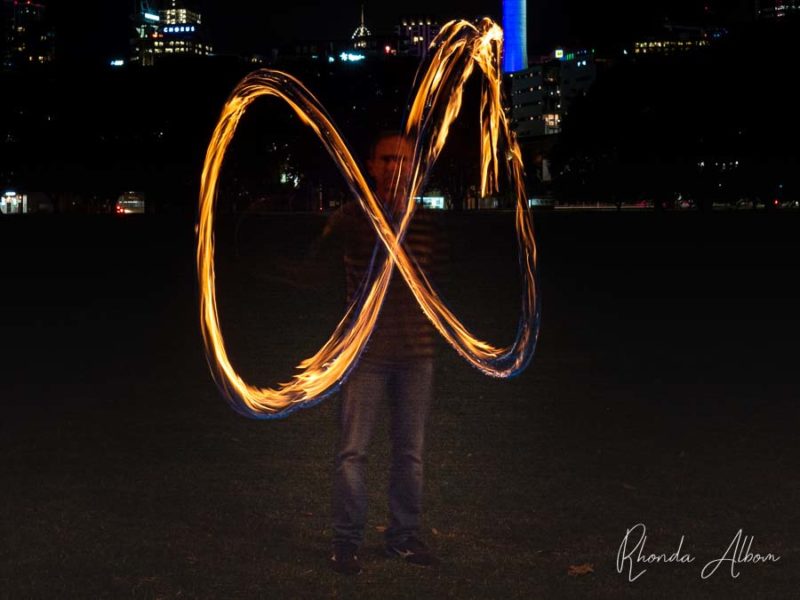 Auckland Fire and Flow meetups, workshops, and social hangout space
Each time Auckland Fire and Flow meet, we have music playing and hold free workshops for any prop that people are interested in. Auckland Fire and Flow pride ourselves on being an inclusive community for people of all ages, genders, and ethnicities. If you are interested in learning, we can lend some of our community practice props to you to try while you are here.
If fire is not your thing, there are a multitude of LED/Glow props that are a fun and safe alternative to fire while still looking more exciting than some of the standard practice props.
Just coming along to watch is highly encouraged to anyone interested. And it's a great way to see which prop speaks to you the most if you would like to get involved further.
If you wish to play with fire, you can do that too if you have had a bit of practice beforehand and are sober. The event organisers go through a safety regimen with each person so everyone can keep safe. We cover topics like learning about the props, what type of fuel we use, how to add fuel to the props, and what clothing is best.
What to wear – fire-spinning clothing
If you wish to play with fire, you will need to wear natural fibres such as cotton or wool. Any synthetic fibres are a no-go.
More on safety
To keep the fire dancers and onlookers safe, we have a big rope barrier, fire extinguisher, fire blanket, a first aid kit, and people keeping an eye out for anything that could go wrong.
The fuel we use is a paraffin named Pegasol 3440 Special. It is a lot safer to use than kerosene, which is widely used in New Zealand.
Where can I see or join in with Auckland Fire and Flow?
Currently, Auckland Fire and Flow meetups are taking place from 5 pm – 10 pm on:
Sundays at Mission Bay near the fountain
Wednesdays at Victoria Park near the Circability building
(Editor's note: Watching or trying the fires spinning is one of the coolest things to do in Auckland at night!)
Donations appreciated
The club relies on koha/donations for the use of their community fuel only. If you are not playing with fire, there is no need to pay to attend or learn. Although, you are welcome to have your first burn with us for no cost at all.
For further information about getting involved or watching, you can join our public Facebook group to see the posts about when and where we will be gathering. We also use the group to talk about other fire, flow, and circus-related content.
Or, check out Auckland Fire and Flow on our Instagram for some videos of us in action.
More on fire spinning in New Zealand
As well as Auckland Fire and Flow, there are numerous other groups throughout New Zealand that meetup, practice, and play with fire too. For a list of other cities and meetups, you can join the Fire & Flow Arts Aotearoa/New Zealand Facebook group to see where the closest meetup is for you to get amongst.
Looking for help planning a New Zealand adventure? We invite you to join Explore New Zealand Facebook Group to ask questions or share photos, stories, or anything about New Zealand.
Save for later
If you enjoyed this article, please share it on social media and save it for later on Pinterest, and be sure to check out more free things to do in Auckland.
Are you more likely to try fire spinning or just to watch?
About the author
Michael Todd is an Auckland based fire dancing entertainer. He loves performing, teaching, and getting the community involved. Michael also has an interest in travel and adventure and has been to 10 countries so far. He has performed and taught for over 6 years and has been able to travel all around New Zealand to share his skills at a wide variety of events. He would like to expand more on this to take part in international events.
Photo Credits
Except where noted, all photos on this page copyright Fire and Flow. Used with written permission.