Auckland is a piece of paradise loaded with free and inexpensive things to see and do. However, New Zealand's largest city has a bad rap as being expensive. In part, it's earned, but in truth, there are plenty of fabulous free things to do in Auckland.
It's an ideal city for those seeking relaxation, entertainment, culinary excellence, cultural experiences, or adrenaline rush activities. It is my city, and today I will share its secrets.
Reflecting the natural beauty one expects to find in New Zealand, Auckland is nestled between two major bodies of water. Lush green parks line the city's 1,600km sparkling blue coastline. Visitors rarely find themselves more than 5km from the sea. On sunny weekend days, one glance at the harbour, and you will know why it's nicknamed the City of Sails.
There are so many fun free things to do in Auckland. It is a city made for walking, cycling, sailing, dining, relaxing, or a bungy jump. It is home to impressive museums, tempting restaurants, and colourful nightlife. While there are plenty of things to do in Auckland for free, to round out the list, I included a few special activities that are not so free (labelled with $).
Founded in 1840, Auckland's short history includes influences from the indigenous Maori people. Today, it is home to nearly one-third of the country's population. It has earned a reputation as a family-friendly, active, and safe city.
Although most of the Auckland destinations on this page are free, some have entry fees. While we work with many different companies, we are finding the best prices in Auckland at Bookme.
Views from the summit of extinct volcanoes (one of the best free activities in Auckland)
Auckland sits on the remnants of 48 dormant and extinct volcanoes. Not surprisingly, some of the best views in the city are found at the summit of some of these volcanoes. And best of all, whether you walk, bike, drive or jog, getting to the top is always one of the free things to do in Auckland.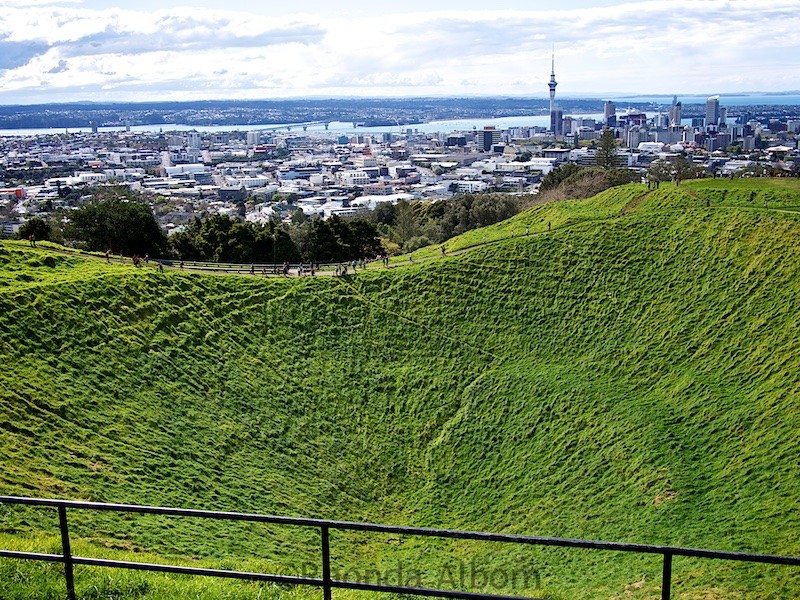 Rangitoto Island: Auckland's youngest and largest volcanic field can be seen from much of the shoreline facing the Hauraki Gulf. Daily ferries go out to Rangitoto (check for discounts) and other Hauraki Gulf Islands from Auckland or from Devonport. From Rangitoto's summit, enjoy the spectacular city skyline, explore lava caves, view the world's largest Pohutukawa forest, or watch the sunset. A moderate level of fitness is required for hiking to the top.
Mount Eden: A short walk to the summit of the Mount Eden domain is instantly rewarded with dramatic 360-degree views from the highest natural point in the city. However, many consider the 50-metre-deep crater (now grass-covered) that many consider the highlight of this visit. Interestingly, from the top of the crater, you are at nearly the same height as the viewing platform on the Sky Tower.
Auckland Domain: Auckland's oldest park is home to extensive forested walking trails, impressive sculptures, and plenty of spots for picnic or sport. In addition, you will find the Auckland Museum, Wintergardens, Wintergarden Cafe, and the city hospital on the Domain.
One Tree Hill: Auckland's second-largest volcanic field, adjacent to Cornwall Park, offers lovely views, a historic obelisk, and the gravesite of a national hero. Interestingly, today you will find several youthful trees, replacing the "one-tree" that was destroyed in protest.
Auckland volcanoes north of the Waitemata Harbour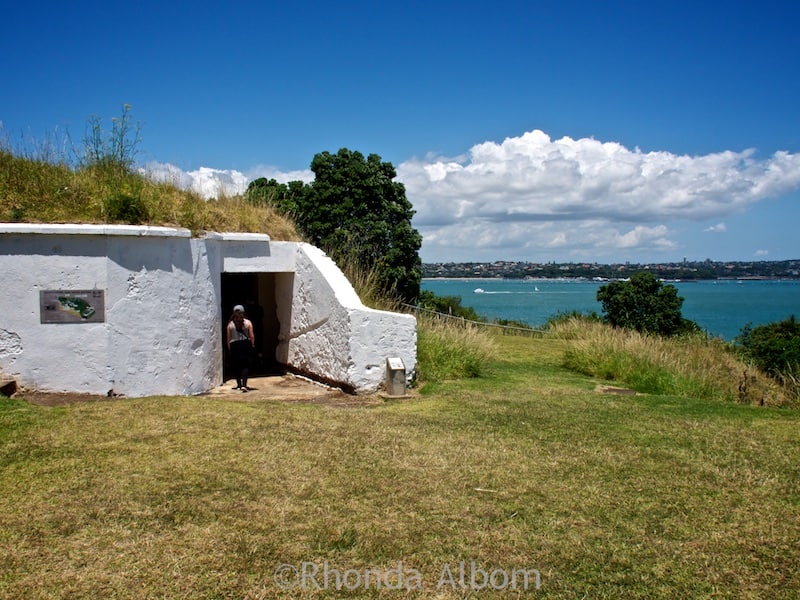 Mt. Victoria in Devonport: My favourite view of the Auckland skyline is seen near sunset from Mount Victoria in Devonport. Also at the top are iconic red and white "mushroom" painted vent caps dotting the fields, a tourist favourite photo spot. There are both buses and a ferry that travel between Auckland city and Devonport.
North Head historic reserve in Devonport: As you enter the former military tunnel complex hidden in the hillside at North Head, you leave behind expansive panoramic views of the Hauraki Gulf and Auckland city. It is easy to understand why North Head was chosen as a coastal defence site.
City walks, naturally free attractions in Auckland
Here are a few of the best walks in the city. Check Auckland Transit for more free walking (and cycling) routes in the city.
Coastal path: With so much coastline, there are miles of beachfront path options. Two of my favourite coastal walks are Tamaki Drive from the city to Mission Bay and the coastal path from Milford to Takapuna.
Coast to Coast Walk Auckland: Fairly unique to Auckland, you can walk across the country from Waitemata Harbour to Manukau Harbour. In about 5 hours, you will pass suburban streets, five volcanic fields, and several historical sites.
Wynyard Quarter: This redeveloped district is an ideal spot to stroll along the waterfront, enjoy a meal at one of the waterfront restaurants, bring kids to a large playground, visit a community garden, or just relax on giant wooden recliners.
Heritage walk: Take this self-guided tour of some of the city's most historically significant and beautiful heritage buildings.
Walk or cycle on the Te Ara I Whiti. This former motorway turned into a pink lightpath lets pedestrians and cyclists bypass the autos on the city roads.
Beautiful gardens are found on most lists of free things to do in Auckland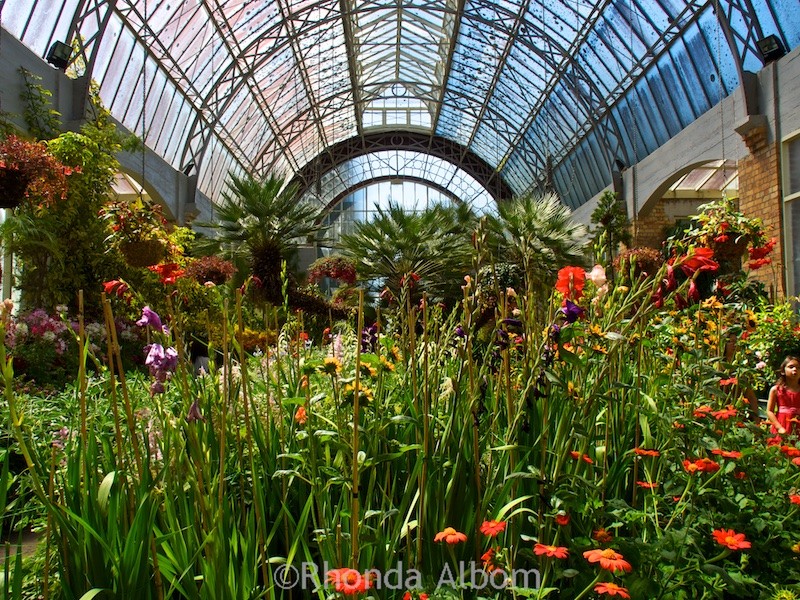 Auckland Botanic Garden: roam through the 156 acres (including 10 acres of native forest) that attracts nearly one million visitors annually.
Parnell Rose Garden: Be enchanted by the over 5,000 flowering bushes in springtime.
Domain Wintergardens: Originally built in the early 1900s to provide garden viewing in the winter months, today the Wintergardens have a fernery, an ornate courtyard, and two Victorian-style greenhouses.
Hiking regional parks and reserves are naturally free things to do in Auckland
Each of the 36 regional parks offers something different, but all have opportunities for hiking in Auckland. Nevertheless, I do have several favourite urban parks.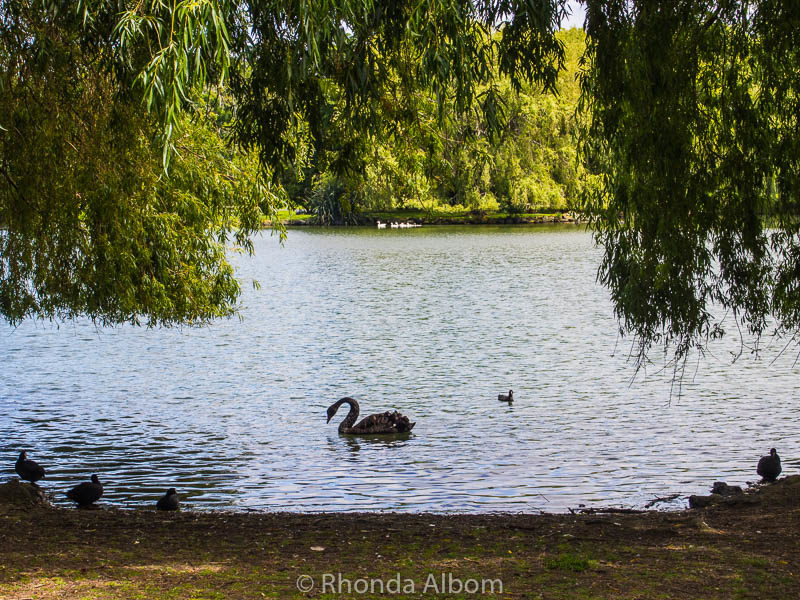 Western Springs: A flock of black swans live on the artificial lake that was originally built (1875) as a reservoir for Auckland water.
Cornwall Park: A peaceful park with tree groves, gentle walking paths, sheep and cattle, playground, and two historic buildings. At one end of Cornwall Park is One Tree Hill volcano.
Shakespear Park: Hike through paddocks and on trails at Shakespear Park at the end of Whangaparaoa Peninsula. The park is home to the only mainland little-spotted Kiwi birds; although you won't see them, sometimes at night, you can hear their call.
Tiritiri Matangi: An open bird sanctuary island, here you will discover several species of endangered birds, including the once thought to be extinct Takahe. You will need to take a ferry ($$) out to the island.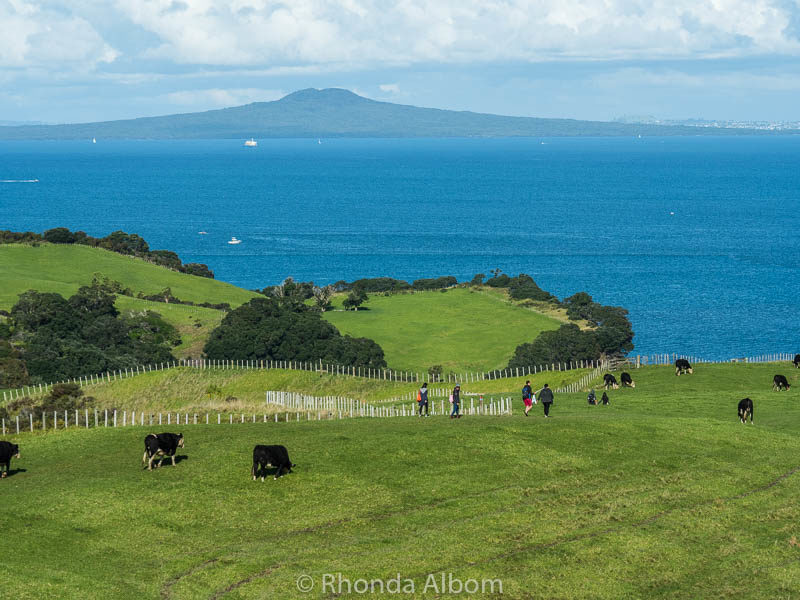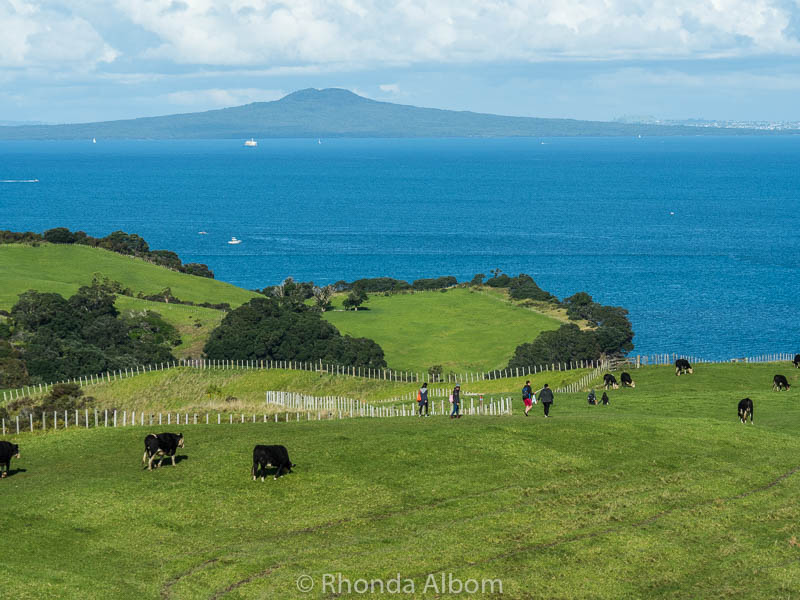 West Auckland parks
Waitakere Ranges: There are over 250km of sub-tropical rainforest trails making up the Waitakere Ranges walks and plenty of waterfalls. The trails range from family-friendly to the 80km multiday Hilary Trail. Important, as of April 2018, many of the trails are closed to protect the trees from Kauri Dieback disease. Here is a list of open trails.
Arataki Visitor Centre: The gateway to the subtropical rainforest, the Arataki Visitors Centre has stunning views overlooking the rainforest, information on the parklands, extensive Māori history and several impressive carvings. It is one of the highlights of West Auckland.
Manukau Heads Lighthouse: Climb to the top of the lighthouse and be rewarded with stunning harbour views over the Awahiti Peninsula.
Art and historical museums in Auckland
There are plenty of free indoor activities. Auckland is home to several interesting museums. Most offer free entry either to everyone or only to locals. See my favourite Auckland museums.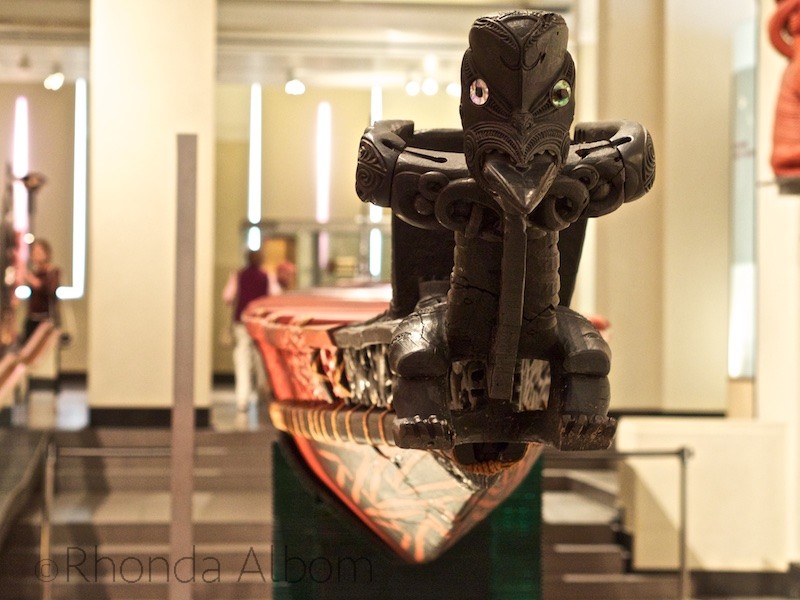 Pah Homestead – Worth a visit to see either the historic home or the frequently renewed contemporary art collection.
Te Uru Waitakere Contemporary Art Gallery, Auckland – Located in Titirangi, the contemporary art galleries of Te Uru will be different on almost every visit.
MOTAT ($) – Auckland's Museum of Transport and Technology is a hands-on opportunity to discover the country's advancements in transportation and technology. (Check for discounts)
Free entry in Auckland for locals
Auckland Museum (Free entry for Aucklanders): An Auckland must-see destination for visitors who want an insight into New Zealand's history. The museum boasts one of the world's most impressive collections of Māori and Pacific Island artefacts. And the top floor is home to The Auckland War Memorial Museum.
Auckland Art Gallery Toi o Tāmaki (Free entry for New Zealanders): Home to over 15,000 artworks, including paintings, sculptures, and multimedia, it's New Zealand's largest collection of national and international artwork.
Torpedo Bay Navy Museum (Free entry for New Zealanders) – Located in Devonport, it's an easy ferry ride from the city if you don't have a car. The is the National Museum of the Royal New Zealand Navy.
New Zealand Maritime Museum (Free entry for Aucklanders): From the dugout canoes that brought the first Polynesian people to modern world-class racing vessels, New Zealand's nautical history comes to life at the National Maritime Museum.
Markets and other shopping in Auckland
Whether or not shopping is one of your free things to do in Auckland depends on if you are a window shopper or not.
Queen Street: Every city has a street that does it all; in Auckland, this is Queen Street. This main thoroughfare is the heart of the central business district (CBD), a shopper's paradise, and a tourist destination.
Otara Flea Market: A Saturday morning market located in the car park of the Otara Town Centre. This is the largest Polynesian-style market in New Zealand.
City Farmers' Market at Britomart: Also on Saturday mornings, this farmers' market is the place to get fresh produce.
Sylvia Park Shopping Centre – This is New Zealand's largest indoor shopping mall.
K-Road during the day: On Karangahape Road, you will find an eclectic mix of fashion, second-hand shops, art galleries, and vegetarian cafes.
Auckland Night Markets: At seven different locations throughout the city.
Animal viewing
Sealife and birds constitute New Zealand's primary wildlife viewing opportunities, and, if you know where to go, there are some amazing free options.
Gannet Colony at Muriwai Beach – Late August to March is the best time to view the colony of up to 1,200 Australian Gannet pairs that fly over 2,000 km to breed on Muriwai's clifftop. While this is and easy place to visit on your own, we recently learned of an option that includes both gannet colony and local vineyard tour.
Goat Island: This wildlife/marine sanctuary is one of many popular day trips from Auckland. It is the best spot near Auckland for colourful (subtropical) snorkelling, SCUBA diving, or a glass-bottomed boat tour (check for discounts).
Not so free animal viewing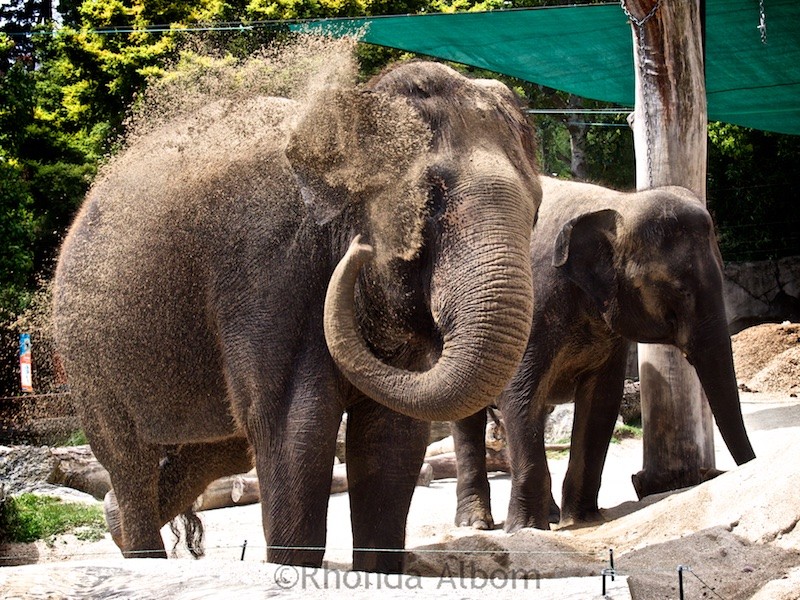 Butterfly Creek and Dinosaur Kingdom ($$) – A place for kids explore a tropical butterfly house or travel back to a time when dinosaurs ruled, made even better with discount entry tickets.
Kelly Tarlton's Sea Life Aquarium ($$) – From the penguins in Antarctica to the sea life in local Auckland waters, if it lives in the Southern Ocean, you will find it at Kelly Tarlton's Sea Life Aquarium. Built underground, it houses the world's first walk-through acrylic tunnels that surround visitors with colourful marine life or shark-infested waters. Check for discount prices.
Auckland Whale and Dolphin Safari (AWADS) ($$$) – Every moment on an Auckland Whale and Dolphin Safari is exciting, but nothing tops the day's first whale sighting. Not free, but it is the best thing I have ever done in Auckland. And best of all, depending on the day you choose, you can often get a discount with this link.
Nightlife in Auckland
If you know where to look, there are plenty of free things to do in Auckland at night in Auckland.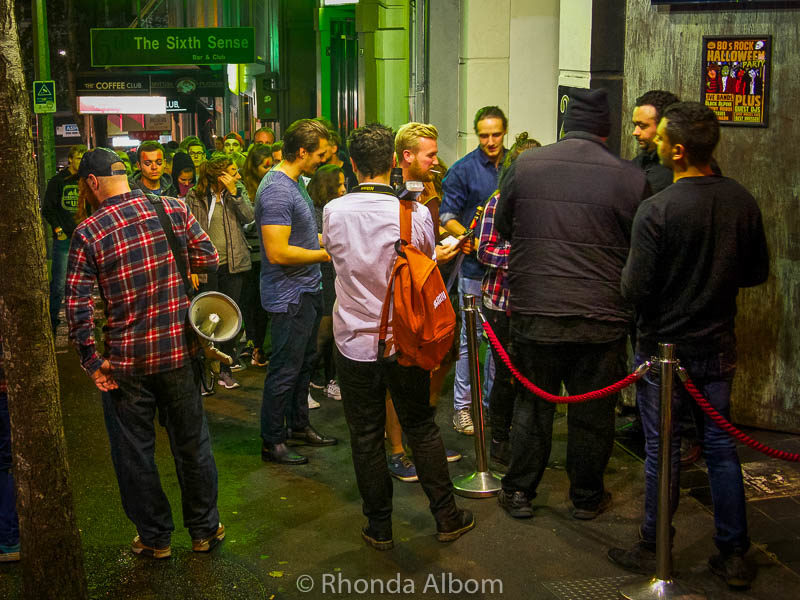 Free things to do in Auckland at night
Watch or try Fire Spinning: On Sunday nights in Mission Bay or Wednesday nights the group Fire and Flow perfect their craft.
SkyCity Auckland Casino (Free to enter, pay to play): New Zealand's largest casino is always open.
Bars and clubs: Many of the hotspots are free before 10 pm. Get an early start and have your hand stamped, thus allowing you free return later.
K-Road at Night: Karangahape Road is different at night when it's the place to go for mixed and gay bars, strip clubs, and brothels (not free).
Free movies in Silo Park – A summertime event on Friday nights.
Poetry Live – Tuesday nights at the Thirsty Dog Tavern and Cafe features New Zealand's longest-running dedicated poetry event.
Rock Bar: The place to sing karaoke on Queen Street.
Read next: 30 fun things to do in Auckland at night
Affordable, but not free things to do in Auckland at night
Stardome Observatory and Planetarium ($) – A planetarium experience followed by outdoor telescope viewing. Check for discounts on the night sky show here.
Frenzi Bar Crawl ($) – Every Thursday night, this bar crawl starts at the Camel Bar. Or if you want to go it alone, find our favourite clubs listed here amongst these things to do in Auckland at Night.
Classic Comedy Club ($)- Auckland's only full-time comedy club.
Caluzzi Bar and Cabaret ($$) – A complete night out featuring a hilarious drag queen cabaret show and delicious dinner.
Dinner in Auckland: Find our current favourites amongst these 20 unique restaurants in Auckland.
More free things to do in Auckland
If you are still looking for free things to do, Auckland offers a few more ideas.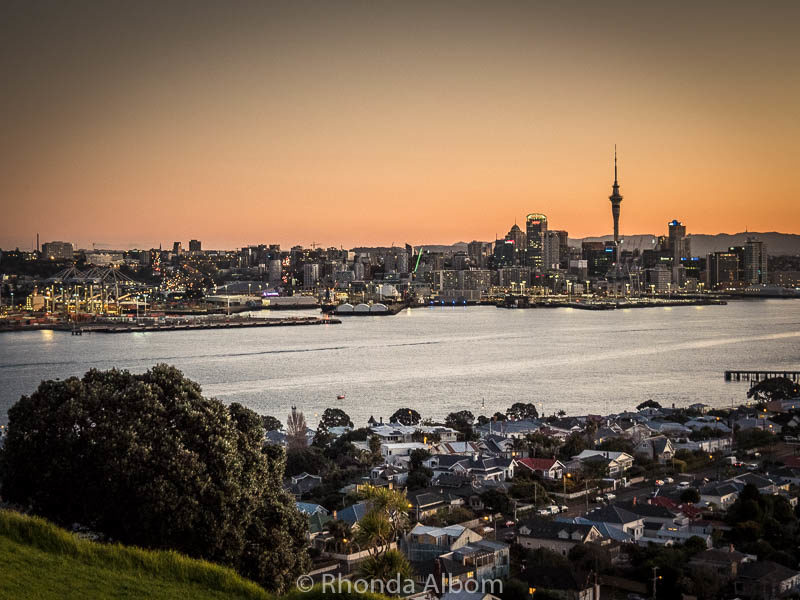 Take photos at sunset.
Enjoy a picnic in a reserve.
Fish from a pier or beach (check the local rules).
Surf one of the west coast beaches. If you want a lesson, check for discounts at Muriwai, Piha or Mangawhai.
Swim or sunbathe at a gentle east coast beach, like Orewa Beach.
Collect cockles and have a barbeque in Shakespear Park.
See the superyachts docked at Viaduct Harbour.
Attend a lecture at one of Auckland's 55 City libraries.
Listen to live music in the park at various venues throughout the summer.
Look for hand and footprints of famous Kiwis at the Auckland Celebrity Walk.
Visit Holy Trinity Cathedral, the world's only architectural example of a Pacific-Gothic cathedral.
People watch.
Hunt for graffiti and street art.
Adrenaline adventures are not among the free things to do in Auckland, but discounts are often available
Whether you are looking for adrenaline rush activities or just a bit of excitement, Auckland has something for you. A country known for pushing to the limit, many of these are once-in-a-lifetime opportunities.
Escape rooms ($$): There are several in the city, but we like the discounts available from Escapade-NZ on Victoria St.
Rainbow's End ($$): New Zealand's largest theme park. Get an Unlimited Superpass in advance.
America's Cup Sailing ($$$): Participate in the sailing of an America's Cup yacht. Depending on the day you choose, you can get a discount.
Eco Zip Adventures ($$$) – Ziplines on Waiheke Island over the forest and vineyards is quite a thrill. Check for discount pricing here.
Skyscreamer ($$$) – Catapult into the air on a reverse bungy ride.
Sky Tower ($$) – The Auckland Sky Tower is the tallest manmade structure in the Southern Hemisphere standing proudly at 328 metres. A visit to the top provides impressive 360° views stretching out 80 km in every direction. Check for discount pricing.
With so much to see and do in Auckland, it is a North Island must-see.
Getting to Auckland activities
Auckland is an easy city to get around. There is excellent public transportation in the central city. However, there are less frequent options in the surrounding areas.
If you self-drive, note that car parking in the city is often shockingly expensive.
Taxis are available at busy downtown venues, or taxis or Uber can be called.
The Hop-on Hop-off bus is a great way to see some of the highlights, even better when you get the Hop-on Hop-off bus for a discount.
Save on your NZ trip with these resources
These are our go-to companies when we travel. We believe this list to be the best in each category. You can't go wrong using them on your trip too.
Check out our travel resources page for more companies that we use when you travel.
Save for later
If you enjoyed this article highlighting the free things to do in Auckland, please share it on social media and save it for later on Pinterest.
With so many free things to do in Auckland, why would you ever want to leave?
Disclaimer: We are frequently provided with a complimentary entry or other benefits. However, the opinions expressed here are strictly my own.