Auckland is a playground for those seeking relaxation, entertainment, culinary excellence, cultural experiences or adrenaline rush activities. It's a city that reflects the natural beauty one expects to find in New Zealand. Nestled between two major bodies of water, Auckland sits on the remnants of 48 dormant and extinct volcanoes. It is my city. I live here and thrive on the large number of inexpensive and free things to do in Auckland city.
Lush green parks line the city's 1,600km of sparkling blue coastline. Visitors rarely find themselves more than 5km from the sea. On sunny weekend days, it is easy to see why Auckland has been nicknamed the City of Sails.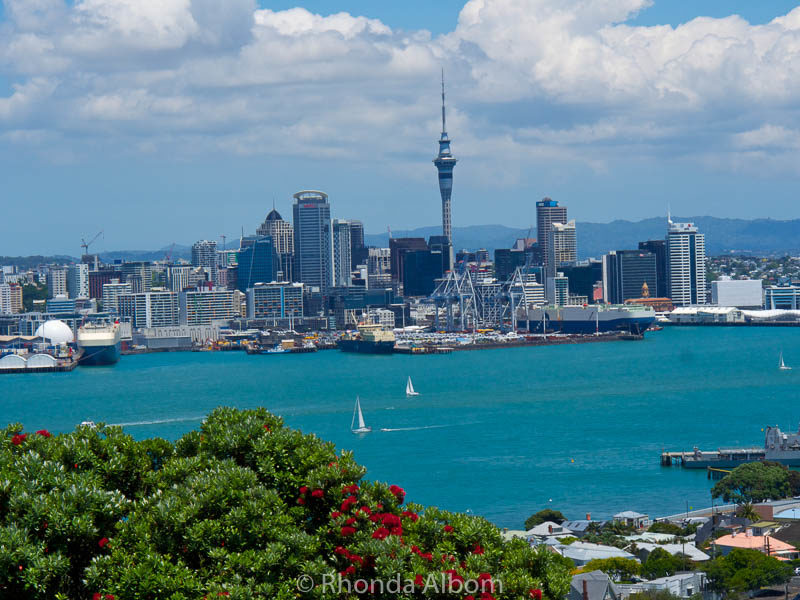 There are so many fun things to do in Auckland. It is a city made for walking, cycling, sailing, dining, relaxing, or a bungy jump. It is home to impressive museums, tempting restaurants, and colourful nightlife. While there are plenty of things to do in Auckland for free, to round out the list, I have included several special activities that are not so free (labelled with $).
Founded in 1840, Auckland's short history includes influences from the indigenous Maori people. Today, it is home to nearly one-third of the country's population. It has earned a reputation as a family-friendly, active, and safe city.
Here you will find free and nearly free things to do in Auckland in the following categories:
Auckland Volcanoes (Inside the City)
Some of the best views in the city are found at the summit of several volcanoes in Auckland. While you can hike to the top of any of them, most have drivable roads to the top. Each volcano tells its own story.
Mount Eden Volcano – If you only have time to visit one Auckland volcano, enjoy a short walk to the summit of Mount Eden. At the top, you will find dramatic 360-degree views from the highest natural point in the city. Plus, there is a 50-metre deep crater (now grass covered) that many consider the highlight of the Mount Eden Domain.
Auckland Domain – Auckland's oldest park is home to extensive forested walking trails, impressive sculptures, and plenty of spots for picnic or sport. Here you will find the Auckland Museum, Wintergardens, Wintergarden Cafe, and the city hospital.
One Tree Hill – As you reach the top of One Tree Hill, the most obvious question is, "Where is the tree?" This is Auckland's second largest volcanic field. While here, also visit Cornwall Park.
Auckland Volcanoes (North of the Waitemata Harbour)
You will need to take a ferry out to Rangitoto Island, while a car, bus, or ferry can bring you to Devonport.
Rangitoto Island – If getting to the top of Auckland's youngest and largest volcanic field is on your bucket list, you have two options. A moderate level of fitness is required for hiking, or you can take a tour.
⇒  Check Price for a guided tour of Rangitoto on a 4 WD Volcanic Explorer Train or Book Now 
Mt. Victoria in Devonport – One of two volcanoes in New Zealand named to honour our former queen, Mt Victoria in Devonport sits across the Waitemata Harbour from Auckland city. It offers some of the best views. Iconic red and white "mushroom" painted vent caps dot the fields.
North Head Historic Reserve in Devonport – As you enter the former military tunnel complex hidden in the hillside at North Head, you leave behind expansive panoramic views of the Hauraki Gulf and Auckland city. It is easy to understand why North Head was a coastal defence site.
Auckland City Walks
Auckland is a city built for walking and exploring. Here are a few of the best walks in Auckland, all free.
Coastal path – With so much coastline, there are miles of beachfront path options. Two of my favourites are Tamaki Drive from the city to Mission Bay and the coastal path from Milford to Takapuna on the city's North Shore (one of the best things to do north of Auckland).
Coast to Coast Walk Auckland – Fairly unique to Auckland, you can walk across the country (from the Waitemata Harbour to the Manukau Harbour) in just 5 hours. You will pass through suburban streets, five volcanic fields, and several historical sites.
Wynyard Quarter: This redeveloped, family-friendly waterfront district is a perfect place to watch the boats sailing past. Here you can enjoy a meal at one of the many Auckland waterfront restaurants. After your meal, visit a playground, a community garden, or just relax on giant wooden recliners.
Heritage walk – Take a self-guided tour of some of the city's most historically significant and beautiful heritage buildings.
Walk or cycle on the Te Ara I Whiti. This former motorway turned into a pink lightpath lets pedestrians and cyclists bypass the autos on the city roads.
Free Walking Tour – Spend your morning learning about the central city on a nearly three-hour free walking tour. (Although listed as one of the free activities in Auckland, tipping at the end of the tour is customary.)
Westhaven Marina – With over 2000 boats, it is the largest yacht marina in the southern hemisphere.
Check AT Transit for more free walking routes in the city.
Auckland Walks: Gentle Strolls to Enjoy the Flora
Of course, an isolated island nation would have an abundance of colourful flora. These are a few of the best spots to enjoy them.
Domain Wintergardens – Originally built in the early 1900s to provide garden viewing in the winter months. Today, the Wintergardens have a fernery, an ornate courtyard, and two Victorian-style greenhouses.
Auckland Botanic Garden – roam through the 156 acres (including 10 acres of native forest) that attracts nearly one million visitors annually.
Parnell Rose Garden – Be enchanted by the over 5000 flowering bushes. It's best in springtime.
Parry Kauri Park – Here is a chance to see an 800-year old giant native Kauri tree within an hour from the city.
Auckland Walks: Hiking in the Regional Parks and Reserves
There are no bad choices when selecting one of the 35 regional parks to visit. Each park offers something different, but all have opportunities for hiking in Auckland. However, I do have several favourite urban parks.
Western Springs – A flock of black swans live on the artificial lake that was originally built (1875) as a reservoir for Auckland water.
Cornwall Park – A peaceful park with tree groves, gentle walking paths, paddocks with sheep and cattle, a children's playground, and two historic buildings. At one end of Cornwall Park is the base of One Tree Hill.
Shakespear Park – Hike through paddocks, trees, and on trails at Shakespear Park at the end of Whangaparaoa Peninsula. The park is home to the only mainland little-spotted Kiwi birds; although you won't see them, you can know they are there, and sometimes at night you can hear their call.
Subtropical Rainforest Hike – There are over 250km of trails making up the Waitakere Ranges walks and plenty of waterfalls. The trails range from family-friendly to the 80km multiday Hilary Trail. Start your adventure at the Arataki Visitors Centre. There are park rangers there to assist in your rainforest and west coast exploration planning. Important, as of  April 2018, many of the trails are closed to protect the trees from Kauri Dieback. Click here for a list of open trails.
Manukau Heads Lighthouse – Climb to the top and be rewarded with stunning harbour views over the Awahiti Peninsula.
Tiritiri Matangi – Take a ferry out to the bird sanctuary island of Tiritiri Matangi (Free to hike, $$ for the ferry to the island), where you will discover several species of endangered birds including the once thought to be extinct Takahe.
⇒ Book a Ferry To Tiritiri Matangi with a 1.5 hour guided walk and plenty of free time to explore Book Now
**Serious Hikers: Get information on the 10 Great Walks New Zealand from the Department of Conservation website. These are considered the best hikes in New Zealand.
Art and Historical Museums in Auckland
There are plenty of things to do in Auckland on a rainy day. Most of the art museums in Auckland have free entry. The historical museums offer free entrance for Auckland residents.
Auckland Museum (Free entry for Aucklanders) – A must-see destination for visitors who want an insight into New Zealand's history. The museum boasts one of the world's most impressive collections of Maori and Pacific Island artefacts. And, the top floor is home to The Auckland War Memorial Museum.
Auckland Art Gallery Toi o Tāmaki – Home to over 15,000 artworks including paintings, sculpture, and multimedia, it is New Zealand's largest collection of national and international artwork.
New Zealand Maritime Museum (Free entry for Aucklanders) – From the dugout canoes that brought the first Polynesian people to modern world-class racing vessels, New Zealand's nautical history comes to life at the National Maritime Museum.
Pah Homestead – Worth a visit to see either the historic home or the frequently changing contemporary art collection.
Te Uru Waitakere Contemporary Art Gallery, Auckland – Located at the gateway to the Waitakere rainforest, the contemporary art galleries of Te Uru will be different on almost every visit.
MOTAT ($) –  Auckland's Museum of Transport and Technology is a showcase of Kiwi ingenuity. A fresh approach to displaying the country's advancements in transportation and technology, this hands-on museum is a favourite destination for kids of all ages. In addition to the main museum don't miss MOTAT 2 – The Aviation Display Hall.
Enjoy a 2-Hour Auckland Art Tour with an Art Historian ($) – A local art critic will introduce you to Auckland's vibrant art scene as you visit up to six galleries, including exclusive access to venues.

⇒  Check pricing and availability of and Auckland Art Tour  or Book Now 
Markets and Other Shopping in Auckland
Window shoppers can consider these options as free things to do in Auckland. If you're a collector, you will have a different experience. There are various weekend markets around the city. My favourite shopping destinations are listed below.
Queen Street – Every city has a street that does it all; in Auckland, this is Queen Street. This main thoroughfare was once a dirty canal leading out to sea. Today, it is the heart of the central business district (CBD), a shopper's paradise, and a tourist destination.
Otara Flea Market – A Saturday morning market with a Polynesian influence.
City Farmers' Market at Britomart – Also on Saturday mornings, this farmers' market is the place to get fresh produce.
Sylvia Park Shopping Centre – This is New Zealand's largest indoor shopping mall.
K-Road during the day – On Karangahape Road you will find an eclectic mix of fashion, second-hand shops, art galleries, and cafes.
Auckland Night Markets – At seven different locations throughout the city, there may be an Auckland night market near you.
Animal Viewing and the Best Zoo in New Zealand
New Zealand wildlife focuses on birds. The bat is the only indigenous mammal in the country. We are also a farming nation, with more sheep, cows, or deer than people. Viewing animals is often a highlight
Gannet Colony at Muriwai Beach – Late August to March is the best time to view the colony of up 1200 Australian Gannet pairs that fly over 2000 km to breed on Muriwai's cliff top.
⇒ Check prices on tours of the Gannets and local vineyards from Viator or Book Now 
Goat Island –  This wildlife/marine sanctuary is one of many popular day trips from Auckland. It is the best spot near Auckland for colourful (subtropical) snorkelling, SCUBA diving, or a glass-bottomed boat tour.
BaristaCats Cafe ($) – If you want a more intimate animal encounter, Barista Cats Café offers animal lovers a place to enjoy coffee or tea while surrounded by furry friends. (minimum age is 10)
Auckland Zoo ($$) – An ideal family destination, at the Auckland Zoo you can spot the iconic kiwi bird, feed a giraffe, or enjoy New Zealand's largest collection of native and exotic animals.
⇒ Get tickets for the Auckland Zoo Buy Now 
Butterfly Creek and Dinosaur Kingdom ($$) – A place for kids (and adults) explore a tropical butterfly house or travel back to a time when dinosaurs ruled.
Kelly Tarlton's Sea Life Aquarium ($$) – From the penguins in Antarctica to the sea life in local Auckland waters, if it lives in the Southern Ocean, you will find it at Kelly Tarlton's Sea Life Aquarium. Built underground, it houses the world's first walk-through acrylic tunnels that surround visitors with colourful marine life or shark-infested waters.
⇒  Check prices for Kelly Tarlton's Sea Life Aquarium entry ticket or Buy Now 
Sheepworld ($$) – Situated about 45 minutes north of Auckland city, at Sheepworld you will get an insight into New Zealand sheep farming and wool harvesting.
Auckland Whale and Dolphin Safari  (AWADS) ($$$) – Every moment on an Auckland Whale and Dolphin Safari is exciting, but nothing tops the day's first whale sighting.
⇒ Check availability Auckland Whale and Dolphin Safari or Buy Now 
Nightlife in Auckland
If you know where to look, there are plenty of free things to do in Auckland at night, plus a few expensive options too. Many of the hotspots charge an entry free beginning at 10 pm. If hitting the bars is on your free things to do in Auckland list, get an early start. Be sure to have your hand stamped when you leave a club, should you wish to return later. Highlights include:
SkyCity Auckland Casino (Free to enter, pay to play) – New Zealand's largest casino.
K-Road at Night – Karangahape Road is the place to go for pubs, mixed and gay bars, strip clubs, and brothels.
Poetry Live – Tuesday nights at the Thirsty Dog features New Zealand's longest running dedicated poetry event.
Free Movies in Silo Park – A summertime event on Friday nights from 9 pm.
Classic Comedy Club – The only full-time comedy club in Auckland.
Rock Bar – The place to sing karaoke.
CBD Auckland bars – There is an eclectic mix of clubs in CBD, and many Auckland's neighbourhoods.
Frenzi Bar Crawl ($) – Thursday nights from Camel Bar.
Stardome Observatory and Planetarium ($) – A planetarium experience followed by outdoor telescope viewing.
Caluzzi Bar and Cabaret ($$) – Hilarious drag queen cabaret show and delicious dinner.
More Free Things to do in Auckland
If you are still wondering what to do in Auckland, take a look at a few more ideas.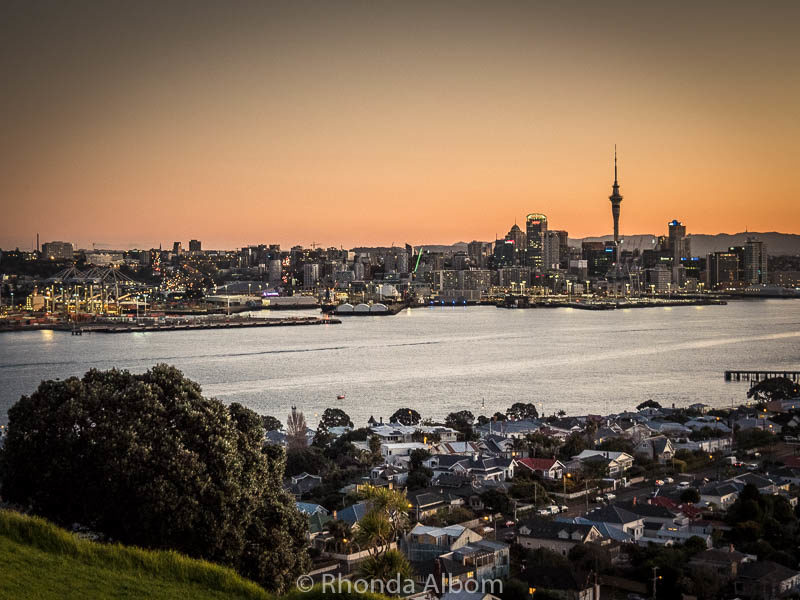 Take photos of the city at sunset.
Enjoy a picnic in any of the reserves.
Fish from a pier or beach (check the local rules before you begin).
Collect cockles (and have a barbeque) at Okoromai Bay in Shakespear Park. It is one of only a few Auckland bays that still allows cockle collection.
Swim or sunbathe at a gentle east coast beach.
Hunt for graffiti and street art.
See the super yachts docked at Viaduct Harbour.
Read a book or attend a lecture at one of Auckland's 55 City libraries.
Listen to live music in the park at various venues throughout the summer.
Look for hand and footprints of famous Kiwi's you might know at the Auckland Celebrity Walk.
Visit Holy Trinity Cathedral for an unusual mix of traditional and modern. Holy Trinity is the world's only architectural example of a Pacific-Gothic cathedral.
People watch.
Adrenaline Adventures in Auckland (Once in a lifetime, but not so free things to do in Auckland)
Whether you are looking for the adrenaline rush activities or just a bit of excitement, Auckland has something for you. A country known for pushing to the limit, many of these are once in a lifetime opportunities.
Surf one of the west coast beaches, often considered the home to the best beaches in Auckland.
Solve a mystery at Escape Masters ($$).
Rainbow's End ($$) – New Zealand's largest theme park.
Race on an America's Cup Sailing yacht ($$$) 
⇒ Check prices on America's Cup Sailing or Book Now
Fly over vineyards at Eco Zip Adventures ($$$) on Waiheke Island.
Catapult into the air on the Skyscreamer ($$$), a reverse bungy ride.
Sky Jump or Sky Walk ($$$) at the Auckland Sky Tower, the tallest manmade structure in the Southern Hemisphere standing proudly at 328 metres. Or, enjoy the impressive 360° views from the top stretching out 80 km in every direction.
⇒ Check prices on Sky Jump and Sky Walk.
Shop related products on Amazon
Price: $12.88

Was: $18.95

Price: $16.99

Was: $24.99

-35%

Price: $16.97

Was: $25.99
‹
›
Practical Information on Auckland Activities
Auckland is an easy city to get around. There is public transportation inside the city.
If you hire a car, remember, we drive on the left. Taxis are available at busy downtown venues, or either taxis or Uber can be called.
The Hop-on Hop-off bus is a great way to see some of the highlights.
⇒ Get tickets for the Hop-on Hop-off bus Book Now
If you prefer Auckland sightseeing tours or if you are looking for day trips from Auckland:
⇒ Check Viator for city tours or day trips to Hobbiton or Rotorua See Options 
We find Booking.com has the best prices on Auckland hotels.  Here are our favourites: 
The legend on this page is per adult entry at time of publication:

$  less than $20
$$ is $21 – $99
$$$ is more than $100
With so many free things to do in Auckland, why would you ever want to leave? What will you do first?

Disclaimer: We are frequently provided with a complimentary entry or other benefits. However, the opinions expressed here are strictly my own.
Here's the secret to packing light:
Download our free packing light checklist when you sign up for our newsletter.