Whether you are looking for adrenaline extreme or just a bit of excitement, you can find plenty of adventure activities in Auckland, New Zealand. We know because we live here.
A country known for pushing to the limit, many of these are once-in-a-lifetime opportunities. Ignore the rumour that says you must head to the South Island for adrenaline rush activities.
We share a list of adrenaline-pumping options on the water, on land, and in the air. Even more good news, we have found and included links that offer entry or ticket discounts to nearly all of the exciting activities below. Generally, these will require you to book in advance for a particular time slot, but often it can just be a few hours before you want to go.
So put on your brave face and get ready for some exciting adventure activities in Auckland.
First, get to know our city
Our favourite adventure activities in Auckland
More on each below.
America's Cup sailing
Surfing
Jet boats
Whale watching
Rainbow's End
Axe throwing
Bridge Climb or Bridge Bungy
Mountain biking
Adrenalin Forest
Ziplining
SkyJump or SkyWalk
Skydive
Adventure Activities in Auckland on the water
Built on an isthmus, it is not surprising that there are plenty of water-based adventure activities in Auckland.
Visitors and locals should get out on Auckland Harbour at least once, whether it be racing in an America's Cup yacht, on a dinner cruise, on a ferry, or with the power and excitement of the spins and tricks offered by the jet boats. And then there is my favourite, watching a whale breach the water's surface.
America's Cup sailing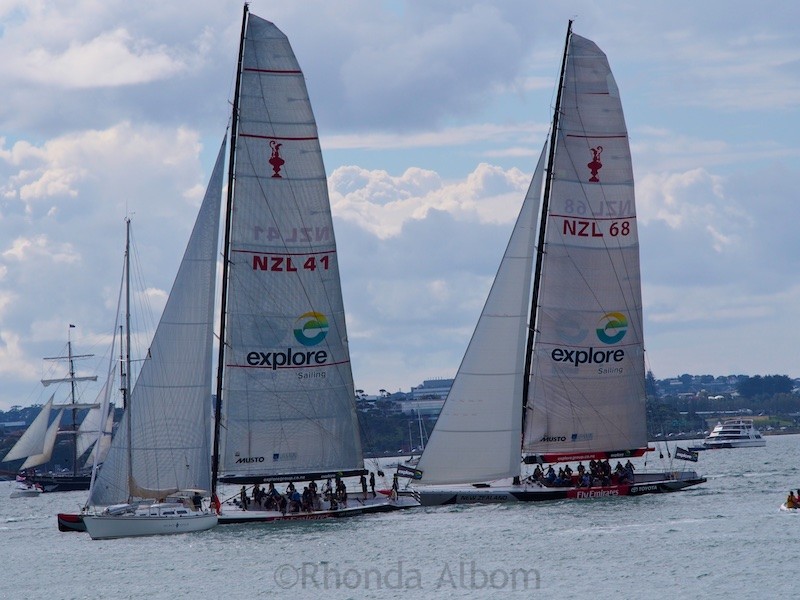 Location: Viaduct Harbour
This is the real thing – an opportunity to crew on a former Team New Zealand America's Cup yacht. Of course, the expert crew is there to assist, but it is the passengers who race and steer the yacht. There are sails to adjust, ropes to pull, and decisions to be made.
There are jobs for everyone who wants one. Or, choose to sit and enjoy the wind in your hair while you admire the city skyline. Either way, the two hours out on the water are magical. Reserve your (discounted) America's Cup sailing experience here
Note: minimum age is 10 years old.
Surfing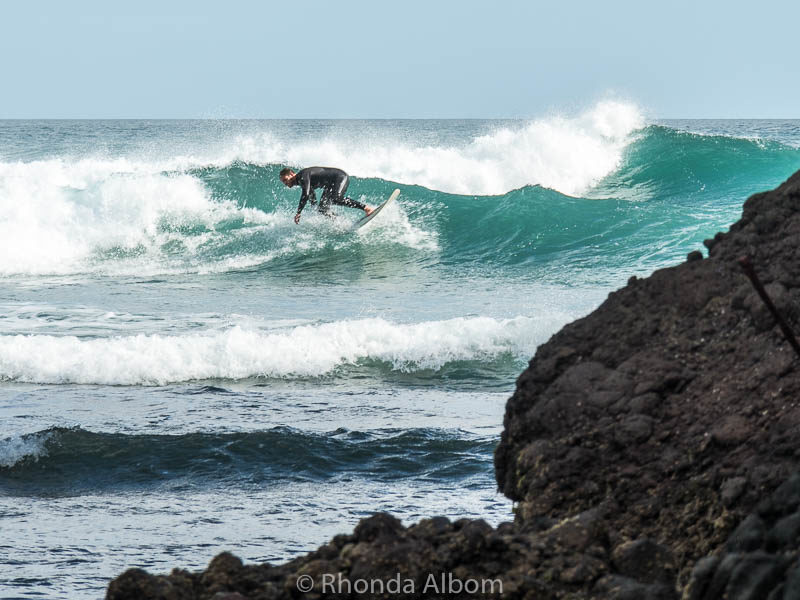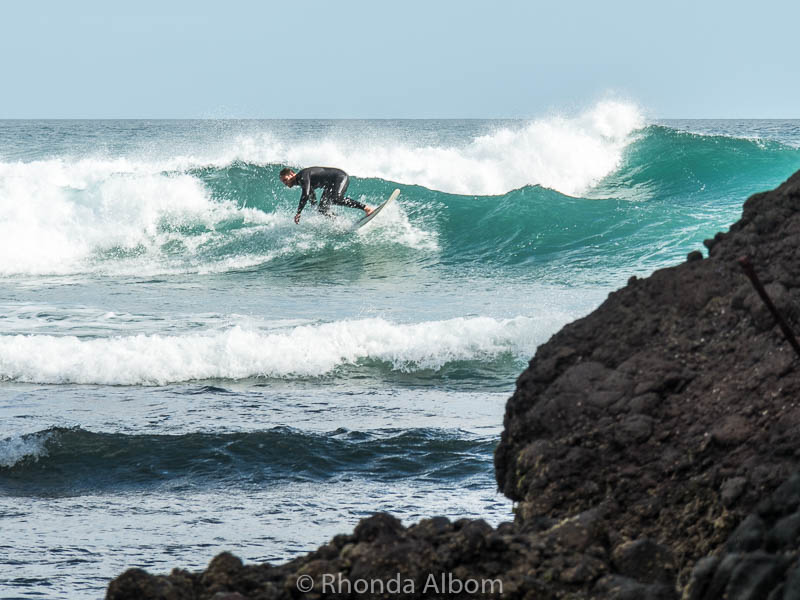 Location: best on Auckland's west coast beaches
The wild west coast beaches are popular with Auckland surfers. Regardless of which one you choose, you are sure to find other surfing enthusiasts. Take note: if you are not a surfer, you will want to be sure and swim between the flags, as this is the area patrolled by the lifeguards.
We love to bring guests to Muriwai. It is not only a great surfing beach, it also features black sand that is loaded with magnetite, an iron-bearing mineral, making it magnetic.
In addition, an Australian Gannet colony flies over 2ooo kilometres each year to breed near Muriwai Beach. You'll want to visit Muriwai between August and February, you will find these beautiful birds.
Reserve (discounted) surf lessons at Muriwai
Jet boats
Location: Pier Z Westhaven Drive, Westhaven Marina (This is a temporary location. It will return to Quay Street once construction is completed.
Jet boats are popular on New Zealand's rivers, but here is your chance to experience the thrill of speed, arcing fishtails, spins, and power brakes right in Auckland Harbour.
In addition to the high-speed excitement, you will fly under the harbour bridge and see iconic landmarks like Chelsea Sugar Factory and Kauri Point. Reserve your discounted Auckland Jet Boat experience here.
Auckland whale and dolphin safari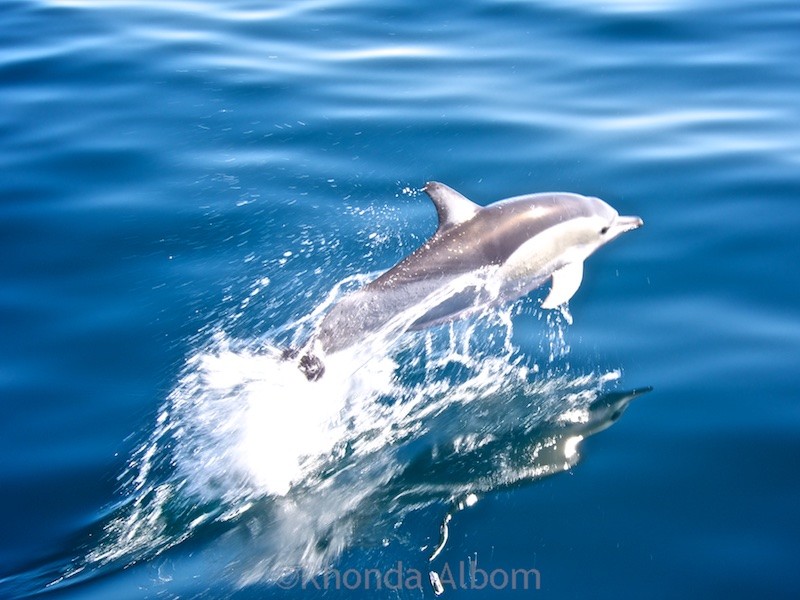 Location: Viaduct Harbour, Auckland – register inside the maritime museum
We found every moment on an Auckland Whale and Dolphin Safari exciting. For me, it is one of the most thrilling things to do in Auckland. Nothing tops the day's first sighting. As the boat turns toward hundreds of seabirds diving into the water, the commentator explains that this feeding frenzy will attract dolphins, and the whales will be close behind.
On approach, the boat slows and smiling passengers move towards the rails for a better view. An onboard marine researcher points out the frolicking dolphins. It isn't long before the seabirds take flight, and, in what seems like complete silence, a majestic whale breaks the water's surface.
Reserve your AWADS adventure here
Adventure Activities in Auckland on the land
Rainbow's End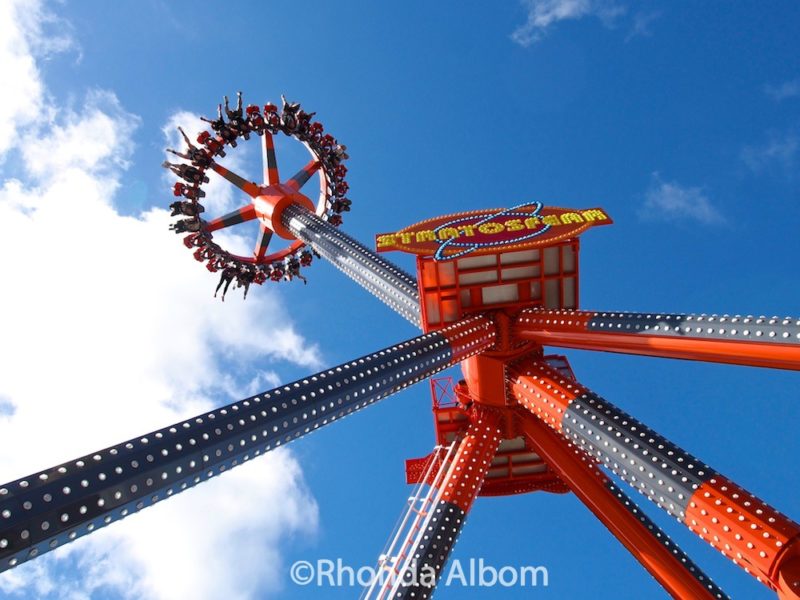 Location: 2 Clist Crescent, Manukau
New Zealand's largest theme park is small compared to some of the giants around the world, yet it is packed with excitement. If you are born brave you can take the vertical drop reaching speeds of 82 km/hour. Test your courage on any of the five thrill rides that spin, flip, corkscrew, and otherwise leave you screaming. Stratosfear (shown in the photo) at its most extreme is considered their scariest ride.
Check for an Rainbows End entry discount tickets here
Axe throwing at Sweet Axe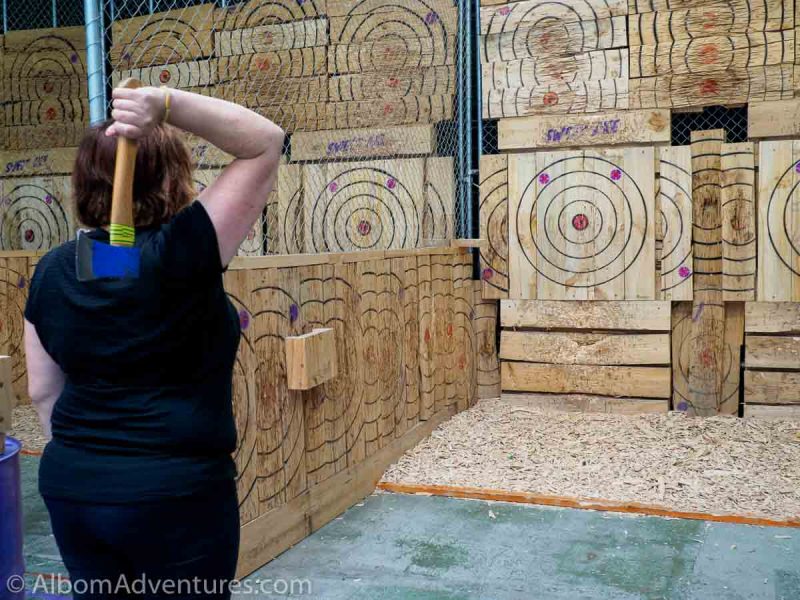 Location:110 Nelson Street, Auckland CBD

Use the code ALBOMAXE for 10% off when you book your experience.
Axe throwing is all about technique over strength, and to my surprise, even I could hit a bullseye (occasionally) just by following the staff instructions. It's not only a great place for a group of friends, but it's also a team-building activity. We reviewed it and captured some of our fun on video.
Bridge Climb or Bridge Bungy
Location: 105 Curran St extension, Westhaven Marina
If bungy jumping off a major bridge is your idea of a thrill, why not leap off the Auckland Harbour Bridge? Not only is it totally cool, but it's also the countries only ocean touch bungy (most others are on rivers). The jump is from 40 metres (131 ft) so not for the faint of heart.
If you don't want to take the leap, perhaps just a bridge climb might be more your speed. This fully guided tour rewards with you with impressive views. Check for discounts on bridge climb here, or check for discounts on bridge bungy here.
Mountain biking in Woodhill Forest
Location: Restall Road, Woodhill
The best thing about Woodhill is that it caters to everyone one who wants to hit the dirt track, from first-timers to pros, they got you covered. My daughter even did part of the adventure section of her Duke of Edinburgh Silver award on one of the tracks here. This epic park has over 50km of mountain biking trails.
Best of all, the discount entry includes mountain bike rental.
Reserve your (discounted) Woodhill experience here.
Adventure Activities in Auckland in the air
Adrenaline activities in Auckland are not limited to water. Some of the exciting things to do in Auckland include being zipping over a winery, walking around or jumping off the Sky Tower, or heading up even higher and skydiving back to the ground level.
Adrenalin Forest
Location: 12 Stone Road, Bombay
A six-level obstacle course through beautiful pine trees ranging from just 1m off the ground navigating bridges, swings, crossing nets and climbing to 20m. It all ends with a flying fox. Have fun as you challenge yourself and tick another item off your adrenaline junkie bucket list.
Reserve your Adrenalin Forest experience here
Eco Zip Adventures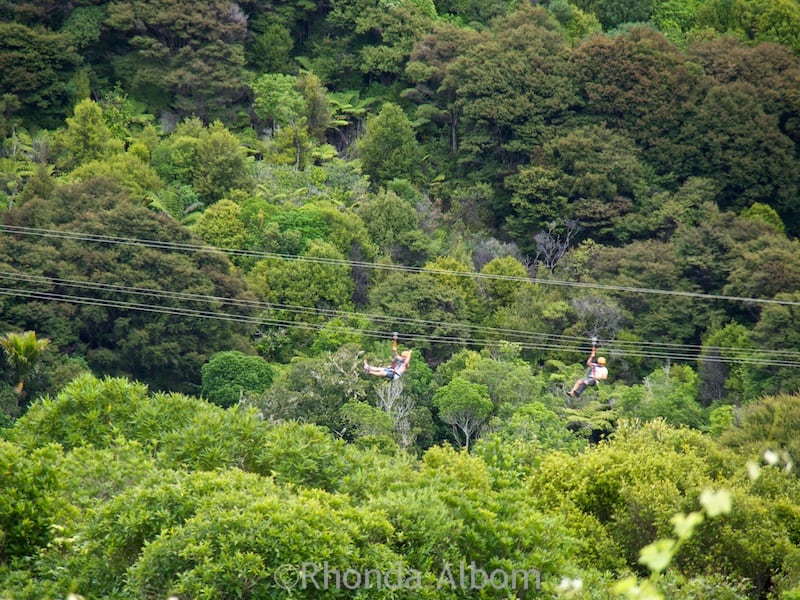 Location: 150 Trig Hill, Onetangi, Waiheke Island
Zipping over the canopy, riders enjoy the lush green native forests of Waiheke Island.
Everything about EcoZip Adventure resonates with natural beauty and excitement. Before taking the ferry back to Auckland, visit one of the world-famous wineries on Waiheke Island, or visit one of the many Waiheke beaches.
Reserve your Eco Zip Adventure here
SkyJump or SkyWalk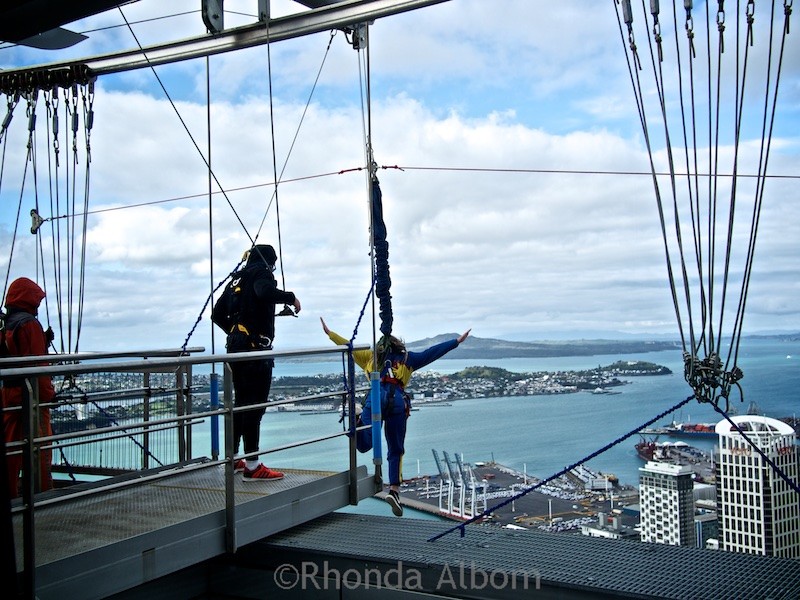 Location: Sky Tower on the corner of Victoria and Albert Streets
Adrenaline junkies looking for a thrill have two options from the top of the Sky Tower: SkyJump or SkyWalk.
The first, a base jump via wire, plunges brave riders from 192m, at speeds up to 85km/hour. It is fast enough to satisfy any dare-devil yet slower than a traditional bungy jump, thus allowing participants to enjoy both the thrill and the view on the way down.
SkyWalk takes tethered visitors all the way around the tower on a narrow 1.2 metre-wide ledge suspended 192 metres above the ground. The lack of handrail makes it all the more exciting.
Check for discounts on SkyJump or on SkyWalk
Skydive Auckland
Location: West Auckland Airport, 73 Green Rd, Parakai
I may not be brave enough to give it a try, but Skydive Auckland is one of the adrenaline rush activities in Auckland that should be included in this list. Jumping from 13,000ft or upgrading to an even higher jump, you will free fall for 45 seconds.
Enjoy magnificent west coast views as you reach speeds of 200+km per hour.
Reserve your discounted Auckland skydive here
Save with these resources in Auckland and all of NZ
We usually start with aggregator companies as they do the work for us by providing a list of options, prices, and reviews. However, we also added a few personal NZ favourites:
Before you book the rest of your trip: Check out our travel resources page for more companies that we use when you travel.
We believe this list to be the best in each category. You can't go wrong using them on your trip too.
Save for later
If you enjoyed this article, please share it on social media and save it for later on Pinterest.
Which of these adrenaline rush activities appeal to you?
Disclaimer: We are frequently provided with a complimentary entry or other benefits. However, the opinions expressed here are strictly my own.