Auckland sailing. There is nothing quite like that moment of silence after you have left the marina, raised the sails, and you turn off the engine. Pure paradise.
On any day, Aucklanders can look out at the Hauraki Gulf, and chances are good there will be plenty of sails, cruisers, and even a few superyachts in our sightline.
And, if it's the weekend or summer twilight, we can spot yacht racing in Auckland.
New Zealand's largest city is monikered the "City of Sails" for a good reason. And it doesn't take much, especially on a sunny summer day, to see why. Whether it's recreational boating, casual racing, or special events, it's always a thrill.
Remembering back to when we first came to New Zealand, I just wanted to get out on the water, to participate in some of this Auckland sailing I watched out my window every decent weather day.
I made this list for anyone like my former self. For me on that day when I couldn't figure out how to get out on the water. Now, Auckland sailing is in my soul. It's captivated me, and it makes me happy. I hope the same for you.
The list is also for visitors, while some of the choices get you out on a regular basis, most are fabulous opportunities to book when you want to go.
It doesn't really matter how you do it, just get out there. Choose the options that are best for you. After all, everyone in Auckland needs to get out on Waitemata Harbour at least once.
At the bottom of the page, we highlight some of the best of local yacht racing for those who prefer to enjoy their Auckland sailing from the shore.
Auckland sailing: 9 ways to get out on the water
Join your local yacht club and get involved in racing
Sail on one of the heritage ships at the Maritime museum
Take a day cruise
Add a touch of romance with a sunset dinner cruise
Friday afternoon rum racing
Ride a ferry out to one of the islands
Experience America's Cup racing yacht
Find a friend who owns a yacht
Join the coastguard
Join your local yacht club and get involved in racing
There are more than 20 local yacht clubs in the Auckland area (and 108 across the country).
Each club offers some sort of yacht racing for its members, and some occasionally welcome guests. Importantly, every racing team needs a crew.
This is how we got started in Auckland sailing before we bought our yacht. Jeff and I crewed together on a mixed team, and I crewed on a women's team.
By the time we got our yacht, we already belonged to a local club that offers winter afternoon racing, summer Wednesday twilight racing, and summer weekend cruising races out to one of the local islands.
Here are shots from race night:
Sail on one of the heritage ships at the maritime museum
We earn from qualifying purchases through partnerships or affiliate programs.
The Ted Ashby is a replica ketch-rigged deck scow that takes out passengers for a 1-hour sail from the New Zealand Maritime Museum. Guests can sit back and relax or help hoist the sails. Either way, we loved the experience and the classic views of the city.
This Auckland sailing opportunity is an additional fee for everyone over the museum entry, even for Auckland residents (who enter the museum without a fee).
Check for discounts and reserve your Ted Ashby tickets here
Note that tickets include the museum entry (and often still come out cheaper, even for Auckland residents).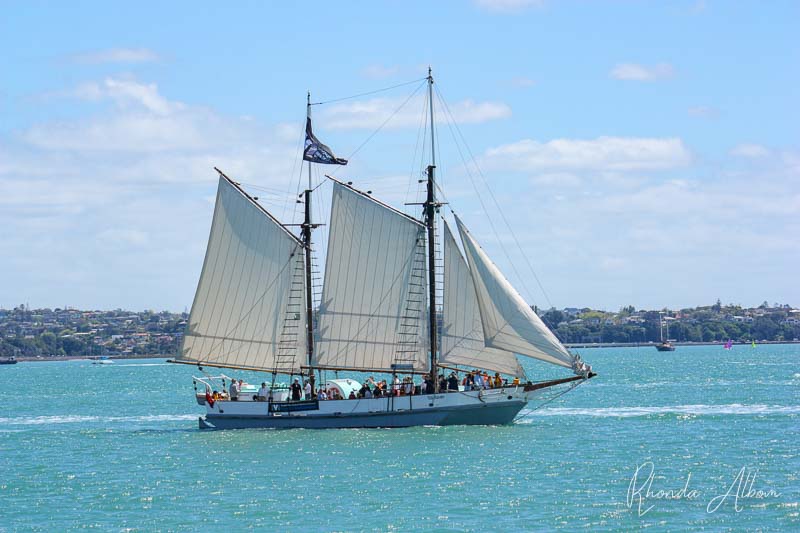 Take a harbour day cruise or add a touch of romance with a sunset dinner cruise
Joining a charter cruise is one of the easiest ways to enjoy Auckland sailing. And you can do this day or evening.
Day cruise
Sit back and relax or engage with the crew and participate in the sailing, the choice is yours as you enjoy 90 minutes sailing out in the Waitemata Harbour. Commentary will help you identify some of the city's iconic sights. Refreshments are included.
Check for discounts and reserve your harbour sail here.
Sunset dinner cruise
This adventure kicks off with a welcome drink on the deck. Then, sail off into the sunset with the stunning Auckland skyline as your backdrop. Dinner (ordered in advance) is provided by a top Auckland restaurant that can cater to most dietary requirements. Watch the sunset from the deck, learn a bit of the history of your surroundings, and enjoy your evening.
Check for discounts and reserve your sunset dinner cruise here.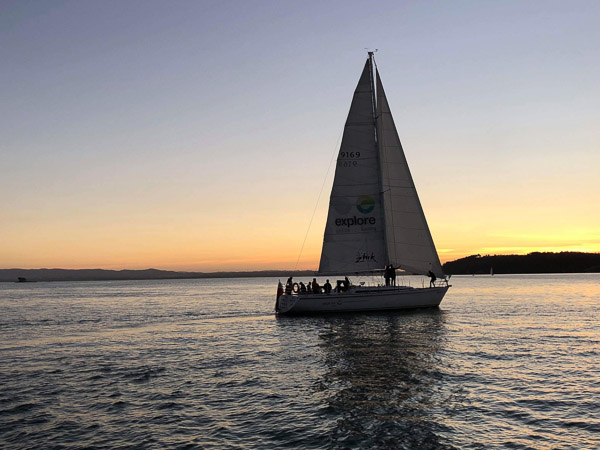 Friday afternoon rum racing (first prize is a bottle of rum)
Honestly, if you are a yachting fan or just a New Zealander, you will instantly know that Friday afternoon rum racing is one of the best Auckland sailing opportunities.
In fact, it's your chance to enter the Royal New Zealand Yacht Squadron's Rum Races. (Note that the name refers to the first prize, there is no alcohol involved in this activity.)
However, the best part (to me) is that you race on either Lion New Zealand or Steinlager 2. Both are yachts sailed to impressive victory by Sir Peter Blake, New Zealand's greatest yachtsman and impressive environmentalist.
New Zealand's Sir Peter Blake skippered Steinlager 2 to an unprecedented victory in the Whitbread Round the World race (1989/90). It's the only boat to ever win all six legs on both handicap and line honours. Lion New Zealand earned line honours at the Sydney to Hobart race (1984) and second place in the Whitbread Round the World (1985/86)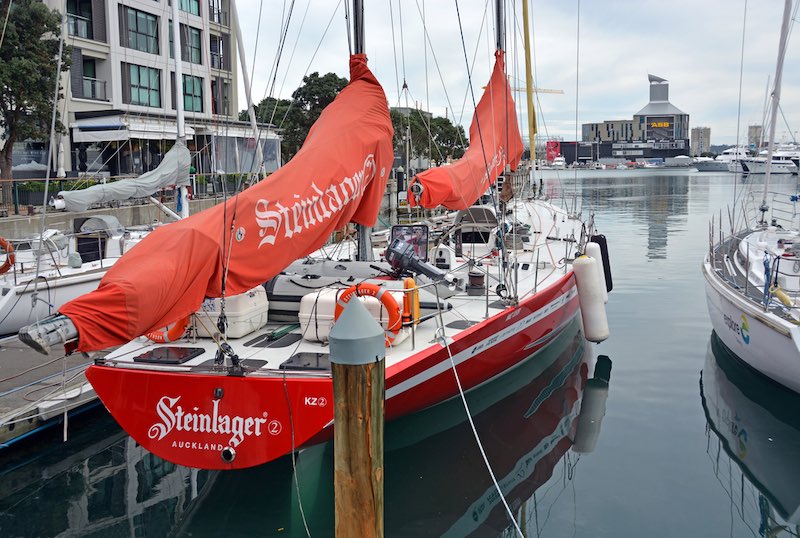 Ride a ferry out to one of the islands of Hauraki Gulf
Ferries run from Auckland out to several of the Hauraki Gulf islands every day. Some are used by commuters, others by visitors. They are a great way to get out on the water with the added bonus of an adventure on one of the islands before taking a return ferry back to Auckland.
Some of our favourite island adventures include:
Waiheke Island
Spend a day wine tasting, at the beach, or just relaxing in this sub-tropical paradise. Waiheke has it all, it's a great weekend destination and even better if you have a week. Best of all, depending on the day you choose, there are great discounts out there for the walk-on ferry and even for the car ferry.
Reserve a seat on the ferry to Waiheke Island
Reserve a seat and your car on a ferry to Waiheke
Rangitoto Island
Climb to the summit of Auckland's youngest volcano and discover lava caves, a massive pohutukawa forest, and impressive views.
Check for discounts and reserve your ferry ticket to Rangititio Island here
Kawau Island (ferry from Sandspit)
This one follows the longest mail run by watercraft in the Southern Hemisphere. Once on Kawau check out some of the historic sites like the mansion house, go for a hike, discover a Māori Pa, and explore the old copper smelter.
Check for discounts and reserve your Kawau Island ferry here
Rotoroa Island
An interesting historical island, it was the longtime home to the Salvation Army's addiction treatment centre. There is plenty of hiking options, a wildlife sanctuary, and sandy beaches. Bring a picnic lunch, have a swim, and enjoy your day.
Reserve your tickets to Rotoroa Island here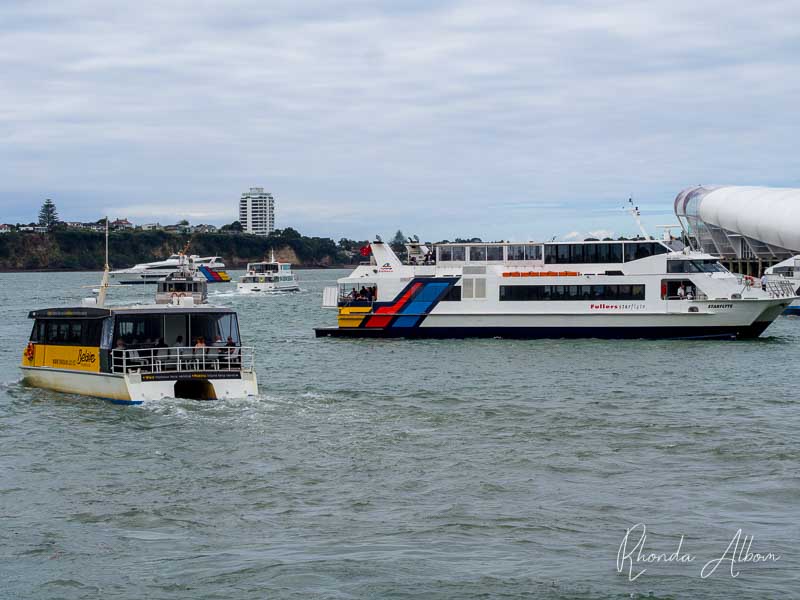 Experience America's Cup racing yachts
One of the most unique ways to enjoy some Auckland sailing is a two-hour adventure onboard a former America's Cup yacht.
Guests have the opportunity to participate in the thrills of sailing in a proper racing yacht. Take the helm, grinders, or lines as the boat races along the Waitemata Harbor, in the same waters that hosted America's Cup races in 2000, 2003, and 2021.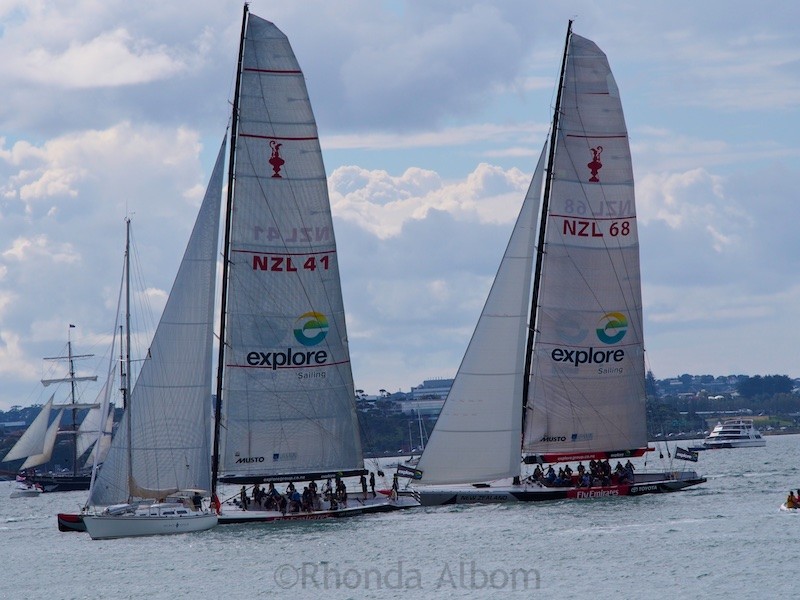 Royals raced in 2014
Princess Kate raced alongside Dean Barker, while Prince William was with Grant Dalton. The friendly race resulted in a 2:0 win for the princess, breaking Dean Barkers' losing steak.
Grant Dalton eloquently explained away his loss to the media, "We were just following the protocol handed down from the palace a couple of days ago that the princess had to win."
Find a friend who owns a yacht
If it's true that one in four Aucklanders has a boat, then this should be easy. However, in practice, it's not always as easy as it sounds.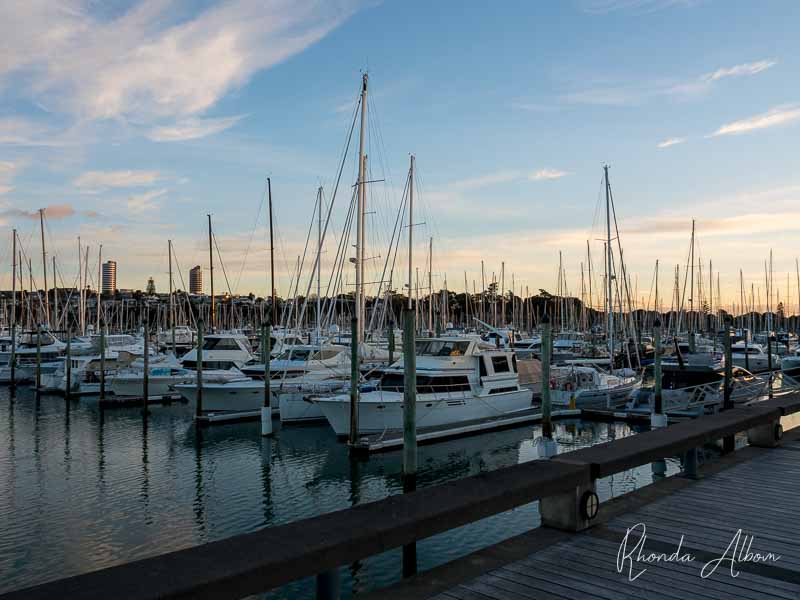 Join the Coastguard
The Royal New Zealand Coastguard is a volunteer organization with the vision "No boaties' lives lost at sea". Over 2,000 volunteers participate in bringing people home safely from disasters at sea as well as safety education and training.
While just wanting to get out on the water isn't a great reason to join the Coastguard, if you are passionate about being out on the water, and want to help others, it just may be the right opportunity for you.
If you are interested in discovering what you can do or getting more information on volunteering, head to the Coastguard's volunteer information page.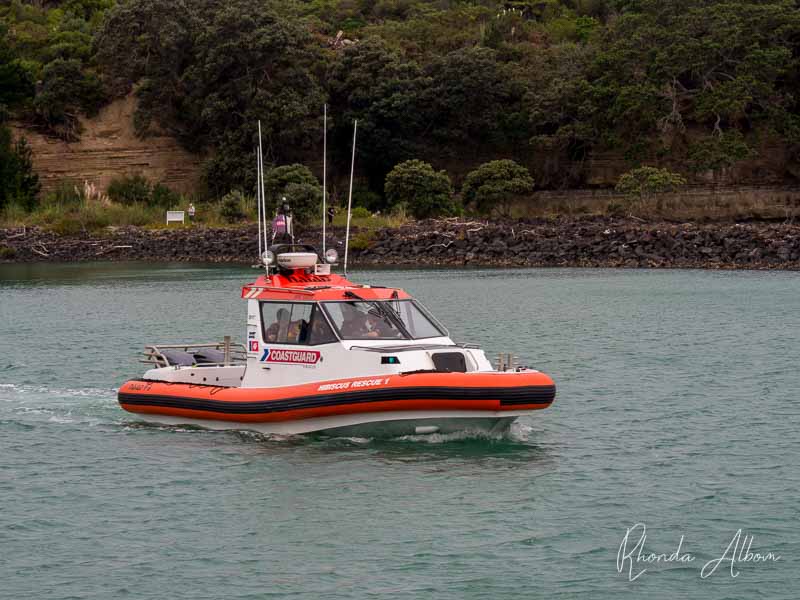 Watch Auckland sailing: major yacht racing events in Auckland
Auckland often hosts an event around international races such as America's Cup, Volvo Ocean Race, visits from British royalty, and the tall ship festival. There is information on the ships and often opportunities to board the boats, or at least get a closer look.
A few key Auckland sailing race events
America's Cup racing
America's Cup is the world's oldest and most prestigious sporting trophy, and Auckland is proud to have been the defending champions, therefore the host of the last race. New Zealand is the current holder of the coveted America's Cup. In fact, this win for Emirates Team New Zealand was the second in a row and the fourth since 1995. The highly sought-after Cup resides at the Royal New Zealand Yacht Squadron, situated at Westhaven Marina.
Tall ship racing
The Auckland Tall Ship Festival was the culmination event following a 1200 nautical mile race from Sydney, Australia to the Bay of Islands, New Zealand. These tall ships are 100% manually operated, taking up to 25 minutes to bring around (turn the boat). After a short rest, the boats sailed as a fleet to Auckland for the festival.
Volvo Ocean Race Round the World – New Zealand stopover
With a new sponsor, the Whitbread Round the World race is now the Volvo Ocean Race Around the World. Racing every three years, the teams take about 9 months to complete the course. There are stopovers in a variety of cities, usually including Auckland, where the city has a huge display and match races.
Flying boat racing
Nicknamed "flying boats," this class of WASZPs are small, single-man sailing vessels, each with two foils attached to the underside. These lift the hull out of the water, allowing it to "fly" at twice the speed of the wind. There are about 60 of these vessels in New Zealand, and nearly half competed in the 2016 national championships (photo above) held on Manly Beach, Whangaparaoa, Auckland.
Flying Fifteens national championships in Auckland
The Flying Fifteen are the world's most popular single-design keel-boat class. It's a high-performance dinghy with a waterline length of 15 feet that can reach speeds of 14 knots on a reach.
Read next: 15 Adventure Activities in Auckland with Summer Discounts
Save with these resources in Auckland and all of NZ
We usually start with aggregator companies as they do the work for us by providing a list of options, prices, and reviews. However, we also added a few personal NZ favourites:
Before you book the rest of your trip: Check out our travel resources page for more companies that we use when you travel.
We believe this list to be the best in each category. You can't go wrong using them on your trip too.
Save for later
If you enjoyed this article, please share it on social media and save it for later on Pinterest.
On the water or watching from the shore, how do you prefer to enjoy Auckland sailing?