Shakespear Regional Park features green rolling hills, impressive panoramic views, densely forested areas, and beaches. Conservation efforts have reforested areas and created a safe haven for many endangered species. Situated at the end of the Whangaparaoa Peninsula, Shakespear Park is less than an hour from Auckland's business district.
Shakespear Park received international recognition in June 2019, winning silver in the 2019 International Large Urban Parks Awards. This puts it amongst the world's best parks. Awards recognize parks that feed the health, environment, and strength of the community.
There are plenty of things to do at Shakespear Park, an open bird sanctuary, with three main beaches, hours of walking and hiking trails, a waterfall, a popular campground, and a lookout tower. Open to the public, Shakespear Park is a gathering spot for families and whanau alike.
Shakespear Regional Park Walks
Day hikes in Shakespear Park
Hours of walking and hiking trails lead to rolling hills, lush forest, through farming paddocks, and even to a waterfall.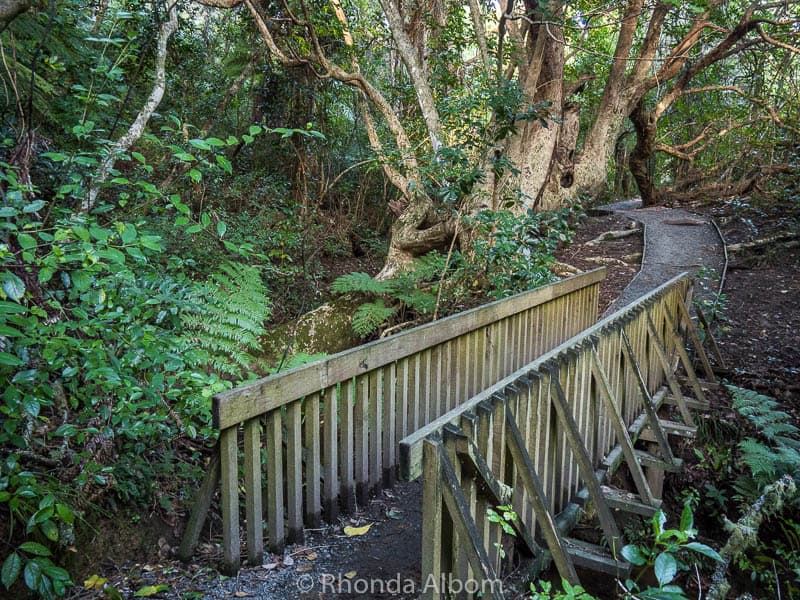 Shakespear Regional Park Camping
Far enough outside the city centre to feel like a real holiday, yet close enough that it's less than an hour's drive, Shakespear Park camping is a popular family activity. Facilities include outdoor (cold) showers and flush toilets. The campgrounds require pre-booking through Auckland council.
Due to increased popularity, a second, self-contained only, campsite has been established. Book early for Christmas and Easter weekends as it often fills to capacity.
Night hiking in Shakespear Park
Grab a torch (flashlight) and head out to the park for some night hiking to discover some funnel spiders, sheet web spiders, and New Zealand glowworms. While much of the park closes to vehicle traffic at dusk, the waterfall gully trail remains open, allowing pedestrian entrance into the park.
One of our favourite things to do is to take a night hike to the waterfall, turn off our lights, and see the glowworms.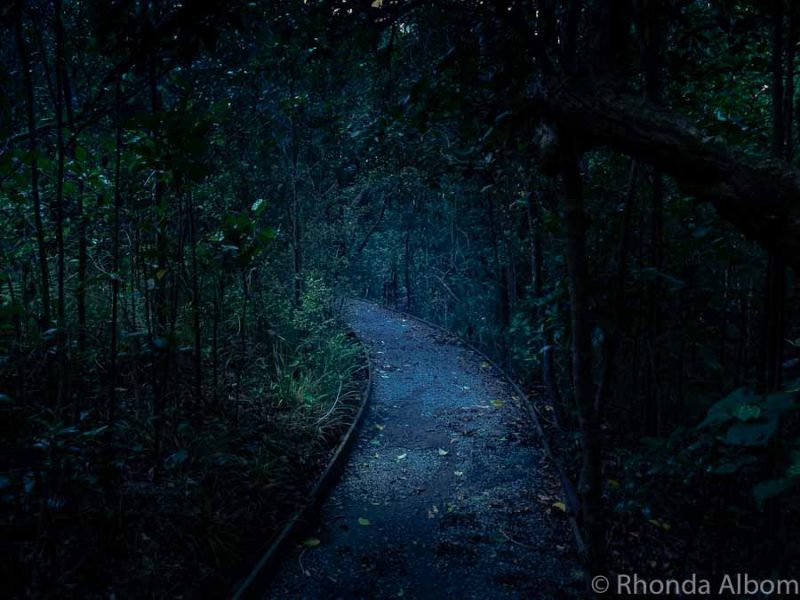 New Zealand Birds at Shakespear Park
Conservation efforts are evident by the completion of the predator-proof fence that protects over 500 hectares of parkland, while still allowing people to visit. It converted Shakespeare Regional Park Auckland into open bird sanctuary, similar to that of nearby Tiritiri Matangi Island.
The fence allowed the release of many endangered New Zealand bird species. Shakespear Park is now home to a massive and growing bird population that includes endangered dotterels, Tui, whiteheads, robins, pukeko, shags, bellbirds, and even Little Spotted Kiwi Birds.
Little Spotted Kiwi Birds
With the release of 20 Little Spotted Kiwi Birds in 2017, Shakespear Park became the only mainland home to this breed. This became a possibility in 2011, with the completion of the predator-proof fence. After five years, they knew the fence was effective.
Endangered New Zealand dotterels
New Zealand dotterels breed in spring. Their Māori name is "tuturiwhatu".They are plovers that grow to only 25 cm (less than 10 inches) in height. You can sometimes spot them on sandy beaches, sand spits, and tidal estuaries on the North Island.
The estimated 1,700 remaining dotterels are protected. If you see them, give them their space, taking photos with a zoom lens from a good distance away.
Check out the Department of Conservation's official website for more information on these birds.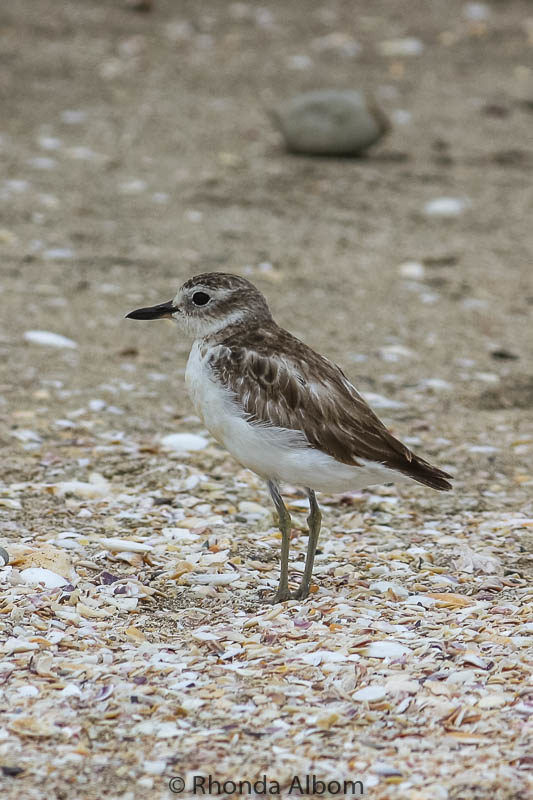 Pukeko
Pukeko, common purple swamphens, wander throughout Shakespear Park, most often in marshy wetlands, low-lying open spaces, and reeds. I have heard visitors describe a Pukeko as a purple chicken, but it's actually part of the Rail family of bird.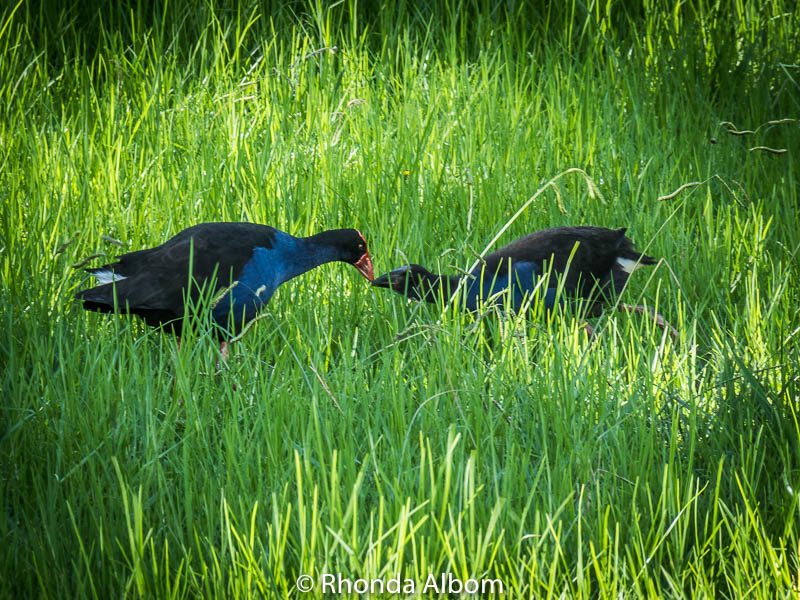 White Faced Heron
Native to New Zealand, White Faced Heron live along coasts, wetlands, and coastal pastures.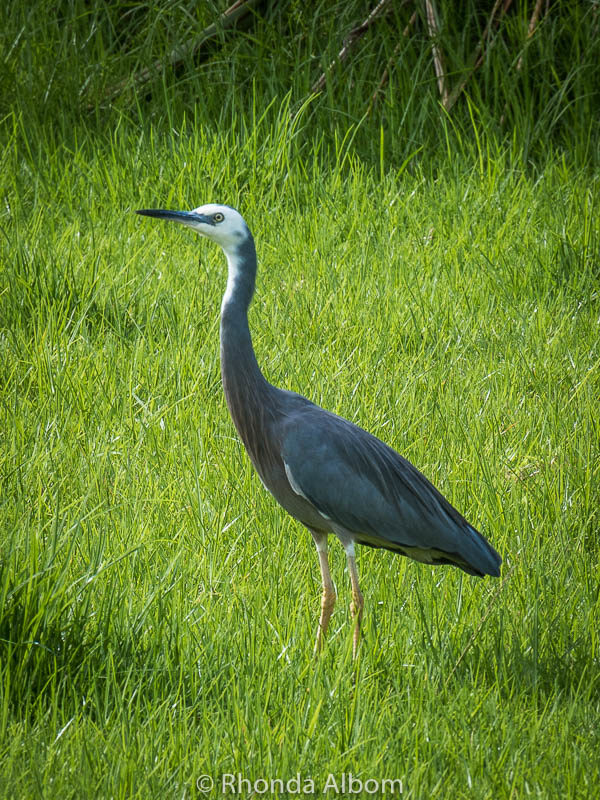 Farm Animals in Shakespear Park
Electric Fence Warning
Important: Many of the paddocks at Shakespear Park have an electric fence. Always identified; however, it is at a height where curious children can grab on. Click here to learn a simple and safe way to test the fence with a piece of grass to see if the power is on or not.
Animals in the Paddocks
Shakespear is one of a handful of Auckland regional parks that have a sheep breeding and farming program, thus allowing everyone an opportunity to experience cows, sheep, and adorable baby lambs.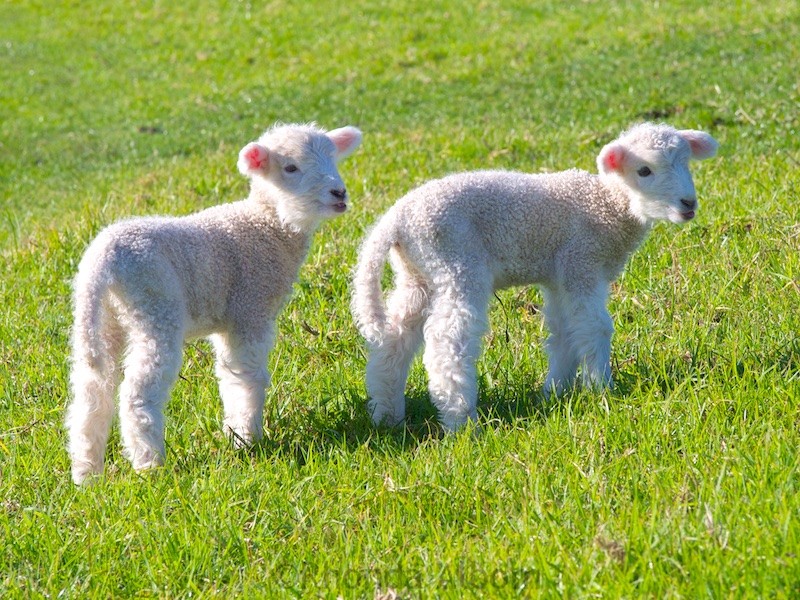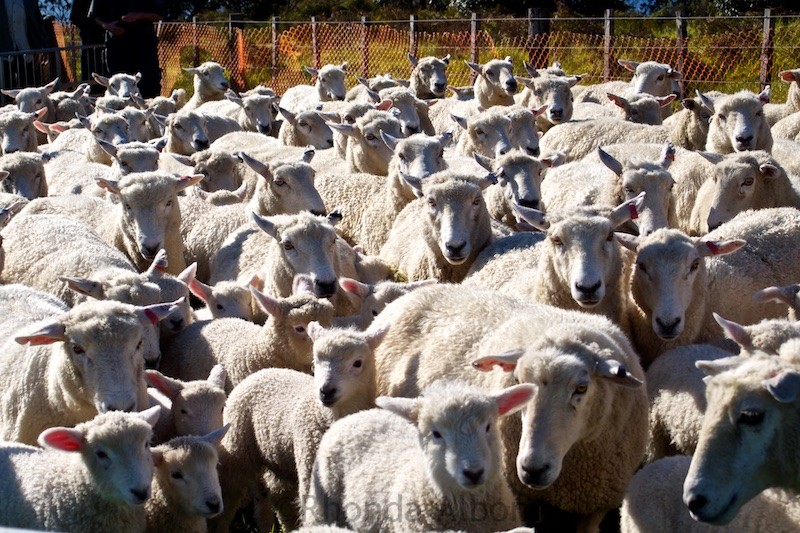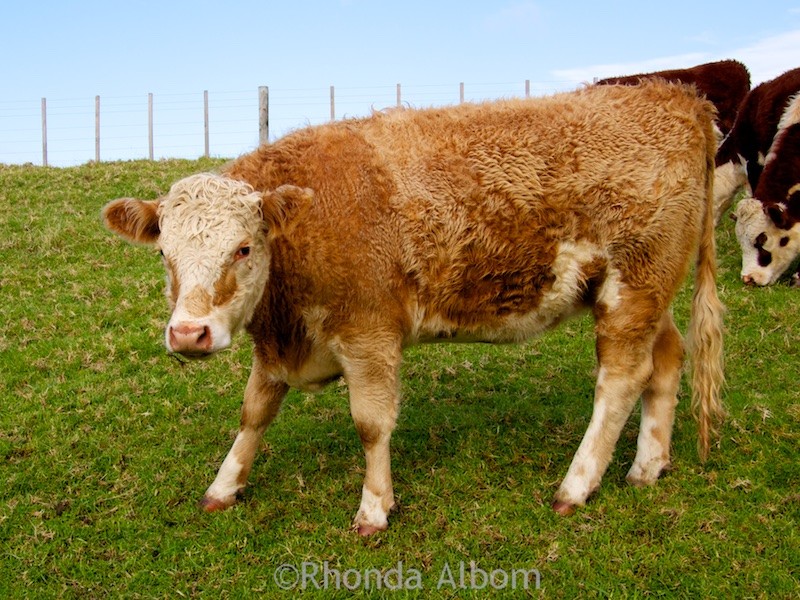 Volunteers at Shakespear Park
An army of volunteers support the park rangers that both live and work at Shakespear Park. They look after the animals, maintain trails, plant trees, eliminate pests, clean up after major storms and cyclones, and do anything else that is required to keep the park going. I am proud to be married to one of the weekly volunteers.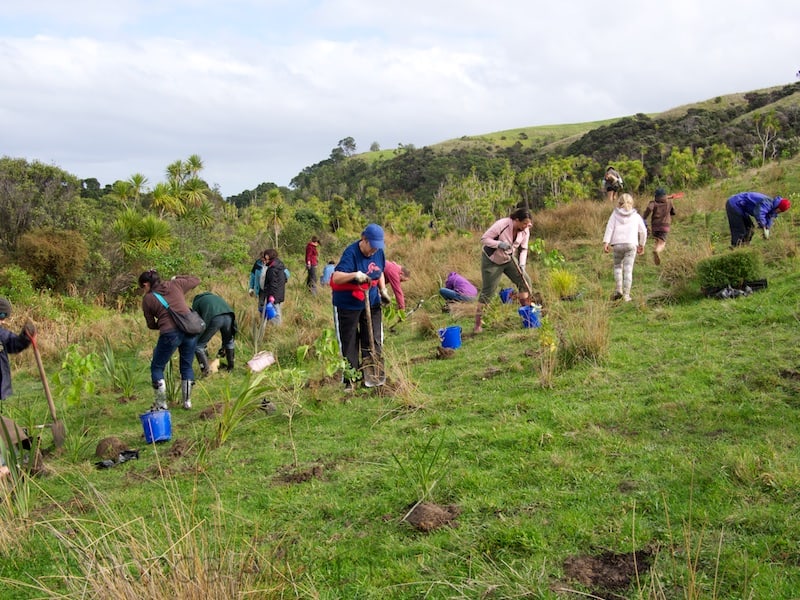 Shakespear Beaches
There are three main beaches in Shakespear Park, plus several smaller beaches, many of which are only available at low tide.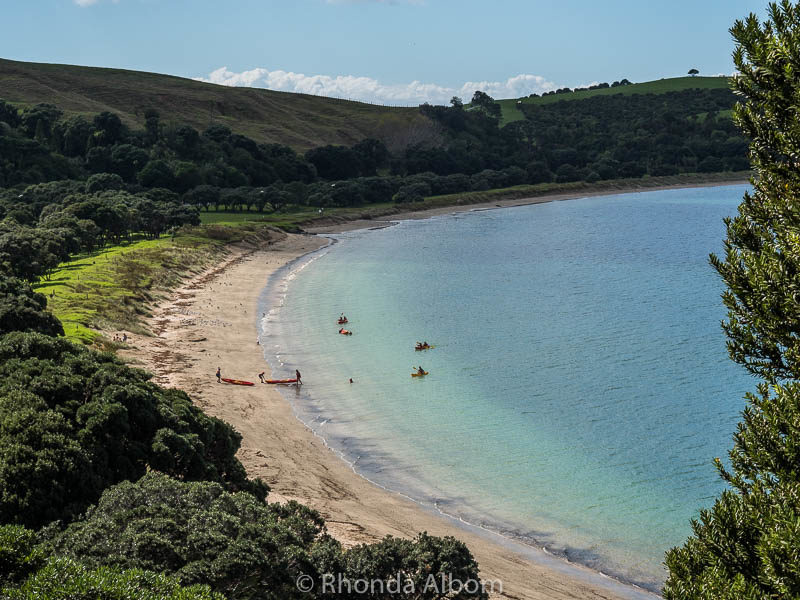 The three main beaches are:
Te Haruhi: a swimming and kayaking beach with gentle surf. It is often referred to as "Shakespear Beach."
Army Bay: used for swimming, boat launch, and occasionally military exercises (this will be well signposted). It is a great place to watch the sunset.
Okoromai Bay: a very tidal beach, most often used for kite surfing at high tide or collecting cockles at low tide. In fact, Okoromai Bay is one of the few remaining places in Auckland where people can collect cockles to eat. Tight restrictions with huge fines for violation protect the waters from overfishing. Also, there is a sunken ship in Okoromai Bay that is visible during low tide.
One of the lesser-known low tide beaches is Pink Beach. Located on the north side of the park, it takes a bit of hiking to get here, so plan ahead based on tide charts.
Practical Information on visiting Shakespear Park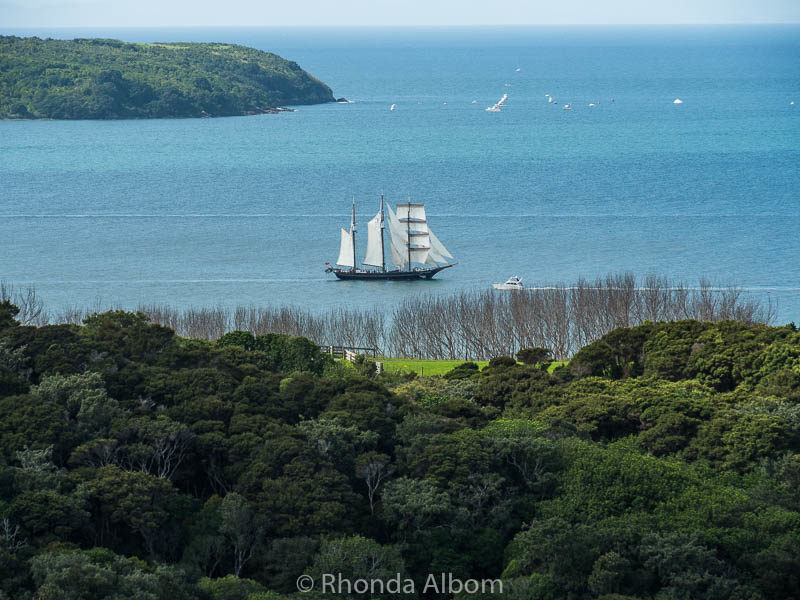 We are lucky to have Shakespear Park in our backyard. Shakespear is New Zealand's most visited and accessible open sanctuary park.
The park is open all year during daylight hours.
If you have a car, you can easily drive to Shakespear Park from Auckland city.
The New Zealand Shakespear (spelt correctly) family purchased the parkland in the late 1800s from the local Maori. They later donated it for use as an Auckland regional park.
Shakespear is one of several large urban parks in the Auckland region.
Except where noted, all photos on this page are shot by Rhonda Albom on an Olympus OM-D Em5 Mark II. I share my best travel photo tips in a free ebook available when you subscribe to our newsletter.

Please Share
If you enjoyed this article on Shakespear Park, please share it on social media including Pinterest.
Have you been to Shakespear Park or any of the Auckland regional parks?