Shakespear Regional Park encompasses the lush rolling hills at the end of Whangaparaoa Peninsula. It's an open bird sanctuary, with three main beaches, hours of hiking trails, a waterfall, a popular campground, and a lookout tower with 360-degree views. Open to the public, Shakespear Park is a gathering spot for families and whanau alike.
Hiking in Shakespear Park
Hours of hiking trails lead to rolling hills, lush forest, through farming paddocks, and even to a waterfall.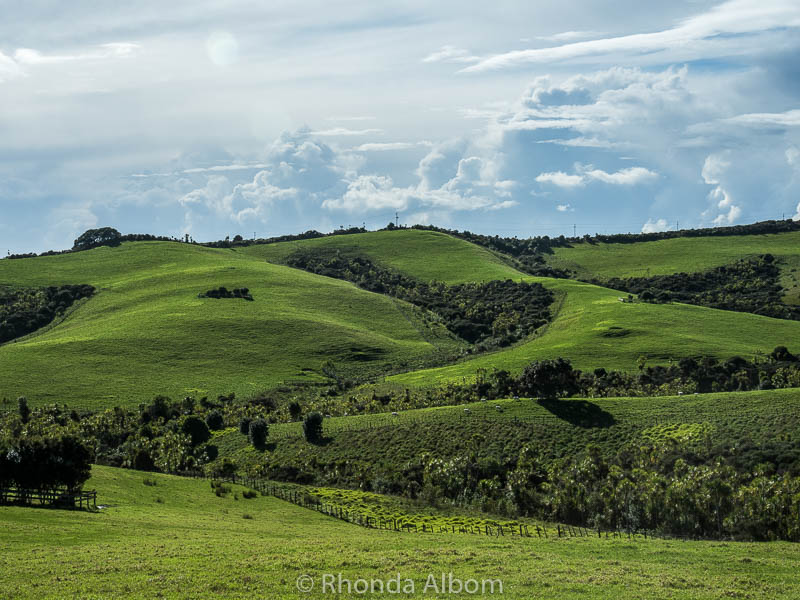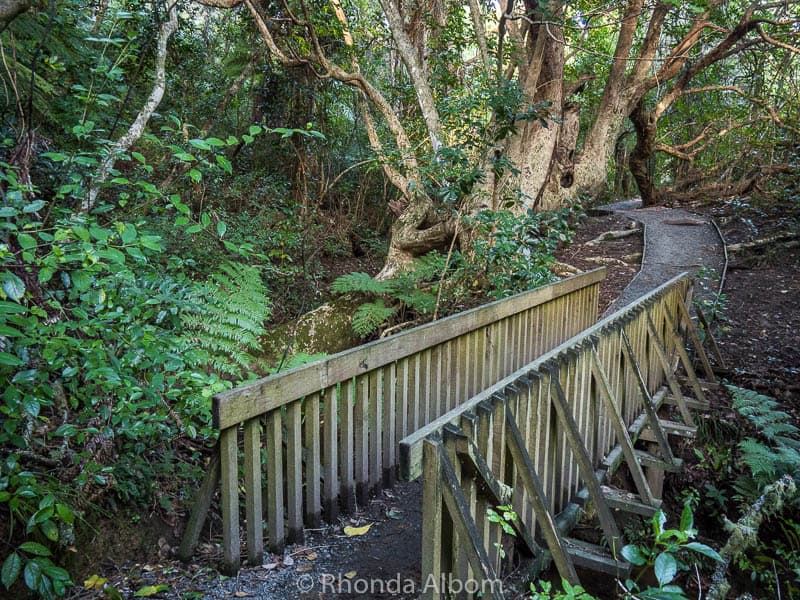 New Zealand Birds at Shakespear Park
The completion of the predator-proof fence created an open bird sanctuary at Shakespear Park, similar to that of nearby Tiritiri Matangi Island. The fence allowed the release of many endangered New Zealand bird species.  Shakespear Park is now home to a massive and growing bird population that includes endangered dotterels, Tui, whiteheads, robins, pukeko, shags, bellbirds, and even Little Spotted Kiwi Birds.
Little Spotted Kiwi Birds
With the release of 20 Little Spotted Kiwi Birds in 2017, Shakespear Park became the only mainland home to this breed. This became a possibility in 2011, with the completion of a predator-proof fence that protects over 500 hectares of parkland, while still allowing people to visit.
Endangered New Zealand dotterels
New Zealand dotterels breed in spring. You can sometimes spot them on sandy beaches, sand spits, and tidal estuaries on the North Island. If you do, give them their space. I use an Olympus OM-D Em5 Mark II with a zoom lens so I and keep a good distance away.
They are plovers that grow to only 25 cm (less than 10 inches) in height.
Only about 1,700 dotterels remain (estimated).
The Māori name is "tuturiwhatu".
Check out the Department of Conservation's official website for more information on these birds.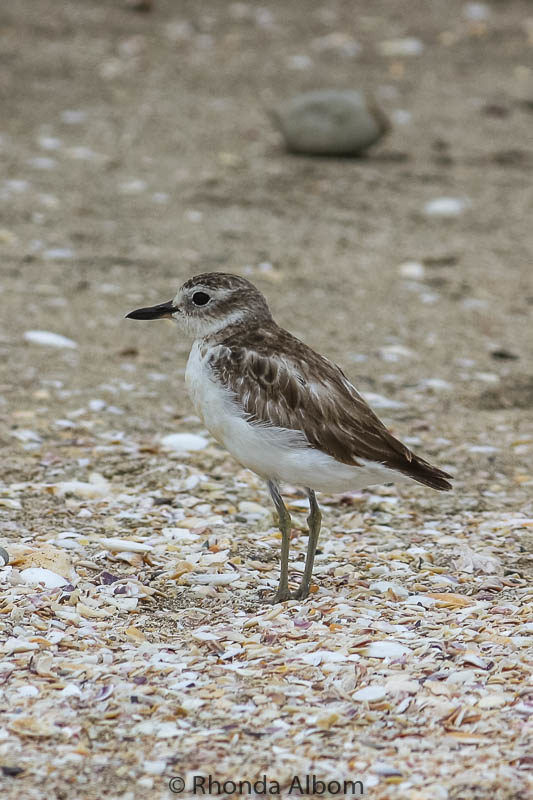 Pukeko
A common purple swamphen, Pukeko are found throughout Shakespear Park. I have heard visitors describe a Pukeko as a purple chicken, but it's actually part of the Rail family of bird. It is typically found in the marshy wetlands and low-lying open spaces, and reeds.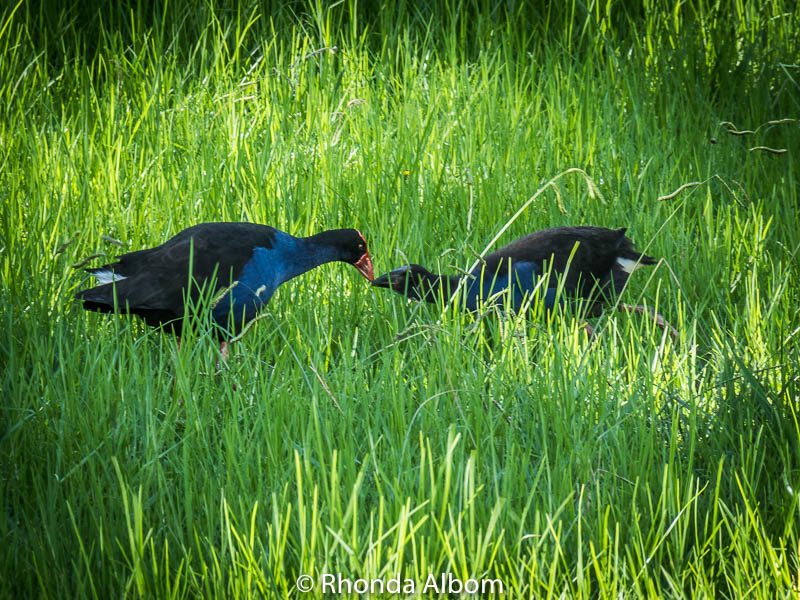 White Faced Heron
Native to New Zealand, White Faced Heron are found along coasts, wetlands, and coastal pastures.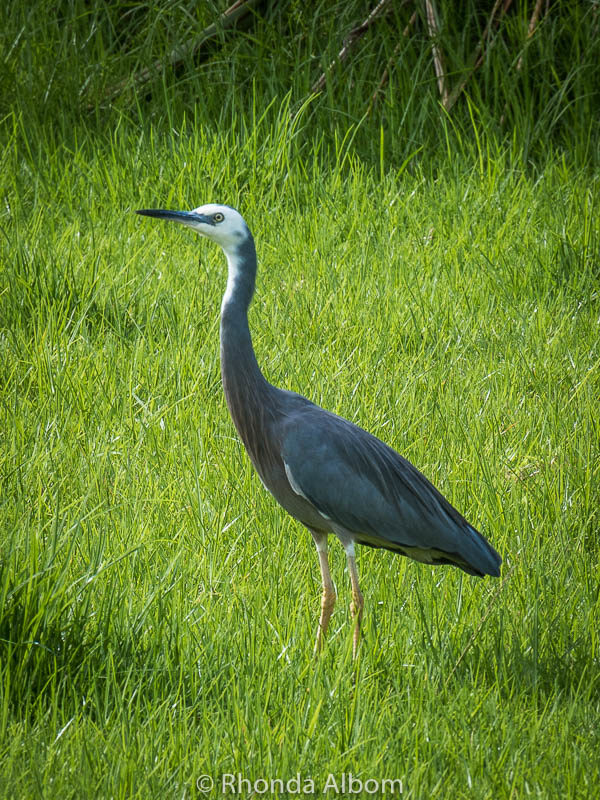 Farm Animals in Shakespear Park
Electric Fence Warning
Important: Many of the paddocks at Shakespear Park have an electric fence. It is always identified but is at a height where curious children can grab on. Click here to learn a simple and safe way to test the fence with a piece of grass to see if the power is on or not.
Animals in the Paddocks
Shakespear is one of a handful of Auckland regional parks that have a sheep breeding and farming program, thus allowing everyone an opportunity to experience cows, sheep, and adorable baby lambs.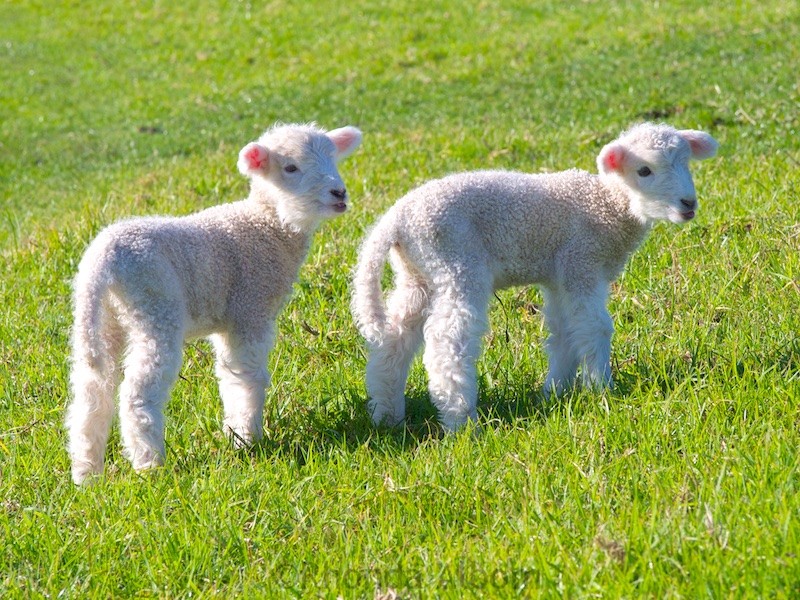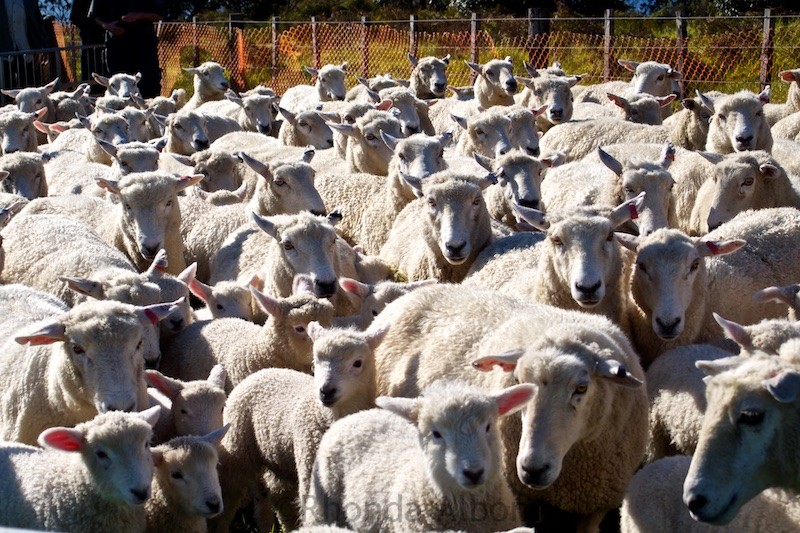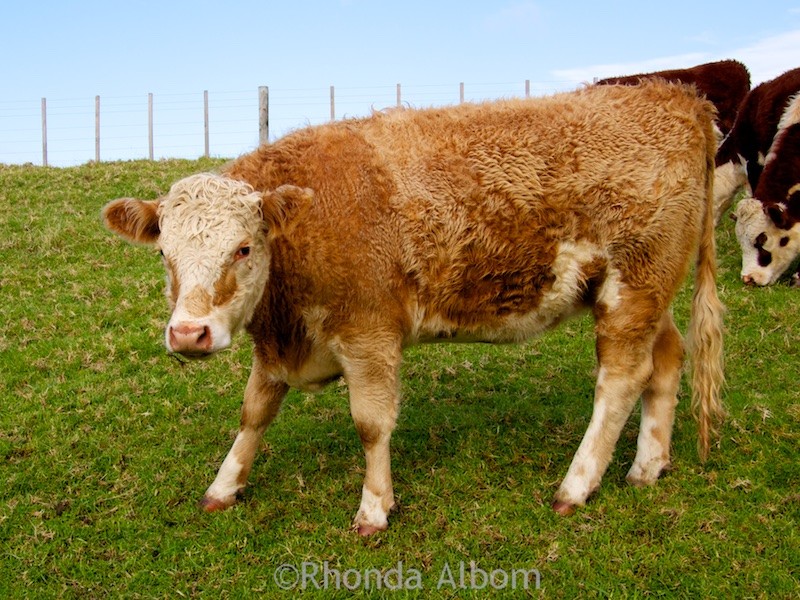 Volunteers at Shakespear Park
While there are park rangers that both live and work at Shakespear Park, the huge army of volunteers look after the animals, maintain trails, plant trees, eliminate pests, clean up after major storms and cyclones, and anything else that is required to keep the park going.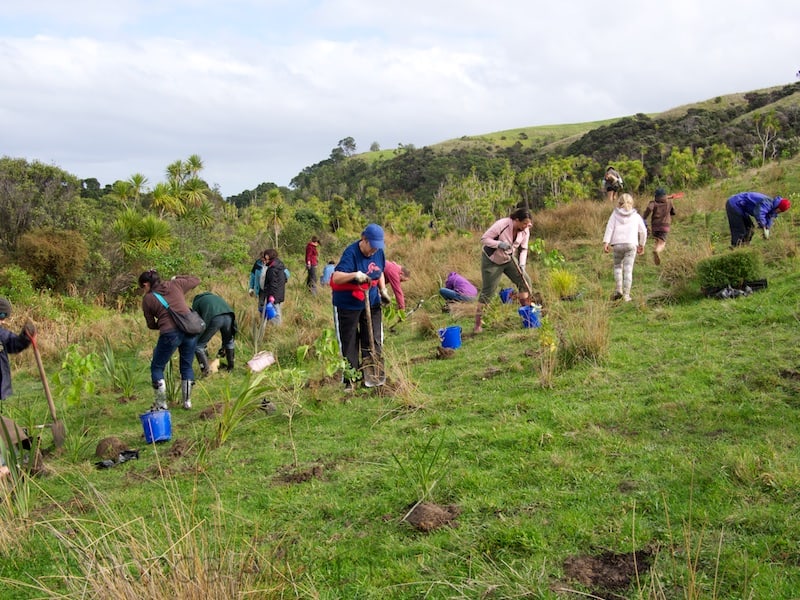 Shakespear Beaches
There are three main beaches in Shakespear Park, plus several smaller beaches, many of which are only available at low tide.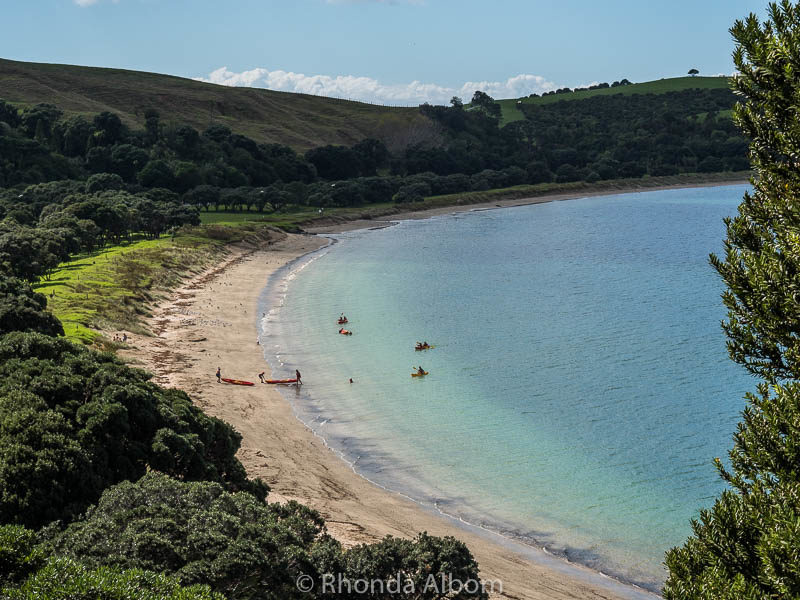 The three main beaches are:
Te Haruhi (a swimming and kayaking beach with gentle surf)
Army Bay (used for swimming, boat launch, and military exercises)
Okoromai Bay (very tidal, most often used for kite surfing at high tide or collecting cockles at low tide). In fact, Okoromai Bay is one of the few remaining places in Auckland where people can collect cockles to eat. Tight restrictions with huge fines for violation protect the waters from overfishing. Also, there is a sunken ship in Okoromai Bay that is visible during low tide.
One of my favourite low tide beaches is Pink Beach. Located on the north side of the park, it takes a bit of hiking to get here, so plan ahead based on tide charts.
Practical Information on Shakespear Park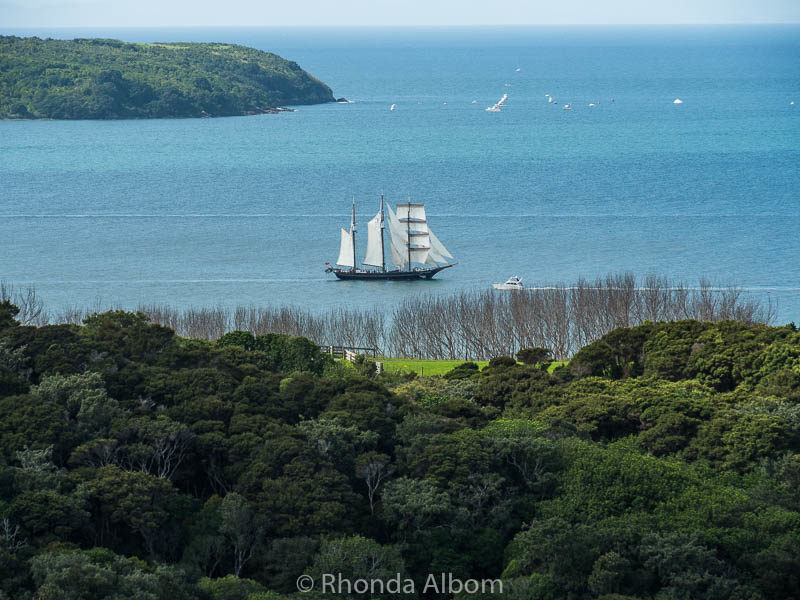 We are really lucky to have Shakespear Park in our backyard. Shakespear is New Zealand's most visited and accessible open sanctuary park. The New Zealand Shakespear (spelt correctly) family purchased the parkland in the late 1800s from the local Maori. They later donated it for use as an Auckland regional park.
The park is open all year during daylight hours.
If you have a car, you can easily drive to Shakespear Park from Auckland city.
Shakespear is one of several large urban parks in the Auckland region.
Whether you stay out on Whangaparaoa or in Auckland, be sure to check for the best accommodation prices at Booking.com.
Have you been to Shakespear Park or any of the Auckland regional parks?