As the tide retreated, we could see a few people collecting cockles at the water's edge. Okoromai Bay in Shakespear Regional Park is one of the few spots remaining in the Auckland region where one can gather these cockle clams.
While picking cockles is ordinarily a summertime activity, fresh New Zealand cockles are delicious all year long. There is no official cockle picking season. It was only 12°C on the day we went so we bundled up, wore protective rubber boots, and collected cockles.
Common questions about collecting cockles
What are New Zealand cockles?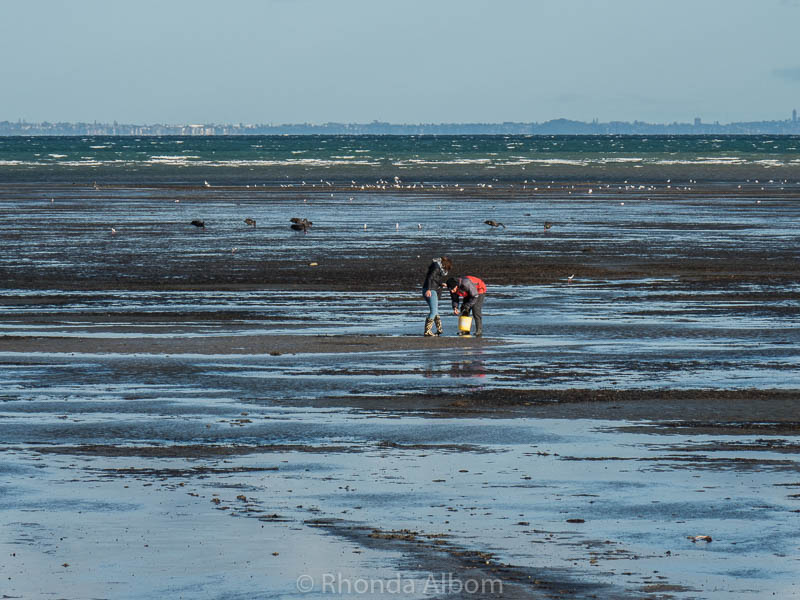 A small, edible, saltwater clam.
(a burrowing marine bivalve mollusc with a strong ribbed shell.)
How do I find cockles?
The best spot to find cockles is at the water's edge at low tide, just below the surface.
How do I gather cockles?
Stick your hands in the soft sand slowly, as there may also be jagged, sharp oyster shells. See below for rules and limits on collection.
Where is Okoromai Bay?
Okoromai Bay is one of three major bays at Shakespear Regional Park. Located at the end of the Whangaparaoa Peninsula, it is about 50 km from Auckland city centre in New Zealand. It is one of only a handful of areas in Auckland that still allow the collection of cockles.
Collecting cockles on Okoromai Bay: A photo and video story
Rules and Guidelines for Picking Cockles on Okoromai Bay
As with most fishing in New Zealand, there are strict limits as to the numbers collected. At Okoromai Bay, the limit is 50 cockles per gatherer per day. For our group of three, that translated to a maximum of 100 cockles, as I was not gathering but only taking photos.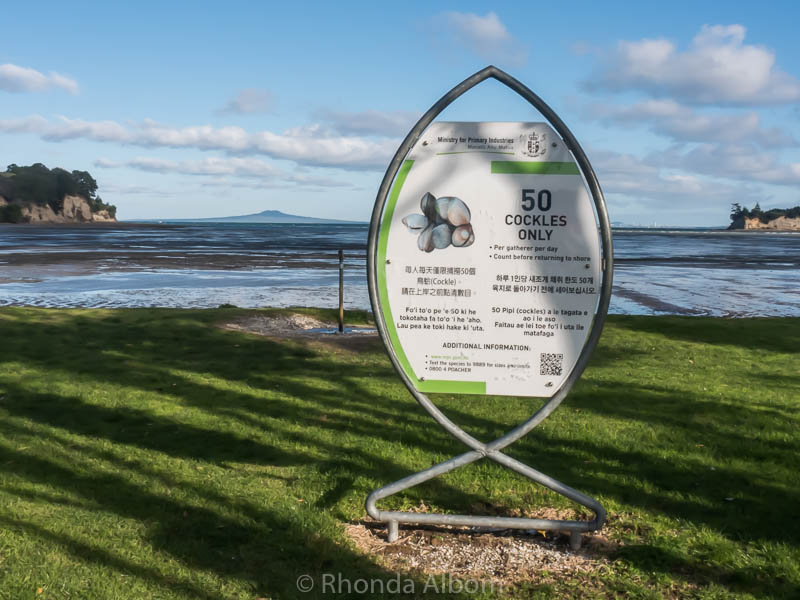 The limits are strictly enforced and the penalties for violation are huge. According to an article in the New Zealand Herald "Anyone who is caught with three times their daily limit, we seize all fishing equipment including vehicles, boats, dive gear, etcetera." The Ministry of Primary Industries is out patrolling often enough that most violators get caught.
Count before you return to the beach. Once you are out of the water it is too late to put them back.
The advice from the fisheries officer I talked with was to use your phone and take photos of the group while gathering; this way, there is no question as to the number of gatherers.
The limits protect the shellfish stocks.
If you are in New Zealand and spot poaching, suspicious, or illegal activity, you can report it at 0800 4 POACHER.
Collecting cockles in Okoromai Bay, or just coming to see the sunken ship, are among the many free things to do in the Auckland region.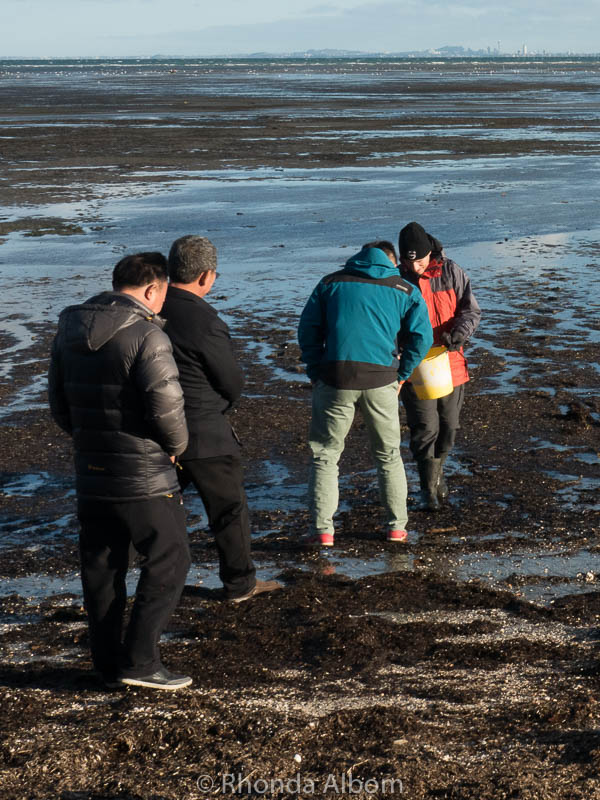 Cooking Cockles
This site contains affiliate links to products and/or services. We may receive a commission for purchases made through these links at no additional cost to you.
Wondering how to cook cockles? Boiled cockles are the best, although they are also great cooked on the BBQ.
Remember to rinse them well before you cook them.
They open when they are ready to eat. Never eat cockles that don't open on their own.
Or, if you prefer more creative options, check out one of the recipes in this top-rated seafood cookbook by Naomi Tomki.
Planning tips for Auckland
We often have affiliate partnerships with companies that we trust and recommend. We receive a small compensation if you make a purchase using these links. In some cases, the links can save you up to 70%.
First-time visitors start here: New Zealand travel guide or with our favourite New Zealand road trips.

Rental Vehicles: For cars, we always use RentalCars.com, a rental car search engine with no hidden costs. For campervans, note that Spaceships Rentals NZ offers free one-way drop-off between Auckland and Christchurch.
**Albom Adventures readers can use your Visa card for 10% off Spaceships campervans this winter.**

Accommodations: We typically stay in 4-star accommodations. We live in Auckland and recommend either Hotel DeBrett or Cordis (if you're on a tight budget, check out the backpacker options on Booking.com)

Activity Discounts: We use Bookme.co.nz to find discounts on entry tickets and tours in New Zealand.

Travel Insurance: We always start with World Nomads.

What to bring: Get a free copy of our New Zealand packing list when you sign up for our mailing list.

**Find more money-saving resources on our Travel Resources page.
Save for when you will be collecting cockles at Okoromai Bay
If you enjoyed this article, please share it on social media and save it for later on Pinterest.
Does collecting cockles look like fun to you? Would you try it in the winter?