As the tide retreated, we could see a few people collecting cockles at the water's edge. I pointed them out to our Italian AFS exchange student, commenting that it is generally a summertime activity. However, fresh New Zealand cockles are delicious all year long.  It was only 12c yesterday, not a day I wanted to step into the water even with protective rubber boots. She, however, seemed excited by the idea, so we headed down to Okoromai Bay. I opted to photograph from shore as they collected cockles.
What are New Zealand Cockles? 
A small, edible, saltwater clam, a burrowing marine bivalve mollusc with a strong ribbed shell.
Practical Information on Collecting Cockles and Okormai Bay:
Okoromai Bay is one of three major bays at Shakespear Park. Located at the end of Whangaparaoa Peninsula, it is about 50 km from Auckland city centre in New Zealand. It is one of only a handful of Auckland urban parks that still allow the collection of cockles.
The best spot to find cockles is at the water's edge at low tide, just below the surface. Stick your hands in the soft sand slowly, as there may also be jagged, sharp oyster shells.
Wondering how to cook cockles? Boiled cockles are the best, although they are also great cooked on the BBQ. Remember to rinse them well before you cook them. They open when they are ready to eat. Never eat cockles that don't open on their own. We find many recipes include cockles and mussels together.
As with most fishing in New Zealand, there are strict limits as to the numbers collected. At Okoromai Bay the limit is 50 cockles per gatherer per day. For our group of three that translated to a maximum of 100, as I was not gathering.
The limits are strictly enforced, the penalties for violation are huge. According to an article in the New Zealand Herald "Anyone who is caught with three times their daily limit, we seize all fishing equipment including vehicles, boats, dive gear, etcetera." The Ministry of Primary Industries is out patrolling often enough that most violators get caught.
The limits protect the shellfish stocks.
Want more? Check out: Clams: How to Find, Catch and Cook Them.
From our home, we look out over Okoromai Bay. We often see brightly light up cliffs at golden hours, or several hours later a stunning moon rise. Also, there is a sunken ship at the end of the bay.
Heading to New Zealand? Don't forget to pick up a copy of Lonely Planet's New Zealand Travel Guide.

Does collecting cockles look like fun to you? Would you try it in the winter?
If you enjoyed this post, please pin it: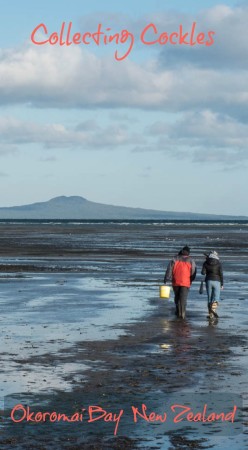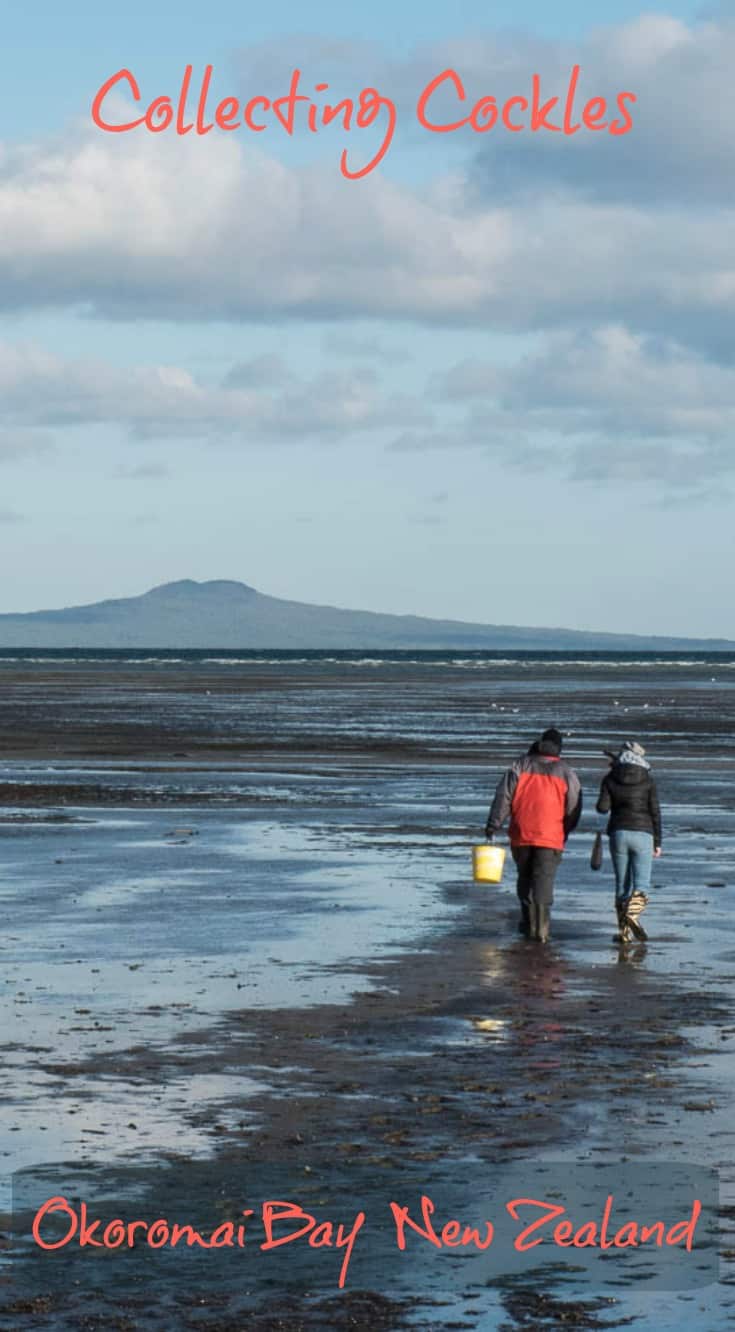 Seven ridiculously simple tips that WILL improve your photos
Whether you shoot with a phone or a DSLR, let me share my secrets.
Subscribe to Albom Adventure's Travel Tips newsletter and download our free ebook: Take Better Travel Photos By Rhonda Albom