Pink Beach is a remote destination on the east side of Shakespear Park, my favourite Auckland, New Zealand regional park. The park offers hours of hiking trails and has three popular beaches with nearby carparks.
In contrast to the other park beaches, Pink Beach requires a hike along the Tiritiri Track, is accessible only at low tide via a steep flight of stairs, and is one of the lesser-known destinations in the Park.
In fact, our New Year's day family hike was the first time we saw other people on this beach. It's also the first time we saw seagull chicks. (photos below)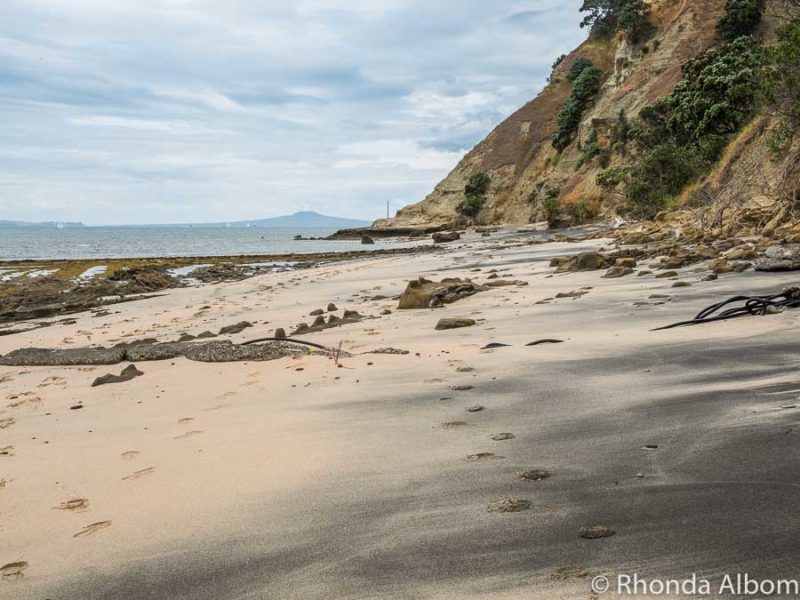 Discover more about Shakespear Park …
Why is it called Pink Beach?
You might be wondering why it got its name when it doesn't look very pink. The New Zealand Shakespear family named most of the paddocks, fields, and beaches in the park. While many of the names don't make sense to us today, some, like Pink Beach, offer more scientific explanations.
Geologist Bruce Hayward suggests that broken shells and barnacles, erosion, and anything else making up the sand's composition affect the sand's colour. Bruce's latest book, Out of the Ocean, Into the Fire, explains that"if the shells are dominantly broken barnacle plates, the beach appears pink."
He offers a plausible explanation for my non-pink photos. "Maybe when you visited there was more terrigenous yellow/buff sand washed up on the beach than at other times when the shell dominates on the surface."
Baby seagulls spotted at Pink Beach
A protected environment, extensive birdlife thrives in Shakespear Park, including many endangered and threatened species.
It has been over five years since the completion of the predator-proof fence and the declaration of the park as an open bird sanctuary. The programme has been so successful that Shakespear Park is now New Zealand's only mainland home to little spotted kiwi birds. Each visit to Pink Beach brings us new photo opportunities.
This time we heard the seagulls squawking (the sound seagulls make) and noticed a second seagull flying in circles overhead before we saw the baby seagulls. We froze in our tracks as not to disturb the fledgeling seagulls.
If you want to know more about New Zealand birds, we use and recommend: New Zealand Birds: A Folding Pocket Guide to Familiar Species
Other birds on Pink Beach
New Zealand is currently home to over 170 different types of birds so it's not surprising that we see interesting birds when we go hiking. We spotted this Oyster Catcher, a common beach bird seen in the park. The orange bill and red eyes give it away, so we didn't need to use our field guide.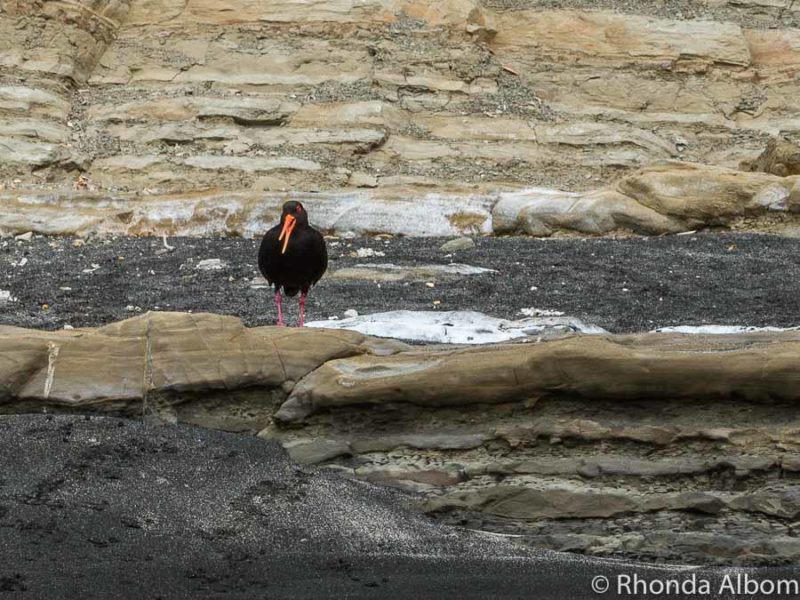 We have also spotted a Pied Shag at Pink Beach. It is one of 36 shag species worldwide. One-third of species are in New Zealand, including eight that are endemic to the country. However, the pied shag is originally from Australia. Its black feet, amongst other key characteristics, help to identify him. Other names for this bird are cormorant or pied cormorant.
I took this shot on Pink Beach, which is on the east coast of the North Island. I have also seen shags on the west coast at Muriwai Beach. For more on the shag, check out NZ Birds.com
If you love adorable birds, don't miss the images we shot on the South Island of the critically endangered yellow-eyed penguins or the giant albatross and little blue penguins.
Coastal hike from Pink Beach to Te Haruhi Bay
From Pink Beach, we had two options, to climb back up the steps and return to the Tiritiri track or to walk along the coastal rocks back to Te Haruhi Bay and the campground. Again, this is a low-tide option only. The low tide only coastal hike features incredible rock formations along the way.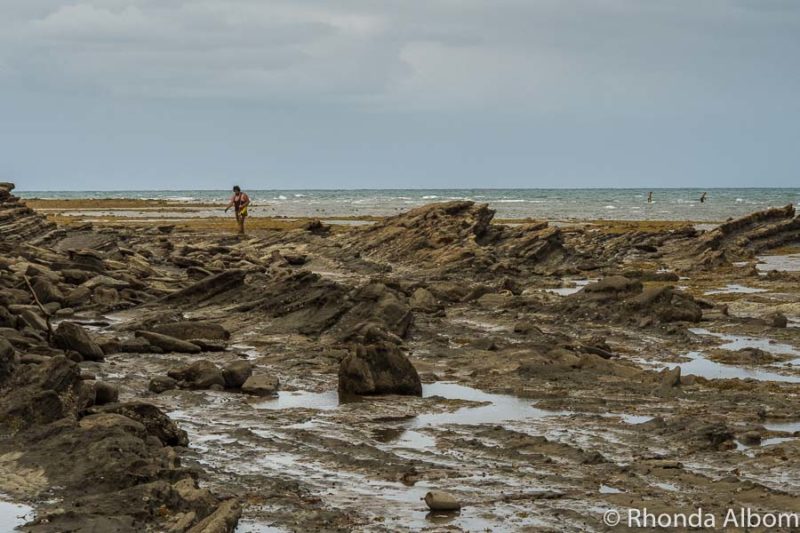 Practical information on visiting Pink Beach
Shakespear Park is at the end of the Whangaparaoa Peninsula, about a one-hour drive from Auckland city centre. It is free to enter, with limited vehicle access after dusk.
Do not bring dogs or other animals if you are entering the open sanctuary that covers the vast majority of the park. Pink Beach and all access to it is within this area.
The entrance to Pink Beach is off of the Tiritiri Track, about a kilometre hike from the trail entrance at the back of Shakespear Regional Park camping ground.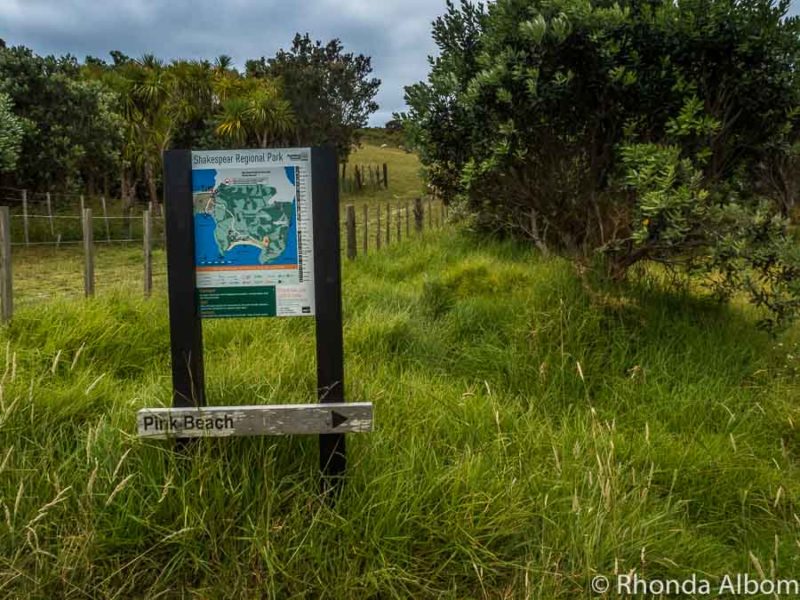 Vehicle access to the car park at the trailhead is only available for those who have booked a campsite.
The closest car parking for non-campers would be at the campground end of Bruce Harvey Drive, facing Te Haruhi Beach, thus adding about 5-10 minutes to your hike.
It takes about an hour to hike the foreshore from Pink beach back to the campground. It is safest if started on the outgoing tide. There is one point that is difficult to pass, except on the low tide. On our last hike, we had camera gear and didn't want to walk through ankle-deep water. A 30-minute wait until the lowest tide of the day avoided this problem.
Bring binoculars to better enjoy the birdlife.
If you want a more intensive New Zealand birdlife experience, visit Tiritiri Matangi Island (visible from Pink Beach).
There is a ferry that goes out to Tiritiri Matangi Island daily, and optional tours are available. I always take a tour as the volunteer guides are experts at spotting and identifying the birds
Check price and availability of the ferry and tour to Tiritiri Matangi Island
Looking for help planning a New Zealand adventure? We invite you to join Explore New Zealand Facebook Group to ask questions or share photos, stories, or anything about New Zealand.
Save for later
If you enjoyed this virtual tour and information on Pink Beach, please share it on social media and save it for later on Pinterest.
Read Next: 75 Free and Nearly Free Things to Do in Auckland New Zealand
Pink Beach or baby seagulls, which inspires you to take this hike?