Pink Beach is a destination I had somehow missed until last week. We have set out many times along the Tiritiri track in the general direction, but it's only accessible at low tide. This time we checked the Auckland tide tables and planned our coastal hike around them.
Starting from the Shakespear Park campground we climbed, then passed through a paddock filled with adorable, bouncing baby lambs. Next came the cows and a quick exit over the electric fence, then finally . . .
From here we had two options, to climb back up the steps and return to the Tiritiri track or to walk along the coast back to Te Haruhi Bay and the campground. Again, this is a low tide option only.  We took the fabulous coastal walk, with some incredible rock formations.
Like everywhere in Shakespear Park, there is wonderful birdlife here, including pied shags and more.
I think it's worth the hike to finally see Pink Beach, even if I don't know how it got its name.
Are you wondering why it's called Pink Beach . . . so am I.

If you enjoyed this article, please pin it: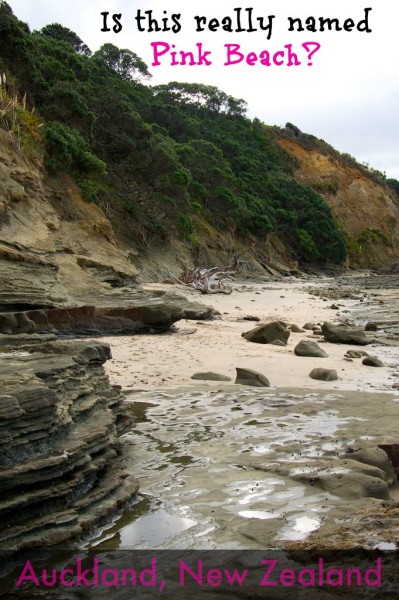 Seven ridiculously simple tips that WILL improve your photos
Whether you shoot with a phone or a DSLR, let me share my secrets.
Subscribe to Albom Adventure's Travel Tips newsletter and download our free ebook: Take Better Travel Photos By Rhonda Albom