Tiritiri Matangi Island is one of the truly special places to visit in Auckland. A hugely successful conservation project, the Tiritiri Matangi birds are flourishing.
Bird lovers around the world know Tiritiri Matangi Island, an open bird sanctuary that's just a 80-minute ferry ride from Auckland New Zealand. Here, you can discover some very rare birds, including critically endangered takahe and many other threatened and endemic species.
There are few other spots in New Zealand that offer such a wide range of rare sightings. It's a protected island paradise thought to be one of the world's most successful conservation projects.
Historically, farming dominated the island, stripping it of the vast majority of native bush. A huge 10-year conservation effort from 1984 to 1994 saw volunteers plant between 250,000 and 300,000 trees. It included the eradication of all mammals, as they are non-native and hold a threat to birdlife. As a result, native birds returned, while an additional 12 species were transmigrated to the island.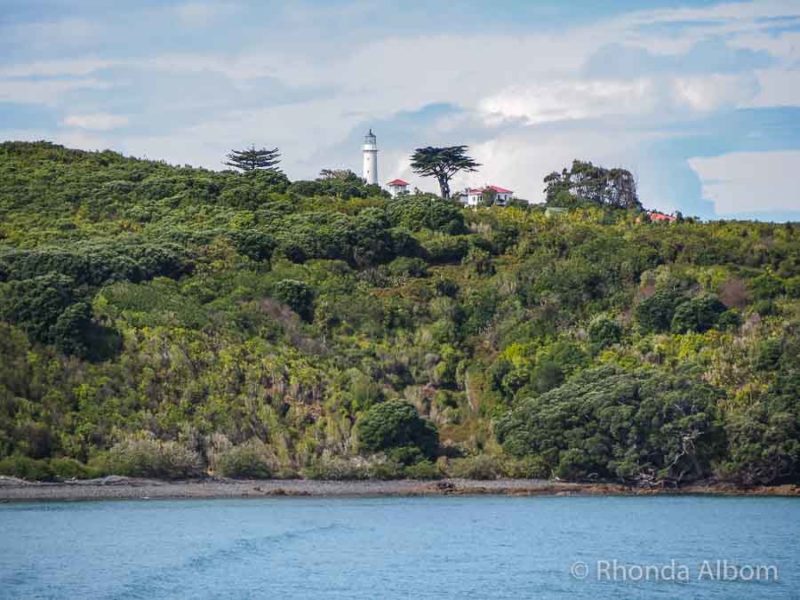 About Tiritiri Matangi Island
The island is an open bird sanctuary and scientific reserve. It is predator-free and maintained by the Department of Conservation along with a fantastic team of community volunteers. Today, the 220-hectare island is about 60% forested and 40% grassland.
An easy day trip from Auckland, Tiritiri is a magical paradise that is not just for bird lovers. I have visited many times, always returning home full of new stories and exciting photographs. What could be better than an afternoon that begins and ends on a boat, and is filled with hiking trails, birdlife, nature, and impressive 360° views of the surrounding Haruaki Gulf islands?
Tiritiri Matangi Birds
Be prepared to see many endemic and native birds including shorebirds on Tiritiri Matangi Island. Some have arrived on their own, like the bellbird, gray warbler, fantail, kaka, kingfisher, pukeko, and tui. In addition, 12 endemic species, including the flightless takahe and kiwi birds, have been translocated to the island. (If you want to see kiwi birds foraging around in the scrub, check out the video on this article on Stewart Island.)
The birds are all wild and free. Many have bands for scientific study. Water troughs are stationed near many of the trails, making it easy for visitors to both observe and photograph the wild birds.
Red Crowned Parakeet
Maori name: kākāriki
Conservation status: At-risk – relict
New Zealand Mainland Status: Rare on both North and South Island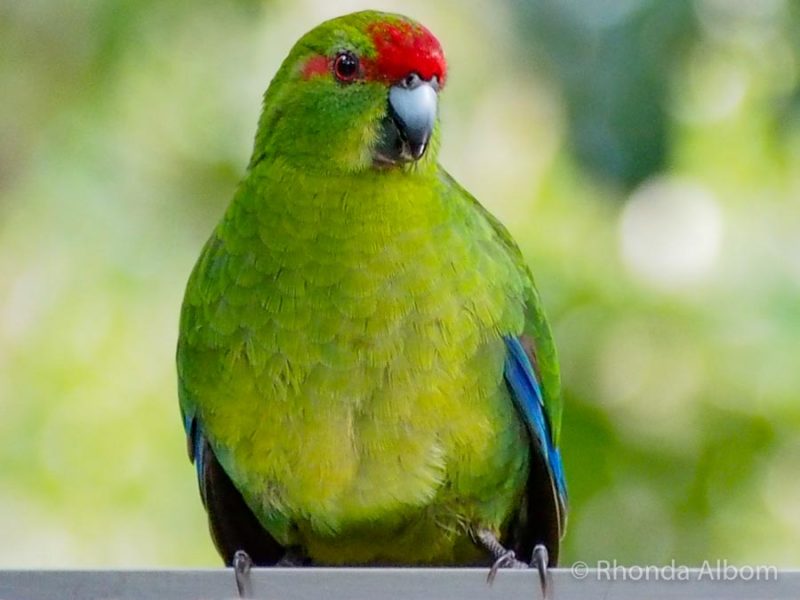 Tui
Maori name: tūī
Conservation status: Endemic. Not threatened
New Zealand Mainland Status: Common throughout NZ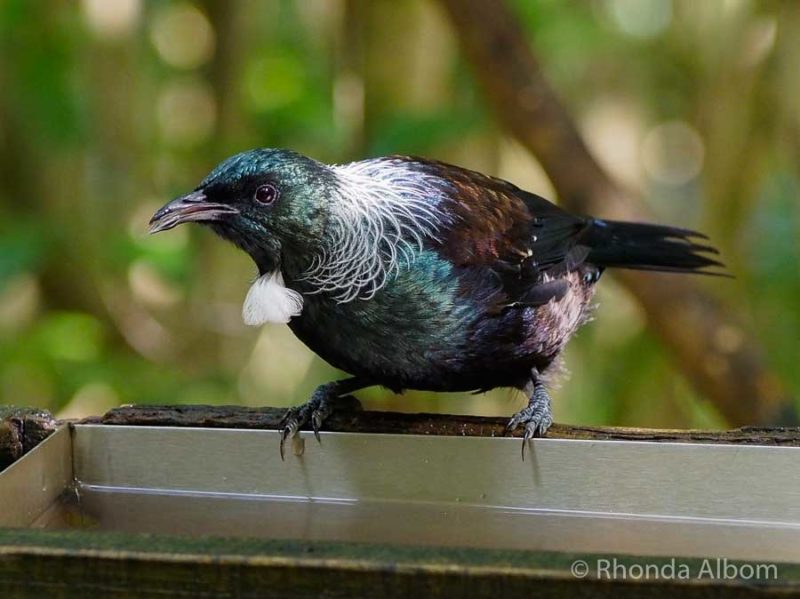 Takahe
Maori name: takahē
Conservation status: Endemic. Nationally critically endangered
Only about 200 remain throughout New Zealand.
Although Takahē were declared extinct in 1898, they were rediscovered in the Murchison Mountains (Fiordland) on the South Island in 1948.
We also saw Takahe at Zealandia in Wellington (North Island), and at Orokonui Ecosanctuary in Dunedin (South Island), and our daughter found Takahe tracks at Tawharanui Regional Park while camping with friends.
Stitchbird
Maori name: hihi
Conservation status: Endemic. Threatened, nationally vulnerable
New Zealand Mainland Status: Extinct, but re-introduced to a few protected mainland sites including Tiritiri Matangi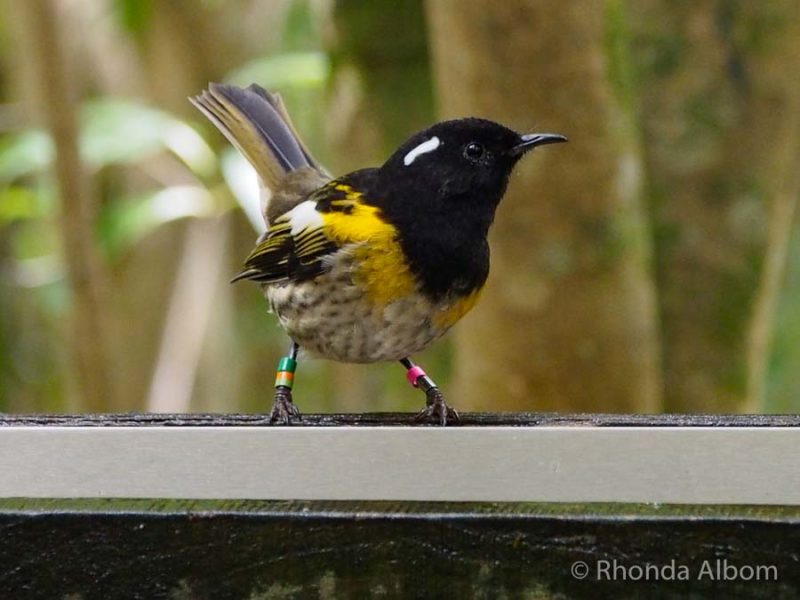 Bellbird
Maori name: korimako
Conservation status: Endemic. Not threatened
New Zealand Mainland Status: Common throughout NZ south of Waikato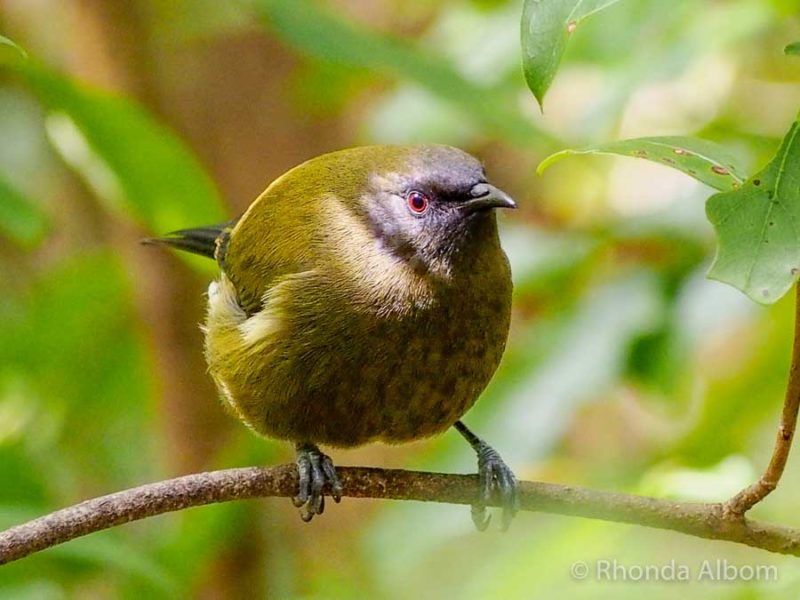 New Zealand pigeon
This New Zealand pigeon often referred to as a wood pigeon, is the world's fifth-largest pigeon, and is the largest in NZ.
Maori name: kererū
Conservation status: Endemic. Not threatened
New Zealand Mainland Status: Widespread and locally common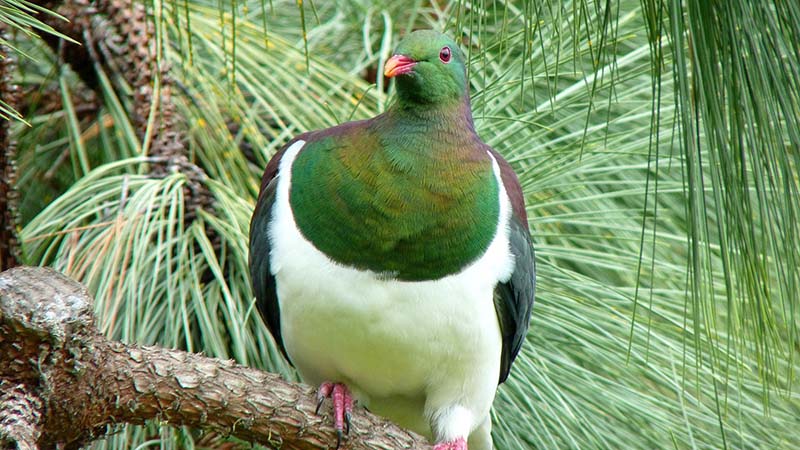 Other things to see on Tiritiri Matangi Island
While bird watchers flock to the island, there is actually more than just our feathered friends to discover. Don't forget to look down and around, and you might spot some fascinating insects like the weta, gossamer damselfly, yellow-spotted chafer beetle, copper butterfly, or a wetapunga.
Tuatara, several different species of skink, and geckos can also be spotted. However, to date, I have only photographed the Tiritiri Matangi birds.
The walking trails are well marked, with hikes/walks ranging from a 10-minute walk from the dock to the beach, to all-day options. One of my favourite hikes, the Kawaura Track, passes through an 800-year-old pohutukawa forest.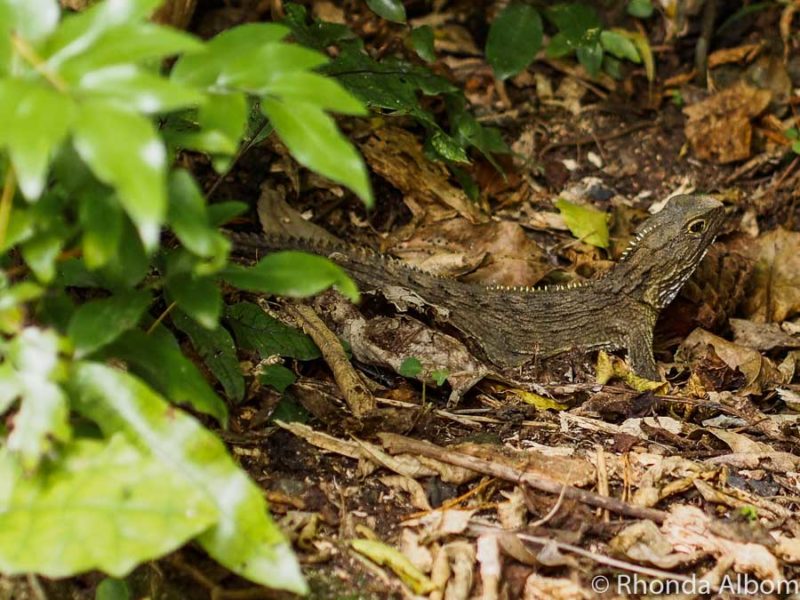 Where is Tiritiri Matangi?
The island of Tiritiri Matangi sits 30km northeast of Auckland CBD and about 4km from the end of the Whangaparaoa Peninsula. It is one of many islands in the Hauraki Gulf that allow visitors.
How to get to Tiritiri Matangi
The Tiritiri Matangi Island ferry from Auckland or Gulf Harbour or private boat are the two options for getting to the island.
Tiritiri Matangi ferry: There is a ferry to Tiritiri Matangi that starts in Auckland, stopping in Gulf Harbour on the way. It runs only one time per day in each direction. We recommend including the optional guided walk.
Private boat: While private boats can dock overnight, the surrounding anchorages are not well protected from the elements. As a result, we have always opted for a day sail.
What to bring
You will need to be self-sufficient during your time on the island, carrying everything you need for the day in a bag that seals. Remember, on pest-free islands in New Zealand, there are no rubbish bins. Therefore, you need to carry out everything you bring in, which should include:
Enough drinking water for the day.
Energy snacks and a packed lunch.
Sensible, solid walking shoes.
Sun hat and sunscreen.
Binoculars and a camera with a zoom lens, if you have one.
On a warm day, you may want swimwear and towel.
Like everywhere in New Zealand, the weather is subject to change unexpectedly. We always bring a light jacket in the summer and wear layers in the winter.
NOTE: There is a gift shop near the lighthouse. However, the only available snacks include some soft drinks and fair trade chocolate bars.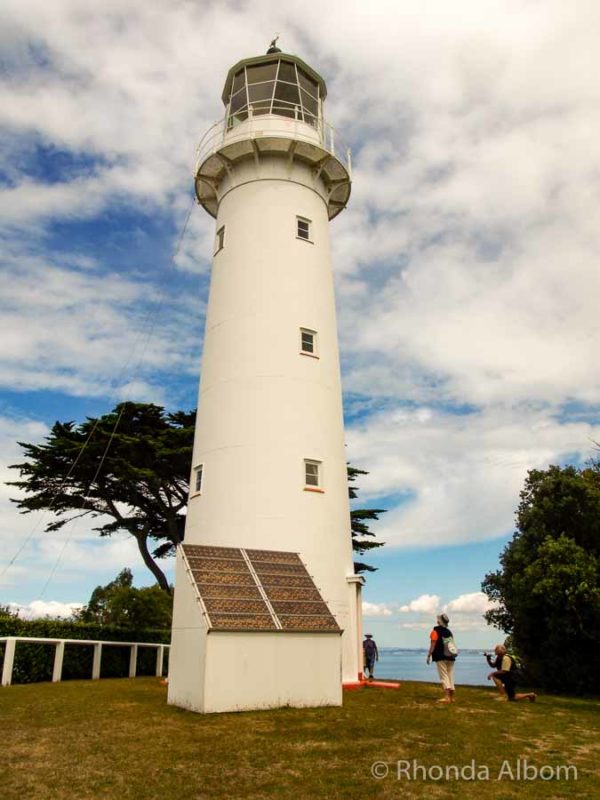 Biosecurity and what to leave at home
In order to protect the island and its wildlife, biosecurity is important. There are no mammals on the island; therefore, visitors cannot bring dogs, cats, or other pets. Also, to keep out rats, mice, and certain insects, visitors should inspect their bags, especially food bags packed the night prior, before embarking on their journey.
There are shoe cleaning stations at the ferry entrance to prevent visitors from unknowingly bringing anything on their shoes that might be dangerous to the vegetation. Click here for Tiritiri Matangi biosecurity details.
Can I spend the night at Tiritiri Matangi?
Volunteers and researchers frequently spend the night in the bunkhouse on the island. However, when they are not being used, it is possible to book a bed. Be aware that it usually books up months in advance and is managed by the Department of Conservation.
The bunkhouse is the only overnight Tiritiri Matangi accommodation option. Bookings are required and there are strict biosecurity rules to follow. Click here for details.
Camping is not permitted on Tiritiri Matangi.
Final thoughts
I live in the Auckland region and Tiritiri Matangi Island is one of the more unique things to do in our city as well as being one of my favourite Auckland day trips. Its one of the best places to see some of New Zealand's unique animals.
While I can visit Shakespear Park at the end of the Whangaparaoa Peninsula, also an open bird sanctuary, it isn't home to as many rare and endangered species as Tiritiri island. Plus, I love the Tiritiri ferry ride.
Tiritiri Matangi is different each time we visit. You never know exactly what you will see. Regardless of how many times I have been before, I always go with a guide, as they spot wildlife that I miss. I recommend including the guided walk when you go.
Save on your NZ trip with these resources
These are our go-to companies when we travel. We believe this list to be the best in each category. You can't go wrong using them on your trip too.
Check out our travel resources page for more companies that we use when you travel.
Save for later
If you enjoyed this article on Tiritiri Matangi Island, please share it on social media and save it for later on Pinterest.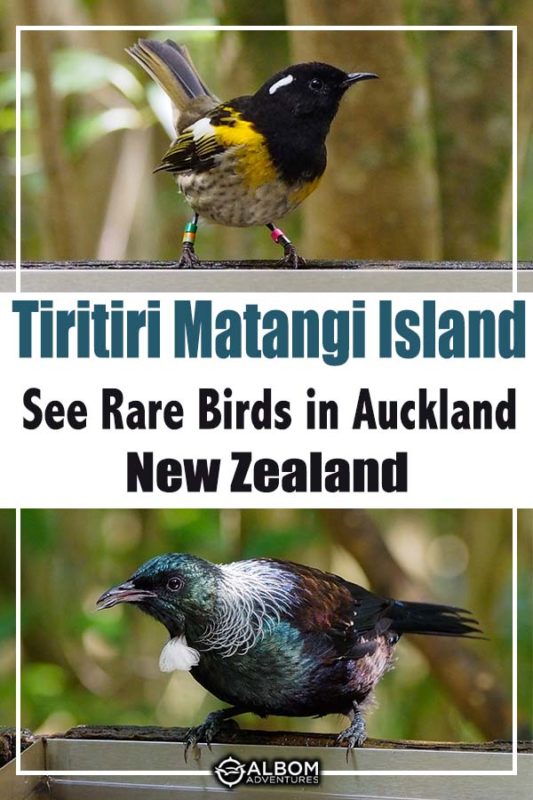 What's your favourite reason for visiting Tiritiri Matangi island?