Subtropical rainforest hikes, swimming, surfing and viewing birds, black sand and waterfalls are among the many things to do in West Auckland New Zealand. Just one hour from the city centre and you have entered a different world.
A temperate rainforest separates Auckland city centre from its western coast. Hikers head to hundreds of kilometres of trails, while surfers grab their board and head to West Auckland beaches. Bird watchers, art lovers, and adventure seekers also make their way here. The list of things to do in west Auckland makes it an ideal day trip from the city centre. After all, it's a rare opportunity to see this kind of natural beauty less than an hour from a major metropolis.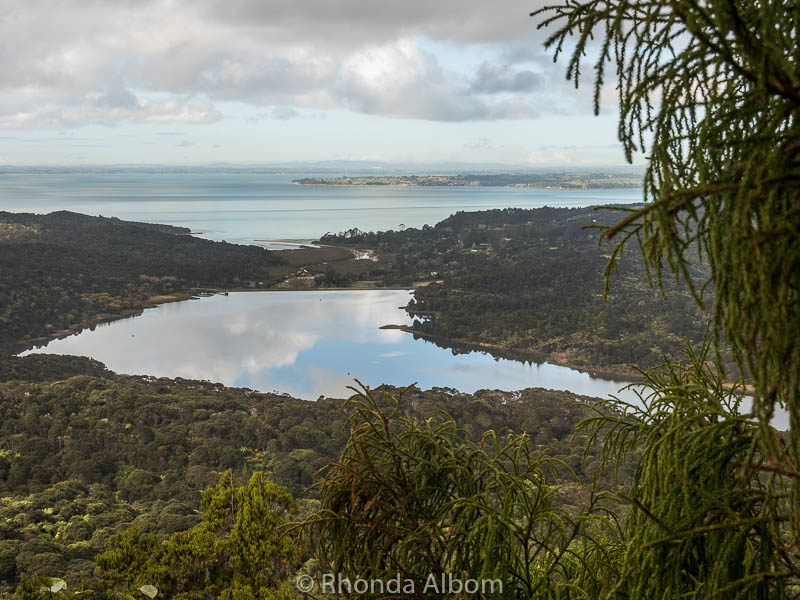 Things to do in West Auckland: West Auckland Beaches
Regardless of which of the West Auckland beaches you select, you will quickly understand how the area earned its nickname of the wild west coast. Huge surf, black sand, and dramatic rock outcroppings fill the coastline. Remember to respect the sea and to swim between the flags put up by surf lifesaving.
Our two favourite beaches in West Auckland are Muriwai and Piha. We go to each for different reasons.
Piha Beach
Piha is probably Auckland's most popular surfing beach, made even more famous by the reality style TV show Piha Rescue. The massive outcropping that separates Piha Beach from Little Piha is called Lion Rock. The steep track up offers lovely views of Piha as well as Māori carving, but the top portion of Lion Rock is considered unsafe for walking.
Just north of Piha beach is a colony of Little Blue Penguins that usually come home at twilight. (We did see a raft of penguins come home on the Otago Peninsula while we were on the South Island.)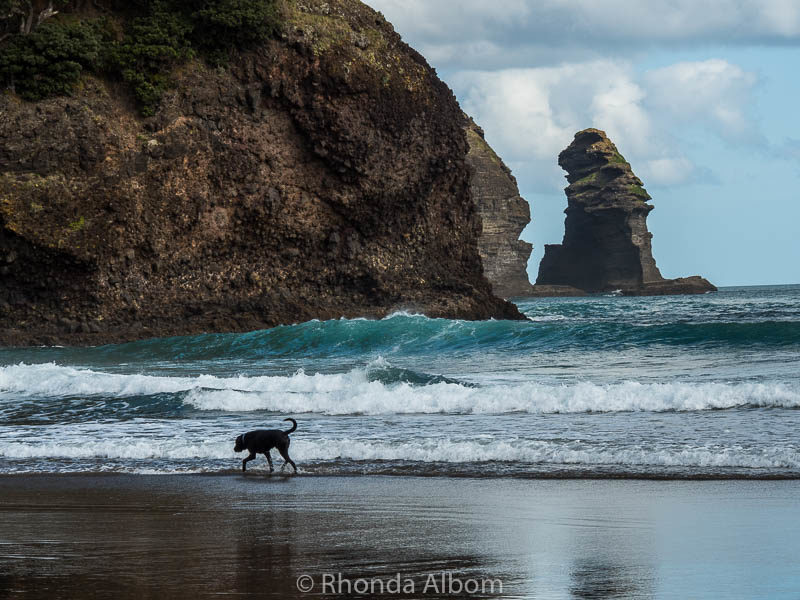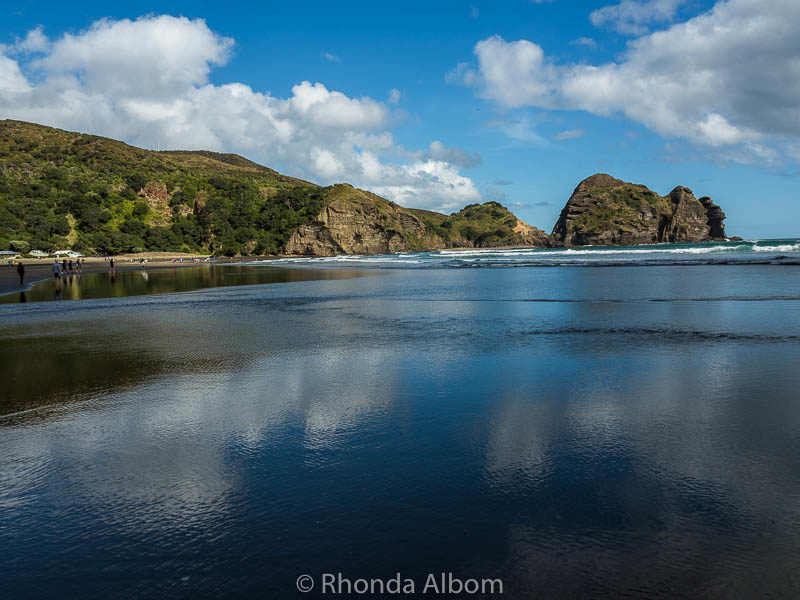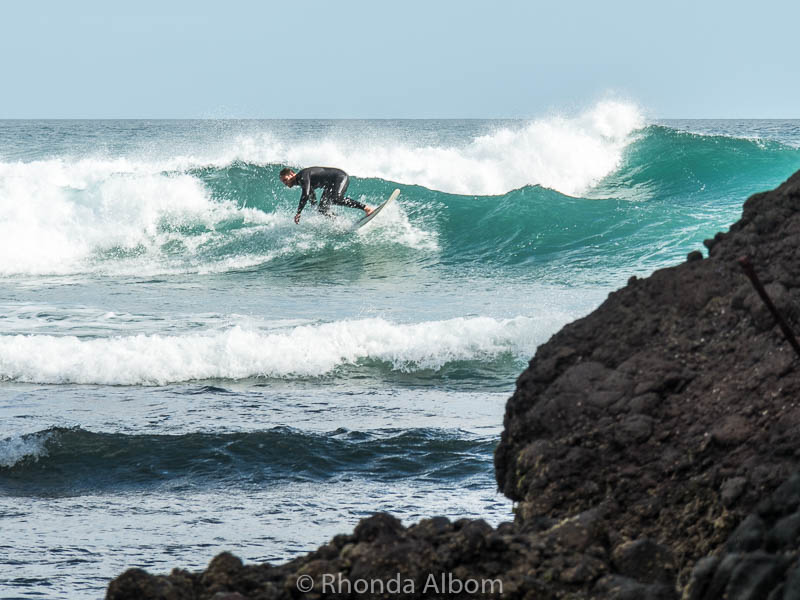 Muriwai Beach
We try to visit Muriwai Beach between late August and March to see the colony of 1200 Australian Gannet pairs that fly over 2000 km to breed on Muriwai's cliff top. Access is via boardwalk to a viewing platform. Muriwai's rugged landscape, caves, huge surf, black sand, and sea stars (visible at extreme low tides) make it a favourite spot for photography.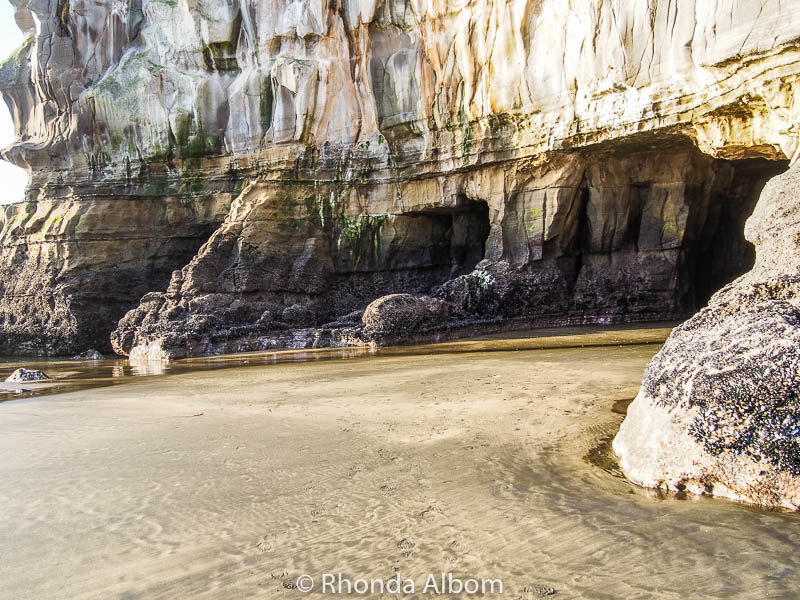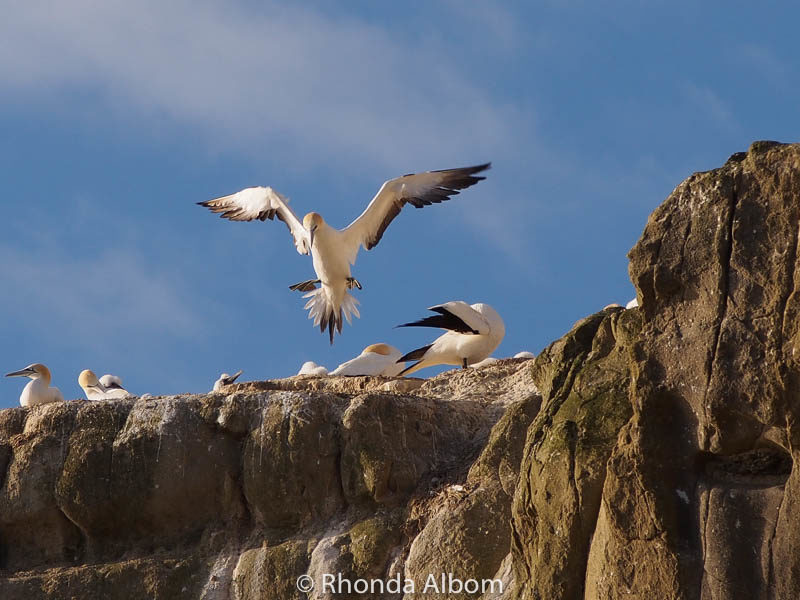 Karekare Beach
Another local's favourite, Karekare is a black sand beach is ideal for surfing, bodyboarding on the dunes, and swimming.
Fun Facts: Crowded House recorded their 'Together Alone' album at this beach. Karekare was also a filming location for The Piano (Oscar-winning movie) and Xena: Warrior Princess.
Bethells Beach (Te Henga) and Whatipu Beach
Two other notable West Auckland beaches are the more protected Bethells Beach (also called Te Henga), ideal for swimming or sliding down the sand dunes (bring a large piece of cardboard), and Whatipu Beach located amongst caves and wetlands (I have not been to this beach yet).
Things to do in West Auckland: Visit the Rainforest
Waitakere Ranges Walks
Crisp and clean, even the air smells tranquil as you enter the subtropical rainforest of the Waitakere Ranges. We started our day at the Arataki Visitors Centre where Park Rangers offer suggestions based on our goals, ability, and current conditions. (Arataki is often referred to as the Waitakere Ranges Visitor Centre). With 250 kilometres of trails over 17,000 hectares, there are plenty of Waitakere Ranges walks to choose from ranging in length from a few minutes to the challenging 70km, four-day Hillary Trail.
⇒ IMPORTANT UPDATE: Many trails have been closed due to a tree disease.
Click here for current status or click here for a list of open trails.
Waitakere Ranges Waterfalls
The Waitakeres are home to several of the stunning waterfalls in Auckland.
Karekare Falls is a five-minute walk down the Taraire Track. The trailhead starts on Lone Kauri Road, just beyond the entrance to the car park at Karekare Beach.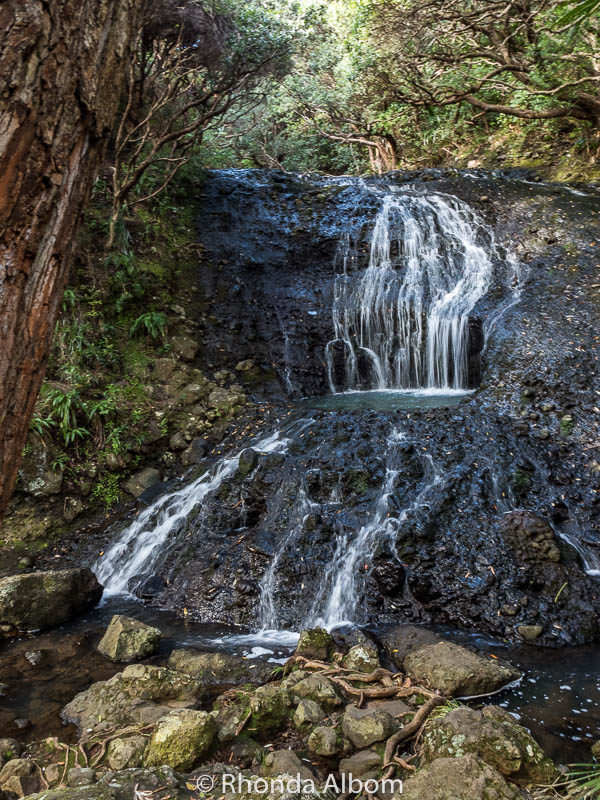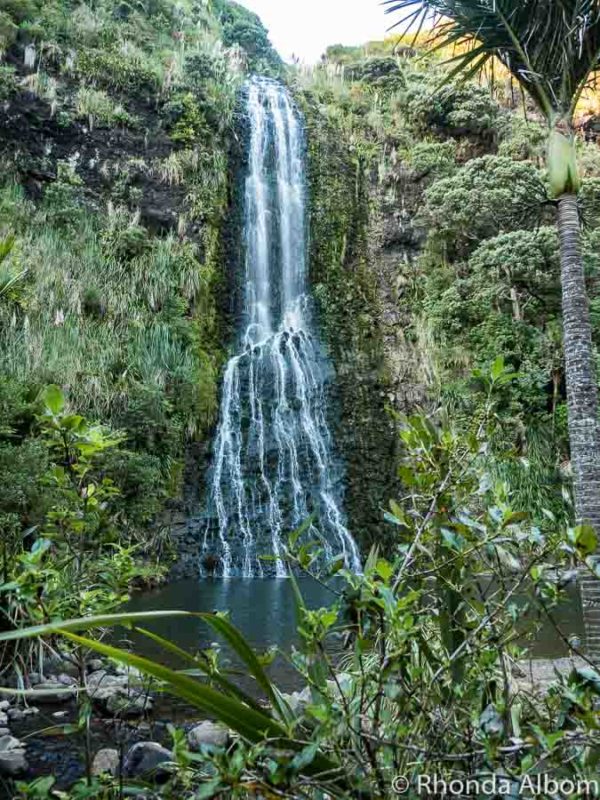 Another easy, family-friendly walk is the Knutzen Track from the Glen Esk Road car park near Piha Beach. It is a one-hour easy loop to Kitekite Falls, and well worth the effort. A popular swimming hole, it attracts locals and tourists.
Two other popular Waitakere Rangers waterfalls are Fairy Falls and Cascade Falls.
More Things to do in West Auckland
Native Animal Viewing: At Cascade Kauri Park you will find prolific native bird life and the oldest kauri trees in the Waitakere Ranges.
Wine Tastings and Vineyard Tours: Kumeu, in West Auckland, is the oldest of the three wine growing regions in Auckland, the other two being Waiheke Island and Matakana.
→ Check prices and availability on a Piha and Karekare Rainforest Wine Tour from Auckland
Unusual Art Gallery: Tu Uru Contemporary Gallery in Titirangi is a regional art gallery offering interesting and unusual artistic exhibits. There is also an impressive art gallery in Piha.
Riverboat: If you are seeking a relaxing day, take a riverboat from Auckland to Riverhead Tavern, New Zealand's oldest riverside bar.
Adventure: Adrenaline junkies can head to the Woodhill Forest to enjoy the mountain biking or Tree Adventures.
Practical Information:
The destinations on the above things to do in West Auckland list are somewhat spread out. It is easy to get to all of them if you have a car. If not consider a tour.
→ Discover Viator's several great Waitakere Ranges tour options  
If you are headed to the rainforest, remember to bring food, water, insect repellent, and a jacket for the ever-changing weather. Also, to help prevent Kauri dieback (a tree disease) from spreading, please use the trackside footwear cleaner at the trailheads before entering the trails.
At the beach, look for the red and yellow surf lifesaving flags, and be sure to swim between the flags. This is the area that is both determined to be safest on the day, and the area patrolled by the lifeguards.
If you want to learn more about the region's history before you arrive, check out Untamed Coast: Auckland's Waitakere Ranges and Heritage Area.
The Arataki Visitor Centre is at 300 Scenic Drive, Titirangi. It is open 9 am to 5 pm in summer, and 10 am to 4 pm in winter and always free. It can be a destination in itself or the starting point for adventure. A popular option is the hour-long Arataki nature trail, or simply step out onto a viewing platform to enjoy breathtaking panoramic views before you head back.
Te Uru: Waitakere Contemporary Gallery is in Titirangi at 420 Titirangi Road. Open daily from 10 am-4.30 pm.
⇒ Read Next: 75 Free and Nearly Free Things to Do in Auckland New Zealand
What are your favourite things to do in West Auckland? Have you been to any of the West Auckland beaches or hiked in the Waitakere Ranges?