A world apart from city life, the Arataki Visitor Centre is the gateway to the Waitakere Ranges. This lush green subtropical rainforest is just a 30-minute drive from Auckland's city centre. Here, we found ourselves surrounded by the rugged natural beauty one expects to see in New Zealand.
Greeted by an eleven-meter tall Maori pou (post) at the entrance to the Arataki Visitor Centre, we are reminded of the importance of the natural world and the relationship we all have with it. It is carved by Te Kawerau a Maki, the local guardians of the land. The Waitakere Ranges are the tribe's spiritual home, and they have traditional ownership rights to the area.
The pou, one of the largest in New Zealand, also represents tribal ancestors. It, along with the Maori carvings inside the Arataki centre, are carved out of kauri, a New Zealand native and one of the world's largest and longest-living trees.
Arataki Visitor Centre
This site contains affiliate links to products and/or services. We may receive a commission for purchases made through these links at no additional cost to you.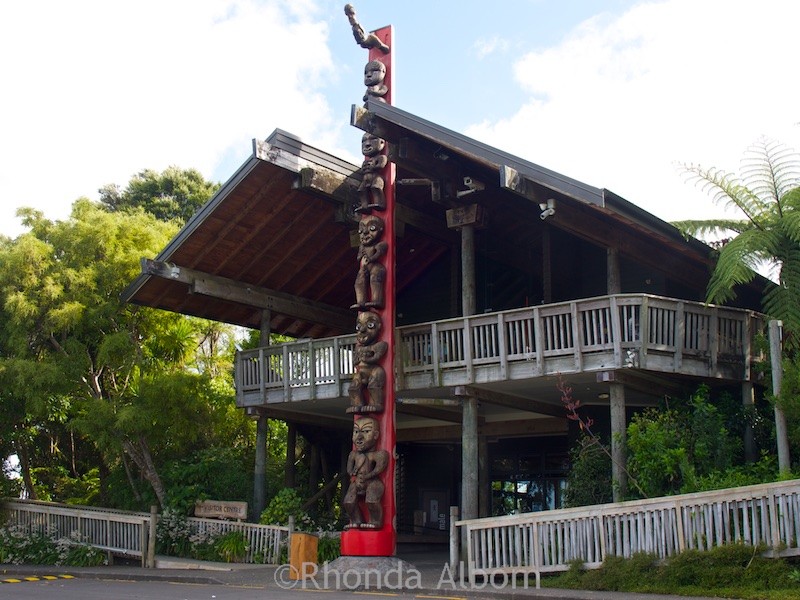 While only a 30-minutes drive from Auckland, without a car, it can be difficult to get to the Arataki visitor centre or anywhere in the Waitakere ranges on your own. If you are staying in Auckland without a car, the best option is a day trip with a reliable company like this one: Waitakere Ranges Wilderness Experience Eco-Tour from Auckland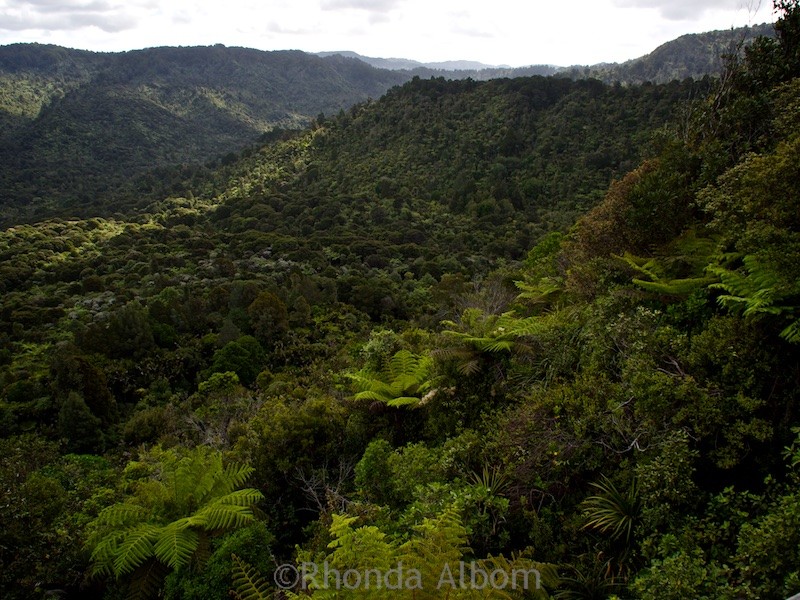 Māori Carvings Inside Arataki Visitor Centre
Inside Arataki we found several Maori carvings and what seemed to be unlimited information about the Waitakere Ranges (often called the Arataki forest), including interactive displays. There are Park Rangers on staff to offer guidance to the over 250km of walking trails.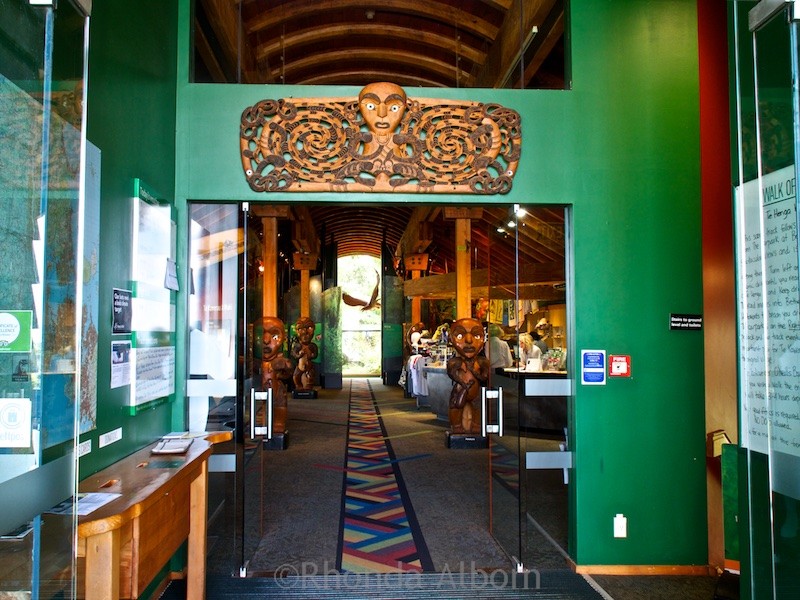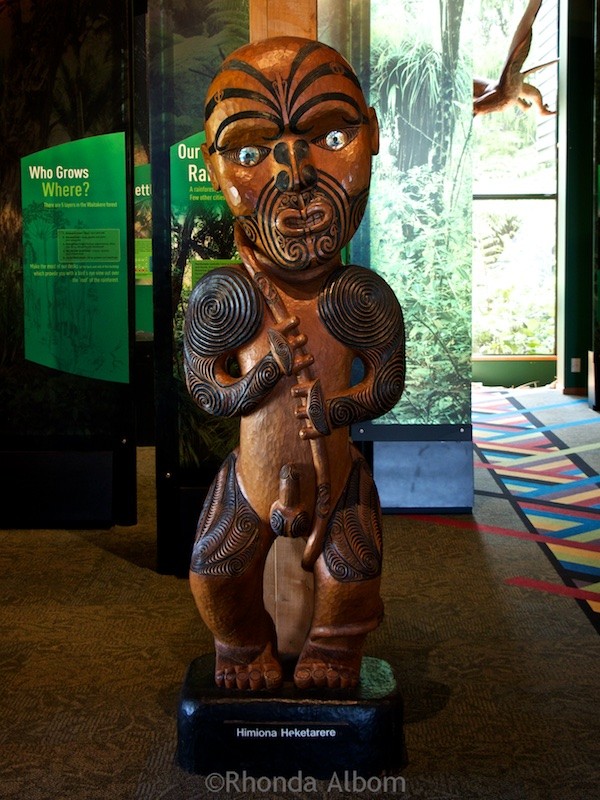 Inside the Rainforest: Waitakere Ranges
Some say that Arataki and the Waitakere Ranges are a hidden gem. I am not sure how you can call a 17,000-hectare subtropical rainforest with over 250 kilometres of hiking trails "hidden". We have only touched on the beauty that is here, enjoying the Arataki nature trail and the incredible viewing platforms attached to the building.
(These photos were taken over several visits, in different weather conditions.)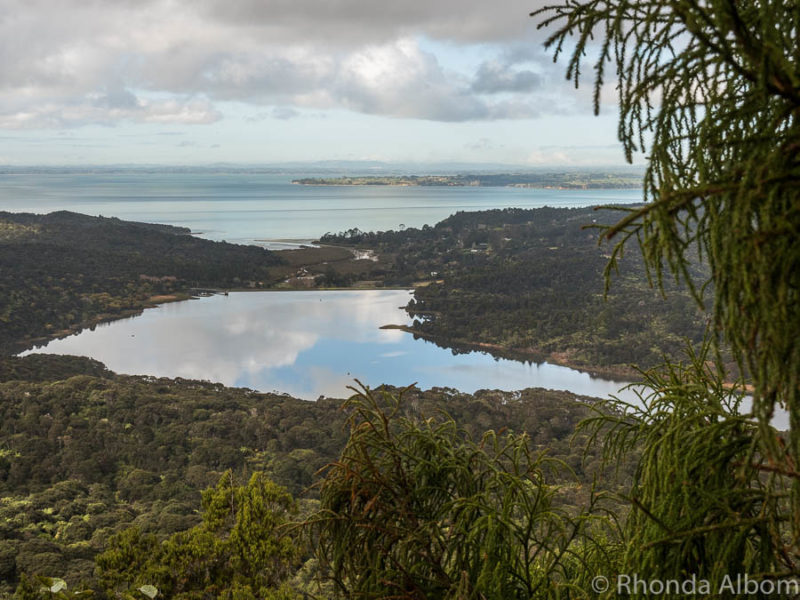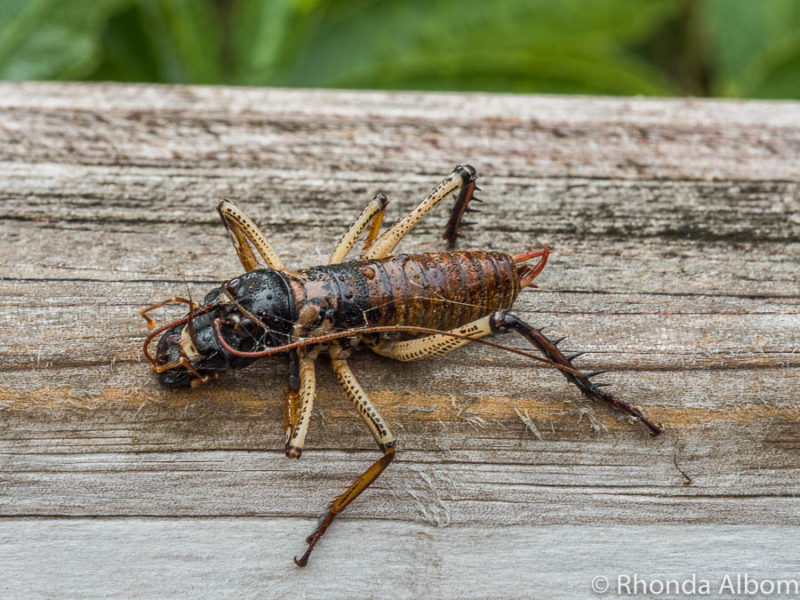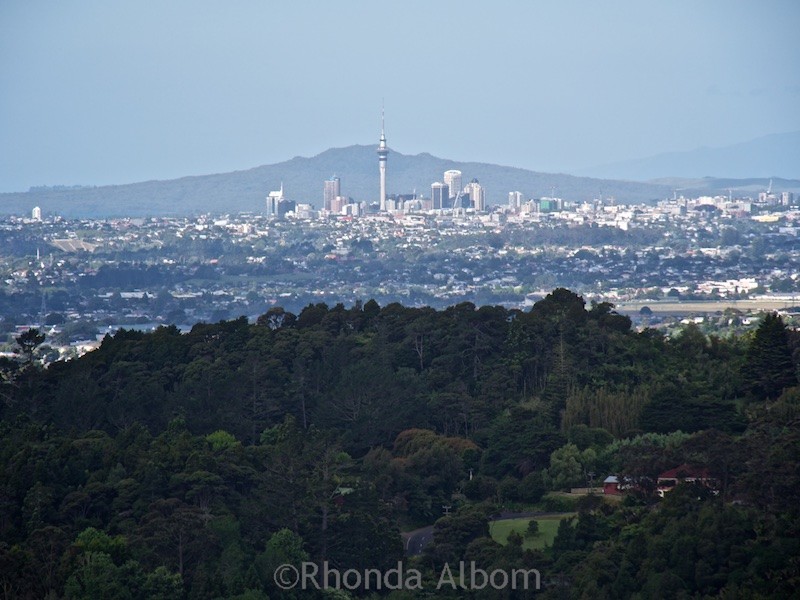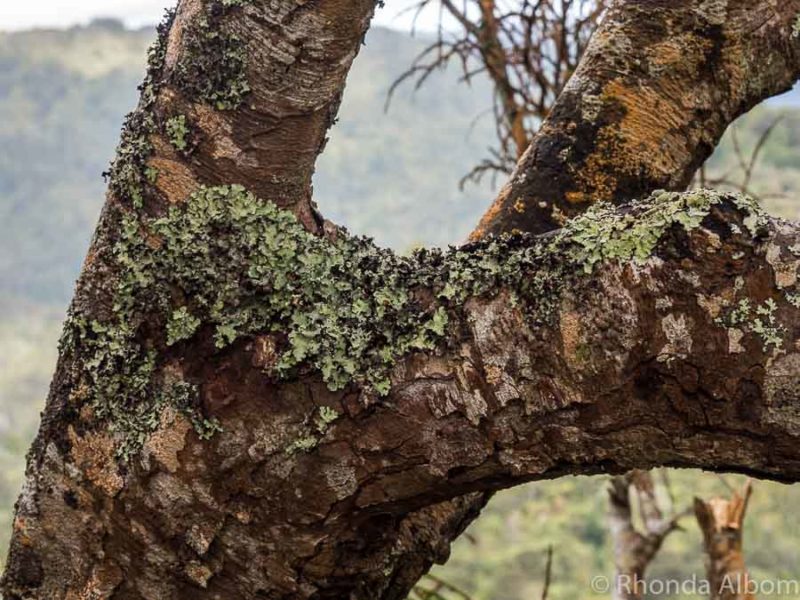 Important Information on the Kauri Forest, Kauri Dieback Disease, the Rahui, and the Waitakere Ranges Walks
A tree disease known as kauri dieback has infected nearly 19% of the Kauri trees in the Waitakere Ranges. Worse is that it is spreading at an alarming rate. Te Kawerau a Maki, the local Maori guardians of the land have placed a rāhui or spiritual restriction to the land in order to reduce and mitigate the spread of the kauri dieback disease.
The Auckland Council's environmental committee in early 2018 has voted to consider publicly close much of the land to align with the rāhui. (More detail at Waitakere Rahui.)

Click here for current status or click here for a list of open trails.
The Hillary Trail – The Longest of the Waitakere Walks
A destination in itself, the Arataki Center can also be the starting point for adventure. It is one end of the challenging 76km, four-day Hillary Trail that takes trampers through the Waitakere Ranges and along Auckland's west coast. Opened in January 2010, it was named to honour New Zealand hero, mountaineer, and explorer Sir Edmund Hillary. He used these hills as his training grounds. The full trail is divided into seven sections. It is generally completed in four to six challenging days. The total elevation change is 420 metres.
It is unclear if any of the Hilary Trail will remain open due to kauri dieback.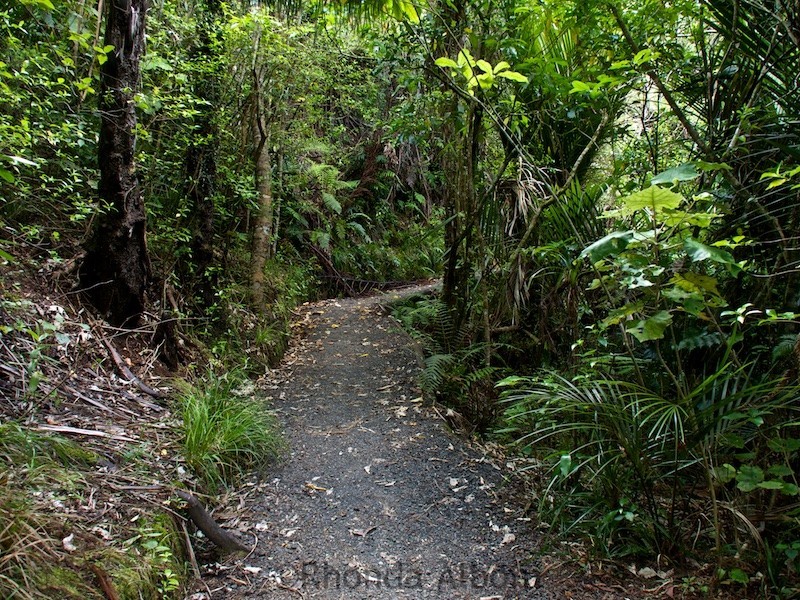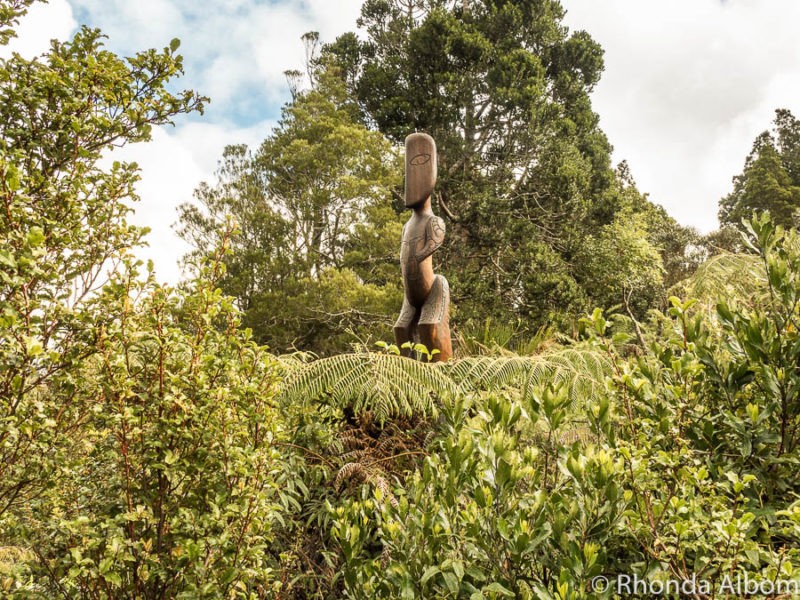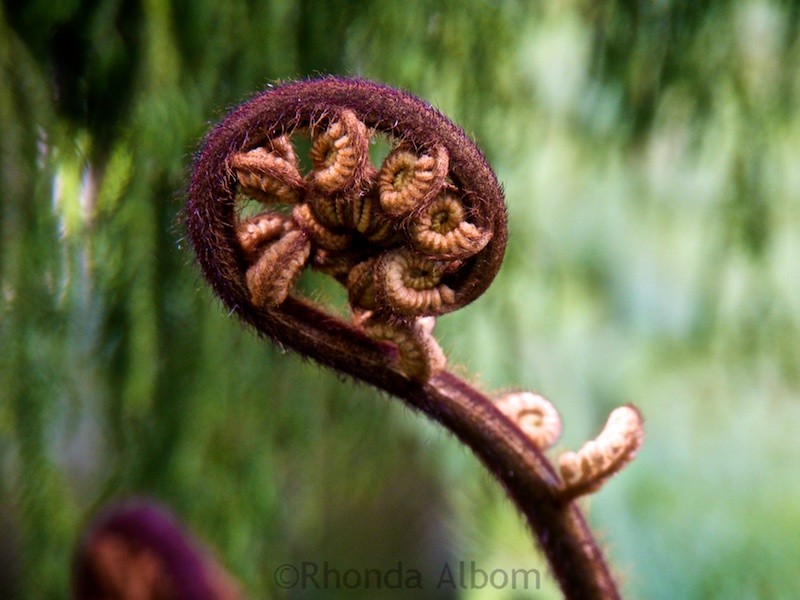 Visiting the Arataki Visitor Centre
Find the Arataki Visitor Centre at 300 Scenic Drive, Titirangi. It is open 9 am to 5 pm in summer and 10 am to 4 pm in winter (winter weekends 9 am to 5 pm) and always free.
Arataki Visitor Centre is open during the Rahui and will remain open even if Auckland Council has closed some of the trails.
It is often referred to as the Waitakere Ranges Visitor Centre, so don't let it confuse you, they are the same place.
Inside the Arataki Information Centre is a kid's corner with puzzles, puppets, books, and a microscope.
If you are hiking, remember to bring food, water, insect repellent, and a jacket. Also, remember to use the trackside footwear cleaning stations to prevent the spread of kauri dieback disease.
More highlights in and near the Waitakere Ranges
Since May 1, 2018, there have been many closed trails. Be sure to take the time to clean your shoes at the shoe cleaning stations at many of the trailheads. Before you go, you might want to check back to this page for updates or contact the New Zealand Department of Conservation.
While I love the Waitakere walks, cherish the birds, and photograph the trees, it is the waterfalls that really capture my heart.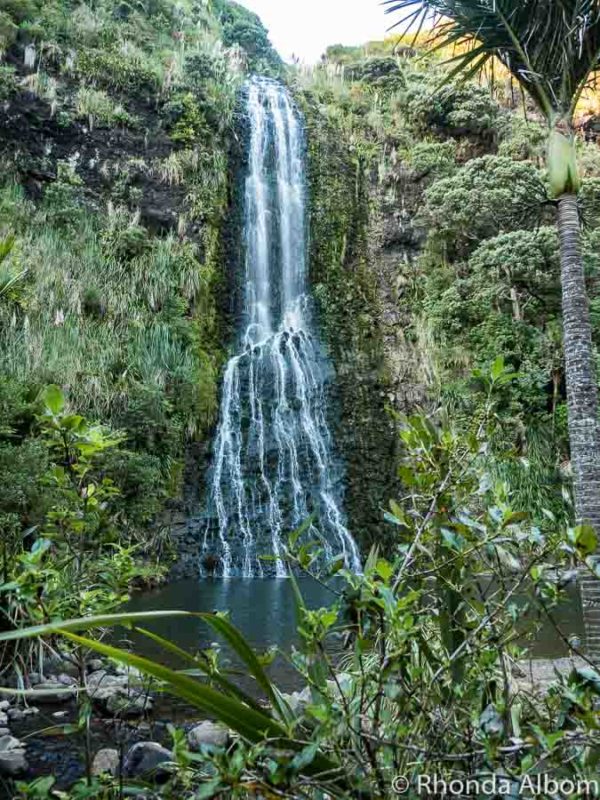 There is plenty more to see in West Auckland. Here are a few of my favourite things to see:
Cascade Kauri Park where you will find extensive native birdlife and the oldest kauri trees in the Waitakere Ranges.
Popular trails include Karekare Falls (10 minutes from the trailhead), Kitekite Falls (1-hour return), and Mercer Bay Loop Track (1-hour return)
The wild west coast beaches, like Piha, is where you will also see the iconic Lion Rock.
Just north of Piha beach is a colony of Little Blue Penguins that usually come home at twilight.
The gannets nest in the summertime on Muriwai Beach.
Nearby Titirangi is home to Te Uru: Waitakere Contemporary Gallery.
Booking tips for New Zealand travel planning
Some links on this page can save you up to 70%. We earn from qualifying purchases through partnerships or affiliate programmes.
First-time visitors start here: New Zealand travel guide or with our favourite New Zealand road trips.

Flights: We use Skyscanner to find all the available flight options at the best prices.

Rental Vehicles: For cars, we always use RentalCars.com, a rental car search engine with no hidden costs. For campervans (and larger cars), note that Spaceships Rentals NZ offers free one-way drop-off between Auckland and Christchurch.
**Albom Adventures readers can check for discounts off Spaceships campervans.**

Accommodations: We use Tripadvisor to find ratings and reserve accommodations in most NZ cities.

Activity Discounts: We use Bookme.co.nz to find discounts on entry tickets and tours in New Zealand.

Travel Insurance: We purchase insurance that covers medical and travel emergencies when we head overseas. We start with Travel Insurance Master, an aggregator that gives us a free and easy-to-read comparison of the inclusions of each policy.

Packing Tips: Get a free copy of our New Zealand packing list when you sign up for our mailing list.

**Find more money-saving resources on our Travel Resources page.
Save for later
If you enjoyed this article, please share it on social media and save it for later on Pinterest.
Have you been to the Arataki Visitor Centre?