Auckland, the city of sails, is a starting point for many visitors as well as being home to nearly one-third of New Zealand's population. While there are plenty of things to keep one busy in the city, Auckland day trips to nearby destinations offer both a change of scenery and a lot of fun.
We are amongst the nearly 1.7 million people who call Auckland home. And while we love the city, Auckland day trips are often the quick getaway that we need.
Popular day trips from Auckland range from glowworms to geysers, from beaches to caves, and from Māori culture to hobbit holes. We make our Auckland getaways exciting. While many are located in the Auckland region, a number of our favourite places to go are in the Waikato.
While there are plenty of options, we focus on our favourites, which we believe are the best day trips from Auckland. They are all within a two-hour drive from the city. It's the area highlighted in this map:
First, let us tempt you with some Auckland fun
Auckland Day Trips
Bonus Destinations: Rotorua and Bay of Islands
Still possible for a long Auckland day trip, we strongly encourage you to spend at least a night in each of these two bonus destinations. Both Rotorua and the Bay of Islands are fabulous, but both are more than three hours in each direction from Auckland.
We know some people recommend them, but we think they are just a bit too far for one day.
Rotorua
Auckland to Rotorua is 228 km , about three hours each way.
A geothermal wonderland and centre for Māori culture, Rotorua is also known for its extreme adventure options. Rotorua is like few other places on the planet and one of my favourite places to visit. If you have the time, spend at least a night here. There is more than enough to do in Rotorua to keep you busy.
If not, a visit to Te Puia will give you the highlights, including Pohutu Geyser, the largest active geyser in the southern hemisphere, erupting once or twice each hour. Te Puia also has bubbling mud pools, hot springs, silica formations, Kiwi birds, and the national schools of wood carving, weaving, stone, and bone carving.
Bay of Islands
Bay of Islands is a 232 km drive north of Auckland, with an over three-hour one-way drive time.
One of my favourite spots for a getaway, I think the Bay of Islands is a bit too far for a day trip. But if that is all you have, you will have to pick from all the things to do in Bay of Islands. If you haven't been before, I would recommend Waitangi Treaty grounds and getting on a fast boat out to the hole in the rock.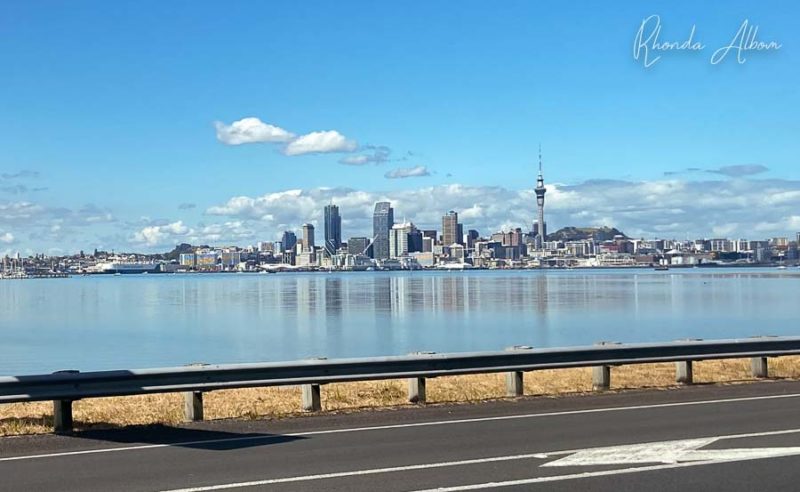 See more in limited time with a tour
Whether you have limited time or you just prefer to have someone do the driving, there are a couple of Auckland day tours we recommend:
Auckland day trip to Hobbiton & Hamilton Gardens
This all-day tour will head first to Hobbiton for a guided exploration of the shire where both The Lord of the Rings and The Hobbit were filmed. Then, enjoy lunch just outside the farm at the Shire's Rest Café (lunch is an additional cost). Next, drive to Hamilton and spend time exploring the lovely Hamilton Gardens. Reserve your often discounted Hobbiton and Hamilton Gardens tour here.
Auckland day trip to Hobbiton & Waitomo caves
This one is ideal for people who prefer fully escorted tours, really want to see both Hobbiton and Waitomo Caves, and have only one day for this adventure. It travels first to the Hobbiton Movie Set, then enjoys lunch at The Shire's Rest Café (a Kiwi-style cafe), before driving to the Glowworm caves in Waitomo. Both destinations are seen with guided tours. Please note the travel times. You will spend nearly 2/3 of this trip in transit. Reserve your day trip to Hobbiton and Waitomo.
Tips for taking day trips from Auckland
The weather is changeable and often unpredictable. It's always a good idea in Auckland and the surrounding areas to dress in layers and bring a light rain jacket.
If you are travelling in summer, bring sunscreen. The hole in the ozone layer over Antarctica thins the atmosphere over New Zealand, making the sun that much more dangerous.
Carry water and a small snack. Even if your tour includes meals, they may not happen when you are hungry.
Bring a camera.
If you have more time, head north to the top of the island, or head south from Auckland to the nations capital city.
Save on your NZ trip with these resources
These are our go-to companies when we travel. We believe this list to be the best in each category. You can't go wrong using them on your trip too.
Check out our travel resources page for more companies that we use when you travel.
Save for later
If you enjoyed this article, please share it on social media and save it for later on Pinterest.
Which of these Auckland day trips will you try?
Disclaimer: We are frequently provided with complimentary entrances, tours, or sample items to aid in the writing of Albom Adventures and have worked in the past with Auckland tourism, then called ATEED. However, the opinions expressed here are strictly our own.