Auckland, the city of sails, is a starting point for many visitors as well as being home to nearly one-third of New Zealand's population. While there are plenty of things to keep one busy in the city, an Auckland day trip to a nearby destination offers both a change of scenery and a lot of fun.
We are amongst the nearly 1.7 million people who call Auckland home. And while we love the city, Auckland day trips are often the quick getaway that we need.
Whether it's a beach, a cave, a hike, or an island, we make our Auckland getaways exciting.
While there are plenty of options, this page focuses on those within a two-hour drive from the city. It's the area highlighted in this map:
Some links on this page can save you up to 70%. We earn from qualifying purchases through partnerships or affiliate programmes.
Note: Always check the official rules regarding New Zealand's traffic light' levels. Many options are at reduced capacity, therefore, booking ahead is more important than ever, as is reading cancellation policies.
First, let us tempt you with some Auckland fun
Want to see more in your limited time?
Whether you have limited time, or you just prefer to have someone do the driving, there are a couple of Auckland day tours we recommend:
Auckland day trip to Hobbiton & Hamilton Gardens
This all-day tour will head first to Hobbiton for a guided exploration of the shire where both The Lord of the Rings and The Hobbit were filmed. Then, enjoy lunch just outside the farm at the Shire's Rest Café (lunch is an additional cost). Next, drive to Hamilton and spend time exploring the lovely Hamilton Gardens. Click to check for discount options.
Auckland day trip to Hobbiton & Waitomo caves
This one is ideal for people who prefer fully escorted tours, really want to see both Hobbiton and Waitomo Caves, and have only one day for the adventure. It travels first to the Hobbiton Movie Set, then enjoys lunch at The Shire's Rest Café (a Kiwi-style cafe), before driving to the Glowworm caves in Waitomo. Both destinations are seen with guided tours. Please note the travel times. You will spend nearly 2/3 of this trip in transit. Check the prices and reviews.
Where are our favourite Auckland day trips?
Here is our list of the best day trips by location.
Head North for Waiheke Island, Tiritiri Matangi Island, and other islands of the Hauraki Gulf. Also to the north, you will find Waipu caves and beaches, Shakespear regional park, and Orewa Beach.
To the west find Riverhead, Muriwai Beach, and Piha Beach.
Head South for Hamilton and the Karangahake Gorge.
And, East will bring you to Ngatea Water Gardens or to Hobbiton from Auckland.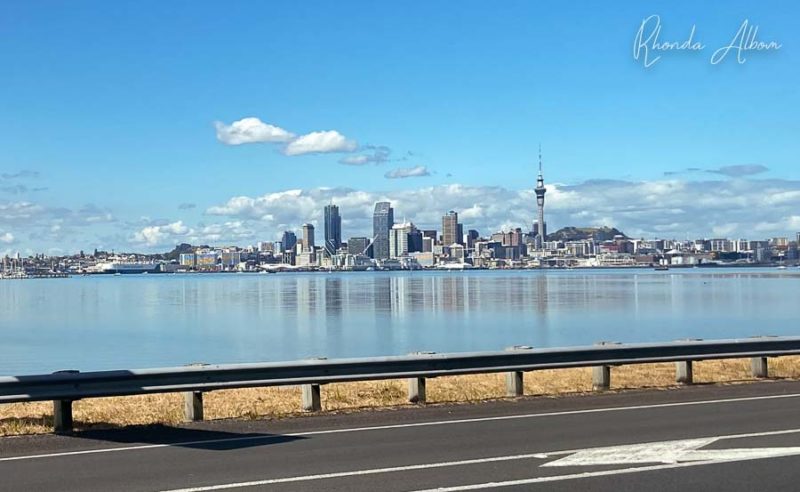 Still want more?
If you are looking to go a bit farther, (Waitomo Caves, Rotorua, Bay of Islands, Coromandel, or Hobbiton) yet still only have one day, we can show you how to do this here. Or, if you want to find something new, but barely want to travel at all, check out our favourite things to do in Auckland.
Best deals and discounts for Auckland
We earn from qualifying purchases through partnerships or affiliate programmes.
Find more money-saving resources and T&Cs on some of the above, check our Travel Resources page.
Looking for help planning a New Zealand adventure? We invite you to join Explore New Zealand Facebook Group to ask questions or share photos, stories, or anything about New Zealand.
Save for later
If you enjoyed this article, please share it on social media and save it for later on Pinterest.
Which of these Auckland day trips will you try?
Disclaimer: We are frequently provided with complimentary entrances, tours, or sample items to aid in the writing of Albom Adventures and have worked in the past with Auckland tourism, then called ATEED. However, the opinions expressed here are strictly our own.