New Zealand is a stunning country with some of the best scenery in the world. However, if you're seeking out the most beautiful places in New Zealand, look no further.
The country is renowned for its natural beauty, and both the North and South Islands offer visitors a wealth of picture-perfect places to discover.
The North Island is home to the country's capital city, Wellington, as well as the geothermal area of Rotorua. The South Island is home to the Southern Alps, a mountain range that runs the length of the island.
From snow-capped mountains, lush rainforests, and sparkling lakes to pristine beaches, there are a seemingly endless number of stunning places to visit.
Take a hike and explore the vibrant landscapes, go for a swim in one of the many freshwater lakes, or simply sit back and admire the breathtaking views. Whatever you choose to do, you're sure to have an unforgettable experience in any of New Zealand's most stunning locations.
The most beautiful places in New Zealand
Click on any location marker or the expand / collapse icon in the upper left corner of the map for more details.
Cape Reinga
Bay of Islands
Coromandel peninsula
Blue Spring
Rotorua
Tongariro National Park
Castlepoint
Wharariki Beach
Abel Tasman National Park
Nelson Lakes National Park
Akaroa
Hokitika Gorge
Aoraki/Mount Cook
Lake Tekapo
Moeraki Boulders
Lake Wanaka
Queenstown
Milford Sound
Mirror Lakes
Catlins
Before we get into the details, be inspired…
Most beautiful places in New Zealand
North Island
Below are more details and photos of some of the stunning sites on the North Island, outside of Auckland, as there are so many there, we gave Auckland's stunning spots it's own article.
Cape Reinga
Cape Reinga is located at the northern tip of New Zealand. With its gorgeous beaches and lush vegetation, it's no wonder that this place is so popular with tourists.
The Māori believe that Cape Reinga is the place where the spirits of the dead enter the underworld. The spirits travel up the coast to the headland of Te Rerenga Wairua, where they slide down the roots of a pohutukawa tree on their voyage to their ancestral homeland, Hawaiiki.
One of our favourite road trips takes us from Auckland to Cape Reinga.
Bay of Islands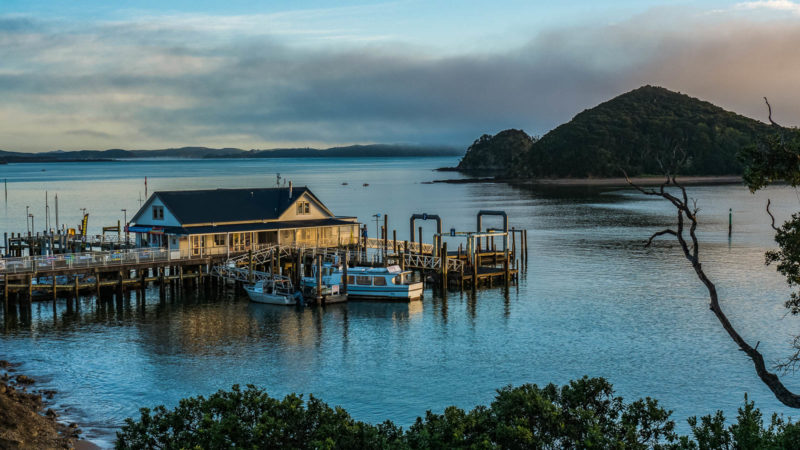 With over 144 islands covering an area of 18,000 hectares, the Bay of Islands is a great place to relax and enjoy impressive scenery. It's not just about getting out on the water, although we encourage you to get out to the "Hole in the Rock".
Three of our favourite land-based things to do in the Bay of Islands are to explore the historic town of Russell, visit the Waitangi Treaty Grounds, and hike near Haruru Falls.
Russell was the first permanent European settlement in New Zealand, and it's full of old buildings and fascinating history.
The Waitangi Treaty Grounds is where the treaty between the Māori and the British was signed back in 1840.
Haruru means "big noise" in the Māori language. The Haruru Falls are popular with photographers and for kayaking below the falls.
Coromandel Peninsula
One of the more laid-back regions, the Coromandel peninsula has pristine coastal scenery and lush green forests. Among the many things to do in Coromandel are three icons: Cathedral Cove, Hot Water Beach, and New Chums Beach.
Cathedral Cove features a naturally formed archway leading to a swimmable beach.
Hot Water Beach has warm geothermal springs bubbling up from beneath the sand. Like most visitors, we dug our own hole and relaxed in the warm water. Although one of the beautiful beaches in New Zealand, it's not a good choice for swimming.
New Chums Beach requires a 30-minute walk to get to, but once there, you are rewarded with a stunning stretch of golden sand and crystal blue waters with picture-perfect views and a serene atmosphere. Its unspoilt beauty and natural surroundings make it one of the most beautiful places in New Zealand.
Blue Spring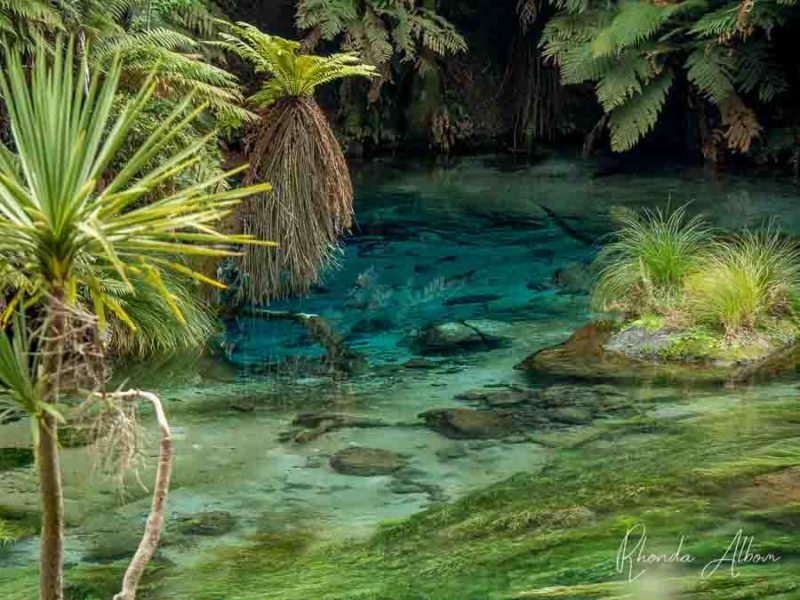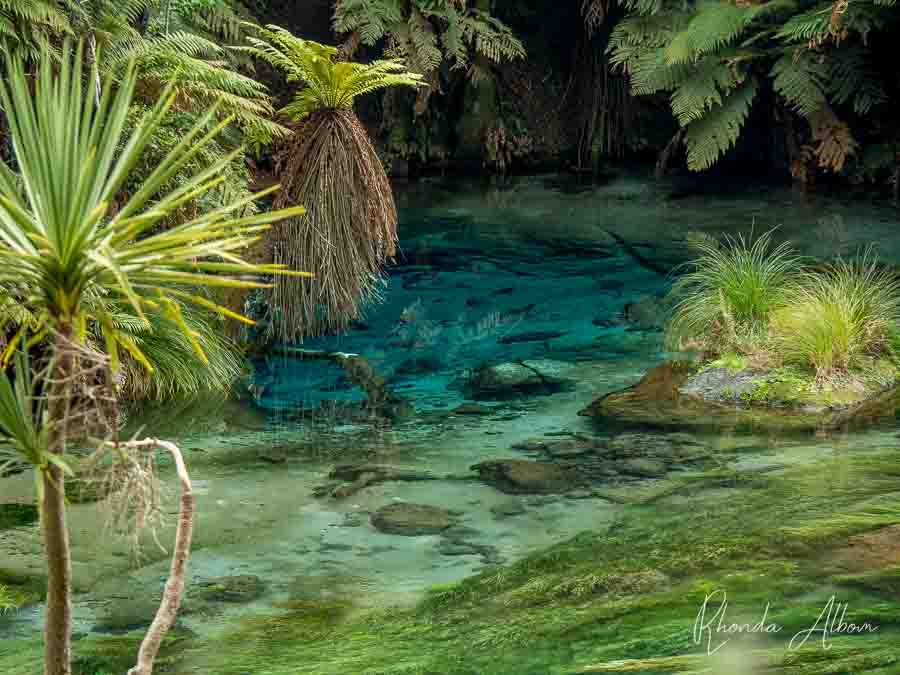 Almost hidden, Blue Spring is a surprisingly exquisite spot. It is considered the clearest water on the North Island, and my guess would be that it's also the bluest.
Moreover, the water takes between 50 and 100 years to reach the Blue Spring from the Mamaku Plateau, flowing from the spring at a rate of 42m3/minute. Year-round, the water maintains a constant 11ºC (52ºF) temperature.
Interestingly, 70% of New Zealand's bottled water is from Blue Spring.
Getting to Blue Spring involves a short 15-minute walk, and everything you need to know is here.
Note: Access to Blue Spring / Te Waihou Walkway from the Leslie Road end is temporarily closed due to a landslip and rockfall. Access from the Whites Road end is still open. It entails a 9km walk to the Blue Spring and return. Check the official site here for updates.
Rotorua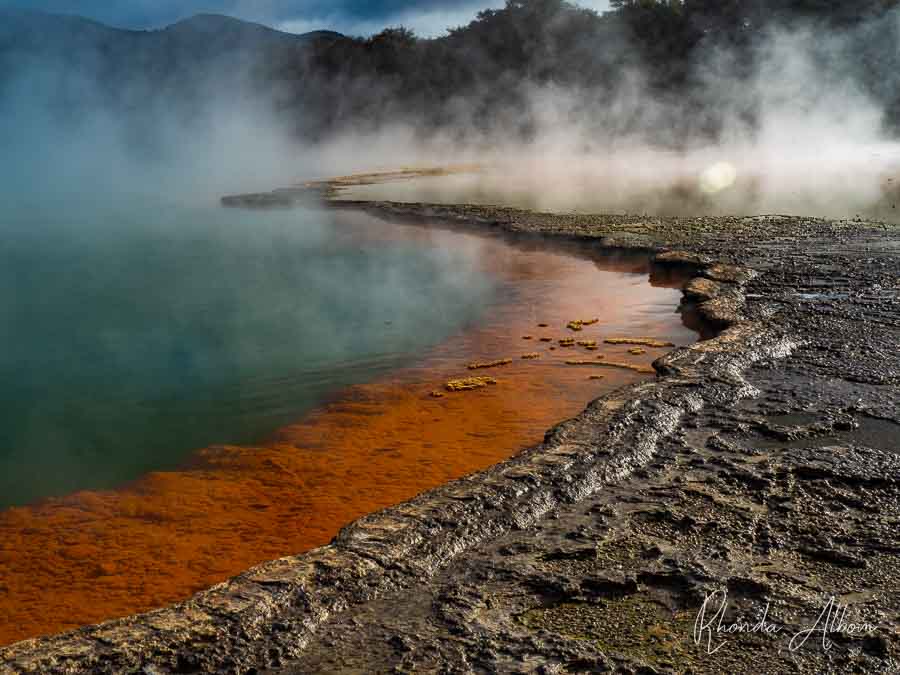 Rotorua is not only a vibrant, colourful, geothermal region, but it's also rich in Māori culture. It's a must-see for NZ visitors who will be almost spoilt for choice between the many things to do in Rotorua.
The geothermal activity in the area creates a dazzling landscape, and there are plenty of opportunities to explore the area and experience the natural wonders for yourself.
Whether you're hiking through the redwood forest, enjoying an adrenaline extreme, or taking a dip in one of the many hot springs, Rotorua is sure to leave a lasting impression.
Tongariro National Park
Tongariro National Park is more of a raw natural beauty with a unique and incredibly diverse landscape.
The park is located near the centre of the North Island and, among other features, includes two of the country's most iconic mountains, Mount Ngauruhoe and Mount Ruapehu.
Tongariro Crossing is one of New Zealand's Great Walks. In fact, this 19.4 km one-day alpine trek is one of the country's oldest and most popular tramping routes, as well as being the only one-day Great Walk.
Boasting breathtaking panoramic views of Mount Ngauruhoe, Mount Tongariro and the Emerald Lakes, the Tongariro Crossing is considered a must-do for hikers. With its unique volcanic landscape and history dating back to the late 1800s, it is an experience unlike any other.
Castlepoint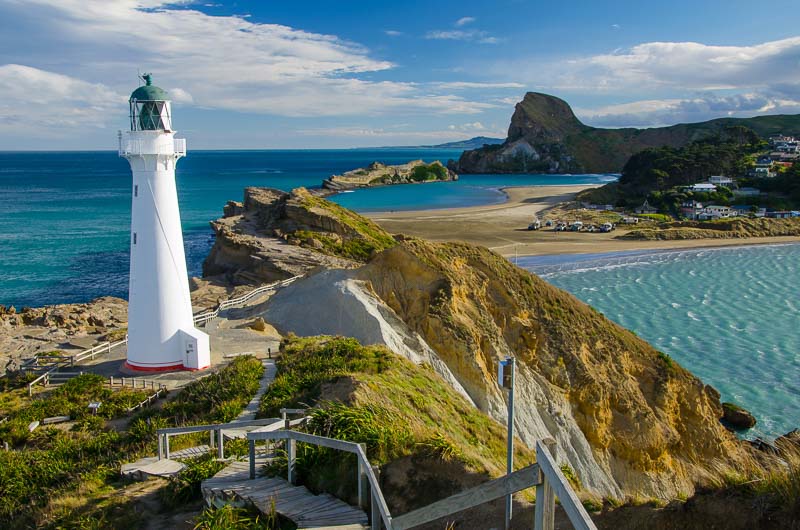 Castlepoint, in the Wairarapa region, is best known for the striking 162-metre-high Castle Rock, and as home to the tallest lighthouse on the North Island.
The Castlepoint lighthouse sits atop a rocky headland overlooking the sea and provides magnificent views of the surrounding coastline. First lit in 1913, the structure is designed in a classic Victorian style and stands 23 metres (75 ft) tall. At night, the lighthouse is illuminated and changes colours.
The area around Castlepoint also offers plenty to do, with several walking trails leading to picturesque beaches and hidden bays. The town itself has a charming, colonial-era vibe with a number of historic buildings and landmarks.
Most beautiful places in New Zealand
South Island
Often thought of as the more magnificent of the two islands, there are plenty of absolutely breathtaking spots on the South Island.
Wharariki Beach
Located at the top of the South Island, just west of Farewell Spit, is the beautiful Wharariki Beach. Among photographers, it's best known for its Archway Islands. This picturesque beach also features golden sand dunes, crystal-clear turquoise waters and incredible rock formations.
On our last visit, we not only saw a family of New Zealand fur seals playfully enjoying the surf, but we also saw several lambs on the 20-minute walk from the carpark.
Abel Tasman National Park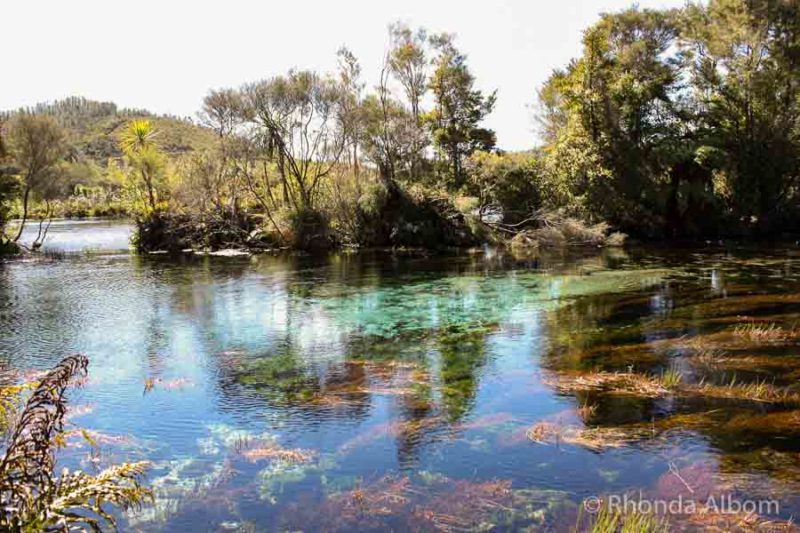 Situated near the top of the South Island, Abel Tasman National Park is another of New Zealand's most beautiful places. The park is home to a stunning coastline.
It's popular for multi-day coastal hiking or as a day cruise destination, with options for walking some of the smaller sections. This is what we opted to do, and we loved our choice. Reserve your cruise and walking tour combo here.
It's also home to Te Waikoroupu Springs, one of the most beautiful natural wonders in the country. The springs are said to be the clearest freshwater in the world. The water is so clear that you can see up to 80 meters.
Abel Tasman offers plenty of activities to enjoy, such as kayaking, sailing, and even swimming with dolphins.
Nelson Lakes National Park
Nelson Lakes National Park is a stunning landscape of lush beech forests and rugged mountain peaks surrounding its two main lakes, Rotoiti and Rotoroa. They are perfect for kayaking, swimming, or fishing, and the clear waters are a great place to spot native wildlife or just to sit and relax.
There are several trails with views of both the lakes and the surrounding peaks.
The park is also home to a variety of native wildlife, including Great Spotted Kiwi and kaka. It's a haven for bird watchers.
The park also has many facilities for visitors, including campsites, picnic areas, and visitor centres. In addition, there are several lodges and huts available. For booking information, check the DOC website here.
Akaroa
With dramatic cliffs and crystal-clear waters, it's hard to find a more picturesque spot than the French-influenced town of Akaroa. While the town itself is charming and laid-back, it's the sea life that drew our attention.
The waters outside Akaroa are renowned for their beauty and biodiversity. Home to an abundance of unique wildlife, the area provides an unparalleled experience for those of us who explore it.
Common sightings include Hector's dolphins, white-flippered penguins, New Zealand fur seals, and a variety of bird species. We believe a cruise tour is the best way to enjoy them. Reserve your scenic wildlife cruise here.
Hokitika Gorge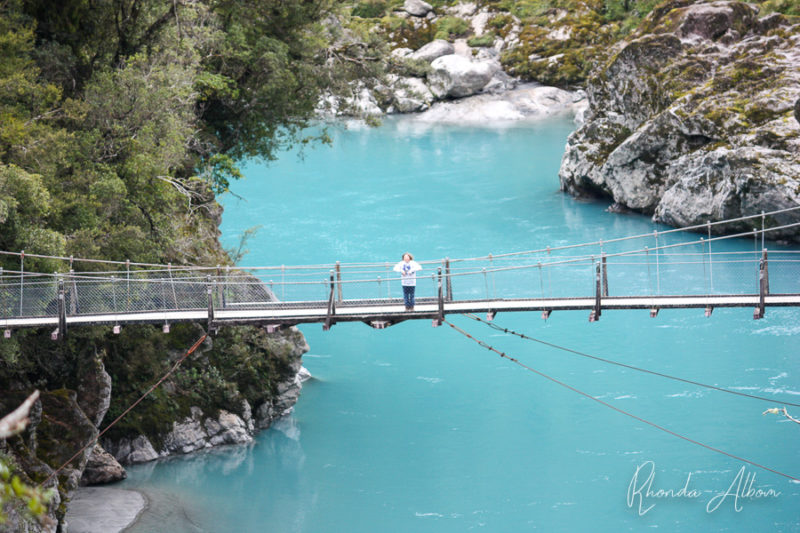 Hokitika Gorge is one of the most picturesque places in New Zealand. The gorge is located in the West Coast region of the country and is a popular spot for tourists. The bridge spans the gorge and provides stunning views of the surrounding area.
The cyan water of the Hokitika River, which runs through the gorge, is captivating. The walls of the gorge offer a unique perspective of the surrounding environment.
There are numerous hiking trails in the area, including the popular 2km Hokitika Gorge Walk, which allows visitors to take in the stunning scenery both overlooking the gorge and along the water.
Don't just stop at the gorge. If you can, spend some time enjoying some of the many things to do in nearby Hokitika.
Aoraki / Mount Cook
Aoraki / Mount Cook is New Zealand's highest mountain, peaking at 3,724 metres.
Located in the Southern Alps, it's a popular destination among hikers, mountaineers, photographers, and pretty much anyone on the South Island.
Covered in snow, ice, and even some glaciers, the mountain's views are simply breathtaking. Visitors can hike to the top of the mountain or take a helicopter tour.
Our friend Pam spent a week exploring the area and shares her story of Mt Cook and Lake Pukaki here.
Lake Tekapo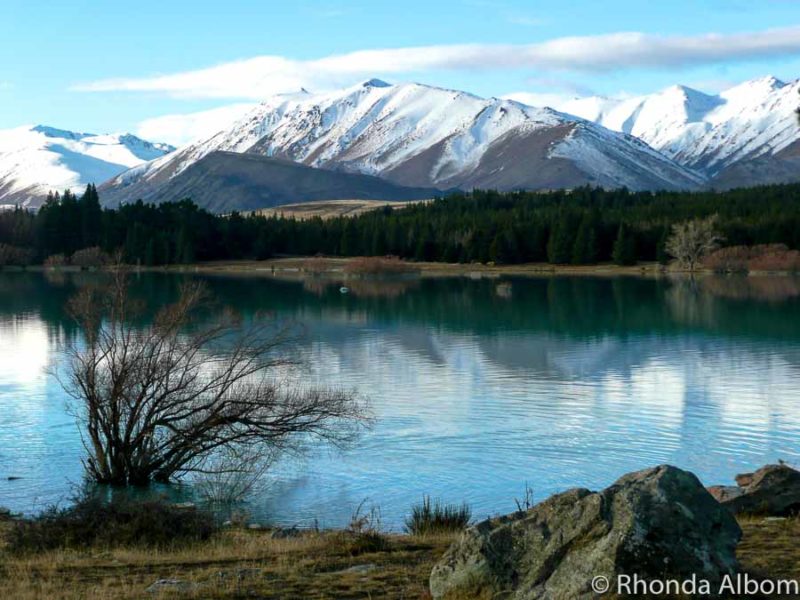 Lake Tekapo will catch you by surprise. By day or night, it is one of the best places to visit in New Zealand.
A striking azure colour, the lake is known for its crystal clear waters and stunning views of the Southern Alps. Whether you're looking for a peaceful stroll along the shoreline or an adventurous hike up to one of the nearby peaks, Lake Tekapo has something for everyone.
Kayaking and fishing are popular activities, as well as simply exploring the area and taking in all of its natural beauty.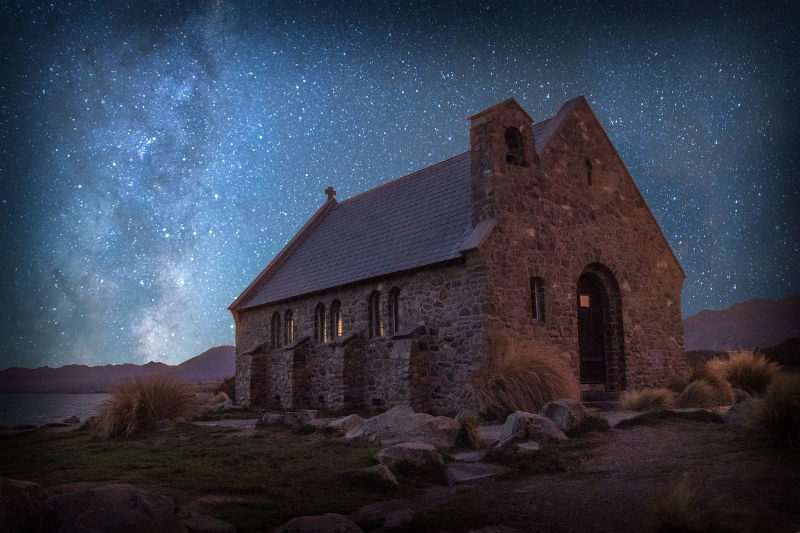 Then there is night. The Dark Sky Reserve at Lake Tekapo is the first of its kind in the Southern Hemisphere. It is a place where the night sky is shielded from the light pollution of nearby cities, creating a unique environment that allows for viewing of the stars, planets, and galaxies in their purest forms.
The night sky at Lake Tekapo is so dark that you can see the Milky Way Galaxy with your naked eye. The lack of light pollution and the high altitude of the area make it one of the best places in the world for stargazing.
Read more about the things to do at Lake Tekapo here.
Moeraki Boulders
The Moeraki Boulders are a geological wonder located on Koekohe Beach on the Otago coast of the South Island. These huge round boulders, ranging in size from a few centimetres to over two metres in diameter, are estimated to be around 60 million years old.
There are approximately fifty boulders along the beach, though the exact number changes as they are occasionally washed away by the sea.
Science tells us that the boulders were formed from hardened mudstone, which has been eroded by the sea and wind over millions of years. The result is a beach scattered with perfectly spherical stones that are a sight to behold. The Moeraki Boulders have been a source of fascination for centuries, with the local Māori legend telling us that the stones are the remains of eels, calabashes, and even ancient sailing canoes.
Read next: Moeraki Boulders – Legend or Science: Let's Solve this NZ Mystery
Lake Wanaka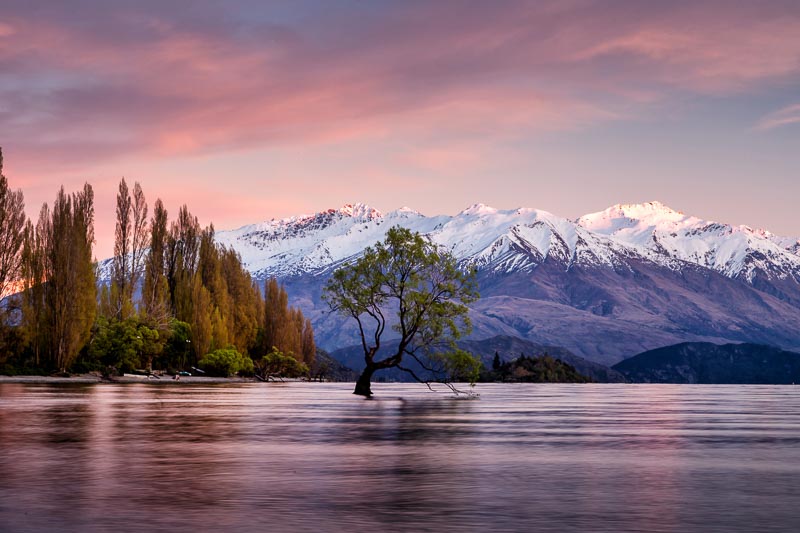 Situated on Lake Wanaka with the snowcapped Southern Alps as a backdrop, Wanaka used to be our winter home. We lived here year after year, from May to October, with occasional summer visits.
The lake and its surroundings offer a stunning natural playground for visitors, with outdoor activities ranging from hiking and mountain biking to kayaking and fishing.
Its two most famous natural landmarks are probably #thatWanakaTree and the view from the Rob Roy Trail. But that's not all. In fact, there are plenty of things to do in Wanaka.
Queenstown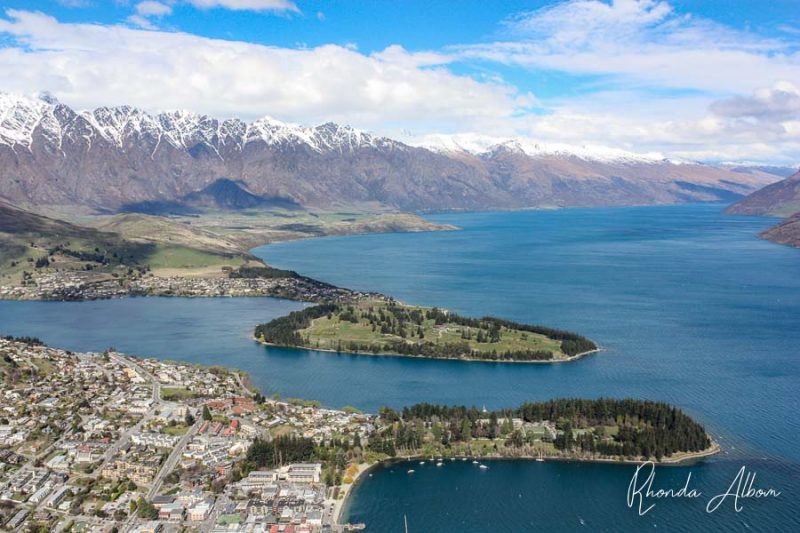 Queenstown is one of the most popular destinations for visitors. The town is located on the shores of beautiful Lake Wakatipu and has an impressive array of attractions, including skiing, snowboarding, fishing, golfing, shopping, and dining.
The resort town is the self-proclaimed adventure capital of the world, offering adrenaline junkies an array of options from bungy jumping off the world's first commercial bungy bridge (Kawarau Bridge) to paragliding, canyoning, luge and all levels of hiking. Check for discounts and reserve your Kawarau Bridge bungy jump here.
In contrast, Lake Wakatipu is perfect for those who want to relax and take in stunning views.
Fiordland National Park
With its towering mountains, dramatic fiords, and pristine lakes, it makes sense that Fiordland National Park attracts visitors from all over the globe. It's part of Te Wahipounamu, a UNESCO world heritage site.
Two of the most beautiful spots in New Zealand are located within the park: Milford Sound and Mirror Lakes.
Milford Sound
Milford Sound is awe-inspiring. The fiord is located in Fiordland National Park and is surrounded by sheer cliffs, waterfalls and lush rainforest. Milford Sound is home to a variety of wildlife, including dolphins, penguins and seals.
Getting here is half the fun, with options including a multi-day hike, self-drive from Te Anu, or a fly-cruise-fly adventure from Queenstown. As we had only allocated a single day, the latter is how we opted to get to Milford Sound, and we loved both our scenic flight and our cruise on the sound. Check for a discount and reserve your Milford Sound fly-cruise-fly adventure here.
Mirror Lakes
The Mirror Lakes is known for its tranquil atmosphere and breathtaking views.
Visitors can enjoy a variety of activities, such as taking a scenic hike around the lake, kayaking on the still waters, and birdwatching in the surrounding area.
Photographers love the opportunity to capture stunning reflections of the mountains and forests.
Catlins
Situated along the southern end of the South Island, the Catlins region of New Zealand is renowned for its stunning landscapes and a variety of wildlife, including dolphins and penguins.
With its lush green forests, towering cliffs, and sparkling waters, the Catlins is home to some of New Zealand's most stunning natural wonders. Two of my favourites are the cascading waterfalls of Purakaunui and the spectacular McLean Falls.
The rare Hector's dolphin can be found swimming in the area's shallow waters, and we have seen the yellow-eyed penguins near Curio Bay. Both species are protected under New Zealand law and provide locals and visitors alike with an unforgettable experience.
Whether you're looking for an adventure or just a peaceful walk in nature, the Catlins has something for everyone.
Final thoughts on the beautiful places in New Zealand
We believe road-tripping is the best way to see the country. Between each of nature's masterpieces highlighted above lie hundreds of more stunning stops. Our favourite NZ road trips are here.
With its breathtaking scenery, amazing wildlife, and plenty of activities, it's easy to see why New Zealand is a favourite for visitors from all over the world.
Save on your NZ trip with these resources
These are our go-to companies when we travel. We believe this list to be the best in each category. You can't go wrong using them on your trip too.
Flights: we use Expedia for the best and cheapest flight options.
Accommodations: we use Booking.com (hotels), Bookabach (self-contained in NZ) or Hostelworld (budget).
Cars (gas or electric): we use RentalCars to search for deals and dealer ratings.
Motorcycles: we have heard good things about BikesBooking.
Campervans or Motorhomes: we use Campstar where Albom Adventures readers get a 3% discount.
Activity discounts: we check Bookme.com for discounts of up to 70% on activities.
Private guides: we love the private guides at Tours by Locals.
Travel Insurance: while not required, we always opt for travel insurance and start at InsureMyTrip to compare coverage plans.
Check out our travel resources page for more companies that we use when you travel.
Save for later
If you enjoyed this article, please share it on social media and save it for later on Pinterest.
Where do you believe are the most beautiful places in New Zealand?
Photo Credits:
All photos on this page are either shot by our team and watermarked as such or stock images from Depositphotos.