The Auckland Food Show is a solid reminder that New Zealand's focus is clean and green, with quite a lot of fun tossed into the mix. It's one of my favourite annual events, and once again, it did not disappoint. Let's face it, who doesn't love food?
It is functionality over form, as visitors taste seemingly endless samples, try their hand decorating cupcakes, learn new cooking techniques from the experts, participate in cooking or coffee preparation workshops, or discover new kitchen gear. Beverages intermixed with the food stalls covered the gambit from healthy concoctions and teas to spirits, wine, and beer (for the 18+).
It's more than just a taste of Auckland. There is something for everyone, whether you prefer sweet or spicy, smooth or dry, organic, paleo, or mainstream – you will find something to please even the most discriminating palate. Here are ten reasons to visit the Auckland Food Show:
1) Sample foods and discover new favourites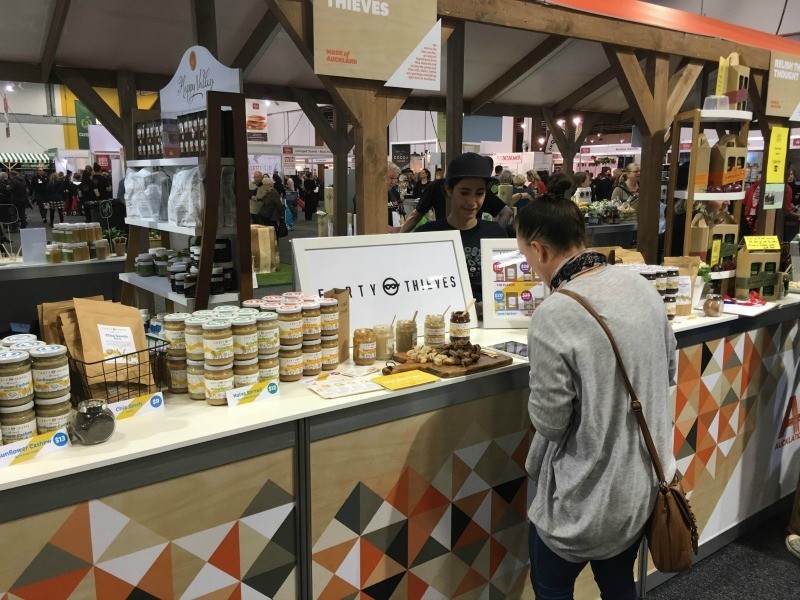 2) Learn new cooking techniques from the experts
Included in the ticket price are food and cooking demonstrations. I love the large stage from Whirlpool as it has a big screen overhead, so you can easily see what the pros are preparing.
Or, join in a workshop for some hands-on learning.
Below are:
Ray McVinnie creates a three-course meal with a tomato and cheese tart, an impressive beef dish, and a dessert all in 45 minutes.
A smaller demonstration area without seating sponsored by Kenwood.
We joined a workshop hosted by Casa Barilla Cooking School. Executive chef Andrea Tranchero demonstrated a dish, and then we got a chance to do it ourselves. The result was delicious, and we got a gift bag to take home.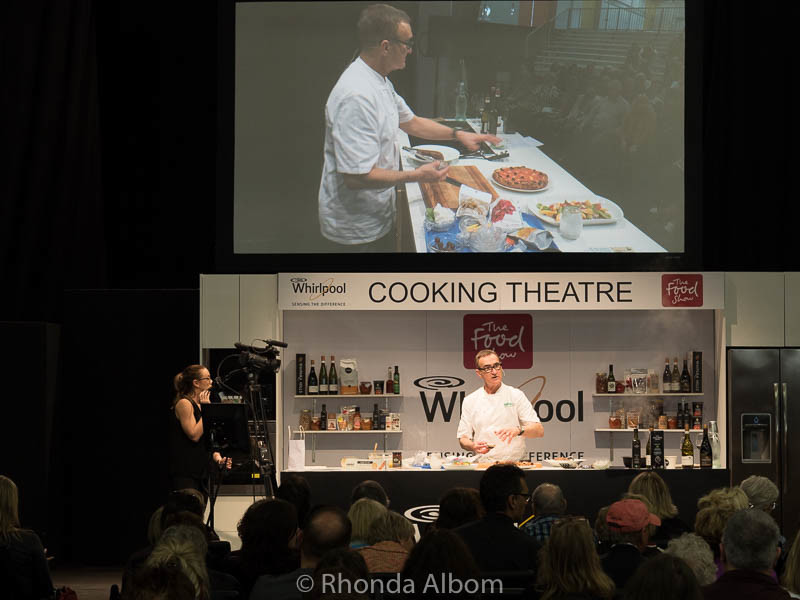 3) Listen to live entertainment
Live entertainment plays in "Street Food Alley," an area for those looking for a rest or for more food than just a sample. We enjoyed the Contemporary Brazilian, Latin, and Spanish sounds of Afro Tropical Duo.
4) Enjoy international flavours made locally
Two of our favourites:
This Sicilian Limoncello is actually made in Kerikeri, New Zealand. Also at the show were samples of wines, beers, and other spirits.
Jeff is a huge fan of hot sauce and found a new favourite from Samoan Boys at the show. It's Samoan-influenced, Auckland-made. It is one of many oils, sauces, and condiments available at the show.
5) Learn something new about the foods you eat
One of the big surprises for me, and possibly a new favourite snack food, is raw orange kumara. I was as surprised as you are to read this, but there it was. Here is what I learned about this Maori sweet potato:
The orange kumara has less starch than the others and can be eaten raw.
It metabolizes in a way that counts as one of the 5-a-Day, rather than as a carb.
It tastes crisp, fresh and a bit sweet, with a texture reminiscent of Jícama, my favourite Mexican yam, which isn't available in New Zealand.
6) Purchase your favourite foods or gadgets (nearly always at a discount)
7) Meet real New Zealanders
Nearly every booth offers great food show deals. I couldn't resist purchasing some of the yummy mueslis from "Something to Crow About." They were one of many vendors offering paleo, gluten-free, and other healthy options.
8) Have something to drink
Visitors with ID (18+) can purchase a wine glass and holder, allowing them to wear the glass around their neck.
Or, sample some water. At the Waiheke Water booth, they ran a side-by-side taste comparison of their water versus a variety of other popular brands. Theirs is the only one that is cold, so perhaps that is the difference – you decide.
9) Discover ancient secrets
Yes, I did drink a sample of black water. Discovered in Canada, this water has 77 trace minerals including the naturally black, ancient fulvic mineral.
10) Meet a few heroes
The Auckland City Mission is at the food show to raise both funds and awareness. They provide food packs to families in need and distress. The table shows the contents of a typical food pack. They are always happy to receive donations or volunteers.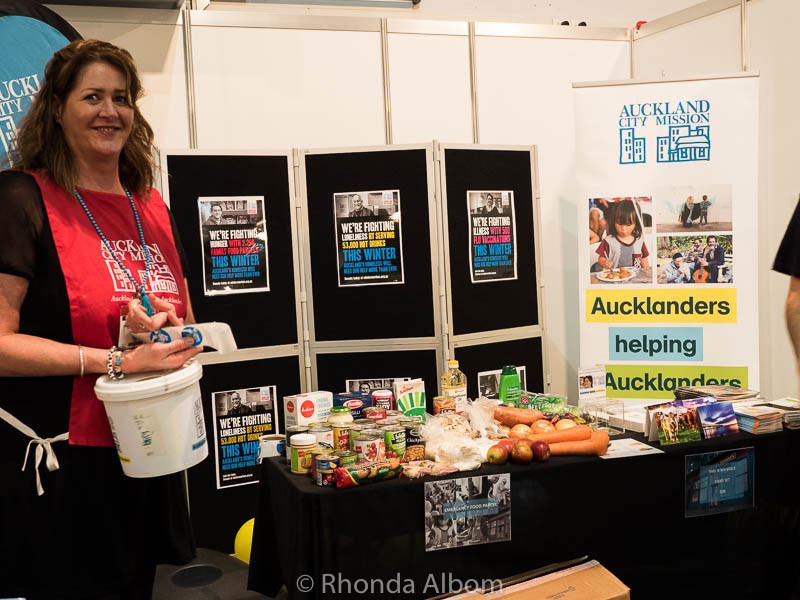 Food Tips and Tidbits we have learned at the Auckland Food Show
Aside from tempting food porn and interesting gadgets, we learned a few things. Did you know:
In Europe, USA, Canada, and Japan, to be a "feta" the cheese must be 70-90% from sheep with the remainder from goats. There are currently no restrictions in Australia and New Zealand as to which cheeses can be called "feta".
From the Italian chef leading the Casa Barilla cooking school, we learned:

When making pasta, do not add oil to the water; instead, add seven grams of salt per litre.
Do NOT rinse cooked pasta.
Two minutes before the pasta finishes boiling, strain it from the water and finish cooking it in the sauce.

You can use the juice from a can of chickpeas (garbanzo beans) as an egg white substitute, even for meringue.
Many of the recipes available at the show are also available online.
The Auckland City Mission is at the food show to raise both funds and awareness. They provide food packs to families in need and distress. They are always happy to receive donations or volunteers.
Auckland Food Show Practical Information:
The Food Show typically runs for four days in July at ASB Showgrounds in Auckland, New Zealand. Check out the Auckland Food Show's official web page for ticket information.
While you can sign up in advance for sine Cooking Workshops, about one-third of the spots were saved for on-the-day sign-ups last time we did this.
Some workshops, like wine tastings with Glengarry and coffee making with Nespresso were both first come, first served.
There is a charge for parking; however, if you arrive early, look for free street parking around the back and enter the showgrounds at Gate 4.
If you want to see it all, allocate at least 4 hours.
Bring a wheeling cart (or at least a shopping bag), as many of the "food show deals" are irresistible.
Talk to the vendors, as many of them are the owners and happy to share fun and interesting information.
If you want to sample alcoholic beverages, be sure to bring a proper ID.
There are plenty of other festivals in the city, as well as more than 75 free things to do in Auckland.
Discover more New Zealand fun
Looking for help planning a New Zealand adventure? We invite you to join Explore New Zealand Facebook Group to ask questions or share photos, stories, or anything about New Zealand.
Share and save for next year's Auckland food show
If you enjoyed your virtual visit to this year's food show, please pin it on Pinterest: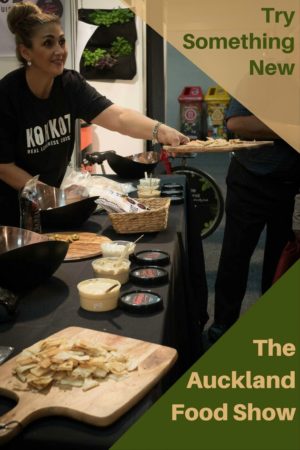 Will you head to the next Auckland Food Show?
Disclaimer: We were guests of the Auckland Food Show. The opinions expressed here are purely our own.