Auckland loves to throw a party. It's a city that does it well. Just about every weekend, there are Auckland festivals or major events on offer. Best of all, most have free entry.
While the city has lots of worldwide traditional festivals, this list includes those that are uniquely New Zealand.
Although each of the Auckland festivals has a different theme, the overall high energy level is consistent. It's a city that likes bright, colourful, and unusual fun. I mean, where else in the world will you find a fried chicken festival?
If you are planning a visit to New Zealand, check the list below for a few of our favourite annual activities in the country's largest city. Depending on your plans, you may want to either embrace or avoid them.
If you are ready for some fun, read on.
Note: The list below is organised by season, and is event schedules are subject to change annually.
First, be inspired by Auckland …
Auckland festivals in summer
The southern hemisphere summer is from December to February. In New Zealand, summer is the height of the tourist season, with both international and local visitors travelling in Auckland and around the country.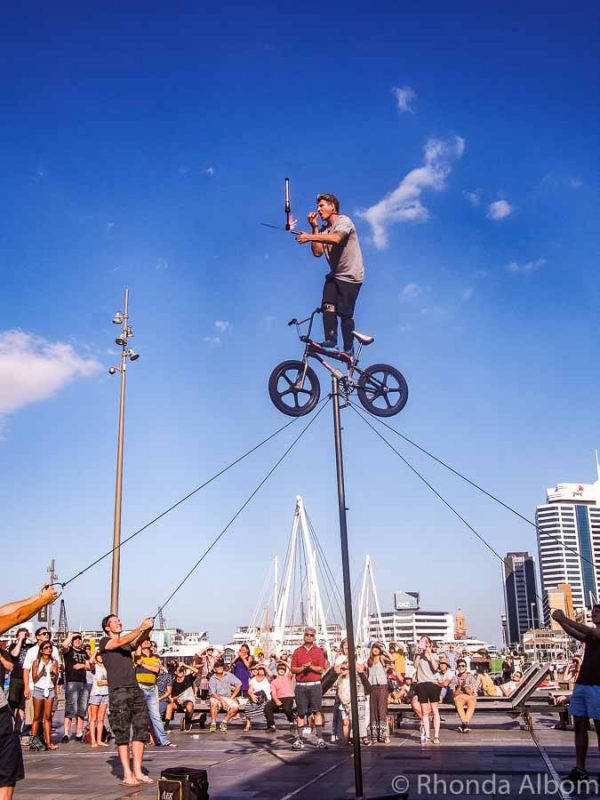 Unique Christmas festivals in Auckland
Farmers' Santa Parade (November)
The Santa parade is a family-friendly event heading down Queen Street and kicking off the Christmas season. Colourful, energetic, and fun, the parade features grand floats, talented marching bands, interesting character balloons, and, of course, Santa. Here's the typical route map.
Christmas Lights at MOTAT (December)
Thousands of fairy lights are just the beginning as MOTAT creates a magical wonderland that should be on everyone's list of things to do before Christmas. The open-air cinema shows family-friendly Christmas movies each night. And, of course, there is an opportunity to meet Santa, listen to strolling carollers, or try your hand at candy making or arts and crafts. Best of all, the annual entrance fee is low, and the money raised goes to local charities benefiting children, like Auckland Women's Refuge and Auckland City Mission.
Coca-Cola Christmas in the Park (December)
This family-friendly annual free Christmas concert, sponsored by Coca-Cola, has a been a highlight of Auckland's season since 1994. Drawing up to 250,000 spectators annually, it's possibly the largest free annual event in New Zealand.
More summer events
International Buskers Festival (January, not currently running)
One of the highlights of Auckland Anniversary weekend brings the best of New Zealand street performers and top artists from around the world together for a three-day busker's festival. It's entertaining, funny, and filled with edge-of-your-seat excitement. Although admission is free, visitors are reminded that buskers make their living through tips.
St Jerome's Laneway Festival (January)
An all-day outdoor alternative music festival that attracts 1000s of young adults 18+ and has been an annual success since 2010 when it debuted in the first event in Auckland. Often called Laneway, it started as an indie music event in Melbourne, Australia.
Latin Festival (January, not currently running)
A celebration of all things Latin, this weekend-long festival is vivid and exciting. Samba, salsa, capoeira, and other Latin dances fill the main stage. In addition, there are plenty of food vendors keeping everyone happy with treats like asado, empanadas, and alfajores.
Auckland Pride Festival (February)
Now a month-long event in February, Auckland's rainbow communities come together to promote equality, freedom, and dignity. It is New Zealand's largest Pride Festival. Attracting over 75,000 people across the Auckland region, there were over 200 different events, including the Pride March.
Lantern Festival (February/March)
An annual celebration of the Chinese New Year, it features hundreds of brightly coloured lanterns. The Auckland Lantern Festival is a free, family-friendly event and features crafts, performances, and plenty of food. In the past, it has drawn nearly 200,000 visitors over the four-day weekend. The first day is typically lanterns only. Therefore it is best for photographers as well as people who want smaller crowds.
Auckland festivals in autumn
The autumn months are March to May and seem to be the season with some of the most unique Auckland festivals.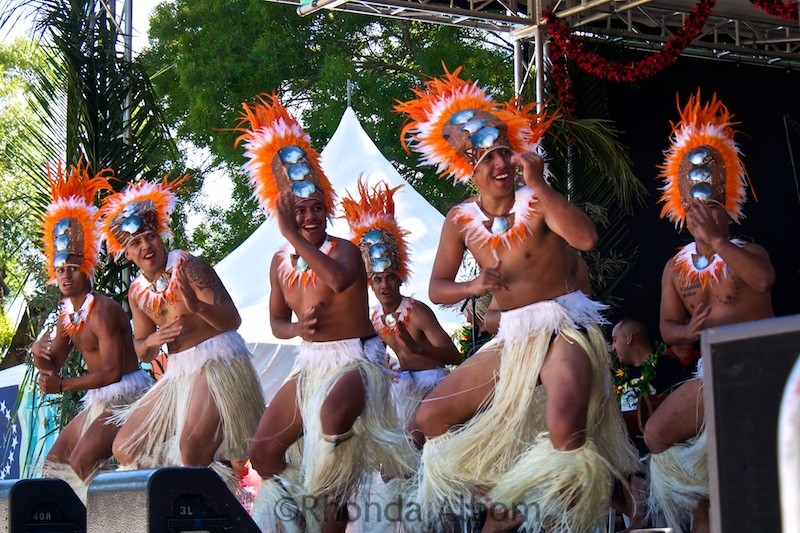 Key autumn events
Pasifika Festival (March)
An annual celebration of Pacific Island culture, Auckland's Pasifika Festival attracts close to 100,000 visitors over its weekend. It is the largest festival of its type in the world. Eleven nations are represented: Samoa, Tonga, Hawaii, Aotearoa (New Zealand), Cook Islands, Niue, Fiji, Tahiti, Tuvalu, Kiribati, and Tokelau.
Auckland Writer's Festival (May)
A different type of festival, the week-long writer's festival attracts over 200 of the world's best local and international writers ranging from contemporary fiction to classics and non-fiction authors. Speakers and workshops allow Aucklanders an insight into the world of books and to new ideas. I met Alice Walker (Pulitzer prize-winning author of The Color Purple) at the festival a few years ago (see photo above).
Unique Auckland festivals in autumn
The name says it all for these, although some didn't gain the popularity to continue.
Fried Chicken Festival
Burlesque Festival
Hot Sauce Festival
Auckland festivals in the winter and springtime
New Zealand's winter months are June, July, and August, while the spring months are September through November.
Key July – September festivals in Auckland
Auckland Food Show (July)
The annual food show is much more than just a taste of Auckland. Whether you eat organic, paleo, or mainstream, you will find both new tastes and old favourites. It brings together the best of New Zealand food vendors who share samples, recipes, and cooking demonstrations. There is a cost to enter the food show, but if you do some shopping at the show, that entry fee is often recouped in savings.
Chocolate and Coffee Festival (September)
Two of my favourite edibles in one Auckland festival, not much else needs to be said about a show featuring coffee and chocolate, except maybe, "Thank you Auckland!" It's a brilliant opportunity to discover new favourite New Zealand brands, like Forty Thieves nut butter, new food combinations like chocolate and cheese (not my favourite), and new flavours like Kopi Luwak coffee. We also got some fun recipe ideas from the various food demonstrations throughout the day at a central stage area. There we observed anything from coffee-making techniques to dairy-free, gluten-free hot chocolate.
On The Water Boat Show (September / October)
Auckland is nicknamed "the city of sails" and water-based activities are a popular pastime. In addition to the boat show, there are several one-off festivals around various yacht races. The boat show is for anyone whose life interacts with watersports in any capacity or for those of us who just want to see how the other half lives.
Key October festivals in Auckland
Armageddon Expo (moving to October)
One of New Zealand's largest annual pop culture events, Auckland's Armageddon Expo draws over 65,000 visitors, many of them dressed for cosplay. The four-day event displays everything from gaming to costumes. It requires a ticket for entry.
Elemental AKL (October)
A several-week-long Auckland festival celebrating the city's art, culture, and cuisine. Best of all, much (not all) of it is free. It's a treat for the senses.
Halloween (October)
A fun evening, but Halloween is not an official city festival. Personally, I like to head to K-Road or the CBD bar area on Halloween for some interesting people-watching. Young adults dress up as elaborately as they do at Armageddon, only it's free to walk the streets on Halloween. If you are looking for a family-friendly early evening Halloween event, check out MOTAT's Halloween evenings.
Diwali Festival (October / November)
Auckland's Diwali Festival is a jubilant gathering of the sights and sounds of India. It is also the largest annual vegetarian food festival in New Zealand. The two-day family event features live music, dance, and a Bollywood-style dance competition. In addition, there are hands-on family-fun craft opportunities.
Things to remember before heading to any Auckland festivals
Dates and locations are subject to change. Always check before you head out to an event. Most can be found on the official government site.
If you are headed to any outdoor festival, remember Auckland's weather can be temperamental. It's best to always dress in layers and have a light rain jacket with you.
Car parking is often limited at larger Auckland festivals. To counteract this, the city often puts on extra public transit.
While most festivals are free to enter, nearly all have food available for purchase.
Save on your NZ trip with these resources
These are our go-to companies when we travel. We believe this list to be the best in each category. You can't go wrong using them on your trip too.
Check out our travel resources page for more companies that we use when you travel.
Save for later
If you enjoyed this article, please share it on social media and save it for later on Pinterest.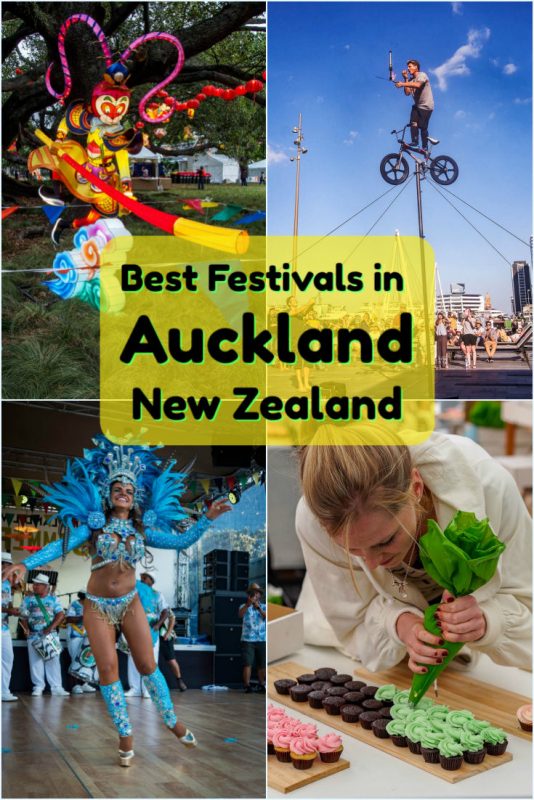 Which are your favourite Auckland festivals or events?