Tropical Rarotonga is white sandy beaches and water so crystal clear you have to wonder if it is there until a gentle wave brushes up against your toes. New Zealanders treasure it as a holiday paradise with non-stop flights. If you don't know it yet, you may be about to discover a new South Pacific utopia and all of the unique things to do in Rarotonga.
One of the Cook Islands, there is no question that Rarotonga's top industry is tourism. Many visitors choose it for relaxing at the beach, snorkelling in pristine lagoons, and slowing down to island time. Others hike through the lush jungle.
However you spend your time here, you will quickly find more things to do in Rarotonga than you imagined.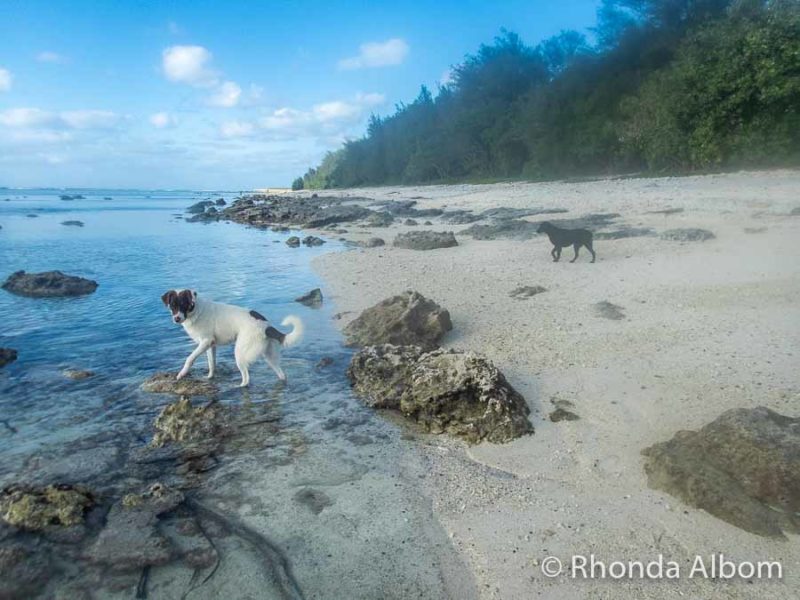 Things to do in Rarotonga
Explore Rarotonga with us
The largest of the Cook Islands, Rarotonga isn't that big. In fact, the Ring Road that circumnavigates the island is only 32 km (20 miles) long. This pristine island is located in the Southern Ocean about halfway between New Zealand and Hawaii.
Things to do in Rarotonga: adventure
We like to learn about daily life, have a few adventures, relax, and discover new culinary delights when we travel. Rarotonga is no exception.
Take a bicycle tour onto the back roads
A cycling tour is one of the most enjoyable ways to enjoy the island. Above all, our three-hour tour with Storytellers Eco-Cycle took us off of the beaten path and on a fascinating adventure. It included frequent stops to learn, discover, sample, or try. More specifically, we visited a vanilla plantation, fed pigs, meet locals picking taro in a swamp, sampled crops from local farms, and observed a marae.
First, even before we set out, the group was asked what we would like to see. A member of our group knew to ask for a marae, and it was a highlight that I would recommend you ask for too.
Prior to the tour, we hadn't been on bicycles in years. As a result, we opted for the Discover Tour, the shortest and easiest of the Eco-Cycle adventures offered by Storytellers.
Our Avanti bicycles were good quality, helmets were provided, and there was even a place for our water bottles. Finally, we ended with a local lunch. Check options and reserve your Storytellers Eco Cycle Tour here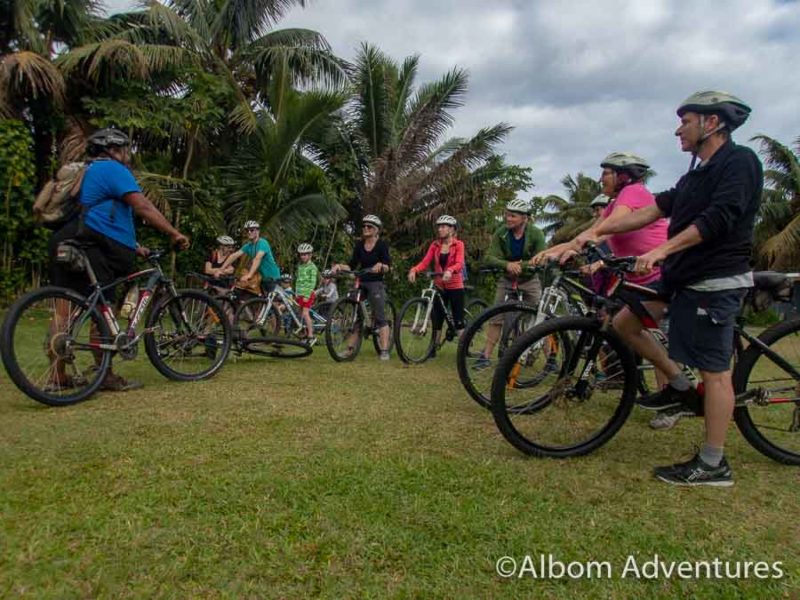 Cross-island hike to Te Rua Manga (The Needle)
Popular amongst energetic visitors, we opted to skip this hike as I just didn't have the energy for a strenuous, four-hour hike up and over the lush green centre of the island. The trail starts on the north coast and climbs to Te Rua Manga (The Needle), a steep, bald rock that projects straight up into the air.
It's been described as fabulous by those in great shape and as challenging by others. On portions of the climb, tree roots are climbed like ladders. Stunning views greet those who climb to the top before they head down the other side to Wigmore's waterfall. Guides are recommended, although we met a small group of people who did it together without incident.
Things to do in Rarotonga: nature discovery
Enjoy a nature walk with Pa
(Not currently available as Pa retired)
Pa is a healer known worldwide. He is knowledgeable, genuine, and engaging. He leads a daily nature walk; although, to be honest, our tour was more of natural medicine talk than a walk. Pa shares from the heart and customizes each nature walk to its participants.
A vanilla bean plantation was our first stop, but most of the experience took place on Pa's property, where he grows everything he needs. Before our tour ended, we were treated to a lovely homemade lunch followed by coffee. Rather than milk, Pa gathered, husked, and squeezed fresh coconut cream directly into my coffee. Overall, the tour was a low-energy activity that we both found captivating.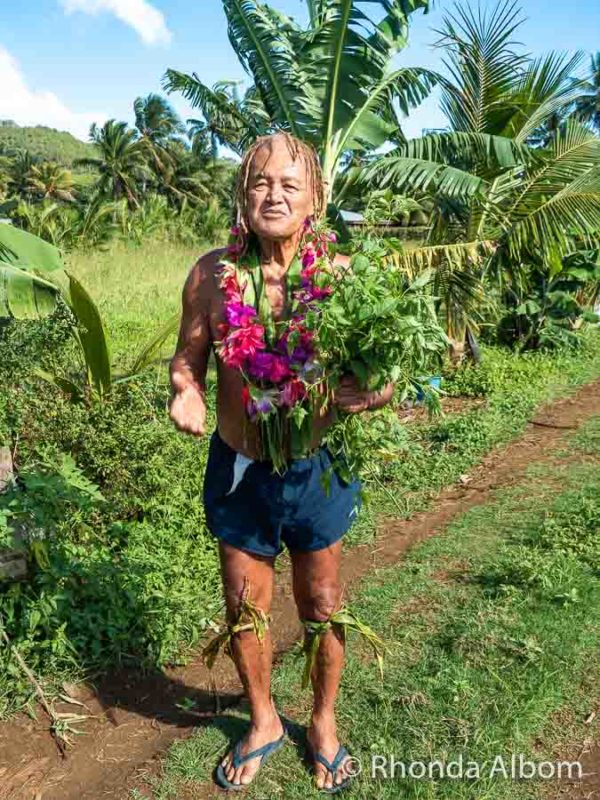 Maire Nui Gardens
The seven-acre organic Mairie Nui Gardens offered fragrant, tropical surprises around every corner. From wild ginger to lily-topped ponds, the vivid flowers and interesting tropical plant life held our interest.
Entry is by donation into an honesty box. There is also a cafe inside the gardens that serves light meals and coffee.
See Papuavai Rere Waterfall
We opted to drive here rather than hike.
What to do in Rarotonga: beaches and watersports
Rarotonga is surrounded by a reef. As a result, there are protected beaches, calm and warm water, and an abundance of marine life.
Snorkel at Titikaveka Beach
Titikaveka is often referred to as the best beach in Rarotonga for snorkelling. That is to say, it's like snorkelling in a crystal clear aquarium, surrounded by vivid, colourful tropical fish. If you are taking the bus, driving, or walking along the road, Fruits of Rarotonga is the landmark to look for to find one of the best snorkelling spots. (See more of our underwater images here.)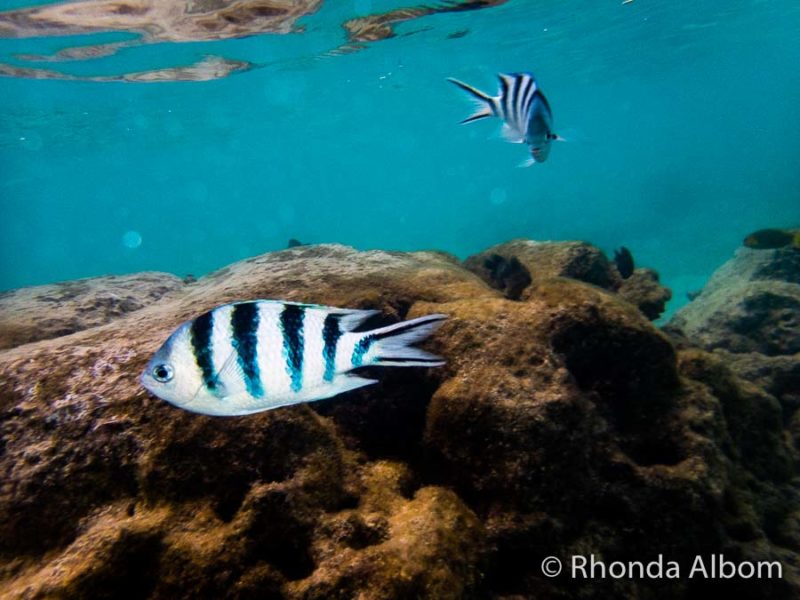 Muri Beach Lagoon
A safe and protected (by four offshore islets) swimming area and another great spot for snorkelling, Muri Beach (including Muri Lagoon) is one of the more popular resort destinations. Loaded with hotels, resorts and restaurants, everything you need is in walking distance. Unfortunately, the wind was strong and coming from the wrong direction, so we never had a chance to snorkel here.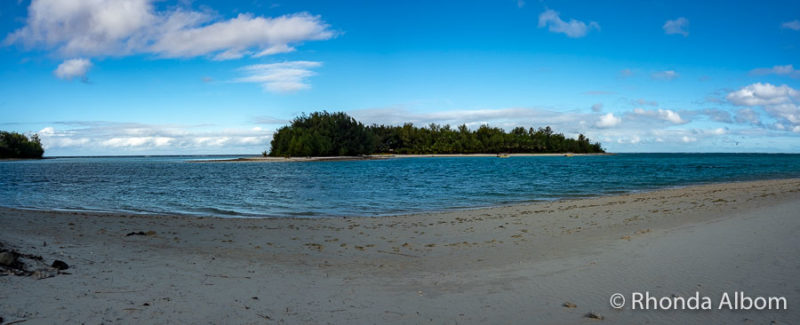 Whale watching
From July to October, whales and calves can be seen breaching in the sea off of the north and west coasts of the island. Twice, we arrived within 20 minutes of other people spotting whales, but luck wasn't with us this trip.
Other watersports
If you prefer things a bit more organized, check out one of these options.
Check out the sunken ship
Just offshore from Avarua, the capital city of the Cook Islands, sits the rusted wreck of the Matai, which has been there since it sank in 1916. It's a popular spot for snorkelling or canoes depending on ocean conditions.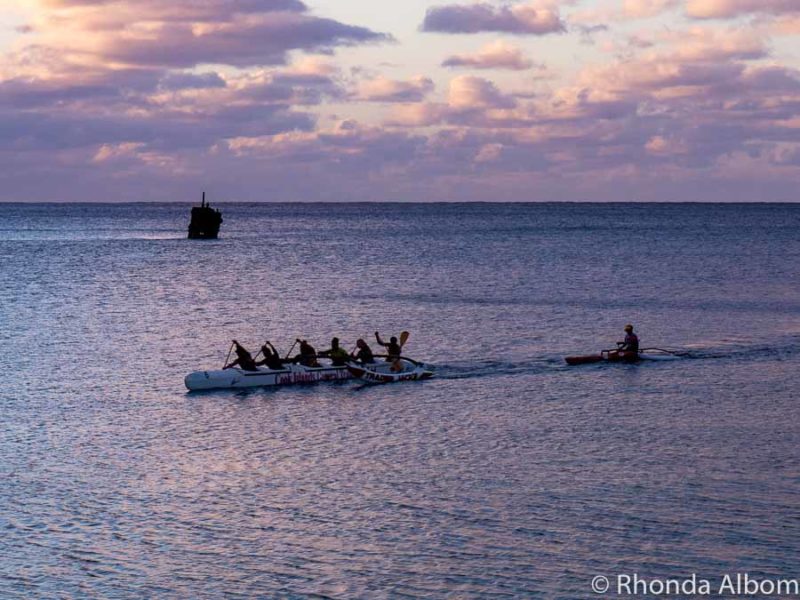 Things to do in Rarotonga: cultural discovery and daily life
Punanga Nui outdoor market
The Punanga Nui market is the place to go on a Saturday morning. Buzzing with energy, tropical fruits, crafts, and other delicacies, it's a market best visited with an early start.
Locals come for the fresh produce, while tourists enjoy tropical fruit smoothies (mine was mango-based), crafts, and other Polynesian delicacies like fresh bread, coffee, pork rolls, or sugar-free coconut candy. Plus, there is local entertainment, so it's well worth grabbing a seat.
For me, the highlight of the market was meeting Fiona, who hand-paints meaningful Pareu (sarongs). Her design below is based around the sun (life) and the flowers (happiness of the Rarotongan people). Radiating outwards, the images represent the journey as people travel around the world, followed by a pattern reminding locals that they always bring a part of themselves when they travel. Yes, I did purchase it.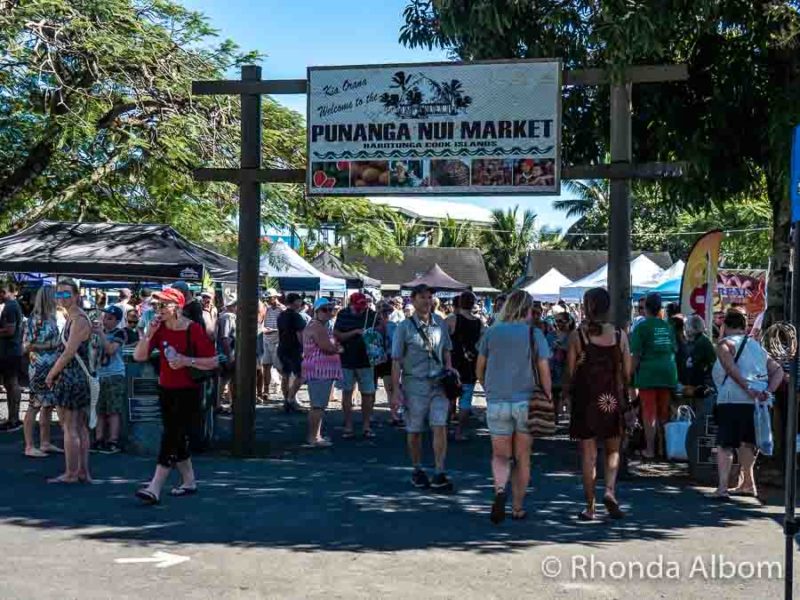 Learn a bit about the culture
We believe that the best way to learn about a culture is from a local. We really appreciated the storyteller that was with us on the bicycle tour, as well as Pa's nature walk.
If you enjoy cultural shows, there are different options depending on which night of the week you want to go.
Also, there is a progressive dinner option on Sunday or Thursday nights that features a three-course meal with each course in a different local home. It is one of the more popular Rarotonga activities, made even more fun with local hospitality and live music.
Visit the Cook Island Christian Church
A charming church dating from 1853 and made from coral, it is open to the public. If you walk around the exterior, you can find areas where the plaster has chipped away, revealing the coral underneath. Be sure to explore the graveyard to find the tomb of the Cook Island's first Prime Minister. If you can, partake in a Sunday morning service, here or at a different church on the island.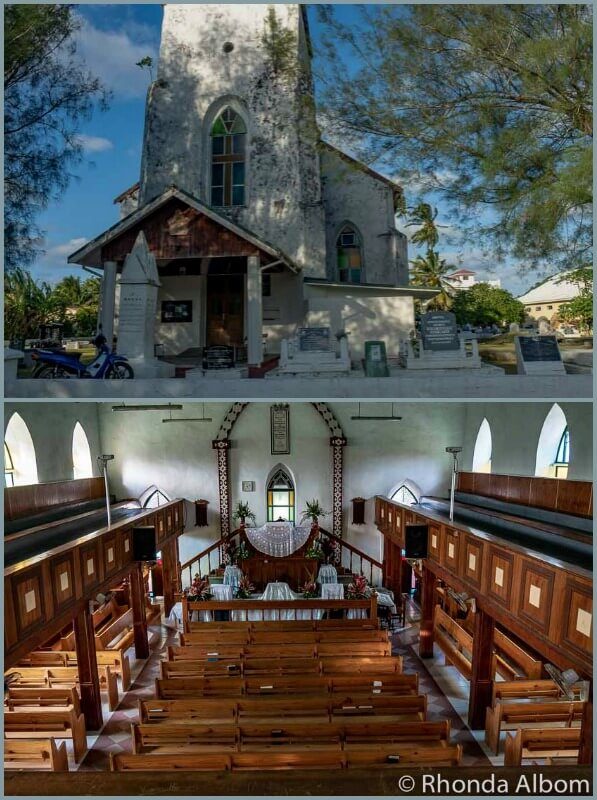 Things to do in Rarotonga: museums and other indoor activities
Visit a museum
There are three museums on the island. The newest, Te Ara – The Cook Islands Museum of Cultural Enterprise, is in Muri Beach and tells the history of the island including migration. It's a small museum that took us less than an hour to go through.
The original Cook Islands Museum and Library Society is open 9am – 1pm (Monday-Saturday) and 4-7pm Tuesday evenings. However, behind the museum is an interesting, always available vaka (Polynesian canoe) display.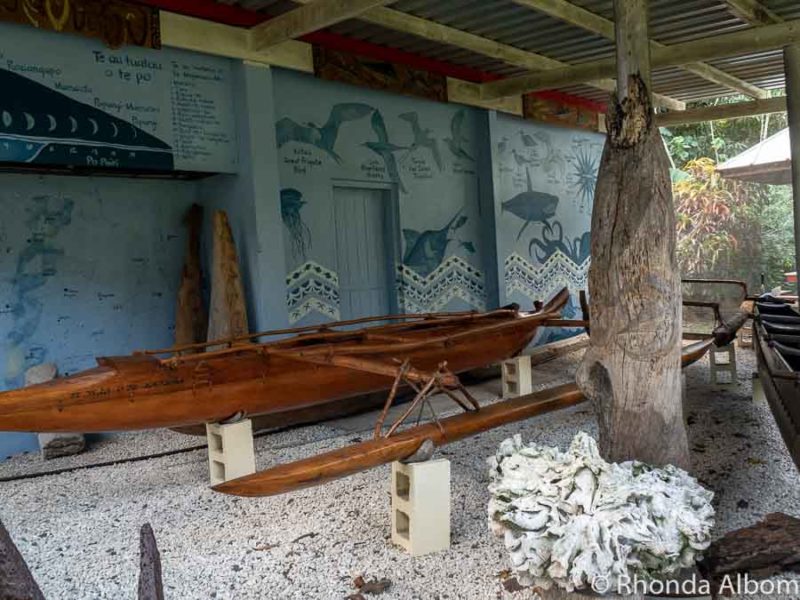 We saved a visit to the National Museum for our final day and, to our surprise, it was closed for a staff meeting.
Explore Para O Tane Palace
Also called the Palace of Makea, this building seemed almost out of place. One room was open, so we wandered in.
More of what to do in Rarotonga
Take the public bus around the island
If you want a quick, inexpensive visual tour of the island, hop on a bus and you will discover many things to do in Rarotonga. There are two bus routes, one going in each direction, and they circumnavigate the island all day, leaving Avarua clockwise on the hour and anticlockwise on the half-hour.
Stare in wonder at the dilapidated Sheraton resort
A fascinating story and bizarre ruins that would make a fabulous setting for a horror film if they weren't cursed. This one deserves its own story.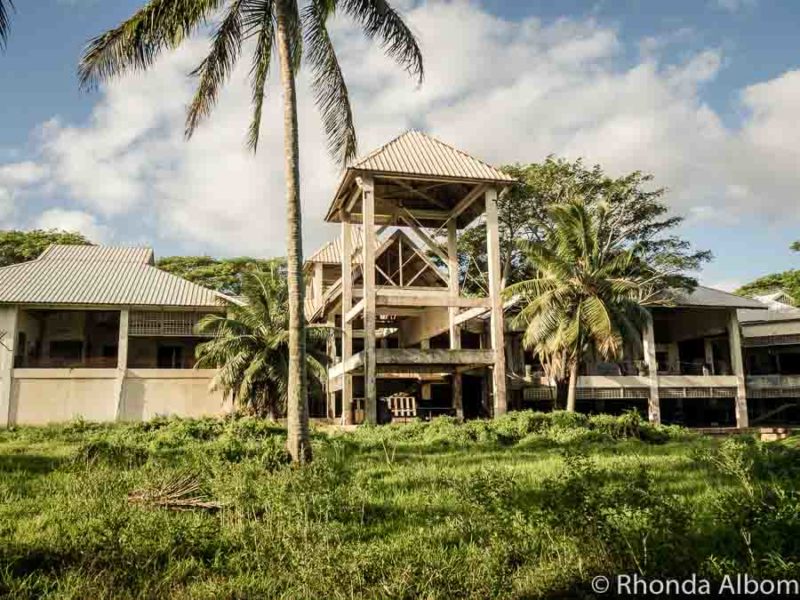 Enjoy sunrise or sunset
Intense colours make the sunrise and sunset over the ocean some of the best in the world. As we stayed on the southeast corner of the island, we saw the sunrise from our resort. However, our favourite sunset was seen from the Rarotongan Resort.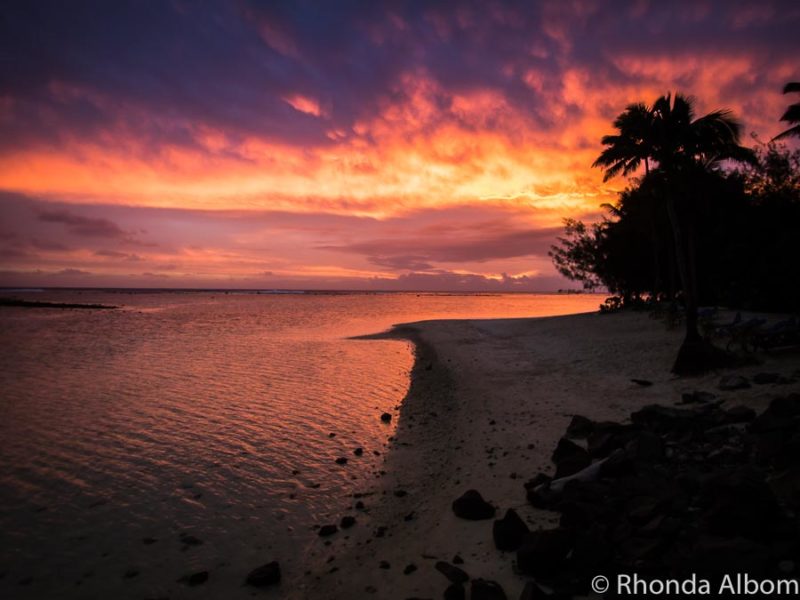 Nearby things to do in Rarotonga
Take a day trip (or spend a week) on Aitutaki
While we didn't go to Aitutaki due to Cook Island's weather the week we were there, we would be remiss in not including it here among our recommendations. Considered one of the world's most beautiful islands, it's only a 45-minute flight from Rarotonga.
Once on the island, head to the lagoon that has made it so famous. Crystal clear, sparkling turquoise water, white sand, and huge palm trees are featured in every lagoon photo I have seen.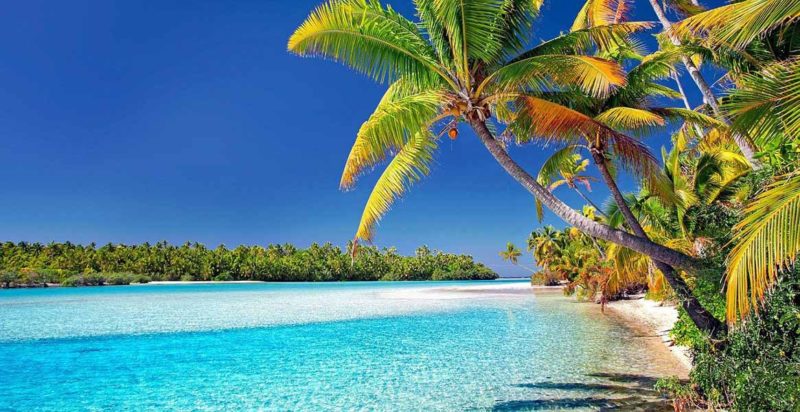 Where to eat (always one of my favourite things to do on Rarotonga)
Wherever you eat, you won't go hungry. Big portions seem to be standard. A few tips:
Drink only filtered water, which is what you find at restaurants and hotels.
Be prepared to pay for filtered tap water in restaurants. We saw prices ranging from $1 for a glass to $4.50 for a bottle of tap water.
Make bookings for dinner. Many of the restaurants fill up.
It is not customary to tip at Rarotonga hotels or restaurants.
Muri night market
Be sure to allocate at least one Sunday, Tuesday, Wednesday, or Thursday night to experience dinner at the Muri Night Markets. Here, you will find stalls presenting every fashion of island foods, including chicken and rice, curries, or ribs.
Pro Tip: Go early as it starts at about 5 pm. By 6.30, many of the stalls are running out of food, and by 7 pm, they are closing up.
Our favourite cafés on Rarotonga
Beluga: A charming cafe in Arorangi where I enjoyed wonderful coffee and a fabulous salad. It's the only place we ate at that didn't charge us for filtered tap water.
Salsa Café: Another great cup of coffee alongside a huge, fresh salad. It's known for its 'all-day breakfast' (although it's only open until 3 pm during the week and 2 pm on Sat). Located in the capital, Avarau, it's a perfect place for a quick (or slow) bite.
Our favourite restaurants on Rarotonga
Trader Jacks Bar and Grill: The iconic place to go for fish, or just to have a drink and enjoy the sunset.
La Casita Mexican Café (temporarily closed): Exactly as the name describes, in Muri beach. It's a less expensive alternative to eating at the resorts.
Spaghetti House Pizzeria & Grill: A huge, delicious portion of pasta (or lasagne in my case). Spaghetti House is located at Edgewater Resort.
Lagoon Restaurant at Moana Sands Lagoon Resort: Dinners are a culinary masterpiece beautifully presented and delicious, although a bit pricey. One of the best meals I had on the island.
Check out this Rarotogona Travel Guide for our recommendations on where to stay on the island.
General information about Rarotonga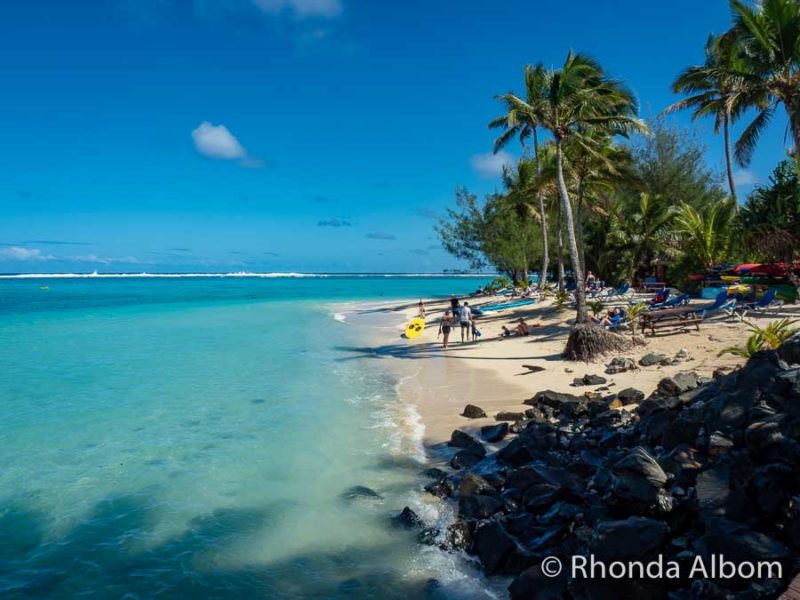 Rarotonga's climate is tropical; as a result, it's an island paradise.
The Cook Islands is a self-governing country in free association with New Zealand. Consequently, Cook Islanders have New Zealand citizenship.
The indigenous people are Cook Island Māori.
The population is estimated to be between 9,000 and 20,000. Our hotel's driver estimated that there are about 100,000 visitors annually.
Tourism is the largest industry on the islands.
Rarotonga is a stopover option from Air New Zealand when flying between Los Angeles (USA) and Auckland (New Zealand). We took advantage of this opportunity and stayed a week on the island for no additional airfare.
Wear reef shoes if there is coral on the beach.
Bring a torch (flashlight) if you plan to walk at night, as the streets are dark.
Island exports include only noni, vanilla, black pearls, yellowfin tuna, and people (according to our Storytellers Eco-Cycle tour).
Save on your trip with these resources
These are our go-to companies when we travel. We believe this list to be the best in each category. You can't go wrong using them on your trip too.
Check out our travel resources page for more companies that we use when you travel.
Save for later
If you enjoyed this article, please share it on social media and save it for later on Pinterest.
What will top your list of things to do in Rarotonga?
Disclaimer: We worked with the Cook Islands Tourism Corporation. They provided complimentary entrances, tours, and sample items to assist in the writing of this review. The opinions expressed here are strictly our own.