Our Samoan resort was a pure tropical paradise. Life revolved around our desire for relaxation, culinary excellence, and sporting fun. Thus, it stood in sharp contrast to the focus on family, community, and church of locals living in Samoa. Yet somehow, the two co-exist seamlessly.
We stayed at Saletoga Sands Resort on Upolu, the most populous island of Samoa, a tropical island in the Southern Pacific Ocean. Our days began and ended in pampered paradise, our daily routine simplified.
Surrounded by luxury, elegant food, watersports, and palm-lined beaches, we had everything we could desire at our fingertips.
Life revolved around us as individuals, purely here to have fun.
In sharp contrast, locals living in Samoa use the term fa'a samoa, which literally translates to the Samoan Culture or way of life. It's a focus on a communal way of thinking – families (aiga) rather than individuals.
Fa'a samoa includes other elements like the Samoan language, genealogies, and villages that revolve around both the chief and the church. High in importance are the values of love, service, respect, discipline and the bond between siblings.
To get a window into the culture, we spent part of our time away from the resort, some by choice, but we did have one small incident taking us to a local hospital (see below).
Getting off the tourist path, we can better experience the culture when we travel. Leaving the resort, we met locals, asked questions, and took photos. While I have never personally been living in Samoa, I was able to capture a small window of the contrast between visitors and locals.
Plus, leaving the resort gave us a chance to enjoy the uniqueness of Samoa. We found an adventure filled with laughter, colourful open-air fales (houses), dogs, pigs, waterfalls, lava caves, and plenty of things to do in addition to meeting people.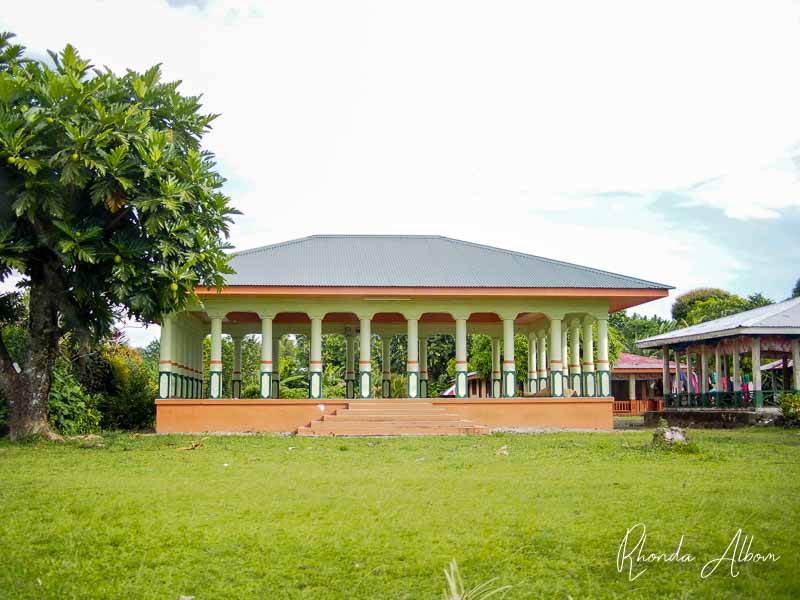 Our first impressions – arriving in Samoa
Landing in Samoa close to 10 pm, the warm, fragrant, tropical air instantly enveloped us. Clearing customs was easy and a friendly resort representative met us just outside the international gate.
As a result of the late arrival, we travelled to the resort after dark, never really seeing aspects of daily life.
Once at the resort, life was simple, with everything laid at our feet. It wasn't long before the gentle sound of the surf lulled us to sleep. At this point, our biggest decision was air conditioning or open windows.
Following a great night's sleep, I watched the sunrise, as I fell in love with Samoa. Or, did I simply fall in love with a tropical paradise created by the resort?
Resort life vs living in Samoa – housing
Nowhere was the contrast more visually obvious than when comparing the housing. We were in an ocean view villa, and had we not wanted the extra bedroom for our girls, we would have been in an ocean front villa. This is a far cry from the traditional Samoan fale.
Our ocean view villa at Saletoga Sands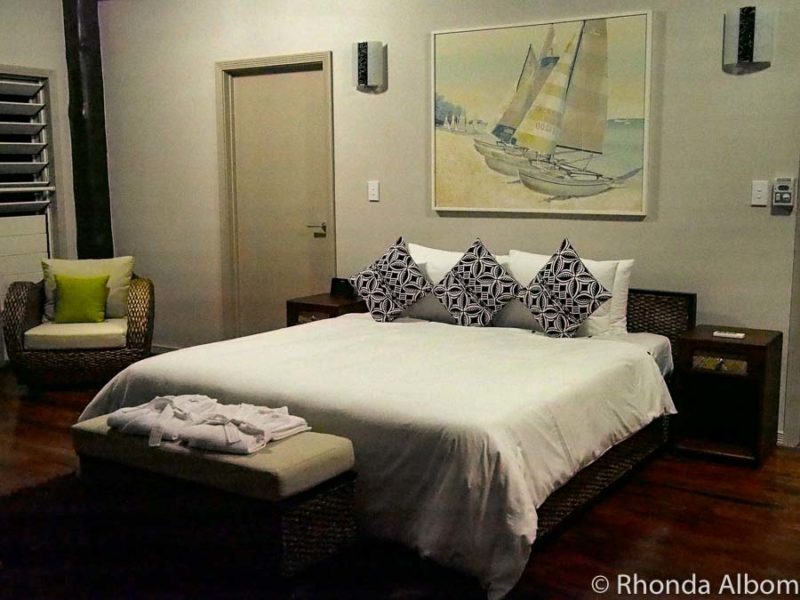 Our ocean view family villa is large and spacious, with a big bed on one side, a wicker couch and fridge on the other. French doors open to a smaller room with two single beds for our teens. The bathroom was modern, with a backdoor leading to a private outdoor shower. Open to the sky, and surrounded by plants, it was pure heaven.
Better still was the upgrade for our wedding anniversary to the luxurious beachfront Matai Villa Suite. With our own section of the beach and an outdoor bathtub, it's a paradise that we will happily return to. Check pricing and availability of different rooms at Saletoga Sands Resort
Living in Samoa – fales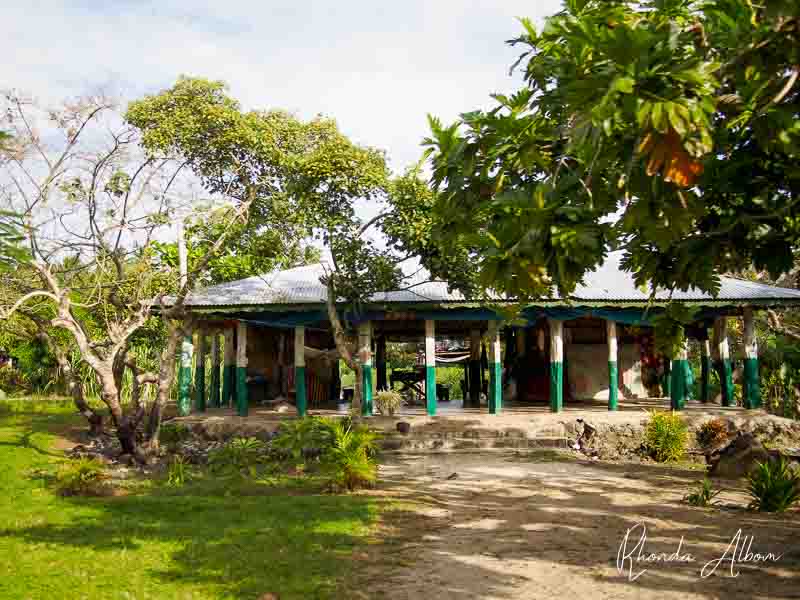 A fale is an open structure usually with a solid roof, although beach fales often have thatched roofs. In the rural areas of Upolu, we saw many structures using this traditional style.
Often, extended families live together in one fale, sleeping on mats at night. Others are used as meeting houses. When it rains, tarps are put up to keep the interior dry.
Family homes are passed down, and ancestors are often buried in the front yard. The taller the grave (like the one in the image above), the more important the deceased was, chiefs being buried the highest. It is the same with the platform of the fale, taller fales suggesting that the family has an important ranking member.
Living in Samoa – modern homes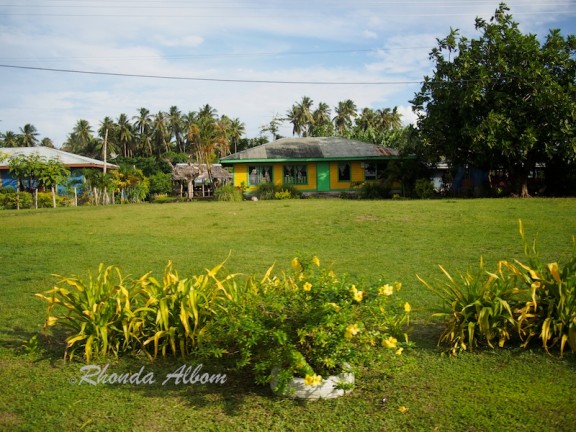 Each village we saw had a mix of fales and enclosed homes, with walls, windows and doors.
In addition, there is a local committee in each village called the aualuma. While we had been told that the committee's purpose was to make sure that each extended family keeps up a beautiful appearance, reader Purple Panda expanded this for us:
The committee is made up of a group of women in the village and they meet to discuss ways to better the village life and family life. The roles of mothers in the home are often displayed in this committee by way of service. No one can tell you to clean your house in Samoa. Maybe just outside your home and the committee help also.

The one thing that I remember about this committee is their commitment to making sure every family in the village is well taken care of. Some village's aualuma have weekly meetings where mothers would bring their minimum necessities like pots and pans, dishes, towels, curtains, etc. We never went without because the aualuma always made sure families got what they needed.
Kitchens and bathrooms
In Samoa, both the kitchen and bathrooms are typically separate from the main house. This prevents the house from burning down in a kitchen fire and is also more sanitary.
Some of these are more modern than others. We got a closer look at the kitchen of the family that took us to Fuipisia Waterfall. It sits behind their fully enclosed main home.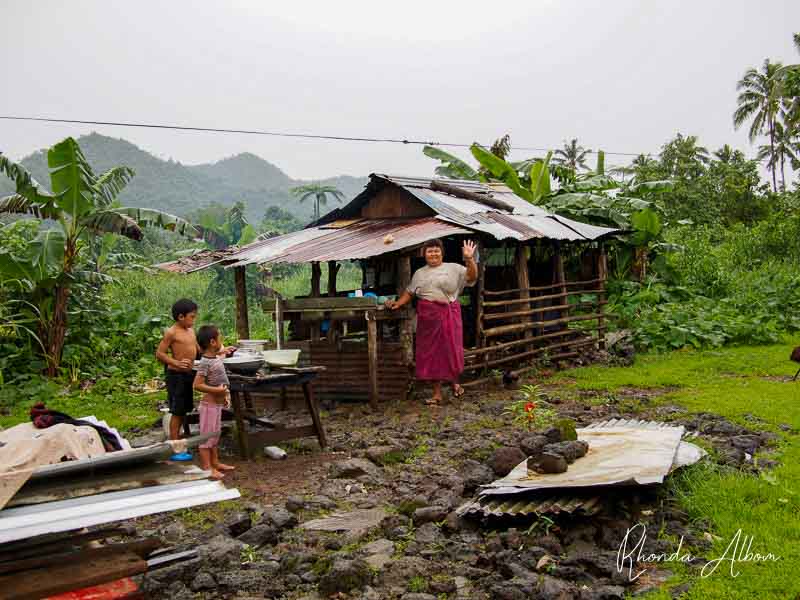 Resort life vs living in Samoa – daily life
Vacation is always different from daily life, that's its purpose.
Resort life at Saletoga Sands
The thing about resort life is that in a way, we can be on any tropical island. While the decor and food are Samoan, life is based around our wants and desires.
Our day began with a tempting buffet breakfast, the first of many tempting meals throughout the day. Similarly, the beverage options were extensive ranging from fresh coconut milk from the nearby palm trees to a full bar.
Daily resort life includes relaxation, pampering, a swim-up poolside bar, optional tours, oceanfront lounge chairs, a talented masseuse, snorkelling, SUP, kayaking, and walks on the beach. Not to mention the never-ending ocean views and an evening Fiafia show (not every night).
If we needed to go anywhere, there were several relatively new rental vehicles right there on the property available for our use, or we could go with an organized tour.
We were in a really enjoyable utopia. If you are looking for a resort getaway, we loved our time at Saletoga Sands. Check availability and reserve your villa.
Daily life of those living in Samoa
As we have never actually lived in Samoa ourselves, these are just a few of our observations of both rural and city life.
Regardless of where we went, island time dominated. It's a slower-paced lifestyle, one where 'right now' means sometime today, and opening hours are just a guide.
As we discussed above, life is thought of in terms of the family unit, and the church is central to daily life.
Samoan cuisine
Traditional Samoan meals are a bit bland to my taste and often based around taro, coconut milk, and cream. The primary meats are chicken, fish, and pork. Similar to many cultures, holidays and events often revolve around food.
Observations of rural life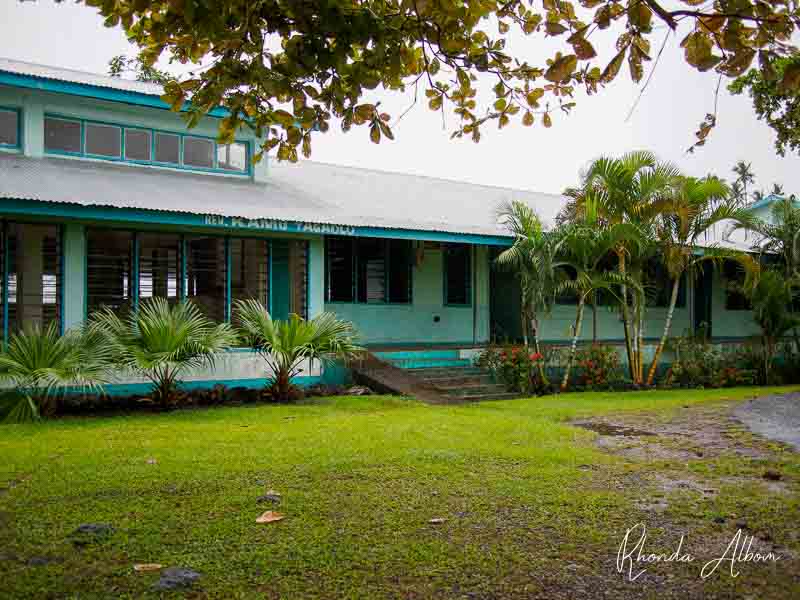 The concept of fa'a samoa is more clearly seen in the rural villages, where respect runs high. There is a church in nearly every village on Upolu that is the centre of village life, particularly on Sunday. In addition, each village has a chief.
Daily life revolves around the village and family needs. Belongings and money are shared. Respect for elders is a way of life.
We frequently saw coconut or taro for sale with a roadside honour box system. (Money jar is left out and people pay for what they take.)
School children wear uniforms, even in rural areas. The few schools we noticed were all in enclosed buildings rather than fales. The school in the image above is just outside Piula Cave Pool, one of the best places for tourists to visit in Samoa.
Stray dogs are a common sight. Unlike when we were in Argentina and told to ignore them, In Samoa, we were warned they can get aggressive and it was suggested to us to throw rocks if necessary. While we didn't do this, we also opted not to roam around the streets at night, when the dogs tend to move in packs.
Observations of city life
Apia is the capital of Upolu, the largest city in Samoa, and home to 77% of the country's population. As expected, city life appears much busier than rural life, yet still very much on island time.
It's seen clearly at the large bus station in Apia. While it looks efficient, the reality is bus schedules are loosely followed, if at all. However, the buses are inexpensive and often get very crowded, which explains the large numbers waiting for a bus.
Getting cars to the island of Samoa is expensive, so people tend to keep them for as long as possible. The same is true for the buses.
The Apia McDonalds appeared busy the few times we passed it. One of those times was with a driver from the resort who shared that it was her favourite place to eat as it offered variety from her staples at home.
Police officers patrol on foot in the city, and the ones we encountered were relaxed and friendly, pretty much like everyone we met on the island.
Resort life vs living in Samoa – medical care
As much as we try to avoid needing medical care when we travel, we seem to find ourselves in emergency rooms around the world far too often. But, the thing about medical care is that it is the same hospital for visitors and locals.
Our hospital ER visit gave us a window into local life and living in Samoa
If you are looking for a hospital in Samoa right now ⇒ Click here for the National Health Service of Western Samoa's national hospital directory. The hospitals, hours, phone numbers, and email addresses are listed.
It was never a drama, nor a life-threatening emergency, but it was an insect bite that swelled and spread quickly. Our resort's owner took one look and offered to take us to the hospital in Lalomanu, a 20-minute drive away.
A more rural medical centre than we had expected, it was efficient and easy. The outdoor waiting lent itself to stray dogs, and while this seemed odd at first, it is not the only time we have encountered it in our world travels.
With only one other patient there, our wait was short, which was good as it was quite warm in the tropical heat, despite the shaded waiting area.
As it turned out the doctor is only there on Wednesdays. It was Sunday afternoon, so we saw a nurse who asked standard questions about medical history, took our daughter's vitals, got a good look at her hand, and then left to call the doctor in Apia.
As the doctor thought it was infected, we were given a ziplock baggie filled with antibiotics, paid a nominal fee, and were on our way. This window into living in Samoa was quick, painless, and even left us with an option to go to Apia to see the doctor if we felt it was necessary.
A few final thoughts on resort life vs living in Samoa
Samoa is made up of two main volcanic islands, Upolu and Savai'i, and several smaller ones. Like most visitors to the country, we were only on Upolu.
Samoa's population is nearly 200k, of which 93% are Samoan.
There are two official languages, English and Samoan.
In 1961, the Samoan people voted for independence. Prior to then, it was governed by New Zealand.
Formerly called Western Samoa, it is an independent nation and different from nearby America Samoa.
Save on your trip with these resources
These are our go-to companies when we travel. We believe this list to be the best in each category. You can't go wrong using them on your trip too.
Check out our travel resources page for more companies that we use when you travel.
Save for later
If you enjoyed this article, please share it on social media and save it for later on Pinterest.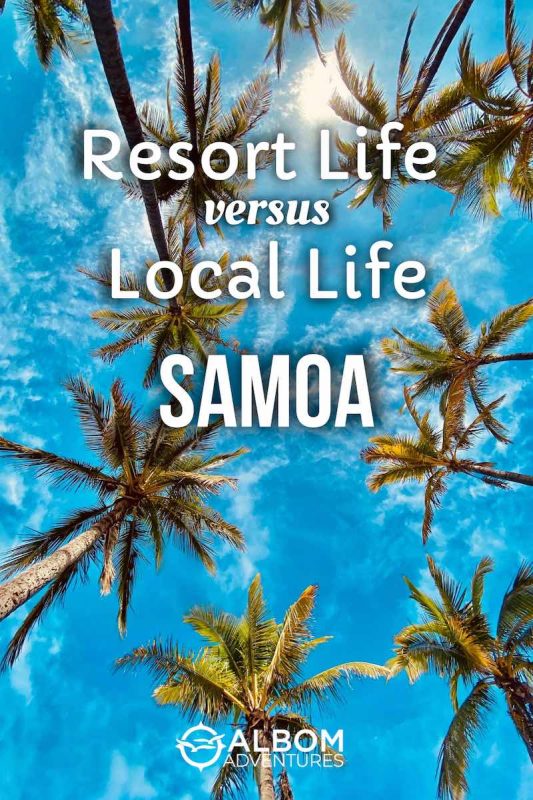 What did you find most interesting between resort life and living in Samoa?
Nearby islands you might also like…
Disclaimer: Saletoga Sands Resort partially sponsored our travels, however, the opinions expressed here are strictly my own.