American Samoa is a tropical paradise waiting to be discovered. Situated in the southern Pacific Ocean just east of the dateline, it's a small unincorporated US territory that many people don't even know exists. For me, it is the lush green hills, warm turquoise waters, and a blend of traditional Samoan culture with modern American amenities that made visiting American Samoa irresistible.
The capital, Pago Pago, may be better known than the country itself. I think the familiarity comes from the Apollo flights (10, 12,13, 14, and 17) that splashed down close to American Samoa, with their astronauts being initially brought to the main island.
We arrived in Pago Pago on a Princess Cruise sailing from Los Angeles, California to Auckland, New Zealand and stops at ports in Hawaii and French Polynesia, as well as American Samoa. Pago Pago cruise port is an easy destination to walk off the ship without a plan, as there are plenty of things to do when visiting American Samoa.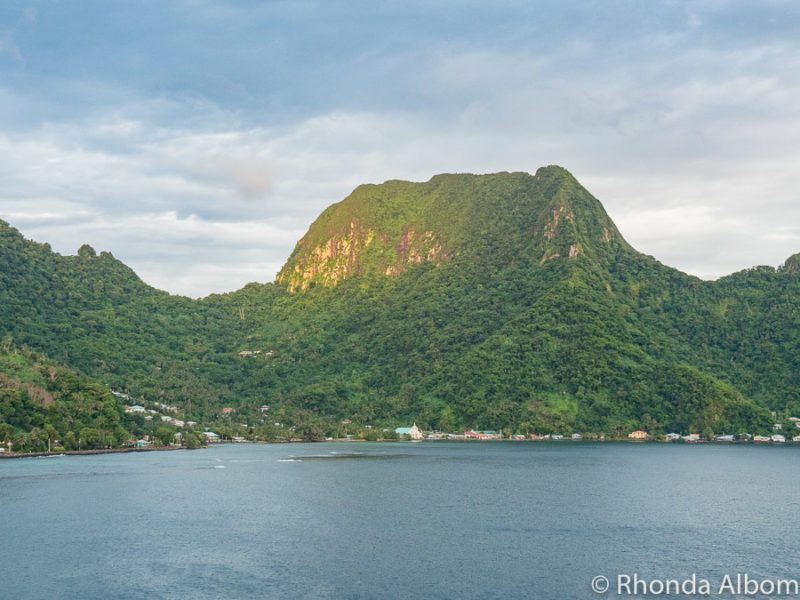 Things to do in American Samoa: National Park
US National Park chasers know of American Samoa, even if they haven't made it here yet. The National Park of American Samoa is the most remote of the US National Parks and is the only one in the southern hemisphere. If that's not enough uniqueness, it is also the only United States National Park not owned by the US government. Instead, it is leased (for a fee) from the eight villages that occupy the land. And the local villagers continue to use the area.
Vatia lookout
Aside from incredible views, there are three hiking trails from the Vatia lookout. Two go down to beaches, while the third leads to Maugaloa Ridge.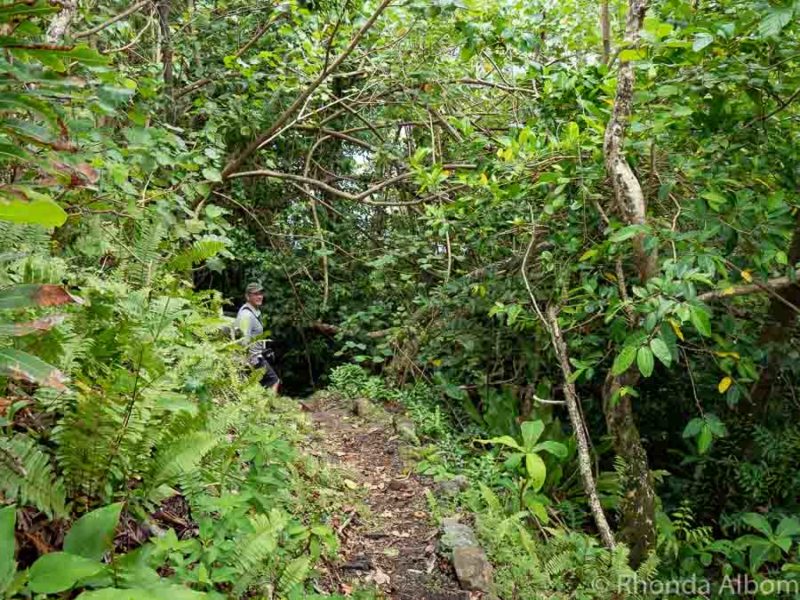 Pola Island
To demonstrate their bravery, young tribal men used to climb to the top of Pola Island. Today it is an active and protected seabird nesting area, home to noddies, frigate birds, and brown boobies.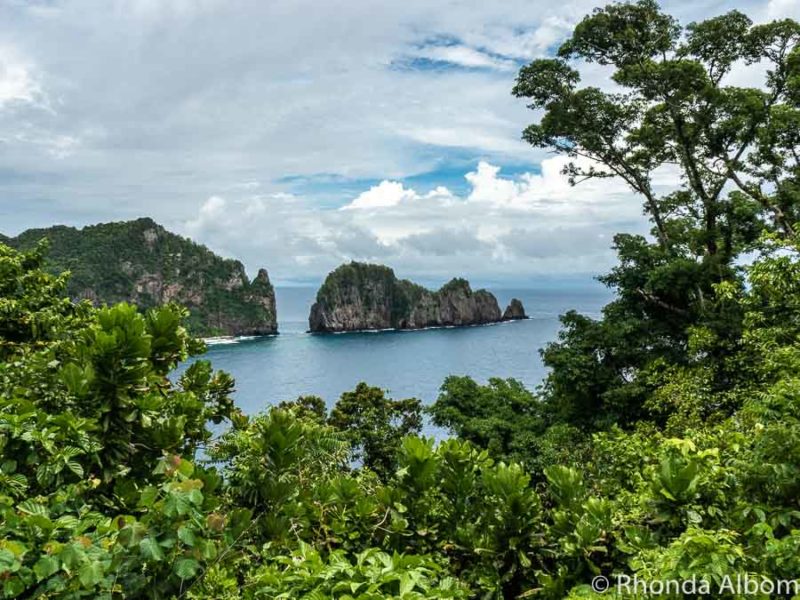 Vatia (the village)
A charming and typical beach town that can be driven or hiked to from the lookout. It's an example of the mix of modern housing and amenities with traditional Samoan life. Located inside the National Park, the village gets regular payments from the US government for the use of its land.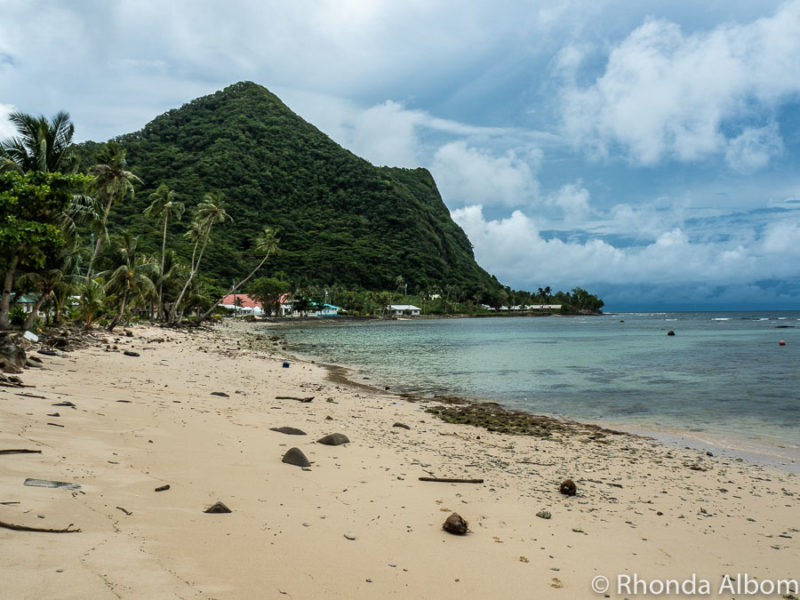 The village upholds traditional customs like Sa, a time at dusk dedicated to prayer and contemplation. Like other villages we passed through, an old welding tank is used as the town bell. It is rung three times nightly: first is the five-minute warning; second at the start of Sa; and, again to signify the end of Sa, about 15 to 20 minutes after it began. If you are visiting American Samoa, you will want to respect this tradition.
National park visitor center
Tours can be booked at the National Park Visitor Center, or just stop in to get your National Park Passport stamped.
Afono Pass and views of Rainmaker Mountain
Visiting American Samoa often means getting rained on, especially in Pago Pago Harbor. This is due to Mount Poia, which is nicknamed Rainmaker Mountain because the clouds get trapped at the top of the mountain, producing up to 200 inches of rain annually. As a result, Pago Pago Harbor has the highest annual rainfall of any harbor in the world.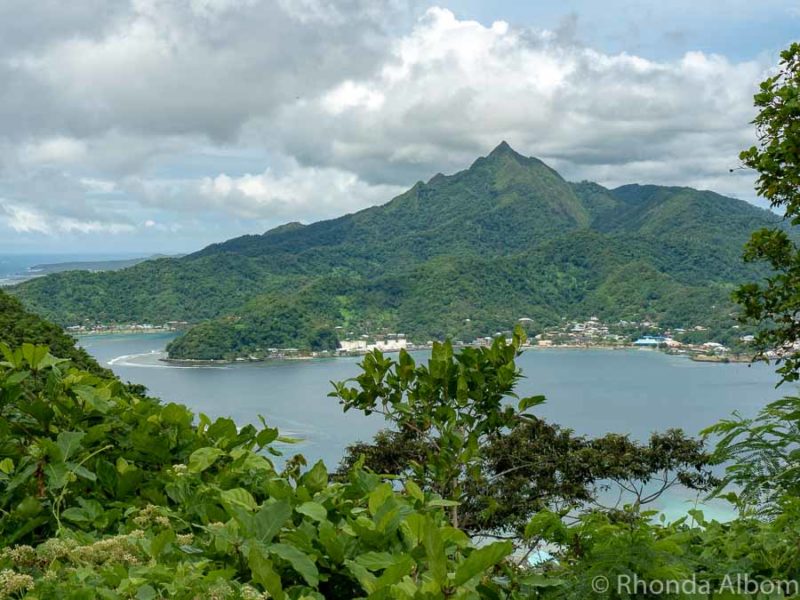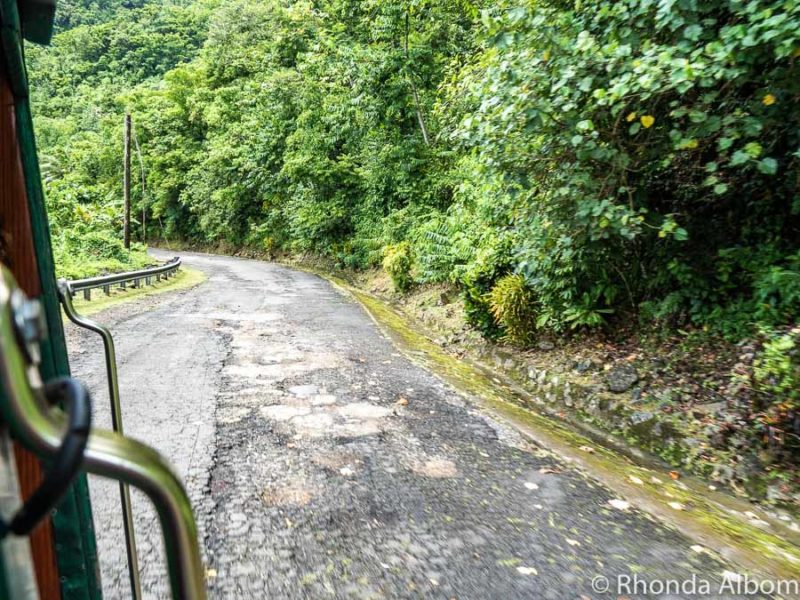 Things to do in Pago Pago: walking distance from the port
Pago Pago is the capital of American Samoa. It's the largest city by both land mass and population, and it is home to the cruise port. If you arrive via cruise ship, you can take a ship's excursion, join a tour at the dock, hire a private taxi, or walk to town on your own. We joined a three-hour fabulous tour with Tour American Samoa, which took us to all the sites on this page outside of walking distance.
Walking to the right will bring you to small towns, the museum, and the market. Turning left out of the port you will find the Ocean Center, beautiful white sand beaches, and more cafes.
Pago Pago's deep, well-protected harbor is what first attracted the United States in 1839, and it took a while to formalise an agreement, finally creating the US territory of American Samoa on April 17, 1900.
Tauese P.F. Sunia Ocean Center
This is not an aquarium but rather a learning center. Home to the only NOAA 'Science on a Sphere' in the southern hemisphere, The Tauese P.F. Sunia Ocean Center is a place to discover Samoa's natural resources and to become more ocean aware. It's free to visit and only a short walk from the Pago Pago port.
The Ocean Center is responsible for the protection of 13,581 square miles of ocean in six marine sanctuaries. It contains the only 'Science on a Sphere' in the southern hemisphere and the building features a mural by Wyland on its exterior wall.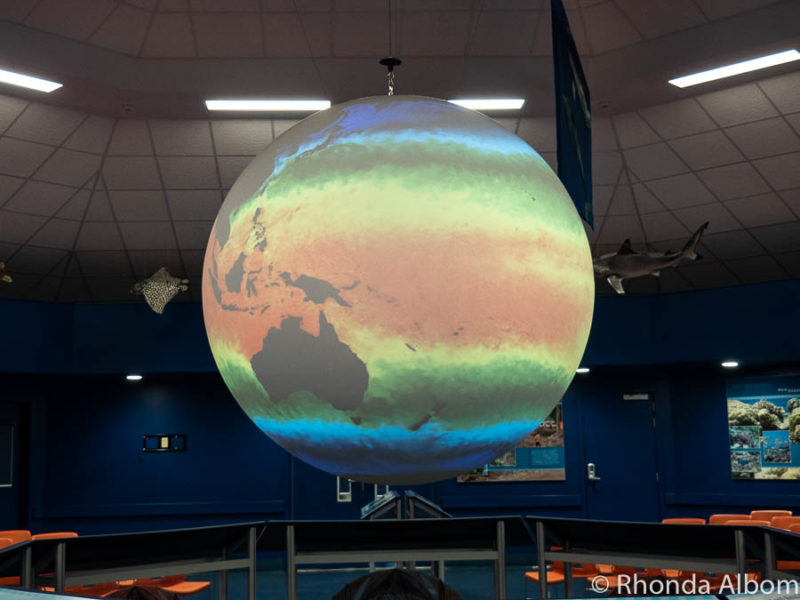 Jean P. Haydon Museum
Jean Haydon is the wife of the governor who welcomed the Apollo astronauts in 1970. Today the museum is not only the place to see Samoan artefacts and handcrafts; it is also an opportunity to see the moon rocks and the actual American Samoan flag that was carried to the moon on Apollo 11. The museum is going through a significant expansion and was closed when we visited.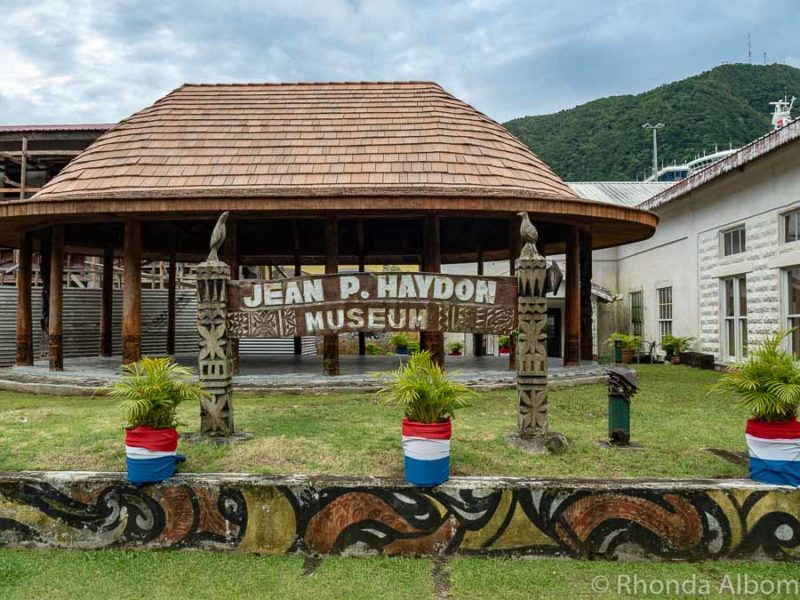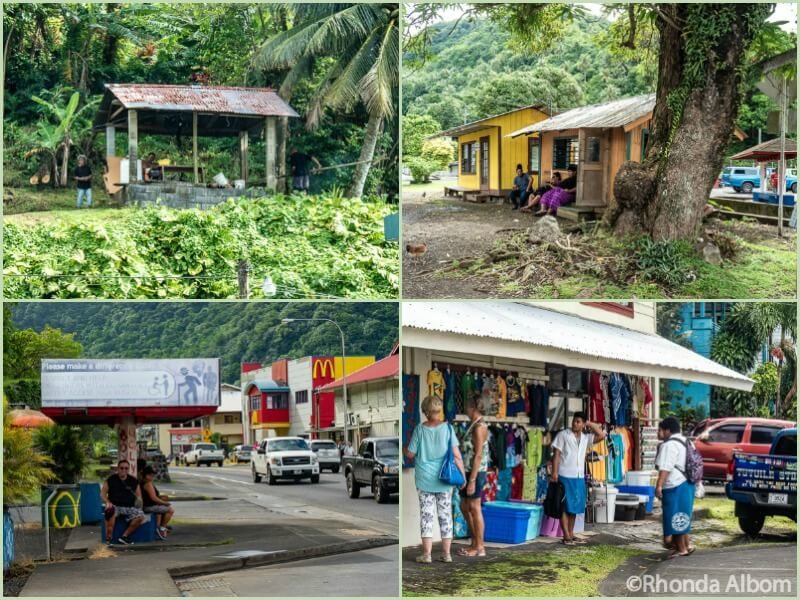 Other things to see when visiting American Samoa
As we took a cruise to American Samoa, we had only one day to see the highlights. We made sure we saw Pago Pago Harbor from up high, got into the only American National Park in the southern hemisphere, stuck our toes into the sea, and visited the Ocean Center.
Aerial Historic Tramway
Standing at the cliff edge looking 5,100 feet across the bay, I am not sure how I would have felt about taking the aerial tram if it were still operating. The historic tramway operated from 1965 to 1992. Rising from 191 feet to 1612 feet it took employees and tourists from the city side to the television transmitter across the harbor. It was severely damaged in 1980 when a p3 Orion clipped the tramway cable before crashing into the Rainmaker Hotel below. Unfortunately, none of the eight onboard the plane survived.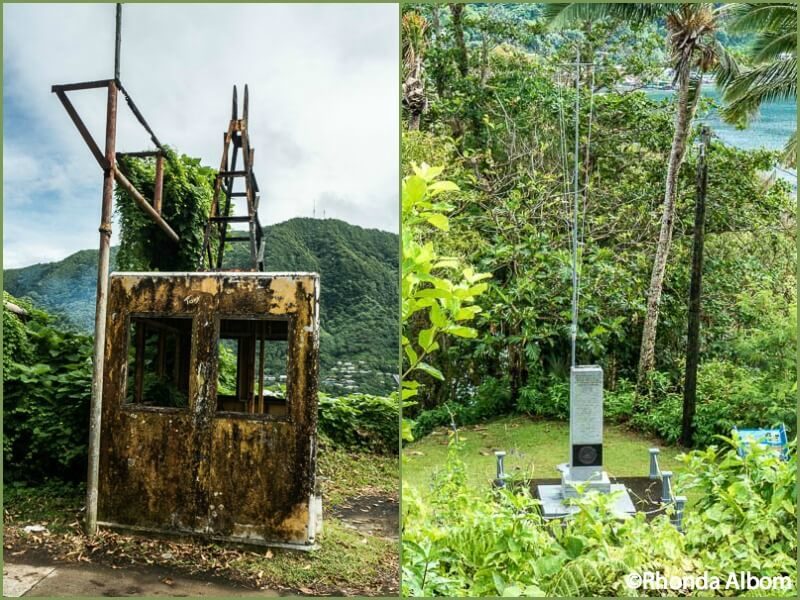 From the aerial tramway lookout, we can see both Breakers and Blunts Points, both which are home of the former military gun encampments, with cannons still in place.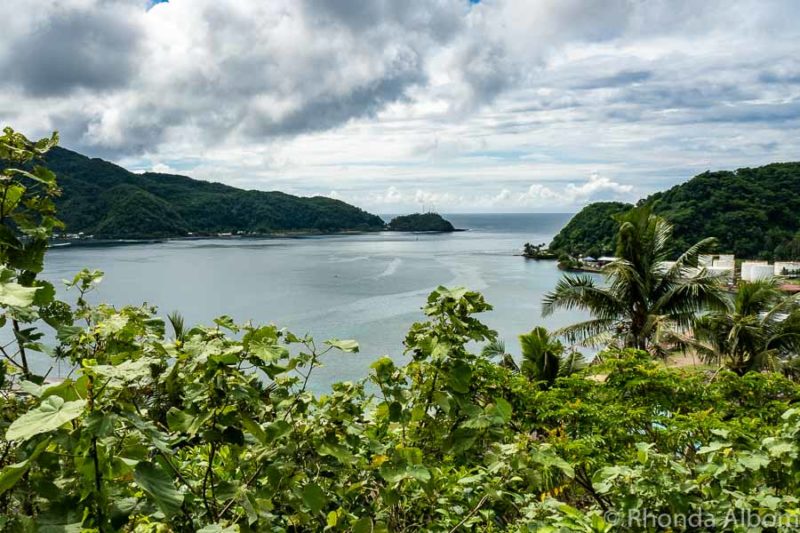 The legend of Fatumafuti – flower pot rock
It seems no South Pacific island tour would be complete without at least one exciting legend told. For us, it was the legend of Fatumafuti. Beautiful in its own right, it's the legend that brings Fatumafuti to life. To my best recall:
A fisherman named Fatu was out at sea fighting off a shark when his wife Futi approached the shoreline. Worried about her husband she began to enter the water. He called out to her to stay away, but she didn't listen. In an effort to save her he turned himself into a vast rock situated between the shark and his wife. She became so distraught she also turned herself to rock to always be near him.
Today the two rocks are named Fatu-ma-futi, the word 'ma' translating to 'and.' They overlook the entrance to Pago Pago Bay.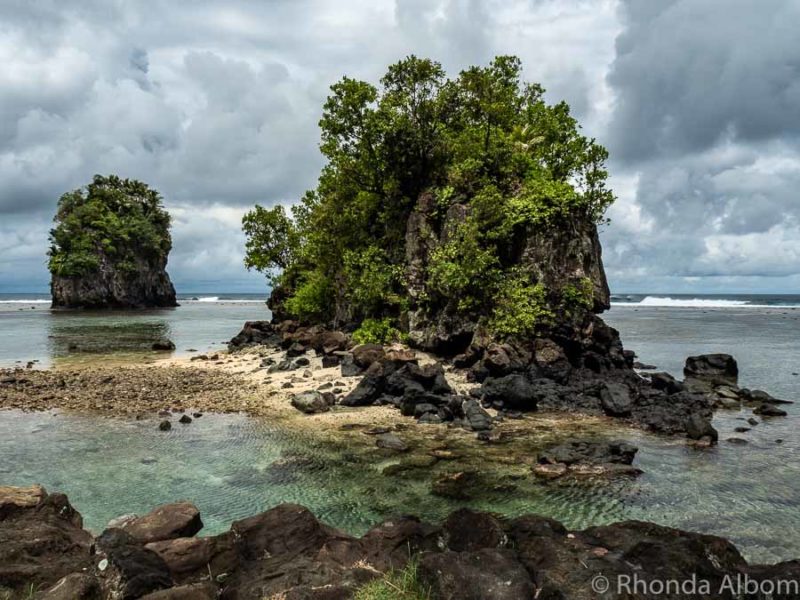 Starkist tuna cannery
Employing nearly 80% of the population in some capacity, Starkist Tuna dominates the harbor's north shore. The industry utilizes fisherman, dock workers, factory workers, people to check and repair nets, drivers, and more. Honestly, you will smell it, just before you see it, but the stench didn't stop us from getting out of the bus to take a photo with Charlie.
This is the fourth-largest tuna canning company in the world.
Flying Fox – a fruit bat roost
Remember always to look up, and you never know what you will find. Most of the bats we saw are common fruit bats, often called the flying fox. We were shown a bat roost during our tour and stumbled upon a second one near the Ocean Center. (We have also seen bats in Australia.)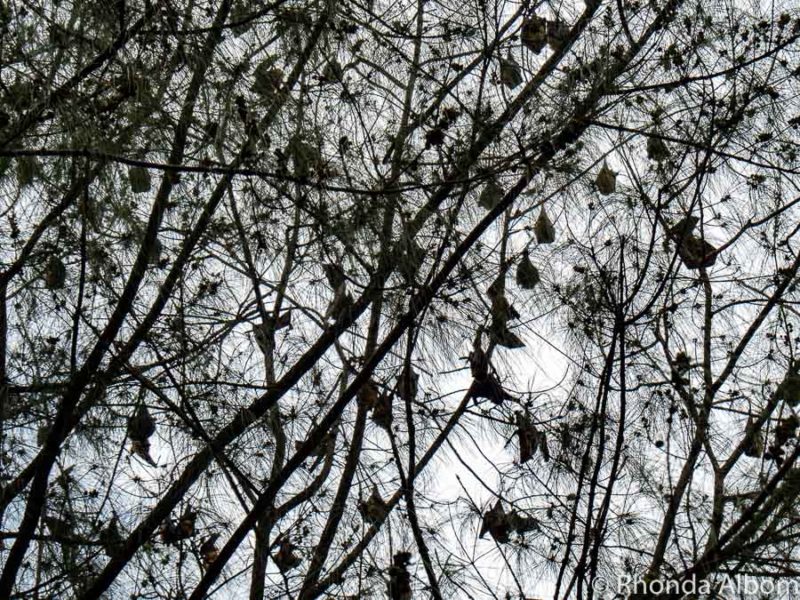 Everyday life in Pago Pago
We always like to step off the beaten path and, whenever possible, participate in local life. Meeting locals, walking down side roads, and stopping into local shops are some of our favourite things to do in a new destination. It's more difficult in a cruise port as we have time restrictions, but we were told by many that there is quite of bit of similarity to daily life in Western Samoa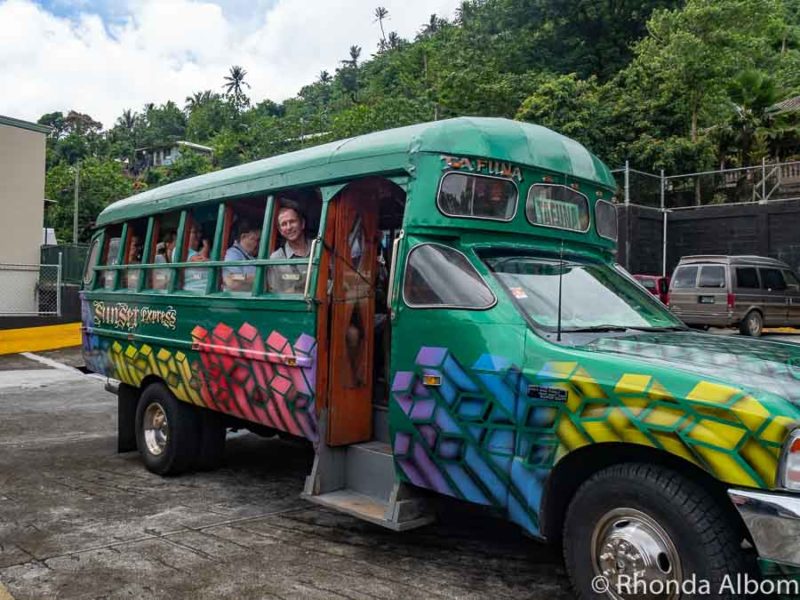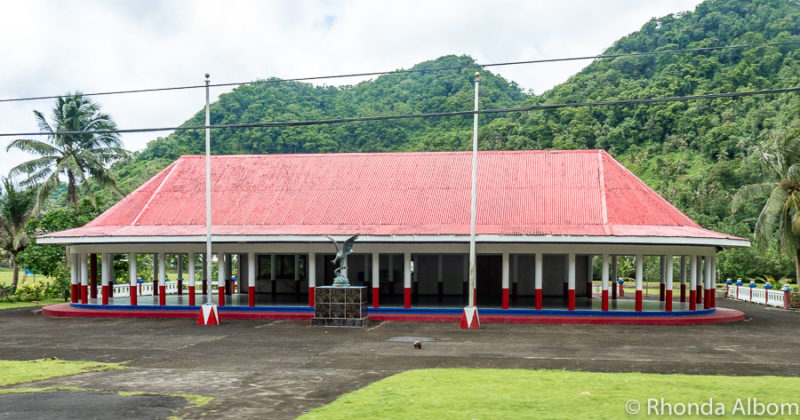 Where to Stay – American Samoa
If I could, I would have stayed longer. While there are not a lot of accommodation options on the island, there are enough.
Getting to American Samoa
Located about 2600 km south of Hawaii, American Samoa is the only American port in the southern hemisphere. Getting there isn't as easy as one would think, with direct flights offered only from Honolulu (Hawaii) or Apia (Western Samoa). Flying to Apia from either Sydney or Auckland is easy.
We arrived via Princess Cruises as one of only 17 cruise ships that will reach Pago Pago this year. This is up from 15 in prior years but still well below what the island's tourism could handle. Private yachts frequently visit as evidenced by the many small and mid-sized boats in the harbor.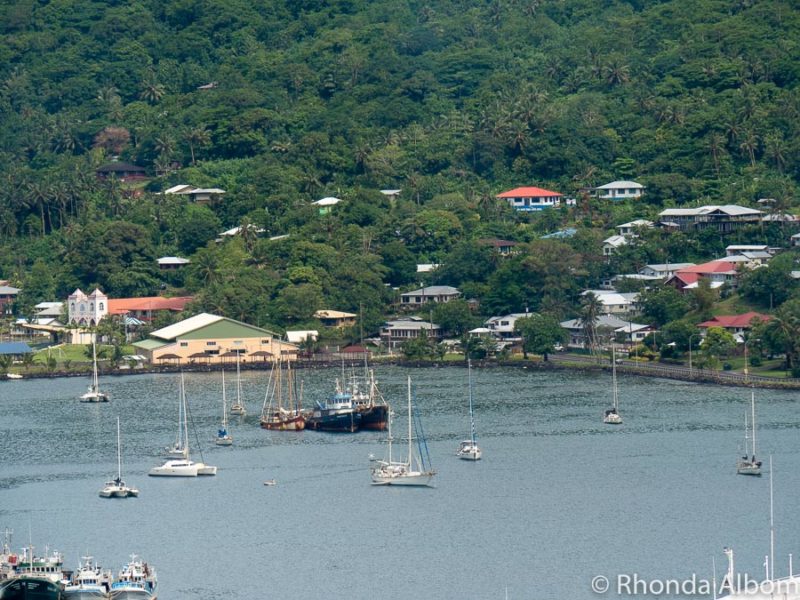 Practical Information and Fun Facts about American Samoa
Samoa and American Samoa are two separate groups of islands. Samoa is often referred to as Independent Samoa or Western Samoa. (I used Western Samoa above to avoid confusion).
Five main islands and two coral atolls make up American Samoa. Tutuila is the main island and is home to the capital (Pago Pago). Ofu Island is considered to be the most beautiful and, according to our guide, has the best beaches. The island of Ta'u is 100% solar-powered, and the goal of American Samoa is to be operating on 100% renewable energy by 2040.
In Samoan, the letter g is pronounced 'ng' therefore, the capital city is pronounced 'Pohng-oh Pohng-oh'.
While Western Samoa has its own currency, American Samoa uses US Dollars.
Tipping is not typically done in American Samoa.
Pago Pago Harbor is .6 miles wide and 2.5 miles long.
People born in American Samoa are United States nationals (not citizens).
A somewhat traditional society, it is polite to cover up if you are away from a beach.
American Samoa's weather is tropical. Located just 14 degrees south of the equator, it is hot and humid. However, the best time to visit is June, July, and August when it is slightly cooler and dryer.
There are two official languages on the islands English and the Samoan language.
For free WiFi in Pago Pago, head to Fagatogo Market, the Public Library, or McDonald's where you will find a few interesting options on the menu, like Portuguese sausage or Spam and rice.
Please Share on Social Media
If you enjoyed visiting American Samoa with us, please share this article on social media including adding one of these pins to Pinterest: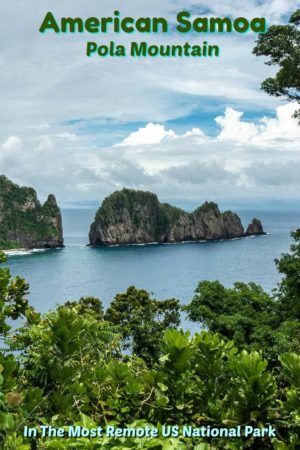 Tempted? Will you be visiting American Samoa?
Disclaimer: We worked with Visit American Samoa, the local tourism board. We were provided with complimentary entrances, a fabulous tour with Tour American Samoa, and sample items to assist in the writing of this review. The options expressed here are strictly our own.