One day in exotic Bali is not enough, but as a cruise port, that was all we had. There are two basic choices for a one day Bali itinerary. We could head inland to Ubud and see the rice terraces, monkey forest, and markets. Or we could simplify our Bali itinerary to a day at the beach.
Our day was overcast and rainy so the decision as to which things to do in Bali was easy. However, even in the rain, the island of Bali is intriguing.
We docked in Benoa at the Bali cruise port. From here, we hired a Bali private driver to show us the sites. We were lucky that our driver spoke English, and loved talking about his island nation. Typically, we hire a private guide in advance when we have one day in a port.
⇒ Check prices for a top-rated customized Bali private tour
Below are our highlights of the best things to do in Ubud Bali.
First, be inspired …
We earn from qualifying purchases through partnerships or affiliate programs.
Bali itinerary – Must see Ubud: Rice terraces
The famous Tegalalang rice terrace is one of the top two destinations on my things to do in Ubud list. Located just north of Ubud in the Tegalalang village, they are a scene out of the movie Eat, Pray, Love (actually filmed here). Even in the rain, the dramatic views are timeless, stretching endlessly.
If Elizabeth Gilbert's Eat Pray Love changed your life, you'll want to check out this top-rated ⇒ Bali Eat Pray Love tour.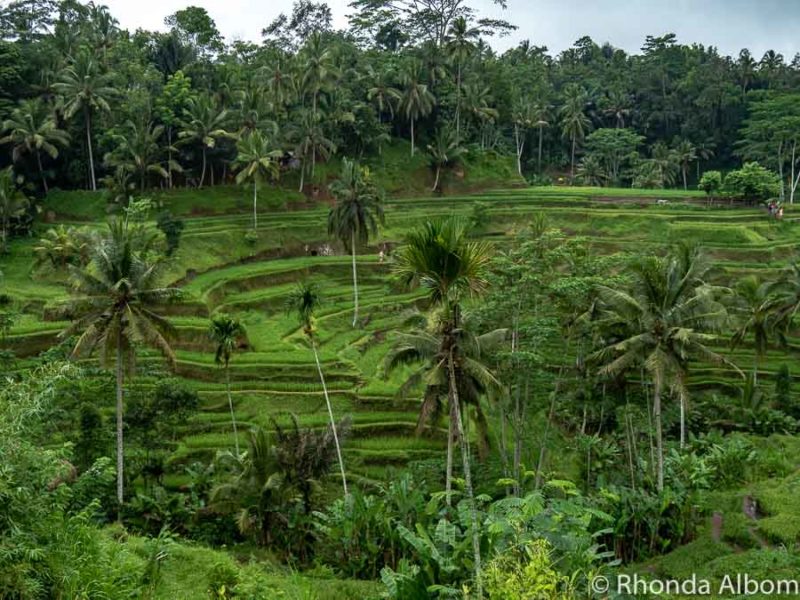 Bali itinerary – Visit Ubud monkey forest
The Sacred Monkey Forest Sanctuary in Ubud is a highlight of our day. The cost of entry was nominal and worth it. Wild monkeys are seemingly everywhere. Many visitors let them climb on their shoulders for photos. We are a bit more cautious around wild animals, especially knowing that these monkeys do sometimes bite visitors.
Even unprovoked monkey bites happen. In fact, we had one monkey jump up and try to bite something attached to our backpack. It could have just as easily been an arm or leg.
Unfortunately, things can and do go wrong when you travel. World Nomads offers coverage for more than 150 activities as well as emergency medical, lost luggage, trip cancellation and more.
TIP: Don't bring food, water bottles, or have anything hanging from your backpack when you go into the monkey forest, as monkey's stealing food from visitors is one of the top ways in which people get bit.
Bali itinerary: Shop at the market
Crafts, food, clothes, and great coffee are the key things we found in the Ubud Central market. We also bought some fresh papaya and delicious ice cream.
When a scooter whizzed past us in the crowded market, we had a deja vu moment back to our time in Marrakesh.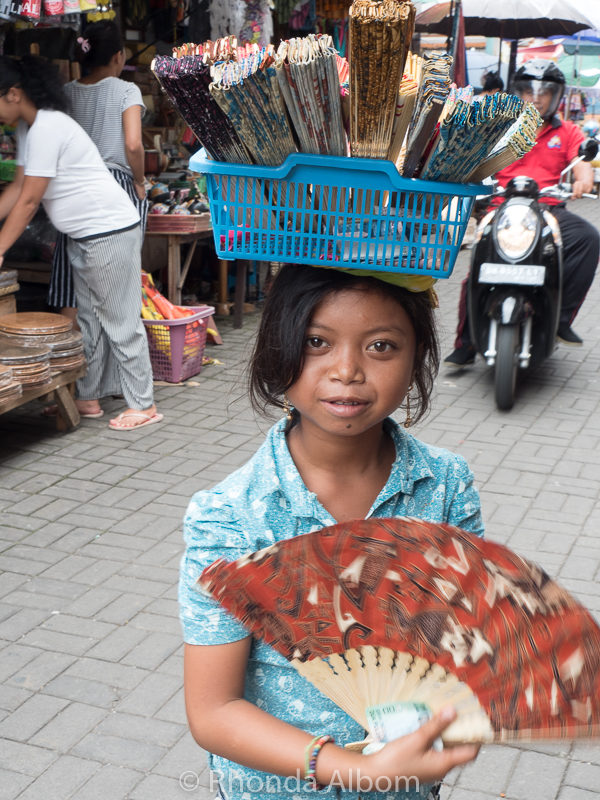 Must-see Ubud: Traditional Balinese house
We also visited a traditional Balinese house complex. They have at least four pavilions: for cooking, ceremony, sleeping and a family temple. This one had more, and there were several people currently living there. It is government sponsored and from what I understood, part of their agreement is to allow visitors. Per our guide's recommendation, we made a small donation when we left.
Bali itinerary: Ubud palace
Once the official residence of the royal family, today the historic Puri Saren Agung is a place to enjoy in daytime or, listen to music in the evening. It's free to enter and located near the market.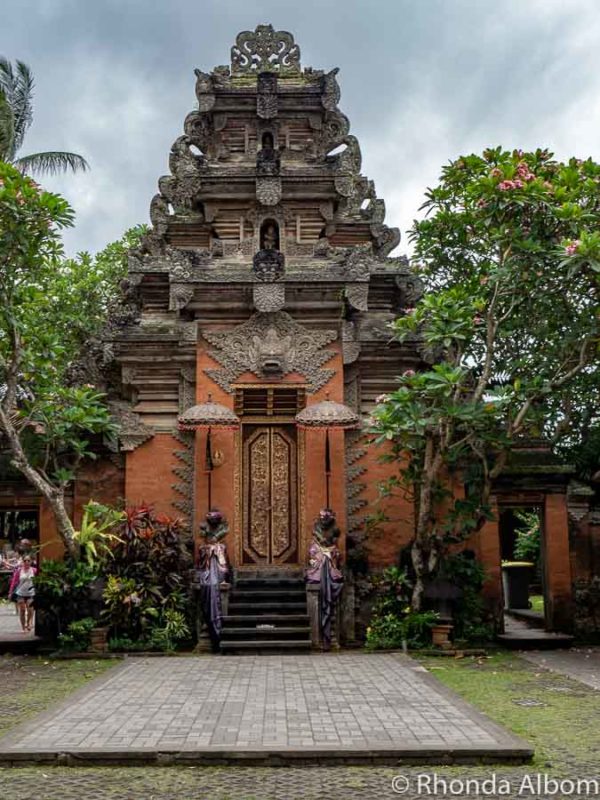 Notice the artwork and sculpture
Of course, this giant sculpture in the middle of a major street would be difficult to miss. It tells the Hindu story. While most of Indonesia is Muslim, the island of Bali is predominantly Hindu.
Visit a Balinese Hindu Temple
As we left Ubud, heading back towards the Bali cruise port, we stopped at Bali Batuan Temple. At nearly 1,000 years old, it is a stunning example of Balinese ornamental design. The temple is looked after by the artists and craftsmen of the village of Batuan.
Before entering Batuan Temple, we each had to don a sarong, supplied with our entry fee.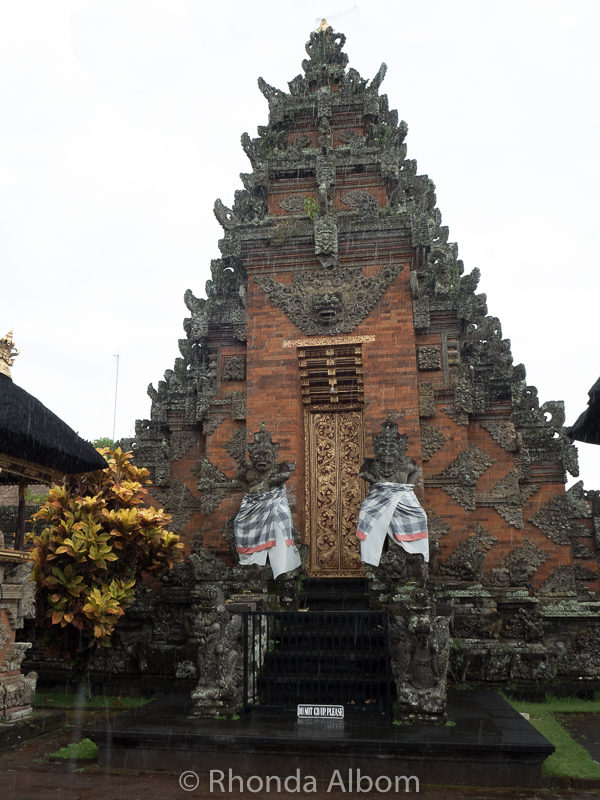 Enjoy an Ubud Bali Tour
This tour will have you exploring the major points of interest in Bali. You will get to see a traditional Balinese house, stop at the Tegallalang rice fields, see artists and craftsmen working in their traditional villages, visit the Ubud Royal Palace and the Sacred Monkey Forest, and finish the day at the Tanah Lot Temple to see the sunset. Check availability and pricing for this highly rated Ubud monkey forest, rice terrace & temple private tour.
Step Outside Your Itinerary and Notice Everyday Life in Bali
Step off the main roads, or just look out the windows as you drive. Everyday life is different from what we see at the tourist destinations.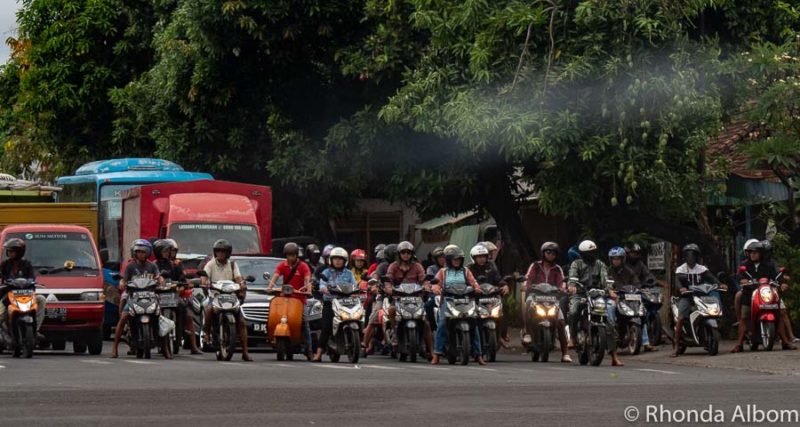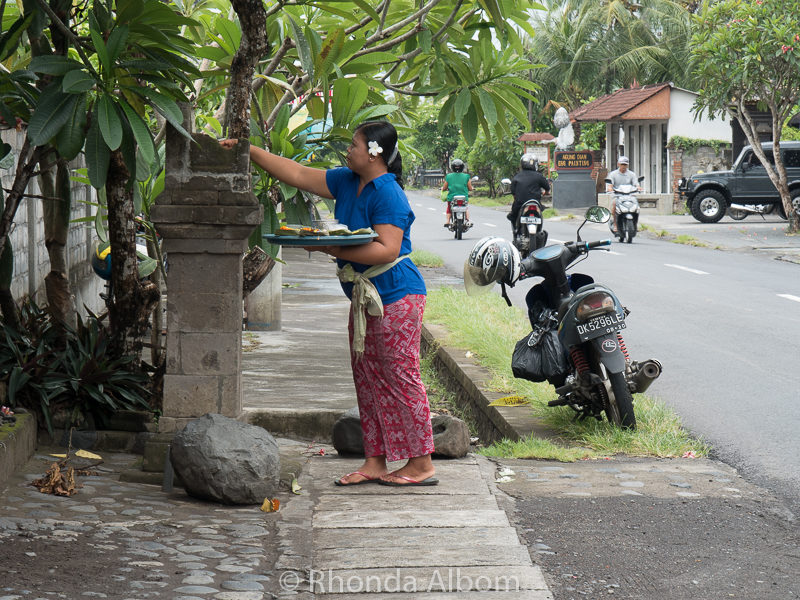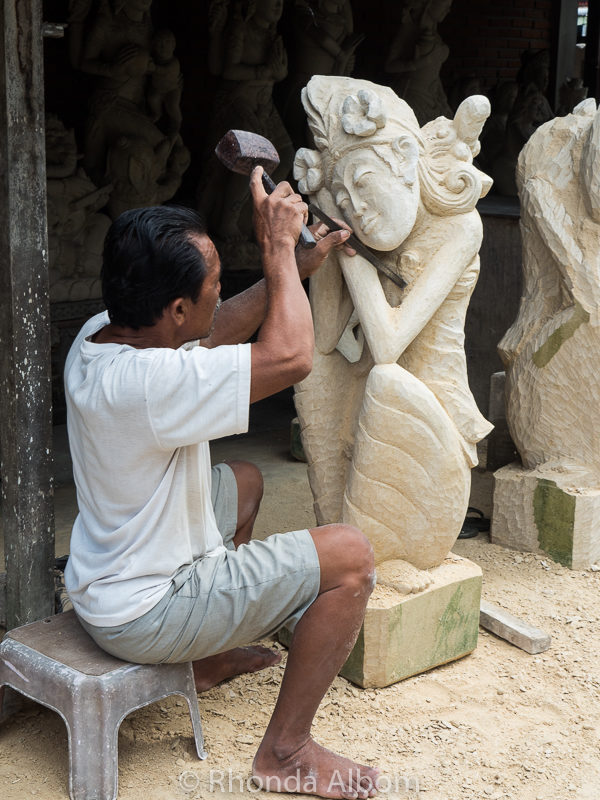 Alternate Bali Itinerary: Head to the Beach and Try Snorkeling
If what's underwater is why you came to Bali, discover this paradise off the south coast of Bali and snorkel at 3 different spots around the islands of Nusa Lembongan and Nusa Penida in the Indian Ocean. Lunch is also included in this all-day trip as well as a tour of the mangroves by kayak. Check the availability and pricing of this popular snorkeling day trip to Nusa Lembongan.
More about the island and Indonesia
There are more than 17,000 islands in Indonesia, Bali is only one of them.
Bali has a population of 4 million, and our driver estimates that there are 2 million scooters.
Tourism is the largest industry. Bali is also known for stone and wood carvings, Batik, and silver jewellery.
Bali Cruise Port
We sailed from Sydney to Perth around the top side of Australia on the Radiance of the Seas, a mid-sized ship in Royal Caribbean family. Bali was our fourth port, the only one outside of Australia, and one of the most picturesque places we have cruised to, even with the rain.
From here, we headed back to Australia, this time to Port Hedlands. If you are cruising, be sure to have a look at these cruising tips.
Best deals and discounts for your travel planning needs
We earn from qualifying purchases through partnerships or affiliate programs.
Flights: When it comes to flights, we always start with Expedia.

Hotels: We use Booking.com to compare and book accommodations. Don't miss Booking.com's Late Escape 2022 Deals that save 15% or more on selected accommodations. (T&Cs apply)

Other accommodations: If you prefer B&B or self-contained type lodging, check out VRBO.

Vehicle hire: RentalCars is like a rental car search engine with no hidden costs, that lets us find the best deals on car rentals worldwide.

Private Tours: We are big fans of ToursByLocals, and use them for nearly all cities where we want a private guide.

Packing Tips: Get a free copy of our packing light checklist when you sign up for our mailing list. (We pack light, yet have everything we need.)
Find more money-saving resources and T&Cs on some of the above, check our Travel Resources page.
Save for later
If you enjoyed this photo tour, please share it on social media including Pinterest.
What will be on your Bali itinerary?