Our one day Xian itinerary looks better on paper than in practice. Flying in and out of the former capital city of China on the same day left no room for error. A city with over 3,000 years of history, it is the eastern end of the ancient Silk Road.
Our Xian itinerary allowed for the three highlights that we pre-selected: the ancient city wall, the Giant Wild Goose Pagoda, and the army of the Terracotta Warriors of the Qin Dynasty.
While it worked for us, the itinerary featured here is quite rushed. We couldn't have done it on our own.
Note: Based on world conditions, we advise checking official channels including cancellation policies prior to booking. Also, with often reduced capacity, booking ahead becomes more important.
Our Xi'an Itinerary
Xian Itinerary First Stop: City Wall
Built during 1378 during the Ming Dynasty, the ancient city wall stands 12 meters high. The wall's wide path (12-14 meters across) makes it perfect for walking or cycling. Down on the ground, traffic flows through the city gates.
We walked a small portion of the wall's 13.7-kilometre track, passing several of its 98 ramparts. Fog covered the city the day we visited, so our views were not too impressive, but I imagine the view from the wall is lovely on a sunny day.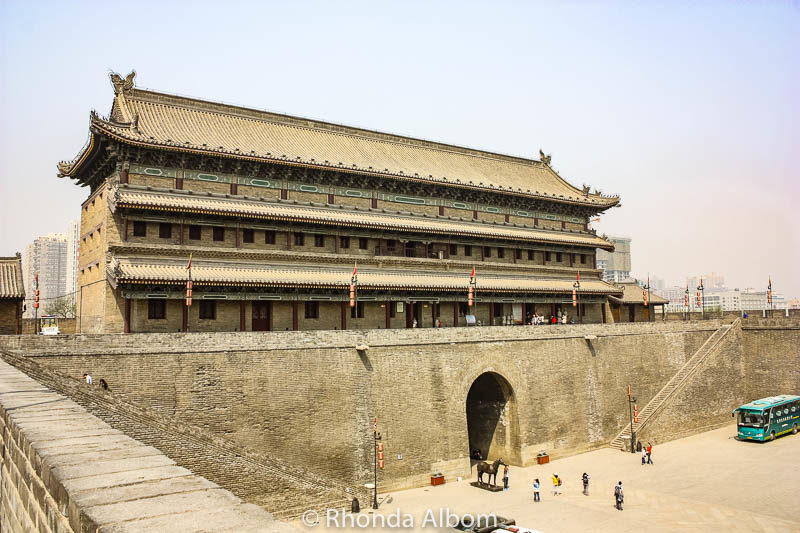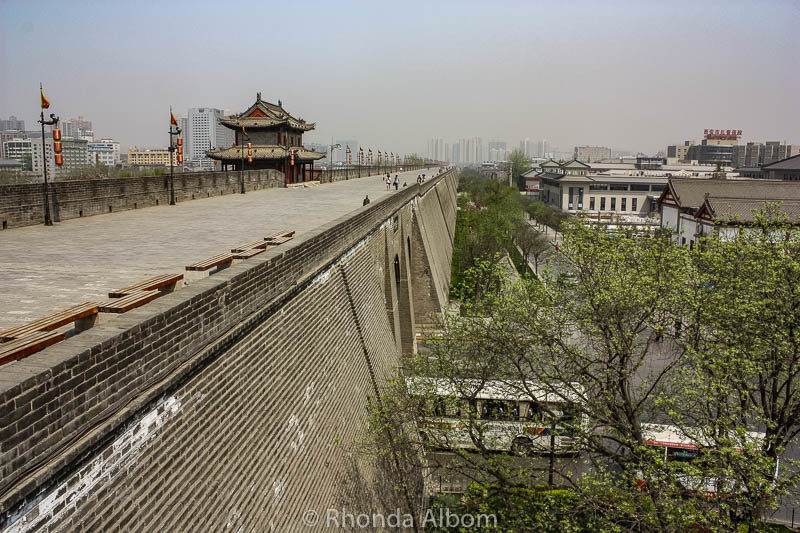 Xian Itinerary Second Stop: Giant Wild Goose Pagoda
The well-preserved Giant Wild Goose Pagoda (also called Big Goose Pagoda) is 64m tall. It is a Buddhist pagoda originally built in 652 AD during the Tang Dynasty. Multiple rebuilds and repairs have occurred throughout history. It was originally used to house and study Buddhist materials that were brought from India and transported along the Silk Road.
A holy place for Buddhists, it is inside the Da Ci'en Temple complex. It is a World Heritage site.
Take a Tour
We earn from qualifying purchases through partnerships or affiliate programs.
⇒ Check pricing and availability on Xi'an tours.
Xian Itinerary Third Stop: Lunch
Xian is centrally located in China and offers a delicious regional mix of Cantonese and spicy Sichuan flavours. Our guide took us for a traditional Chinese lunch. The lack of time to fully enjoy it, and to take photos, is our biggest let down of this express visit to Xian.
Xian Itinerary Fourth Stop: The Army of the Terracotta Warriors
The highlight of our day was seeing the terracotta warriors. There are more than 8000 hand-moulded sculptures representing the armies of the first emperor of China (Qin Shi Huang). Each life-sized statue is unique. They were built 2000 years ago to be buried in the mausoleum with the emperor's body to guide him into the next life.
I remember reading about the terracotta warriors after they were discovered in 1974. They were a mystery in a far-off land, an archaeological find available only to the experts. Oddly, they had been discovered by accident. Digging for a well, a farmer came upon one statue, which led the archaeologists to discover rows or terracotta warriors and their horses.
Several years later they were open to the public. Located in Xian, they are a Unesco World Heritage site best shared with photos: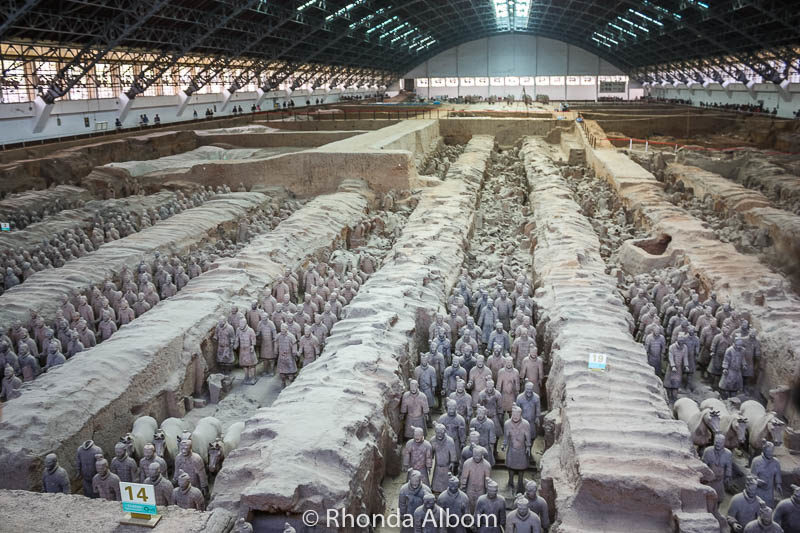 Sites We Missed by Having only One Day in Xian:
With 3000 years of history, there is plenty to see and do in Xian. Here are a few of the key sites that we simply didn't have time to visit:
The Bell Tower: Standing 36 meters (118 feet) tall, the wooden bell tower is the largest and best-preserved of its kind in China.
Qin Shi Huang Mausoleum: resting place of the first Qin emperor (the terracotta army are in part of the burial grounds).
Shaanxi History Museum: Opened in the early 1990s, it is the first modern national museum.
Great Mosque: Built in the 8th century, it is a blend of Chinese and Islamic architecture.
Practical Information on Visiting Xian:
Xian was the capital of China throughout 13 dynasties.
It can be spelled with or without the apostrophe: Xi'an or Xian are both correct.
While doable, this one-day Xian itinerary is not optimal. To have enough time to see the highlights we needed an early flight, requiring an extremely early wake-up.
If you are going to do as we did, be sure your guide is reliable, has a vehicle that can hide your luggage for the day, and get to bed early the night before.
We always take travel insurance before we start your trip and read the fine print carefully to know which activities and limits apply to our policy.
A word of note: China Southern cuts off check-in 45 minutes before flight time. We flew from Shanghai to Xian, and then on to Chengdu in the evening.
If I planned better, I would stay at least one night. We had good luck finding the best prices on accommodation in China from Booking.com, which lists over 1000 accommodation options in Xian.
→ Check prices on accommodations in Xian
Read Next: Travel Tips on China – Know Before You Go
What is your ideal Xian Itinerary?