Our one-day Xian itinerary looks better on paper than in practice. Flying in and out of the former capital city of China on the same day left no room for error and gave us very limited time.
Our initial planning was based purely on our desire to see the army of the Terracotta Warriors of the Qin Dynasty. We did little other research and didn't realize just how many fascinating things there are to see in Xian, therefore simply didn't give ourselves enough time here.
(Note: Spelling the city name either Xi'an or Xian is correct.)
Located on the eastern end of the ancient Silk Road, Xi'an was the capital of China throughout 13 dynasties
Our Xian itinerary allowed for the three highlights that we pre-selected: the ancient city wall, the Giant Wild Goose Pagoda, and the army of the Terracotta Warriors of the Qin Dynasty. To have enough time to see these highlights, we needed a very early flight, requiring an extremely early wake-up. As a result, we were tired throughout our long day.
While it worked out, the rushed one-day Xian itinerary below is not optimal. More importantly, we couldn't have done it on our own. The key to our success was our guide. See details below.
With some restrictions still in place in China, we have kept this page on Albom Adventures as a historical reference and for possible future planning. Note that many venues are still closed, and some tours are not currently operating. This page will be reviewed when China tourism is fully open.
Top things to do in a Xian itinerary
With 3000 years of history, there is plenty to see and do in Xian. In our opinion, the top three, the ones we did see are:
Ancient city wall
Giant Wild Goose Pagoda
Terracotta Warriors
Sites we missed by having only one day in Xian
The Bell Tower: Standing 36 meters (118 feet) tall, the wooden bell tower is the largest and best-preserved of its kind in China.
Qin Shi Huang Mausoleum: resting place of the first Qin emperor (the terracotta army are in part of the burial grounds).
Shaanxi History Museum: Opened in the early 1990s, it is the first modern national museum.
Great Mosque: Built in the 8th century, it is a blend of Chinese and Islamic architecture.
Xian itinerary first stop: city wall
Built during the Ming Dynasty (in 1378), the ancient city wall stands 12 meters high. The wall's wide path (12-14 meters across) makes it perfect for walking or cycling. Down on the ground, traffic flows through the city gates.
We walked a small portion of the wall's 13.7-kilometre track, passing several of its 98 ramparts. Fog covered the city the day we visited, so our views were not too impressive, but I imagine the view from the wall is lovely on a sunny day.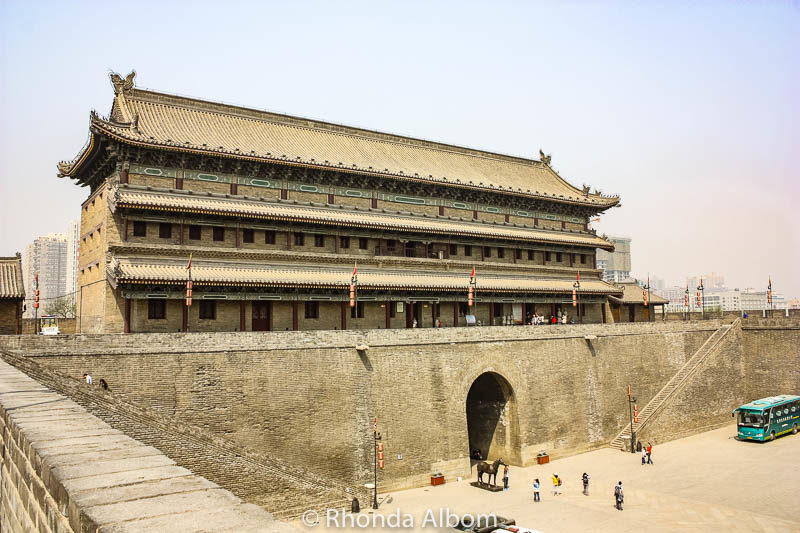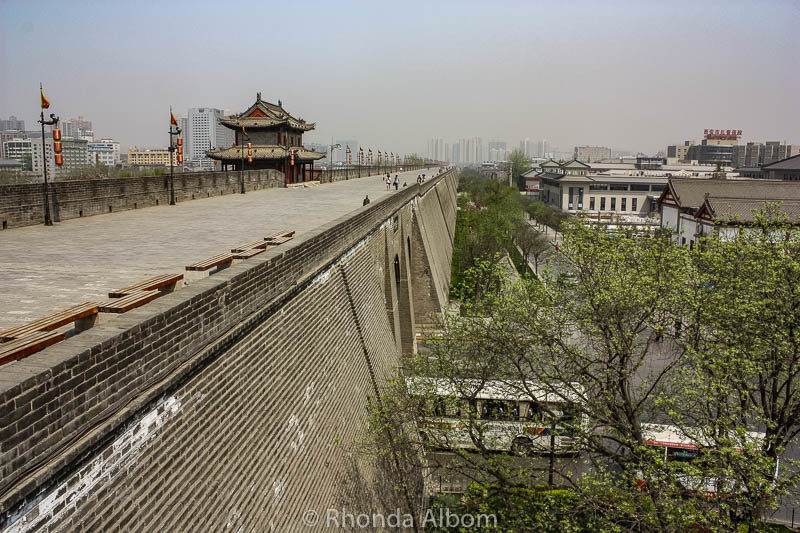 Xian itinerary second stop: Giant Wild Goose Pagoda
The well-preserved Giant Wild Goose Pagoda (also called Big Goose Pagoda) is 64m tall. A Buddhist pagoda built in 652 AD during the Tang Dynasty, it has had multiple rebuilds and repairs throughout history. Built initially to house and study Buddhist materials brought from India and transported along the Silk Road.
It is a holy place for Buddhists inside the Da Ci'en Temple complex. Recognized by UNESCO as part of the Silk Roads Programme.
Xian itinerary final stop: Terracotta Warriors
The highlight of our day was seeing the terracotta warriors. More than 8000 hand-moulded sculptures represent the armies of the first emperor of China (Qin Shi Huang). Each life-sized statue is unique.
They were built 2000 years ago to be buried in the mausoleum with the emperor's body to guide him into the next life.
The rediscovery of the site in 1974 happened by accident. Digging for a well, a farmer came upon one statue, which led the archaeologists to discover rows of terracotta warriors and their horses.
Several years later, they were open to the public. Today they are a UNESCO World Heritage site.
Honestly, words can't define the flood of emotions on seeing the craftsmanship that went into so many individually carved warriors. If you look at some of the close-up images, you will notice that each warrior has a unique face. The army stands ready to lead the emperor to the next life.
Interestingly, many of the warriors were in ruins when discovered. According to our guide, the men who built the warriors also destroyed them in retaliation for having been forced to build them.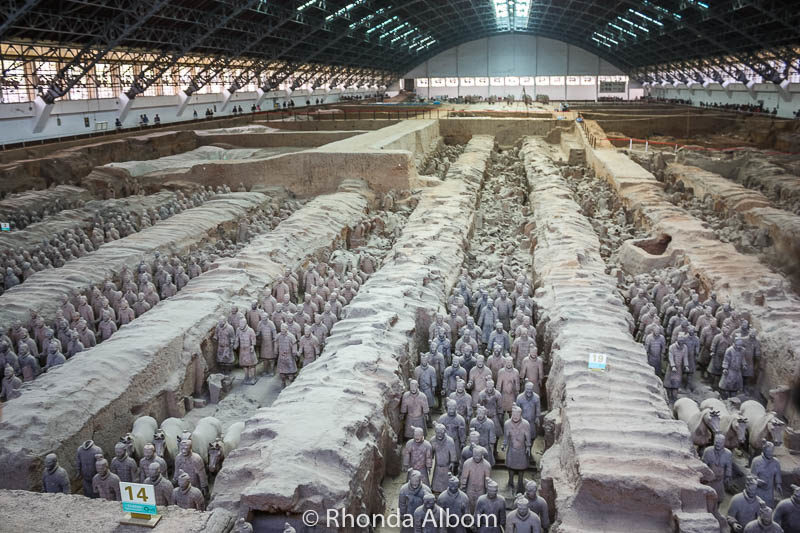 Finding a private guide for Xian
Throughout China (and much of the world), we have successfully used private guides from Tours by Locals. While the wonderful guide we had in Xian, is no longer a tour guide, there are several others to choose from.
In general, when choosing your guide, our top recommendations are to check their language ability, read the tour options to see if they do the kinds of things you like, read the specific guide's reviews, and then make contact before you hire them. In addition, if you are trying to fly in and out in a day as we did, be sure your guide has a vehicle that can hide your luggage for the day.
Without a guide, doing Xian in a day would have failed. Reserve your private guide for Xi'an here.
Book your China trip: Logistical tips
Book your flights: Use Expedia, our favourite flight search engine. They search worldwide and find the best and cheapest options.
Book your accommodation: We use Booking.com as they consistently return the best rates and their reviews are from actual guests. For self-contained lodging, use VRBO.
Reserve your rental car: Use RentalCars.com to find the best deals and dealer ratings. With no hidden costs and outstanding customer service, we have successfully rented from them worldwide.
Travel Insurance: we start at InsureMyTrip as they are the best option to compare plans and find the right coverage for you.
Private Tours: We are big fans of ToursByLocals and used their private guides in every city we visited in China. All were excellent.
VPN: Here's a list of the top 7 VPNs that work in China.
Before you book your trip
Check out our travel resources page for the companies we use when you travel. We believe them to be the best in each category. You can't go wrong using them on your trip too.
What is your ideal Xian Itinerary?