Colourful, cultural, and interesting, our 5 days in Beijing were a whirlwind of new sights, sounds, and aromas. From walking the Great Wall of China to exploring some of the temples, there are seemingly endless things to do in Beijing.
When we planned our travels, we wondered how long to stay in Beijing. The capital city was our final stop in China, and we wanted to be sure we had enough time. Of course, with so many amazing options, there is never really enough time. Our goal was to appreciate each of the highlights and absorb some of the culture. Therefore, we found 5 days in Beijing to be optimal.
With some restrictions still in place in China, we have kept this page on Albom Adventures as a historical reference and for possible future planning. Note that many venues are still closed, and some tours are not currently operating. This page will be reviewed when China tourism is fully open.
What to see in 5 Days in Beijing
(More on each of these below)
Walk the Great Wall of China
Discover the Forbidden City
Explore the Summer Palace
Sample some of the bizarre street food
Visit some of the key temples
Tour a hutong
Take a cooking lesson
Tell time at the Bell and Drum Towers
See the "Bird's Next" Olympic stadium
Tour a cloisonne factory
Shop at a flea market or the Pearl Market
Heal with Traditional Chinese Medicine
Best way to spend 5 days in Beijing
Beijing is a big city with plenty of options for how to see it. The three we considered are group tours, private guides, and self-exploration. And in the end, we used two of the three during our 5 days in Beijing.
Private guide
Throughout China (and much of the world), we have successfully used private guides from Tours by Locals. Excellent guides, the opportunity to email with the specific guide prior to travel and scheduling flexibility are the three primary advantages.
Alex, our outstanding guide, was with us for three of our 5 days in Beijing. She brought everything to life with her lively stories and helped us gain a cultural understanding we couldn't have obtained on our own. Reserve your private tour with Alexandra here, or check for other guides here.
Self-exploration
Beijing is an interesting, but not easy, city to explore on our own. While the signage in the main tourist areas is often in English as well as Mandarin, once you leave the area, it will be Mandarin. We found similar problems with public transportation. All this was complicated further when we learned that taxis don't always stop for foreigners.
However, we were fine seeing the sites we could walk to from our accommodation, and we frequently met friendly locals who were happy to help us. One even flagged a taxi for us.
Group tours
Tours are great for the budget and for those who like having someone else make all the plans. They offer the benefits of a guide without the higher cost of a private tour. Plus, timing usually works out well to see more in less time. In addition, most venues have dedicated bus parking, while a private guide has a car to park. The downside is reduced flexibility.
Walk the Great Wall of China – A must-see even with only one day in Beijing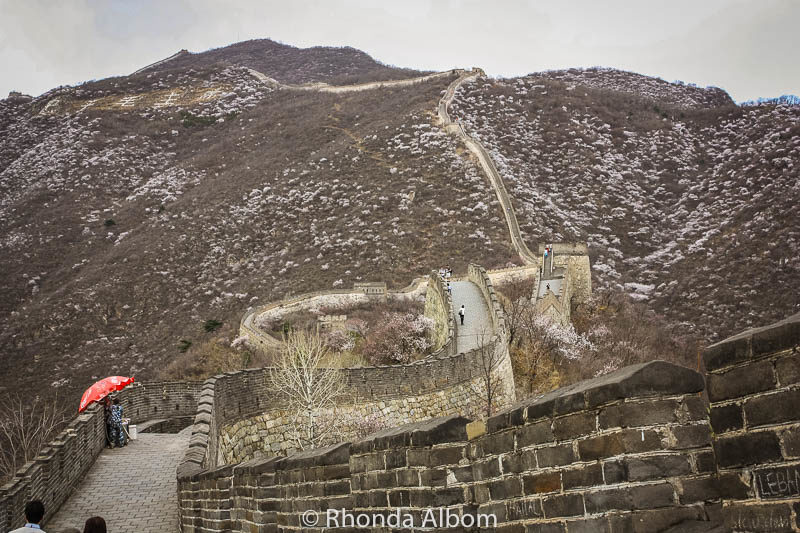 Some say the wall reminds them of a massive dragon as it travels across the mountains stretching nearly 8,900 kilometres (5,500 miles) from the east to the west of China. Built in sections through the Qin, Han, and Ming dynasties, its history spans more than 2,000 years. Improvements have been made to some sections, while others sit in ruins or have disappeared.
Mutianyu and Badaling are the two most commonly visited sections. Both are well-preserved and easily accessible from Beijing. We chose Mutianyu, and for us, it was a good choice. The main differences are:
Mutianyu vs Badaling
Mutianyu
Located 75 km from Beijing, the drive is slow and takes about 1.5 hours.
Substantially fewer visitors than Badaling.
A five-metre wide walkable path along the top of the wall runs 5.4km (3.4 miles) and has 23 watchtowers.
Some areas are steep, especially the stairs at the end of the section.
One can walk or take a cable car up to the wall, and there is a luge option for the way down.
Open every day, hours vary by season, ranging between 7.30am and 6.30pm.
Badaling
Located 75 km from Beijing, the drive takes about an hour.
Badaling is the best preserved, most complete, and most popular section
It is nearly always crowded.
At 6 metres wide, the portion open to tourists is 3.7 km (2.3 miles) long, with 19 watchtowers.
It is to be the easier section to walk.
It also has a cable car.
Badaling hours, depending on the season, open as early as 6am and close as late as 7.30pm.
If you choose Mutianyu, take time to notice three towers: No. 1 for its large size, No. 6 as it has three hollow towers, and No. 11 as it is on the branch wall (side wall).
Discover the Forbidden City (Imperial Palace) – A must-see even with only one day in Beijing
Right in the centre of Beijing is the walled Imperial Palace, more commonly referred to as the Forbidden City. Located on the northern edge of Tiananmen Square, it's currently "The Palace Museum."
For more than 600 years, China's emperors and empresses lived here, while commoners were forbidden.
Once inside the walls, we found an intricately detailed architectural masterpiece. With a private guide, we explored temples, halls, and sleeping quarters as we walked through a labyrinth of gates and structures. But it was her stories and extensive knowledge that really brought the place alive. A few of the most interesting facts she shared include:
Emperors had up to 3000 concubines selected when they were between the ages of 13-16.
The Forbidden City has 9,999 1/2 rooms.
Only the emperor and empress could use the centre doorway, and they were always carried up and down the stairs.
As a measure of safety, the emperor had 27 beds, so one would know exactly where he was sleeping.
The 15-layer solid brick ground prevents an enemy from making a tunnel.
It is estimated, although never counted, that there are over 11,000 dragons amongst the artwork on the grounds.
Explore the Summer Palace
The Emperor lived at Summer Palace from April until the weather turned cold. It's bigger, and I found it more striking than the Forbidden City, covering an expanse of 2.9 square kilometres of gardens, palace buildings and lakes. The Summer Palace is a UNESCO World Heritage Site.
A few of the unique things we found at Summer Palace are the world's longest-painted corridor, a dragon boat that brought us back to the entrance when we were done, and a boat made from marble – no, it doesn't really float.
Not only was it a day of beauty, but it was also fun. We hired paddle boats and enjoyed some family time out on the water.
Sample some of the bizarre street food
Wangfujing Street is a modern shopping and fashion street, but farther down the road, near Wangfujing snack street, the Wangfujing Night Market offers foods that aren't for the faint of heart. In fact, it was so bizarre we wrote about our experience here.
Visit some of the key temples: Taoist, Buddhist, and Confucian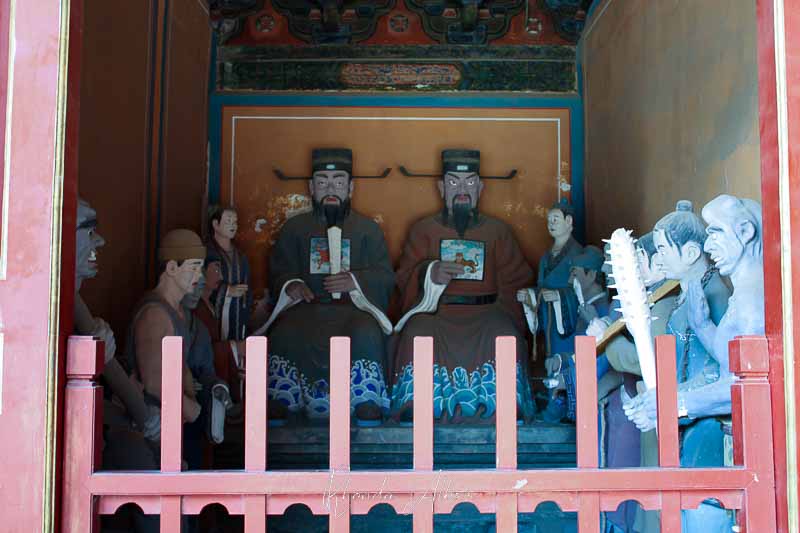 With hundreds of temples in Beijing, we picked three of the most popular to visit during our 5 days in Beijing.
Dong Yu Taoist is one of the largest Taoist temples in northern China (11.7 acres), it has almost 400 rooms with displays on how to live in harmony with the universe.
The Yonghe Temple, commonly referred to as the Lama Temple, is the largest Tibetan Buddhist temple and monastery in Beijing. It has three treasures including the largest sandalwood Buddha in the world.
Confucian temple is the second largest Confucian temple in China, built in 1302 and enlarged over time to span 5.4 acres. Confucius, one of the greatest philosophers and teachers in ancient China, has a strong following to this day.
Tour a hutong
A hutong is a self-contained neighbourhood in China built on a narrow lane / alleyway. Old buildings in courtyard compounds line the sides.
Many of the old lanes date back to the Ming and Qing dynasty eras (1368-1912). Here we find some of the traditional culture and way of life of the past.
There are hundreds of hutongs in Beijing, and Alex, our guide, selected the one we visited. We walked around the narrow street, learned how things worked, and peeked into several shops like the one selling dried ingredients seen just above.
She lives in a hutong and told us that typical houses contain only a living room, bedroom, and kitchen. Everyone uses public bathrooms. I walked into the public bathroom but wasn't confident enough to squat over a hole in the ground in an open room filled with other women squatting over different holes and no walls should I lose my balance.
Take a cooking lesson
We also had lunch with a local family in the hutongs.
This man cooked our delicious traditional meal of rice, various stir fry dishes including chicken, vegetables and another unknown meat, plus the best ever sweet and sour pork from a recipe handed down from his grandfather who, he proudly told us, cooked it for the Emperor.
After lunch, we had a cooking lesson where we hand made dumplings. Our guide, Alex, arranged this for us.
Tell time at the Bell and Drum Towers
Beijing's Bell and Drum Towers are classic landmarks of historic Beijing. Originally built during the reign of Kublai Khan in 1272, and rebuilt during the Ming and Qing dynasties.
The Drum Tower kept time for the city until 1924, with drums beaten hourly. We climbed the 63 steep steps to the top of the Drum Tower to watch a drumming ceremony. Despite being loud, it was very impressive.
We didn't enter the Bell Tower due to a Chinese superstition told to us by our guide. The ringing of the bell sounds like "the end" in Mandarin, and people believe going in there will mean "the end of them."
Today, the towers offer panoramic views over central Beijing, although they once dominated an ancient skyline. Add them to your 5 days in Beijing itinerary either when you are exploring the Forbidden City or the hutongs.
See the "Bird's Nest" Olympic stadium
We stopped at the Olympic park to take photos of the "Bird's Nest". Used first in the 2008 summer Olympics and then again for the 2022 Winter Olympics. Beijing is the world's first city to host both seasons' games.
Tour a cloisonne factory
Cloisonne, nicknamed "Blue of Jingtai", is a type of metal decoration in which areas of colour (sometimes enamel or stones) are separated by metal wires or strips.
At the factory we visited, we watched several of the 1800 workers/artists adding finishing touches, all by hand, to vases, bowls, and jewellery. Their attention to detail was impressive.
Shop at a flea market or the Pearl Market
We visited two completely different types of markets during our 5 days in Beijing, although both are huge.
Pangiayuan Flea Market – also known as the Panjiayuan Antique Market or the Dirt Market is the city's largest flea market. At 48,500 square meters (520,000 square feet), this market features arts, crafts and antiques.
Pearl Market (Hongqiao Market) -is famous around the world for pearls, with over one million visitors annually. This multi-story building also features seafood, digital products, watches, clothing, and silk. Floors 3-5 are dedicated to pearl jewellery.
Heal with Traditional Chinese Medicine
Per our request, our guide took us to the Beijing Traditional Chinese Medicine Health Preservation Research Center.
Our visit was relaxing, but in the end, far more expensive than we anticipated as we opted to purchase the recommended supplements (which ultimately ended up in the bin, so not a good use of our money).
However, our time there was lovely, and the additional costs were optional. It began with a cup of tea as our feet soaked in a special tea bath. During this time, an English-speaking doctor gave an overview of the basic philosophy behind Chinese Medicine's three facets (summed up quickly here):
Yin Yang – everything needs balance and harmony, including the body.
Chinese medicine looks at the symptoms but treats the root cause.
Diagnostics is done by taking 6 pulses, looking at the tongue, observing skin colour, and asking questions.
Next, a wonderfully relaxing foot massage/reflexology treatment.
Finally, the Chinese-speaking professor and his interpreter came in and evaluated each of us – a complimentary service. He made the most recommendations to me, ergo the additional expenses, but said our girls are perfect.
Book your China trip: Logistical tips
Book your flights: Use Expedia, our favourite flight search engine. They search worldwide and find the best and cheapest options.
Book your accommodation: We use Booking.com as they consistently return the best rates and their reviews are from actual guests. For self-contained lodging, use VRBO.
Reserve your rental car: Use RentalCars.com to find the best deals and dealer ratings. With no hidden costs and outstanding customer service, we have successfully rented from them worldwide.
Travel Insurance: we start at InsureMyTrip as they are the best option to compare plans and find the right coverage for you.
Private Tours: We are big fans of ToursByLocals and used their private guides in every city we visited in China. All were excellent.
VPN: Here's a list of the top 7 VPNs that work in China.
Before you book your trip
Check out our travel resources page for the companies we use when you travel. We believe them to be the best in each category. You can't go wrong using them on your trip too.
What will you do with 5 days in Beijing?