With just shy of 48 hours in Hong Kong, we wanted to make the most of our time. Our goals were to discover a bit of the culture, see the famous skyline, and avoid the recent troubles that have been plaguing the city.
Clearly, 2 days in Hong Kong is not enough.
It's a beautiful and fascinating city. Below we share the highlights.
Key places to visit in Hong Kong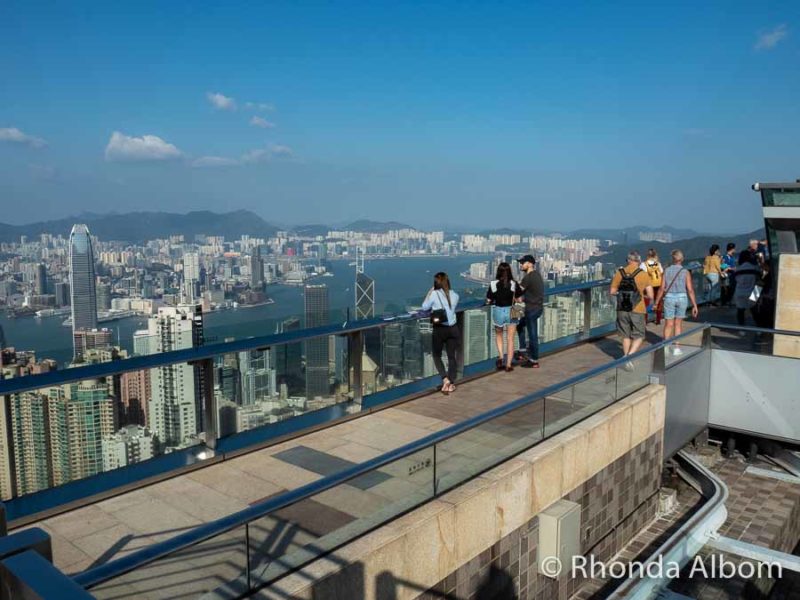 Victoria Peak and Sky Terrace
Nan Lian Garden and Chi Lin Nunnery
Former Kowloon-Canton Railway clock tower
Symphony of Lights
Kowloon Park
Shop on Nathan Road
Walk on Chiu Lung Street
St John's Cathedral
Victoria Peak and Sky Terrace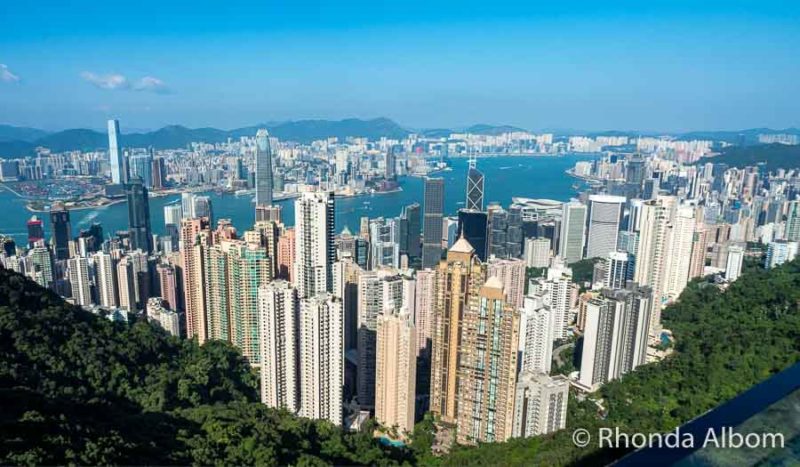 There is no faster or better way to get to know Hong Kong than by looking out over it from Victoria Peak. For me, it was difficult to comprehend a city with a population density of over 7,100/km2 until I stood at the top staring out at one tall residential building after another.
The views from the top are awe-inspiring. And, getting there is half the fun (unless you opt to take a taxi). There is no public transportation to the Peak. Instead, there is a tram offering a surprisingly steep yet safe and comfortable ride to the top.
Once at the summit, most visitors opt to view from the Sky Terrace 428. It may seem a bit touristy, but as soon as we saw the views, we understood why it is so popular. Whether you have 2 days in Hong Kong or more, Victoria Peak should be on your must-see list.
⇒ Pre-purchase your Peak Tram & Sky Terrace 428 ticket here
Pro Tip: If you are looking for something off the beaten path and away from all the other tourists at the Peak, try the Morning Trail. This 4 km walk is loaded with interpretive signs, including English translations.
Nan Lian Garden and Chi Lin Nunnery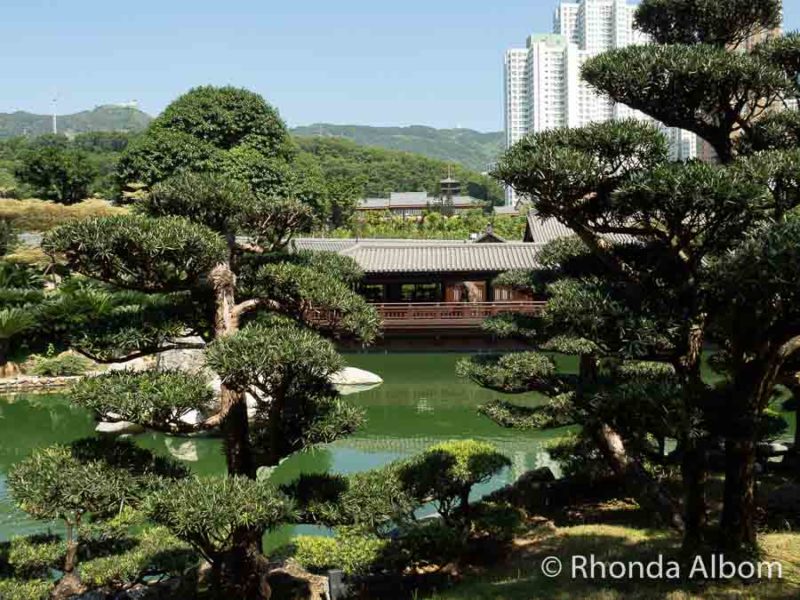 The impressive Chinese gardens are a peaceful retreat from the surrounding skyscrapers, although quite different from other Chinese gardens we have visited (Dunedin, New Zealand or Suzhou China). Towards the back of the Nan Lian Garden, we entered an active nunnery in a Buddhist temple complex built in 1934 using the Tang Dynasty style of architecture.
We were lucky to be there during a special four-day ceremony to honour one of the buddhas. The chanting and singing were calming in nature and heard through much of the nunnery. We were even invited to join in the ceremony, but no photos were allowed.
Entry to both the gardens and nunnery are free.
Former Kowloon-Canton Railway clock tower
We stopped to take photos of a classic clock tower, which was once a key feature of the former Kowloon Station on the Kowloon-Canton railway.
Symphony of Lights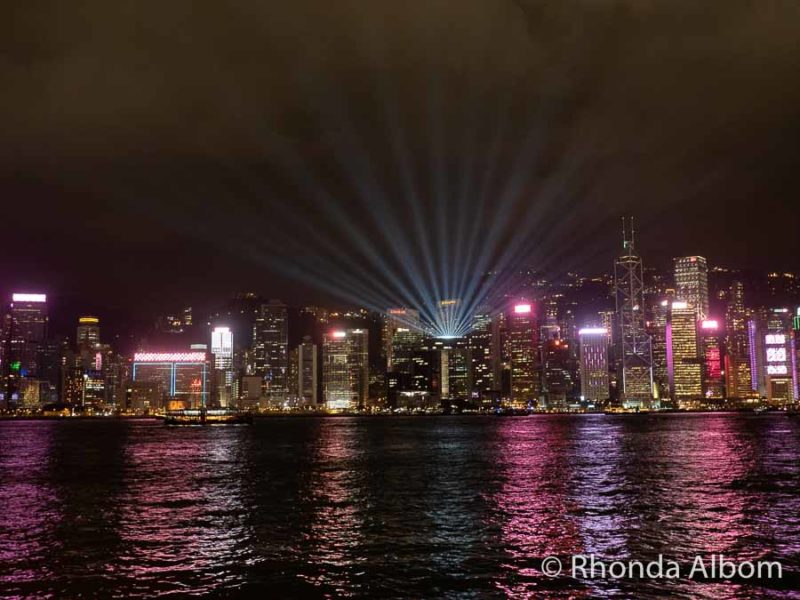 This laser and light show coordinated to music involves 40 buildings on both sides of the water.
While there are plenty of viewing spots, we noticed that many visitors crowded into the corner of the upper deck platform near the clock tower. However, we could see fine from the Tsim Sha Tsui waterfront, and we avoided the crowds.
One of the more fun ways to see the light show is from the water. Several companies offer drink cruises that sail during the show. Based on customer reviews, we recommend this Victoria Harbour cruise with drinks.
Kowloon Park
Lush and green in the heart of the city, Kowloon Park is a lovely place for a stroll or to relax.
Note: Parts of the park are elevated and cannot be accessed from the street, despite appearing on the paper map as leading to the park. We made this mistake and walked along the park to find an entrance.
Shop on Nathan Road
One of the more famous shopping streets in Hong Kong, it has recently been the scene of many protests. We had heard the train station had been closed over the weekend prior to our visit, but it was still locked up tightly and didn't appear as if it would be opening anytime soon.
Walk on Chiu Lung Street (or any of the "ladder" streets)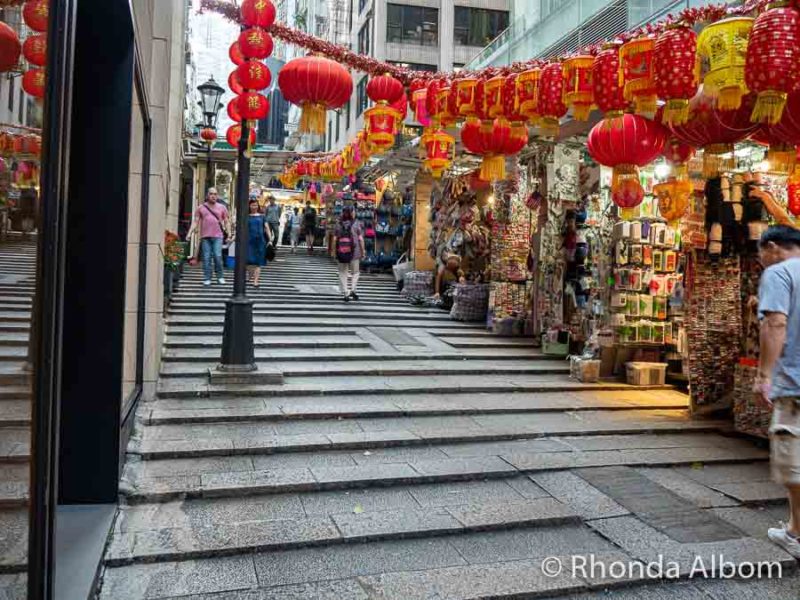 These steep streets are built a bit like a ladder and are now lined with market-like stalls or crafts and knickknacks.
St John's Cathedral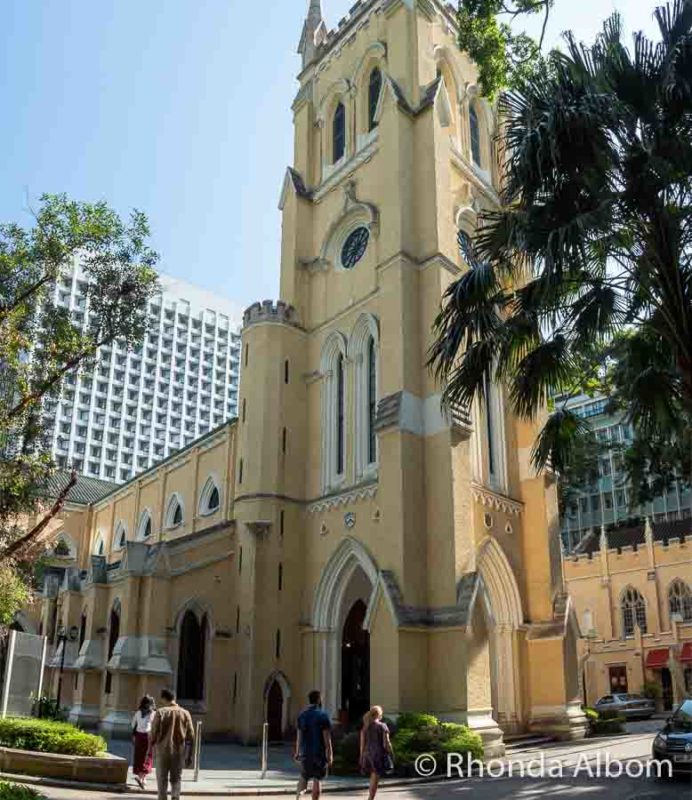 It surprised me to come around the corner and find this beautiful Anglican church. It is built on Hong Kong's only freehold land, as all other land in Hong Kong is leasehold.
Other things to see if you have more than 2 days in Hong Kong
We can't do it all, and with only 2 days in Hong Kong, we had limited time and had to choose carefully. These are the things we didn't get to on this visit.
World's longest outdoor escalator: It was under renovation and closed.
Disneyland Hong Kong: Travelling without our kids and having already been many times to the original Disneyland, it was easy to skip this one. However, if you are a Disney fan, you can purchase tickets in advance here to avoid the long ticket queues.
Big Buddha Statue: Located on Lantau Island, there is public transit that goes there, but we simply ran out of time.
Stanley Markets: traditional open-air market on Hong Kong Island.
Temple Night Market: this is where to go in the evenings on Kowloon.
Space Museum: Home to Hong Kong's only planetarium.
The Langham is where to stay in Hong Kong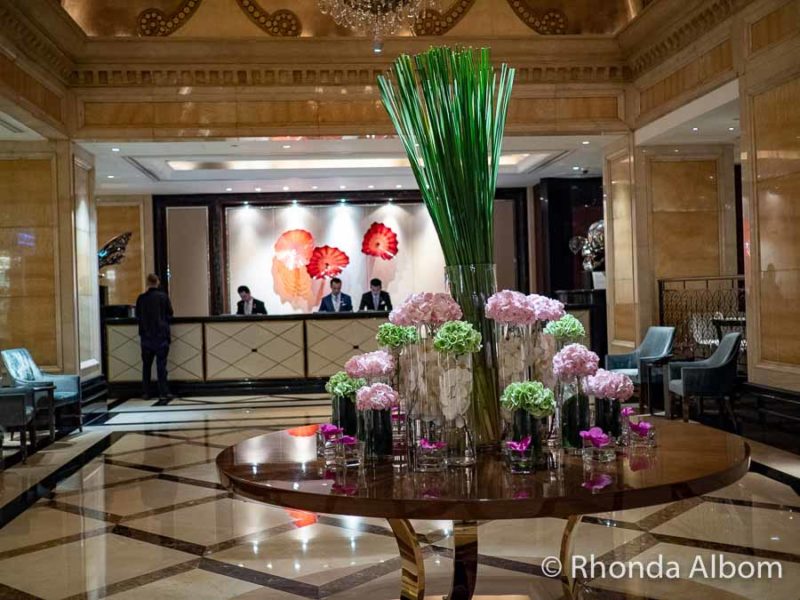 Five-star service right from the moment the doorman opened our taxi door, and a porter retrieved our luggage. The friendly check-in confirmed to us that the Langham Hong Kong was the right choice.
Posh and elegant, our room was welcoming after our long flight. We were almost too tired to indulge in the treats on our three-tier cake stand or the fresh fruit bowl (gluten and lactose-free for me).
The room also featured a faux fireplace stoked with real wood, bookshelves, and complimentary bottled water. Shutters open, allowing views from the marble bathroom to the bedroom, a mark of elegance that we don't yet understand.
Langham is a brand well-known for comfortable beds and top-quality linen, and the Langham Hong Kong did not disappoint. Sleep came quickly. We both felt refreshed in the morning. It was so relaxing in fact, we managed to avoid jet lag, despite the 12-hour flight the day before. The eco-friendly shower completed our rejuvenation, and we were ready to explore.
Attention is paid to every detail, even handing us umbrellas when the rain started. There are several five-star hotels, but we can't imagine any could have been better suited for us than the Hong Kong Langham.
⇒ Reserve your room at the Langham Hong Kong
Where to eat in Hong Kong
Hong Kong restaurants have it all, from casual to those with Michelin stars. While we focused on restaurants that could handle my restrictive diet, Jeff didn't miss the opportunity to try Hong Kong street food.
While I am sure there are plenty of other options in the city, here is where we ate. They are all delicious, all offer gluten and dairy-free options, and all were recommended by the hotel's concierge:
Jamie's Cafe in Ocean Harbour Mall offered poached salmon and several side salads I could eat. (It's a Jamie Oliver Cafe.)
Bear's Lab for smoothies. Mine was made with spirulina, avocado, pear, banana, and coconut water. Jeff's was an iced turmeric latte.
(Currently closed)
Jade Garden (near the Star Ferry terminal) was our choice for dinner. While I had limited options, I was able to enjoy a fabulous and authentic Chinese food meal.
Getting around Hong Kong
Hop-on-hop-off bus
One of the easiest ways to explore this city is from the open-top hop-on-hop-off bus. It offers three different sightseeing routes through Kowloon and Hong Kong Island, allowing passengers to ride and listen to commentary or hop off and explore at any point.
⇒ Reserve your Hop-on-hop-off bus tickets
MTR (public transit)
Hong Kong has an excellent and easy-to-use public transportation system, complete with an extensive tunnel system. As a result, many of the stations have up to 6 entrances, spanning several blocks at street level.
Note that several of the stations or entrances may still be closed following recent protests.
Using Hong Kong's subway system is quite easy. The trick is to notice the name and number of the station entrance you start at, so you can find your way back through the maze of underground optional exits at the stations.
An Octopus card will save you money on ferries, buses and trains. If you are going to be in the city for more than a couple of days, it may be worth getting.
Star Ferry
The ferry system is equally as easy to use as the MTR, and if you have an Octopus card, you will also get a discount on the ferry. We took the Star Ferry between Kowloon and Hong Kong Island when we visited Victoria Peak.
Taxi and Uber
There are plenty of taxi and Uber options in Hong Kong. The one warning we were given is if you are taking a taxi from the airport, be sure to get it from the official taxi stand.
Note: if you are planning on taking the MTR from the airport, check to be sure your station is still open, as you don't want to do extra walking whilst towing your luggage.
Things to know before you visit Hong Kong
When an appetizer is placed on your table before you order, it will appear on your bill. If you don't want to pay for it, you need to send it back when it first arrives.
If you see Mickey Mouse (or any other character) in a tourist area, he is charging for the photos you take with him, only he doesn't tell you until after the shot is taken.
While the Apple store in Hong Kong offers better pricing than we can get at home, it's important to note that the general warranty is valid only in Hong Kong, Macau, and mainland China. A worldwide warranty is available with the purchase of Apple Care.
Despite what we see on the TV news, we personally saw no trouble in Hong Kong. Our best advice if you do run across protests is to go somewhere else.
While most of the people we met spoke English, when they didn't, we simply used Google translate on the phone and shared the Chinese characters produced on the screen. This was very useful for my food allergies.
Save on your trip with these resources
These are our go-to companies when we travel. We believe this list to be the best in each category. You can't go wrong using them on your trip too.
Flights: we use Expedia for the best and cheapest flight options.
Accommodations: we use Booking.com (hotels) or VRBO (self-contained).
Cars (gas or electric): we use RentalCars to search for deals and dealer ratings.
Campervans or Motorhomes: we use Campstar where Albom Adventures readers get a 3% discount
Private guides: we love the private guides at Tours by Locals
Travel Insurance: we start at InsureMyTrip as they are the best option to compare plans and find the right coverage for you.
Check out our travel resources page for more companies that we use when you travel.
Save for later
If you enjoyed this article on 2 days in Hong Kong, please share it on social media and save it for later on Pinterest.
We visited Hong Kong as a port of embarkation on 15-night cruise that ultimately sailed to Singapore.
What will you do with 2 days in Hong Kong?
Disclaimer: We were media guests of the Langham Hong Kong. However, the opinions expressed here are strictly our own.