Bangkok is one of the most visited cities in the world. A whirlwind of vibrant colours, intricate detail, chaos, and activity, it's a city that elicits a response from everyone. For me, it was an instant passion. For others, not so much. Either way, below you will find plenty of Bangkok travel tips that help first-time visitors navigate their stay.
Most of the information below applies countrywide; therefore, Thailand travel tips.
Where is Bangkok?
Bangkok, Thailand's capital, is located on the delta of the Chao Phraya River, about 23 km (14 miles) inland from the Gulf of Thailand. The country is bordered by the Andaman Sea, the Indian Ocean, Myanmar, Laos, Cambodia, and Malaysia in Southeast Asia. The city is over 1,500 km² in area, according to Britannica.
Bangkok travel tips: a quick reference guide
Emergency numbers: Police (191), Ambulance (1669), Fire (199)
Official language: Thai
Currency: Baht (THB)
Credit cards: Mastercard and Visa are widely accepted.
ATM machines: Easily found in Bangkok.
Electricity: 220V 50Hz Type C connectors (same as used in Europe). Also, Type A connectors may be used.
Telephone country code: +66
Internet: Free Wifi is often provided to customers by hotels, restaurants, and cafes.
Water: Tap water is generally NOT considered safe to drink. Bottled water is the best choice.
Tipping: Not customary or expected.
Best time to visit Bangkok
Bangkok is one of the hottest cities on earth.
In fact, in 2016 the World Meteorological Organization named it the hottest city on the planet. This is based on median temperatures as it stays hot all year, even overnight.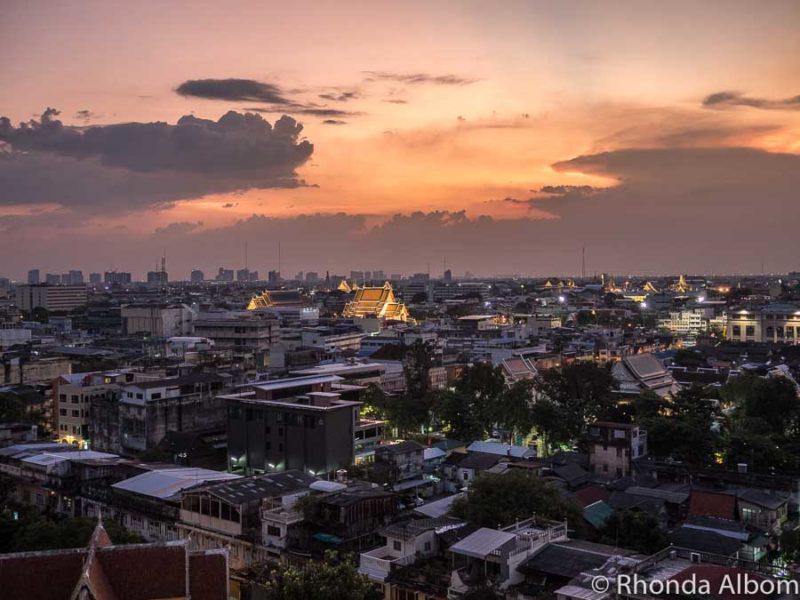 Bangkok weather
A tropical, humid, and hot climate, Bangkok has three basic seasons:
Bangkok Seasons
December to February
Generally considered the best time to visit Bangkok.
More blue skies.
Cooler temperatures.
Drier days.
More crowded.
More expensive.
Requires booking ahead.
March to June
This is the hottest time in Bangkok with daily temperatures often topping 40°C (104°F).
Fewer tourists, except during Songkran in April.
Less planning required.
June to October
Monsoon season.*
Heavy rains.
Fewer tourists.
Less planning required.
November
A good month to visit.
More drier days as monsoon season ends.
Fewer tourists than December.
Requires booking ahead.
*We visited for three days in October and it didn't rain.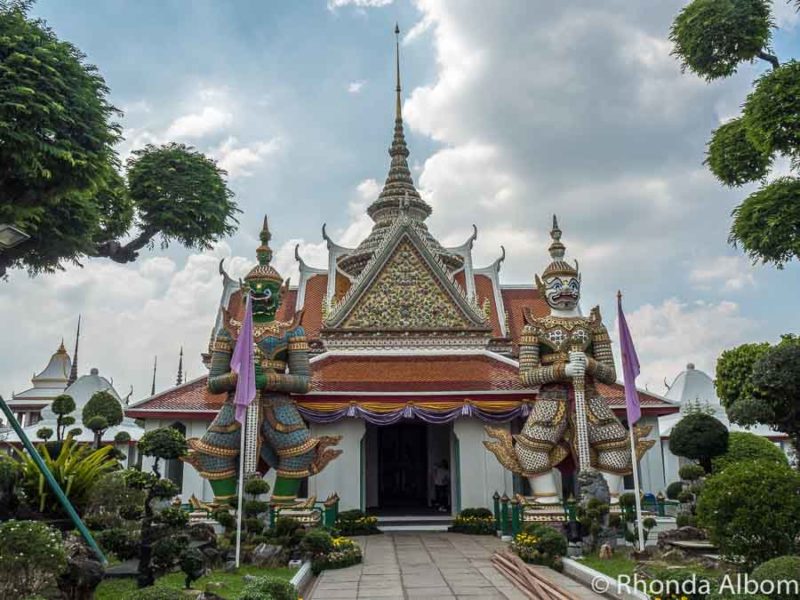 Significant Thai holidays that affect travel
Like most countries, there are plenty of public holidays in Thailand. Some of the more significant ones are below; or, find a more complete list of Thai holidays.
Chinese New Year (January or February): A significant event in Bangkok and other parts of Thailand.
Songkran Festival (April 13 – 15, annually): This three-day water festival marks the beginning of the Thai New Year's celebration. Bangkok Songkran activities centre around Khao San Road. It's both a fun celebration and a cleansing ceremony in which fragrant water is often poured on senior monks, or used to clean the Buddha, as well as a giant water fight.
Loy Krathong Festival (November): A celebration of the end of the rainy season, where participants give thanks to the water goddess. We attended a simulated Loy Krathong Festival at Ancient Siam in Bangkok.
Bangkok travel tips: know before you visit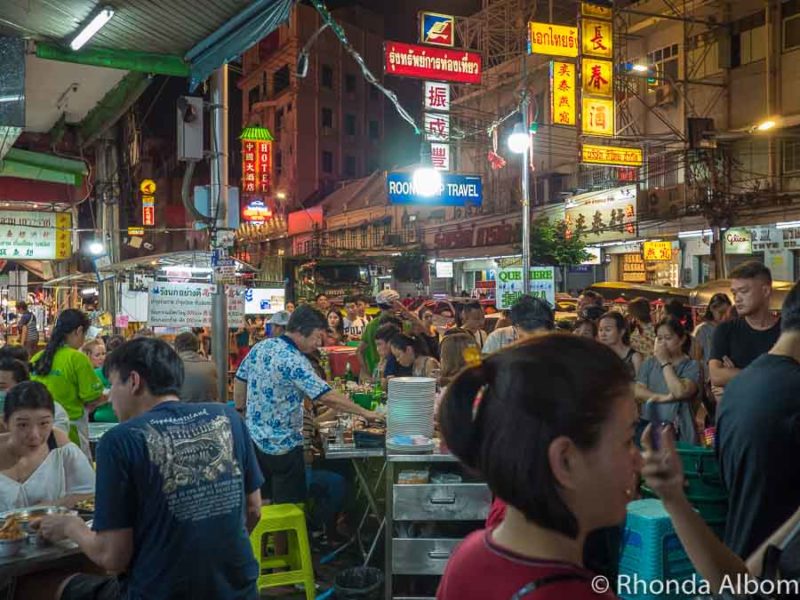 Thailand travel tips: visas and entry
Thailand's visa exemption rule offers a 30-day maximum visa-free entry to tourists from 64 countries. Click here to see if your country qualifies.
Is Bangkok safe?
We had no problems in Bangkok, but we follow our own personal safety guidelines, similar to when we were in South America. Remember to stay aware of your surroundings, hold your personal belongings in the front, and don't carry extra things with you.
Pickpocketing may be the most common crime against tourists; although, like in most major cities, other trouble often follows people who drink too much.
Travel insurance
We have been to emergency rooms in six countries, including, most recently, when I got dengue fever in South America.
Unfortunately, things can and do go wrong when you travel. World Nomads offers coverage for more than 150 activities as well as emergency medical, lost luggage, trip cancellation and more.
Note: World Nomads provides travel insurance for travellers in over 100 countries. As an affiliate, we receive a fee when you get a quote from World Nomads using this link. We do not represent World Nomads. This is information only and not a recommendation to buy travel insurance.
Top 10 things to do and places to visit in Bangkok city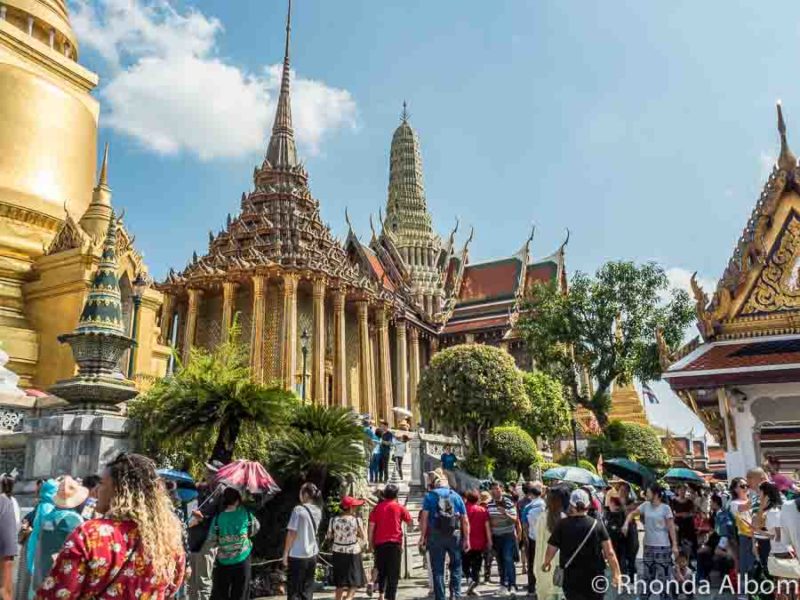 Bangkok travel tips: what to eat in Bangkok
If you're going to spend any time in Bangkok, even just a day, there are a few things you will want to try. Just be aware that you will most likely be paying for everything brought to your table in a restaurant, even if you didn't order it. Ask first before you accept, as even the bottle of water may have a price tag.
Bangkok is a culinary feast, an assault to the tastebuds from one incredible flavour to the next. Even being gluten and dairy-free, I found it easy to eat here.
Double-decker Thai bus food tour
Bangkok is a food lover's paradise. The Thai Bus Food Tour is a really fun way to explore the city and even recommended by our guide.
Imagine travelling via double-decker bus past the stunning sites of Bangkok whilst enjoying a meal featuring Michelin-awarded food. The options include lunch, dinner, late night with a meal, or afternoon sightseeing only.
⇒ Check price and reviews for the Double-Decker Thai Bus Food Tour
Bangkok travel tips: getting around the city
Visitors can get around Bangkok via taxis, tuk-tuk, trains, boats, or self-driving. If you don't want to do it on your own, you can hire a private guide. We were on our own the first day and travelled with a private guide on subsequent days.
Taxi
Although required by law to run the meter, many taxi drivers will try to offer a fixed rate. Don't take it. The best advice is to walk away and flag down a different taxi. Remember, taxis showing red lights are available (no light implies occupied). There are also motorcycle taxis, but we avoided them.
As a rough guide, you can get pretty much anywhere in the city for not more than $10 USD.
Grab Taxi
Similar to Uber, Grab is quite popular in Bangkok. However, you do need to first download their free app.
⇒ Click to download the Grab Taxi app
Boat / Ferry
The Chao Phraya Express Boat is a fun way to travel in the city, and also very inexpensive. We took a ferry to cross the Chao Phraya River between the Reclining Buddha Temple and Wat Arun.
Bus or Train
While the extensive BTS bus system may be the most affordable way to get around, buses are often stuck in slow-moving traffic. In contrast, the BTS subway and the MRT Skytrain are great ways to avoid the heavy traffic. Plus, it's easy to navigate and still quite inexpensive.
Tuk Tuk
Even the tourism board has a warning about tuk-tuk drivers overcharging unsuspecting tourists. While these three-wheeled motorized vehicles look like a fun way to get around the city, be very sure you have negotiated well before you get started, or you will overpay quite a bit.
Private Bangkok City tour
Private tours are ideal for travellers with limited time, specific must-see lists, and those who like to delve deeper into a culture. Knowing the Bangkok highlights and carefully reading the tour descriptions and reviews, we feel comfortable recommending this tour.
First off, it visits what we believe are the top sites (Grand Palace, Wat Pho, Wat Arun, Chinatown, and the flower market). Secondly, it offers visitors a choice between a private air-conditioned vehicle or a lower-priced option using public transportation. This highly-rated all-day Bangkok tour with an English-speaking guide starts and ends at your hotel.
⇒Reserve your Bangkok in a day tour here
Rent a car
Even as I wrote the words, I cringed at the idea of driving in Bangkok if you are not a local. While it is legal to rent a car, traffic is heavy, scooters cut through often, and driving appears to take a skill beyond my level.
Where to Stay in Bangkok
We arrived in Bangkok on a small cruise ship, which docked in town for three days (two nights). Therefore, we didn't need to review Bangkok hotels. However, like all major cities, Bangkok accommodation covers the full gambit of options. We recommend beginning your search at Booking.com.
Bangkok travel tips: toilets
We always found Western-style toilets (sit-down) in the public bathrooms. In fact, I only saw one squat toilet during our visit.
Always carry toilet paper with you. Many public bathrooms have large toilet paper rolls when you first enter the bathroom. Be sure to take what you will need, as there will be none in your stall.
A polite society, they use terms like shooting a rabbit (men) or picking a flower (women) for using the toilet. Therefore, there is often either a rabbit (men) or a flower (women) on the door to identify the room's gender.
Bangkok packing tips
We are avid proponents of packing light and bringing layers. Although, if Bangkok is your sole destination, you will need fewer warm options. Bring plenty of t-shirts, shorts, sunscreen, insect repellent, and a solid pair of comfortable walking shoes. You will also need to cover arms and legs to enter the palace, so a wrap or sarong can be quite useful.
Get a free copy of our packing list when you sign up for our newsletter.
More tips on visiting Bangkok
If you are exploring on your own, check out the Go City Bangkok pass for savings of up to 50% on a selection of 30 attractions and tours, including the Grand Palace. Reserve your Go City Pass here.
We changed our money at CentralWorld Mall. Comparing the options, we got a better exchange rate from the Currency Exchange than from the ATM.
Carry small changes, as you will need it more often than you imagine.
The minimum wage in Thailand is equivalent to $10 USD per day.
In Thai, rather than greeting with the equivalent of "How are you?" the question translates to "Have you had rice?"
If you are heading out to some of the islands, be sure to check out this list of Thailand's best beaches.
In some cases, tourists can get a VAT refund for gifts items they are taking out of the country. There is a downtown office at customer service on the 6th floor of CentralWorld. Click here for VAT refund information.
The legal age to purchase alcohol in Thailand is 20.
If you have more time here, get out to some of the islands like Phuket or Koh Samui.
Save for your visit to Bangkok
If you enjoyed this article, please share it on social media and save it for later on Pinterest.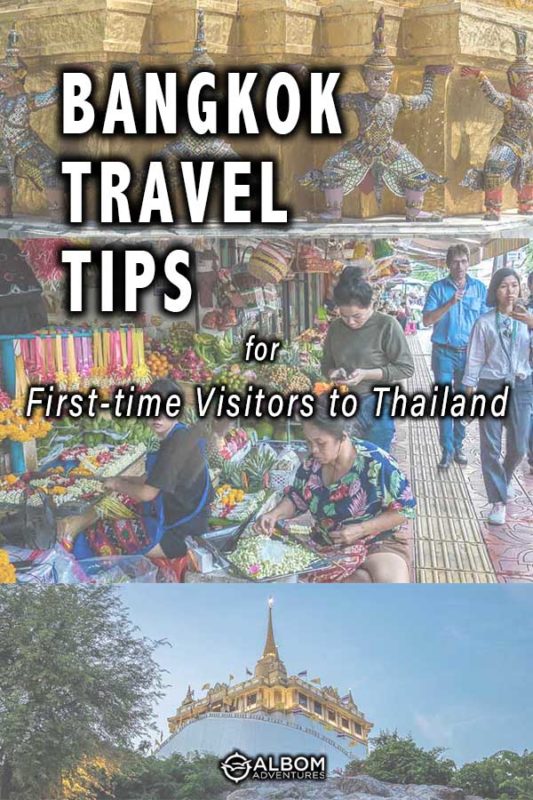 Disclaimer: We were guests of the Tourism Authority of Thailand on two of our three days to aid in the writing of Albom Adventures. We travelled via cruise ship, which served as our local accommodation. We paid for our full cruise passage. The opinions expressed here are strictly our own.