Thailand is one spectacular beach after the next. We asked travel writer Sydney to share with us the best beaches in Thailand regardless of why you are headed there. Some are better for romance, others for partying. Sydney shares with us everything you need to know. You can read more about her below.
Thailand is all that you'll ever want for a beach holiday with your pack. This group of 1400 islands and islets is one of the most promising and relaxing coastal South-East Asian countries. The weather is ideal throughout the year, which makes destinations like Pattaya, Phuket, Krabi, and Ko Samui quite popular amongst travel junkies.
Nearly 200,000 travellers flock to the islands of Thailand every year in search of sun-drenched white sands and thousands of blue shades of water.
A typical beach in Thailand is crowded with tourists soaking up the pleasant sun in their colourful swimwear, children digging the gently-sloping sand to build castles, and the young lot simply cooling off from the heat at hip bars and beach clubs located right at the beaches.
Thailand beaches are characterized by long-tail boats lining the shore, peddlers carrying food, drink, souvenirs, and offering massages. At Thai beaches, you will never feel the shortage of coconut water, smoothies, funky cocktails, and Singha beer.
Beaches of every definition can be found in this country, where stretches of lush green palm trees grow between the clear blue skies and exotic blue water waves kissing the sugary white sands gently. When in Thailand, you can expect miles of beach stretches with no sign of human life. Or, those bustling with happening bars lining the crowded beaches.
Finding the best beaches in Thailand
There is such a great variety of things you can do in Thailand. One of them is our favorite: Beach Hopping. With so many beaches to choose from, the water babies will likely have a tough time picking the right beach for afternoon chilling.
So, we've done the hard work for you. We've taken up the challenging job to pick 6 of the most iconic, un-missable, and exotic beaches of this tropical paradise.
The best part is that each of these beaches in various parts of the Land of Smiles will attract travellers with different objectives of hitting the beach. You will save not only time but steer clear away from disappointing trips to the beaches that do not serve your purpose. Take a peek!
Patong Beach, Phuket
Patong Beach easily qualifies as one of the most energetic and entertaining beaches of Thailand. The beach on the island is a dream for the party-loving young crowd.
The unofficial party destination for those in Phuket, Patong Beach is crowded with hip restaurants, bars, beach clubs, and shacks offering delectable food, drinks, and techno music that blasts right by the pristine white sands and blue water.
With shopping markets at walking distance and luxury hotels a stones-throw away, this beach has become the ultimate hub for tourists. You will never have a dull moment as the buzzing social scene and party-people will keep your spirits high. Check for the best time to visit Phuket here.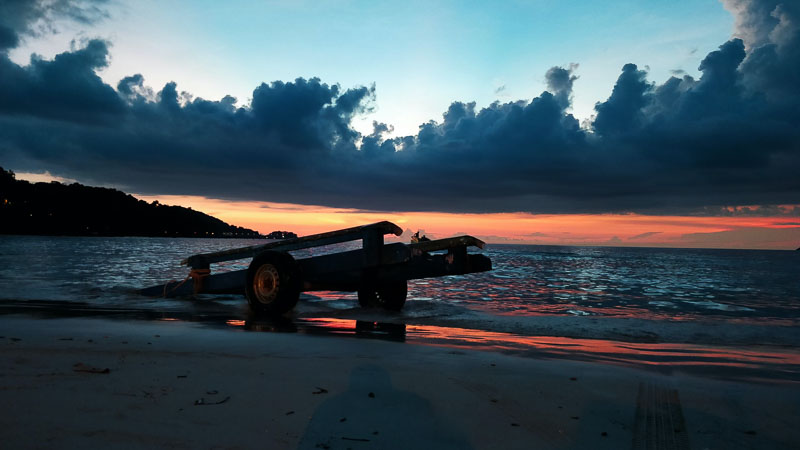 Maya Bay, Koh Phi Phi
Honeymooner's delight, it's the perfect point to watch the sunset. It's easily the most beautiful beach in Phi Phi Islands. Maya Bay has attracted tourists from all over the world. The beach owes its popularity to the great Leonardo Di Caprio's film 'The Beach', which was extensively shot in this area.
The beautiful Maya Bay is lined by three tall cliffs on the sides making for a great backdrop for your dreamy beach vacation pictures. Koh Phi Phi is an excellent spot for snorkelling and diving for those who are into water sports.
Sadly, the iconic beach of Koh Phi Phi is no longer open for tourists. The Thai Government has finally allowed some restoration and preservation of the natural island. In an attempt to conserve the local coral rejuvenation, the Maya Bay has been closed.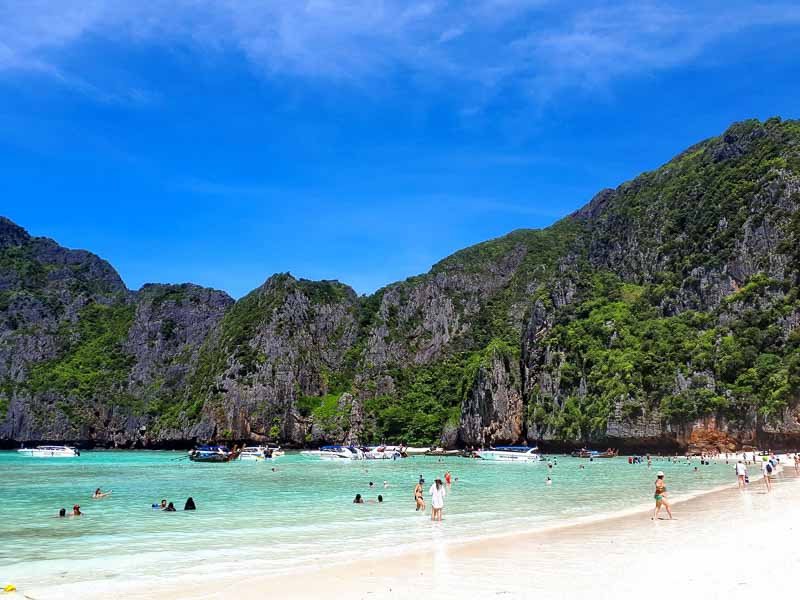 Bottle Beach, Koh Phangan
The north end of Koh Phangan is loud and touristy, given the raging Full Moon parties that are organized by the beaches every other day. However, Bottle Beach is miles away and shockingly opposite of what you see on the other side.
Bottle Beach is where you can doze off on the velvety sand under the palm trees without a care in the world. You can spend the day kayaking, snorkelling, and hiking through the hills behind the beach without getting bored for a second.
Accessible only by day boats and ferries, the beach is fairly cleaner and calmer than most others in Thailand. Although hard to get around, Bottle Beach is worth every single minute of trouble you take for it. Hiking to Bottle Beach is an adventure with a worthwhile reward of paradise.
Phra Nang Beach, Krabi
The Phra Nang Beach is a gem some 20-odd minutes from the party beach of Ao Nang in Krabi. Often ranked among the world's most beautiful beaches, Phra Nang Beach is popular for stunning views and relaxed vibes.
The lazily sprawling white sands are flanked by towering cliffs and limestone rocks that form a unique cave filled with phallus-shaped offerings.
The limestone rocks of Railay Coast are best for those who want to enjoy their time climbing the rocks without fighting for space. The local coral reefs in the shallow waters of Phra Nang make it a snorkeler's delight.
Unlike any other beach in Thailand, this one is rightly sprinkled with sea caves, kayaks lining the shores, and backpackers basking in the glory of the shimmering sun. Phra Nang Beach in Krabi is mostly quiet and serene, but it sure gets crowded during the peak season.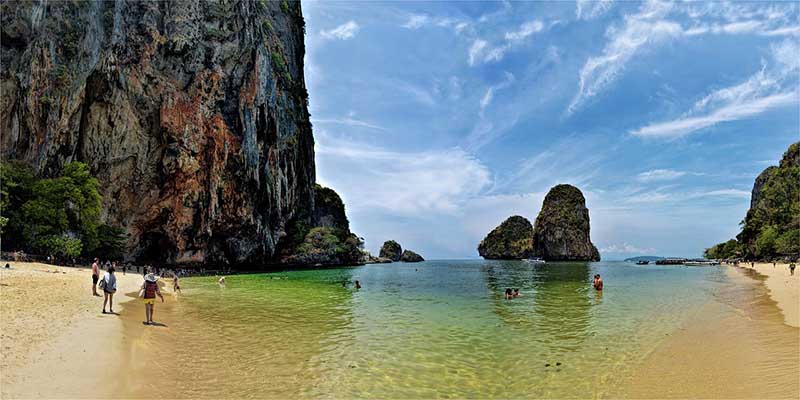 Long Beach, Koh Lanta
Locally known as Phra Ae, Long Beach in Koh Lanta is unlike any other beach in the palm-tree-clad beaches of Thailand. The gently-sloping white sands are covered not with palm trees but endless stretches of pine trees.
Long Beach is home to some of the most luxurious bungalows, guesthouses, AirBnbs, and resorts in the area. Imagine waking up to the view of the spotless beach and taking a fresh morning dip while watching the sunrise.
Only a few walking minutes away from your bed is quite tempting for those who love swimming in the free water.
The sandy beaches are the clear, clean, and ultimate spot for those looking to cool off in peace. The evenings are great for watching sunsets while sipping perfectly made cocktails, BBQ fish and meats served piping hot at most cafes by the beach.
For larger groups, Long Beach is a perfect place to spend the evening gulping down beers, enjoying techno music, feasting on local delicacies and enjoying perfectly choreographed fire shows.
Chaweng Beach, Koh Samui
Koh Samui has sprung up as the busiest and most energetic town among all the Thai islands. Given the extensive work done by the tourism board and hotel chains, Koh Samui is currently at the top of every traveller's dream destination wish list.
Chaweng Beach is the focal point of all the development in Koh Samui. A stones throw away from the Koh Samui airport, Chaweng Beach is the best place to party off the wild nights in town.
Arguably the most buzzing and entertaining beaches of Koh Samui, Chaweng Beach has earned the reputation of being a backpacker's favorite party place. On a typical beach day, you'll spot young lads and ladies enjoying pre-lunch tequila shots at the hip bars and restaurants crowded with happy-go-lucky travellers.
Fortunately, the entire length of the beach is lined with hip bars where the music grows over you as the night unfolds. For those looking to party their asses off till the wee hours of the morning, Chaweng Beach is the ultimate hot spot.
Final thoughts on the best beaches in Thailand
Thailand is a majestic tropical island where you'll never run out of entertainment options, whether by the beach or in town. Days are best spent enjoying cocktails and guzzling pints of beer by the white sandy beach bars.
Nights are meant for wild partying at nightclubs famous for their thumping music scene. Thailand is a place where you meet young like-minded travellers looking to soak up all the beauty that the country has to offer.
Not just the unrealistically beautiful beaches but the trendy eateries, plush hotels, dreamy Air Bnbs, cheap booze, electronic music, loud nightclubs, and drool-worthy local cuisines served at night markets make Thailand a top tourist destination.
Save on your trip with these resources
These are our go-to companies when we travel. We believe this list to be the best in each category. You can't go wrong using them on your trip too.
Flights: we use Expedia for the best and cheapest flight options.
Accommodations: we use Booking.com (hotels), VRBO (self-contained), or Hostelworld (budget).
Cars (gas or electric): we use RentalCars to search for deals and dealer ratings.
Campervans or Motorhomes: we use Campstar where Albom Adventures readers get a 3% discount.
Motorcycles: we have heard good things about BikesBooking.
Private guides: we love the private guides at Tours by Locals.
Travel Insurance: while not required, we always opt for travel insurance and start at InsureMyTrip to compare coverage plans.
Check out our travel resources page for more companies that we use when you travel.
Save for later
If you enjoyed this article, please share it on social media and save it for later on Pinterest.
Which do you believe are the best beaches in Thailand?
More on Thailand
About the author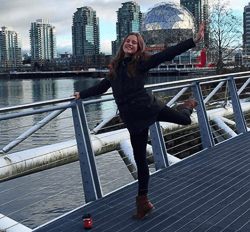 Sydney loves dancing, history, beer and exploring hidden places. Travelling is her life as it always gives her a new experience and makes her stronger. To date, she has travelled to more than 25 countries, and her favourite one is India. She writes at Route Prints.
Photo Credits
Photos on this page are either shot by our team and watermarked as such, in the public domain, or some stock photos were supplied by DepositPhotos.