We instantly fell in love with Koh Samui island. With stunning white sand beaches, crystal clear waters, and lush green forests, it is truly an island paradise. But that's not all, aside from relaxation, there are plenty of unique and interesting things to do in Koh Samui.
The second largest island in Thailand, our most recent visit was as a cruise ship port. This means limited time to explore the famous Koh Samui attractions while also having some time to relax and enjoy the stunning beaches in Koh Samui.
If you can, stay a while. But if you only have one day on the island of Koh Samui, choose carefully, as you can't do it all. From soaking up the sun to taking part in a traditional Thai cooking class, there is something for everyone.
Read on to discover the best things to do in Koh Samui, whether you have a week or only one day on this island paradise.
First, be inspired by the region …
Top 10 things to do in Koh Samui
See the Big Buddha and 18-armed statue of Goddess Guanyin
Discover the Secret Buddha Garden
Visit one of the beaches
Head to a night market
See a mummified monk
Explore Ang Thong National Marine Park or one of the other nearby islands
Take a cooking class
Experience a Thai massage
Walk through the capital
Help out at an elephant sanctuary
Relax or play at one of the beaches on Koh Samui
Koh Samui is renowned for its beautiful beaches, which are among the best in Thailand. While each one is unique, the main beaches all offer some combination of activities such as parasailing, scuba diving, fishing, or kayaking.
In addition, there are plenty of hotels, restaurants, bars, and shops at each of the popular beaches. Even if you have limited time on the island, stop by at least one of these:
Chaweng Beach is the most popular beach on the island. Well known for its stunning white sand coastline and crystal clear waters, it's also home to an active nightlife. The 3km strip features restaurants, bars, ladyboy shows, and pretty much everything needed to keep the party atmosphere alive well into the night.
Lamai Beach is known for its calmer waters and a more serene atmosphere than Chaweng beach. Ideal for swimming and watersports, it's also home to a bizarre natural wonder. At the south end of the beach, don't miss Hin Ta and Hin Yai Rocks, famous for their resemblance to both male and female genitalia. They are nicknamed Grandpa and Grandma Rocks.
Bophut Beach also offers a laid-back atmosphere during the day. Located at the end of Fisherman's Village, it's home to one of the famous night markets.
Mae Nam Beach is home to some great resorts on Koh Samui, and it also boasts excellent views of Koh Phangan in the distance.
Lipa Noi Beach is the place to head if you have kids, as the crystal clear water is shallow, and there are minimal rocks.
Discover the Secret Buddha Garden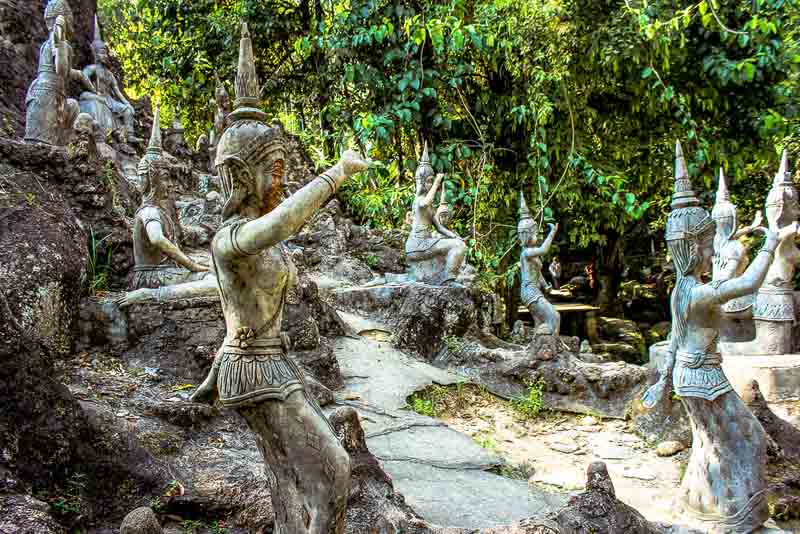 This tranquil oasis up in the hills of Koh Samui is filled with exquisite plants, trees, flowers, and a variety of different Buddha statues. It's an enchanting place that feels like you're in another world.
The downside is getting here isn't all that easy and requires a 4wd vehicle through jungle roads. Personally, we believe this half-day 4×4 tour is the easiest way to get here, and it sounds like loads of fun.
Experience a Thai massage
My first real Thai massage was actually in Bangkok, and it was a real eye-opener. It was both painful and intense as the masseuse used her hands, elbows, feet, and a wooden tool to apply deep pressure along my body's energy channels.
I had heard that Thai massage could be pretty rough, but I was not expecting it to be this powerful! Despite the discomfort I felt at times, I could definitely sense the healing power of the massage. My muscles seemed to loosen up and relax more deeply until, finally, all of the tension in my body melted away.
By the end of the massage, I felt completely relaxed and rejuvenated. It's all about technique, and one of the really unique things to do in Koh Samui is this one-hour Thai massage course.
Enjoy the spiritual energy at the Big Buddha
With two outstretched arms, the golden Big Buddha at Wat Phra Yai temple is a popular site on Koh Samui, but it's the spiritual and healing element that draws people here.
Located on a small island just off the northeast coast, a paved causeway brings us to this Buddhist Temple. Here, the impressive 12-meter-high statue, constructed in 1972, towers over its surroundings and provides impressive views.
It is a pilgrimage site for Buddhist devotees, and the atmosphere around the statue is filled with spiritual energy. Many people come to this place for peaceful meditation, as the statue is said to have a calming influence on its visitors.
It is also believed that offering prayers at the statue can help alleviate physical and mental afflictions (a bit like the healing waters of Lourdes, France).
Admire the 18-armed statue of Goddess Guanyin at Wat Plai Laem
Nearby the Big Buddha is my personal favourite of the island statues. The 18-armed statue of Goddess Guanyin at Wat Plai Laem is an incredible sight.
It's another temple complex said to be a place of immense spiritual power. The statue towers over the temple, each of her 18 arms holding a symbolic object. Her majestic figure stands atop a lotus flower, which symbolizes enlightenment and purity.
As visitors walk around the shrine, we can light incense sticks, make offerings, or just sit in peaceful contemplation.
Head to a night market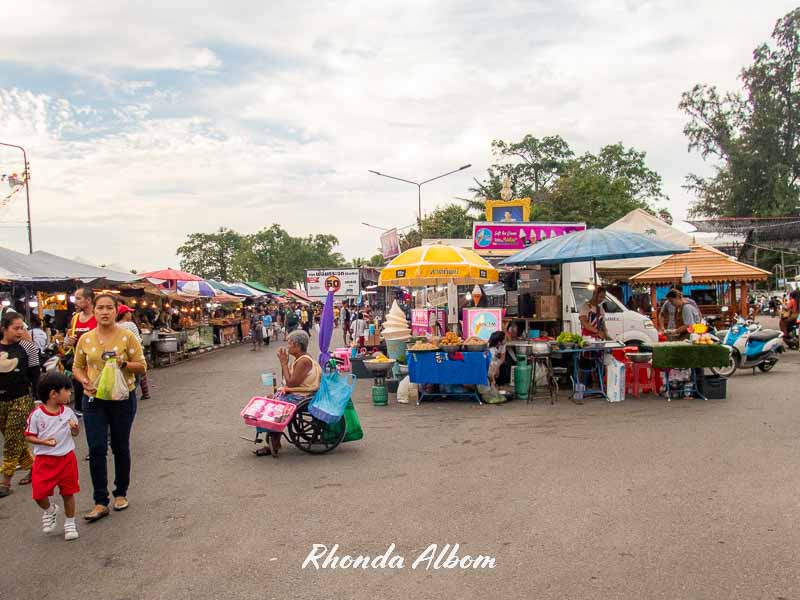 I love markets for a chance to see local crafts and sample tantalizing dishes. But to be honest, I wasn't prepared for the endless food bins of insects and grubs.
Koh Samui markets vary, and none are daily. The images I shot were from a market in Nathon.
The most famous night market is at Fisherman's Village on the north coast in the Bophut district. It's on Monday, Wednesday, and Friday nights, but the vibrant area is pedestrian-only every night. The atmosphere is a strange mix of both peaceful and exciting, with narrow lanes and beautiful wooden shophouses.
Mummified monk at Wat Khunaram
Visiting the mummified monk of Wat Khunaram is a one-of-a-kind experience. The well-preserved corpse of the late monk Luang Pho Daeng has been sitting in the same position since his death in 1973 and still remains in surprisingly good condition. It was placed like this per his own request before he passed.
There is a glass panel separating him from us, adding to the surreal effect.
Explore Nathon, the capital of Koh Samui
If you arrive via ship, then most likely, you will start out like we did in Nathon.
From here, it's pretty easy to grab a driver to take you to the key sights above, or better still, take this highly-rated small group minivan tour.
Be sure to save some time to explore Nathon, the capital of Koh Samui. A small city, it was easy to explore on foot. The images above represent:
The district office government building
Wat Chaeng Buddhist Temple
Hainan Nathon Shrine
A shopping street
Go island hopping
If you've got plenty of time and want to try something a little different, take a trip to one of the nearby islands. There are plenty of options within easy reach, each offering something unique. Our top picks are Ang Thong National Marine Park, Koh Taen, Pig island, Koh Phangan and Koh Tao.
Ang Thong National Marine Park
This spectacular archipelago of 42 islands in the Gulf of Thailand, about 16 km to the west of Koh Samui, is an ideal destination for nature lovers. It features pristine white sandy beaches, lush tropical rainforests, and crystal-clear turquoise waters.
The park can be explored on boat tours, kayaking trips, or snorkelling excursions. Or, hike to take in breathtaking views of the park's limestone cliffs and coral reefs. One of the best ways to explore the Ang Thong National Marine Park is with this full-day kayaking and snorkelling tour.
There is camping, and overnight bungalows need to be reserved in advance. Also, an on-island restaurant.
Koh Tao
If scuba diving is on your list of things to do in Koh Samui, then most likely, you already know about Koh Tao. It is the place to go for scuba diving and is often considered one of Thailand's best scuba spots. Or, relax on one of the laid-back beaches.
Koh Phangan
With crystal clear waters, snorkelling may be the number one reason people visit Koh Phangan. It's also a fabulous day trip with this full-day junk boat sunset tour.
Koh Taen and Koh Madsum (Coral and Pig Islands)
If you want something more unique, this top-rated long-tail boat tour will take you island hopping for some impressive snorkelling and a chance to meet some friendly pigs. You can choose between a group or private adventure, but either way, it will be loaded with fun. How often do you get a chance to take selfies with adorable pigs?
Take time to explore the backroads
Stepping off the tourist track and exploring local backroads is something we always like to do when we visit somewhere new. Koh Samui was no exception.
We never know what we will find, and on the island, it ranged from fishing boats to homes, from interesting artwork to a love station. Before you ask, we have no idea the purpose of the love station, and unfortunately, there was no one around to ask.
More things to do in Koh Samui
While still popular, we didn't have a chance to do any of these on our last visit to Koh Samui.
Take a cooking class
I don't know about you, but we love taking cooking classes when we travel. It's a great way to learn the local cuisine and explore an area's culture.
The best things about cooking classes are the hands-on instruction and enjoying the fruits of our labour at the end of the class. On Koh Samui, experienced chefs teach the basics of Thai cooking, including traditional ingredients and techniques used in authentic Thai dishes.
Our favourite is the national dish, and we have adapted our Pad Thai recipe to meet our dietary requirements. Reserve your Thai cooking class here.
Take a safari tour on an ATV quad bike
Here's an opportunity for a fully offroad guided adventure along remote dirt tracks. You will enjoy panoramic jungle and beach views from above. The tour is suitable for all levels of experience. Reserve your ATV quad bike adventure here.
Visit an elephant sanctuary
Gone are the days of mistreating elephants and tourist rides, and in its place, the elephant sanctuary provides refuge for abused animals. Encompassing just over 5 acres of land, the elephants reside here amongst their friends and family members. Here, they receive a range of tailored care from human handlers who provide stimulation and socialization opportunities alongside regular medical treatment.
One of the best ways to visit is with this tour that lets you learn and assist and even join in a mud spa or dip in the water with the elephants.
Na Muang 2 Waterfall
Na Muang is the second-largest waterfall in Koh Samui, but the refreshing water hole at the base makes it quite popular on a hot day.
How to get to Koh Samui, Thailand
Koh Samui is pretty close to Thailand's mainland on the Gulf of Thailand. You can take a ferry from Surat Thani, fly into Koh Samui from Bangkok, Singapore, or Hong Kong, or arrive via cruise ship, like we did.
Save on your trip with these resources
These are our go-to companies when we travel. We believe this list to be the best in each category. You can't go wrong using them on your trip too.
Flights: we use Expedia for the best and cheapest flight options.
Accommodations: we use Booking.com (hotels) or VRBO (self-contained).
Cars (gas or electric): we use RentalCars to search for deals and dealer ratings.
Campervans or Motorhomes: we use Campstar where Albom Adventures readers get a 3% discount
Private guides: we love the private guides at Tours by Locals
Travel Insurance: we start at InsureMyTrip as they are the best option to compare plans and find the right coverage for you.
Check out our travel resources page for more companies that we use when you travel.
Save for later
If you enjoyed this article, please share it on social media and save it for later on Pinterest.
What are your favourite things to do in Koh Samui?
Photo Credits:
All photos on this page are either shot by our team and watermarked as such or stock images from Depositphotos.