Bangkok, Thailand, is a visual masterpiece of golden temples, intricate architecture, and natural beauty encapsulated by tempting aromas, friendly people, and shockingly hot and humid temperatures. We instantly fell in love with a city that seamlessly mixes modern life and ancient cultures. Here, we share our recommended Bangkok itinerary for first-timers; it's a selective list of things to do in Bangkok in 3 days.
The opportunities seem endless, ranging from cultural to gastronomic excellence. Intricate temples and shopping by day, the city has a colourful nightlife as well. Here are our top 10 things to do in Bangkok in 3 days.
1. Grand Palace
The official residence of Thailand's kings from 1782 to 1925 is now the top tourist attraction in Bangkok, drawing 10,000+ visitors daily. A masterpiece around every corner, it is a place not to miss, despite having to share the experience with massive crowds.
The Emerald Buddha Temple is located within the palace grounds (More on the Grand Palace coming soon).
Pro Tip: The strictly-enforced dress code includes covered shoulders and knees. It is easy to purchase a wrap outside the palace from one of the many touts.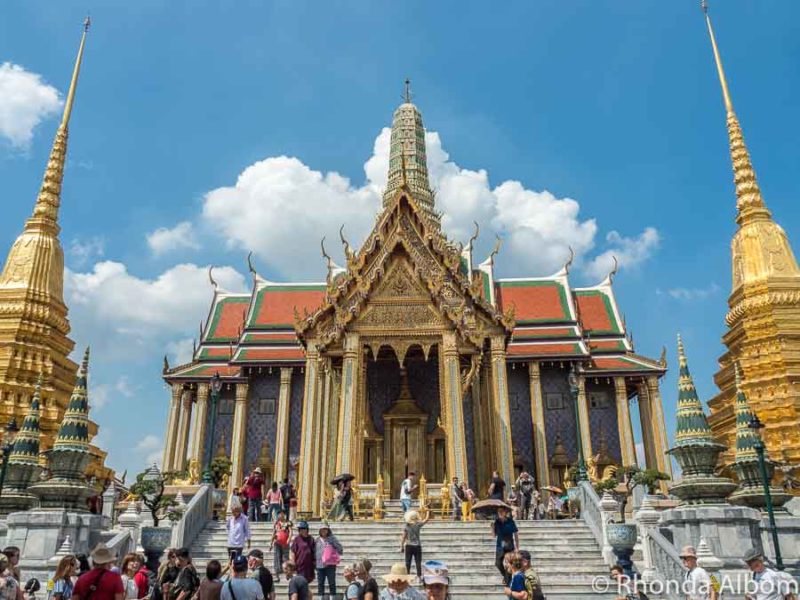 Be inspired . . .
2. Temple of Dawn (Wat Arun)
The Temple of Dawn was intentionally built with steep steps to remind us of the difficulty of reaching Buddha in heaven. In the interest of safety, visitors can only go as high as the second level. From here, we get a fabulous view of the Grand Palace across the river.
Inside the temple are relics of the Buddha, but visitors are not permitted to enter.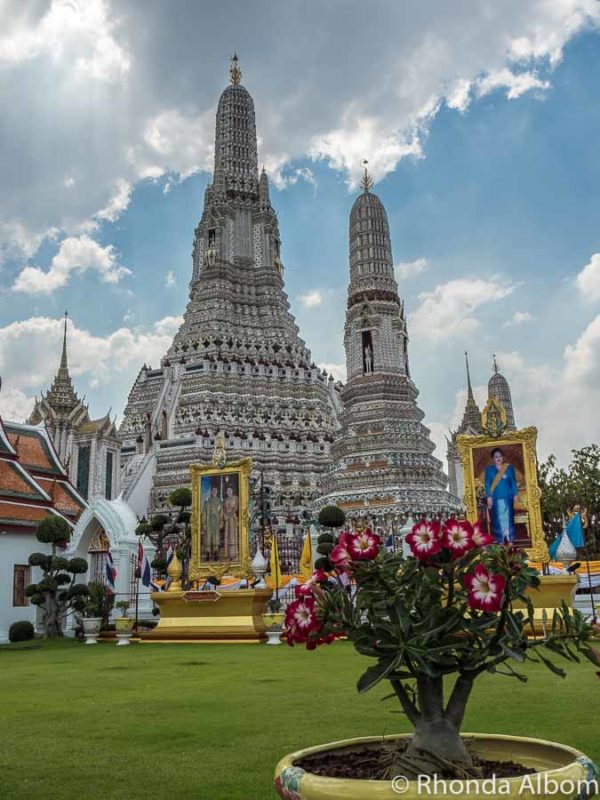 Getting to the Temple of Dawn
A short walk from the Grand Palace brought us to a ferry to cross the Chao Phraya River to the Temple of Dawn. The ferry costs 4 baht ($0.33 USD), takes about 10 minutes and is definitely part of the adventure. I was luckier than Jeff and got a seat in both directions. The secret to getting a seat is to be either a woman or a monk.
3. Temple of the Reclining Buddha (Wat Pho)
As we entered the temple of the Reclining Buddha, a hypnotic calm passed over us, accelerated by a fairly regular clanking. Even reclined, the 46-metre buddha barely fits inside the temple and is the third-largest Buddha in Thailand. Buddha's feet are each 5 metres long and inlaid with mother-of-pearl.
Like the Grand Palace, there is a dress code in place requiring visitors to cover their knees and shoulders and, in this case, to remove shoes.
Wat Pho is one of the city's largest temple complexes and is worth spending a bit of time exploring. There are over 300 different Buddha here. Visitors are welcome to participate/observe an hour of chanting that begins at 5 pm in the Ordination Hall.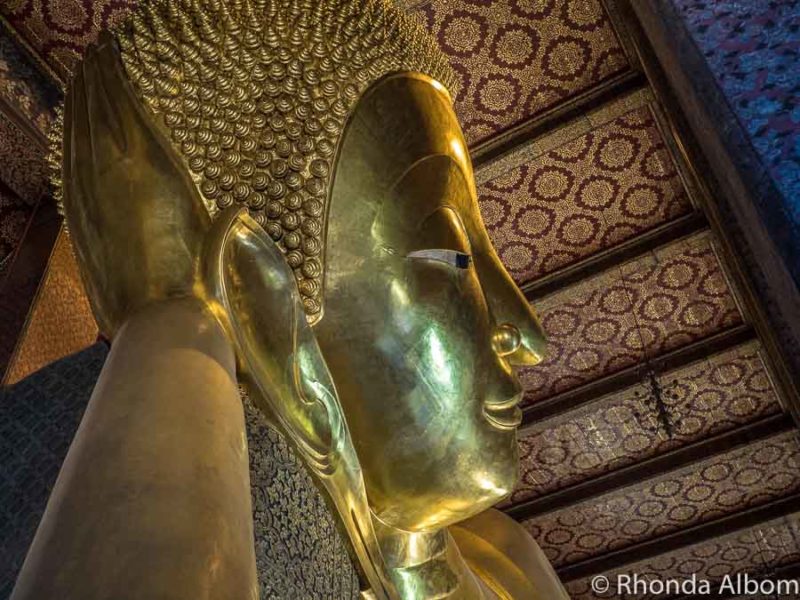 Getting to Wat Pho
Wat Pho is also a short walk from the Grand Palace, in the same direction as we walked to the ferry entrance. It can be inserted into your Bangkok itinerary either before or after the Tempe of Dawn.
Touring the temples
Although it is fairly easy to walk between the three sites above (Grand Palace, Wat Pho, Wat Arun), we were grateful to have a guide for the added value. While each of the three exquisite sites is captivating on its own, the history really brings them alive.
Based on reviews, we are impressed by both the comprehensiveness and flexibility of this walking temple tour that offers combinations of the three main temples above and includes the entrance fees. And, you also tour the local markets. We, of course, recommend visiting all three.
⇒ Reserve your city highlights temple and market walking tour here
4. Thai massage
Wat Pho is also home to Thailand's first public university. Over time, the school's focus on religion, literature, and science transitioned to a top-rated traditional medicine and Thai massage school.
Our one-hour Thai foot massage was more therapeutic than relaxing, and we walked away feeling great. It included our legs and ended with about 10 minutes focused on our shoulders. Be warned, traditional Thai massage isn't a gentle rubbing but rather an invigorating experience.
Pro Tip: Advance booking is not available. Therefore, if you want a massage, it's best to get on the list as your first stop at Wat Pho.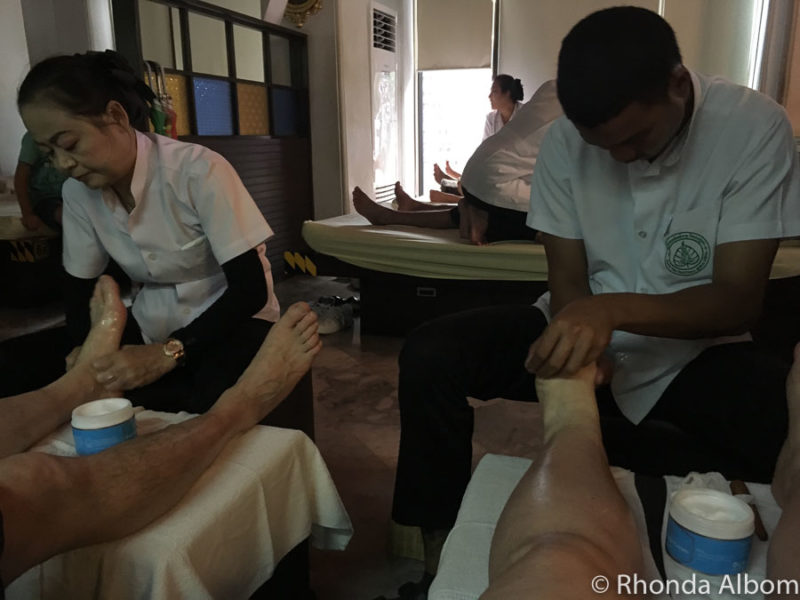 5. Golden Mountain at sunset
Our climb up the 344 steps to the top of the Golden Mountain (often called "Golden Mount") seemed fairly easy, even in the sweltering heat. Timing it right, our reward was a beautiful sunset over the city.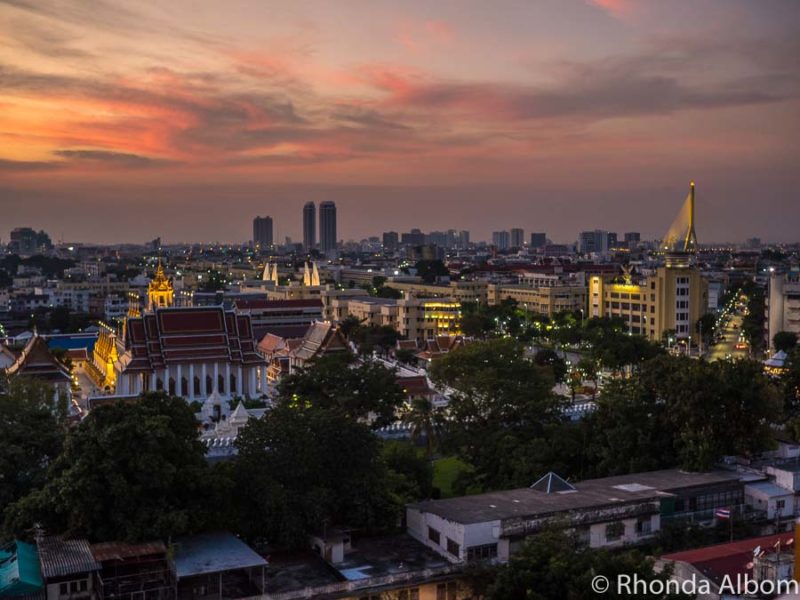 6. Ancient Siam
Normally a daytime destination, Ancient Siam steps us back in time. Self-proclaimed as one of the world's largest outdoor museums, Ancient Siam displays detailed replicas of various Thai historical structures across its 200+ acre site.
Located in Samut Prakan province, a taxi or private transfer is the easiest way to get there from the city.
⇒ Get advanced tickets with a private transfer option here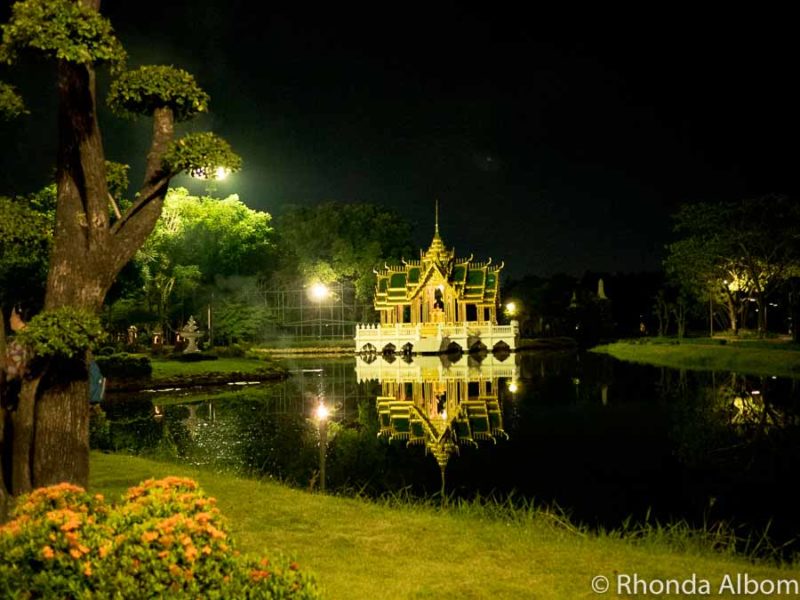 Ancient Siam is not normally open at night. However, we were invited to a special evening celebration, complete with entertainment and a simulated Loy Krathong Festival. (We visited about 2 weeks before Loy Krathong, a festival that falls in November). As part of the tradition, we each released a lotus-shaped raft with a candle to pay respect to the goddess of water.
7. Flower Market
Always open, the flower market processes an estimated one million flowers daily. Fresh, fragrant, and very affordable, the sheer volume passing through here daily is impressive.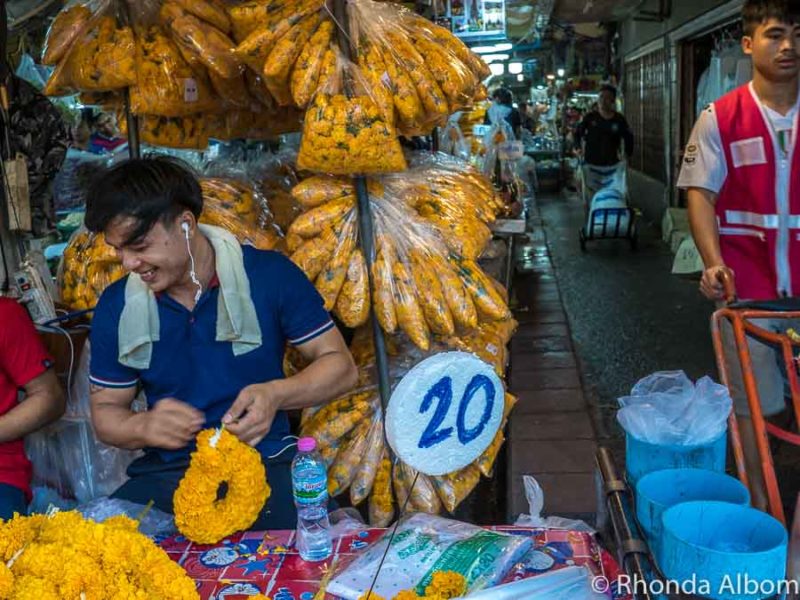 8. Chinatown and other things to do in Bangkok at night
The place by day to buy electronics, clothing, or gold, Chinatown comes alive with food stalls at night. Wafts of unfamiliar aromas tempted us while the ever-changing bright lights were almost dizzying. As we made our way through thick crowds, our guide targeted her favourite evening dinner spot.
Getting to Chinatown via Tuk-Tuk
We travelled to Chinatown via Tuk-Tuk, a three-wheeled motorized travel option that is notorious for ripping off tourists. And, worse than overpaying, the ride itself isn't very comfortable. Knees are higher than hips throughout the bouncy ride. However, we did get a fun photo.
While negotiating with the Tuk-Tuk driver, our guide arranged for stops at several lit-up monuments and temples.
A city that never sleeps, there is also a seedy side to Bangkok (made famous in movies like Hangover 2); however, we avoided it.
Touring by Tuk-Tuk
If you are set on the full Thai tourist experience that includes a Tuk-Tuk ride, a pre-organized tour might be the perfect solution. Remember, traffic in Bangkok is appalling, especially during the daytime, so choosing an evening tour will give you more for your money.
Our top pick, based on sights and reviews, will take you to some of the older districts, see some of the stunning monuments and temples lit up at night, and stop at Wat Pho (exterior only), night markets, and the flower market. A four-hour tour includes a mix of walking and transport in a Tuk-Tuk, a variety of foods to sample, and a knowledgeable English-speaking guide.
⇒ Reserve your Night Tuk Tuk Tour: Markets, Temples & Food here
9. Bang Krachao (Bangkok's green lung)
Heading off the beaten path, we love to explore the less-touristy sites, like the undeveloped jungle-like area of Bang Krachao, commonly called Bangkok's green lung. We shared walkways along the canals with bicycles and motorbikes.
We also visited an old temple, a tie-dye and incense workshop, and a floating weekend market. More on Bang Krachao coming soon.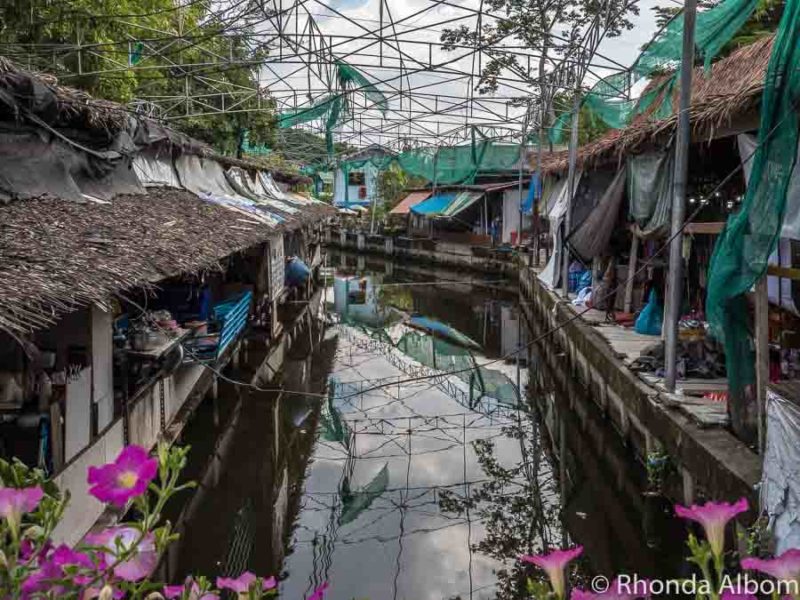 While most visitors arrive via ferry from Klong Toey, we were driven over the bridge in a private vehicle. Bikes are available for hire at the dock, or join into this top-rated half-day bicycle tour.
⇒ Reserve your Krachao Island and market bike tour here
10. Shopping in Bangkok
Strolling through an air-conditioned Bangkok shopping mall, we joined thousands of locals and visitors escaping the heat. We found ourselves surrounded by a mix of retailers we recognized and a smattering of new ones.
While we find shopping malls around the world to be too similar to get the cultural experience we desire, visiting at least one seems to be a must-do in Bangkok. Here are a few recommended to us:
CentralWorld Market: Bangkok's largest mall.
MBK Center: Was the largest shopping mall in Asia when it opened in 1985. MBK is still popular.
EmQuartier Mall: An architecturally attractive mall, it is the helix section that makes it special, according to my daughter's friend who lives in Bangkok.
Siam Paragon: Another mall mentioned by my daughter's friend, this one caters to the luxury shopper.
Other places to visit in Bangkok
With only 3 days in Bangkok, we didn't allocate time to visit any of the city's museums or animal attractions, although it sure is filled with some unusual options. Most indoor attractions are air-conditioned, thus offering an escape from the heat.
Erawan Shrine: The golden four-faced buddha at the Erawan Shrine is in the shopping district. Here, people come for good luck. They make a wish and offering, and good things follow.
Giant Swing: Once actually a giant swing, now only the framework stands tall in front of Wat Suthat, one of Thailand's oldest and most historic temples. The swing itself was removed after too many injuries.
Temple of the Golden Buddha (Wah Traimit): With only three days, we couldn't see it all. As a result, we missed the world's largest solid gold statue. The Golden Buddha weighs 5,500 kilograms (12,125 pounds).
National Museum: Thailand's largest collection of Thai art and artifacts, ranging from weapons to Khon masks.
Damnoen Saduak floating market: Far from the city in traffic, we opted to skip Thailand's most famous floating market where vendors fill their boats with their wares. However, if it is on your must-see list, consider a tour that includes more than one activity like this highly-rated tour:
⇒ Reserve your Damnoen Saduak floating market & Maeklong train market tour here
SEA Life Bangkok Ocean World: Located inside Siam Paragon Mall, this is one of the largest aquariums in Southeast Asia.
Snake Farm: Run by the Thai Red Cross, its produces antivenom serums for snakebite victims nationwide. However, it's also an opportunity for visitors to see poisonous snakes.
Where to eat in Bangkok
No discussion of Thailand's capital could be complete without mention of some of the fabulous food options available. Our top recommendations:
Thipsamai
This is the place to eat Pad Thai in Bangkok, as evidenced by the massive queue of people waiting for entry. It moved quickly. Despite being halfway down the street, we were seated in about 30 minutes and eating the best Pad Thai ever (and it easily met my dietary requirements). If you only have time for one meal, Thipsamai should be it.
Raan Jay Fai
Right next to Thipsamai, another massive queue waits for Michelin Star wok-cooked seafood dishes prepared by owner Supinya Junsuta, whose nickname is Raan Jay Fai. She is well-known for wearing goggles while she cooks.
Mango Tree along the Yodpiman Riverwalk
After visiting the Temple of Dawn, we took the return ferry back to our starting point, where we strolled the Yodpiman Riverwalk, discovering restaurants and cafes ranging from authentic Thai cuisine to Starbucks. Our guide chose well, and we enjoyed a feast of pomelo and shrimp (mild), red chicken curry (spicy), and blue sticky rice with mango at the Mango Tree Restaurant.
Eating dairy-free and gluten-free in Bangkok is surprisingly easy.

Even with food allergies, I had no problems onshore (only the ship messed up my food allergies). I simply typed a list of my dietary restrictions into Google translate and showed it to the restaurant owners and street food vendors. Seeming more concerned with my health than their bottom line, food servers simply pointed and shook their head either yes or no.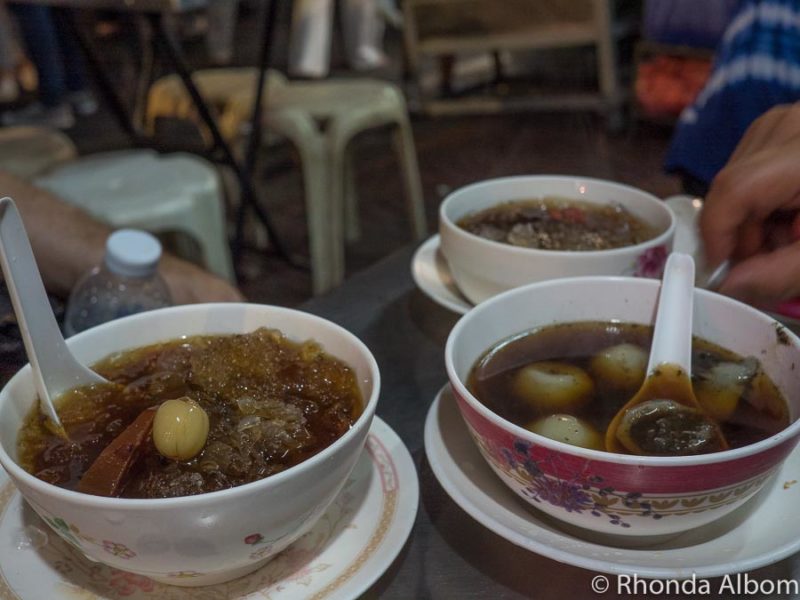 Our Bangkok itinerary map
How to get around the city
Regardless of how you get around the city, if you are doing it on your own, be sure to check out the Go City Pass for savings of up to 50% on over 30 tours or attractions. Reserve your Go City Pass here
Hop-on, hop-off Bangkok tours
One popular way to see highlights of any major city is with a hop-on, hop-off tour. However, in Bangkok, heavy traffic is always a consideration. Fortunately, there is also a hop-on, hop-off tuk tuk and boat combination that helps avoid traffic issues.
Independent travel in Bangkok
Taxis: A red light on a moving taxi means it is empty. In Bangkok, it is best to flag down taxis that use their meter, as parked taxis frequently quote higher fixed fares.
Grab Taxi: is a rideshare system organized through an app, similar to Uber. It even has a food delivery network.
⇒ Click here to download the Grab Taxi app
Tuk Tuk: These three-wheeled vehicles have earned a reputation for overcharging tourists. See cautions above (Chinatown section).
Skytrain: Another great option to get around the city, to Chinatown, and out to the suburbs.
Rent a car and drive yourself: While rental cars are often our choice around the world, there is no way I would drive in Bangkok. Traffic is heavy, scooters cut in and out, and driving in Bangkok appears to take a skill beyond my level. However, if you are set on driving yourself, rental cars are available. We always use Rentalcars.com when we travel, as they offer us a comparative chart of local options of both vehicles and companies. Plus, they offer English-speaking customer service should we have any difficulties.
Read Next: Bangkok Travel Tips for First-Time Visitors to Thailand
Save on your trip with these resources
These are our go-to companies when we travel. We believe this list to be the best in each category. You can't go wrong using them on your trip too.
Flights: we use Expedia for the best and cheapest flight options.
Accommodations: we use Booking.com (hotels), VRBO (self-contained), or Hostelworld (budget).
Cars (gas or electric): we use RentalCars to search for deals and dealer ratings.
Campervans or Motorhomes: we use Campstar where Albom Adventures readers get a 3% discount.
Motorcycles: we have heard good things about BikesBooking.
Private guides: we love the private guides at Tours by Locals.
Travel Insurance: while not required, we always opt for travel insurance and start at InsureMyTrip to compare coverage plans.
Check out our travel resources page for more companies that we use when you travel.
Save for later
If you enjoyed this article, please share it on social media and save it for later on Pinterest.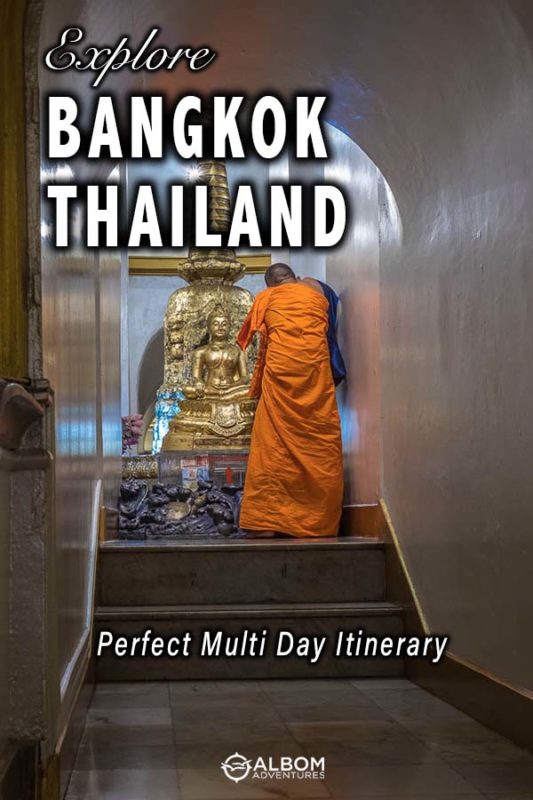 Which of these Bangkok itinerary ideas appeal to you?
Bangkok is one of the most picturesque cruise ports we have visited.
Disclaimer: We were guests of the Tourism Authority of Thailand on two of our three days to aid in the writing of Albom Adventures. We travelled via cruise ship which served as our local accommodation. We paid our full cruise passage. The opinions expressed here are strictly our own.