If you are headed to the Philippines, or if you just want to learn a bit about the world's most beautiful island, check out this Siargao travel guide shared with us by Cazzy Megennis. See her details below.
With over 7,000 islands to explore, it can be difficult to narrow down which ones are worth the trip when visiting the Philippines.
Siargao is one of the most beautiful islands in the Philippines, so much so that it was actually voted the most beautiful island in the entire world in 2019.
This is a small, remote island with only a population of 200,000. I'm pretty sure it is home to a LOT more palm trees than people!
If you seek epic surfing, beautiful beaches, amazing food, and friendly locals, then Siargao is the place for you to visit!
In this Siargao travel guide, I'll take you through everything you need to know about the island. This will include:
The best time to visit Siargao
Getting to Siargao
How long to visit Siargao
The top things to do in Siargao
Tips for visiting
So, let's get started with our Siargao travel guide…
The best time to visit Siargao
The best time to visit the Philippines is during the dry season, which runs from March to October. But this is a popular tourist season, so you will be sharing the island with others.
If you want to catch good surf in Siargao, the best season is August to November. The island typically holds its large surf competitions in October.
How to get to Siargao
You can easily get to Siargao via a short flight from either Cebu or Manila. It's often a good idea to book in advance for a better price.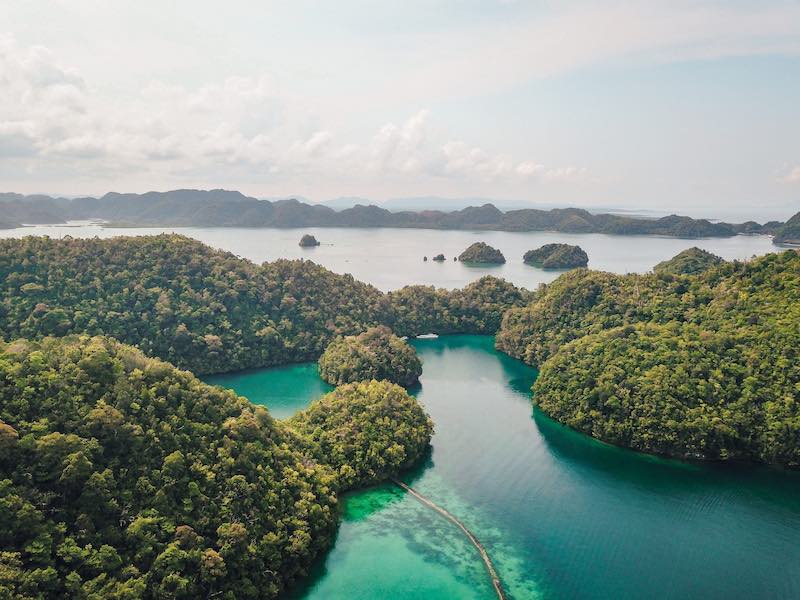 How long do I need in Siargao?
This will really depend on what you want from Siargao. If you want to see all the different attractions on offer, relax on the beaches, go island hopping, and even try some surfing, then I would give yourself at least a week to explore.
But, if you're short on time, at least give yourself 4 days!
Sometimes people end up staying on Siargao longer than planned because they fall in love with the island, so you may find that happens to you too….
Top things to do in Siargao
There are lots of great attractions on the island of Siargao, but I'll run down my top 5 that you simply cannot miss!
1. Swing on the Maasin rope swing
This unique spot in Siargao is popular with both locals and tourists.
The Maasin River is home to the Insta-famous Massin palm tree swing. For a small fee of 20 pesos, you can swing off of this tree into the river! It's a lot of fun and a great way to mingle with the locals.
If you don't fancy jumping into the water, you can rent out small, raft-style boats and sail down the river at your own pace.
2. Go island hopping to Naked Island, Daku Island, and Guyam Island
All of the island hopping tours in Siargao will include these 3 famous islands, and they are amazing.
Guyam is a small, secluded private island that's surrounded by crystal clear waters, a natural-made swimming pool area, and filled with palm trees.
It's truly one of the most beautiful islands I've laid eyes on, and you'll not be surprised that people like to have their weddings here!
Naked Island is basically a strip of sand that offers some cool snorkelling around it. Guyam Island is the largest of the three and is actually inhabited by locals.
Again, it's surrounded by beautiful blue waters and offers amazing swimming opportunities.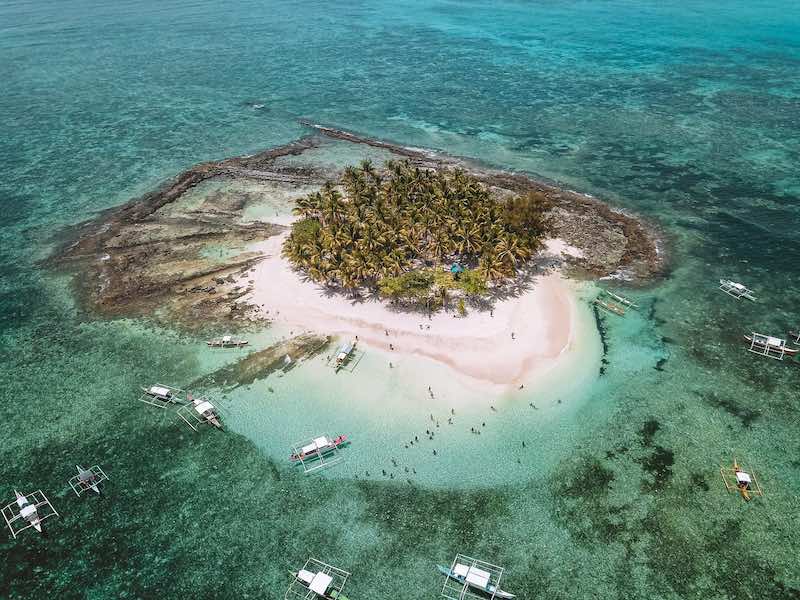 3. Jump into the Sugba Lagoon
This is one of the most popular day tours from Siargao, and I think it's one of the most beautiful places to visit in The Philippines.
This is essentially a scenic, turquoise lagoon located amongst a mangrove forest.
It's popular for its activities on offer. You can opt for stand-up paddleboarding, kayaking, and snorkelling.
Or, if you're feeling adventurous, you can dive off of the platforms that have been built!
4. Try surfing
Whether you're a pro or a beginner, Siargao offers surf for everyone. You can easily get lessons near the Cloud 9 boardwalk for around 400 PHP ($8.35 USD).
There are lots of surf spots dotted around Siargao and some of the most popular include:
Burgos
Rock Island
Pacifico
Daku
Giwan
Cloud 9
5. Go beach hopping
Siargao is packed with great beaches all over the island. Whether you want to swim in the water, sunbathe on the sand, or sit by a beach bar, there is something for everyone. Some of the best beaches to visit on Siargao include:
Pacifico beach (a brilliant sunset location)
Alegria Beach (Clean, calm, and beautiful!)
Magpupungko Beach and Tidal Pools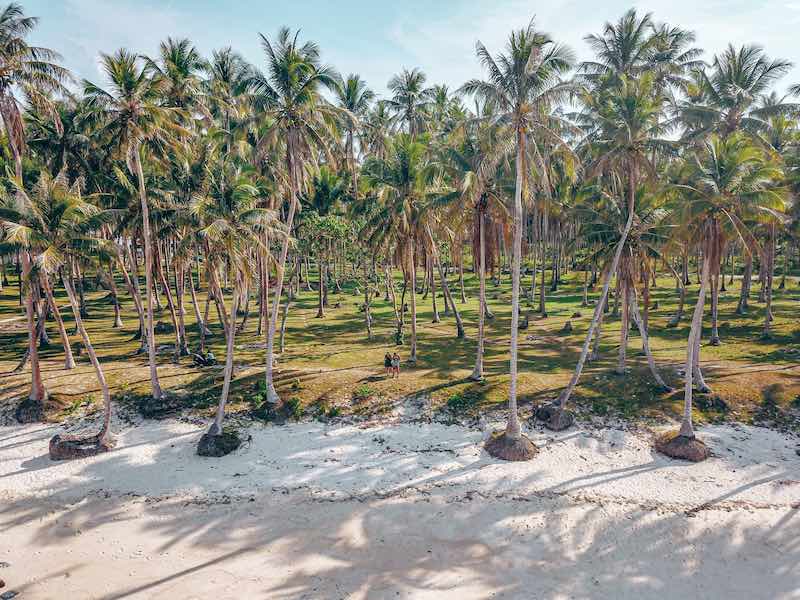 Tips for visiting Siargao
Before we finish off, I want to provide you with a couple of tips that should help make planning your Siargao adventure a breeze.
1. During peak season, accommodation can be booked up in advance, especially the best value places, so it's best to book ahead of time if you can.
2. Rent a moped to get around: public transport isn't really a thing on the island of Siargao, so it's best to rent your own moped to take you around the island and all of the best Siargao attractions. It's typically around 350 PHP per day for moped rental.
3. ATMs can be temperamental on the island, so if possible, put aside the money you'll need for your trip to the airport.
Siargao travel guide final thoughts
So that's everything covered in this Siargao travel guide! Hopefully, you find this post useful in planning your trip. Siargao is truly one of the most beautiful islands in The Philippines, and once you leave, you'll soon find yourself planning your return quicker than anticipated!
Save on your trip with these resources
These are our go-to companies when we travel. We believe this list to be the best in each category. You can't go wrong using them on your trip too.
Check out our travel resources page for more companies that we use when you travel.
*World Nomads provides travel insurance for travellers in over 100 countries. As an affiliate, we receive a fee when you get a quote from World Nomads using this link. We do not represent World Nomads. This is information only and not a recommendation to buy travel insurance.
Save for later
If you enjoyed this article, please share it on social media and save it for later on Pinterest.
Has this Siargao travel itinerary convinced you to visit this beautiful island in The Philippines?
About the author
Cazzy Magennis is a world traveller with type 1 diabetes and one-half of Dream Big, Travel Far. So far she's been to over 50 countries and is on a mission to visit every country in the world. She loves sharing her travel experiences online. Follow her adventures on the road here.