Kangaroo Island is massive rock formations and free-roaming wildlife. It's the highlights of Australia compacted into a nature lover's and photographer's paradise. We found endless things to do in Kangaroo Island.
Our visit was in late November 2019, about a month before the January 2020 fires raged across the island, changing it forever.
The fire's devastation brought tears to our eyes and our hearts go out to those directly impacted and to the helpless animals that perished. Today, we share photos of things to do in Kangaroo Island, identifying those that are still open and the others that are temporarily closed.
Tourism is a significant piece of the island's economy, and visitors are encouraged to keep coming. Much of the island remains pristine, nature will recover, and even in the scorched areas, the incredible caves and rock formations remain.
However, you want to be sure you know the current conditions as you make your plans.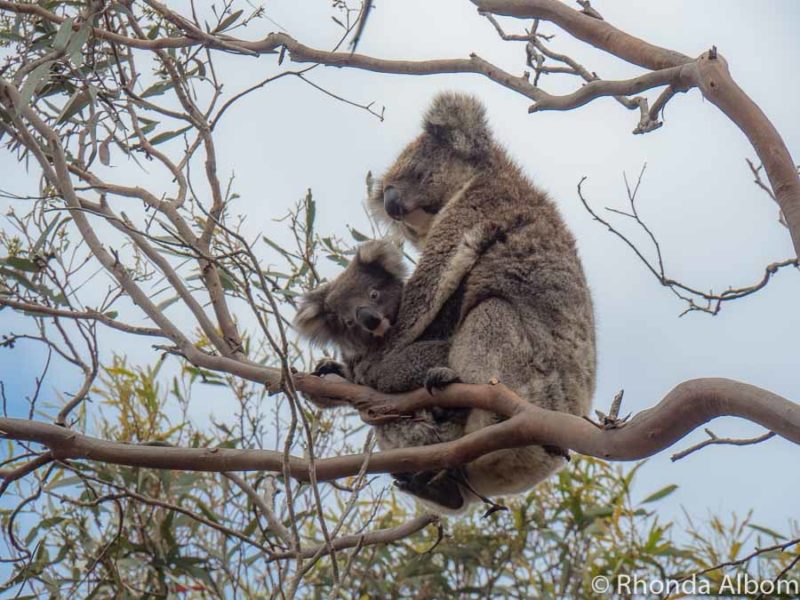 Where is Kangaroo Island?
Kangaroo Island sits about 14 km off of the coast of South Australia, 105 km (65 mi) southwest of the city of Adelaide. The island, Australia's third-largest, is 143 km (89 miles) long and takes about 2 hours to drive from one end to the other. Keep drive times in mind when you make your Kangaroo Island itinerary.
Things to do in Kangaroo Island
Kangaroo Island vastly exceeded our expectations. We opted for a two-day, one-night visit to enjoy nature, hike, and see animals in the wild. Two days kept us on the move in order to see most of the places on our wish list. In retrospect, a third day would have been optimal, thus allowing us the downtime necessary to appreciate better the incredible nature that surrounded us.
Kangaroo Island wildlife
Wildlife spotting is one of the most exciting things to do on Kangaroo Island. My heart skips a beat the moment I spot a koala in a eucalyptus tree, an echidna meandering alongside the road, or a kangaroo hopping down the street. We had to remind ourselves several times to pull off of the road before we stopped fully.
While there are plenty of commercial options that guarantee sightings, wildlife is everywhere. Kangaroo Island is the best natural wildlife experience we have had to date.
Pro tip: Animals often roam on the streets at night. If possible, avoid driving between dusk and dawn.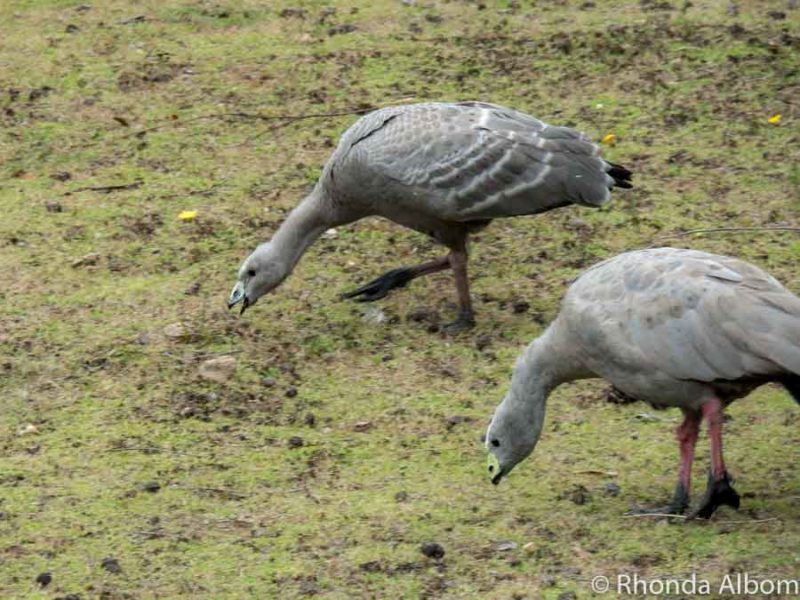 Vivonne Bay
Vivonne Bay is turquoise water crashing over white sandy beaches along the base of craggy cliffs. The wild seas and blue sky create a stunning scene that is hard to beat. It's considered to be one of Australia's best beaches.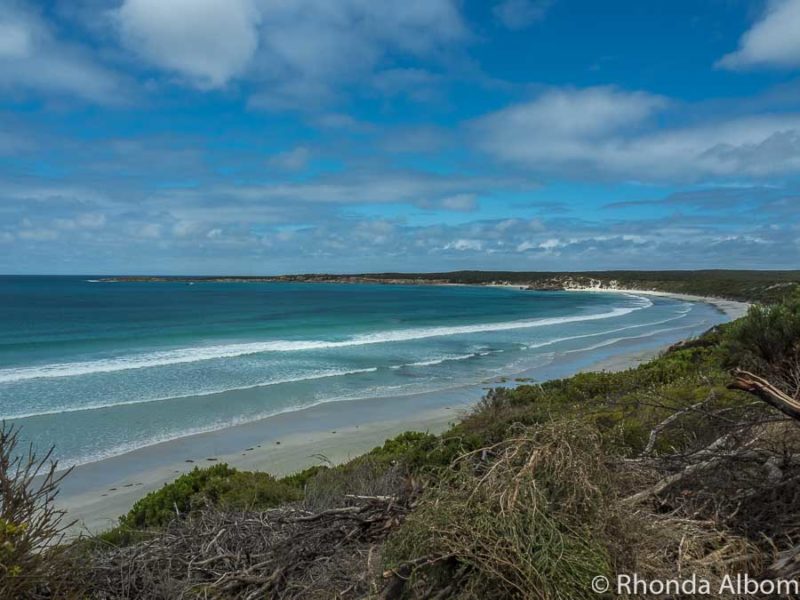 Flinders Chase National Park
Flinders Chase National park is the gold crown sitting at the far end of the island. At the top of just about everyone's things to do on Kangaroo Island list, it is wildlife viewing, massive irregular rock formations, and refreshing hikes. We spent about half of our daylight hours on the island inside the park.
The visitors' centre is everyone's first stop. Here, we purchased a two-day park pass and a ranger helped us plan out our time based on our desires and abilities.
Flinders Chase National Park was badly damaged by the fires. The good news is that the park is currently open. Note that there is a temporary visitor information office at Rocky River, 5km inside the park entrance. More details here.
Update as of Dec 10, 2022
Remarkable Rocks
Appropriately named, these 500 million-year-old huge granite boulders are nothing short of . . . remarkable. There are safety warnings near cliff edges, but walking on the rocks is allowed, and we encourage you to do it. These huge boulders are much more impressive close up than they are from a distance.
Admirals Arch
Sculpted by wind and water, this arch frames a cove where fur seals frolic, play, and sleep. Plus, fur seals bask along the rocks that we pass as we walk along the boardwalk to the arch.
Pro tip: Remember to bring a jacket, as the 10-minute walk gets really windy (and surprisingly cold) in areas.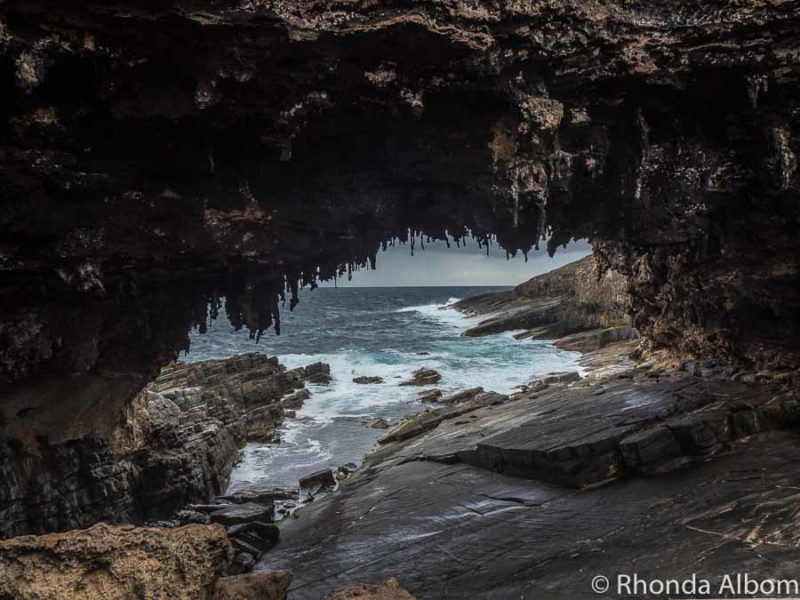 Seal Bay, Kangaroo Island
Viewing the wild sea lion colony at the aptly named Seal Bay is one of the most popular things to do on Kangaroo Island. Here, you can get up close to the animals on the beach (with a guide) or view from a platform. Each carries a different cost.
We opted to wait and see if we saw sea lions or seals elsewhere on the island before we paid for entry, and sure enough, we saw them at Admirals Arch.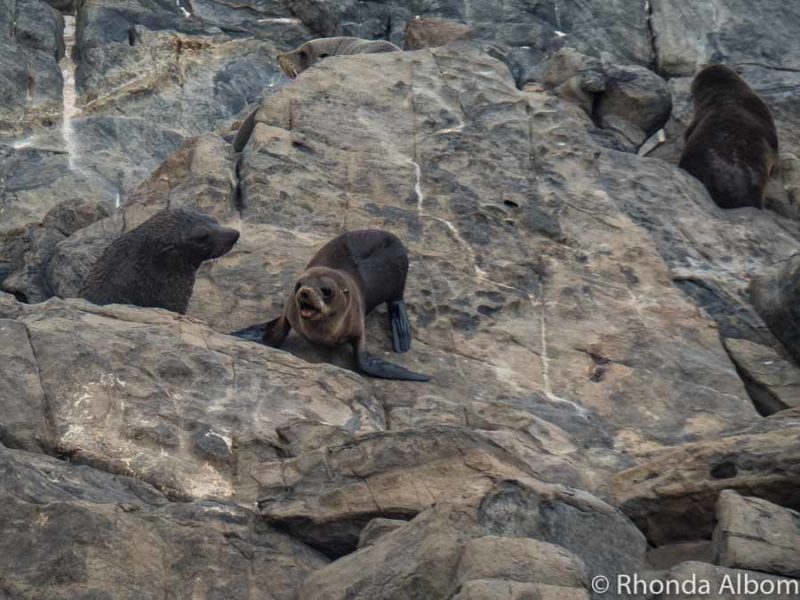 Cape du Couedic Lighthouse
Also located in Flinders Chase, this lighthouse marks the trailhead for two popular hikes. There is a 3 km return hike to Weirs Cove (where supplies were once dropped off for the lighthouse keeper) or a stunning 2 km clifftop hike simply named Cape du Couedic hike.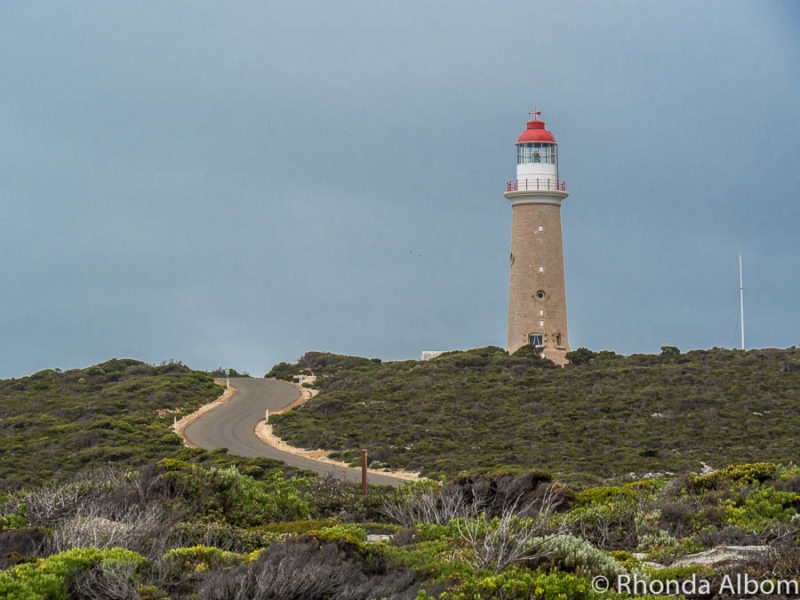 Platypus waterholes
Elusive creatures, platypuses thrive in the platypus waterholes in Flinders Chase. While dusk and dawn typically offer the best chances for spotting one, recent sightings when we visited had oddly been at midday. So, that's when we went.
Following the suggestions, we were silent and patient. We waited and watched for ripples in the water. My patience lasted longer than Jeff's but not as long as the platypus. While we never saw one in Flinders Chase, we have seen them in the past.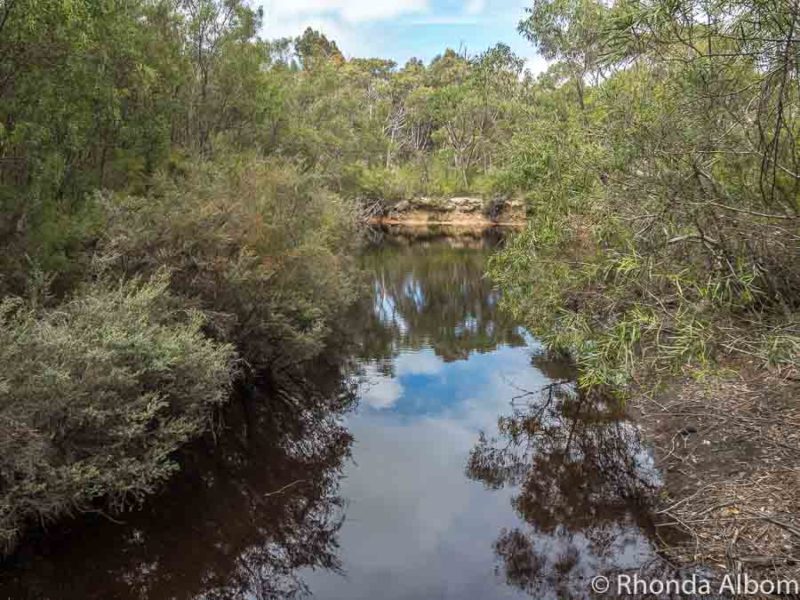 Raptor Domain
Owned and run by members of the Irwin family, this is the place to see birds of prey, venomous creatures, and reptiles. It's not a zoo but rather an environmental, educational rehabilitation centre. Wander the grounds or enjoy one of their dynamic shows (Free flight birds of prey, Reptile presentation, & Private Experience). While this was on our things to do in Kangaroo Island list, we ran out of time before arriving.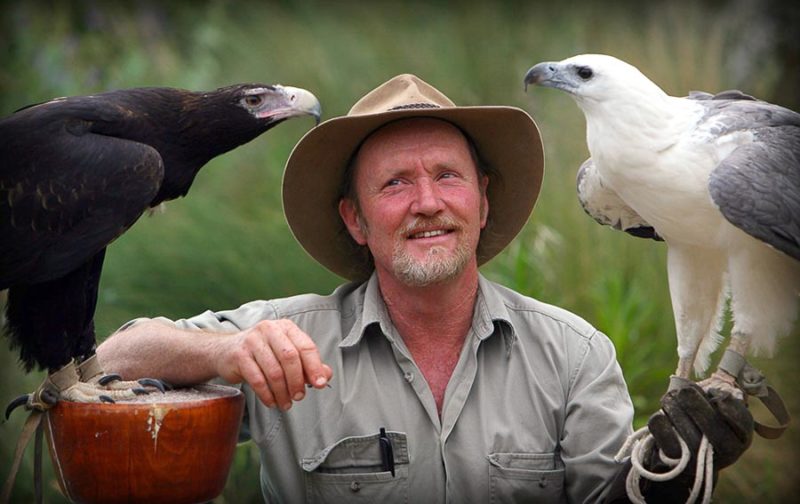 Pennington Bay
Another stunning Kangaroo Island beach is Pennington Bay. With larger waves, it's better known for surfing.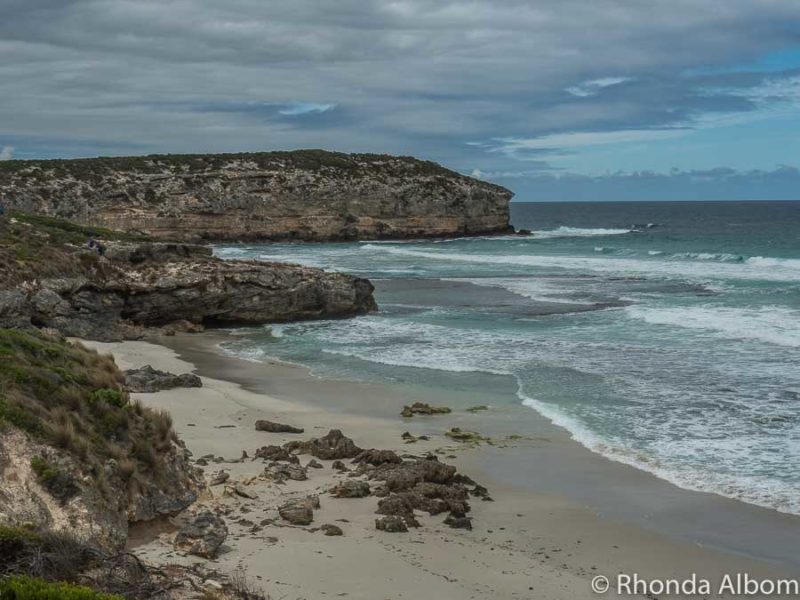 Prospect Hill
This is a spot for exceptional views, or so we were told. Honestly, for us, this was one of our last stops on the island. With only an hour left before our return ferry, we had the option of climbing the 512 steps to the island's highest point and its reputed fabulous view or enjoying a very late lunch. Food won.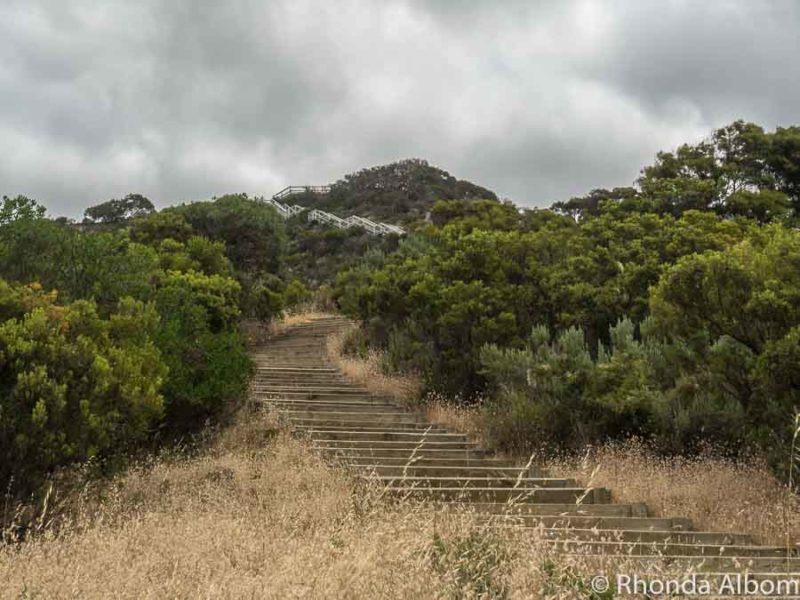 Kelly Hill Caves
Entry to these limestones caves is via guided tour only. While the massive number of stalactites hanging down is enough to hold my attention, our guide's stories were the real highlight.
One in particular: "Kate Kelly" is the name of a horse that fell into a sinkhole in 1880, which led to the discovery of the caves. Rumour has it that the horse belonged to the sister of famous Australian outlaw Ned Kelly.
Pro tip: The caves hold a constant 16°C (61°F) temperature year-round, so you might want a light jacket.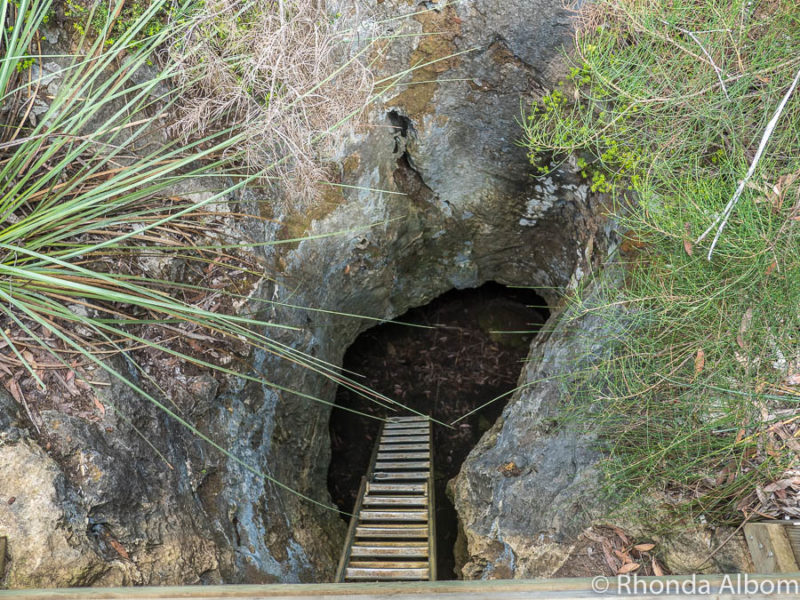 Update: Kelly Hills Conservation area and the caves are closed until further notice. The scheduled re-opening is for late October 2023.
Update as of April 24, 2023
Other key things to do on Kangaroo Island that remain open or have re-opened
With only two days, we couldn't do it all, or even close. Aside from those featured above, here are some of the other things to do on Kangaroo Island that are still open after the fires.
Hanson Bay Wildlife Sanctuary – reopened for guided tours only
Emu Ridge Eucalyptus
Old Cape Willoughby Lighthouse
Kangaroo Island Wildlife Park and Aquarium
Wineries and wine tasting
Art galleries
Hikes and walks
Kangaroo Island Sculpture Trail
Cape Borda Lighthouse
Kangaroo Island Wilderness Trail (guided modified trail for walkers)
Add some adventure to your Kangaroo Island itinerary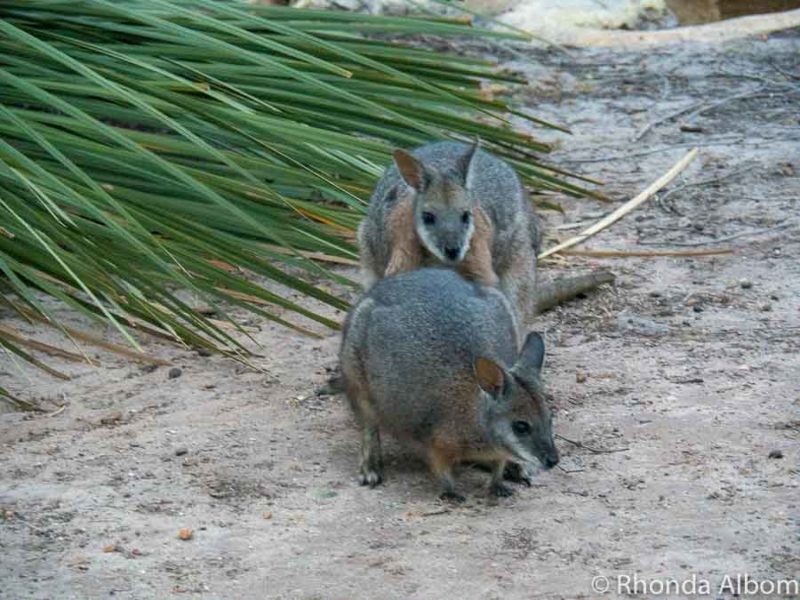 Did we see kangaroos?
Despite seeing incredible wildlife everywhere, I will admit, I expected to see more kangaroos. In total, we saw one, and it was through our filthy car window. I am just glad I took a photo despite the conditions, as by the time we pulled over, it had hopped away.
Kangaroo Island accommodation options
Even before the fires, there were limited hotels on Kangaroo Island, many of which fill up early. Therefore, this is one island that we booked well in advance.
As the wilderness retreat that we stayed at has burned down, we cannot offer a personal recommendation, just a quick link to the hotel options.
How to get from Adelaide to Kangaroo Island
There are two ways to get to the island, either fly to Kingscote or take a Kangaroo Island ferry from Cape Jervis to Penneshaw. We chose the ferry, but rather than getting up before dawn and driving to Cape Jervis, we spent the night at a resort.
Two ferry companies, Sealink and Kangaroo Island Connect, operate the same route several times daily. We opted for Sealink, a good choice, as our cruise offered comfortable seating, served food (and coffee), and could take our car.
We brought our rental car over on the ferry, and while this increased our ferry fare, we believe it was the best option for anyone self-driving on the island. The alternative would have been to take a bus to Port Jervis, a taxi to the port, and then renting a car on Kangaroo Island.
Pro tip: for the smoothest ride, sit on the main deck towards the back of the cabin.
And don't forget to allocate a few days to explore Adelaide itself. The capital of South Australia, it's a fun and fascinating city.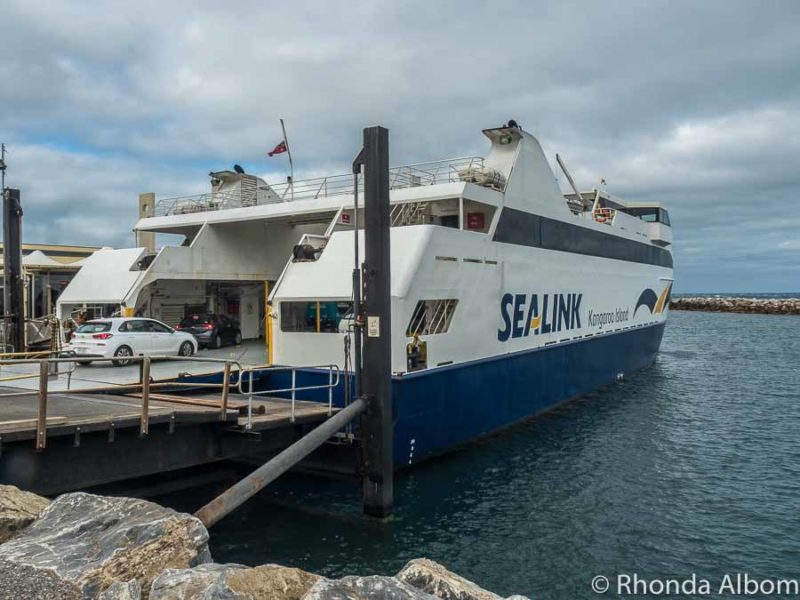 Kangaroo Island tours
While we opted to self-drive, there are a lot of details to attend to when building a Kangaroo Island itinerary. You will need transport to Port Jervis and on the island, ferry crossing, and accommodation if you are going to stay overnight. Tours attend to all of this.
Also, with the current post-fire status, a tour may be the best way to see the island. Guides know the current status and where to find the wildlife.
Day trip to Kangaroo Island from Adelaide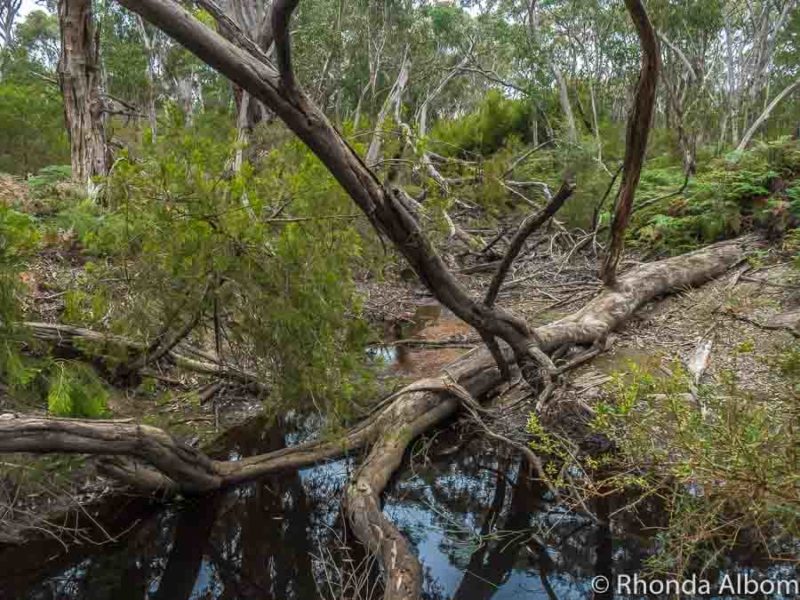 Kangaroo Island travel guide: quick reference
Emergency number: (Police, Fire and Ambulance) 000
Driving: vehicles drive on the left
Credit cards: Mastercard and Visa are widely accepted
ATM Machines: at Kingscote (ANZ and Bank of South Australia)
Electricity: 230V 50Hz Type I connectors (same as used in Argentina and New Zealand)
Water: Tap water is considered safe to drink even after the fires, although bottled water may taste better
Quarantined items: Bees, honey, potatoes, foxes, rabbits, or declared weeds are not to be brought to the island. (They each carry hefty fines.)
Tipping: It's Australia, so tipping is neither required nor expected.
Save for later
If you enjoyed this article, please share it on social media and save it for later on Pinterest.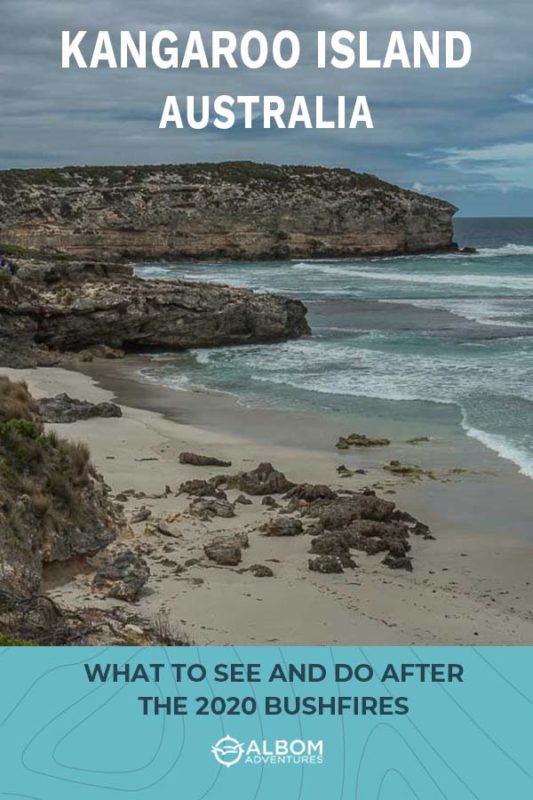 What will you do on Kangaroo Island?