Not too far off the coast of Fremantle in Western Australia sits a small island known as home to the quokka, the happiest animal on earth. However, there are plenty of things to do on Rottnest Island as a day trip.
Rottnest Island is an idyllic beach destination, a bicycle lover's dream, and a photographer's paradise.
Rottnest Island or Quokka Island
When the Dutch settlers first arrived on the island in 1696, they discovered the quokka. Having never seen quokka before, Captain de Vlamingh thought the quokka were giant rats and named the island accordingly as rat's nest, or "Rotte nest" in Dutch. The name stuck.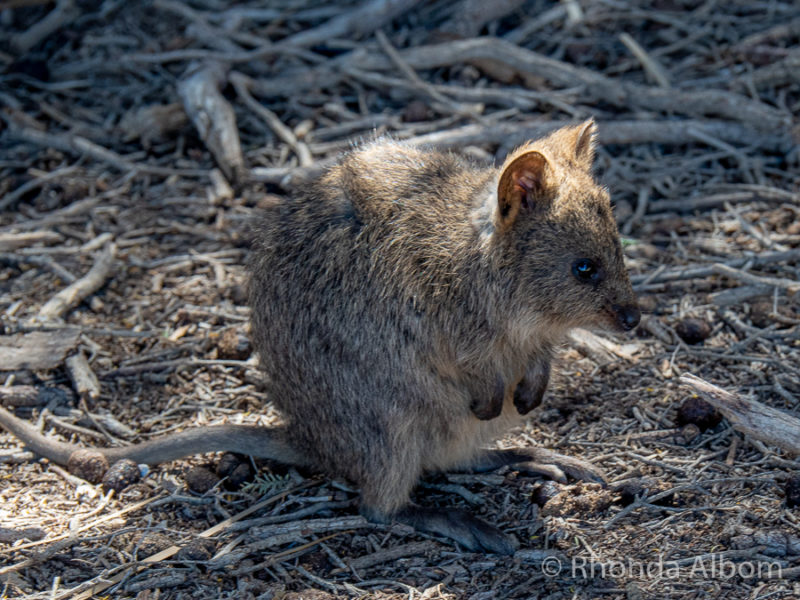 What is a quokka?
Quokka is the smallest of the marsupials and only found in a few spots in Western Australia. While similar to tiny kangaroos, they have thinner tails in proportion to their bodies. There is about 12,000 quokka living on Rottnest Island, Australia.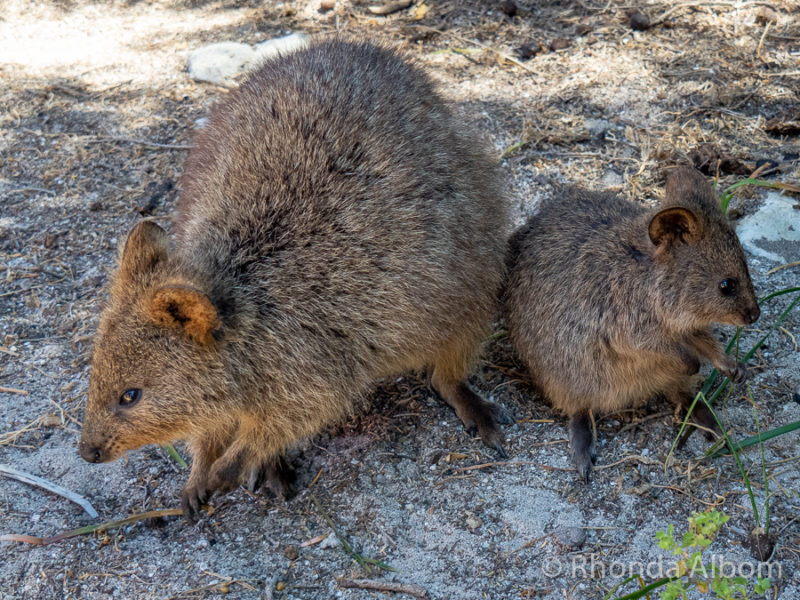 More about quokka
Quokka can carry several strains of salmonella, so be sure to wash your hands after you touch them.
Quokkas are nocturnal. The bright sunlight is blinding to them.
They have no natural predators on the island.
On Rottnest Island, they breed in January and February, and gestation is 27 or 28 days (we had two guides during the day, each offering a different number).
At birth, the joey is about the size of a jelly bean. It will crawl back into the pouch and grow there until about September when the joey comes out of the pouch.
Quokkas are herbivores and eat succulent, leafy greens.
Due to inbreeding, the quokka on the island are now too genetically distinct to successfully breed with the few remaining ones on the mainland.
Don't feed the quokka. Eating the wrong food is the number one cause of premature quokka death.
Quokka Selfie
Sometimes we can't resist joining in the fad of the day and on Rottnest Island, that is quokka selfies. If you follow us on social media (or you are one of our natural or hosted children) you might think we are "too old" to take selfies. But, if Roger Federer and Hugh Jackman could do it, so could I. What do you think? Is it a success or a failure?
Other Rottnest Island animals
Aside from the cute quokka, we also saw a king skink, a poisonous dugite snake, small lizards, and plenty of birds, most often crows and seagulls. There is also a colony of New Zealand fur seals at Cathedral Rocks on the west end of the island.
How to get to Rottnest Island
The ferry from Fremantle takes about 40 minutes to travel the 18km to the island. It is easy, reliable, and fun. While more than one company makes the crossing, we opted to sail on the Quokka 1, a catamaran from Sealink. Their newest ship Quokka 2 joined the fleet mid-November 2019 and sails from Perth.
Each ferry holds 400 passengers, yet we never felt crowded. We opted to sit outside on the ride from Fremantle to Rottnest Island, and inside on the way back.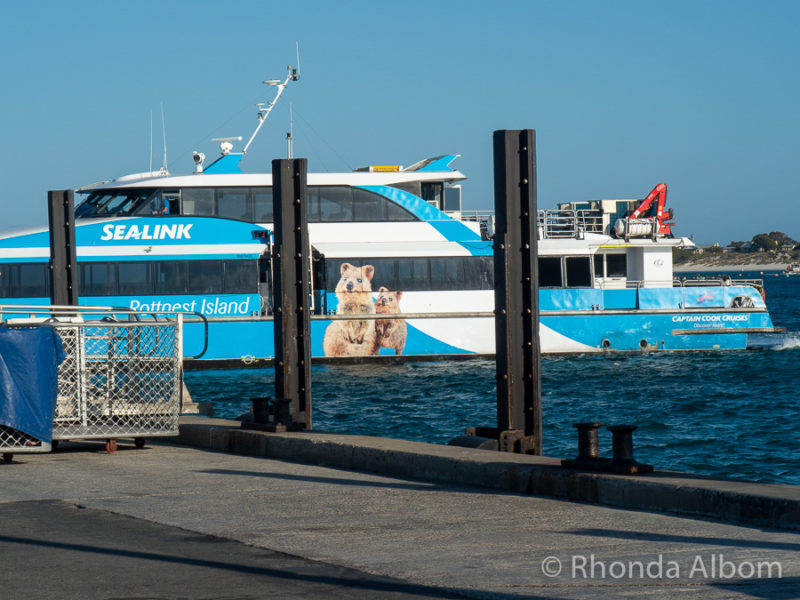 Tips for taking a Rottnest Island ferry
We earn from qualifying purchases through partnerships or affiliate programs.
The limited outdoor seating goes quickly to the people who queue up early. We joined the queue about 30 minutes before sailing in both directions and had no problem getting outdoor seats.
There are snacks and barista coffee onboard.
Inside is air-conditioned, while outdoor seating offers some shade, but passengers are often in the sun.
If you tend to get seasick, think about taking something for motion sickness, although our ride over was like glass.
Book in advance, especially during peak season.
⇒ Click here to see the Sealink Rottnest ferry times or to purchase your Rottnest ferry tickets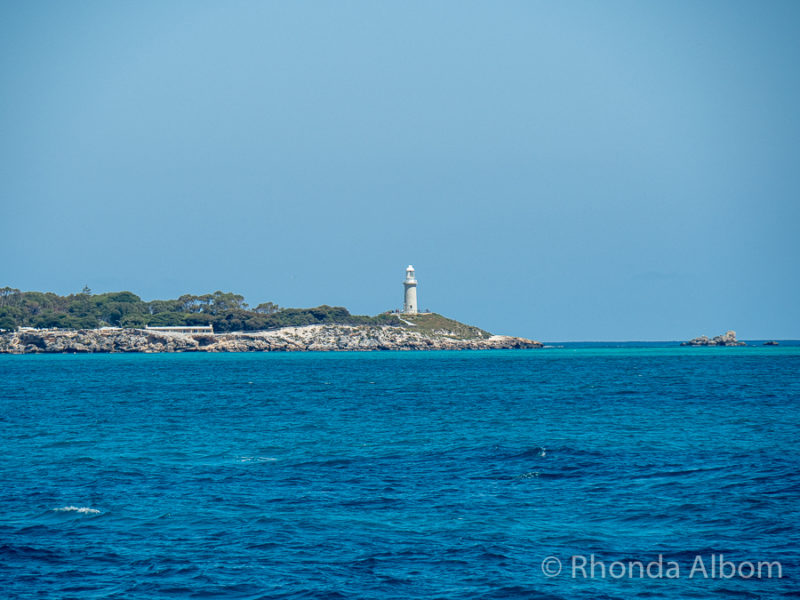 What to do on Rottnest Island (besides quokka selfies)
The island isn't that big, but too big to walk the perimeter in a day, yet we wanted to see things on all sides and in the centre.
Rottnest Island bus tour
We took the 1.75-hour Sealink's Bayseeker bus tour around the island. The excellent commentary gave us insight into the island's history and present-day status. We stopped frequently for short photo opportunities. It was a great introduction to the island and really left us wanting more.
On the plus side, we saw quite a bit of the island and had several photo stops. The downside was no time for options like walking to the top of the lighthouse or even having a coffee during the tour.
⇒ Check price and reviews and book your Bayseeker Tour (includes optional ferry transfer)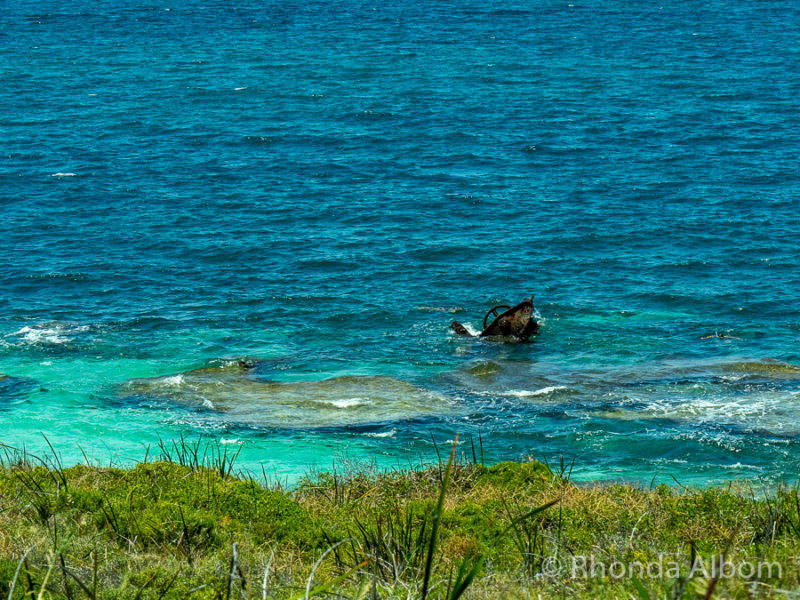 Of 13 major shipwrecks on the island, only this portion of the wreck of the Shark can be seen above waterline.
A portion of the Emergency or Army jetty collapsed last year. (It is used for freight.
The airstrip is mostly used for seaplanes, skydiving, and by workers. Today most tourists arrive via ferry.
Walking tour
Free walking tours led by passionate island volunteers are available. We joined a quokka tour that took us into the bush near Garden Lake to learn how to spot quokka in their natural environment. You don't need a tour to spot quokka on the main street (the road with all the cafes and shops) as they are everywhere.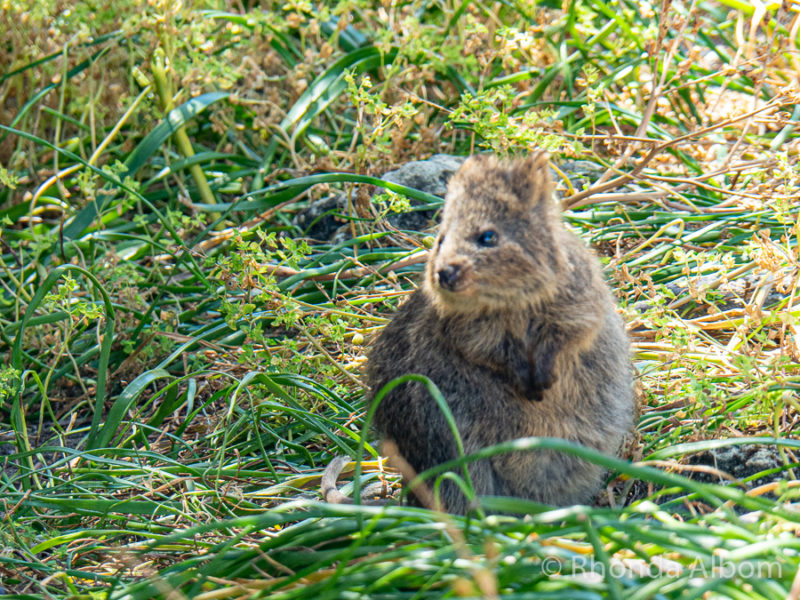 Swimming, snorkelling, and other water activities
One look at the sea, and it's easy to imagine that the snorkelling and swimming are excellent. With 63 beaches and bays on the island, there is something for everyone.
From the main street in town, there are several nearby options for stunning white-sand beaches. Two of the best are the Basin and Pinky Beach. Also popular are fishing, surfing, and diving.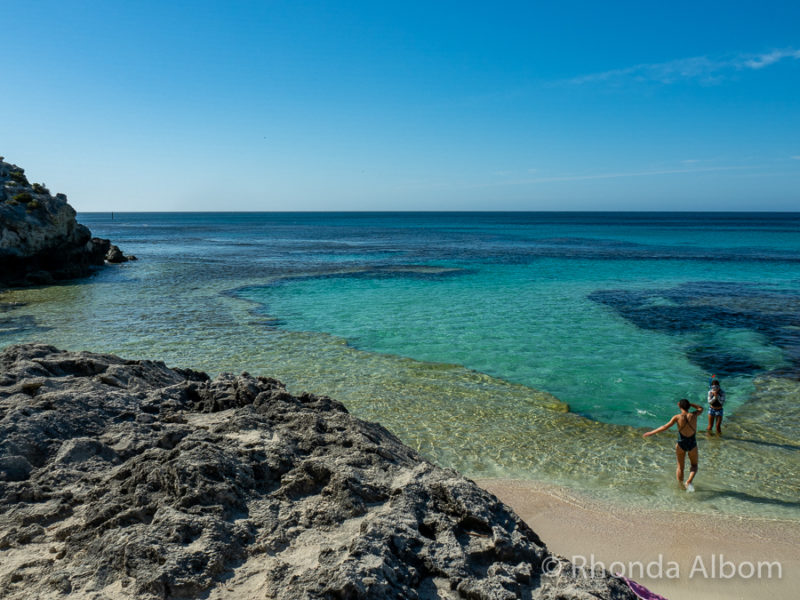 Biking
Bike hire is quite popular amongst the things to do in Rottnest. You can hire your bicycle from the mainland before you sail, or once on the island. If you are looking for a more complete adventure, check out this snorkelling and bike tour.
Hiking
If you are not on a bike, or in a bus, you are on foot. We had seven hours on Rottnest, five of them on foot.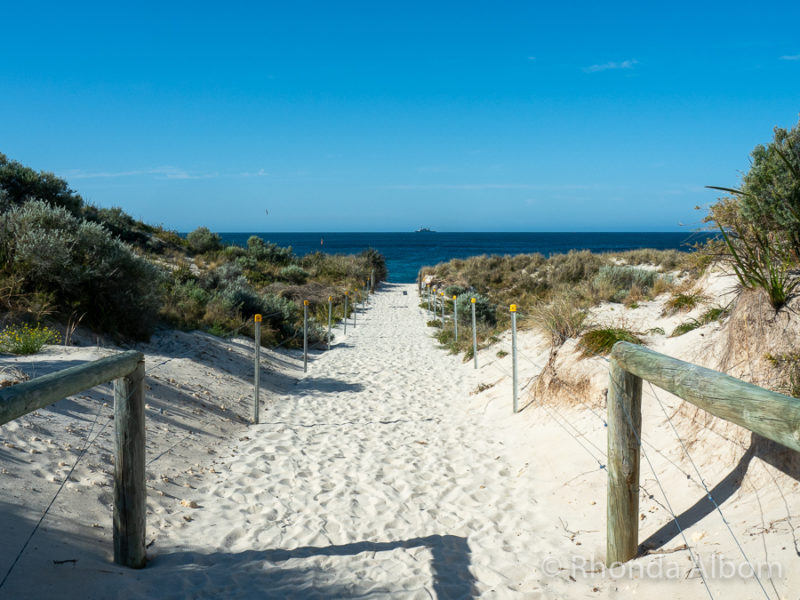 Parachute jumping
When I was younger, this may have been my choice, but today, I prefer to land in a plane rather than jumping from it. However, if this is your thing, check it out here.
Rottnest Island accommodation
Discovery Rottnest Island: While there are a few places to stay on the island, it was the eco-resort that caught my eye. Don't let the word tent fool you, this is true "glamping" with comfortable beds, private bathrooms and showers, an outdoor pool, and even free wifi. We had a look into one, and they looked like the ideal choice for a place like Rottnest Island.
⇒ Check price and availability at Discovery Rottnest Island
(While there are other Rottnest accommodation options on booking.com, the current review scores didn't encourage us to feature them here.)
Where to eat on Rottnest Island?
While many people bring their own picnic, there are 17 places to eat and drink on the island, ranging from the General Store to sit-down restaurants. There are even gluten and dairy-free options on several menus like Dôme Restaurant and Subway; however, on Rottnest, I found extensive and delightful choices (both savoury and sweet) at The Lane.
More on Rottnest Island
There are no private vehicles on the island.
The island was once used as an Aboriginal prison.
There are between 300-500 full-time residents on the island.
Other things to do from Perth
Rottnest Island is one of many fabulous day trips from Perth.
Read next: Australian Animals: Unique, Poisonous, or Adorable
Our conclusion:
Charge up your camera and add a day to your Western Australia schedule for Rottnest Island. Book the first ferry across and the last one back (or spend the night), and plan to either take a Bayseeker tour or hire a bicycle to see it all.
Save for later
If you enjoyed this article on Rottnest Island and quokka selfies, please share it on social media and save it for later on Pinterest.
Have you taken a quokka selfie? Is Rottnest Island on your list of places to visit?
Disclaimer: We were guests of Sealink to aid in the writing of Albom Adventures. However, the opinions expressed here are strictly our own.