Known for its breathtaking coastal beauty, rich history, and warm community, Albany in Western Australia had been on our travel bucket list for quite some time. From the moment Jeff and I arrived, it was clear that this charming port city has much to offer. In fact, we had a wonderful time discovering the best things to do in Albany, WA.
Albany has something special for everyone, whether you're a nature lover, a history enthusiast, or simply seeking relaxation.
Top things to do in Albany, WA
Discover Torndirrup National Park
Hike up Mount Clarence
Explore wind farms
Visit the National Anzac Centre
Embrace history at the Albany Whaling Station, old post office, Brig Amity, or the convict gaol (jail)
Enjoy a pristine beach
Walk among the treetops at the Valley of the Giants
Marvel at the Green Pools and Elephant Rock
Map of the things to do in Albany
Click the expand / collapse icon in the upper left corner of this map of Albany, Western Australia, for the details.
Things to do in Albany, Western Australia
Surrounded by impressive natural beauty and important history, there is no shortage of things to do in Albany.
Discover the stunning Torndirrup National Park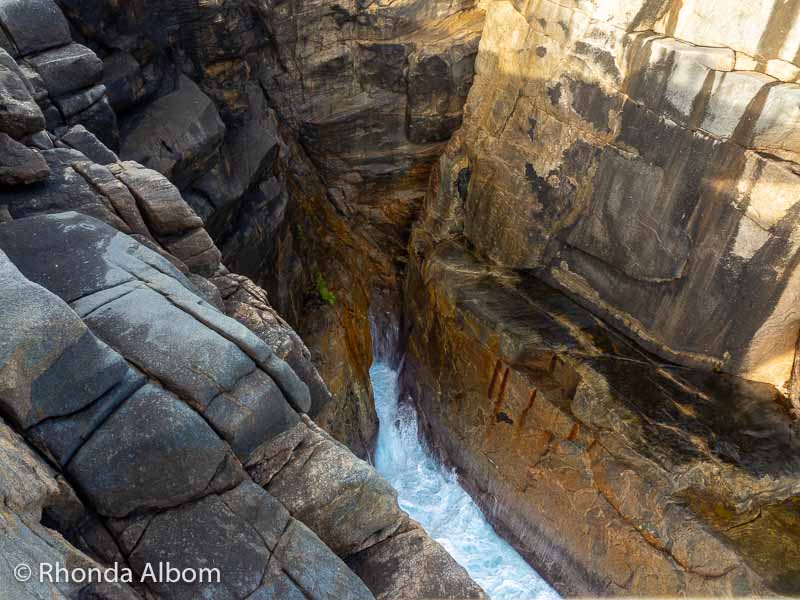 As we entered Torndirrup National Park, the rugged Southern Ocean coastline and its powerful waves crashing against the cliffs were an impressive treat. We headed straight for its two most popular displays of raw natural beauty.
The Gap
Our first stop was The Gap, where a viewing platform allowed us to witness the waves surging through a narrow granite channel, creating a mesmerizing display of power and beauty.
Natural Bridge
Just a short walk away, we explored the Natural Bridge, an impressive rock formation that arches over the ocean, sculpted by millions of years of water erosion.
A great way to enjoy Torndirrup National Park is with a guided tour. The commentary brings the area to life. We love the look of this small group tour with a maximum of 7 guests. Reserve The Gap & Natural Wonders tour here.
Visit the memorial atop Mount Clarence
Hiking up Mount Clarence would be an invigorating experience, but it was simply a drive to the top for us. Here, the poignant Desert Mounted Corps Memorial honours the Australia and New Zealand soldiers who gave their life in various battles during World War I.
We also enjoyed the views, although we could clearly see the weather was about to turn, and it did.
Explore wind farms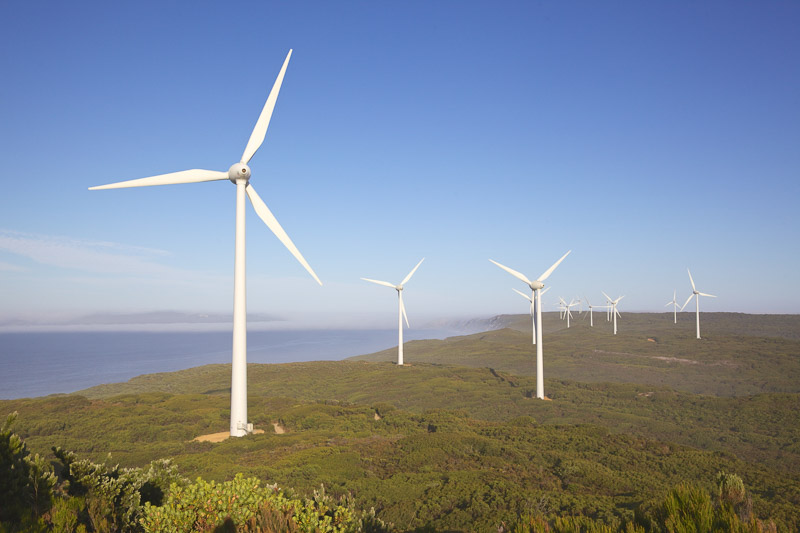 Perched along the coast, the Albany Wind Farm and the Grasmere Farm are impressive sights. The combined 18 towering wind turbines, harnessing the coastal winds, underscored Albany's commitment to renewable energy.
They are adjacent to each other and often thought of as one wind farm. However, the original Albany Wind Farm portion was the largest of its kind in Australia when it was commissioned in 2001.
Visit the National Anzac Centre
The National Anzac Centre should be on every Australian and New Zealander's list of things to do in Albany WA. It offers a moving and educational experience that allowed us to pay tribute to the ANZAC troops who departed during World War I.
We spent more of our time outdoors on the grounds and followed the Convoy Walk to the viewing point where we overlooked the spot where thousands of troops left these shores, some never to return. From here, we could also see the white sands and clear turquoise of the pristine Middleton Beach. Reserve your ANZAC Centre entry ticket in advance here.
More things to do in Albany
Albany Whaling Station
A unique opportunity to delve into the region's whaling history at the world's only complete historic whaling station open to tourists. The interactive exhibits and engaging displays enlightened us about the impact of whaling on marine life and its subsequent conservation efforts. Reserve your whaling station entry ticket here or enjoy a half-day tour that includes the whaling station, the Gap and Natural Bridge, and Misery Beach. Reserve your half-day multi-location tour here.
Old Albany Post Office Tower
Once a vital communication hub, this iconic building is the oldest post office in Western Australia.
Brig Amity
Stepping aboard the Brig Amity allows one to imagine what life was like aboard a convict ship during the 19th century. The ship was also used to move soldiers, animals, crops, and more from Sydney to start the first European settlement on the western side of Australia.
Albany Convict Gaol (jail)
A fascinating insight into the lives of the convicts who once resided within these walls.
Hit the Beach
If you are more into play than sites, take some time to enjoy one of the many beautiful Albany beaches.
Check out the painted silos
And if you love them, follow the public silo trail inland through the wheat belt all the way back to Perth.
Visit Granite Skywalk in Castle Rock
Located in Porongurup National Park (about 45-minute drive north of Albany), this is well worth a visit. At Castle Rock, one of the 12 peaks boasts the skywalk to suspend out as it reaches the 670-meter peak. Take a tour from Albany that also includes lunch.
Two must-see nearby things to do in Albany, WA (in Denmark)
We spent a day in nearby Denmark, a town only 40 minutes away by car.
Walk along the treetops
The Valley of the Giants Tree Top Walk in Denmark was an exhilarating adventure that immersed us above the heart of the forest. This 600-metre-long suspended walkway took us high above the ground, offering uninterrupted views of the treetops and the surrounding wilderness. The highest point was 40 metres above ground level.
Afterwards, we followed the Ancient Empire walk, a trail through 400-year-old tingle trees, several of which had openings near the base that we could walk through.
Tips for visiting the Tree Top Walk
Timing is everything. We went late in the day and off-season. There were a few other visitors, and we didn't have to wait.
You can do the catwalk loop through the trees as many times as you want.
To better understand what you are looking at, there are daily guided tours of the Ancient forest.
There is a maximum of 20 people on any of the catwalks or ten on the platforms at any time.
Marvel at the Green Pools and Elephant Rocks
Another hidden gem along the Western Australian coastline is the Green Pools and Elephant Rocks. Upon arrival, we were captivated by the striking contrast of emerald pools against the granite rocks and the mesmerizing turquoise hues of the Southern Ocean.
As we ventured along the path to get a better vantage point, we encountered a creature that, at the time, seemed innocuous – a brown snake. Oblivious to the potential threat, I stopped to capture a photo of the reptile, unaware of its deadly nature. The moment seemed innocent and even a bit exciting as there are no snakes in NZ, where we live.
Only later, when we spoke to a local guide, we discovered our encounter's seriousness. The brown snake, one of the most venomous snakes in the world, was potentially lethal. In hindsight, safety should always be the priority and we should have continued along the path without pausing for that risky photo. Since I did take the photo, I thought I would share it here.
Despite the unexpected encounter, the Green Pools and Elephant Rocks remained a highlight among the things to do in Albany, WA.
Tips for visiting Albany
We visited Albany as part of a large driving loop. Our Western Australia road trip took us from Perth to Albany via the Wheatbelt and then back along the coastal road.
At both ends, we enjoyed some of the amazing things to do in Perth and nearby Fremantle.
Aside from all the things to do in Albany, here are some tips for your visit.
Albany's weather can be changeable, so pack layers and waterproof clothing, especially if you plan outdoor activities.
During peak tourist seasons, accommodation options in Albany can fill up quickly. It's advisable to book your stay in advance to secure your preferred accommodation. We use and recommend booking.com.
Savour the region's fresh seafood and local produce. Albany's restaurants and cafes offer a range of delicious dishes, reflecting the area's culinary delights.
If visiting between June and October, consider a whale-watching tour. Albany is known for its exceptional whale-watching opportunities, with humpback and southern right whales frequently spotted along the coastline.
Albany's pristine environment is a valuable asset. Be mindful of your impact on the surroundings by disposing of waste responsibly and following eco-friendly practices.
Save on your Australia trip with these resources
These are our go-to companies when we travel. We believe this list to be the best in each category. You can't go wrong using them on your trip too.
Flights: we use Expedia for the best and cheapest flight options.
Accommodations: we use Booking.com (hotels) or VRBO (self-contained).
Cars (gas or electric): we use RentalCars to search for deals and dealer ratings.
Campervans or Motorhomes: we use Campstar where Albom Adventures readers get a 3% discount
Activity discounts: we check Bookme.com for discounts of up to 70% on activities.
Private guides: we love the private guides at Tours by Locals
Travel Insurance: we start at InsureMyTrip as they are the best option to compare plans and find the right coverage for you.
Check out our travel resources page for more companies that we use when you travel.
Save for later
If you enjoyed this article on things to do in Albany WA, please share it on social media and save it for later on Pinterest.
Which of these things to do in Albany WA will be on your bucket list?
Photo Credits
Photos on this page are either shot by our team and watermarked as such, in the public domain, or some stock photos were supplied by DepositPhotos.