Perth is a colourful, vibrant city filled with an eclectic mix of street and public artworks. What makes street art in Perth seem so unique is the enormity of sculptures and murals in this Western Australia city.
In fact, walking around the city, it's easy to see how Perth's earned its reputation as Australia's number two street art city.
As a result of its reputation, or perhaps the reason for it, the city attracts numerous international artists. While the artwork around the city is quite eclectic, much of the commissioned work celebrates history and culture or looks to a brighter future. However, there are others that are just fun.
In fact, there are over 200 public artworks in the city and several interesting places to see public art in the surrounding areas.
Massive works of art appear on seemingly random buildings and often in laneways and alleyways.
We didn't always get the artists' names, but where we did, we shared them below.
My two favourite examples of public and street art in Perth
Let's get started with two of my personal favourite pieces, one an example of Perth street art, the other of public art.
Mural by Rone (2018): This larger-than-life female muse is a classic example of Rone's work. We saw this 22-metre-tall mural on Hibernian Place, a commercial precinct on Hay Street. Australian-born Rone has international fame, with his work found domestically as well as in the USA, Europe, and Asia.
Grow Your Own (2011): The brightly coloured public art display by James Angus caught my eye. Shades of green reference the emergence of the organic farming movement in the early 20th century. Surrounded by heritage buildings, this modern sculpture encourages the locals to connect their city and community.
Animal street art in Perth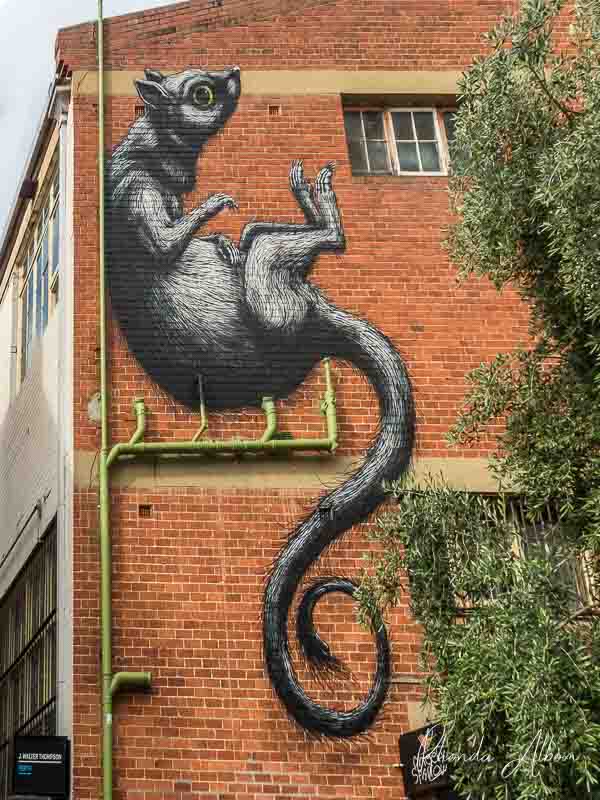 What's in a name? Just my random thoughts as I pondered over the simplicity of calling animal street art exactly what it is. These works are Rat, Wolf, Snake and Crows, respectively.
When it comes to animal street art in Perth, I consistently have two favourite artists. These are Belgian artist ROA and local Perth artist Hurben.
Sculpture and public art
With street and public art just about everywhere we looked, it was difficult to pick favourites to share here. But these five rose to the top of my personal favourite sculptures:
Der Rufer (The Caller) (1967) was inspired when the artist found himself standing beside a man as he called across a river to attract the ferryman on the other side.
Statue of Percy Button by The Smith Sculptors on Hay Street.
Bronze Gumnut Baby statues are based on the beloved characters Snugglepot and Cuddlepie from the Gummut Baby series by May Gibbs. These statues are located in Stirling Gardens.
Statue of Bishop Matthew Hale, first Bishop of Perth, sculpted by Greg James. He stands outside the Cloisters with a welcoming outstretched arm.
"The Mob" is one of my favourite pieces of street art in Perth. These life-sized bronze kangaroos on St. Georges Terrace celebrate one of the symbols of Australia.
Yagan Square
Yagan Square is a public space project in the Horseshoe Bridge area of Perth that combines community space with food, shopping, and transit.
Here we found the digital tower, which is both an electronic showcase displaying curated art and information as well as the place to snap your selfie in front of the big letters that spell out "Perth."
Standing tall is 'Wirin', a 9-metre public sculpture of a strong, contemporary Aboriginal figure that embodies the spirit and culture of the indigenous Noongar people. It was created by artist Tjyllyungoo – Lance Chadd
Elizabeth Quay
The Elizabeth Quay Project's goal was to reconnect the waterway with the people, thus kindling a passion for the river's natural beauty. There are several interesting public artworks found here.
The Statue of Bessie Mabel Rischbith by artist Jon Tarry stands at the river's edge on the small island as you cross the Elizabeth Quay bridge. Bessie was a civil rights and conservation activist.
Swans: Next to the bronze statue of Bessie stands a bronze black swan.
First Contact, a 5-metre tall cast aluminium sculpture by renowned Nyoongar artist Laurel Nannup symbolises the arrival of the European settlers. From a distance, their hulls reminded the people of giant floating birds with (sails) outstretched arms.
Spanda

, called the Big Paperclip by locals, welcomes visitors while at the same time linking the river, the land, and the sky.
More fun street art in Perth
It seems everywhere we look in Perth is beautiful street art. And much of it changes over time; there one visit, gone the next.
On one visit, we were lucky to hang out with local Perth friends from A Hole in My Shoe, who also happen to love street art and showed us some of the pieces on this page.
Where to stay in Perth
We stayed at the Adnate the week before their big grand opening party, which for us meant we got to meet, talk to, and watch Matt Adnate paint. It was pretty amazing. The rooms were lovely, and Adnate's art throughout the hotel was as impressive as one would expect.
The first Art Series hotel in Perth is easily identifiable from a distance by the huge 27-story high mural by Adnate on Hay Street. The mural, one of the world's tallest, features the faces of people representing the diverse fabric of Western Australia.
The hotel was centrally located and has parking, an outdoor pool, delicious meals at their restaurant, and even some impressive nightlife activity. Reserve your room at the Adnate.
Outside the city: other street art in Perth region
Getting out of Perth, there are three key areas to see some unique street art: Fremantle, the public silo trail, and Gnomesville.
Fremantle
These are three sections of a giant mural that was still in the works on our last visit. It covers both sides of the East West Design building. One side is nautical-themed, while the other is worldly. They are 50m and 86m respectively.
It's an artwork that can be glanced at and enjoyed, or one could spend hours studying the details.
Luck and good timing allowed us to meet Graeme Miles Richards, the New Zealand born artist living in Perth. He had been working on this building for 2.5 years.
My favourite find is the painted globe in the photo above, as it perpetuates the 'sibling-style' rivalry between Australia and New Zealand. Notice that Richards has included 'the three islands of New Zealand': correctly labelling the North and South islands but labelling a shrunken version of Australia as NZ's West Island.
Public silo trail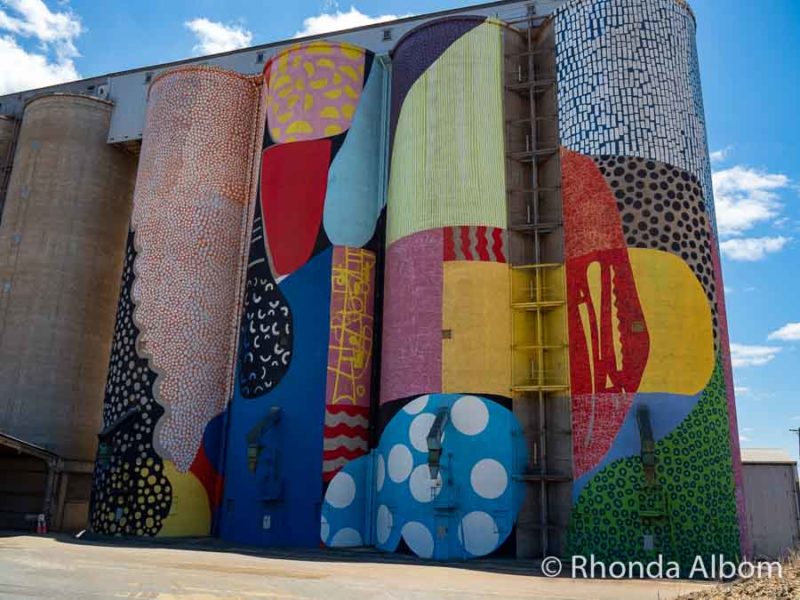 As we headed inland, we followed most of the public silo trail, exploring impressive artwork skillfully painted by well-known international and national street artists onto huge grain silos.
The portion of the silo trail we followed took us from Perth to Northam, Pingrup, Newdegate, Katanning, and Albany. From there, we took the stunning coastal road back from Albany to Perth.
Street art fans will also love these gnomes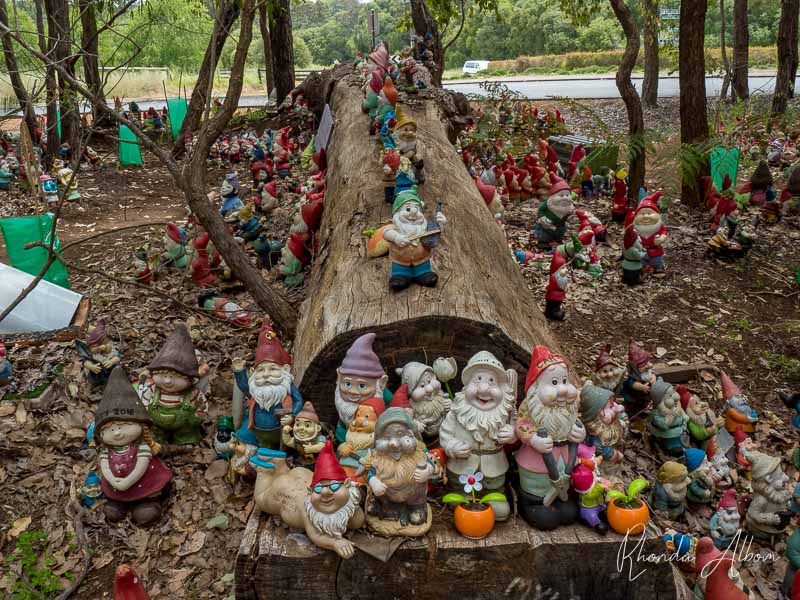 If a sculpture is a form of street art, what about gnomes? If not one, then what about over 10,000 gnomes all in one spot?
Does this sound ridiculous to you? If so, you probably haven't been to Gnomesville, located about 2 hours south of Perth in the Ferguson Valley. This is one bizarre day trip destination.
Perth vs Melbourne: the battle for Australia's street art capital
Perth takes a clear second in popularity to the internationally recognized Australian street art capital, which is Melbourne. However, both cities offer impressive and diverse examples of both public and street art.
Unlike Melbourne street art that fills up every inch of the laneways it covered, the street art in Perth seems to focus on one image at a time.
Read next: Explore Melbourne Street Art and Graffiti Laneways
Save on your Australia trip with these resources
These are our go-to companies when we travel. We believe this list to be the best in each category. You can't go wrong using them on your trip too.
Flights: we use Expedia for the best and cheapest flight options.
Accommodations: we use Booking.com (hotels), VRBO (self-contained), or Hostelworld (budget).
Cars (gas or electric): we use RentalCars to search for deals and dealer ratings.
Campervans or Motorhomes: we use Campstar where Albom Adventures readers get a 3% discount
Motorcycles: we have heard good things about BikesBooking.
Activity discounts: we check Bookme.com for discounts of up to 70% on activities.
Private guides: we love the private guides at Tours by Locals.
Travel Insurance: while not required, we always opt for travel insurance and start at InsureMyTrip to compare coverage plans.
Check out our travel resources page for more companies that we use when you travel.
Save for later
If you enjoyed this article, please share it on social media and save it for later on Pinterest.
Where is your favourite street art in Perth?
Photo Credits:
All photos on this page are ©Albom Adventures. All rights reserved.