When I think about European street art Berlin, London, and Barcelona are the cities that first come to my mind. So I asked top travel bloggers where their favourite street art was located and I was surprised by some of the results. So many sent images that this is a multipart article, starting with European street art.
What is street art? Some see a fine line between it and graffiti, others see them as one and the same. The distinction is often desire and location. Street art is colourful, thought out, welcomed, and these days, often commissioned. Graffiti, on the other hand, is generally unwanted.
For me it took a while, it wasn't something I immediately enjoyed, but now I love it. The more colorful, unusual, and emotion packed the design, the more I smile.
Enjoy these images from several of my favorite travel bloggers. Some added descriptions, others left it up to the readers to interpret:
Note: Based on world conditions, we advise checking official channels including cancellation policies prior to booking. Also, with often reduced capacity, booking ahead becomes more important.
United Kingdom
London
The first photo, taken in East London was contributed by Stefania Guglielmi of Every Steph – Green & Glamourous Travel and Lifestyle. See more at: Unseen Tours: exploring London with the homeless.
The second image is from Shoreditch, London the hipster area, that used to be a little down and out, but is an area full of amazing street art. Contributed by Paula McInerney of Contented Traveller. See more at: Shoreditch, London – a working example of regeneration in a city.
Bristol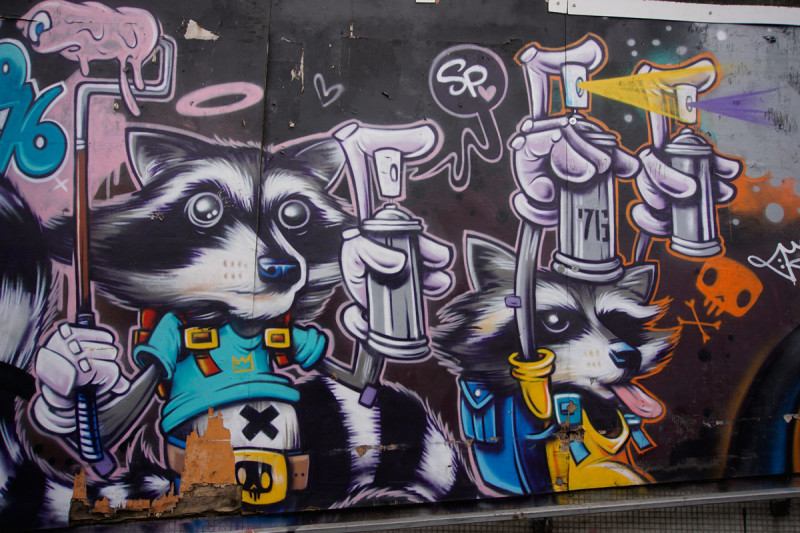 "Bristol, UK, is one of my favorite cities for street art. There's a lot of famous artists' work you can see on the streets there, but some of my favorites are the lesser-known pieces that can be found in the Stokes Croft area, where art is always in flux and might be painted over within a day or two. That's where we found this awesome raccoon." Photo and caption contributed by Laura Lynch of Savoured Journeys. See more at: Touring Bristol's Street Art with the Experts.
Germany
Berlin
The first image, located only 100m from the East Side Gallery, "Suspended", the gorgeous artwork by the famous Alice Pasquini, has become one of the most iconic pieces of graffiti in Germany, and a must-see when looking for things to do in Berlin. Photo contributed by Alesha Bradford of NOMADasaurus.
The second street art is by Os Gemeos. Berlin's street art offers unique insight into the city's culture, past and present. Photo contributed by Taylor and Daniel of Travel Outlandish. See more at: The Experiential Travel – List [Part III]: Europe
Dresden
Street art in the "student district" of Dresden.Photo contributed by Anda Galffy of Travel Notes and Beyond. See more at The Singing Drain Pipes of Kunsthofpassage.
Greece
Athens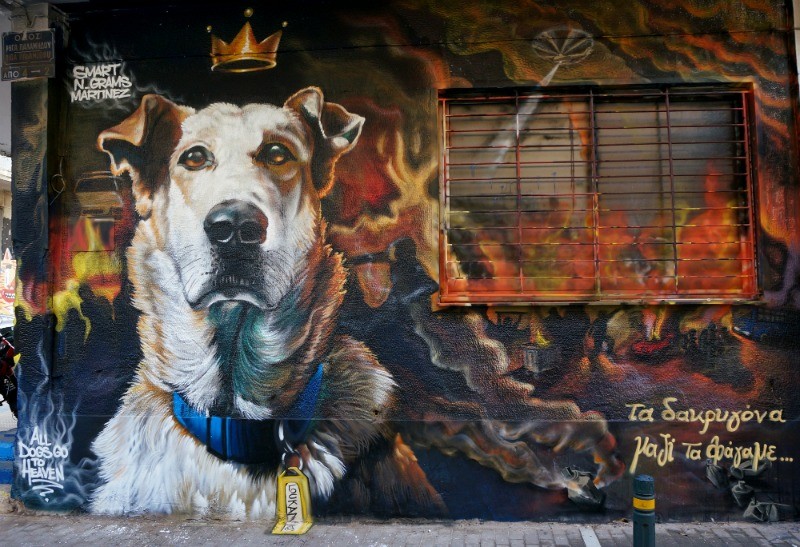 This piece is titled 'All Dogs go to Heaven', and features Loukanikos, one of Athens's 'protest dogs' – strays that "adopted" the people protesting government austerity measures. Loukanikos had passed away just a few weeks before this was painted, and as we were watching, a group of Athens policemen gathered to take their picture with the mural, in memory of the beloved mascot. Photo contributed by Sean and Jen of Venturists. See more at: Athens Greece Street Art.
The Netherlands
Amsterdam
Sometimes "street art" isn't on the street. In Amsterdam, street art can be at canal level. Photo contributed b: Lance and Laura Longwell of Travel Addicts. See more at: 15 Fun Things to Do in Amsterdam
Italy
Milan
In the district of Lambrate, on the railway wall in Piazza Monte Titano, is a work by Blu, one of the world's best street artists and famous for criticising capitalism in his works. Photo contributed by Margherita Ragg of The Crowded Planet. See more at: Milan Street Art
Thinking about becoming a street artist?
Often larger than life, creating street art takes a certain set of skills. If you're thinking about becoming a street artist, this "cookbook" might be useful: Street Art Cookbook: Street Art Cookbook: A Guide to Techniques and Materials.
Best deals and discounts for your travel planning needs
We earn from qualifying purchases through partnerships or affiliate programs.
Flights: When it comes to flights, we always start with Expedia.

Hotels: We use Booking.com to compare and book accommodations. Don't miss Booking.com's Getaway 2022 Deals that save 15% or more on selected accommodations. (T&Cs apply)

Other accommodations: If you prefer B&B or self-contained type lodging, check out VRBO.

Vehicle hire: RentalCars is like a rental car search engine with no hidden costs, that lets us find the best deals on car rentals worldwide.

Private Tours: We are big fans of ToursByLocals, and use them for nearly all cities where we want a private guide.

Packing Tips: Get a free copy of our packing light checklist when you sign up for our mailing list. (We pack light, yet have everything we need.)
Find more money-saving resources and T&Cs on some of the above, check our Travel Resources page.
Are you a fan of street art? Which of these European street art images is your favourite?